The 11 Best Massage Christchurch Therapists
A massage is the perfect solution if you need a break. And if you're looking for a remedial massage, you're in luck, as we are bringing you the best massage Christchurch therapists today!
We handpicked the spas that have highly trained, professional, friendly and trustworthy staff. Also, we based our choices on customer ratings — this proves we weren't the only ones who think these spas are excellent.
If you're all set and ready, here are the best massage Christchurch therapists!
1)  Body Central Clinical Massage Therapy
BEST FOR
Results-Based, Quality Therapeutic Massage
SERVICES
Deep Tissue

Neuromuscular Therapy

Sports Massage

Relaxation/Swedish Massage

TriggerPoint Therapy

Myofascial Release

Oncology Massage

Stretching

Dry Needling

Hot Stone Massage

Pregnancy Massage

Myofascial Cupping

Rocktape

WEBSITE
http://www.bodycentral.nz/
ADDRESS
304 Fitzgerald Avenue, Christchurch Central, Christchurch 8013, New Zealand
CONTACT DETAILS
0220 440 939

OPERATING HOURS
Monday to Friday: 8am – 7pm

Saturday and Sunday: 9am – 5pm
Body Central is committed to eliminating the pain and discomfort felt by the individual. And if you're competing in sports, they can keep you in top form and condition.
Their qualified team has a wealth of knowledge and expertise to benefit you. Services include Swedish massage, neuromuscular therapy, pregnancy massage, stretching, etc.
They tailor their services to specifically address the problem area to satisfy their customers. Therefore, your body will function better and will be more flexible after the therapy.
However, note that their massage therapy is by appointment only. Therefore, you can either give them a call or book online before going to their spa.
Highlights
Helps to relieve the body from pain and discomfort
Qualified, knowledgeable team
Full scope of services
Bookings are only by appointment
Customer Reviews
Tobias Berens, a client, said on Google Business:
"Jeff is awesome! Helped me a lot with the deep tissue massage, thank you for this! And also the process from online booking, confirmation mail, reminder is really good, highly appreciated! I will come back, thats for sure! ;-)"
2)  Essence Massage & Bodyworks
BEST FOR
Custom Tailored Massage
SERVICES
Back, Neck & Shoulder Massage

Hot Stone Therapy

Pregnancy Massage

Remedial Deep Tissue Massage

Restorative Massage

Sports Massage

Swedish Relaxation Massage

Therapeutic Cupping Massage

Traditional Thai Yoga Massage

WEBSITE
https://essencemassage.co.nz/
ADDRESS
154 Leinster Road, Merivale, Christchurch 8014, New Zealand
CONTACT DETAILS
022 646 9949
OPERATING HOURS
Monday to Wednesday: 9am – 9pm

Thursday to Saturday: 9am – 8pm

Sunday: 9am – 4pm
For a healthy and refreshed body, come to Essence Massage & Bodyworks. The people here genuinely care about you and the results you will get from their service.
Having trained extensively, their talented and friendly specialists know just how to give you a gentle and soothing massage. That will send away the tension and pain plaguing your body.
They make it a point to consult with you first before performing the massage. This is to ensure that you will be satisfied with the results — results that you came here for in the first place.
Their personalised approach and quality therapeutic massage entitle them to be in the best massage Christchurch therapists list!
Highlights
Personalised service
Provides quality therapeutic massage
Talented and friendly specialists
Customer Reviews
Let's hear about Jo Hikuroa's review on Google Business:
"Tash was just amazing. I have only ever had a couple of massages and she made me feel at ease right from the beginning. From explaining the process, asking what I was comfortable with and checking in to make sure I was happy throughout the hour. I had a massage gifted to me by a friend but I would happily pay to see her regularly!"
3)  Diamond Thai Massage
BEST FOR
Traditional Thai Massage
SERVICES
● Traditional Thai Massage

● Thai Yoga Massage

● Thai Oil Deep Tissue Massage

● Medical, Rehab, Sports

● Maternity Massage

● Reflexology

● Herbal Compress

● Hot Stone

● Aromatherapy and Relaxation

WEBSITE
https://www.diamondthaimassage.co/
ADDRESS
35 Riccarton Rd., Christchurch, 8011 New Zealand
CONTACT DETAILS
(+64) 221061108

03 3480943

OPERATING HOURS
Monday to Saturday: 10am – 8pm

Sunday: 11am – 6pm
If you seek a massage that promotes your health and well-being, then you should visit Diamond Thai Massage! They offer a broad range of natural therapy and massage services here.
Thai Massage puts together acu-pressure and stretching to ease muscle tension and painful spots. It is performed by certified, knowledgeable staff at just the right pressure.
Apart from that, they also offer sports massage to help you recuperate from injury. Also, they perform maternity massage to help mums-to-be adjust to the growing baby they are carrying.
With the many benefits that Thai massage offers, such as boosted immunity and better sleep, who wouldn't want to try it at one of the best massage Christchurch therapists?
Highlights
Certified, knowledgeable staff
Thai massage professionals
Offer a broad range of natural therapy and massage
Thai Massage gives you a lot of health benefits
Customer Reviews
On Google Business, Heather Gottschalk, one client, shares:
"If you have never visited a Thai massage spa, you will need to adjust your expectation. The spa culture is different from a traditional spa, but the massage is the best you will ever have. We both had 120 minute services and enjoyed every.single.minute. It was one of the best massages I have ever had. My daughter and I experienced a different massage as the ladies adjusted their service to our accommodate our individual needs. I highly recommend this spa."
4)  Sports Massage Christchurch
BEST FOR
Sports Treatment
SERVICES
Corporate MassageManual Lymphatic Drainage

Sports Massage

Relaxation Massage

Pregnancy Massage

WEBSITE
http://www.smchch.co.nz/
ADDRESS
199 Ferry Road, Christchurch, New Zealand
CONTACT DETAILS
02 2651 6098
OPERATING HOURS
Monday: Closed

Tuesday: 8.30am – 7pm

Wednesday: 10am – 6pm

Thursday: 8.30am – 5pm

Friday: Closed

Saturday: 9.30am – 1pm

Sunday: Closed
Sports Massage Christchurch is a massage clinic based in Ferry Road, Christchurch. This was founded in 2015 by Seryna Davies, who is herself a proficient therapist.
They offer a diverse range of services including Sports Massage, Manual Lymphatic Drainage, Relaxation Massage, Corporate Massage, and Maternity Massage.
Plus, they are a Southern Cross Easy-Claim registered provider. Thus, if you're insured, you can avail of their service and enjoy a nice discount in most cases.
Highlights
Experienced therapist
Specialises in muscular treatment and maintenance
Also offers MLD and Corporate Massage
Southern Cross Easy-Claim provider
Customer Reviews
One customer, Tiarnan Colgan said on Google Business:
"I had a 90 minute sports massage session with Cristian. He was very knowledgeable, took the time to explain some problems i was having and to recommend some exercises and stretching, and did an amazing job working out some injuries i had picked up on a long hiking trip. Would highly recommend, and will continue to visit."
5)  Koru Therapies
BEST FOR
Injury Rehabilitation & Massage
SERVICES
Manual Movement Therapy (MMT)

Online Sessions

Neurokinetic Therapy

Massage Therapy

Trigger Point Dry Needling

WEBSITE
https://www.korumassage.com/
ADDRESS
110 Bealey Avenue, Christchurch, New Zealand
CONTACT DETAILS
0273320214

OPERATING HOURS
Monday: 10am – 2pm

Tuesday and Thursday: 11am – 7.30pm

Wednesday: 11am – 5pm

Friday: 10am – 6pm

Saturday: by request
Instead of focusing on providing a relaxing massage, Koru Therapies zeroes in on bringing down your movement pain and dysfunction through their therapeutic massage.
This form of massage uses techniques that target specific areas on the body. They do deep tissue massage in order to release your muscular tension and dysfunction.
After the massage, you should drink lots of water and rest your entire body. Also, remember that you should not do any physical activity or sports for at least 12 hours.
So, for injury and rehabilitation, Koru Therapies is surely one of the best massage Christchurch therapists!
Highlights
Brings down your movement pain and dysfunction
Performs deep tissue massage
Also offers dry needling, MMT and neurokinetic therapy
Customer Reviews
Let's see the review of Alice Waterhouse on Google Business:
"I have had many therapeutic and relaxation massages with Kirsten over the years. She is a brilliant massage therapist and I would highly recommend her.
I recently sustained a knee injury which I was struggling to recover from including swelling and limited range of movement. Through a remote consultation with Kirsten, she thoroughly assessed my injury, diagnosed my neurological issues and provided me with a treatment plan. I have begun the rehab exercises she prescribed and am seeing a huge improvement in my range of movement, stability and a reduction in pain. Thank you Kirsten!"
6) BodySense Massage
BEST FOR
Deep Tissue massage
SERVICES

Deep Tissue, Relaxation/Hot Stone, Pregnancy Massage, Trigger Point Therapy,

WEBSITE
https://www.bodysensemassage.co.nz/
ADDRESS
36 Harris Crescent, Papanui, Christchurch
CONTACT DETAILS
[email protected]
Tel: 027 782 2344
OPERATING HOURS
Monday: 2:30PM – 7:00 PM
Tuesday: 8:30AM – 7:00PM
Wednesday: 10:45 AM – 7:00 PM
Thursday: 10:45 AM – 7:00 PM
Friday: 9:00 AM – 3:30 PM
Saturday: 8:15 AM – 3:00 PM
Sunday: 11:00AM – 4:00PM
If you're looking for a quality massage at a more affordable price, then BodySense Massage is the place to be! It offers a comprehensive range of relaxing services that you'd surely want to take up after a hard day.
The person on duty to help you is a registered massage therapist. Nadia has graduated in Therapeutic Massage and has been in the field for more than 7 years. With her experience and expertise, you're sure to enjoy every minute relaxing and easing tension out of your body, with nothing else to worry about except having a good time.
Make sure that your money is worth it, head out to BodySense Massage soon!
Highlights
Level 6 registered massage therapist
Amazing set of services
Great facilities
7) Bamboo Spa
BEST FOR
Filipino Hilot
SERVICES
Gel Manicure and Pedicure, Massage
WEBSITE
https://www.bamboospalimited.co.nz/
ADDRESS
87 Kilmore Street, Christchurch
Central, New Zealand
CONTACT DETAILS
[email protected]
027 550 1788
OPERATING HOURS
Mon: 10:00am-8:00pm
Tue: 10:00am – 8:00pm
Wed: 10:00am – 8:00pm
Thurs: 10:00am – 8:00pm
Fri: 10:00am – 8:00pm
Sat: 10:00am – 8:00pm
Sun: 10:00am – 8:00pm
Considered to be the very first Filipino-owned massage spa in New Zealand, Bamboo Spa has grown into an establishment with multiple-branches, and a place many locals love to go to to unwind after a stressful week.
They offer different kind of massage services like the simple head and back massage, as well as the foot and leg reflexology, or the more intricate Swedish Massage or their very own Filipino Hilot.
Book your appointment with Bamboo Spa for your self-care, or even for special events like birthdays and the likes. More information is posted on their website, so make sure to check everything there.
Highlights
Competitively priced
Friendly staff
Amazing massage services
Knowledgeable masseuse
Customer Reviews
"Best massage ever!!! Me and my husband have had massages before in Chinatown in boston, but they were pathetic compared to this! Mang-Chi and Julie used such good pressure and knew the knots and right techniques to alleviate muscle tightness and leave us super relaxed. Ended off with a hot cup of ginger tea too! We would recommend anyone coming to Christchurch to come here for a massage!"
8) Champs-Elysées Beauty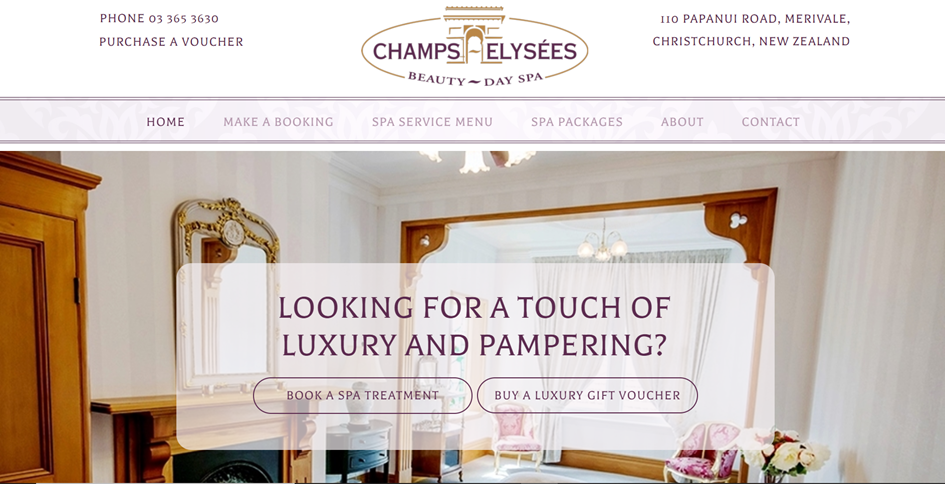 BEST FOR
Luxury Massage
SERVICES
Facials & Medispa Treatments
Wedding Packages
Luxury Spa Packages
Massage and Body Treatments
Beauty Therapy
Corporate Spa Parties
Gift Vouchers
Men's Treatments
WEBSITE
http://champs-elysees.co.nz/
ADDRESS
110 Papanui Road,
Merivale, Christchurch,
New Zealand 8014
CONTACT DETAILS
[email protected]
03 365 3630
OPERATING HOURS
Monday 9 am – 4 pm
Tuesday 9 am – 5 pm
Wednesday 9 am – 8 pm
Thursday 9 am – 8 pm
Friday 9 am – 5 pm
Saturday 9 am – 5 pm
Champs-Elysées Beauty is the place to be if you're wanting to spend a day in a luxurious spa. Offering treatments for beauty and your body of the highest quality, everyone's still sure to enjoy every bit of it as the rates are on par with regular spas.
The therapists and beauticians on the house are certainly experienced and qualified enough to provide amazing assistance for whatever service you acquire in the shop. Let the experts pamper you as you just enjoy every minute of tranquil and comfort.
To book a session, simply send them a date and time you'd want to have the massage. You may also buy vouchers online for friends or family to gift to.
Highlights
Sweet solitude
Ultimate relaxing sessions
Qualified and professional therapists
9) Wai Thai Massage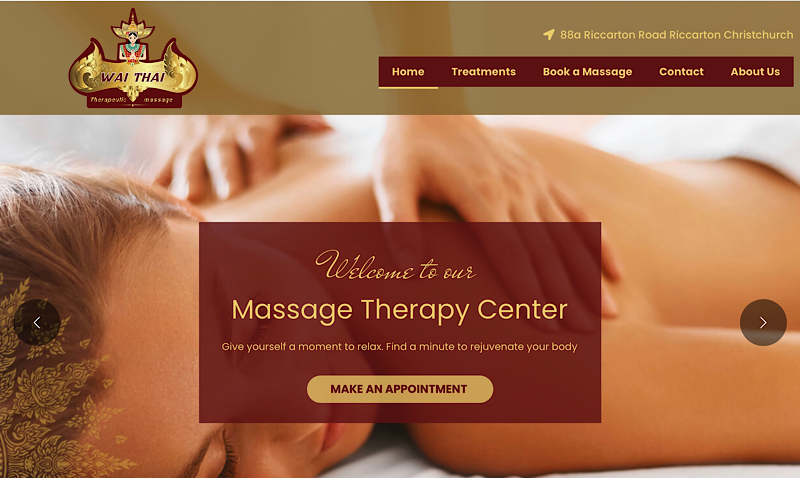 BEST FOR

Traditional Thai Massage

SERVICES

Hot Stone & Thai Oil Integrated Massage, Head, Neck & Shoulder Massage, Thai Foot Massage, Thai Traditional Oil Massage, and a Hot Stone Massage

WEBSITE
https://www.waithaimassage.co.nz
ADDRESS

88a Riccarton Road, Riccarton, Christchurch

CONTACT DETAILS

[email protected]

03 341 1008

OPERATING HOURS

Daily from 10am – 8pm
Wai Thai Massage offers traditional therapeutic Thai Massage in Riccarton. In Christchurch, they provide one of the best relaxing massages that help clients alleviate pain and feel rejuvenation.
They have a hot stone & Thai oil integrated massage, head, neck & shoulder massage, Thai foot massage, Thai traditional oil massage, and a hot stone massage. Their prices start at $50 for a 30-minute head, neck, and shoulder massage.
Inside their therapy center, their clients are sure to feel the relaxing ambiance that matches the feeling they want to portray.
As a plus to healthcare professionals, Wai Thai Massage offers a 10% discount amidst the pandemic. Other promotions include their Spring Promotion where two people can avail a 75-minute hot stone Thai oil integrated massage by booking online.
A good Thai massage is one of the things that people look forward to. Because of this, Wai Thai Massage offers gift vouchers as perfect gifts for any occasion.
Highlights
Traditional Thai massage

Offers discounts and promotions

Affordable rates

Fully-vaccinated therapist
Customer Reviews
Here are some testimonials from their website:
"Really great place to go for a massage! I relieved my back pain. also they have great friendly staff. highly recommended!" – Jhazel
"This place is amazing, I don;t have words to describe how good it is, the new administration made the place so much better, beautiful and cleaner. Thank you so much for giving us this wonderful time." – Aleja
10) Health & Massage Christchurch

BEST FOR

Holistic Approach in alleviating the body's stress and pain

SERVICES
Massage for Health
Remedial Massage
Relaxation Massage
Sports Massage
Pregnancy Massage
Myofascial Cupping
Chinese Massage – Tui Na
Reflexology
WEBSITE
https://healthandmassage.co.nz
ADDRESS
440 Papanui Road, Strowan, Christchurch 8052
CONTACT DETAILS
Email: [email protected]
Phone
Tika: 02108257084 (text messages only)
Patrick: 021 0583257 (text message preferred)
Ramsay Gu: 02102829882 (text message preferred)
OPERATING HOURS
Monday to Friday: 8 AM- 8 PM
Saturday: 10 AM – 4 PM
Sunday: 9 AM – 4 PM
Optimum health and well-being can definitely be achieved if we take good care of ourselves. Thanks to Costa Wischnowsky, owner of Health and Massage Christchurch, who has created this safe haven for us.
Health and Massage Christchurch has a holistic approach that targets those problems hindering us to live our finest life. They provide services that alleviate the body's stress and pain.
This place has Massage for Health, Remedial Massage, Relaxation Massage, Sports Massage, Pregnancy Massage, Myofascial Cupping, Chinese Massage – Tui Na, and Reflexology. They have three expert professionals that cater to your needs in order to provide you with holistic healing.
Backed up with their learnings, training, and experiences in this industry, these experts also have a client-centered approach in line with their holistic approach. This is because they ensure that they identify and be able to work with the client's needs in order for them to be optimally functional for their everyday lives.
That is why if you think that you need a break from life or you have been dealing with too many stressors already, book a session with them. You can buy and use their gift vouchers as well if you think that your loved one/s needs an escape in life too.
Highlights
Easy to book
Expert professionals
No payment required upon booking online
Offers gift vouchers
Offers Gold Family Massage Membership for only $19/month
Has prepaid packages to save money
Customer Review
Some of their client's reviews from Google Review:
"Have been here several times now – excellent service, great massages and always easy to book. Both Tika & Ramsay are fantastic." – Todd Cassie
"Excellent quality therapeutic massage without the frills, and at an excellent price. You simply go in, enter the massage room, talk about what you need, get undressed, and lay down for your massage. An excellent option for busy people that need a real therapeutic massage – Ramsay was very good, and on time, so I would recommend him to others. I can't believe the prices aren't higher!" – Neil Mistry
"Absolutely fantastic service! My partner and I went in and saw Leo & Tika, we were able to have our massages in the same room together which I thought was great, we were very impressed and left feeling 100% rejuvenated, very thorough, and exceeded our expectations! We will definitely be returning to them." – ONLY CXLOE
11) Bodyworks Massage Therapy

BEST FOR

Personalised Massage Treatment Plans

SERVICES

Therapeutic Massage


Thermal Stone Massage
WEBSITE
https://www.bodyworksmassage.co.nz
ADDRESS
24 Nairn St Spreydon Christchurch 8024
CONTACT DETAILS
Email: [email protected]
Phone: 027 4977523
OPERATING HOURS
Monday to Thursday: 10:30 AM- 7 PM
Friday: 10.30 AM – 5 PM
Saturday: 10:30 AM – 7 PM
Sunday: 11:00 AM – 7 PM
If you're looking for an establishment to help you unwind during your next self-care day, then do check out Bodyworks Massage Therapy.
Their sessions revolve around therapeutic and thermal stone massages, with their expert team of therapists dedicated to providing restorative experiences. The massage tables are designed for maximum comfort, allowing you to completely relax while they work on your tense muscles.
What's more, the Bodyworks Massage Therapy team is highly experienced and knowledgeable about treating a variety of conditions, allowing you to relax during and after your sessions. They will assess your individual needs before formulating a customized treatment plan just for you.
At Bodyworks Massage Therapy, their mission is to help improve people's physical health as well as their mental well-being. We recommend them wholeheartedly! Give them a try today and see what they can do for you!
Highlights
Develops a personalised treatment plant
Wide range of techniques and movements
Environment-friendly practices
Customer Review
Some of their client's reviews from Google Review:
"Had a great experience at Bodyworks. I opted for the 60min sports massage with Victoria. She made sure she understood what I wanted focusing on before starting (and any concerns I had), and checked in to ensure I was comfortable at all times. Left feeling great and noticeably less stiff in the upper body two days later. Rebooked for 6 weeks time." – Immy I.
"The whole experience was excellent, from the online booking system and being able to get an appointment at short notice, through to the massage itself. Victoria was friendly and respectful, and checked in with me during the massage to ensure the pressure was just right. The only disappointing aspect of my visit was that I didn't get to meet Lucy the dog!" – Sue T.
"I had a headache for quite a few days and decided that to seek alternative help as medication wasn't resolving the issue. It was super easy to complete the on line 1st time patient form on line and was able to get an appointment that same day. I saw Kim on the day who went through the form and gained further info about my issue. She was friendly, caring and listened to my issues. Her massage was incredible helpful and relieved a lot of the tightness. I gave been back since my initial treatment and I recommend Kim and this place." – Sonia A.
And that's it for now about the best massage Christchurch therapists! Don't let the pain get the better of you: make a booking with the spas or clinics we've listed here.
Do you have any questions or suggestions for us? If you have one, send it over to us via message and we'll get back to you as soon as possible.
Furthermore, you may also want to read about the best chiropractors in Christchurch! This is a great alternative if you have been dealing with back, neck, shoulder pain, or a headache.