By Amelia Montgomery
Dazed by the many options Kiwis face when picking a mattress? You've come to the right place if so, because we'll give you a short guide on how to pick the best mattresses in New Zealand.
A comfortable mattress plays a huge role in keeping our minds and bodies healthy. It's also important so that we don't develop a bad back or habits that make us sleep with the wrong posture.
There are also other factors to consider such as the kind, durability, features, size, and coolness. As mattresses are generally expensive, knowing these things will help you pick the right and ideal one for you.
So, we'll go over how to pick the best mattress first. After that, we'll take you through a list of the best ones we found in the country.
The difference between air and memory foam mattresses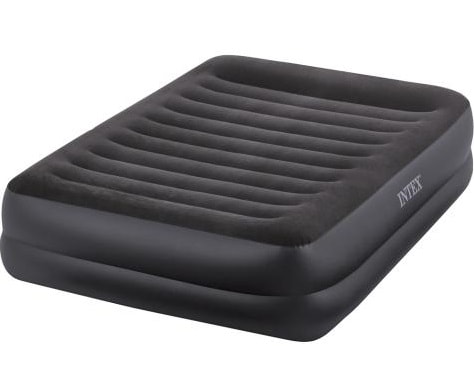 Air mattresses are mattresses that are inflated and filled up with air. They usually come with an electric pump responsible for that purpose.
When you're inflating an air mattress, you'll have to check and see if the firmness is right for you. Otherwise you'll have to deflate a bit or adjust until it's just as you like it.
You should go for one that has durability, minimal disturbance, and abrasion-resistance. There's no need to talk about portability, because air mattresses are generally portable.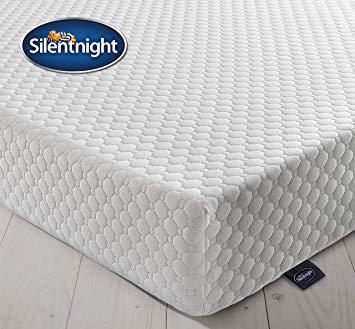 Now, for a memory foam mattress, you'll notice that when you sit down or put your hands on it, the foam records your imprint. It offers pressure relief that other mattresses don't have.
How does it do this?
Like an elastic band, a memory foam stretches and descends as you sit down. Then when you get out of it, it reverts to its original shape, making you feel light and comfortable unlike other mattress types.
The result is a very comfortable sleep that rejuvenates you and gets you ready again the next day. It can also be therapeutic in a way that's perfect for people with back, hip, and neck pain.
Factors to consider when buying a mattress
Mattress type
There are four main types of mattresses — innerspring, latex foam, air, and memory foam.
Innerspring mattresses have springs underneath them that give it them bounce and firmness. They are durable mattresses that last at least 4 or 5 years.
Memory foam mattresses, on the other hand, offer pressure relief that other mattresses don't. They stretch and descend as you sit down.
Latex foam mattresses are memory foam and innerspring mattresses in one. They have the shape-adhering quality of memory foam and the bouncy firmness of innerspring.
Air mattresses are mattresses that are inflated and filled up with air. They usually come with an electric pump responsible for that purpose and are among the most portable mattresses.
Firmness
You should decide how firm you want your mattress to be. A firm mattress is better for the back but an overly-firm one may make it difficult and uncomfortable to lie down.
On the other hand, while a softer mattress is more relaxing and comfortable, there's a chance it can sink from the natural process of using it everyday.
Note that you may get various grades of firmness and softness, so there's such a thing as medium-firm. This is preferred by many due to its compromise between the two extremes.
Comfort
A comfortable mattress should help you rest. There are many elements that go into comfort, of course, but the best way to sum it up is that the mattress should be easy to lie on for hours.
If it's too hot for your preferences, for instance, it's not a comfortable mattress. Some less reputable foams trap heat badly, which may cause you to break into a sweat in hot weather.
Durability
The durability of the mattress is important as well.
You'd like to get a mattress that will last through years of use without sinking down (for memory foams) or deflating (for airbeds), for example.
Material
This pertains to the material that the mattress is made of, such as polyester, rayon, velvet, linen, PVC, suede, and visco-elastic cells.
You want to pick material that fits your needs. For example, you typically want an air mattress to be made of thick PVC if you're using it for travel or hiking, because that will make it durable.
On the other hand, you may want a mattress with microfilament fabric if you're prone to allergies. That's because this fabric keeps away allergens like dust mites.
Cost
Of the 4 mattress types we've seen, innersprings cost the least. Air mattresses and memory foams cost around the same whilst latex foam mattresses are the most expensive.
You'll also have to consider the size if its single, single king, twin, full, queen, or king. You'll also have to think about the depth.
The more depth it has, the bigger the distance between the top and bottom of the mattress. Note that a higher depth doesn't necessarily mean it's more comfortable or that it's firmer.
It mostly depends on your preference… and if it goes well with your bed frame.
Anyway, that's pretty much everything you need to know about picking mattresses. With all that in mind, let's now get to our lineup of the best mattresses in New Zealand!
1. The Winkl Mattress
Best Value for Money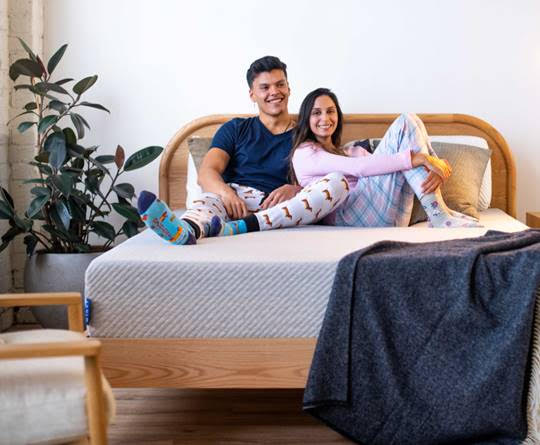 | | |
| --- | --- |
| Sizes available | Single, King Single, Double, Queen, King, Super King, California King |
| Materials | Exclusive Winkl-flex Comfort Foam, Gel-infused memory foam |
| Website | http://www.winkl.co.nz/?afmc=174 |
| Price | NZD $850-$1250 |
| Warranty | 10 years |
Winkl delivers New Zealand's most comfortable mattresses. Guaranteed, or your money back!
They offer trials wherein you can try one for yourself with their famous 120-night in-home trial. If it's not for you, they'll refund your money, pick it up and donate it to charity.
The Winkl mattress offers perfectly balanced comfort and support. It has everything you need and nothing you don't for a great night's sleep. Their exclusive Winkl-Flex Comfort Foam provides the perfect amount of softness, bounce, and pressure relief for back, hip, and shoulders.
Their high-quality gel memory foam sleeps nice and cool, miminises partner disturbance and contours to your shape for total body support.
All of their materials meet leading international safety standards, including CertiPUR-US and OEKO-TEX. They are also free from nasty chemical fire retardants and chemical-based glues.
Highlights
Adopt a real kiwi with every mattress purchased

Hundreds of 5-star reviews

High quality certified safe materials

Removable machine-washable outer cover

No partner disturbance. 120-night trial

Free shipping and returns

All returns donated to the Salvation Army

New Zealand Company
Customer Reviews
Here's what a customer has to say about the gel-infused memory foam:
"All I can say is that this is the best mattress we've ever slept on, no more back pain just great sleeps" "I absolutely love my Mattress from Winkl. It's been engineered perfectly for my sleeping styles. I no longer wake up with a painful body and to be honest look forward to every opportunity to sleep or even relax on my bed now. I absolutely love it and fully recommend it. Thanks heaps" "After a lot of research i bought this mattress initially because of the weight of it (my 'old' one weighed a tonne! which post-surgery, made it very difficult to make) The 120 day money back guarantee is unheard of on any product let alone a mattress! Another draw card for me was the ethics of the company, any 'unloved' Winkl will be given to a charity. Their customer service is second to none – a special thank you to Genevieve in the Help Squad, helping me chase a very delayed delivery (local transport company's issue) cheers for the chocolate too! …. After a week of sleeping on the lux I am not only not waking during the night and morning with any body pains but am also having a more peaceful sleep. I would absolutely recommend this product, try it! You've got nothing to lose but you'll gain a better snooooze!" "The best mattress I've slept on and as I suffer from eczema it has helped with me not itching so much at night. Delivery was very quick also."
2. Living & Co Luxury Mattress Queen
Affordable Luxury Mattress
You don't always have to get the most expensive mattress to have a luxury mattress. Actually, you can also have it with the Living & Co Luxury Mattress for just $749.
The mattress is composed of multiple layers of memory foam and latex. That provides great support and comfort for the sleepers.
Cleaning is no fuss either, as you only need to spot-clean using a mild detergent. Also, to prevent the bed from sagging, you can rotate the bed frequently from head to foot.
Aside from that, you are given a 5-year limited warranty for this product. It's easy to see why so many people recommended it to us!
Highlights
Affordable luxury
Thick, soft and comfortable mattress
Easy to clean or maintain
5-year limited warranty
Customer Reviews
For the users of the Living & Co Luxury Mattress Queen, they said that the mattress was comfortable and they loved the product!
Furthermore, here's Tudor Rose R. reviewing the product on The Warehouse store:
"My partner and I bought this just the other day. Compared to other matresses, you can't feel the spirngs on the side, nicely designed and reinforced. Nice firm matress with a soft-firm foam topper thing on top. Both of us sat in the mattress and it does not wobble if one moves, great for sleeping when someone turns around a lot. Good quality, would recommend !"
3. Dunlop Living Orthozone Mattress
Most Comfortable Mattress for the Spine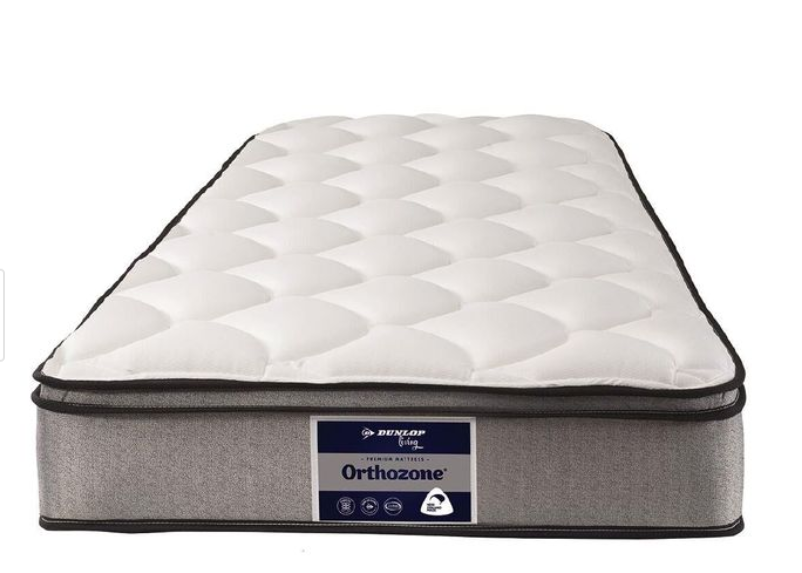 | | |
| --- | --- |
| Sizes available | Multiple options (Single, Queen, King, etc.) |
| Materials | Treated foam |
| Website | Buy Here |
| Price | NZ$649.00 |
The Dunlop Orthozone mattress comes in a number of sizes and features Dunlop's famous Magicoil system. This spring system offers superb support for sleepers and is particularly good if you're prone to feeling pressure or discomfort in your spine when lying down.
Dunlop works 3 zones of support into these mattresses to help users get the most comfortable sleep possible. What's more, they make them out of Ultrafresh treated foam — this material is antibacterial and can thus contribute to sleepers' comfort.
Highlights
Extremely comfortable and supportive, thanks to Magicoil spring system
Ultrafresh treated foam hinders the growth of bacteria
Made in New Zealand
Great for people with back issues
Customer Reviews
Reviews are generally positive for the Dunlop living, with owners stating that it's very comfortable and lives up to its promises. Joanne K stated this about it on TheWarehouse:
"Great comfortable bed.well padded and super comfortable topper on mattress.great delivery."
4. Intex Dura-Beam Deluxe Pillow Rest Raised Airbed Twin
Cheapest Air Mattress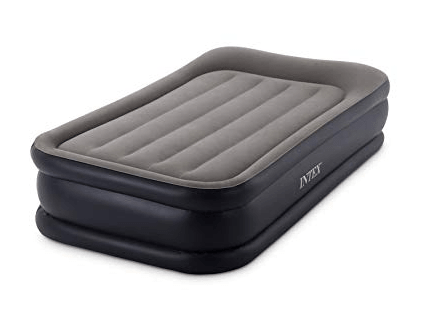 | | |
| --- | --- |
| Sizes available | Twin |
| Materials | Polyester fibres |
| Website | Buy Here |
| Price | NZ$139.99 |
If you need a spare bed for guests coming for the night, you're in luck with the Intex Dura-Beam Deluxe Queen-sized Airbed. It's relatively quick to inflate, taking only 2 minutes of your time with the AC built in pump.
The height is measured at 42 cm from the floor. So, it's extra comfortable and has more room than most similar mattresses.
What's even cooler is that you have a comfy flocked top for your built-in pillow on the edge. Its design is neat, sleek, and black, and has firmness, comfort, and portability for your home or outdoor trips.
Highlights
Extremely portable, set it up wherever you like
Polyester fiber provides softness and comfort during the night
Cheapest air mattress to buy
Already comes equipped with a flocked pillow
Customer Reviews
Apparently there have been problems about the inflate and deflate function of this mattress. In spite of that, most users are positive about it, and say it served them very well.
Franniegirl briefly described how she liked the Intex Dura-Beam:
"Oh my goodness, this was so much nicer than i expected for the price! We got this for out of town family coming to visit and my husband and I joked after they left that we should have a camping night in the living room just for the heck of it. Super quick and easy fill up with the built in cord and motor. ALSO super quick and easy deflation with the built in cord and motor. The built in cord pocket was great too so people weren't tripping over or stepping on the cord all the time. I love the velour type coating on the top so it didn't feel cold, which comes in handy on cold New England nights. Also the molded in pillow was great because it added some height and comfort for our guests as they slept. I do wish the storage bag was a little nicer and able to be sealed, but other than that, very happy with this product and highly recommend."
5. Ecosa Mattress
Best Hypoallergenic Mattress

| | |
| --- | --- |
| Sizes available | Single, Long Single, King Single, Double, Queen, King, Super King, California King |
| Materials | Gel-infused memory foam, microfilament |
| Website | https://www.ecosa.co.nz/mattresses |
| Price | NZD$850-1550 |
| Warranty | 15 years |
You can have a good night's sleep with Ecosa mattresses. This is thanks to the layer that is filled with gel so that the mattress conforms to your every move and imparts a cooler feeling.
It's extra durable and fresh too, due to the microfilament that shields it from accidental spills. All you have to do is remove the outer cover and wash it.
Sleeping on this memory mattress distributes your weight evenly, helping to align your back at night. It's up to you to pick the firmness, with choices between medium-firm and firm.
In terms of warranty, you get a premium 15 years of assurance. This is a sign that the brand is confident in offering a reliable product to you.
Highlights
Gel in the memory foam supports and adjusts to your body
15-year warranty
Microfilament material keeps it clean and scent-free
Customer Reviews
"No back pains, no hip pains." You hear this a lot in the reviews for the product.
Sleeping in an Ecosa mattress has changed many sleepers' lifestyles by giving them more relaxed and comfortable slumber. That qualifies it as one of the best mattresses in New Zealand.
Check out this detailed review by Adrian:
"The whole experience with Ecosa has been excellent. We were a little dubious about purchasing a mattress online as we have always bought in-store. Sitting and lying on a variety of mattresses in a shop never gives you a real sleep experience so the inclusion of a 100 day sleep guarantee lets you assess whether the mattress suits you or not. So after reading the glowing reviews, and the negative reviews too, comparing similar products in the market and asking a multitude of dumb questions of the Ecosa staff, we took the plunge.
What a revelation. The mattress arrived on the day it was promised and setup was simple. It took me a couple of nights to get used to it but my wife adapted to it immediately. Not long after delivery she had an operation on her stomach. She is normally is a side sleeper but was forced to sleep on her back after the op. She found that the Ecosa mattress provided the support she needed to enable her to get a good night's sleep.
The mattress is firm without being rock hard and it just molds to your body to provide great support. There is far less partner disturbance when compared to our old spring mattress. Our only regret is that we did not buy an Ecosa sooner."
6. Oakano Revive Elite Mattress
Revolutionary Air Feel Gel Memory Mattress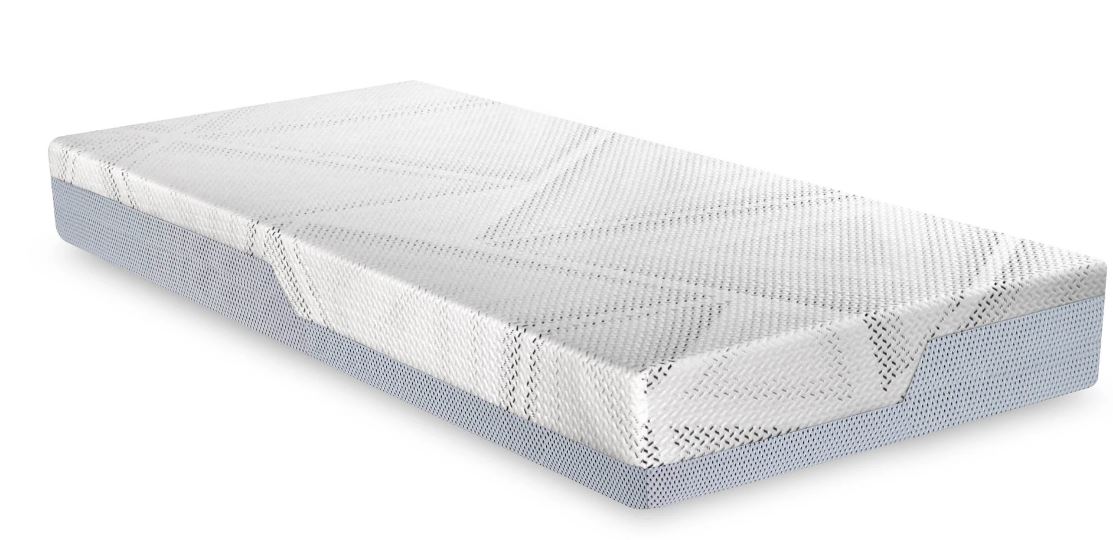 Sizes available
King Single, Double, Queen, King, Super King
Materials
First Layer
5cm Air Feel Gel Memory
Second Layer
5cm Gel Infused Memory
Bottom Layer
15cm High Resilient Polyurethane Foam
Website
https://www.oakanodesign.co.nz/
Price
NZ$699-1,099
Warranty
Contact for more information
Oakano's Revive Elite Mattress has a revolutionary Air Feel gel memory mattress that delivers superior pressure relief and features gel-infused memory foam that dissipates heat for cooler sleep as compared to the ordinary memory foam mattress. The pressure is evenly distributed over the entire contact surface and this generates a substantial reduction in pressure peaks.
Highlights
Revive mattresses are CertiPUR-US and OEKO-TEX STANDARD100 certified meaning they meet leading international standards for safe content and emissions
Most foams trap heat, but they use open-cell foams that have tiny pores to let excess hot air escape — so you can stay cool and comfortable
Whether you sleep on your back, side, or stomach, you'll get just the pressure relief and support your body needs for comfy alignment. Memory Form just right feel is waiting for you
7. Beds 4 U Spine Supporter
Gel-Infused Memory Foam Mattress With Long-Term Support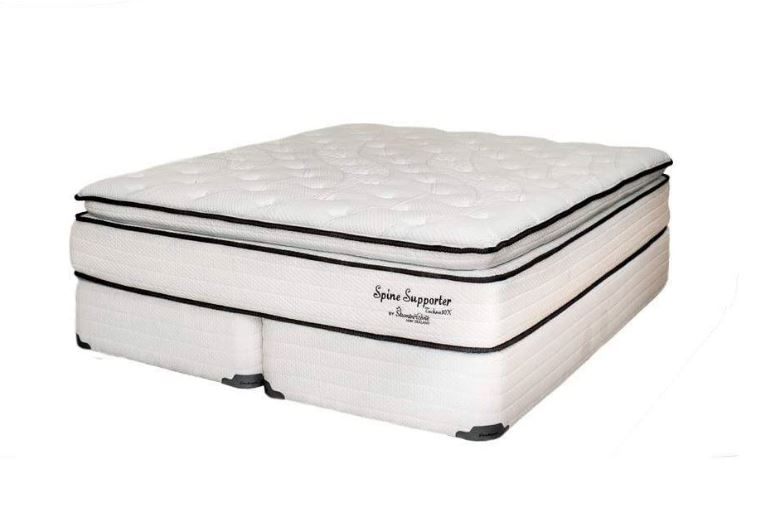 The Spine Supporter's -Techno 10 X- is a truly supportive and pressure relieving luxurious bed made in New Zealand. It features natural Silk fabric that comes with great health and skin benefits. Silk is defined as expensive, high-quality and has beneficial attributes. Because of its anti-ageing properties, silk has been a favourite for centuries. The Ortho-cool Gel Memory foam supports like traditional memory foam, only without the heat build-up! The difference is the new technology that combines gel-infused memory foam, to create an extremely comfortable, more supportive and cooler sleeping experience.
Highlights
The Spine Supporter has 7 varying degrees of firmness for total body comfort provided by the 7 zoned pocket coils.
Spine supporter's Ortho-cool Gel Memory foam infused with gel beads for a premium quality memory foam and extremely comfortable more supportive and cooler sleeping surface
Comes with a generous plush pillow top with natural latex
Customer Reviews
No reviews yet
8. Serta IComfort Blue Max Plush King Mattress
Most Versatile Memory Foam Mattress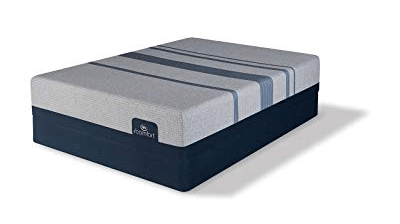 A step up from ordinary memory foams are Serta IComfort mattresses. They are compact, flexible, and comfortable, and lying down on them lets you forget the stress of the day.
You'll never break a sweat from sitting or napping without an AC on when you use this mattress. That's because the foam is filled with a special gel substance to keep it cool.
If your bed frame is the adjustable type, you can also experiment to place in your mattress with it propped up. Add a couple of fluffy pillows, a blanket, and lounge to your heart's content.
Highlights
Pleasing design that melds with your décor even when uncovered
Versatile and fits wooden, adjustable, slatted frames
4-layer cushion that brings comfort and stability
Different depths to choose from
Customer Reviews
The reactions of customers are mixed about this one, with some complaining that it received 'pockets' or holes after using it for a few months. However, most have given it a high score and called it worth the price.
Here's a positive review for it that Marco Lady wrote:
"This mattress is not even close to inexpensive. But my husband and I purchased one king size in the spring for our bedroom in FL, and we agree it was the most comfortable, perfect mattress we have ever slept on…so much so, we bought a second one for our home in NY. Delivery people were fabulous. We couldn't be more pleased."
9. Coleman Quickbed Airbed with Built in Pump
Best Travel Air Mattress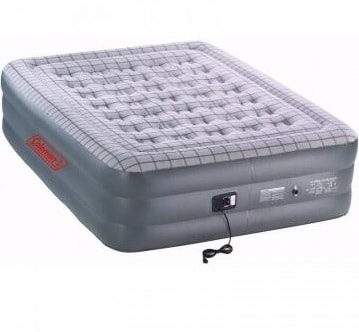 Coleman Quickbed is perfect for those camping/fishing activities you've always wanted… especially in a country like New Zealand where adventures are abound.
For comfort, the inclusion of suede and rayon gives it a smooth feel and softness. And the foam is made of PVC that's abrasion-resistant.
It can accommodate 2 or 3 people together and still maintain comfort. And the double high size makes it feel doubly comfortable and soft.
It has a soft cushion right around the edge to make it more comfortable to read on. This makes it easier while facing the side to read or plainly sit upright and chat.
Highlights
Uses PVC material to resist scratches and damages
Secured double seals ensure it doesn't deflate while sleeping
Portable
1-year warranty replacement
Customer Reviews
The Coleman Quickbed has amassed a good number of fans. There were critics too, of course, with some claiming a bad experience with the mattress deflating through different ways.
Despite such reports, most people loved it. Let's see one review by a Top 500 Reviewer from the Amazon site, Madeline Audrey:
"Fabulous air bed – I've had several guests (and pets) enjoy it! Does need to be refilled with air every few nights, but that's to be expected. I love the height! I've purchased a few cheap air beds and they always have trouble – this time I chose a trusted brand and I couldn't be happier!"
10. Tempur Cloud Mattress Long Single
Best Overall & Most Comfortable Memory Foam Mattress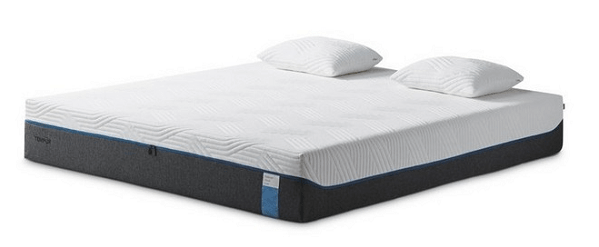 TEMPUR Cloud mattress is the softest of the bunch as compared to Original and Sensation. If you're looking for premium softness, then the Cloud is the way to go.
Since it is made from the prestigious TEMPUR material, the kind that astronauts use, this is THE king of all memory foams.
It's made with special visco-elastic cells that flex and bend with your movement. No more painful feelings as you wake and you get more energy because of the support it offers.
Also, you have many size and depth choices. The highest mattress would be the luxe, which brings the ultimate comfort as well as easily zippered-off QuickRefresh covers.
Highlights
Increased softness with every Tempur Cloud mattress
Orthopaedic support
Super comfortable
Feels cool in your sleep
Customer Reviews
Because of the revolutionary material and the straightforward comfort it brings, we included this product from Tempur in our best mattresses in New Zealand list.
Among the reviews, people have commended its convenience when cleaning up and removing the covers. Here's one review from the Tempur New Zealand website:
"Firm and so comfortable but heavy it's a good job I don't have to turn it, It's great to have a removable cover that's washable."
11. Enchanteur Plush Memory Foam
Best Orthopaedic Memory Foam Mattress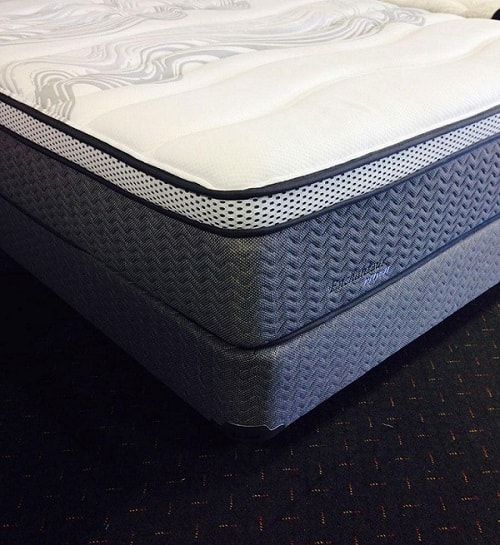 Your jaw might drop when you see its price, but consider the quality before you dismiss it altogether. This luxurious mattress offers superior softness (because of the latex) and durability.
It's made of high quality OrthoCool™ Gel Memory Foam that gets rid of the heat. You'll be cool and comfortable for the entire night or in your power naps.
It's perfect for you and your partner to sleep on as no one will get annoyed when someone turns about during sleep. You won't even notice it because motion transference is so low!
Highlights
Feels soft yet firm at the same time; good for the back
Exquisite knitted look for the sides
Very low chance of partner disturbance
Heat doesn't get trapped but circulates out from the mattress with OrthoCool™
12. Sealy Bodyform Pillowtop Queen
Best Performance for Innerspring Mattresses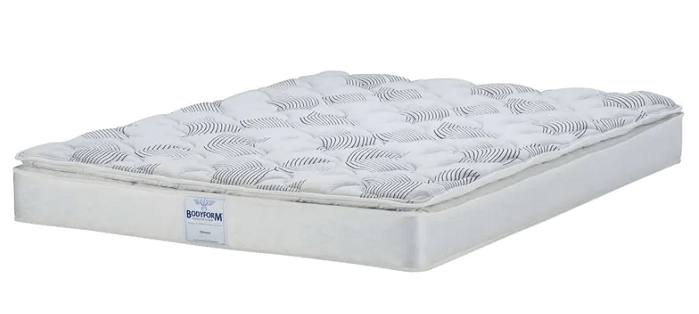 There are a lot of innerspring models on the market, but one of the best brands you can pick for them is Sealy. It engineers its product right down to the details with the customer in mind.
Fitted with Bonnell springs within a compact foam, this model will surely bring comfort and firmness so that your back will get the support it needs.
Whatever your sleeping position is, you'll never wake up with discomfort in your arms, hips, shoulders or back. You'll be cradled in it yet feel no pressure.
Although its depth isn't something to brag about, its minimalist design will fit any home that's struggling for space. Also, when you buy this, you get a warranty of 5 years from Harvey Norman.
Highlights
Uses Bonnell springs for firmness and comfort
Minimalist design
Quilted and foamed to perfection
13. Innature UNIK X
Best Performance for Organic Latex Mattress
| | |
| --- | --- |
| Sizes available | Mattress: Single (90×190 cm), King Single (107×202 cm), Double (137×190 cm), Long Double (137×202 cm), Queen (152×202 cm), King (167×202 cm), Super King (182×202 cm), Split Super King (2×91.5×202 cm) |
| Materials | 100% Natural Latex, Coconut Husk Fibre, Organic Wool, Unbleached Organic Cotton |
| Website | https://innature.co.nz/product/unik-x-organic-multi-latered-latex-mattress/ |
| Price | NZ$1195 – $ |
| Warranty | 10 years |
When it comes to mattresses that are good for the user's health (especially the spine) Innature is the best pick. The company uses natural materials that are both biodegradable and sustainable, all the while offering each mattress of the highest quality at the best possible price.
Among their small selection, the UNIK X stands out thanks to all that the mattress stands for. This model prioritises the user's comfort levels — coming in the soft, medium, or firm varieties. Aside from that, the size selection isn't anything to joke about either considering the UNIK X can be ordered as a single all the way to king size.
The company also highly encourages users bigger in stature to use the UNIK X, since the model is 22 cm thick and can accommodate any weight, making it one of the best choices on this list.
Highlights
Natural and organic
Customisable in terms of firmness
Breathable and regulates temperature well
Can last up to 20 years
14. The Emma Original Mattress
Best Performance for Pressure Relief

| | |
| --- | --- |
| Sizes available | Single, Long Single, King Single, Double, Queen, King, Super King |
| Materials | Foams of various materials |
| Website | https://www.emma-sleep.co.nz/shop/ |
| Price | $680 – $1,080 |
| Warranty | 10 years |
Get the best night of sleep with The Emma Original Mattress. Made of different kinds of foam it's breathable material and pressure relieving composition ensure that you remain undisturbed throughout the night.
Its full body support is adapts to any body shape to align your spine. Whatever sleeping position you're comfortable with, you're sure to get the rest you need with The Emma Original Mattress.
Highlights
100 night trial
Free, no contact delivery and returns
---
And that's a wrap for the best mattresses in New Zealand! We hope that some of these suggestions will lead you to getting the mattress that you need for your home or for an overnight sleep.
Have you ever owned any of the featured products here? If you have or had, you can tell us what you think about them below in the comment section.
Other than that, if you're actually looking for more of a living room mattress, you may want to check out our article for the best sofa beds in New Zealand. It offers some great suggestions for that particular need.