By Leo Williams
Metals are all around us though we don't think about it that much — in handrails, tables, shop racks, and construction. If you are planning to install like products, we have here the top services for the best metal fabrication in Christchurch.
Sure, you can just procure furniture or fittings from another company — sometimes, it's the more practical choice too. So what's the use of metal fabrication companies?
The thing is, some things require a specific measurement or dimensions that can be custom-made by metal makers. In a way, they can assist you in your architectural projects.
Metal fabricators are able to manufacture pipes, benchtops, canopies, ladders, storage systems, and a whole lot more. In other words, they make all things metal to cater to your needs.
That being cleared up, we'll now round up the companies to go to for the best metal fabrication in Christchurch!
1) Vinny Fabrication
Vinny Fabrication is a custom fabrication specialist in New Zealand that makes general fabrications and full car restorations. Their team consists of highly skilled individuals who have tons of experience with various metals, like stainless steel and aluminium. They can assure you that they'll do the job right at the first try.
Their prices are also hard to beat, having one of the most low cost metal fabrication services in all of New Zealand. They don't aim to make a large profit, instead, they want to become a trusted company that is worth recommending to a client's friends and family. These connections are what Vinny Fabrication focuses on making.
Highlights
Highly skilled individuals
Makes general fabrications and full car restorations
Abundance of experience in the industry
Unbeatable, low-cost prices
Customer Reviews
Simon Kean left a review on Google Business:
"Great team, great work, professional in every sense."
2)  Hi-Tech Sheetmetals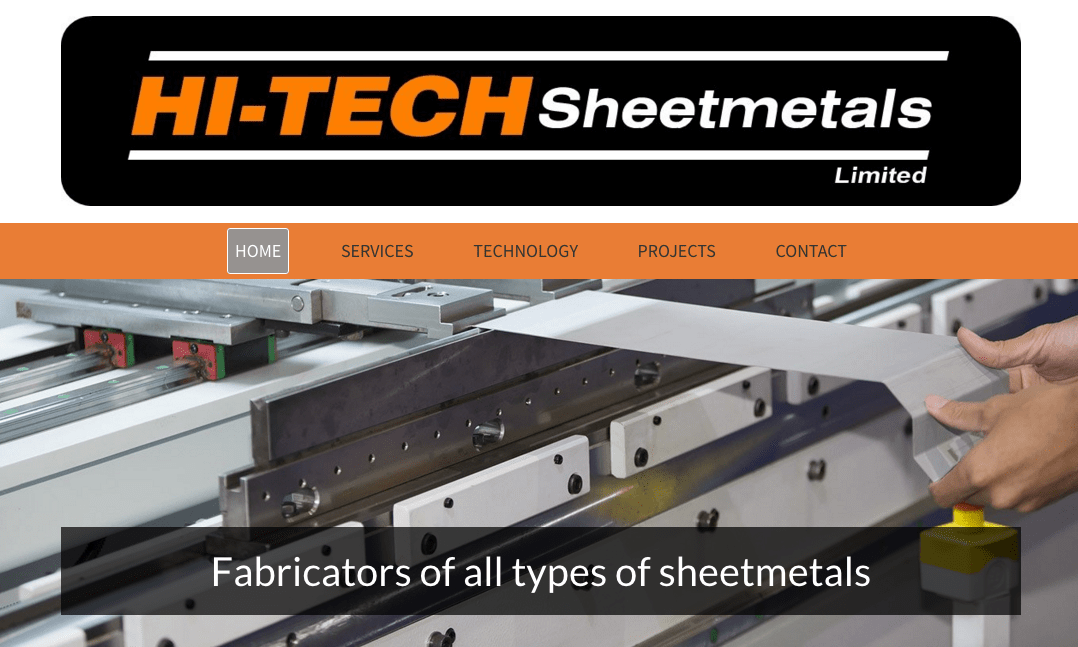 | | |
| --- | --- |
| Areas covered | Christchurch and South Island wide |
| Services | Commercial Scale Sheet Metal Cutting and Welding, Commercial Factory and Kitchen Fitouts, CAD Design, Powder Coating, Portable Containers, Splashbacks, Flashings, Stainless Steel Tubing |
| Address | 9-13 Wise Street, Addington, Christchurch 8024, New Zealand |
| Contact no | (03) 338 8522 |
| Website | https://www.hitechsheetmetals.co.nz/ |
Hi-Tech Sheetmetals offers you value and competency in their services. Be it in a factory, office, or farm, they can take on your project down to your specifications and need.
For instance, they can design and engineer the piping system in your factory, make tool containers for your 4 x 4 on the farm, and build stainless steel cabinets at your office.
If you have any CAD designs or blueprints, all the better, as the staff and metal makers can use it in order to reach your vision of the end product. In fact, that's their goal — for you to be satisfied.
There are many more you can have them make, as long as it's metal or steel. They cover Christchurch and the rest of the South Island.
Highlights
Offers value and competency
Design and engineer the piping system
You can show them your CAD designs or blueprints
Customer Reviews
On Google Business, Chris Bell comments:
"Excellent service, esp for the small jobs, friendly, efficient and job done 100%."
3) G & A Harris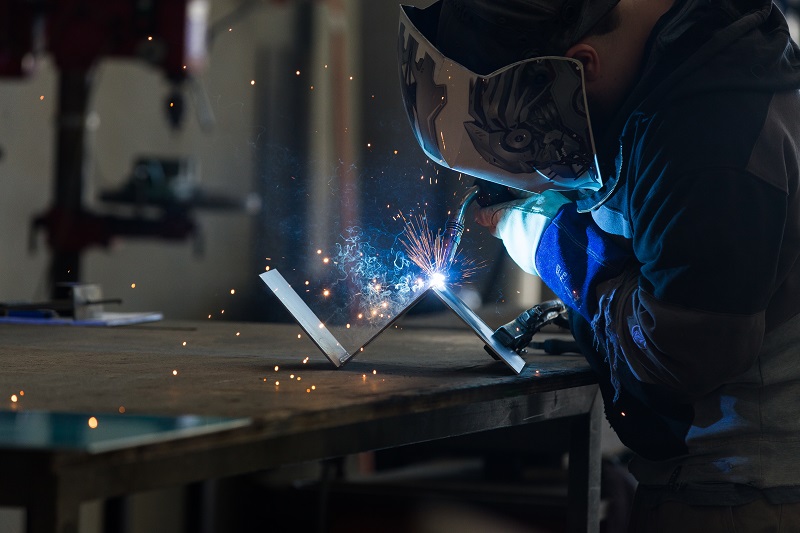 | | |
| --- | --- |
| Areas covered | Christchurch |
| Services | Cutting, Folding, Fabrication, Powder Coating |
| Address | 231 Dyers Road, Bromley, Christchurch 8062 |
| Contact no | 03 384 3634 | [email protected] |
| Website | http://gaharris.co.nz/ |
With over 60 years of experience in providing sheet metal solutions, G & A Harris Sheet Metal Engineers specialise in welding, fabrication as well as cutting & folding custom architectural sheet metal profiles and flashings for both the commercial and residential construction sectors.
Customers are consistently impressed at the wide range of products provided & they are well known for their commitment to providing excellent, timely service. G & A Harris invests in modern technology and the latest equipment which allows them to provide both standard and complex products with precision and accuracy.
Chimney caps, stainless steel shower grates, rainwater heads, flashings & architectural cladding are all available & made to measure by their experienced team.  Utilising stainless steel, Aluminium, Galvanised Steel, Colorsteel Maxx, Zincalume or Mild Steel – if it's made from metal please enquire.
G & A Harris Sheet Metal Engineers will give you the best quality service and products you need. Contact them now – you can count on them for your construction needs!
Highlights
Over 60 years of experience
High-quality metal products
Committed to providing excellent service
Customer Reviews
Here's a comment coming from Nicholls Installation on Google Business:
"Great team quality workmanship always on time and have never let us down."
4)  Flaxton Iron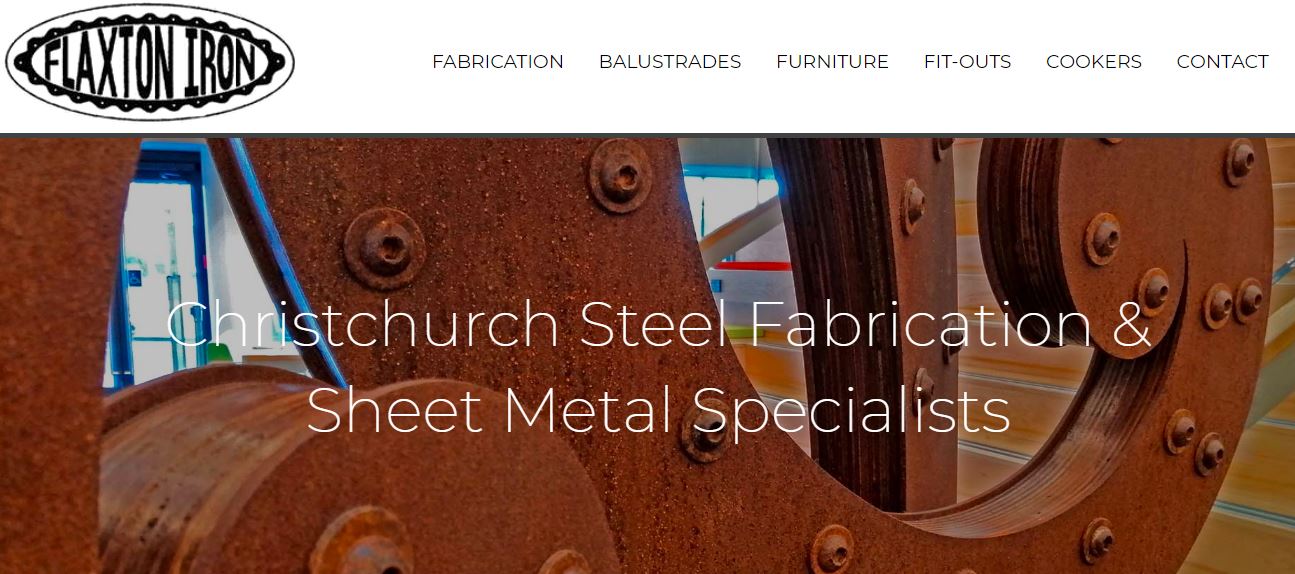 Areas covered
Christchurch
Services
Bar, Restaurant Design & Fit-out
Steel Furniture – Indoor & Outdoor
Wrought Iron Gates
Architectural Steel
Mobile Kitchens
Bar & Restaurant – Upcycling & Repairs
Steel Tables and Chairs
Custom Fireplaces – Wood & Gas
Cookers & Smokers
Handrails & Balustrades
Custom Staircases
Maintenance programs
Corten Steel – Weathering Steel
Teppanyaki Tables
Charcoal Barbecues
Architectural Lighting
Trailers – New & Repairs
Flashings
Address
39 Wickham Street, Bromley, Christchurch
Contact no
03 384 8420
021 704 214
[email protected]
Website
https://www.flaxtoniron.co.nz/
Flaxton Iron is a steel fabrication, welding and sheet metal specialist lcoated in in Bromley, Christchurch. Established in 1994 by owner Glen O'Neill, Flaxton Iron Ltd creates metalwork that has a distinctive industrial style
They specialise in all aspects of steel fabrication and sheet metal services, creating bespoke wrought iron and steel structures tailored to their client's individual requirements. Having over 25 years of experience, they have earned our position as one of Canterbury's leading wrought iron, welding and steel fabrication companies.
Highlights
Steel fabrication, welding and sheet metal specialist
Over 25 years of experience
Distinctive industrial style
Customer Reviews
Check out one customer, axe man's review:
"Great quality work, friendly service, and the ability to turn steel into art."
5)  Prometal Industries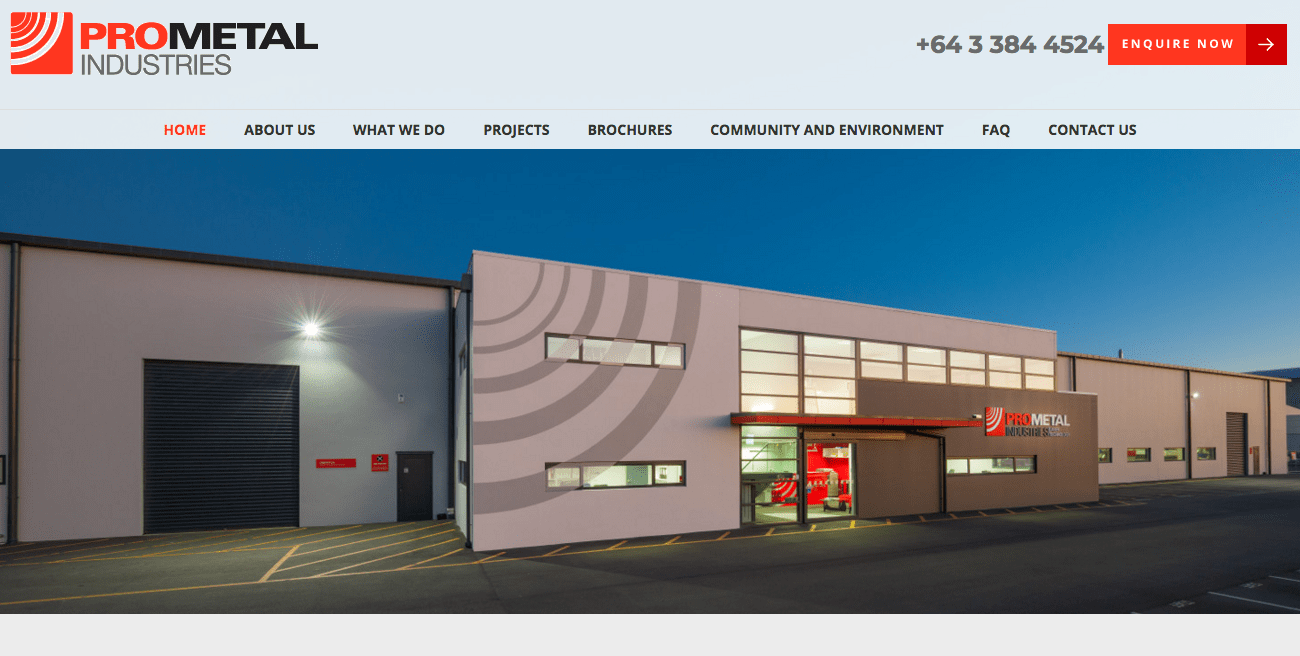 | | |
| --- | --- |
| Areas covered | Christchurch wide |
| Services | CAD Services, Laser Cutting, Turret Punching, Folding and Insertions, Welding and Fabrication, Ring Rolling, Powder Coating, Assembly |
| Address | 20 Logistics Drive, Harewood, Christchurch 8051, New Zealand |
| Contact no | +64 3384 4524 |
| Website | http://prometal.co.nz/ |
Prometal excels in the art of metal making for the simple reason that their products are of high quality right down to the details. They also have a team that's made of metalworkers and designers who are both remarkable and talented.
To prove their quality, they have Telarc accreditation and work in partnership with several local and international companies to give you what you need for your business or production.
From the base to the finished painted look, they offer CAD services, laser cutting, turret punching, folding and insertions, welding, ring rolling, and installation.
Some of the projects they have done are the patterned white, gold, and gray metals in Kakahu facade to liven up the parking area and the fascinating Bubbles facade at the Crossings.
Highlights
Remarkable and talented metalworkers
High quality products
Telarc accredited
Impressive portfolio
6)  JB Fabrication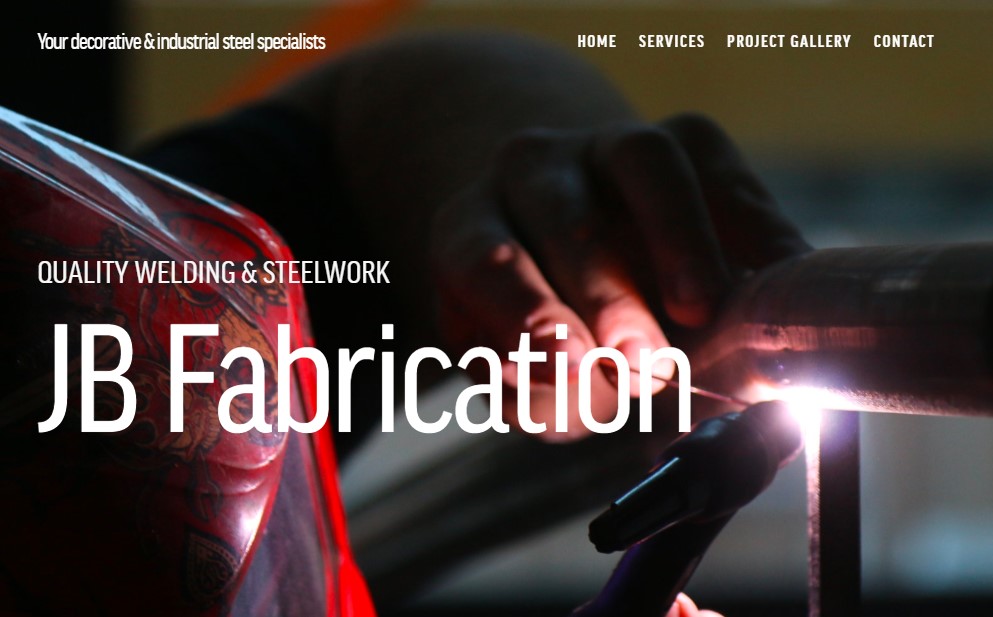 JB Fabrication is a locally owned and operated in Christchurch company that specialises in custom high-end furniture, signage, building fit-outs and automotive fabrication. They work with some of the largest construction and design companies within the Canterbury region.
Their talented staff is highly skilled within all types of steel fabrication and welding, and they pride themselves in delivering the highest standard of customer service possible.
Highlights
Talented, highly skilled staff
Locally owned and operated
Exceptional customer service
Customer Reviews
Jason Ham, one client, writes on Facebook:
"Robbie did amazing work on my exhaust system on my MK4 Supra. Quality of workmanship and service was amazing!"
7)  BestSteel

| | |
| --- | --- |
| Areas covered |  Canterbury and the South Island |
| Services | Driveway Gates, Balustrades, Gates, Commercial, Fences, Custom Outdoor Products |
| Address | Unit 4/750 Halswell Junction Road, Hornby, Christchurch 8042 |
| Contact no | ​03 344 0019 | [email protected] |
| Website | https://beststeel.nz/ |
BestSteel are designers, manufacturers, and installers of quality custom-made steel products that are proudly made in Christchurch.
Offering hundreds of images of fencing and gate installations in a variety of commercial and residential settings, BestSteel's galleries have helped their customers find a look that suits their individual taste and outdoor space.
They stand behind all their products, offering their customers a 10-year Guarantee on Workmanship and an 8-year No-Rust Warranty.
Highlights
Designers, manufacturers, and installers of quality custom-made steel products
No-Rust warranty
Helps you find something that suits your individual taste and outdoor space
Customer Reviews
One client, Rachel Rachel recommends the company on Google Business:
"High quality fence. Efficient and professional service. Recommend Gary and his team. Neighbours are commenting on the stunning new fence. Thanks."
8)  Hall Fabrication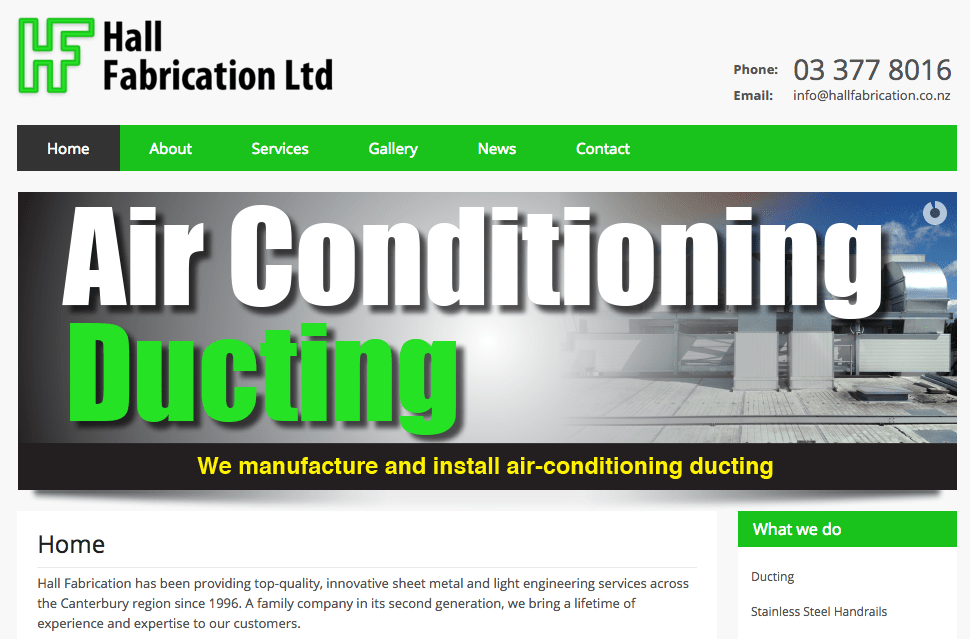 | | |
| --- | --- |
| Areas covered | Christchurch and Canterbury areas |
| Services | Ducting, Stainless Steel Handrails, Stainless Steel Pipework, Stainless Steel Tanks, Switchboards and Cabinets, Site Works, and Hoppers (Mild and Stainless) |
| Address | 96 Gasson St, Sydenham, Christchurch, New Zealand |
| Contact no | 03 377 8016 |
| Website | http://christchurchsheetmetal.co.nz/ |
If you have a food and beverage establishment and need equipment and furniture for that, Hall Fabrication should be on the top of your list.
Its general list of services includes producing ducting, handrails, stainless steel tanks, cabinets, benches, trolleys, hoppers, water pipes, and truck toolboxes.
Trained by his dad and original owner Peter, Elliott Hall now takes the wheel and leads this metal fabrication company that helps clients in metal or steel making and installation.
The establishment has invaluable experience when it comes to this business. They are accredited Site Safe for the health and safety of their staff, which shows in the products they offer.
Highlights
Food and beverage metal fabrication expert
Invaluable experience
Site Safe accredited
9) Marty Built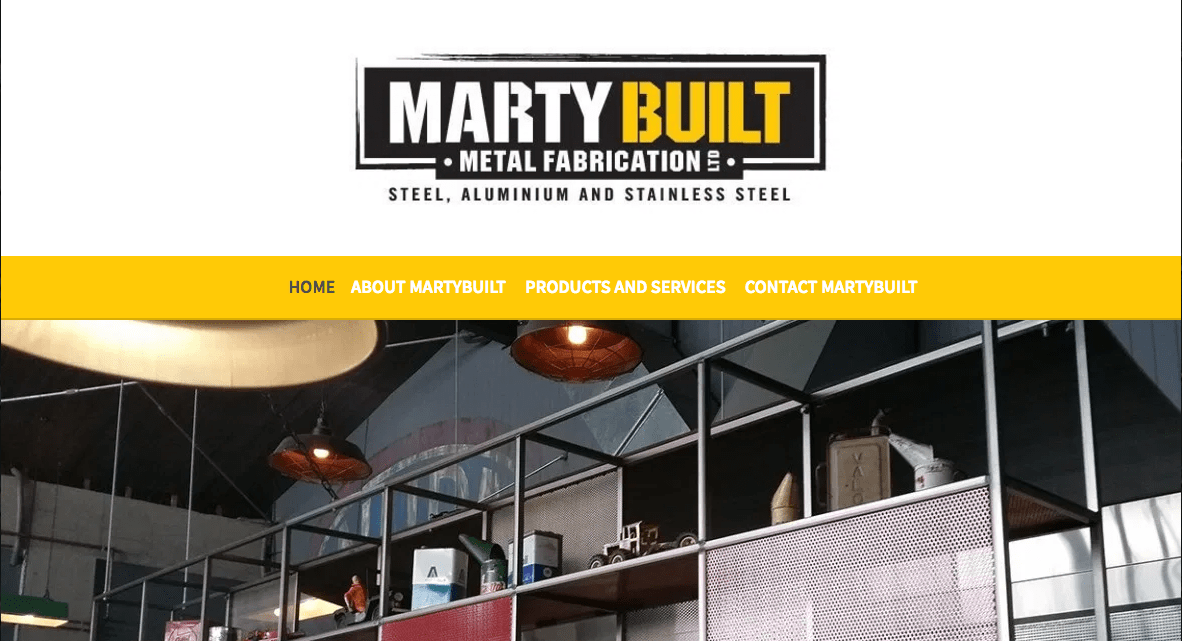 | | |
| --- | --- |
| Areas covered | Christchurch and New Zealand wide |
| Services | Office Furniture, Hospitality Furniture, Shopfitting, Sign Frames, Commercial Shelving, Warehouse Solutions, Balustrades, Handrails, and Stairs |
| Address | 146 Hazeldean Road, Addington, Christchurch 8024, New Zealand |
| Contact no | 03 366 5799 |
| Website | https://martybuilt.co.nz/ |
Whether you need to make a computer workstation, warehouse shelves, or trolley bays, you can call up Marty Built, one of your top options for the best metal fabrication in Christchurch.
They specialise in office furniture, hospitality furniture (like countertops or chairs in cafes), sign frames, and warehouse materials like ladders and shelves.
Aside from this, they also produce items made of steel, stainless steel, or aluminium, working with steel makers, powder coaters, and galvanisers for your commercial and private needs.
Their office is located at Hazeldean Road, Addington but they can take your project from anywhere in New Zealand.
Highlights
Specialise in residential & commercial furniture, sign frames, and warehouse materials
Also engineer stainless steel and aluminium products
Customer Reviews
Stephen Palfrey, one of their clients, remarked on Google Business:
"Great work, saved my trailer from the scrapheap. Good guys, easy to deal with and just helpful nice people. Oh and yes they're are good value for money."
10) All Steel Fabrication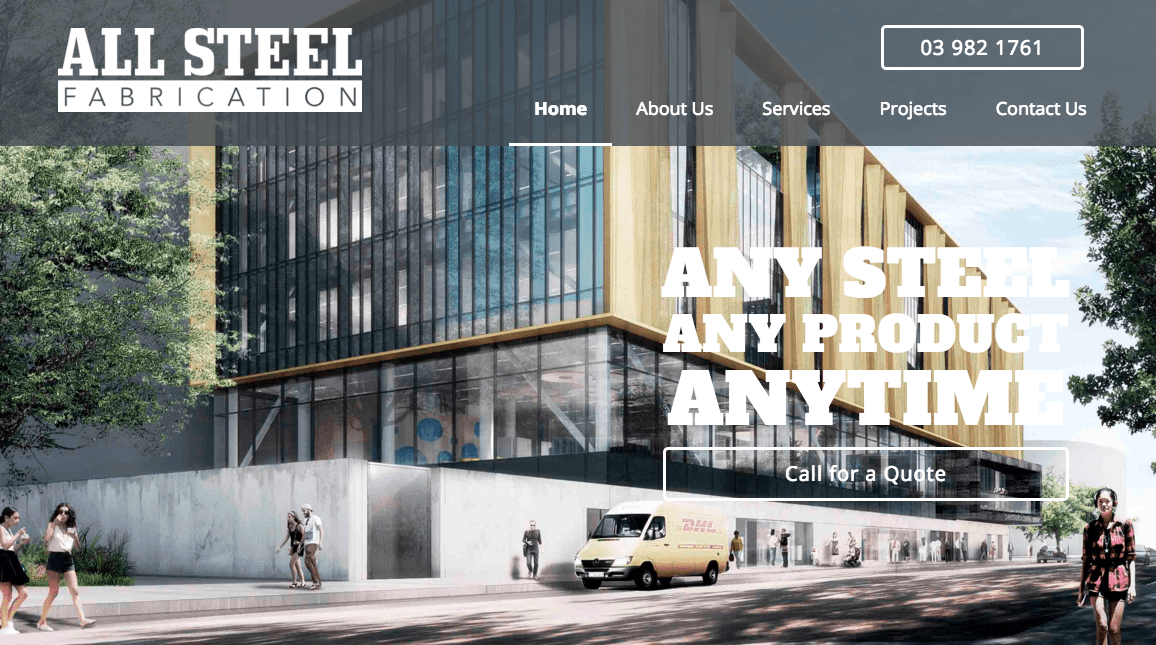 | | |
| --- | --- |
| Areas covered | Christchurch wide |
| Services | Design, Engineering, Fabrication, and Erection |
| Address | 83 Thackeray Street, Waltham, Christchurch, New Zealand |
| Contact no | 03 982 1761 |
| Website | http://allsteel.net.nz/ |
Overseeing the entire process from concept to designing to manufacturing, All Steel Fabrication is among the companies doing the best metal fabrication in Christchurch — just take a look at their portfolio.
The team has recently done work for commercial spaces and cathedrals, installing ridges, handrails, pillars, and rainwater systems. And they did it magnificently and creatively.
Be it simple or sophisticated, they can take on any work you throw at them. You will be amazed by the superb quality that is a result of their work and effort.
Based in Christchurch, they are just one call away to discuss your upcoming project and ideas.
Highlights
Creative & magnificent work
Hardworking & persistent workers
Can assist you from concept to manufacturing
Customer Reviews
Ken Balvers, the project manager of CS Roofing, wrote:
"Richard, Jay and their skilled team of tradesman have been supplying us with specialised flashings, rainwater goods, and other bespoke roofing products for the past five years. They have always provided quality products in a timely manner, and often exceed our expectations at times when we think we have overloaded them with orders. We have found them to be very professional, knowledgeable, and they have the ability to problem solve and think outside of the square when required. A great company that are a pleasure to deal with, and we look forward to a long lasting business relationship with them."
11) Project Stainless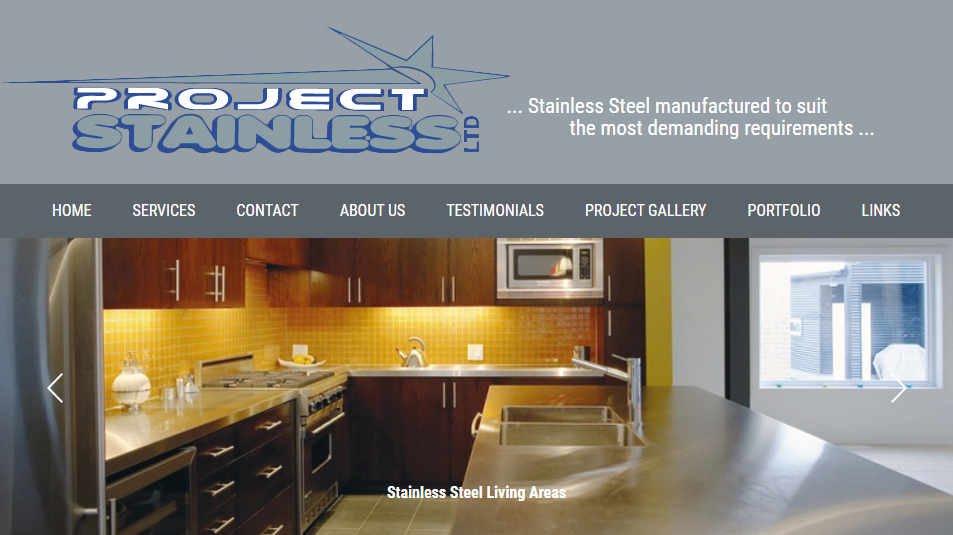 | | |
| --- | --- |
| Areas covered | Auckland, Wellington and Christchurch |
| Services | Free Quotations & Design Advice, Full Site-Specific Design Service, Custom Stainless Steel Manufacturing, Professional Installation, Project Management |
| Address | 54 Tidal Road, Mangere, Auckland |
| Contact no | 09 257 2990 |
| Website | https://www.projectstainless.co.nz/ |
Project Stainless is one of the best custom-made stainless steel providers in Auckland, Wellington, and Christchurch. They are able to attend to a lot of requests by the clients, like fabrication, installment, and competitive design of steel.
Their team is highly experienced in industry specific stainless steel designs. With their advanced equipment, they can produce high quality products. They also make sure to give you exactly what you need.
Entrust your stainless steel to them and you will surely never go wrong with trusting them!
Highlights
Offers fabrication, installment, and steel-designing
Highly experienced metal fabricators
Company you can totally trust!
Customer Reviews
This review came from MWF Manufacturing Ltd:
"Scott and the Team at Project Stainless are one of our key suppliers, providing an outstanding service to us over the past few years. Their commitment ensures at all times that the pressures of completing projects on time & on budget are always met."
12) Superior Trailers
Areas covered
New Zealand
Services
Trailer Sale, Trailer Design and Repair
Address
260E Port Hills Road
Hillsborough
Christchurch, 8022
New Zealand
Contact no
Email : [email protected]

Phone: +64 (0) 3 384 4428
Fax: +64 (0) 3 384 4998

Website
http://superiortrailers.co.nz/
Superior Trailers has a simple goal– to create innovative products. Their team of talented designers and artisans achieve that goal by creating quality trailers for their clients.
They offer both premade and bespoke trailers for sale. If you're looking for a trailer manufacturer you can rely on, then Superior Trailers is what you need.
Highlights
Creative products
Custom solutions
---
And this concludes the list of companies doing the best metal fabrication in Christchurch. If you need equipment, handrails, tanks, architectural elements or anything else metal, contact these metal specialists!
Have you used the metal fabrication services we listed? Share with us your experience by sending us a message and we will get back to you soon.
Adding to the style and function of your office, apartment, factory, you could be looking for comfortable chairs further on. For this, you can read about the best chairs in New Zealand.