The 5 Best Milk Frothers in NZ
Looking for a milk frother? If you are, that's great, as we've collated a list of the best milk frothers in NZ here for you.
But before we go to our top options, we'll walk you through the basics of choosing a milk frother. That's so you can pick one from our list that will meet your needs.
And if you're ready, let's start!
How to Choose a Milk Frother
Below are the things you have to consider when buying a milk frother:
1) Types of Milk Frothers
There are two types of milk frothers: handheld and jug-style milk frothers. Let's differentiate them below.
A handheld milk frother is a light utensil used for whisking milk. Since it doesn't have a container, it's great to take with you to use at work or when you travel.
It's more affordable than a jug-style frother and only requires a set of batteries to work.
On the other hand, a jug-style milk frother comes with a beaker, whisk, and lid. Given that, this has a bigger footprint on the kitchen countertop.
It is easier to operate than a handheld model as you only need to push a button to froth the milk. And depending on the model, it can froth hot or cold drinks, or both.
Furthermore, it operates manually or by being plugged into a power source. Also, it is more expensive compared to a handheld frother.
2) Types of Milk
What kinds of coffee or drinks are you planning to make? Are you going to make espresso, mocha, cappuccino, latte, hot chocolate, smoothie, or fresh juice?
Bear in mind that not all milk frothers can perfectly froth milk for different types of drinks, in terms of thickness, weight, and fat.
As such, you have to look for a frother that can make the drinks you want.
3) Temperature
You may find milk frothers that have built-in temperature sensors. This gives you a great advantage since you can heat or cool the milk just as you want.
Note that handheld frothers don't come with this feature: only jug-style or electric models do.
4) Material
Milk frothers are commonly made of plastic, stainless steel, and glass.
Stainless steel has high durability and a sleek design. It is a little heavier and more expensive, though.
Plastic is acceptable for milk frothers as long as it is of high-quality and doesn't come into contact with the milk inside.
One of our products below, the Bialetti Tuttocrema frother is constructed of plastic, for instance, but the jug's interior is made of aluminium, making the frothed milk safer to use.
Besides that, glass frothers are elegant and nice to look at in your kitchen. That said, they might break or crack if dropped accidentally.
5) Capacity
You don't have to get a frother with the highest capacity unless you are serving the whole family or run your own coffee shop.
A frother has a capacity of around 130 ml to 710 ml. Pick one that is sufficient for your use, so you don't have to froth milk again if you want another cup of joe.
The Best Milk Frothers in New Zealand
Now that you know how to pick a milk frother, you're ready to see our picks for the best milk frothers in New Zealand!
1) LifeSpring Stainless Steel Milk Frother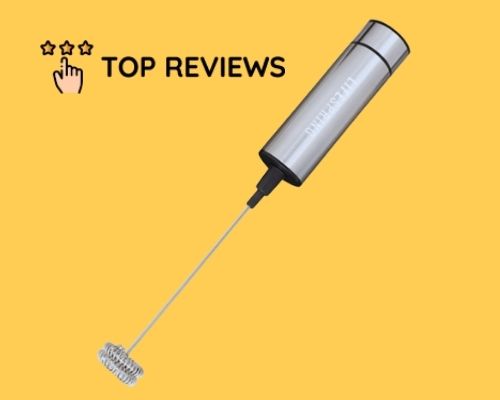 | | |
| --- | --- |
| Best for | Affordable milk frother |
| Dimensions | 18 x 12 x 4 cm |
| Type | Battery-powered handheld frother |
| Weight | 0.17 kg |
| Price | $14.74 |
If you want a cup of java with barista-quality milk—or at least close to it—the LifeSpring Stainless Steel Milk Frother might be for you.
The cylinder body and wand are made of stainless steel, making it durable and neat. It is feather-light at 0.17 kg and is easy to use with a one-button operation.
With single- and double-spring whisks, you can froth milk for an assortment of drinks including cappuccinos, hot chocolates, smoothies, and fruit shakes.
The handheld milk frother is powered by 3 AAA alkaline batteries. However, you have to buy them separately from the product.
Stainless steel body
Hot or cold milk frother
One-button operation
Easy to clean
Customer Reviews
The milk frother has received positive reviews on Andatech's website. Owners were satisfied with the foam thickness produced, its versatility, and ease of cleaning.
Here's a review from one owner named Drew:
"I received my online purchase quickly from Andatech. The Lifespring Milk Frother works very well. It is fast and powerful and I really like being able to detach the impeller for cleaning and change the impeller for a different result. It is a fabulous piece of equipment. I'm very happy with it."
Furthermore, Shu shared his experience using it:
"Awesome item, better than expected. The device foamed up the milk so thick. My little gave two thumbs up when she had her babycino."
2) Bialetti Tuttocrema Milk Frother 1 L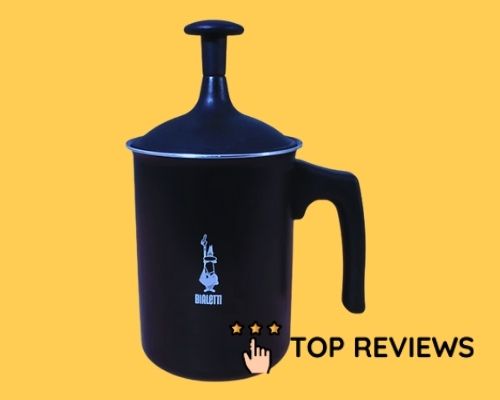 | | |
| --- | --- |
| Best for | Large manual milk frother |
| Dimensions | 24.99 x 19.99 x 14.99 cm |
| Type | Manual milk frother |
| Weight | 0.50 kg |
| Capacity | 1 L |
| Price | $86 |
Bialetti is an Italian brand known for blending beauty and function in its coffee maker and frother products.
One of these is the Bialetti Tuttocrema, a manual milk frother that's capable of serving 6 cups of milk. It has a mesh sieve inside used to make airy, frothy milk.
It is constructed of plastic, which is less durable than metal. Another issue is its silicone-like screen, which is prone to wear and tear.
That said, the aluminium inside the jug allows the frother to be heated on every cooktop, except induction-style hobs.
To use the frother, you simply fill one-third of it with milk and heat it for a bit. Then, you just remove it from the stovetop and pump the plunger a few times—very simple!
Great froth result
Large 1 L capacity
Elegant and practical
Easy to use
Expensive
The screen and body are not durable
Customer Reviews
Despite some criticisms, the product managed to get 4.4 out of 5 stars on Amazon. Though it has durability issues, it produced satisfying milk froth.
Let's read this review from one owner:
"This has 2 screens for frothing, and it does a good job. Probably because of the material used to make the canister, the material around the screens is "silicone-like". It becomes misshapen rather quickly, but still works as others have noted. I had been using a glass container with screens that are more durable. Long term that is probably a better product than this. Also, I have a $15 battery powered whisk frother that does an equally good job; also more durable."
Joshua said this too:
"I purchased this along with the Bialetti exspresso maker and I am so glad I did. This milk frother is large enough to make more than just one latte! I use soy milk and it always gives me more than enough froth. My only regret is that I didn't find this product sooner?"
3) Lavazza Milk Frother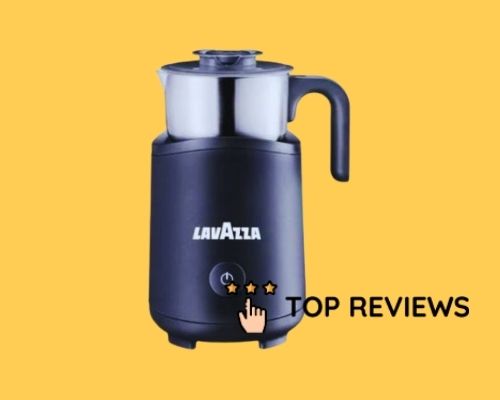 | | |
| --- | --- |
| Best for | Easy-to-use milk frother |
| Type | Jug-style milk frother |
| Weight | 1.5 kg |
| Capacity | Milk-frothing: 120 ml Milk-heating: 180 ml |
| Price | $118.77 |
If you're looking for an electric milk frother that's easy to use, the Lavazza Milk Frother is a great choice!
All you have to do is plug in the appliance, add the milk of your choice, close the lid, press the button, and let it rip.
The result will be nice and thick froth you can pour onto your latte or caffè macchiato. This will be perfect for an energising breakfast or a pick-me-up in the afternoon.
Additionally, the jug, lid, and whisk can easily be removed so you can wash them after every use.
Although the Lavazza milk frother is a bit costly, you will find this a gem in your home if you intend to brew coffee often.
Makes hot froth
Electric-powered
One-button control
Easy to clean
Higher-priced
Small capacity
4) Barista & Co Handheld Milk Frother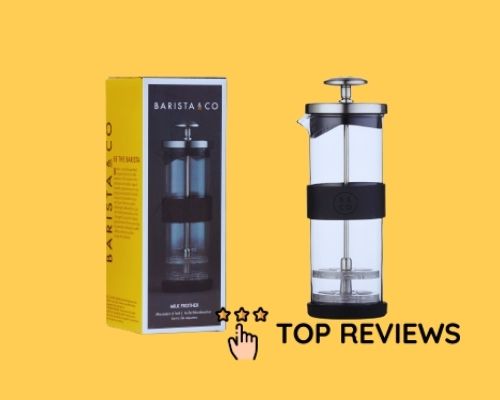 | | |
| --- | --- |
| Best for | Glass milk frother |
| Type | Handheld milk frother |
| Capacity | 400 ml |
| Price | $47.99 |
From its comely glass design to ease of cleaning, Barista & Co Handheld Milk Frother secures a spot in our best milk frothers in NZ list!
The design is well-thought-out with a max fill line on the glass, so you can keep the milk at the right level. The handle can be plunged up and down to froth up the liquid.
After that, you can remove the frother and put the jar inside the microwave to heat it. That's it: you're ready to pour the milk onto your latte or cappuccino!
Aside from that, the milk frother is easy to clean with detachable parts. Remember to only give it the classic handwash treatment.
Plus, the price oozes value, so for a great glass milk frother, you can bet on this one.
Heat-resistant glass
Excellent capacity
Microwavable-safe
Easy to clean
The glass is fragile
Can be too small to fit in a microwave
5) Aerolatte To Go Milk Frother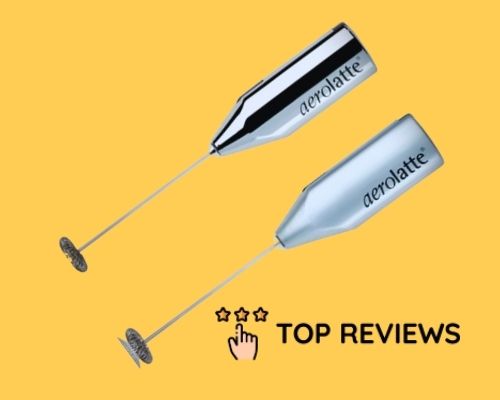 | | |
| --- | --- |
| Best for | Travel-friendly milk frother |
| Dimensions | 21.59 x 4.45 x 3.18 cm |
| Type | Handheld milk frother |
| Weight | 0.15 kg |
| Price | $21.67 |
Aerolatte took the market by storm by offering the first-ever handheld milk frother. As opposed to the larger units, it takes up considerably less space in your kitchen.
This is what the Aerolatte To Go Milk Frother is all about. And like the original one, it is versatile as it can be used to prepare drinks, sauces, dressings, and desserts.
Its wand is food-safe and made of stainless steel, which are two great advantages. It is fitted with a motor that is both powerful and fast, tailor-designed to foam milk.
Buying this is hassle-free since the batteries are included already. What's more, it has a storage tube so you can bring it with you to make the perfect coffee on the go!
Ergonomic design
Food-safe metal whisk
Simple to clean
Value for money
Doesn't last as long as competitors
FAQS about the Top Milk Frothers in NZ
---
And there you have it for the top milk frothers in NZ. Your coffee will taste so much better with the creamy and milky froth added to it.
Any questions or comments about our list? If you have one, kindly send us a message and we'll get back to you as soon as we can.
Want more tools that can help you brew barista-quality coffee? If you do, you might be interested in reading about our top choices for the best coffee machines in New Zealand!