The 11 Best Mortgage Brokers in Christchurch Compared
Applying for a home loan without a mortgage broker in Christchurch can be a hard task. Therefore, choosing the best mortgage broker is a crucial step in ensuring that you get the best value for your money.
To help you out, we've outlined the best mortgage brokers in Christchurch. In this article, we made sure to select qualified mortgage brokers who offer reliable services and have proven experience in satisfying their clients' needs.
Without further delay, here are the best mortgage brokers in Christchurch!
The Best Mortgage Brokers in Christchurch Compared and Reviewed:
1) Duane Aarts – Canterbury Home Loans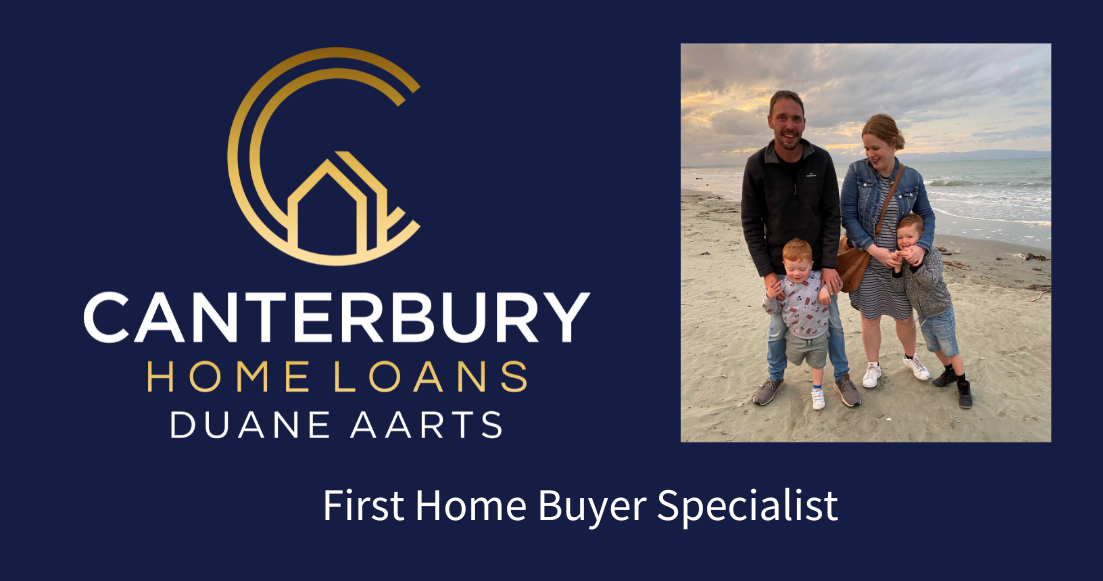 Duane Aarts is one of the best mortgage brokers in Christchurch for future homeowners looking to buy their first home. Many praise him for his quality mortgage advising services and swift response time.
He has been in the Christchurch mortgage industry for many years, with over 20 years working with big banks and 10 years as a bank manager. Using this extensive experience he expertly guides his clients through the mortgage process, from start to finish.
While he specialises in assisting first home buyers and new builds, Duane Aarts is more than capable of handling any mortgage needs his clients pass to him. This is possible thanks to the numerous connections he has been and continuing to build.
Most importantly, these quality services come free of charge as the bank, not his client, is the one that pays him. Interested homeowners are welcome to contact him through his website, phone, or email, where he'll make sure to reply back within the same day.
So if responsiveness and decades of experience are important for you, Duane Aarts could be one of the best mortgage brokers in Christchurch for you.
Duane Aarts gives financial advice through Canterbury Home Loans Limited trading as Mortgage Express and Canterbury Home Loans.
Highlights
Online services
Many years of experience
Always available through call or email
Free strategy session
Customer Reviews
Here is a comment left by a satisfied client of Duane Aarts:
"What a champion! I cannot speak highly enough of Duane and his expertise. He helped walk my brother and I through the exciting but intimidating process of purchasing our first home. I can wholeheartedly vouch for all of the reviews already written. Duane is professional, knowledgeable, reliable, has fabulous communication skills, and above all else, always had our best interest at the forefront of all the options we explored and decisions we made. We felt very informed and taken care of throughout the whole process. Thank you, Duane. Our experience wouldn't have been nearly as seamless without you. We will never forget the part you played in helping us achieve this lifelong dream of ours. – K Williams"
2) Gareth Veale – Financial Adviser

BEST FOR
Holistic advising approach
SERVICES
Financial advising, Mortgage broker
WEBSITE
https://www.garethveale.com
ADDRESS
5A/166 Moorhouse Avenue
8011 Christchurch, New Zealand
CONTACT DETAILS
+64 27 503 0836
[email protected]
OPERATING HOURS
Always Open
Unlike most mortgage brokers in Christchurch, Gareth Veale is one that strives to take a holistic approach when serving his clients. This is what allows him to find not only the best rates on the market, but also provide pertinent advice involving the various aspects of his client's property.
He has a wealth of knowledge in the various aspects of finance and mortgaging. Besides cost, future cash flows and possible risks are also part of what he considers when providing financial advice, which increases his accuracy and reliability in the business.
The secret to his excellent financial advising services lies in his many connections to banks and financial companies around New Zealand. This is what allows him to supply clients with the best rates possible, no matter what their financial status may be.
Finally, he's open to receiving inquiries at all times, which means you'll be able to reach him if you ever get stuck in an emergency. Given his top-notch services and incredible reliability, Gareth Veale can serve as an excellent mortgage broker in Christchurch.
Highlights
Best lending solutions
Wide range of financial options
Extensive bank and finance company connections
No closing hours
3)  Scott Miller – Advanced Mortgage & Insurance Solutions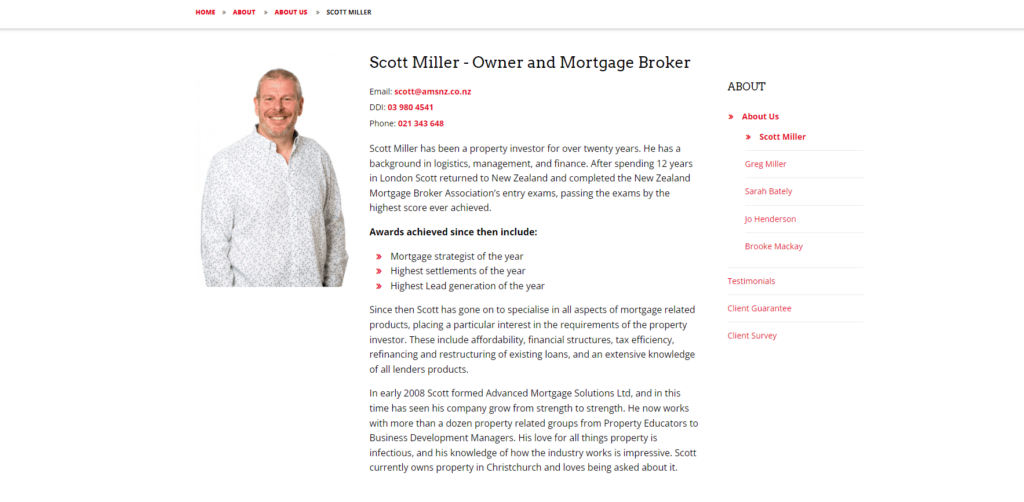 Looking for a brokers mortgage in Christchurch who can make the entire home-buying process seamless? Call Scott Miller from Advanced Mortgage and Insurance Solutions.
Scott is a highly qualified Christchurch mortgage broker who has extensive knowledge and experience in the industry. He specialises in assisting property investors in getting the best possible price for new homes.
According to previous clients, Scott will guide you in every step of the process. With experience in working with more than a dozen property-related groups, he'll certainly be able to help you with any issues with loan market in Christchurch.
Scott has also won numerous awards throughout the years. Some of his awards include the Mortgage Strategist of the Year, the Highest Settlements of the Year, and the Highest Lead generation of the year.
Highlights
Highly qualified mortgage broker
Specialises in assisting property investors
Helpful and proven reliability
Multi-awarded mortgage broker
Customer Reviews
Here's a glowing review posted by a previous client, Carolyn Grise:
"Scott was very helpful throughout the entire process from preapproval to finalising the loan structure.
Very quick to reply to any questions I had and quick turnaround times to get things done.
Very knowledgeable. Thanks!"
4)  Martin Eagle – Mortgage Group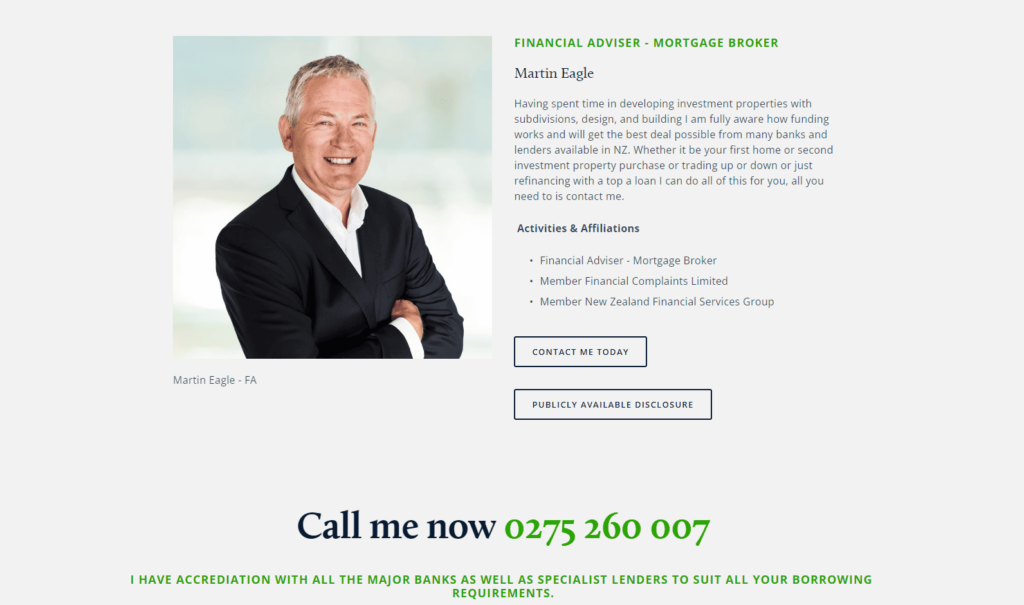 BEST FOR
Hassle-free mortgage services
SERVICES
Pre-approvals
Home buying
Refinancing
Home renovations
Property investment
Construction loans
WEBSITE
https://www.mortgagegroup.co.nz/about
ADDRESS
171 Victoria Street, Christchurch Central, Christchurch 8013, New Zealand
CONTACT DETAILS
+64 27 526 0007
OPERATING HOURS
24/7
Martin Eagle is indeed one the best mortgage brokers in Christchurch. Because not only is he a registered financial advisor, he's also a licensed building practitioner.
This means that he's very familiar with how project funding works– whether you're constructing a building, buying a house, or even developing a subdivision.
Martin can get you a mortgage loan with the lowest interest rate because of his extensive experience and connections with the different banks. He is also capable of helping you in the refinancing and refixing of your Christchurch mortgage.
Based on clients' reviews, he will make your experience effortless, from pre-approval up to moving into your dream home.
Highlights
Effortless experience
Registered financial advisor
Wide banking connections
Licensed building practitioner
Customer Reviews
A client named Stu from the Marshlands shared his experience in working with Martin in this review:
"Martin was great from start to finish, my wife and I have built our first home and Martin made the mortgage process simple right from day one. Listened to what we wanted then went and got us the offer. Highly recommend!"
5)  Michelaé Reeve – The Mortgage Girls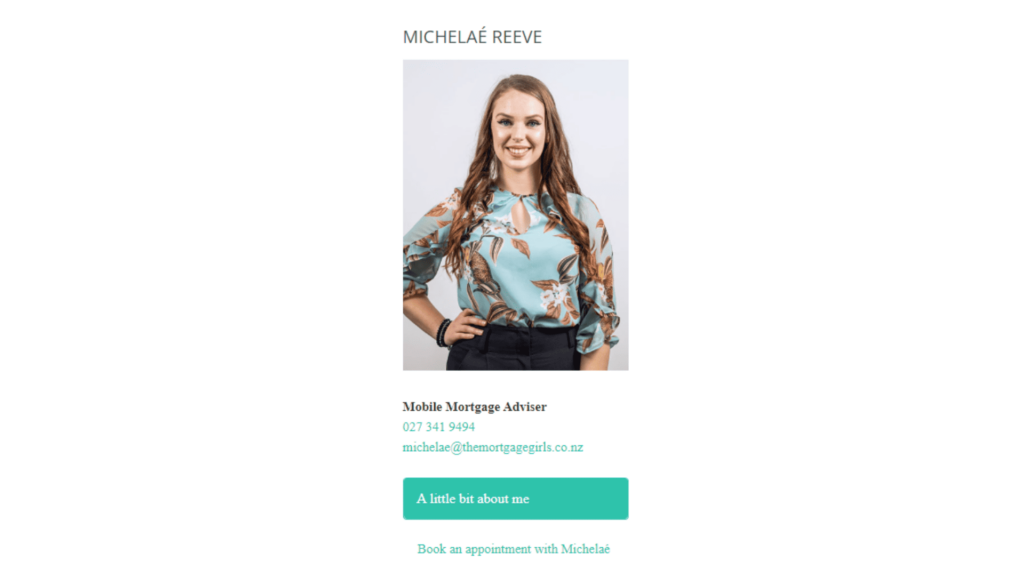 Before joining The Mortgage Girls, Michelaé was a client of theirs, sought their services as mortgage brokers in Christchurch, and bought a house with them. She was so impressed with the quality of their services and guidance that she decided to work for the company.
With years of experience in the finance field under her belt, you can put your faith in her to help you achieve your home-buying dreams.
Michelaé will take the loan and insurance complexity out of the picture. She'll ensure your house aspirations are realised and help you achieve it for you and your family.
If a previous client has become the actual owner of a company, it really speaks a lot about how to company can be one of the best mortgage brokers in Christchurch!
Highlights
Constant support and guidance
Experienced financial advisor
Stress-free process
Customer Reviews
Lena M. recommends working with Michelae in her review on Facebook:
"Highly recommend the mortgage girls. Michelae was awesome to deal with. Went above and beyond with our first home purschase. Thank you!"
6) Adair Mortgages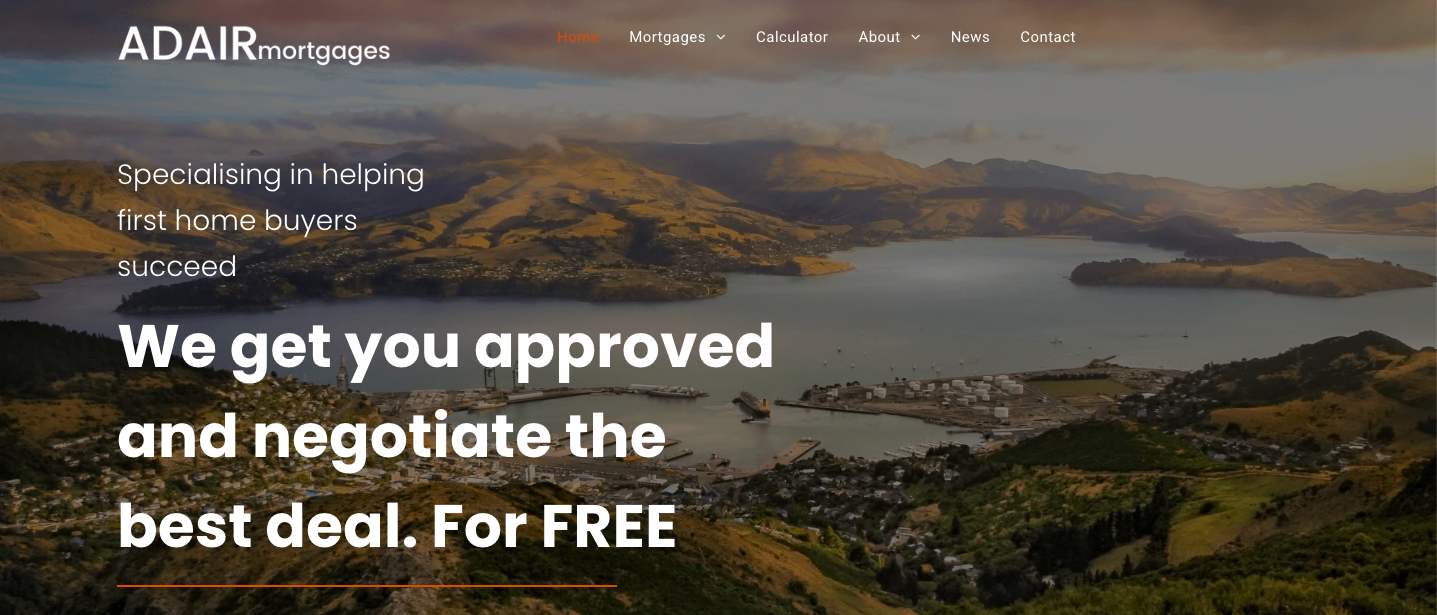 We think that Adair Mortgages is a great option for first time buyers since this is what they specialise in.
Being one of the leading Christchurch mortgage advisers, Adair Mortgages promises to help their clients negotiate the best deals and get approved, and we like that this is for free.
In general, they can help clients with buying their first house, refinance, investment, and buying their next homes.
Of course, we've taken the time to get various feedback from their past clients, and you'll be happy with what we've found because there's only good things. We didn't come across a single bad review.
We've found that all their clients have received very helpful advice and their various problems have been resolved.
Given all these, we believe Adair Mortgages will guide you well, especially if it's your first time purchasing a home.
Highlights
Gets clients approved and negotiates the best deal for free
Specialises in helping first time home buyers
7)  Lem Willcox – EasyStreet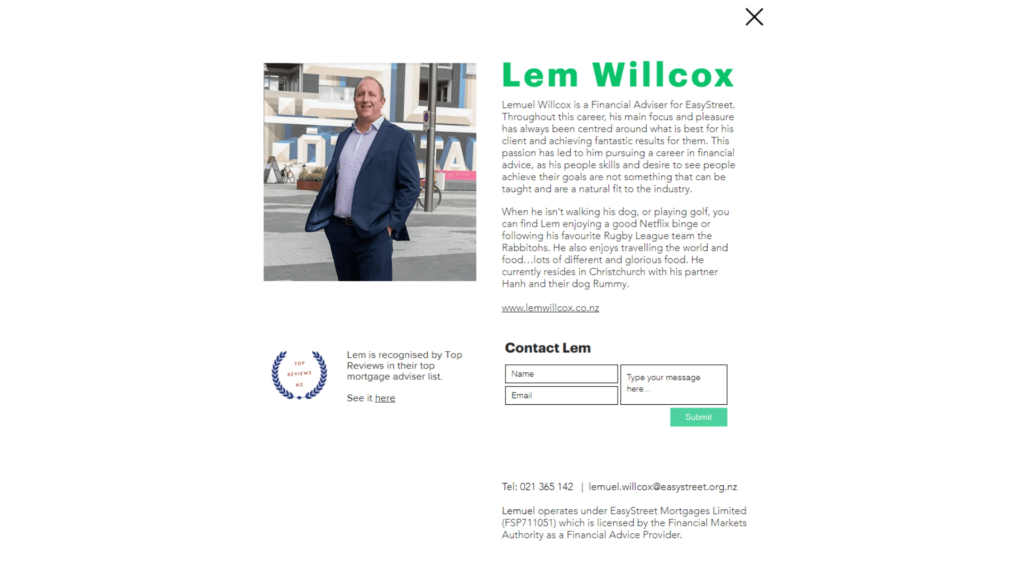 BEST FOR
Getting the best mortgage interest rates
SERVICES
Mortgages, Insurance, Investments
WEBSITE
https://www.easystreet.org.nz
ADDRESS
26 Southwark Street, Christchurch Central
CONTACT DETAILS

[email protected]


+64 21 365 142
OPERATING HOURS
24/7
The best mortgage broker is one that you can trust. Lem Willcox is one of the mortgage brokers you can count on to help you with your loan.
Their process is swift, efficient, and transparent. With their "customer first" approach, you can rest assured that you will be getting the best rates for your loan, at the quickest time. That's one of the best customer services we've heard of amongst mortgage brokers in Christchurch.
Highlights
Smart application process
Transparent advisers
Best rates in the market
Customer-oriented
8) Simon Maule – Loan Market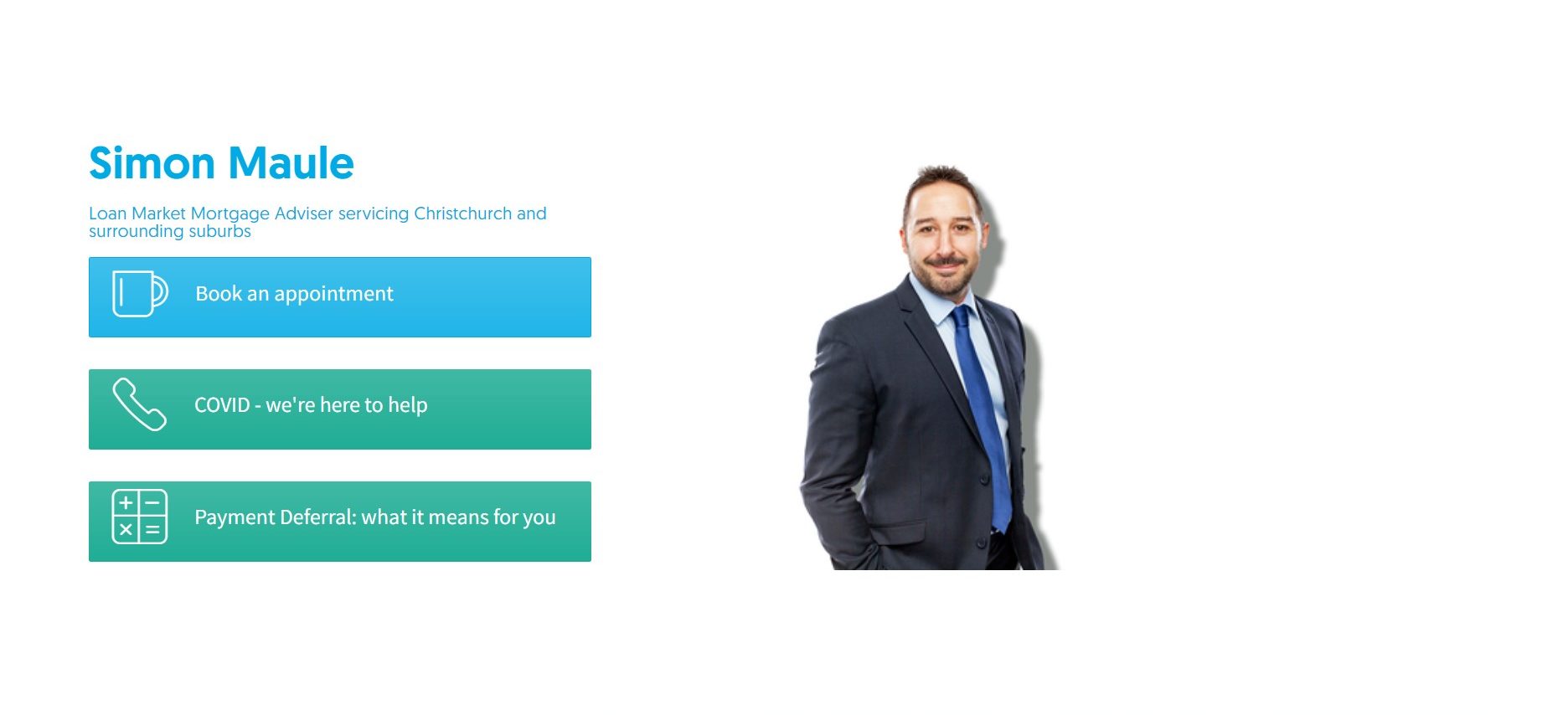 BEST FOR
Expert mortgage adviser
SERVICES
Banking and financial services
WEBSITE
https://www.loanmarket.co.nz/simon-maule
ADDRESS

372 Riccarton Road, Upper Riccarton, Christchurch 8041, New Zealand

CONTACT DETAILS
278864934
OPERATING HOURS
Monday – Thursday: 8:30am–5:30pm
Friday: 8:30am–4:30pm
Simon Maule from Loan Market is one of the most sought after mortgage adviser in Christchurch and the whole of New Zealand. He's highly recommended by his previous clients for his professionalism and vast knowledge on the field.
What may seem 'impossible' for some other advisers will surely be able to be fixed by Simon. Don't settle for less, acquire him as your assistance for your finance problems.
Head on to their website and fill up the form to book an appointment!
Highlights
Personalized advices
Easy and efficient financial assistance
Outstanding service and communication
Customer Reviews
Below are some of the reviews left on Google for Simon Maule's amazing assistance as a part of Loan Market:
"Simon at Loan Market was great to work with. He was professional and efficient, while also considering my individual situation and needs. As a first home buyer, he lead me through the process respectfully and clearly so that I understood everything. I really appreciated his guidance." – Chloe Cull
"We were recommended to Simon by a friend, we approached him after attempting to use two other mortgage brokers who put our application in the "too hard" folder. From the get go, Simon was helpful, well versed in the application we were wanting to apply for (unlike other mortgage brokers we'd approached, who told us we would never get approved) he was helpful and optimistic about our application.
After three weeks, we were approved! He made the whole process easy and painless and went above and beyond to ensure we knew what stage we were at and what the next step was.
We will definitely be using him again and would recommend him to anyone looking for an excellent broker." – Millicent Taylor
9) Antonia McAtamney –
Loan Market Mortgages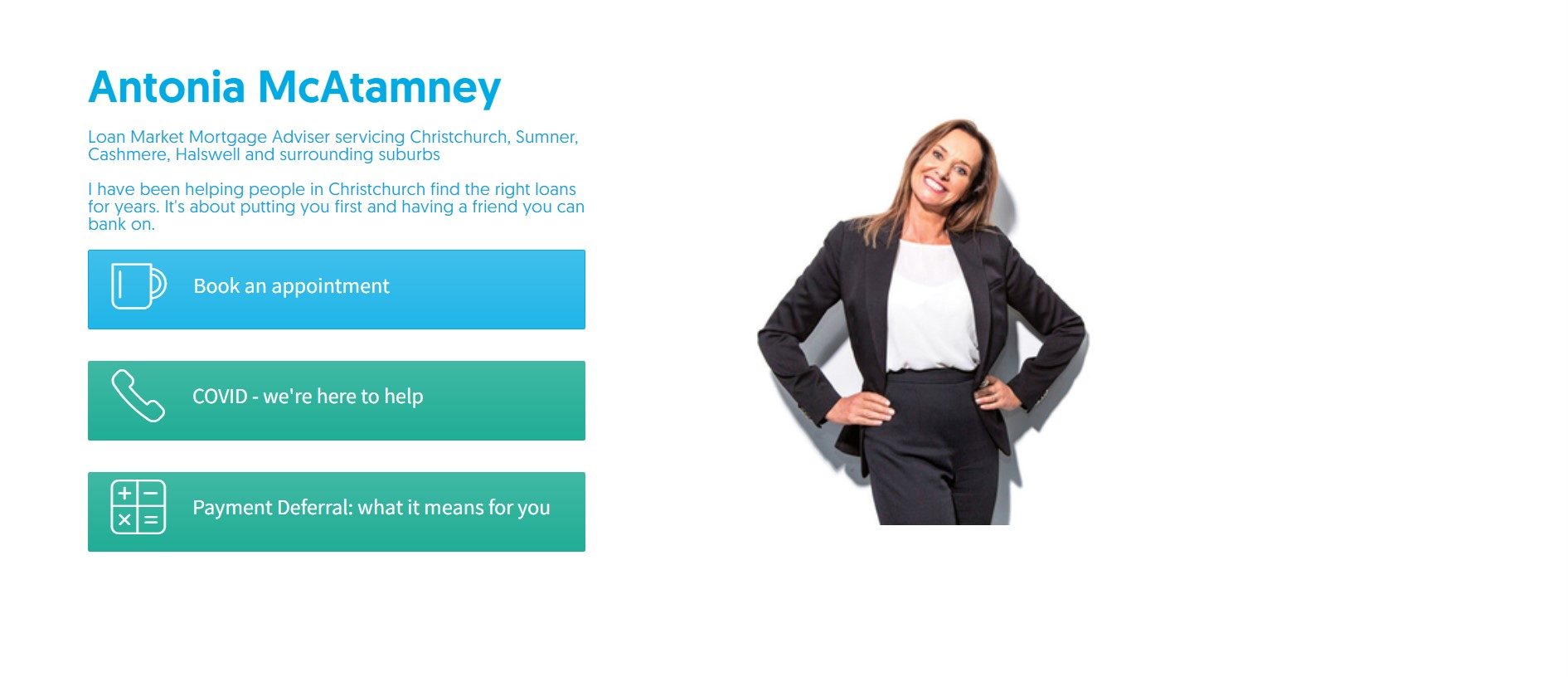 BEST FOR
Home Loan Features
SERVICES
Refinancing Home Loans
Home Loans
Investment Loans
Loans for Self Employed Borrowers
Land and Construction Loans
WEBSITE
https://www.loanmarket.co.nz/antonia-mcatamney
ADDRESS

21 Humphreys Drive, Christchurch, Canterbury 8023

CONTACT DETAILS
21469244
OPERATING HOURS
Monday to Friday: 9am–5pm
If you're looking for assistance while finding the perfect home, then consider hiring Antonia McAtamney as your mortgage broker in Christchurch!
For years, she has been helping people of Christchurch achieve the best possible conditions when it comes to loans and mortgages, ensuring that the money spent would be worth it and something that would fit the client's budget.
As a person of qualifications, having a diploma in management and NZX Diploma papers, you're in good hands when you decide on having Antonia McAtamney as your Christchurch mortgage broker. Contact her now for more details.
Highlights
Helps find good alternatives and ideas
In-depth knowledge on loan, mortgages, and banking
Years of experience as a mortgage broker
Customer Reviews
Read what Athena Kourey, one of the very satisfied clients of Loan Market, has to say about Antonia's services:
"I could not recommend Loanmarket as your mortgage broker highly enough! Antonia truly went above and beyond to help us into our first home. She is always available for you, never makes you feel needy and was always so lovely to deal with. She made our first home experience magical which is the opposite to what I have heard from other first home buyers. Thank you so much Antonia, you are a true delight ?"
10) MyLend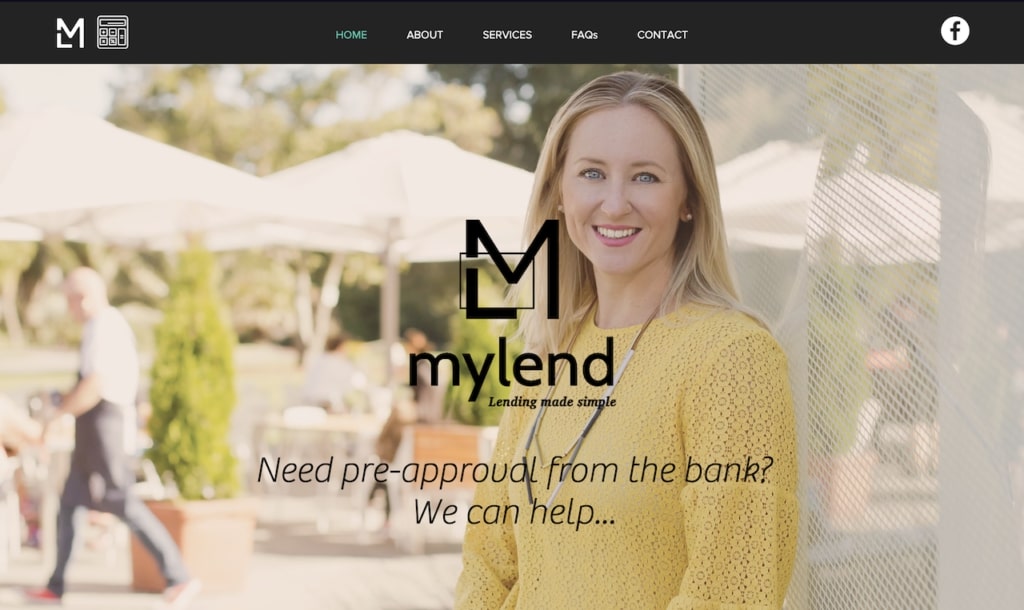 BEST FOR
Self-Employed Future Homeowners
SERVICES
First Home Buying, Refinancing, New Home Building, Loans for Self-Employed, Investing
WEBSITE
https://www.mylend.co.nz
ADDRESS
18 Bealey Ave, Merivale, Christchurch 8014
CONTACT DETAILS

[email protected]

| 027 222 1044
OPERATING HOURS
Monday to Friday: 9-5pm
Out of hours by appointment
Becoming a homeowner is difficult enough in itself, but for the self-employed, even more so. These issues are what MyLend aims to resolve with their wide range of services– not only for self-employed homeowners but also for regular homeowners.
Many praise them for having a client-tailored approach, which allows them to accommodate any client's needs no matter their situation. They even serve clients with credit ratings that aren't so good by identifying the issue, trying to solve it, and searching for who will be able to lend to them afterwards.
They work with banks and non-bank lenders so their clients will have more loan options to pick from. The interests aren't as high as most rates on the market as well, which means you won't need to worry about paying back exorbitant fees for your loan.
Finally, these services come free or charge since the banks are what pay them instead. Given their excellent services and expert staff, there's no reason why you shouldn't consider them if you're in need of a mortgage broker in Christchurch.
Highlights
Best loan structure and rate on the market
Expert and knowledgeable team
Wide range of services
No fees needed
11) Focus Mortgage & Insurance Services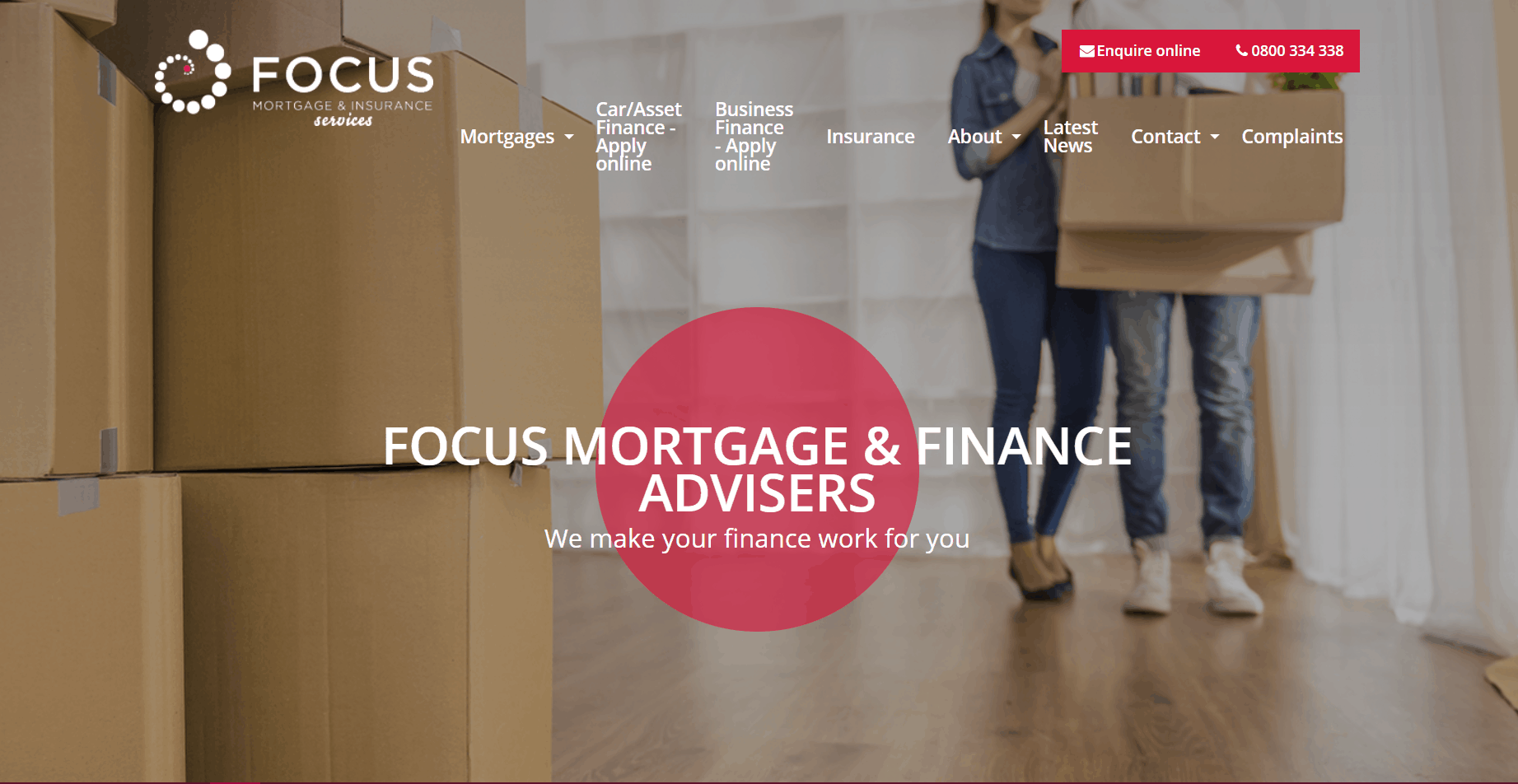 BEST FOR
Mortgage and Financial Advising
SERVICES
Mortgaging, Car/Asset Financing, Business Financing
WEBSITE
http://www.ffgl.co.nz
ADDRESS
1/12 Penn Place, Riccarton, Christchurch 8041
CONTACT DETAILS
Phone: 0800 334 338 or 03 357 8100
Email:

[email protected]

OPERATING HOURS
Monday – Thursday: 7:30 AM – 5 PM
Friday: 9 AM – 5 PM
The best mortgage brokers in Christchurch don't just focus on finding the lowest rates for their clients, but instead strive to find the most suitable packages for one's lifestyle and finances. That's something Focus Mortgage & Insurance Services tries to provide to each and every client that approaches them.
Their small but competent team of three have extensive experience in banking and finances, making them more than qualified for their line of work. They know all there is to know not only about mortgaging, but also financial advising for assets and businesses.
After working for many years in the mortgage broker industry they've been able to slowly build numerous partnerships with well-known, reliable banks around the country. This ensures that they have a wide pool of packages and rates to choose from while considering their client's situation.
Focus Mortgage & Insurance Services' client-oriented approach and dedication to excellence is one of the reasons they remain unbeatable by many mortgage brokers around Christchurch. Their reliable mortgaging and financial advice is bound to be beneficial to anyone who seeks it.
Highlights
Over 70 years of combined experience
Client-oriented approach
Comprehensive services
Numerous lender partners
And that's all for the best mortgage brokers in Christchurch! Rest assured that these mortgage brokers will help you achieve the home of your dreams.
Once you've settled in on a broker, it would be wise to protect your mortgage. Scan our list of trusted mortgage insurance protection in NZ for that.
Do you have any questions or comments about our list? If you do, kindly drop us a message and we'll get back to you shortly.
If you're also planning to design and build your own home, you may want to check out our list of the best architects in Christchurch. Mortgage brokers will also be able to help out on your finances for this.