The 7 Best Mountain Bikes in NZ
Excited to take on the trails with a mountain bike? If you need one, we have your back, as we've listed the best mountain bikes in NZ for you here!
It can be hard to buy a mountain bike, especially if it's your first time. So we'll first walk you through the things you need to know so you can choose from our top choices later with ease.
What to Consider When Buying a Mountain Bike
Here are the things you have to consider to find the ideal mountain bike:
1) Types of Mountain Bikes
There are several kinds of mountain bikes you can get. These differ in geometry, specs, and handling as well as suitable terrains and conditions.
Casual Mountain Bike – These mountain bikes are suited for smooth dirt tracks and city roads. They usually have little or no suspension to support you and the bike.
XC Mountain Bike -This type of bike rolls speedily across the uneven dirt track. They are long-distance champs and can climb hilly areas without much problem.
Trail Mountain Bike -This kind of bike can tackle complex off-road tracks with narrow spaces and sharp corners. With its full set of gears, it can easily climb uphill trails too.
Downhill Mountain Bike – For steep hill or mountain descents, this should be your choice.It features the longest suspension travel and the best brakes.
All-Mountain Mountain Bike – A well-balanced mountain bike, this can ride uphill or downhill with great speed and control. It can take on very rough and steep terrains.
2) Suspension
As mountain bikes launch and drop a lot on the trail, a suspension is needed to absorb those impacts on the bike so that your hands and body won't tire too easily.
You will often hear the term 'hardtail' mountain bike. This means that the bike only has a front suspension to smoothen your ride from the rough road.
A mountain bike can also have dual suspensions that cost more but can take harder hits and steeper descents. But that's not to say that these bikes are better than hardtails.
3) Drivetrain
Simply put, a drivetrain refers to the 'clockwork' on the lower part of your bicycle. It consists of the chain, chainrings, cassette, cranks, pedals, and derailleur.
A drivetrain allows you to ride your bicycle, pull over, and shift gears.
Mountain bikes can either have a single or double drivetrain, both of which have many gears to shift to for changing speeds.
Single drivetrains are easier to shift but are less stable due to chain drops, while double drivetrains let you change to a wider range of speeds and ace steep climbs.
Keep in mind that one is not better than the other. It simply boils down to which of them you're more comfortable with.
4) Aluminium vs Carbon
For both rookies and expert mountain bikers, aluminiummountain bikes are excellent. The reason is that they're durable, light, and flexible.
But for an even more durable and lighter bike, and if you don't mind the higher price, go for carbon bicycles. Note that stiffer carbon frames can be heavier than aluminium ones.
5) Seatpost
It's important to get the right seatpost size for your mountain bike. Although most seatposts are 27.2 mm in diameter, you can find others with 21.15 to 35 mm.
You can also find dropper seatposts (whether built-in or separate) whose height you can adjust while you're biking. This makes your ride easier and more flexible.
6) Wheels and Tyres
Wheels and tyres have a big effect on the speed and traction of the bike. You're going to be climbing mountains and hills so you should get a high-quality wheelset.
How do you know if the wheel and tyre are any good? Take a look at the rim width—the wider it is, the more traction and comfort it has for your mountain bike.
The Best Mountain Bikes in New Zealand
With the basics of buying a mountain bike covered, let's now round up the best mountain bikes in NZ!
1) Fuji Nevada 27.5" 1.7 Hardtail Bike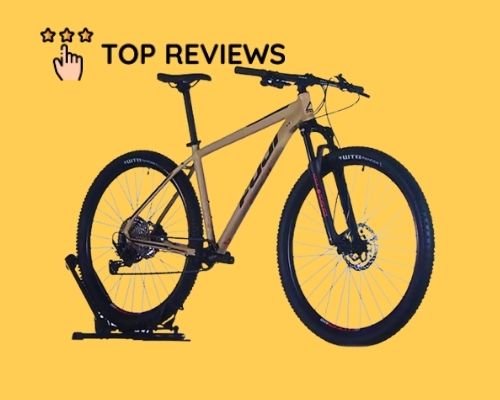 | | |
| --- | --- |
| Best for | City and off-road riding |
| Travel | 100 mm |
| Wheels | 27.5" |
| Sizes | 15", 17", and 19" |
| Price | $1,116.57 |
The Fuji Nevada 27.5" 1.7 Hardtail Bike doubles as an MTB and commuter bike. This is made possible by its Suntour XCT30 fork, which can be locked out for a smooth city ride.
This bike is skilfully made using double-butted aluminium, which eliminates low-stress areas on the frame tubes, enabling it to be lighter and stronger at the same time.
With the Shimano 24-gear drivetrain and Tektro hydraulic disc brakes, you'll go through the mud and dirt with speed and control.
Also, the internal cable routing provides easy shifting and great style, while the WTB Ranger tyres of the bike let you roll across the dirt terrain effortlessly.
Adaptive and controlled
Adjustable fork
Hydraulic disc brakes
Lightweight frame
2) Vitus Nucleus 27 VR Mountain Bike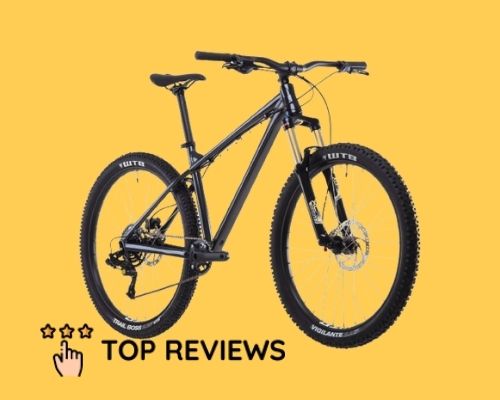 | | |
| --- | --- |
| Best for | Value for money |
| Travel | 120 mm |
| Wheels | 27.5" |
| Sizes | S, M, L, XL |
| Price | $1,193.60 |
You can get a mountain bike that's worth more than the price you pay for it. Such is the Vitus Nucleus 27 VR Mountain Bike.
It features Suntour Air suspension and Box Four 8-speed drivetrain to easily climb hills. Though 8 gears aren't much, the bike has all the essentials for offroad riding.
The Vitus Nucleus has an upright, low, and long frame that's agile and comfortable on the trail. Moreover, it has Nukeproof handlebars and saddle adding to its style.
It has dependable Tektro Disc Brakes with amazing stopping power. Plus, it has WTB wheels and tyres that can endure long distances and difficult trails.
So if you're planning to join cross-country and all-day epic rides, this mountain bike is excellent to take along with you.
Value for money
Agile and comfortable
Reliable air shock
Dependable brakes
Can only shift to 8 gears
Customer Reviews
On Wiggle NZ, owners said that the Vitus Nucleus had an excellent frame, gears, and brakes. Besides that, they said the bike was great value for money.
Sammy, one rider, left this comment about the mountain bike:
"Recently bough this bike and I have to say it appears to be great value for money. Really solid, good braking and clean gear shifting. I had the more expensive Voodoo Hoodoo which was also fantastic (got stolen) but I think this is a step up. It's not a nimble as the Voodoo but rides smoother and feels much more solid going over rough terrain. It's basic but only has what you need, no frills just a great bike to ride and it does look very nice. Love the Nukeproof handle bars and seat, it certainly adds to the quality. Would definitely recommend. It's a bargain."
Let's see this review from another owner:
"Good for riding around the park with the grand children and blasting up and down the hills in the Peak District. Who'd have guessed 8 gears are sufficient."
3) Cube AMS 100 C:68 TM 29 Suspension Bike (2021)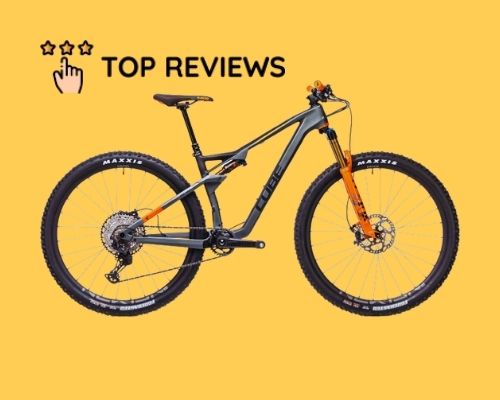 | | |
| --- | --- |
| Best for | Cross-country racing |
| Travel | Front travel: 120 mm Rear travel: 100 mm |
| Wheels | 29" |
| Sizes | M, XL |
| Price | $6,944.64 |
Cube AMS 100 C:68 Mountain Bike is race-ready with a stiff carbon frame, Fox Factory dual suspensions, and Shimano 12-speed groupset.
You can ride it on the trail in the most demanding conditions under any weather. With top-notch componentry, it can get you ahead in competitive cross-country races.
It runs on 29" Maxxis Forekaster tyres that can handle rough roads well. Dual suspensions work to keep you spinning on and turning accurately from the corner.
Weighing at just 11.9 kg, the bike is lighter compared to other aluminium models, which is another plus. It also has internal cable routing and hidden bolts and pivots that make it aesthetic.
Designed for XC races
Light and stiff frame
Great-quality suspensions
Hydraulic disc brakes
Expensive
Shorter suspension travels
4) Nukeproof Reactor 275 Alloy Bike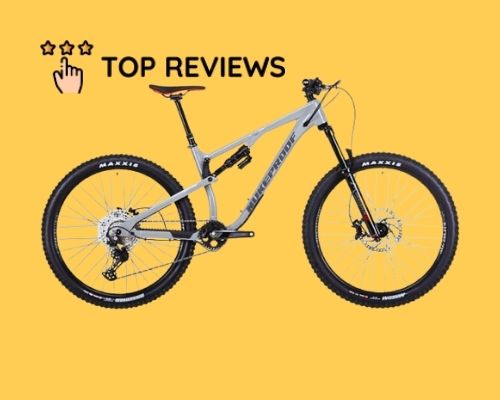 | | |
| --- | --- |
| Best for | Technical trails |
| Travel | Front travel: 150 mm Rear travel: 140 mm |
| Wheels | 27.5" |
| Sizes | S, M, L, and XL |
| Price | $4,665.92 |
Rocky climbs, steep descents, and winding technical trails… these make up the arena where the Nukeproof Reactor 275 Alloy Bike excels at.
It's a capable mountain bike armed with the 4 Bar Horst Link Suspension that's 150 mm for the front travel and 140 mm for the rear travel.
The frame is made of UD woven aluminium, including the chain and seat stays. This results in a shiny, metallic texture, and also makes the MTB stiff, strong, and light.
A unique feature of the Nukeproof Reactor is that you can adjust its geometry to the flip or rail setting. Let's see their differences below:
Trail – This is the normal mode that the mountain bike is set in. It's ideal for trail rides and can go uphill or downhill effectively.
Rail – This is more focused on steep descents and sharp corners. In this setting, the bottom bracket is lowered by 6 mm and the head tube slackens by 0.5 degrees.
Sizes available for this mountain bike include small, medium, large, and extra-large.
Aggressive trail bike
Great climbs and descents
Premium aluminium frame
Adjustable geometry
5) Giant 2021 Fathom E+ Junior 25km/h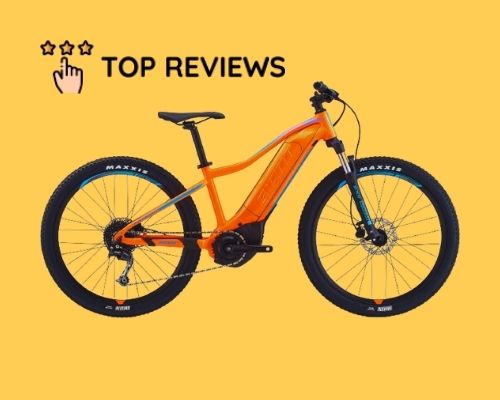 | | |
| --- | --- |
| Best for | Kids' electronic trail bike |
| Travel | 80 mm |
| Wheels | 26" |
| Sizes | One size |
| Price | $3,799.99 |
With the Giant Fathom e-bike, your kid can mountain bike with you on the weekends. It features the SyncDrive Sport technology so kids get more bike power to climb hills.
The bike has an 80 mm suspension fork, 26" wheels, and a 9-speed drivetrain to change to a speed fitting the path ahead.
The e-bike has simple controls for your child that are easily accessible through The RideControl app. Through the app, your kid can customise the e-bike or health and fitness options.
After use, this bike can simply be cleaned and recharged at your home. It will then fill up after just a little over an hour of charging.
We think it's one of the best mountain bikes in NZ for kids. If your kid has an adventurous streak, they'll like it for sure!
Lightweight frame
Fast-charging
Intuitive controls
App-supported
Expensive
No other colours available
6) SpeedBox 2.1 for Giant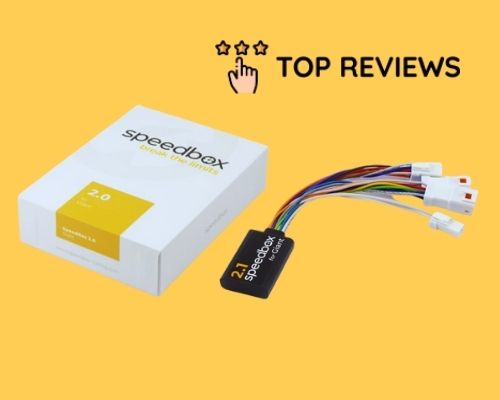 | | |
| --- | --- |
| Best for | Electronic Bikes |
| Travel | Enquire for more information |
| Wheels | Depends on your E-Bike |
| Sizes | Depends on your E-Bike |
| Price | $329.00 |
Experienced e-bike riders looking to increase their riding speed should consider getting the SpeedBox 2.1. This model was made especially for e-bikes that run on Giant motors.
It removes the speed limiter of your e-bike, allowing you to ride at unlimited speeds. With its digital display, you can see your current speed, maximum speed, average speed, and other relevant data.
The SpeedBox 2.1 can easily be installed thanks to its simply designed and colored connectors, with detailed instructions and video available online for your reference. If you want to remove it, disassembly is just as easy as well.
Allows you to reach unlimited speeds
Digital display
Easy installation
Detailed instructions and video available
Compatible with Giant 2021 motors only
7) NCM Moscow Electric Mountain Bike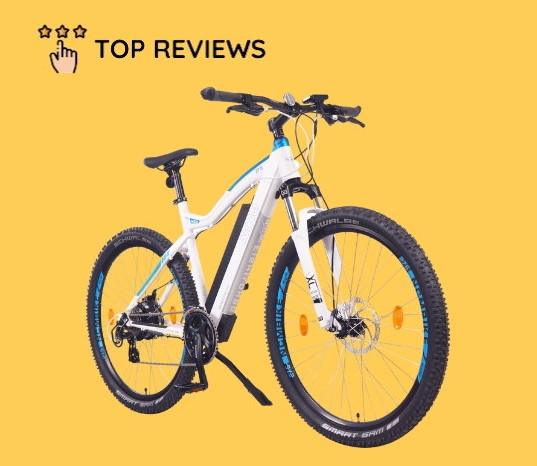 | | |
| --- | --- |
| Best for | Off-road riding |
| Travel | 100mm |
| Wheels | 27.5 |
| Sizes | Enquire for more information |
| Price | $1,899 |
If you like traversing trails and gravel tracks, NCM Moscow would be a great fit for you. Its Schwalbe Smart Sam all-terrain tyres will give you the grip you need for your adventures no matter the terrain.
It's a largely versatile bike made with a tough aluminum frame, and a strong handlebar and saddle for good performance and ergonomics.
To ensure high output power, it's supplied with 48V. It also has a capacity of over 624Wh to allow you to travel longer distances.
The battery is easily detachable, allowing you to charge it anywhere. It's also integrated in the frame to improve the bike's aesthetic.
Moreover, you don't have to worry about charging your mobile phone since it has a built-in 5V USB port. It's definitely something we need in this day and age.
Users say that you get value for money with this bike, but it's not a high-end mountain bike. So, if you're looking for such, you may look at the other options listed here.
All-terrain tyres
Good ergonomics
High output power
With built-in USB port for charging mobile phones
Value for money
Not a high-end mountain bike
FAQS about the Top Mountain Bikes in NZ
---
And that concludes our list of the best mountain bikes in NZ. These provide you with outstanding comfort and speed in riding through forest paths or dirt roads.
Do you have other recommendations for our list? If you have one, kindly share it with us by dropping us a line, and we'll get back to you.
At any rate, you might also want to read about the best electric bikes in New Zealand. There, we have great bikes you can use to ride in the city or off the beaten path.