8 Best Movers in Auckland Reviewed and Compared
Need a hand in packing and moving? You're in the right place if so because we've summed up the best moving companies in Auckland for you today!
Below we have a list of the top Auckland movers based on their offered services, fleets, and reputations. We rated them, found strengths and weaknesses, and more.
Before we dive into our list though, let's talk about how much getting movers in Auckland will all cost first.
How Much Do Movers Cost in Auckland?
On average, moving from Auckland to Wellington or Christchurch can cost you a total of about $4000-$5000. Since moving is such a hefty cost, it's important to carefully select which moving company in Auckland you decide to go with.
Movers in Auckland often charge by the hour, since you are paying for somebody's time. To pack up and load items from a single bedroom takes approximately one hour, so this should give you a basic starting point to calculate your costs.
We've summarised the rates of some of the companies in our list so that you can better understand what this can cost you.
Starting Rates of Moving Companies in Auckland Compared
| | | |
| --- | --- | --- |
| Company | Vehicle Type and Capacity | Rate |
| The Moving Squad | Cargo Van | Starting at $70 |
| | Truck (26 cubic metre) and 2 Men | $120 / hour |
| | Truck (26 cubic metre) and 3 Men | $165 / hour |
| Trust Movers | 15 cubic meter (3 tons) | $45 / half an hour |
| | 20 – 25 cubic meter | $50 / half an hour |
| | 30 – 35 cubic meter | $55 / half an hour |
| | 40 – 50 cubic meter | $65 / half an hour |
| Stress Free Movers | 22 – 26 cubic meter | Mon – Wed: $100/hour Thurs – Sat: $110/hour |
| | 32 cubic meter | Mon – Wed: $110/hour Thurs – Sat: $120/hour |
| | 40 – 45 cubic meter | Mon – Wed: $120/hour Thurs – Sat: $130/hour |
| Eco Movers | 9 – 10 cubic meter | $105 / hour |
| | 20 – 22 cubic meter | $140 / hour |
| | 40 – 43 cubic meter | $220 / hour |
As you can see, factors that can affect the cost of getting Auckland movers include the size of the truck and the day of the week. Some companies charge different rates for Thursday to Sundays, as these are considered busier days for movers.
The Best Movers in Auckland Reviewed
Now that you know what to expect when hiring a moving companies in Auckland, we can take a look at our picks and how we found them.
1. Easy Move Furniture Removals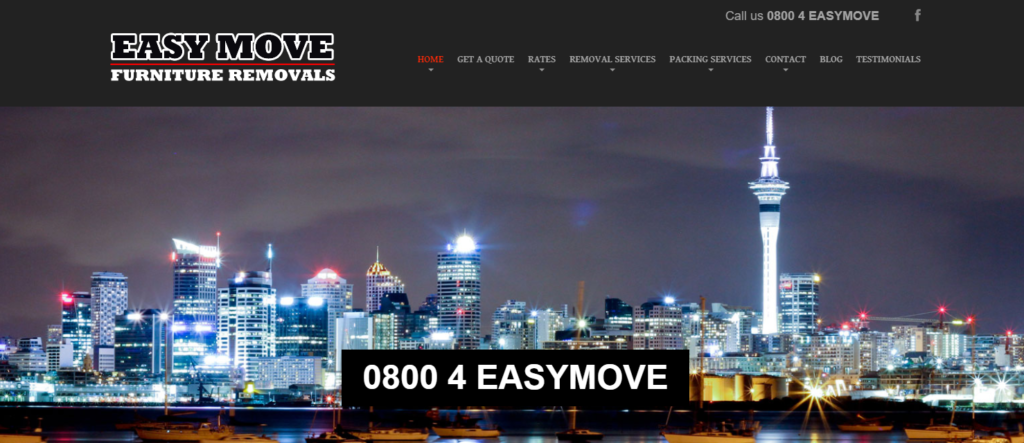 SERVICES
Packing Services, Moving Services, Furniture Removal, Cleaning Services, Storage Facility
WEBSITE
https://easymovefurnitureremovals.co.nz/
ADDRESS
PO Box 24103 Royal Oak, Auckland
CONTACT DETAILS
Toll Free: 0800-432-796
Phone: (09) 215-1004
Mobile: (027) 2152596
Email:

[email protected]

OPERATING HOURS
Monday to Sunday: 8:00am – 5:00pm
This multi-awarded company specializes in domestic residential and commercial removals but can accommodate long-distance moves as well.
Their services include their Man and Van Delivery Service, which specializes in deliveries around Auckland. This is ideal for single-item deliveries, TradeMe purchases, or items that can't fit in your car.
Each vehicle comes with GPS tracking so you can monitor your item's location at all times. You don't have to worry about safety either, as they're also equipped with Furniture Removal blankets, trolleys, and ties.
Their door-to-door service provides Moving Trucks ranging from 20 to 60 cubic meters that can deliver anywhere around the North Island area. Easy Move also has regular long-distance trips to places like Coromandel, Hibiscus Coast, and Tauranga so your goods can hitch a ride for a fraction of the price.
Although they provide professional packing services, you're more than welcome to pack items yourself. You can purchase from them the necessary supplies such as cartons, bubble wrap, vacuum-sealed bags, and more.
They offer several bundles for packing materials with the Basic Plan (1 bedroom) at $153 while a 5-bedroom package costs $537. These include book and wine cartons, tea chest cartons, packaging tape, and a marker to label everything.
Now, one thing we really like about Easy Move is that they easily accommodate any schedule changes without penalty fees, as long as you inform them at least 3 days beforehand. You can easily reschedule a new date provided they are not booked on that day.
They do have a 50% cancellation fee though if you cancel less than 3 days before your move date. However, payment is only upfront for storage units and long haul moves, since payment is issued after the move is finished.
For two men and a truck, they charge $105 from Monday to Thursday, $115 on weekends, and $130 on Sunday. On the other hand, for three men, it's $145 from Monday to Thursday, $155 on weekends, and $170 on Sundays.
These rates are per hour and exclude the $50 callout fee. Weekends require a 2-hour minimum job and they charge any excess of an hour in 15-minute blocks — important things to know when you're on the search for the best Auckland movers.
Easy Move also holds insurance covers for Public Liability, Carriers Liability, and Full Commercial Vehicle Insurance. You can get transit insurance for your goods via their partner Northcrest Insurance Brokers, or your own insurance company.
Ratings At a Glance
● Services Offered – 4/5
● Fleet Range – 4/5
● Value for Money – 3/5
● Transparency – 4/5
GPS tracking on vehicles
Offers packing material bundles
Can reschedule move dates with no penalty
Can backload on long-distance trips
Doesn't do pet transport
Expensive packing materials
2.   The Moving Squad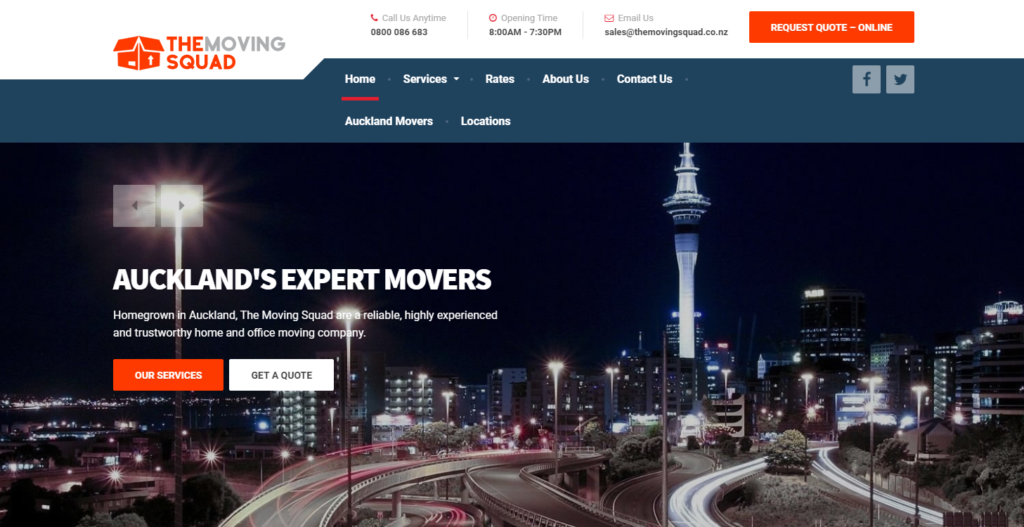 SERVICES
Office Moving Service, Furniture Movers, International Moving, Packing Service, Storage Services, Fragile Items, Insurance, Setup Service
WEBSITE
https://themovingsquad.co.nz/
ADDRESS
43A Rosella Road, Māngere East, Auckland 2024
CONTACT DETAILS
Toll Free: 0800-086-683
Email:

[email protected]

OPERATING HOURS
Monday to Sunday: 8:00am – 7:30pm
The Moving Squad has over a decade of experience providing Auckland and Wellington residents with their moving services. They provide office, commercial and residential moves to both cities and suburbs around the North Island.
Their no-frills door-to-door rates are quite easy to comprehend, charging $120 for two movers and $165 for three personnel. While there's a call-out fee of $50, these initial rates apply for a 25 cubic meter van – larger trucks are made available at the company's discretion and will incur higher rates.
Because they are also known for furniture removals in Auckland, they also perform disassembly and reassembly of furniture, pianos, and other extra-large items if needed. The additional fee is $75 for oversized items, which excludes undisclosed "heavy lifting fees" and any toll charges.
A 1.5-hour minimum charge is required for each project, so you can expect to pay at least $180 on the lowest tier. Charges are rounded up in 15-minute brackets, so a move that runs for 2 hours and 10 minutes will be counted as 2 hours and 15 minutes.
If you also need a place to store your goods or belongings while waiting to finalize your move, The Moving Squad has a secure 800 square meter warehouse in West-Auckland. They'll also accept vehicles and boats and can arrange insurance for your stored items if needed.
The Moving Squad is well-versed in international moves as well, particularly to nearby Australia. With multiple shipping lines, training in international packing standards, and experience with the necessary documentation, they can ensure that your things get to their destination safely.
Aside from moving and packing services, The Moving Squad also offers cleaning services such as gardening and trash removal, which is useful for cleaning up the property you're leaving behind. They can also facilitate the relocation of your vehicle for any long-distance moves, and contact pet transportation services on your behalf.
The Moving Squad is an insured company with $2 million Public Liability for their vehicles. They also offer basic Carriers Liability Cover, which means they can issue insurance quotes for full transit.
Overall if you want house movers in Auckland with experience in moving furniture and belongings across the Tasman Sea to Australia, The Moving Squad is one of the best moving companies in Auckland for that.
Ratings At a Glance
● Services Offered – 4/5
● Fleet Range – 3/5
● Value for Money – 4/5
● Transparency – 4/5
Same rates for any day of the week
Can transport and store vehicles and boats
Able to move freight internationally
Insured company
Limited fleet options
Doesn't disclose heavy lifting fees
Client Reviews
Clients of The Moving Squad praise them for their professionalism and care with the items they move. Sarah, a resident of Glen Eden, shares her experience:
"Just wanted to drop a note to say how impressed I was with your service. The guys were on time, very professional, helpful and hard working. I would certainly recommended you to friends and family!'
Jessica, a Titirangi resident, also has this to add:
"Excellent team who worked hard all day to complete our difficult move. Our driveway in Titirangi was a major challenge and wet weather made it difficult for the trucks to drive up, Shane was quick to organise an extra 2 men who arrived within the hour and made all the difference. The boys didnt complain about the driveway or getting wet, worked with a smile all day and took great care of our belongings. I've moved several times over the past decade and can truly say that these guys are the best movers we've had hands down."
3.   Allied Pickfords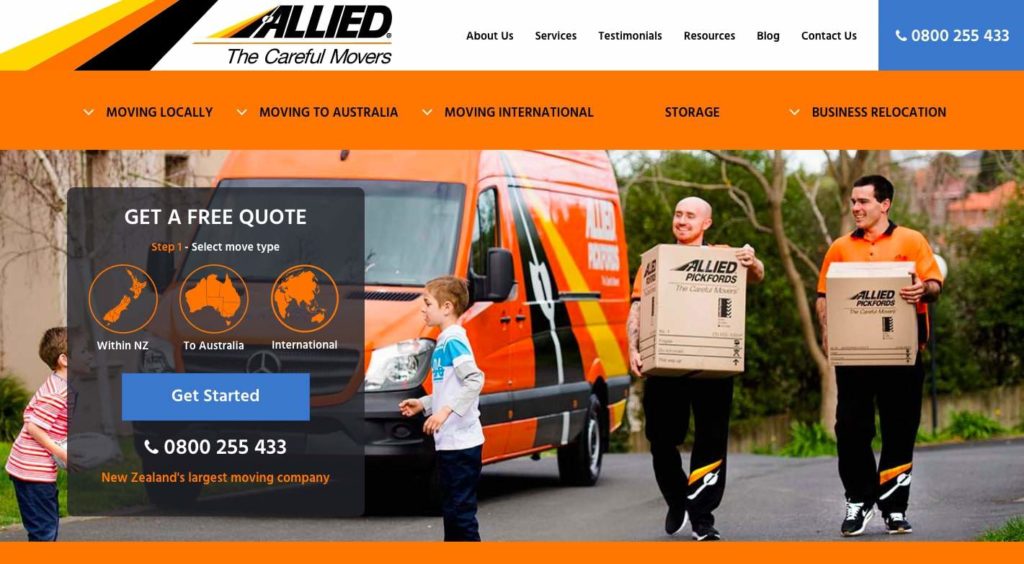 SERVICES
Packing, Insurance, Storage, Vehicle Transport, Pet Transport, Pre-Move/Post-Move Services, Home Cleaning, Home Handyman, Utility Connections, Organization, Home/Office Relocation, Packing and Storage services, International moving, Setup ServicePacking Services, Furniture Storage, Car Transport, Removals, Insurance, Move Tracking, Business Relocation,
WEBSITE
https://www.alliedpickfords.co.nz/
ADDRESS
8 Lockhart Place, Mount Wellington, Auckland 1060
CONTACT DETAILS
Toll Free: 0800-255-433
Phone: (09) 259-2160
Allied Pickfords, also known simply as Allied Moving Services, was established in New Zealand in 1926, although their actual roots trace back to as early as 1646 in London. Their recent achievements include being awarded the International Moving Company of the Year Award from the Forum for Expatriate Management (FEM) from 2013 to 2017.
If you want assurance for your move, then maybe Allied's ISO 9001 Quality Accreditation for its management systems can give you peace of mind. For international moves, they even have a 24/7 tracking system so you can monitor the movement of your goods in real time.
With Allied Moving Services you can solely focus on getting ready to receive your items in the new location. They do all the legwork and keep everything moving along in a tidy and complete moving package.
There are several optional extras you can add on, allowing you to customize your move with only the services you need or want.For example, you can add their pet transport service to help move your family pet.
For your convenience, Allied has 10 locations in New Zealand with a fleet of over 100 vehicles. They also have over 600 branches around the world, so no matter where you're moving to, you'll be able to settle in promptly and comfortably.
If the dates of your move don't align, they can store your belongings in one of their tightly sealed storage units. Everything will remain professionally packed, and they'll deliver and unpack it to the location once you're ready to receive them.
They offer handyman and cleaning services too. If you need to have your new house cleaned or need minor repairs to the existing utilities, they can handle that for you before you get settled in.
All of Allied's moving staff are trained in New Zealand Qualifications Authority (NZQA) Approved Training System. They can also pursue a National Certificate in Domestic and International Relocation Operations (Level 2) to further enhance their skills via their in-house Allied Academy.
Part of what makes Allied a wise choice is that they use specially crafted wrapping material with a three-layer construction to provide your belongings extra protection, especially for your furniture. They likewise use durable custom-made crates for more fragile and delicate items such as artwork, antiques, and pianos.
Moreover, Allied offers in-house insurance packages (under Allied Transit Insurance), which offers a diverse array of options to suit your needs. Some of the plans you can get are mechanical and electrical derangement insurance, packing and moving insurance, and storage insurance.
There aren't many disadvantages to using Allied Moving Services as your movers in Auckland, except that it can be difficult to schedule with them. Other than that, the range of services they provide will cover almost everything you need to move and earns them a spot on our list.
Allied Pickfords is also one of the few moving companies in Auckland that are trusted by government accounts both in NZ and Australia for international relocations, so that says something about the quality of work they do.
Ratings At a Glance
● Services Offered – 5/5
● Fleet Range – 4/5
● Value for Money – 3/5
● Transparency – 3/5
Multiple locations across New Zealand
ISO 9001 Accredited
Highly trained and certified moving staff
Five working days needed to access your items in storage
Expensive
Scheduling difficulties
Customer Reviews
This is another moving company with very high ratings from customers. They have a reputation of powering through challenging situations, as told by Naketa Ikihele:
"We absolutely loved the service offered by Allied. We have recently returned from Saudi Arabia and have had a smooth transition. The shipping beat us home, and Allied were happy to store our goods till we arrived back in NZ. I notified Allied that we were ready for delivery and within 2 days all of our stuff arrived and was unpacked in the house. The boys were friendly, on time, super helpful and patient. Thank you for a great experience."
Pip Phillips, another customer, adds:
"We had a fantastic experience with Allied. Right from the first consultation at home for a quote, far more professional than the opposition. I felt much more comfortable dealing with them. The guys who did the picking up and delivering were both professional, friendly and a lot of fun. They were so excellent with my two kids hanging around too. Everything delivered in one piece and on time. We were very pleased with the cleaning job they did on our house in Auckland too! Thanks guys!"
4.   Smart Express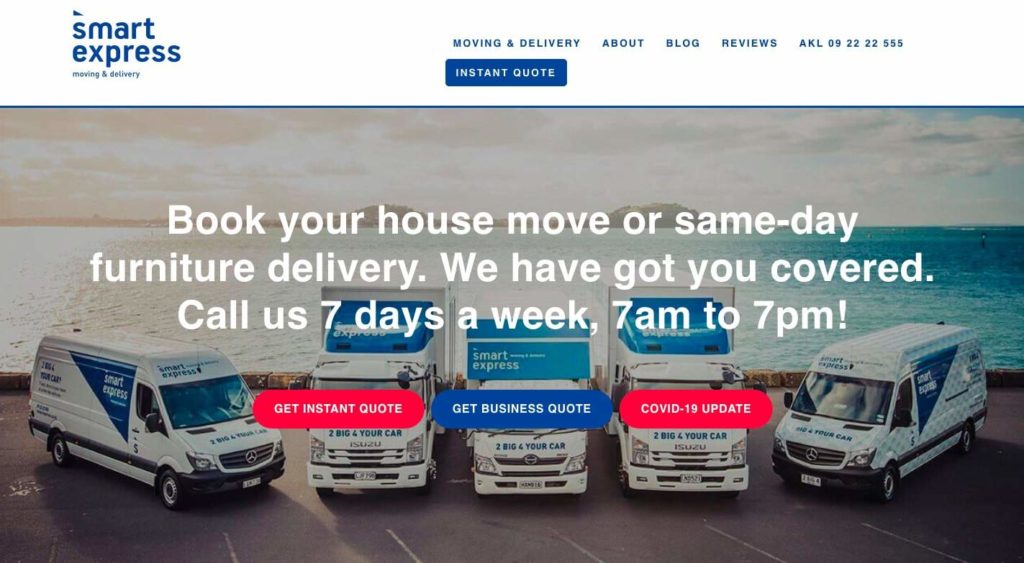 SERVICES
Relocation, Packing Services, Setup Service 2 Man Moving Van, 2 Man Moving Truck, Office Move, Storage Move, TradeMe Delivery, Furniture Delivery, Same Day Delivery, Commercial Delivery, Storage & Logistics, 2 Big 4 Your Car Service, Line Haul Runs
WEBSITE
https://www.smartexpress.co.nz/
ADDRESS
1/19 Hannigan Drive, St Johns, Auckland 1072
CONTACT DETAILS
Phone: (09) 222-2555
Email:

[email protected]

OPERATING HOURS
Monday to Sunday: 7:00am – 7:00pm
Smart Express was founded in 2005, offering its moving services throughout Auckland. They were finalists at the Westpac Business Awards for four consecutive years for Best of The Best for Excellence In Customer Service Delivery.
The company's co-founders have hailed from some well-known companies, such as DHL, Courier Post, and Roadstar Transport. With this kind of experience, you can expect to experience the same efficiency in play at Smart Express.
Offering diverse options of Van and Truck moving solutions, their fleet of 26 vehicles is constantly moving around the North Island. Some of their services include delivery of furniture removals in Auckland, fragile items, bulk courier, and same-day retail deliveries.
They offer 1 or 2 Man Vans and smaller trucks that can easily navigate down driveways or smaller spaces. However, they also do hotshot point-to-point delivery with larger trucks, which is ideal for moving larger items for both residential and retail companies.
Smart Express provides a weekly line haul service from Auckland to Hamilton and Tauranga as well. You can backload on one of their scheduled trips for more savings and a quicker delivery time.
They package their most common service quite neatly as a "2 Man Moving Service", with the option of either a van or truck. You can request an additional mover for an extra fee and they provide a "movers only" option as well.
While this moving company in Auckland does not provide storage, they do offer deliveries for TradeMe, one of the country's most popular auction sites. Whether it's a single delivery item or multiple goods, they can provide same-day delivery services for this as well.
Overall if your move is not that complex and you want a straightforward two-man job, they're one of the best house movers in Auckland for you to consider.
Ratings At a Glance
● Services Offered – 3/5
● Fleet Range – 3/5
● Value for Money – 3/5
● Transparency – 3/5
Has weekly line hauling services
Point to point hotshot transport
TradeMe deliveries
Doesn't offer storage
Limited fleet
Customer Reviews
The staff at Smart Express are said to be very friendly and efficient. Take a look what Anne-Marie, a customer, said about them:
"We moved from Auckland to Tauranga and had a really great experience from planning to completion of our move. Wayne was really helpful in the planning stage and Gary and his team were super efficient on the day. It was easy and simple. Thanks so much!"
5.   Auckland Movers & Storage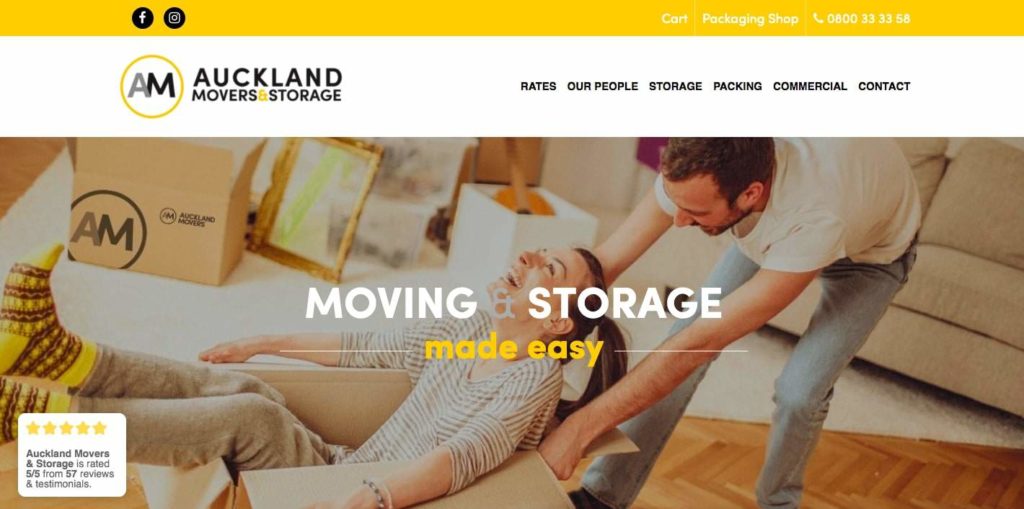 SERVICES
Moving, Storage, Packing, Commercial
WEBSITE
https://aucklandmovers.co.nz/
ADDRESS
Head Office 7/2 Bishop Browne Place, Botany, Auckland Storage Facilities 65D Crooks Road, East Tamaki, Auckland 2013 8A Norman Spencer Drive, Manukau, Auckland
CONTACT DETAILS
Toll Free: 0800-333-358
Email:

[email protected]

OPERATING HOURS
Monday to Friday: 8:00am – 5:30pm
Saturday: 9:00am – 3:00pm
The team at Auckland Movers has been in the moving industry for over three decades. They are wholly New Zealand-owned and operated and can move to any North Island location.
Their fleet of purpose-built furniture removal trucks can handle almost any job, from a 7-bedroom home to a large warehouse. Their experienced moving staff provide a professional moving experience, whether it's a commercial or residential move.
On a side note, we like their online cost calculator, which provides an easy graphic user interface instead of having to fill up tedious text-based forms. You simply choose your desired moving service and a date, and a quote is instantly produced.
However, the quotation you receive is just for their moving services, as the packing team is an entirely separate fee. A single packer is $55 per hour while two would cost $95, which still excludes the separate callout fee of $65.
While it may seem expensive, you do get custom-made boxes and packing materials to ensure the safety and cleanliness of your personal things during the entire moving process.
They only have two kinds of boxes though (which aren't very large), so you can expect bigger items to be wrapped in their thick, shock-resistant bubble wrapping.
As for storage options, they offer purpose-built internal lockers or external containers that can be rented overnight, weekly or long-term. You can choose from a 20 or 25 cubic meter cubicle and a 33 cubic meter container ranging from $250 to $450 a month.
Auckland Movers also offers its services to commercial facilities, corporate organizations, non-profit institutions at lower rates. They offer monthly invoicing options and continuous account management for companies that have recurring moving requirements.
Their Full-Size trucks range from 25 cubic meters to 40 cubic meters and come with two moving personnel, which are ideal for single item deliveries or up to a three-bedroom house. Take note, the callout fee is not included yet and they offer higher rates from Thursday to Sunday.
For their Larger Moving Truck, the capacity ranges from 50 to 55 cubic meters with consistent rates from Monday to Saturday at $175. Only Sundays incur the higher rate at $195, and regardless of the day you book your move, you get 3 movers with these larger trucks.
You can add another mover if you wish at an extra cost of $40 per hour, which is expensive compared to other companies.
Auckland Movers offers two coverage plans via their partner AON East Tamaki, the first one covers any damage, incidental or not, caused by the company. The other cover is if the owner packs the items themselves, which offers protection against accidents, fire, explosions, lighting, or floods.
Ratings At a Glance
● Services Offered – 4/5
● Fleet Range – 4/5
● Value for Money – 3/5
● Transparency – 4/5
Discounts on storage for prepayments greater than 6 months
Consistent rates during the week for larger trucks
Three different storage options
Customer Reviews
Customers say the staff at Auckland Movers are very easy to work with. June Kendall shares:
"Excellent service. Two young men very ,very careful . Some heavy furniture and a challenging staircase. Communications excellent, reassuring. On time and continued until job completed. Recommend unconditionally"
Russell Tearle, another client, adds:
"Auckland Movers were amazing to deal with. From the planning, to the move itself everything was handled extremely well. Would definitely recommend. Thank you Auckland Movers & your team."
6.   Auckland Express Movers Ltd.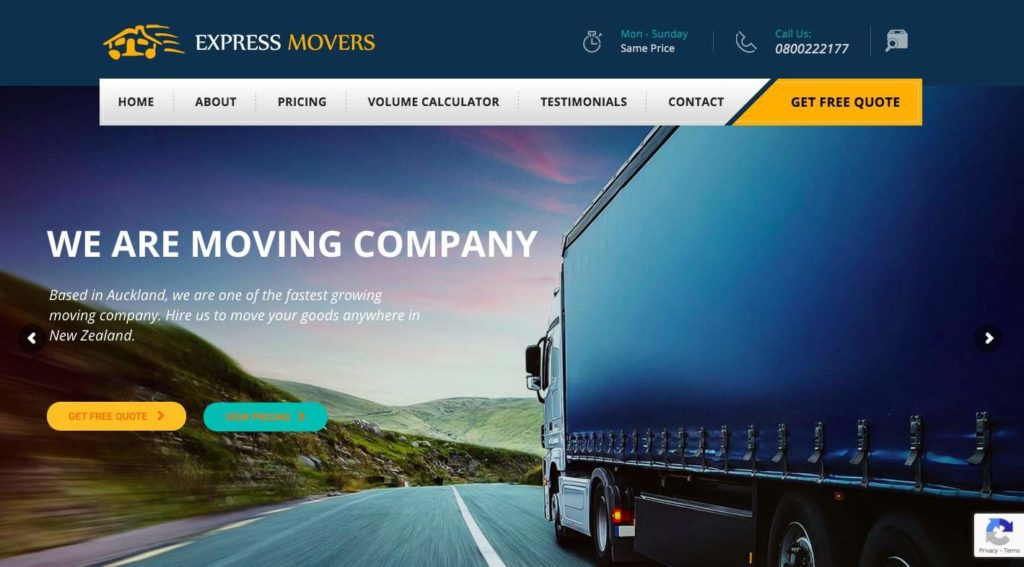 Auckland Express Movers is a company that offers full-moving services at a reasonable price. They use only the best removal equipment and highly trained staff to ensure careful hauling of your items.
Their range of services includes moving items to a new house, single item moves, office relocation, and interstate removals. With experienced removalists and well-equipped trucks, Auckland residents can expect safe, secure, and affordable transit of their goods.
What we like about Auckland Express Movers is that they have a consistent rate no matter what day of the week you schedule your move on. Definitely a plus as not all moving companies in Auckland have such a considerate pricing.
They only have three sizes of trucks at 22, 30, and 42-45 cubic meter trucks. All come with two movers, except for their largest offering wherein you can have the option for three movers.
A half-hour callout fee is applied to any jobs that are within a 20km radius of their headquarters. This means that anything further than that will have "negotiated" rates, which may rack up quite a bit in costs.
Now, if you need help figuring out what size truck you'll need, they have an online volume calculator that's intuitive and easy to use. You simply choose the room type, select the number of pieces of furniture or appliances, and the approximate volume will be calculated for you.
Customer satisfaction is of the utmost importance for Auckland Express Movers. They do their best to grant your requests and improve their services to the highest standards, which earns them a spot on our list.
Overall, if you need simple house movers in Auckland and your move is not that big or you don't have too much furniture or appliance to move, they might be the best movers in Auckland for you.
Ratings At a Glance
● Services Offered – 3/5
● Fleet Range – 3/5
● Value for Money – 3/5
● Transparency – 3/5
Provides WINZ quotes
Online volume calculator
Carrier liability insurance
Customer Reviews
Divya Jaiswal, hired Auckland Express to do a local move within Auckland. He writes:
"Absolutely wonderful job. Highly recommended. Value for money. They boys were punctual and very organised. Efficient work. Very impressed with the behaviour. This was my first time moving house, I had so many questions and concerns, the boys took extra care and noted down all the details which was given to them."
7.   Eco Movers & Logistics Auckland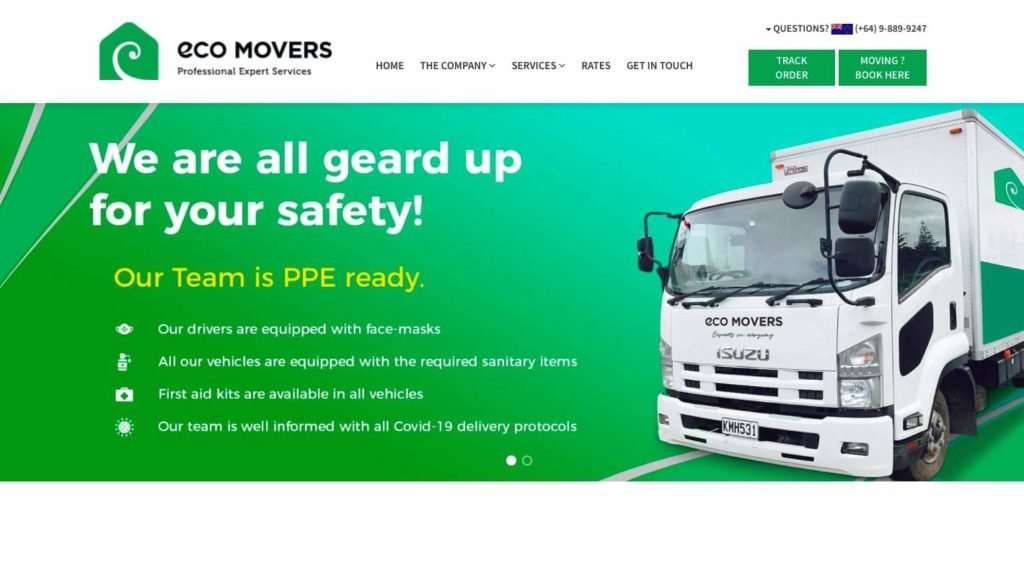 SERVICES
Residential Moving, Commercial Moving, Long Distance Moving, Overseas Moving, Furniture/green Waste Removal, Hire Labour/truck Driver, Packing Services, B2b Logistics
WEBSITE
https://ecomovers.co.nz/
ADDRESS
102A Aranui Road, Mount Wellington, Auckland 1060, New Zealand
CONTACT DETAILS
Phone: (09) 889-9247
Email:

[email protected]

OPERATING HOURS
Monday to Saturday: 9:00am – 5:00pm
Founded in 2012, Eco Movers is an Auckland-based moving company that caters to both residential and business clients. Their talented team is prepared to handle any moving and logistic needs.
They are a certified member of the Auckland Chamber of Commerce, offering a wide array of services. These include short-distance residential and commercial moves, long-distance, overseas moving, and packing.
In their 12 years of experience, they now have around 5,000 customers in New Zealand and abroad. They have partners in over 150 countries in the moving and logistics industry and have expanded their services as well.
Whether it's a single-bedroom or a six-bedroom home, they have the manpower, logistics, and equipment to get any job done. You get real-time customer support and online tracking to monitor your goods as well.
They don't just move or relocate residents or offices either, as they also have item delivery services that can transport antique items. They offer same-day service for urgent or sensitive items or you can opt for a more affordable 3-day delivery service.
One reason to like Eco Movers is that they offer a small moving truck that's only 9-10 cubic meters for $105 per hour. It includes one driver and is suitable for a single studio flat.
Their larger 40-43 cubic meter truck costs $220 per hour and includes 2 movers. The truck has a tail lift and is suitable for a 3 to 5 bedroom house.
Now, as their name implies, Eco Movers is an environmentally conscious company with a green waste management plan, offering to donate or dispose of any of your unwanted furniture. They can take care of the heavy lifting, and separate items for donation or for disposal during the move
If you just need a driver though, you can likewise hire the knowledgeable drivers at Eco Movers, who are experienced with supply chains and can drive your truck of frozen goods for you. They have truck drivers who can handle hazardous materials as well and who only come at the cost of $40 an hour.
There isn't much to dislike about Eco Movers and we're not surprised we ended up picking them as one of the top moving companies in Auckland. They have a great range of services, offer affordable rates, and are eco-friendly as well.
Ratings At a Glance
● Services Offered – 5/5
● Fleet Range – 5/5
● Value for Money – 4/5
● Transparency – 5/5
Eco-friendly company
Can facilitate donation of unwanted items
Has green waste management plan
Can ship overseas
Offers discounts and promos
No insurance cover
No pet transfers
Customer Reviews
Alina Savastyuk, a customer, was very happy with her experience with Eco Movers as she shares:
"Very smooth moving experience. Only booked a few days in advance and everything was sorted quickly. Got an upgrade on truck size. Movers were efficient, friendly and careful. Got there on time. Would definitely use again."
Colleen Newcombe, another customer, adds:
"Eco movers did a fantastic job of moving our house. They were courteous, friendly, efficient and professional! I'm definitely calling them again for our next move. 5/5"
8.    Right Choice Movers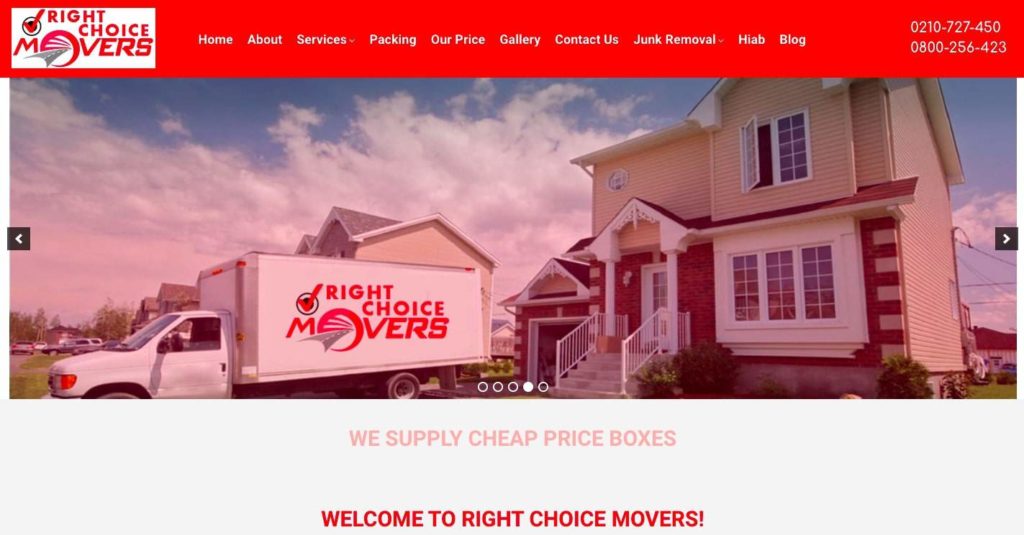 SERVICES
Man With Van, Two Men And Truck, Movers And Packers, Furniture Removalists, Piano Movers, Removalists, Spa Pool Moving, Pool Table Movers, Junk Removal, Hiabs
WEBSITE
http://rightchoicemovers.co.nz/
ADDRESS
52 Garton Drive, Massey, Auckland 0614, New Zealand
CONTACT DETAILS
Phone: (02)107-27450
Toll Free: 0800-256-423
Email :

[email protected]
Founded in 2016, Right Choice Movers can provide moving services from Auckland to anywhere in the country. They work hand-in-hand with you to work out your specific needs and to facilitate an organized plan.
Whether it's office relocations, household removals, or junk removal, they've got most of it covered. They even have Hiab trucks mounted with cranes among their fleet of vehicles.
Their most basic option for moving trucks is the "Man and a Van" service, which comes with a 3-ton truck priced at $69, excluding the callout fee.
On the other hand, their "Two Guys With a Truck" service offers more options, starting with a 4.5-ton truck at $99.
The largest offering they have is a 15-ton truck that costs $159.
Right Choice Movers also transports oversized items like pianos, with a starting rate of $80.
They specialise in spa pools and pool tables as well, which they can disassemble and reassemble if needed. Great to know if you are particular about furniture movers in Auckland.
While they do offer the standard moving services that most companies do, what earns Right Choice Movers a spot on our list is that they offer to move even your junk. Whether you're doing some home improvement or de-cluttering, they'll haul out your unwanted items and discard or recycle them for you.
Right Choice Movers is fully insured and can also move the waste from commercial properties, such as renovation sites or real estate locations. They'll haul junk such as old desks, electronics, garden waste, and other odds and ends.
They also have a fleet of flat deck Hiab lift trucks with certified and experienced men to operate them. So if you have any unusual or heavy loads that need to be moved, they can provide this service all over Auckland.
Ratings At a Glance
● Services Offered – 3/5
● Fleet Range – 3/5
● Value for Money – 4/5
● Transparency – 4/5
Provides WINZ quotes
Has a fleet of Hiab trucks for heavier loads
Does junk and garbage removal
No pet or vehicle transport services
Doesn't sell packing materials
BONUS: The Best Directories for Finding Movers in Auckland
Didn't find a mover you'd like to go with from our list? If you're still undecided and want to do your own research, we've also found some directories you can use to look up different movers and compare them yourself.
Moving Pros
Moving Pros is another Auckland mover database that has put together a comprehensive list of the best moving companies around Auckland. They claim that you can save up to 70% with their exclusive deals because you'll be able to compare various quotations instantly.
Each company has been scrutinized to ensure that they use only the best equipment and systems to facilitate your move. Whether it's a tail-lift-equipped truck or a solid track record of white glove service, Moving Pros has already split the screening process time in half for you.
They don't just list companies that perform domestic moves either – they have international movers as well. Moreover, there are independent reviews for each company direct from previous Moving Pros clients, so you can hear feedback before you make your final decision.
FAQs about Hiring Movers in Auckland
---
And that's it for our list of the best movers in Auckland. We hope you find a company that suits your needs for this major life event!
Did we miss a moving company that you've worked with before? If so, please do tell us all about it and what you thought of their services!
Now if your new home isn't ready for a move in just yet and you need a temporary place to stay, check out this list of the best short term home rentals in New Zealand to help you out.
And since you're about to move, make sure that you're always connected! Be sure to review our list of best internet providers in NZ so you will never be offline.