The 5 Best New Zealand International Schools
Image Credit: ACG Parnell College
Enrolling your little sprout in an international school? If so, we got you covered, as we've outlined here the best New Zealand international schools.
International schools promote the study of topics and issues with a global perspective. They foster a diverse, fun and learning environment for students.
For this list, we found you prestigious schools with committed and exceptional teachers. Anyhow, here are the best New Zealand international schools!
1)  St Cuthbert's College

BEST FOR
Girls' International School
SERVICES
Junior School (Years 0–6)

Senior School (Years 7–13)

WEBSITE
https://www.stcuthberts.school.nz/
ADDRESS
122 Market Road, Epsom, Auckland 1051, New Zealand
CONTACT DETAILS
+64 9 520 4159
OPERATING HOURS
—
St. Cuthbert's College is a girls' day and boarding school located in the heart of Auckland. They offer an International Baccalaureate Diploma Programme (IBDP) curriculum.
Designed for girls from ages 5-18, the school was founded on values and academic excellence. But it doesn't just stop at that point, as they aim to help girls realise their talents and potential.
Their passionate teachers strive to ignite girls' curiosity, passion and creativity. They are there to ensure that their students have a firm grasp of the fundamental lessons.
What's more, they have a unique residential outdoor experience for Year 10 students. It's called Kahunui — in it, the girls will learn a variety of fun and challenging tasks in a retreat location where they can do things like cooking, fire lighting, camping and boat handling.
Highlights
Founded on values
Passionate teachers
IBDP curriculum
Kahunui retreat for Year 10 students
2)  ACG Tauranga

BEST FOR
Exciting Educational Pathways
SERVICES
Preschool

Primary

College

Cambridge Exams

Learning Support

STEM

WEBSITE
https://tauranga.acgedu.com/
ADDRESS
6 Keenan Road, Pyes Pa 3173, New Zealand
CONTACT DETAILS
+64 7-213 0100
OPERATING HOURS
Monday to Friday: 8.30am – 4.30pm
If you prefer to enrol your child in a co-ed school and you reside in the Bay of Plenty Region, then ACG Tauranga is an excellent choice!
It offers a Cambridge IGCSE programme equipping students with a versatile skill set. In 2019, ACG students achieved a 100% pass rate in Cambridge examinations!
From preschool to college, ACG Tauranga is dedicated to empowering students to become competent, respectful and kind in their lives and future occupations.
Furthermore, there's a great number of opportunities for those who like to explore and learn art, music and sports.
Highlights
Equips students with a versatile skill set
Cambridge IGCSE programme
Values-driven school
Lot of opportunities for learning the arts
3)  Pinehurst School

BEST FOR
Strong and Vibrant Community
SERVICES
Primary (Year 1-6)

College (Year 7-13)

Cambridge Exams

WEBSITE
https://www.pinehurst.school.nz/
ADDRESS
75 Bush Road, Albany, Auckland, New Zealand
CONTACT DETAILS
+64 9 414 0960
OPERATING HOURS
Monday to Friday: 8.45am – 3.15pm
Pinehurst School is an Auckland-based co-ed school that offers primary to college-level education. They offer a customised learning style that caters to each student.
With talented teachers, they conduct classes in a positive, fun and safe environment. Students here are also trained in self-discipline, leadership, motivation, and ethics.
Their vision is for the students to become successful and participative toward making the community better in the future.
For these reasons, we believe Pinehurst School to be one of the best New Zealand international schools.
Highlights
Co-ed international school
Bring the best out of students
Talented teachers
Customised learning style
4)  John McGlashan College

BEST FOR
Strong Life Foundations
SERVICES
Junior School

Middle School

Senior School

Learning Support

International Baccalaureate

NCEA

Agribusiness

Careers

Library

WEBSITE
https://www.mcglashan.school.nz/
ADDRESS
2 Pilkington Street, Maori Hill, Dunedin 9010, New Zealand
CONTACT DETAILS
+64 3-467 6620
OPERATING HOURS
Monday to Friday: 8.30am – 4pm
Build strong life foundations for your son with John McGlashan College. It has been operating for centuries and is situated in Maori Hill in South Island's Dunedin.
They provide personal education courses in neat and modern facilities. They will guide boys so that they grow up into men with integrity and professional expertise to contribute to society.
Actually, they often state that they are proud of their former students who have become agribusiness, professional and academic leaders. Enrolling here is an investment to give your kid a secured future.
Hence, John McGlashan College is among the best New Zealand international schools.
Highlights
Builds foundations for life
Personal education courses
Neat and modern facilities
IBDP curriculum
5)  St Peter's School Cambridge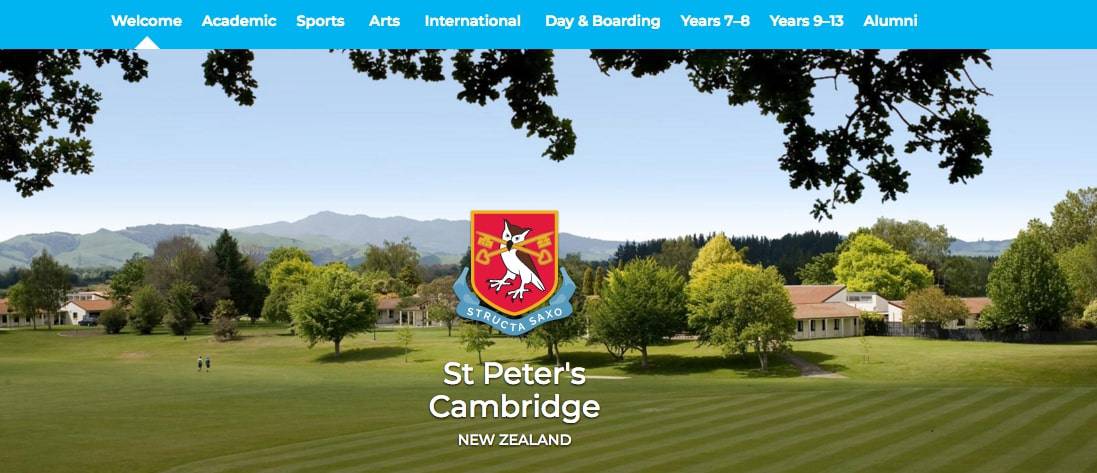 BEST FOR
Holistic Approach for Education
SERVICES
Years 7-8 Academic Curriculum

Years 9-13 Academic Curriculum

Sports

Arts

International

Day & Boarding

WEBSITE
http://www.stpeters.school.nz/
ADDRESS
1716 Cambridge Road, Cambridge 3283, New Zealand
CONTACT DETAILS
+64 (07) 827 9899
OPERATING HOURS
Monday to Friday: 8am – 4pm
St. Peter's School is another of the best New Zealand international schools. It's a day and boarding school set in a beautiful rural setting with majestic oak trees and a quaint town square.
It was founded by Arthur Broadhurst in 1936. He was an educator, philanthropist, Oxford scholar and World War 1 veteran.
His approach was to teach students holistically, focusing on the mind, body and spirit. To this day, this same effective method is used by the teachers at the school.
Important to them is that every student becomes academically competent and this is what they've been known for. Also, they offer plenty of arts and sports opportunities here.
Highlights
Holistic approach
Wonderful campus
Plenty of arts and sports opportunities
Formed in 1936
And that's all for the best New Zealand international schools. As you can see, these are prestigious schools where your kid will enjoy learning, studying and having fun.
So far, have you found a school that you can enrol your kid in? We'd like to know and you can share it with us by sending us a message.
Furthermore, if your child has gotten a great score on a test, you could reward him or her with cool headphones. In this case, you can check out the best headphones to buy in New Zealand.