By Isla Thompson
Looking to give your office a regular or one-off cleaning? If so, you're in luck, as we've put together a list of the best office cleaning Auckland services here for you.
For this list, we carefully picked the ones who are trained and experienced. Second, we selected those with light prices, seamless communication and eco-friendly practices.
Now, without any delay, we present to you the best office cleaning Auckland services!
1)  A1 Services NZ Ltd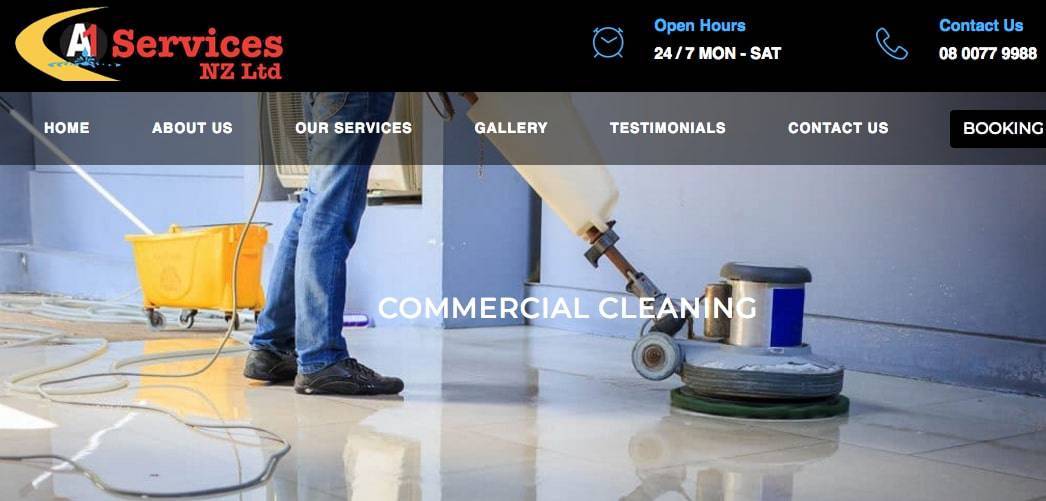 BEST FOR
24/7 Office Cleaning Service
SERVICES
Commercial Cleaning

House Cleaning

Property Maintenance

Carpet Cleaning

Roof Maintenance

Painting

Water Blasting

Window Cleaning

WEBSITE
https://www.a1servicesltd.co.nz/commercial-cleaning/
ADDRESS
PO Box 51923, Pakuranga,Manukau, Auckland, New Zealand
CONTACT DETAILS
08 0077 9988
OPERATING HOURS
Monday to Saturday: 24/7
Keep your workplace productive and hygienic by calling A1 Services NZ. Operating round-the-clock from Monday to Saturday, they're available whenever you need them.
With 18 years' experience, they can clean every nook and cranny to an exceptional standard. Health and safety are strictly adhered to by their cleaners at all times.
The team is also liability-insured, giving you peace of mind when they are cleaning your office. If ever you aren't satisfied with their work, they will promptly fix it within 24 hours.
Highlights
18 years' experience
Liability-insured team
Adheres to health and safety standards
Satisfaction guaranteed 
Customer Reviews 
Here's how they made it into the best office cleaning Auckland services list. Line Joseph, one client, said:
"After over two years with our previous cleaning company we made the switch to A1 Services and have been overwhelming pleased ever since. For the more competitive price , care and attention they put our office and lobby. Their very professional attitude towards work was great. We enthusiastically recommend them in every regards."
2)  CleanMe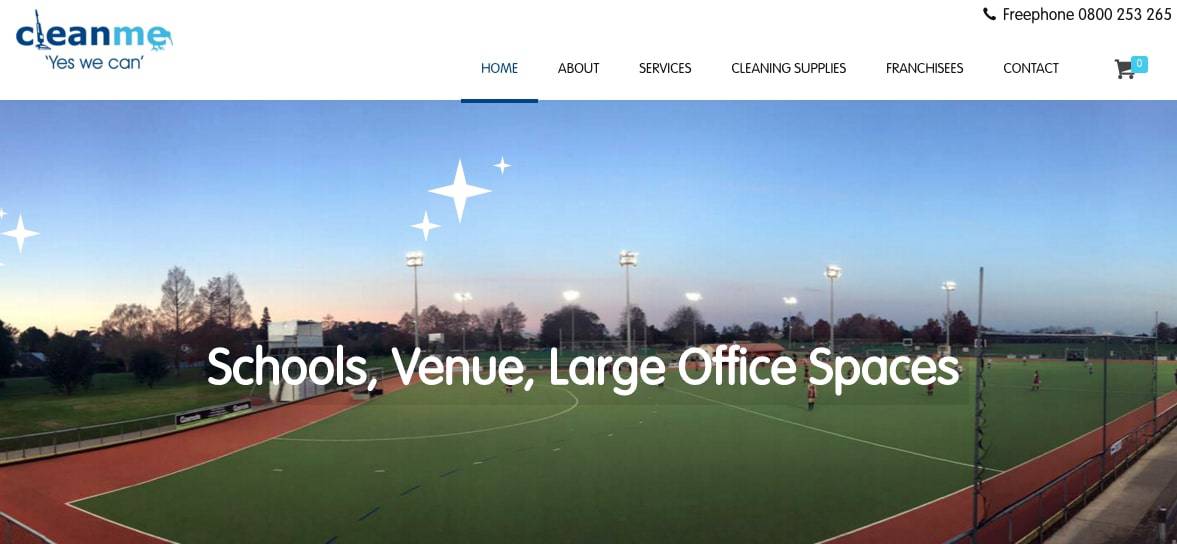 BEST FOR
Economical Rates
SERVICES
Commercial Cleaning

Carpet Cleaning

Exterior Cleaning

Floor Polishing

Home Cleaning

Lawn Mowing & Gardening

Mobile Car Valet

One-off Cleaning

Window Cleaning

COVID-19 Cleaning

WEBSITE
https://www.cleanme.co.nz/
ADDRESS
Queen Street, Auckland CBD, Auckland 1010, New Zealand
CONTACT DETAILS
0800 253 265
OPERATING HOURS
24/7
If you'd like to have a great cleaning service without breaking the bank, you should definitely phone CleanMe. They can even beat a competitor's quote if you show it to them.
Their cleaners are skilled and police-vetted, so you can totally trust them. Caring about the country's beauty and their clients, they use only safe and eco-friendly solutions.
Whether it's a cramped office or large chaotic warehouse, regular or one-off cleaning, their quality, care and attention to detail remains the same throughout.
Hence, they offer some of the best office cleaning Auckland services.
Highlights
Best-price guarantee
Quality cleaning
Skilled and police-vetted cleaners
Safe and eco-friendly solutions
Customer Reviews
On the webpage, Andrea Adamson wrote her feedback:
"We appreciate the excellent service PK provides to our company. I congratulate PK for his commitment to running an outstanding business. I would recommend CleanMe to any business looking to get professional cleaning services."
3)  Crew Care Commercial Cleaning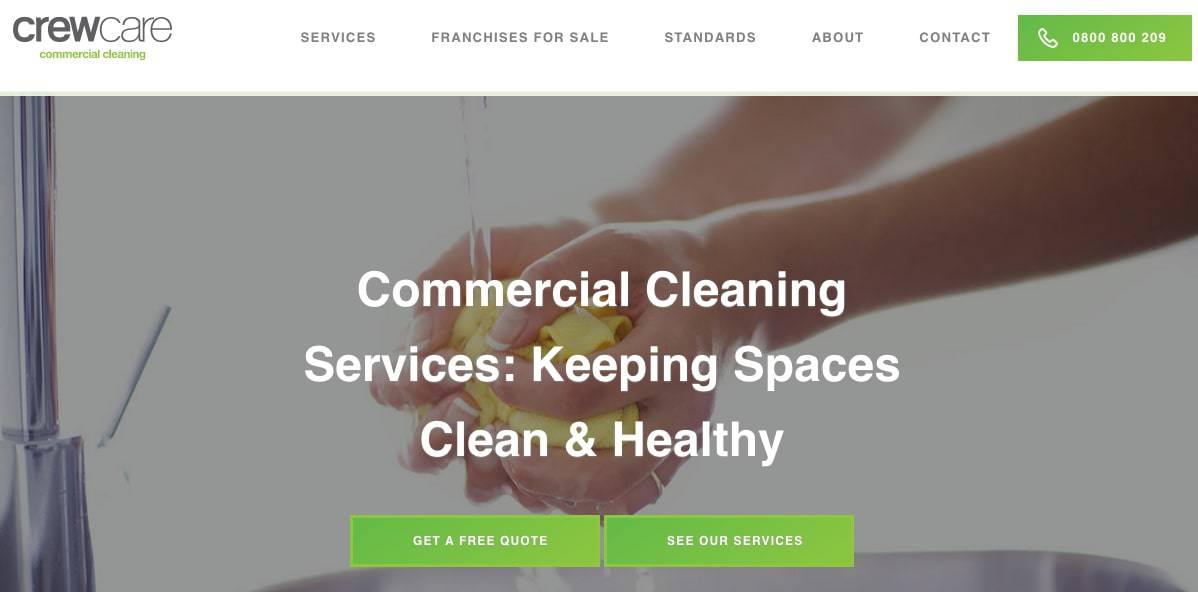 BEST FOR
Real-Time Tracking App
SERVICES
Commercial Cleaning

Deep Cleaning

WEBSITE
https://crewcare.co.nz/
ADDRESS
1 Des Swann Drive, Takapuna, Auckland, 0622, New Zealand
CONTACT DETAILS
0800 800 209
OPERATING HOURS
Monday to Friday: 8.30am – 5pm
Crewcare is a franchise company specialising in commercial and deep cleaning. They are dedicated to making your business space a cleaner and healthier place to work in.
Setting them apart is their Carenote app, which is a real-time tracking system you can use to check cleaning status, make requests and post feedback.
The company's investment is in their highly trained cleaners who conduct efficient cleaning without any missed spots.
What's more, they offer deep cleaning services to disinfect and clean areas that have been occupied by COVID-infected people.
Highlights 
Specialises in commercial cleaning
Highly trained cleaners
Pioneering Carenote app
Can disinfect and clean areas with COVID cases 
Customer Reviews 
Let's see what one client, Zach White, has to say on Google:
"My desk is always sparkling after a Crewcare visit.  They make it a much more pleasant environment to be in."
4)  AMC Commercial Cleaning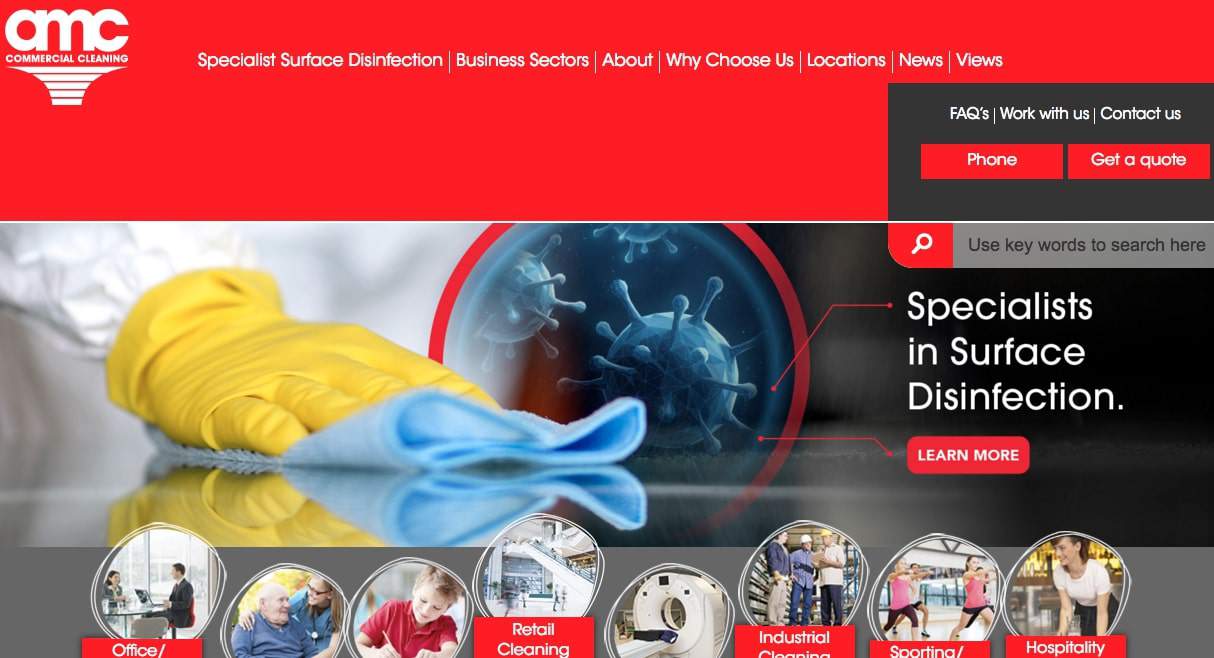 BEST FOR
High Cleaning Standards
SERVICES
Office / Commercial Cleaning

Aged Care / Retirement Cleaning

Education Cleaning

Retail Cleaning

Medical Cleaning

Industrial Cleaning

Sporting / Leisure Cleaning

Hospitality Cleaning

WEBSITE
https://www.amcclean.co.nz/
ADDRESS
A3 level 1, 4 Pacific Rise, Mt Wellington, Auckland 1060, New Zealand
CONTACT DETAILS
+64 9-320 4178
OPERATING HOURS
Monday to Friday: 9am – 5pm
AMC Commercial Cleaning offers a diverse range of cleaning for the commercial and industrial sectors, having served clients across New Zealand and Australia since 1988.
The team provides efficient and environmentally-responsible cleaning that complies with ISO standards. To maintain their high level of service, they conduct strict audits on a weekly and monthly basis.
Moreover, they make their own sustainable and non-toxic agents for cleaning your workplace. They respond promptly and are respectful, according to past clients.
Hands down, they offer some of the best office cleaning Auckland services today. 
Highlights 
Efficient and eco-friendly cleans
Diverse range of services
Prompt and respectful to clients
ISO-certified cleaning company
Customer Reviews
Here's the review of Hannah Owen on Google:
"Our company has used AMC Commercial Cleaning for our office cleaning for many years now and we will continue to do so due to the high standard of service consistently provided.
We have an onsite cleaner during the day and then a full team onsite in the evening and we can never fault their work. Dealing with Alana and her team is always very straightforward and they communicate back to us regularly also. I would highly recommend Alana and her team for all your cleaning requirements."
5)  Magic Clean Auckland Ltd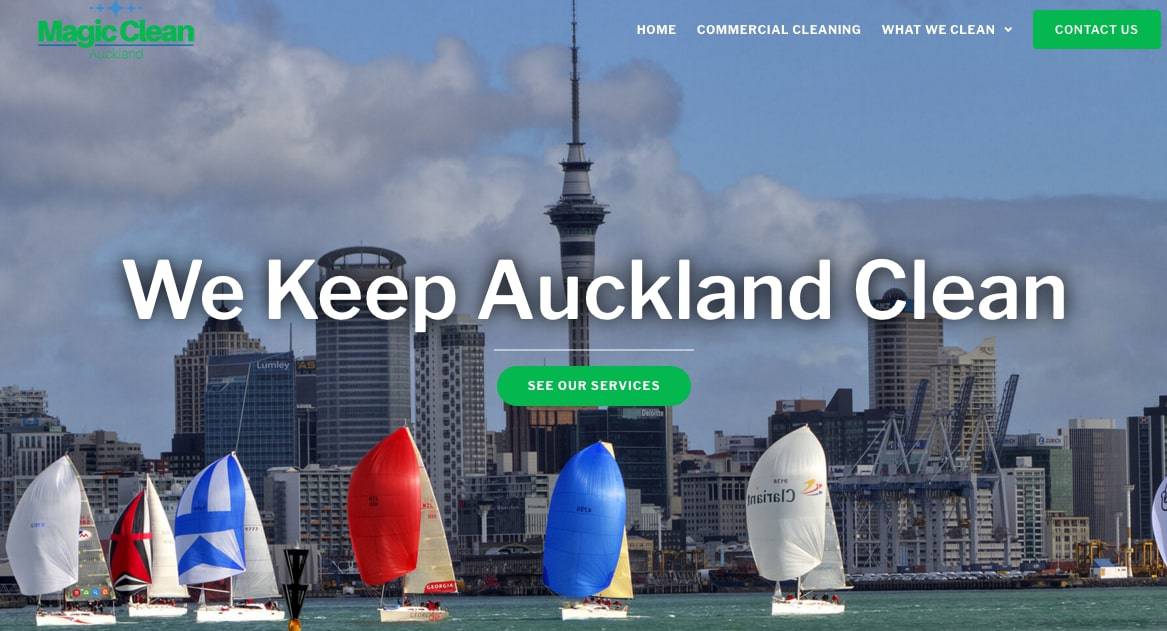 BEST FOR
Eco-friendly Green Cleaning Products
SERVICES
Office Cleaning

Educational Facilities Cleaning

Gym & Fitness Centers Cleaning

Healthcare Facilities Cleaning

Hospitality Facilities Cleaning

Industrial Facilities Cleaning

WEBSITE
https://magiccleannz.com/
ADDRESS
Auckland, New Zealand
CONTACT DETAILS
+64 800 624 429
OPERATING HOURS
24/7
If you need a cleaner with a sharp eye for detail, then Magic Clean Auckland would be a great choice.
Like other cleaners on this list, they utilise green cleaning solutions that won't set off allergies or endanger clients, occupants, messengers, and the like.
In addition, your cleaning will be tailored to your needs and requirements. They will ask questions and discuss the results you're after so they can work to exceed it.
They are committed to providing a personalised and thorough cleaning for your office. This raises your business standards and productivity, and may even help you improve profits!
Highlights
Quality office cleaning
Eco-friendly cleaning products
Knowledgeable and meticulous team
Wide range of commercial cleaning
Customer Reviews
On Google Business, Caroline Jeffreys shared:
"We love Magic Clean. They offer an outstanding service to our office. Any extra requests are always fulfilled. Communication regarding the top up of supplies are always timely. I never have to waste time checking on their work. I would highly recommend their  services."
That concludes our list of the best office cleaning Auckland services. These cleaners presented will do an outstanding job to keep your office appealing and neat.
Do you have any questions or comments about what we talked about? If you do, just let us know by sending us a message and we'll get back to you as soon as possible.
Other than that, you might like to check out the best coworking spaces in Auckland next. Perhaps you need a temporary workspace while your office is being disinfected or want to change your usual office routine — in that case, those would be the solutions.