The 9 Best Oil Diffusers in NZ
Want to envelop your home in fragrance? If so, you're on the right page, as we're listing the best oil diffusers in NZ here today!
But before we get to those, we'll tackle the basics of buying one so that your purchase, when you finally make one, will be well worth it.
How to Choose The Right Oil Diffuser
Below are the factors you have to consider when buying an oil diffuser:
1) Types of Oil Diffuser
There are three types of oil diffusers that you can encounter, namely:
Ultrasonic Oil Diffuser – Powered by sonic vibrations, this diffuser type uses water to disperse a mist into the air with aromatic essential oil.
It is usually coupled with a humidifier, making it an excellent choice during winter and in enclosed and air-conditioned rooms.
If used as an aromatherapy device, it can lower anxiety, depression, irritation, and insomnia.
Evaporative Oil Diffuser – This is a powerful oil diffuser as the essential oil inside of it is evaporated by the fan. With a large water tank, it can work for long hours.
However, it operates with more noise compared to other types due to the fan that's converting the oil into vapour.
Nebulising Oil Diffuser – These oil diffusers are suitable for people who feel pain or irritation in their bodies.
As opposed to other diffuser types, they don't use water and heat. They diffuse the essential oil quickly to be as effective as possible in remedying the ailment.
2) Mist Intensity
The mist intensity isn't the same for every diffuser. Some diffusers give off a strong fragrance while others bring about a moderate or a subtle scent.
To get this right, you have to consider the diffuser in terms of the size of your room, whether you will sleep with it on all night, and how long you will use it.
It will help if you can change the mist settings on your diffuser. This allows you to set it at just the right level for your house.
3) Features
Some features you can find for essential oil diffusers are the following:
Light Colours – This feature lets you change the lights to a specific colour that you want. It can also act as a reassuring night light for your children.
Nature Sounds – Feeling stressed? Maybe you need to listen to the sounds of nature like birds tweeting, rain pitter-pattering, or ocean waves crashing.
Automatic Turn-Off – This turns off the diffuser as soon as the water runs out. It allows you to save energy and is safer.
Remote – Some diffusers can be used with remote control devices and may even have a slot in which to put those when not in use.
4) Capacity
Essential oil diffusers can range from 60 to 1000 ml. Of course, the larger the water capacity, the longer it can freshen your room with a lovely fragrance.
To put the runtime in the equation, an oil diffuser with a 60 ml tank can work for up to 3 hours while one with 1000 ml capacity can last for 30 hours—more than a day!
As you can see, it's also vital to get the right capacity for your oil diffuser. This prevents you from needing to refill it often.
5) Ease of Use
Setting up your oil diffuser shouldn't be difficult. The same goes for cleaning, charging, maintaining it, or changing its settings such as the alarm, music, and lights.
Otherwise, it would defeat the purpose of having this device in the first place. Diffusers are designed to soothe your emotions and make you feel relaxed, not weary!
6) Design
There are a lot of of oil diffuser designs out there. They vary in appearance, size, and weight, all of which can add or change the personality of your room.
So having considered the important factors like type, mist intensity, capacity, and features of an oil diffuser, you can go ahead and pick the design you want. For the most part, their looks don't matter as much as their function.
* If you have any questions about the safety of using a diffuser, kindly check out our FAQS section that comes after our main list.
The Best Oil Diffusers in New Zealand
Now that you know how to buy an oil diffuser, here's our list of the best oil diffusers in NZ!
1) Oregon Scientific Elite Aroma Diffuser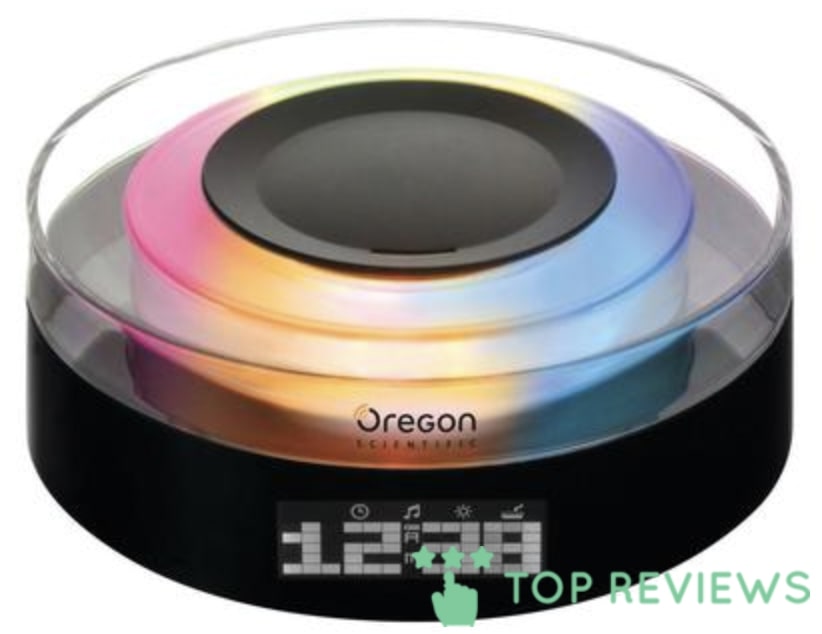 | | |
| --- | --- |
| Best for | Stress management |
| Water capacity | 300 ml |
| Dimensions | 19 x 19 x 7 cm |
| Weight | 1.35 kg |
| Price | $218.73 |
If you're feeling stressed out, you need to unwind a bit to get back your strength and focus. With its multiple functions, the Oregon Scientific Elite Aroma Diffuser can help you with that.
It acts as a diffuser but can also play calming nature sounds and change lights to match your decor. These lights can be pink, yellow, green, purple, blue, or orange.
The diffuser has a water capacity of 300 ml and can diffuse fragrant oils for several hours. If the water has run out, it automatically turns off for safety and convenience.
It can be displayed on your desk, living room, or bathroom—perfect when you're coated in soap and relaxing in the tub.
Pros
Large water capacity
Automatic turn-off
Soothing nature sounds
6 colour effects
Cons
Expensive
Monotonous sounds
Customer Reviews
This multi-use diffuser has received mixed reviews on Amazon. But most of them have no issues with it, except for the music quality and some bright lights.
That said, one buyer named Silvia, shared her experience in using the diffuser:
"This is the best way to difuse the incense. I have always burnt candles because I love to fill the house with a beautiful aroma but in the back of my mind I worried where is this evaporated wax getting deposited. Since I discovered the ultrasonic diffuser I enjoy diffusing of oils even mmore. I've noticed that the aroma is much more lasting than with burning. When you burn oils after a while you get used to the smell and don't smell it until you walk out and reenter the room. With the ultrasonic diffusion the new fragrance is constantly being evaporated into the space and you can smell it the the entire time the machine is on. I also love the visible vapor. It adds to the ambience. And the changing color lights are just beautiful. The only thing I don't care much for is the music it can play. It's not the best quality."
Also, Marissa said this:
"I love this all in one sound machine, clock and diffuser! Perfect! I have had it since May 2015 (It is now December 2019) with no problems, proper cleaning and daily use! Today it's not diffusing as much, even after cleaning. I'm sad to see that this diffuser is no longer in stock!"
2) Ellia Dream Ultrasonic Essential Oil Diffuser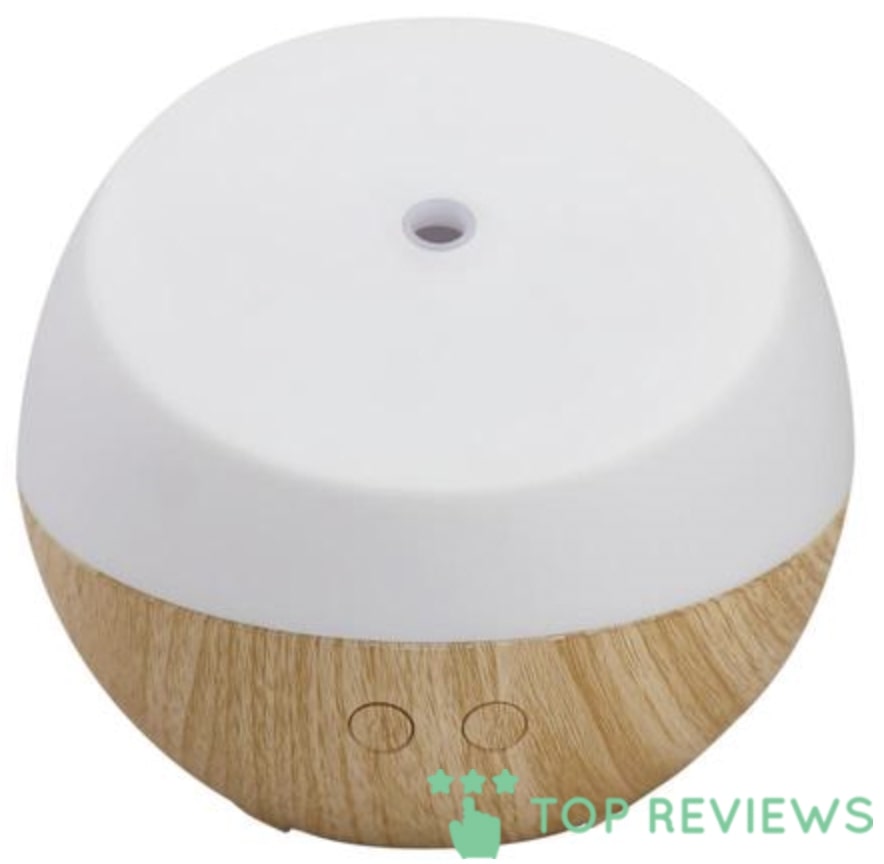 | | |
| --- | --- |
| Best for | Budget oil diffuser |
| Mist runtime | Up to 6 hours |
| Dimensions | 5.08 x 3.18 x 15.24 cm |
| Weight | 0.058 kg |
| Price | $73.45 |
With two mist intensity options, continuous and intermittent, you have the say on how you want the mist to disperse in your room with this one.
The continuous mist setting lifts up the fragrance until the water tank is empty, while the intermittent option brings light misting to the air, which can last longer.
Not only that but this coconut-shaped essential oil diffuser can alter its glow in alternating patterns, stay with 1 colour, or be turned off completely for undisturbed sleep.
Furthermore, the light wood design seamlessly blends into any home surrounding, be it old-school or contemporary.
Simple, affordable and lightweight, this lovely dream oil diffuser from Ellia is a natural inclusion in our best oil diffusers in NZ list!
Pros
Flexible oil diffuser
Adaptable and light design
Gentle-glow lights
Affordable
Cons
The plastic parts stain easily
Customer Reviews
This is a great buy at an affordable price, owners agree. Let's take look at Yvonne's comment on Amazon:
"I ordered and received this diffuser almost 2 weeks ago and I am enjoying it so far. It has the option to diffuse continuously or intermittently which extends the amount of time you are diffusing your oils in the room. I love that it has the option to turn off the colored lights since I tend to use the diffuser at bedtime. If you are looking for something to use that requires minimum fuss, then this is the product for you."
Moreover, here's nice feedback from Sveltka:
"This diffuser has it all and I love it!! Unit can run continuously until it runs out of water, or it can run in intervals for a much longer time. The lights can cycle through all the colors or you can choose a favorite and hold that color. Fits nicely in any décor, with all that said check this diffuser out; you'll be glad you did."
3) Activiva Electric LED Aroma Diffuser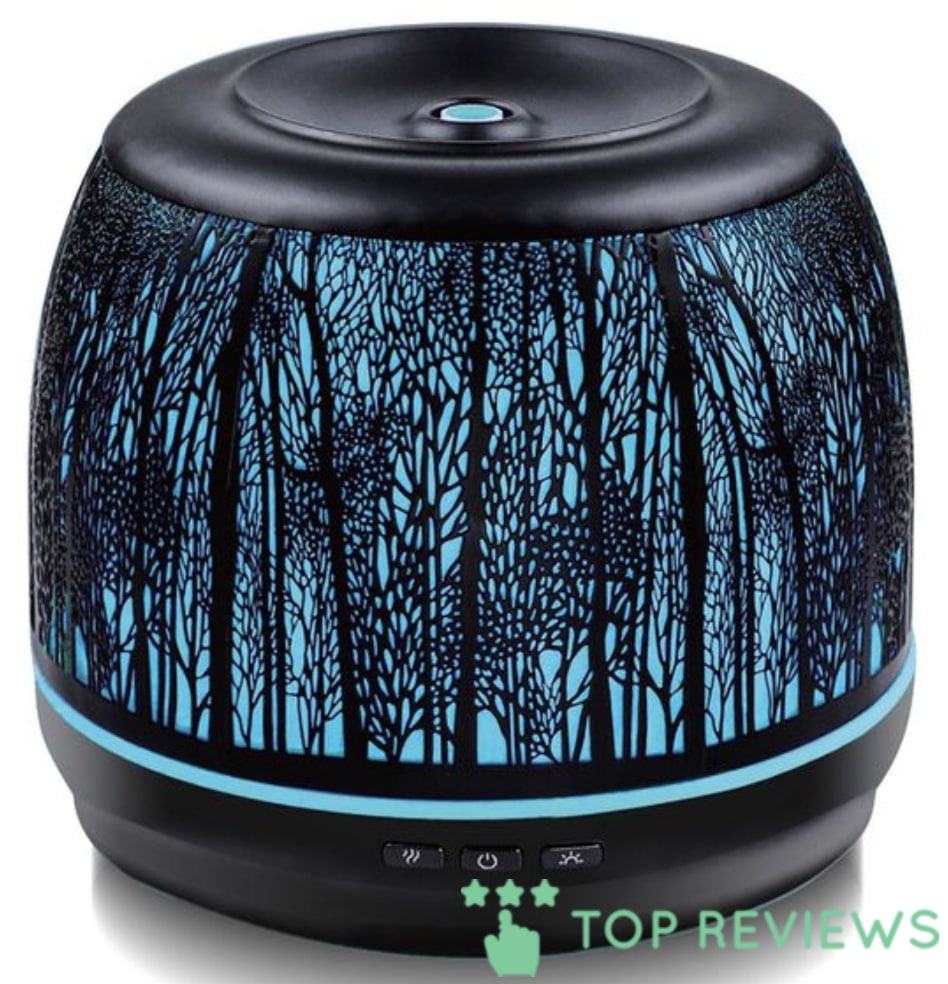 | | |
| --- | --- |
| Best for | Decorative metal diffuser |
| Mist runtime | Up to 15 hours |
| Water capacity | 500 ml |
| Dimensions | 18.1 × 18.1 × 15.7 cm |
| Weight | 0.79 kg |
| Price | $89.77 |
Fancy some art on your oil diffuser? If so, the Activiva Electric Aroma Diffuser could be for you.
It features glowing forest scenery and can be set to one of 7 LED colours. The diffuser is part metal and part ABS plastic, making it stylish and extra durable.
The device has a capacity of 500 ml that can last up to 15 hours. If after that duration, you're still asleep, this product will switch off by itself.
Aside from that, it is simple to use and has 3 buttons: power, mist, and light. These are located on the lower front of the fragrance diffuser.
Also, the package includes 10 ml of lavender oil, a power adapter, a measuring cup, and a product manual. So, you won't have to head down to your local store to pick up the other things you need to get started.
Pros
Sturdy iron cover
Huge capacity
Auto-stop function
7 light colours
Cons
4) Sofia Nebulising Essential Oil Diffuser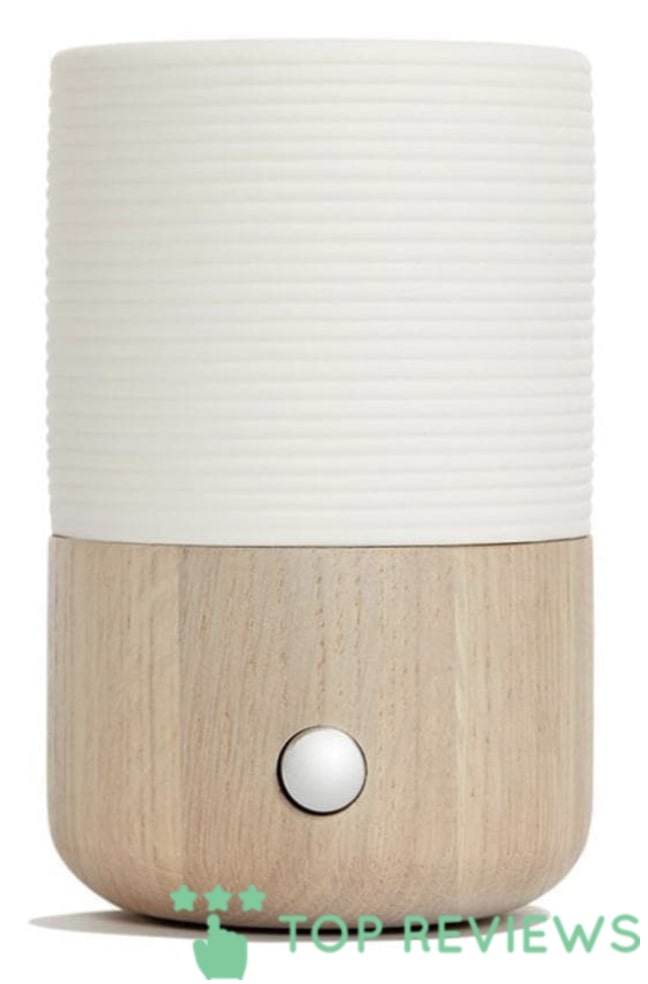 | | |
| --- | --- |
| Best for | Nebulising oil diffuser |
| Mist runtime | 2 hours |
| Dimensions | 9.5 x 9.5 x 16.3 cm |
| Weight | 1.29 kg |
| Price | $179.99 |
The Sofia Nebulising Oil Diffuser is made from natural hevea wood and handmade ceramic. That lends class and elegance to the diffuser, albeit being small and simple.
This product is FSC-certified, meaning the wood is procured from responsibly managed forests to be good for both the environment and consumer.
Water and heat are not needed to use the Sofia essential oil diffuser. It can work up to 2 hours, after which it will automatically stop.
The ceramic cover also lights up independent of the nebulising. You can even set the light to meditation mode where it will turn on and off for you to do a deep breathing exercise.
Pros
No water needed
Space-saving
Soft ambient light
Simple to use
Cons
Premium price
Noisy operation
Customer Reviews
Many customers complimented its exquisite form, even those that gave it a negative score. The latter's complaints said that it was a little too noisy and difficult to use for their preferences, though we ourselves had few issues working it.
There were many fans of the diffuser besides us though, like Rima:
"Loved the diffuser, but light did not work at all. Customer Services were very responsive initially, but then promised to send a replacement diffuser and never did. When I contacted about the replacement, no reply. Loved it, would have been happy to keep it without light if offered a discount. Had to send it back… 🙁
Update: after I bought two different nebulisers from different companies, I could not find anything as nice as Sofia and decided to purchase it again. This time it works!!! Absolutely love it!!! Lovely design, beautiful light and wonderful smell at home. Could not be more happy ?."
Furthermore, another customer wrote this review:
"Instantly in love with Sofia!
It's relatively compact design makes it a sweet and practical little gem.
All is relaxing, the touch of the solid timber base, the milk glass and the silent mecanisme.
At home our two sons love the smell and I feel the house is more welcoming now.
A no brainer in your plain Scandinavian interior.
I hope you will enjoy as much as we do!"
5) Oricom AD100 Aroma Diffuser Night Light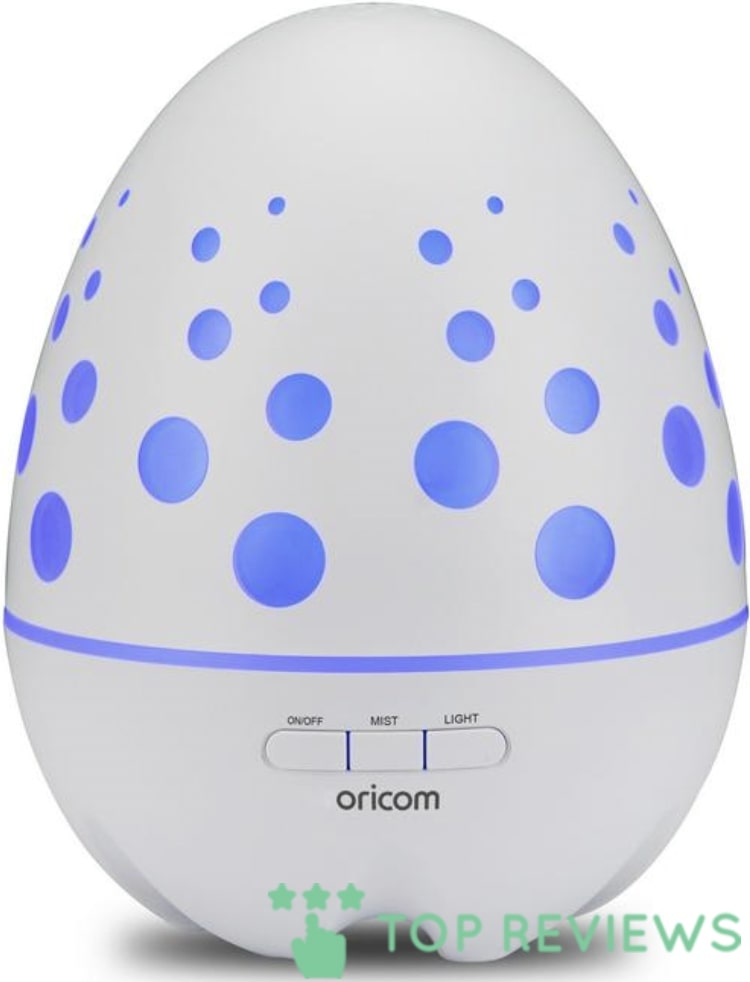 | | |
| --- | --- |
| Best for | Parents and babies |
| Water capacity | 400 ml |
| Weight | 0.72 kg |
| Price | $84.76 |
Need an aroma diffuser to use in the nursery for your baby? Well, we're pretty sure that you'll like the Oricom AD100 Aroma Diffuser Night Light.
From its friendly egg shape right down to the simple buttons as well as the cycling night-light colours, this is certainly one of the best oil diffusers in New Zealand.
To use it, you simply need to open the egg and add the essential oil. From there, the ultrasonic technology will take over to fill the room with wonderful smells and vibes.
You'll create an aromatic oasis for both your child and yourself. And you can adjust the timer and mist settings to customise the aroma diffuser to the baby's comfort.
Pros
Ultrasonic technology
Soft and multi-colour night light
Adjustable mist levels
Timer function
Cons
Can have a bad smell if not cleaned regularly
Customer Reviews
Most buyers have nothing but love for the Oricom Diffuser Night Light. They said it gave a lovely aroma, had a gentle and soothing night light, and was super-easy to clean.
One owner wrote a glowing review about this diffuser:
"It took a few bad eggs before I found this goodie! I wouldn't use anything else now. I love the colour changing lights. I have one for my 7 month old daughter and 5 year old son who promptly turns his to "green" every night. You can use each function on its own or simultaneously with the other functions. It has a good water capacity and easy to clean. Really happy with this product."
Let's see one more comment from Chithrika:
"I got given this as a gift and found that I used it mainly for sleep with lavender and eucalyptus when she had a stuffy nose. I found that both times they really helped and gave me such reassurance that she was not having any medicine or chemicals unless absolutely necessary. I feel like this is a great product for mums to have."
6) Skye Candle and Body Care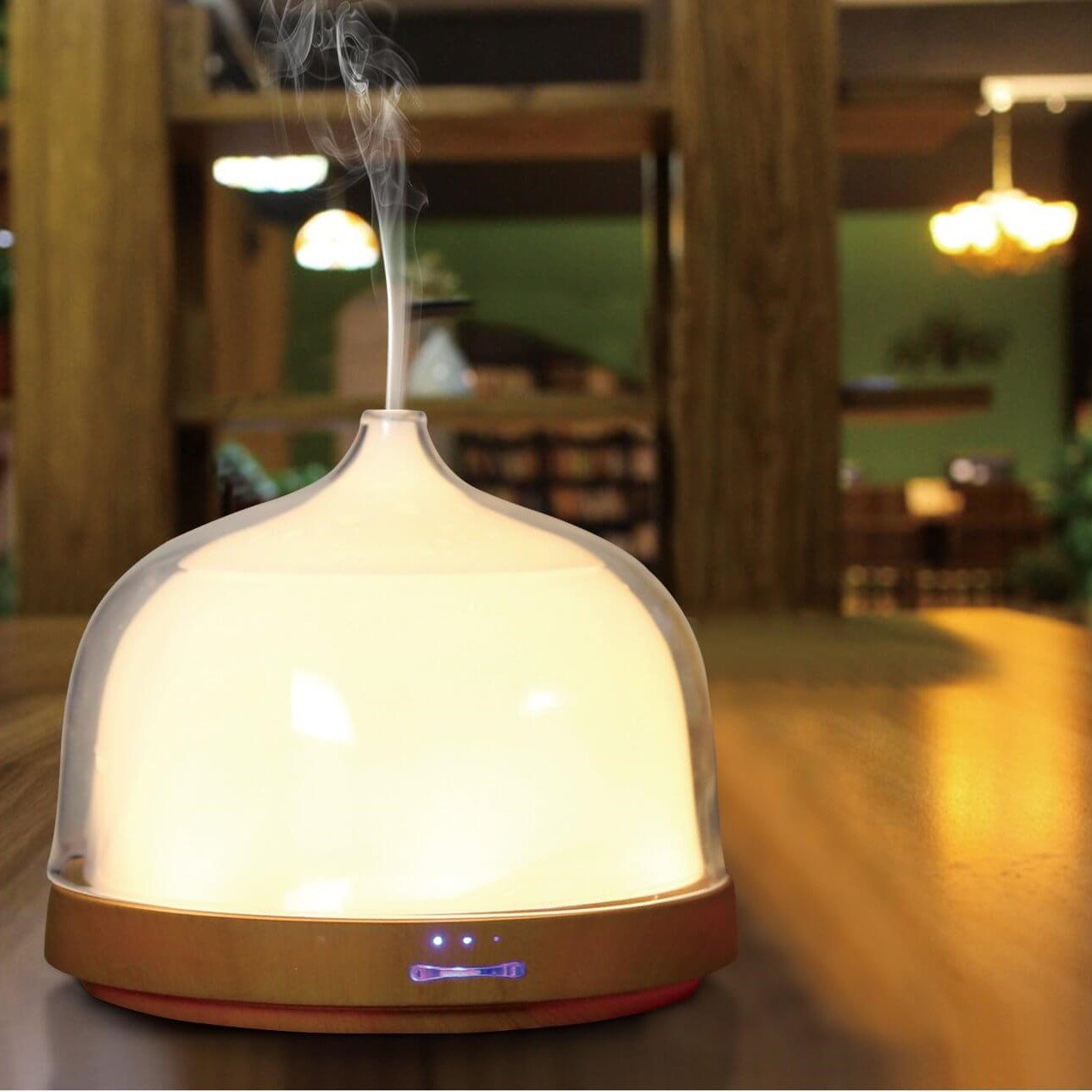 | | |
| --- | --- |
| Best For | Natural-look Design |
| Water capacity | 200ml |
| Dimensions | 15 x 15 x 12.5cm |
| Weight | Contact for more information |
| Prices | $89.90 |
Aromatherapy can always enhance a stuffy environment. This Sky Candle and Body Care diffuser does the job with its ultrasonic aromatherapy that comes in a gorgeous, simple and rustic design.
This diffuser also has a capacity of 200ml and a timer that you can switch from two or four hours or just keep it on for however long you'ld like. It can also continuously and intermittently spray out mist. Finally, this model also has 7 LED colors to choose from.
Experience aromatherapy in complete relaxation with this diffuser. All you have to do is simply add your choice of either aromatherapy oils or essential oils and relax your senses with every breath.
Pros
Safe Alternative to Paraffin Wax Candles
7 color led light
Timers available for 2 hour, 4 hour, On
Cons
Must be cleaned regularly
7) Ultrasonic Essential Oil Diffuser NZ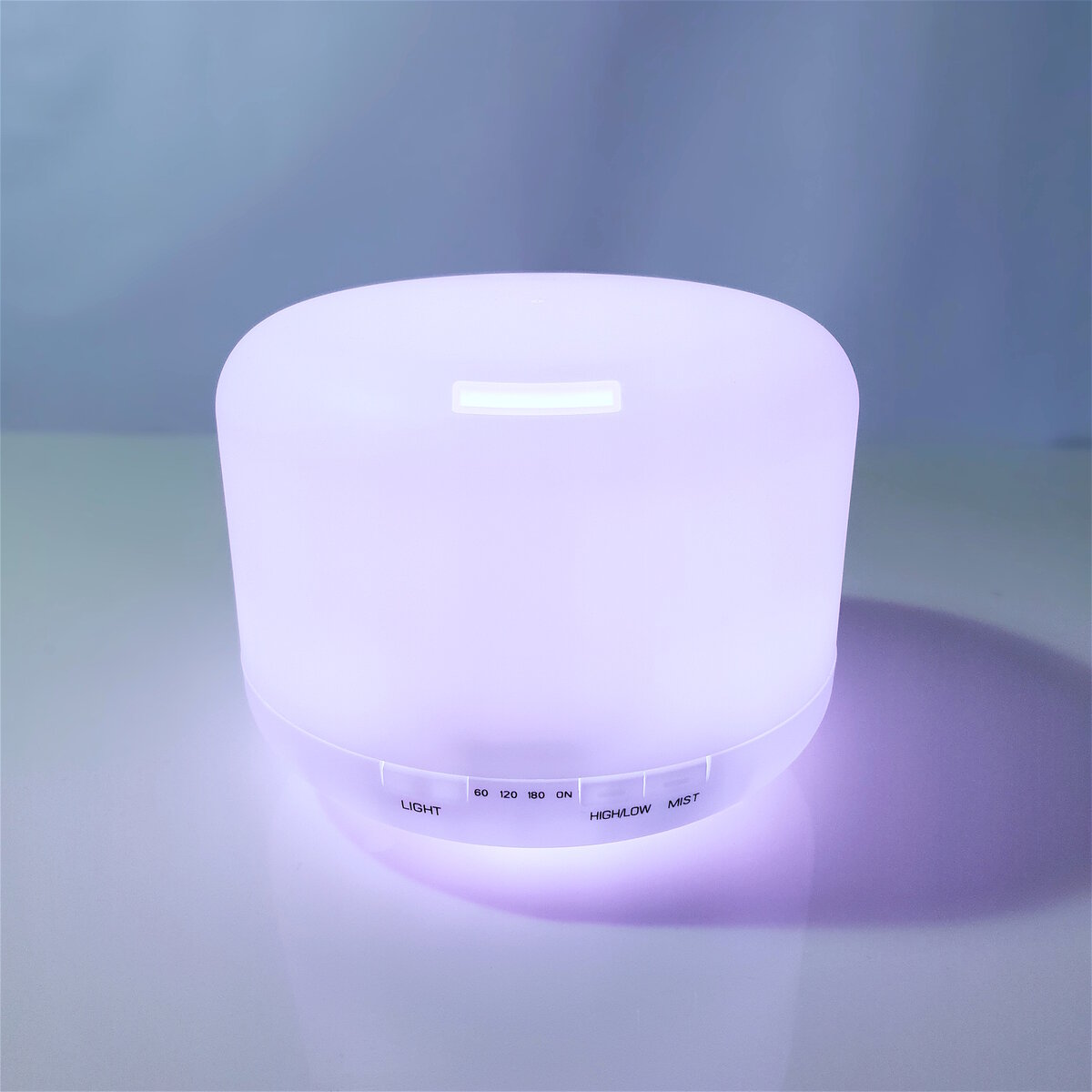 | | |
| --- | --- |
| Best For | Minimalist Relaxation |
| Water capacity | 500 ml |
| Dimensions | 16.8cm x 12.1cm |
| Weight | Enquire for more information |
| Prices | $72.00 |
If you're looking for an therapeutic aroma experience, the Ultrasonic Essential Oil Diffuser NZ is one of the best diffusers you should consider. It features a minimalist design, made with eco-friendly and child safe materials.
It's next gen Ultrasonic Atomisation Technology makes for better diffusion, allowing the natural scent of your essential oils to be distributed more widely throughout the room. As a plus, it automatically turns off once it's 500 ml water capacity is depleted.
You can also use it as a reading light, featuring adjustable LED lights with 7 colors with shades to cycle through. With its heat and noise free misting, it's the perfect companion for night time relaxation.
Pros
Sound-free misting
Adjustable LED lights
7 changing colors with shades
Automatically turns off when water runs out
Cons
Timer up to 180 minutes only
8) Aromaflex Aromatic Diffusers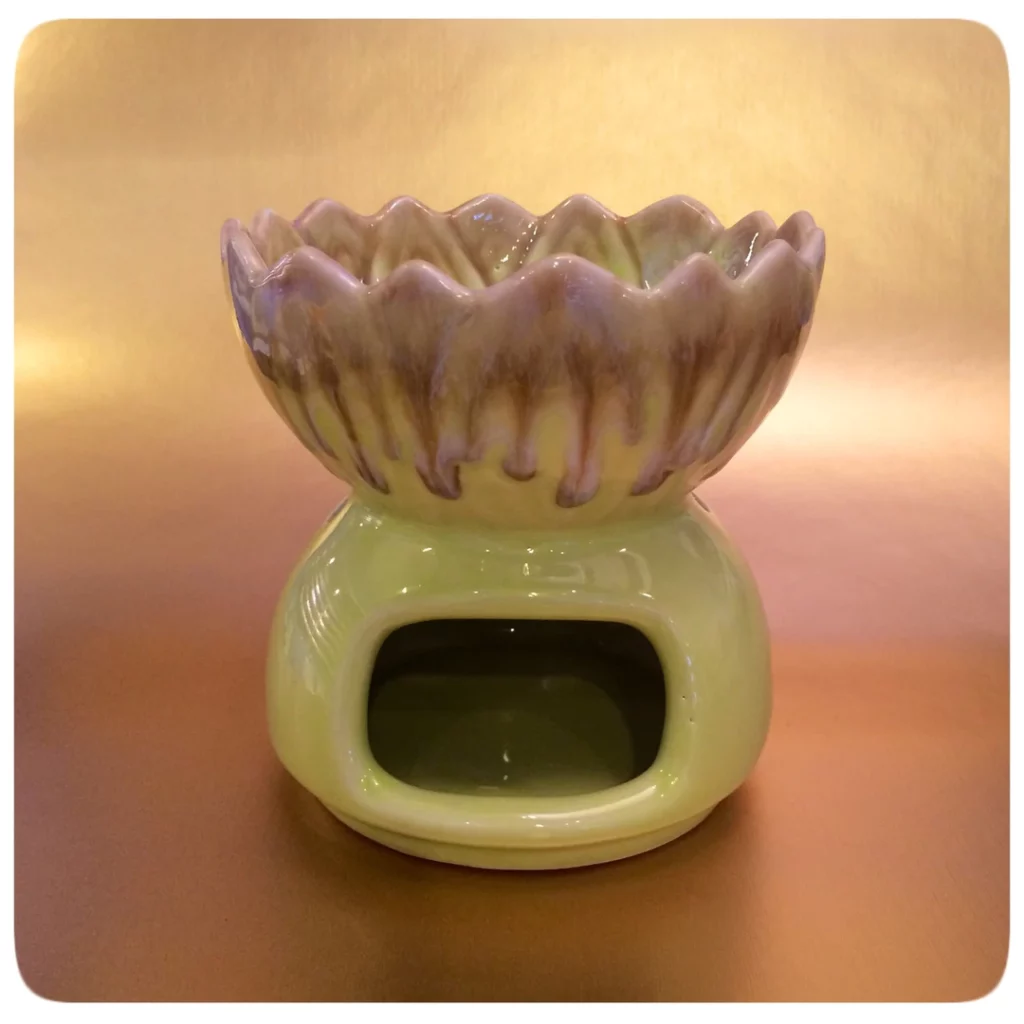 | | |
| --- | --- |
| Best For | Pottery Diffusers/Burners |
| Water capacity | Minimal; Depends on the size |
| Sizes | Small, Medium, Large |
| Weight | Enquire for more information |
| Prices | $35.00 – $50.00 |
Aromaflex is all about appealing to your senses for an overall mind, body, and spirit wellness. It was founded in 1995 by Shelley, an NZ-registered practitioner under NZROHA and a qualifier in Aromatherapy and Reflexology in the UK.
Their aromatic diffusers are actually conventional diffusers imported from Thailand. They require minimal amounts of water but the essential oil aroma is sure to surface.
Each aromatic diffuser is designed uniquely. They are also very affordable with prices ranging from $35 to $50 depending on the size.
Aside from aromatic diffusers, you might want to check out their other products. Some of these include essential oils, aromatic synergies, gift packs, and carrier oils.
Pros
Very affordable
Simple and elegant design
Authentic pottery diffusers/burners from Thailand
Saves electricity
Sound-free
Cons
Needs a candle for diffusing
9) Naturalus Rechargeable Pure Essential Oil Nebuliser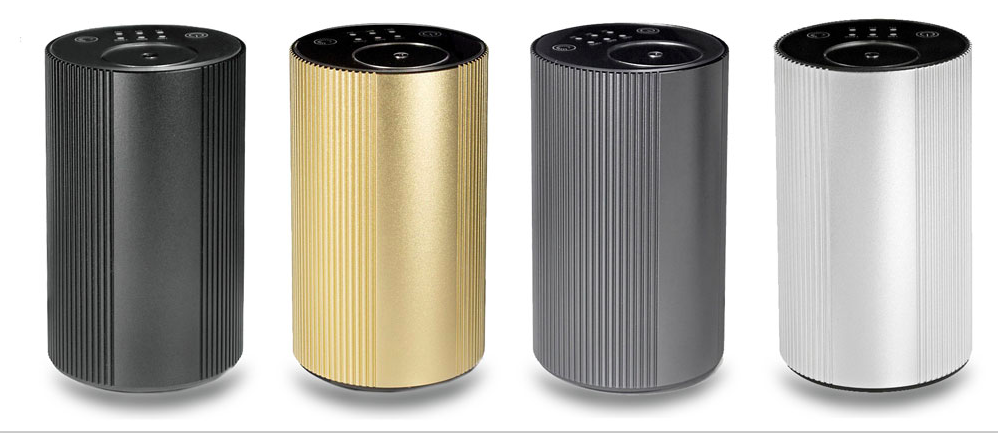 | | |
| --- | --- |
| Best For | Rechargeable diffusers |
| Capacity | Essential oil capacity: 15ml, 10ml, 15ml, 20ml |
| Size | 121 mm (height) x 71.5 mm (diameter) |
| Weight | Enquire for more information |
| Prices | $95.00 |
We're loving the Naturalus Rechargeable Pure Essential Oil Nebuliser.
For one, compared to other diffusers, it's waterless. It provides 100% pure essential oil aromatherapy. What's more is that 30 minutes of its mist can keep a place smelling fragrant for hours, and we love that about this.
From its name, it's also rechargeable and the battery can last up to 24 hours of continuous use. It's also wireless so after charging it, you can easily place it wherever you need to, and we like this convenience.
Speaking of convenience, this diffuser is portable and compact, so it's easy to bring anywhere.
We love how it's functional, but at the same time, it has style. You can even choose from four colors—black, charcoal, silver and gold.
This is definitely one of our favourite oil diffusers!
Pros
Waterless
Rechargeable
Portable and compact
Functional and stylish
Cons
FAQS about the Top Oil Diffusers in NZ
---
And that wraps up our list of the top oil diffusers in NZ. They will give your room a wonderful scent and help you manage any stress and anxiety you may have.
FAQS about the Top Oil Diffusers in NZ
---
And that wraps up our list of the top oil diffusers in NZ. They will give your room a wonderful scent and help you manage any stress and anxiety you may have.
Has everything been clear about our list? If you have any questions, kindly send us a message and we'll get back to you as soon as we can.
Is the air in your home too dry or cold too? You may want to view our list of the best humidifiers in NZ so you'll feel warm, cosy, and healthy.