The 5 Best Optometrists in Wellington
Even someone who has perfect 20-20 vision needs to have his eyes checked regularly. Taking care of your eyes cannot be understated, which is why we rounded up the best optometrists in Wellington!
Whether you are short-sighted or long-sighted, have torn lenses or glasses with a loose frame, or are just going for your checkup, our list below has excellent choices for you.
So without any further ado, we now present the best optometrists in Wellington!
1)  McClellan Grimmer Edgar Optometrists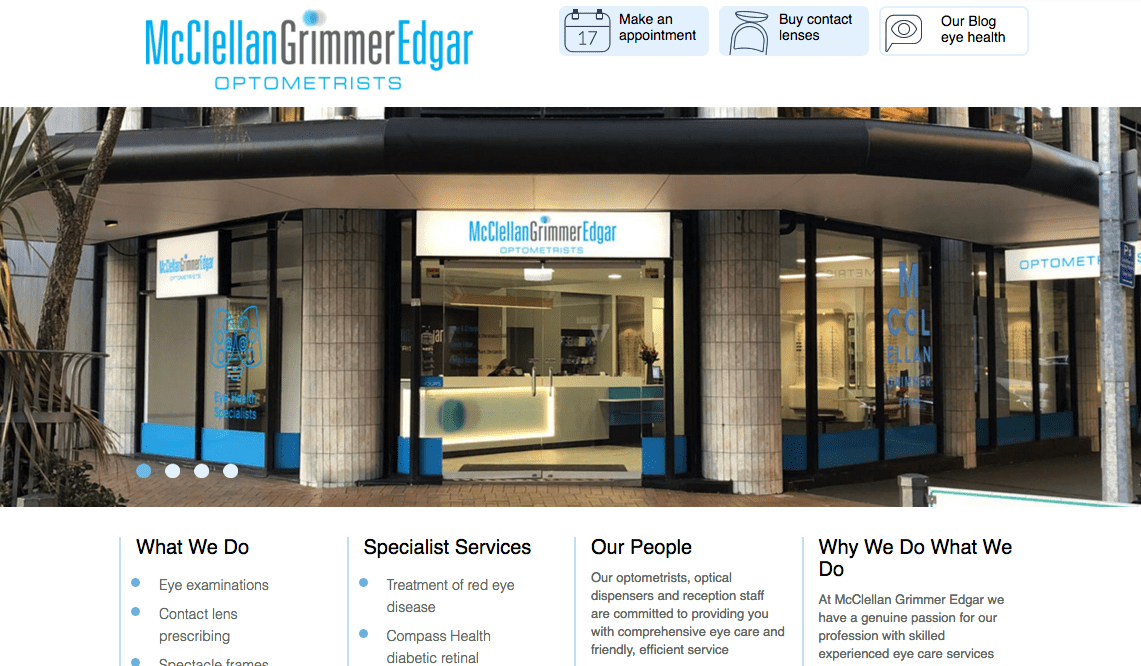 | | |
| --- | --- |
| Best for | Professional Expertise |
| Services | Eye Examinations, Contact Lens Prescription, Eyewear |
| Address | 77 Customhouse Quay, Wellington, New Zealand |
| Contact no | 04 473 6275 |
| Website | http://www.mgoptometrist.co.nz/ |
Since your spectacles are an investment, wouldn't it be great to have an optometrist who is well-experienced and who has industry-leading tech?
McClellan Grimmer Edgar provides services for eye tests, contact lenses, and spectacles. There are lots of options for you in terms of glasses, no matter if you need single, bifocal, progressive, flat or hi-index.
They also check the retinas of people with diabetes, treat red eye diseases, and deal with myopia, among others. And as a bonus, they conduct eye licence exams for pilots, seamen, and policemen too!
Highlights
Full range of services
Great lenses and frames
Looks into eye problems
Customer Reviews
There's more to MGE than meets the eye, Hayley Evans with a 5-star review wrote:
"I highly recommend Renee.  Renee sees my primary school aged daughter and she's fantastic – she makes the appointment fun for my daughter and gives me lots of helpful information as a parent."
2)  Bailey Nelson Optometrist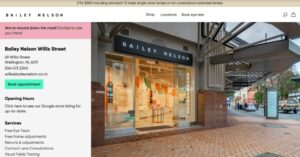 Best for
Frame Collections
Services
Eye Tests, Glasses, and Sunglasses
Address

69 Willis Street, Wellington 6011

(04) 473 2340

Contact no
(04) 473 2340
Website
https://www.baileynelson.co.nz
If you want to express yourself through glasses, Bailey Nelson is a fabulous choice! They offer custom-made glasses or sunglasses in all sizes and shapes for both men and women.
Creativity and low prices are the aim with their frame collections. Their designers add a new frame every now and then of remarkable quality and comfort — like their hand-crafted glasses, for instance.
Eye exams are offered for free but once a year only. OPTOS imaging, a sort of state-of-the-art retinal imaging is also available and costs $60.
Highlights
Creative frame collections
Comfortable and quality made
Eye exams are free once a year
Customer Reviews
Abby Franklin gave positive feedback for Bailey Nelson in Google Reviews. She said:
"I always enjoy coming here because the staff are super friendly, knowledgeable and helpful! They have a great range of products and it is quick and easy to buy. The optometrists are very professional and efficient too"
3)  Focal Point Optometrists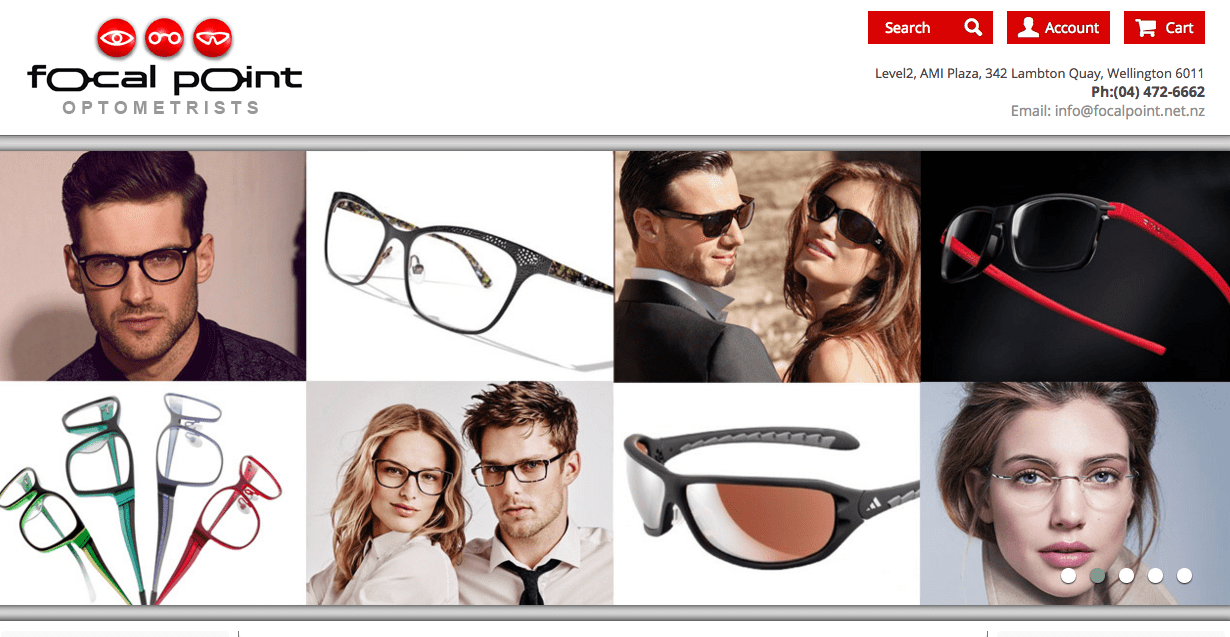 | | |
| --- | --- |
| Best for | Prescription Lenses |
| Services | Eye Exams, Spectacles/Glasses, Contact Lenses, Sunglasses |
| Address | Level2, AMI Plaza, 342 Lambton Quay, Wellington, New Zealand 6011 |
| Contact no | (04) 472-6662 |
| Website | https://www.focalpoint.net.nz/ |
To have an accurate and true prescription is significant for lenses. Focal Point Optometrists has built on that reputation by giving customers genuine care and service.
They hold a particular interest and are especially skilled in making progressive, high-index, and transition glasses. You can express yourself through their array of designer brands.
They are generous in giving advice too about learning the treatment of your eye or precautions you can do. Service-wise, they are one of the best optometrists in Wellington.
Highlights
Informative prescription
Incredible customer service
A range of brands to choose from
Customer Reviews
Karen said on Google Reviews:
"I can highly recommend the service and staff at focal point. Jen introduced me to disposable contacts and it has been a game changer. Nothing is too much trouble (including Jen changing the contacts monthly for me). If you need an optometrist they are the ones."
4)  Clear Vision Optometrists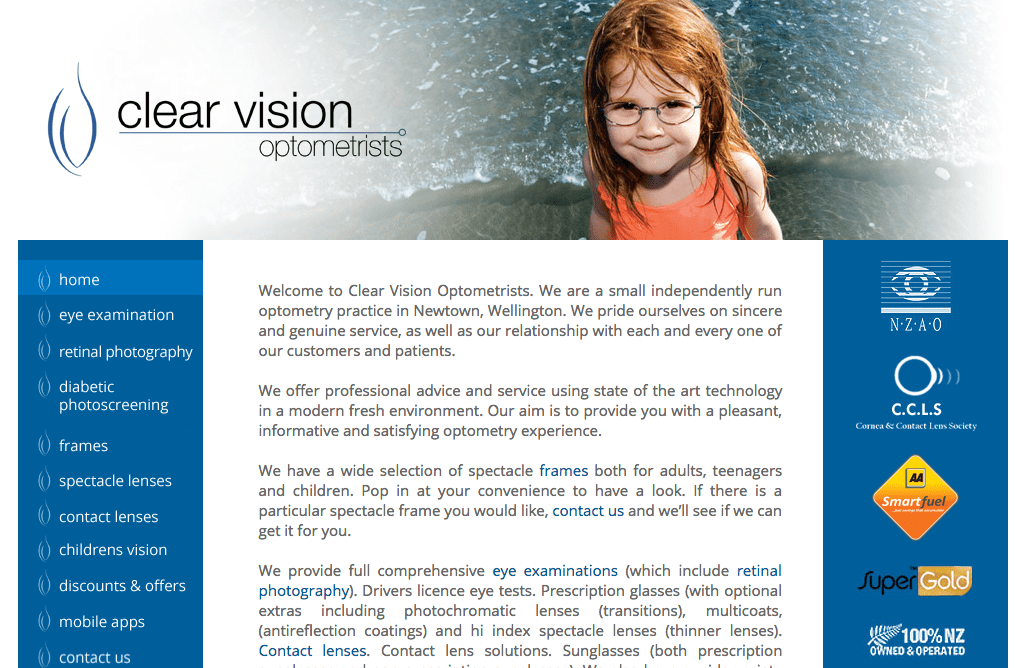 | | |
| --- | --- |
| Best for | Lens and Frame Choices |
| Services | Eye Exams, Spectacle Lenses, Contact Lenses, and Children's Vision |
| Address | 100 Riddiford Street, Newtown, Wellington 6021, New Zealand |
| Contact no | 04 939 0304 |
| Website | https://www.cvo.co.nz/ |
If you have no clue what glasses you should have, then let the team at Clear Vision Optometrists sort you out. This is another of the best optometrists in Wellington.
Depending on your eye condition, the optometrist will suggest and explain to you which frame type is best to use. They have photochromic, multicoated, high-index types for healthier eyes.
Their service is top-notch from the time you come in to when you're asked to pick up the new spectacles in a few days. They are kind, approachable and won't try to upsell anything to you.
Highlights
Selection of frame types available
Gives insightful advice
Kind and amiable people
Customer Reviews
Again on Google Reviews, Jason Rea commends Clear Vision Optometrists:
"Fantastic customer service. From the thorough initial consultation right through the whole process. Great work ?"
5)  Sercombe and Matheson Opticians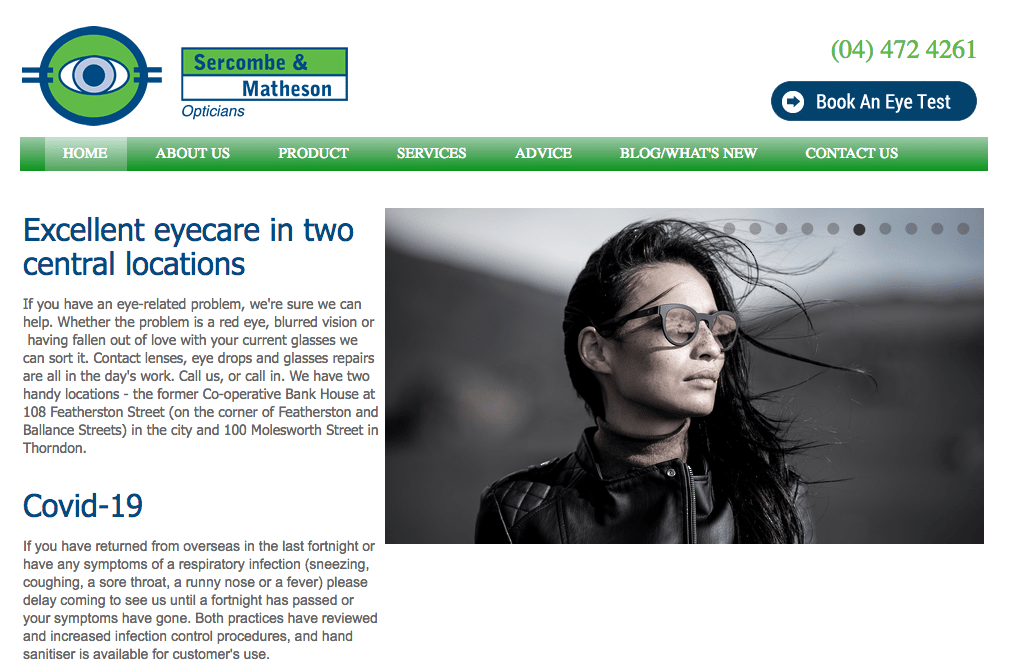 | | |
| --- | --- |
| Best for | European Frame Brands |
| Services | Eye Tests, Eyewear, Workshop, and Warranty Services |
| Address | Co-operative Bank House Corner Featherston and Ballance Streets, Wellington, New Zealand 6011 |
| Contact no | (04) 472 4261 |
| Website | https://www.opticians.co.nz |
Sercombe and Matheson Opticians are an independent eye care specialist. This being so, they have freedom of choice when it comes to their frame designs, which focus on European designs for you.
Services include eye exams and eye disease detection as well as contact lenses and spectacles fitting. Uniquely, they have their own workshop where your glasses can be made or repaired in no time.
Also, your new frames or spectacles are covered by a 12-month warranty. If it happens that you were not satisfied, the opticians will replace it for you or in some cases even give you back the refund.
Indeed, Sercombe and Matheson is one of the best optometrists in Wellington, if not the best!
Highlights
Independent optometrist
Broad range of services
12-month manufacturer warranty
Customer Reviews
It's a small thing but nonetheless an edge to have a workshop right on site. From Google Reviews, Jason Totoro wrote:
"I dropped off a pair of glasses with a broken arm the screw had come out. I excepted it to take a day or so to get fixed, but Sercombe and Matheson had them repaired in a couple of hours. Thank you so much guys."
And that's all for the best optometrists in Wellington. It's vital to have clear vision all the time, especially when you're driving on the road or are just going out to the city in order to keep safe.
Have you got any questions for us in relation to this topic? Leave us a message and we will read it and get right back to you.
Once you get your vision corrected with new spectacles or contacts, perhaps you'd like to reap the benefits of your enhanced eyesight by seeing the best that the country has to offer. A lot of people do it by touring the area in campervans — for that, you may want to read about the best van rentals in Wellington.