The 5 Best Payday Loans Services in New Zealand
A payday loan is good only for dealing with short-term cash problems. That's because it has a high interest rate which piles up fast. Still, we've listed the best payday loans services in New Zealand in case you really need the money.
We selected the ones with quick turnovers and low interest rates where possible. Also, we picked those that have flexible repayment terms and won't give you any hassle on applying for a loan.
Without further ado, here are the leading agencies that offer the best payday loans services in New Zealand.
1) Need Cash Today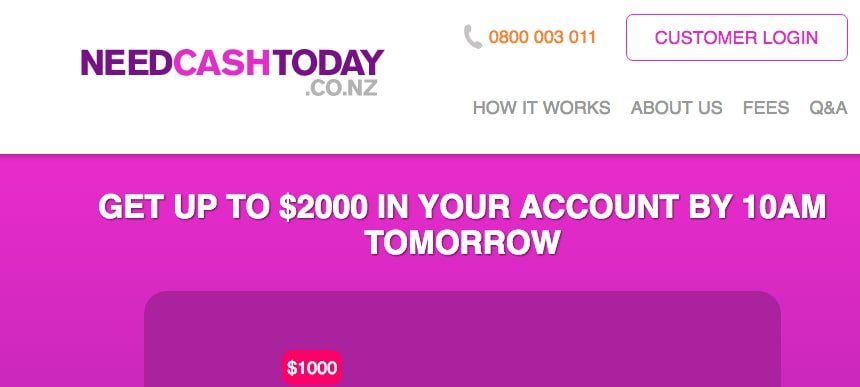 BEST FOR
Speedy Cash Loans
SERVICES
Payday Loans
WEBSITE
https://www.needcashtoday.co.nz/
ADDRESS
299 Durham Street North, Christchurch Central, Christchurch 8013, New Zealand
CONTACT DETAILS
+64 800 003 011
OPERATING HOURS
Monday to Friday: 8am – 6pm

Saturday: 8am – 2pm
No matter if you badly need cash to settle a few expenses in the day or need a bigger amount for several months' time, Need Cash Today has you covered!
They can let you borrow cash within the hour (yes, that fast!) from $750 to $2000 and 15 to 26 weeks.
The online signup process is very simple and hassle-free, being as short as 5 minutes. Once you're in, you only have to indicate the amount, repayment plan, and decide.
Mind you, the maximum annual percentage interest rate is 292%, so you have to make sure that you follow through on payment to avoid any financial problems along the way.
Highlights
Insanely fast payday loan
Easy signup process
Borrow from $750 to $2000
Customer Reviews
Ngareta Taviliniu, one client, said this on the website:
"Always had a great experience, from returning for loans to them being very flexible with my repayments."
2) Cash Burst

Cashburst is an online cash and payday loan service provider in New Zealand. Here, you get flexible repayment plans from $500 to $3000 to be paid over a span of a year.
The repayment plan depends upon your pay cycle to ensure you are able to cover your loaned amount. Early repayment won't incur an additional fee, so don't worry.
You'll at least have to give one day or less to receive the amount. Registering online will take a longer time but it will be easy.
They offer some of the best payday loans services in New Zealand. And if you are a returning customer you can get a lower interest rate and faster processing.
Highlights
Flexible repayment plans
Higher loans for a longer time
Same-day loan
Customer Reviews
Here's the feedback of one client, Amber, on the website:
"Thank you for giving me the opportunity for the loan, i look forward to using this in the future. The Customer Service was also really good, nice people to your Clients."
3) Quick Loans

BEST FOR
Highest Loanable Amount
SERVICES
Personal Loans

Cash Loans

Payday Loans

Car Loans

Debt Consolidation Loans

Second Mortgages

Business Loans

Bridging Loans

WEBSITE
https://www.quickloans.co.nz/
ADDRESS
Unit 2/45 Mandeville Street, Riccarton, Christchurch 8011, New Zealand
CONTACT DETAILS
+64 800 200 275
OPERATING HOURS
Monday to Friday: 8am – 5pm
Are your bills piling up or do you need emergency cash on your holiday? No worries, as thankfully, you can quickly settle that by loaning at Quick Loans.
Quick Loans offers a higher loan amount than others: from $1000 to $20,000, which can be paid back over a 2-year duration. You can pledge your car or property as collateral.
You'll have an easy time signing up with this loan agency. Their flexible lending terms consider your personal circumstances — no pressure to repay your loan.
Plus, you'll find your loan in your bank account on the same day. Their polite and friendly team is ready to assist to ensure you get a great overall service.
Highlights
Highest loanable amount
Same-day loan
Flexible lending terms
Polite and friendly team
Customer Reviews
On the webpage, Katia M, said this:
"Fast and easy way to get finance. Without the long confusing jargon."
4) Payday Advance

| | |
| --- | --- |
| BEST FOR | Competitive Interest Rates |
| SERVICES | Payday Loans |
| WEBSITE | https://www.paydayadvance.co.nz/ |
| ADDRESS | P O Box 11187, Ellerslie, Auckland 1542, New Zealand |
| CONTACT DETAILS | 0800 227 484 |
| OPERATING HOURS | Monday to Friday: 8.30am – 5.30pm |
Take control of your situation without drowning in debt by getting a loan with Payday Advance. The unsecured loan will hopefully sustain you until your next payday.
With their customisable repayment terms, you can borrow anywhere from $500 to $3000 for 3 months to a year. However, the final terms will still be based on your pay cycle.
Once your loan has been approved by the staff, the cash will be transferred to your bank account overnight by one of the best payday loans services in New Zealand.
Highlights
Competitive interest rates
Customisable repayment terms
Overnight bank transfer
Customer Reviews
One client, Joslene, wrote this on the company's website:
"I would like to say thank you to all the team for your time and patience with me for my application to be approved. The customer service was excellent and as a returning customer I have always been satisfied with the services that I receive each time. Great work to you all and once again thank you and have a great evening."
5) Advanced Cash

| | |
| --- | --- |
| BEST FOR | Streamlined Experience |
| SERVICES | Payday Loans |
| WEBSITE | https://advancedcash.co.nz/ |
| ADDRESS | Level 16, Huawei Centre, 120 Albert Street, Auckland Central, Auckland 1010, New Zealand |
| CONTACT DETAILS | 0800 232 274 |
| OPERATING HOURS | Monday to Friday: 9am – 5.30pm |
When you are applying for a loan, the last thing you need is to be frustrated over the registration process. That's never going to happen here at Advanced Cash.
It will only take just a bit of your time to sign up with them. Therefore it won't add to the financial burden that's already been stressing you out.
Advanced Cash provides reliability and confidentiality to its borrowers. Even if you have bad credit, they will professionally work out a solution and still let you loan up to $5000.
Lastly, they offer lower interest rates and flexible payback schemes. These things will be perfect for your short-term cash needs.
Highlights
Streamlined experience
Reliability and confidentiality
Lower interest rates
Flexible payback schemes
Customer Reviews
Advanced Cash offers some of the best payday loans services in New Zealand. Phillyz07 remarked on Google:
"Fast process to apply and money to your bank account. Great customer service ?? Friendly but thorough communication. Highly recommend."
And that completes our list of the best payday loans services in New Zealand. Don't forget to peruse each company's T&Cs so you can make good decisions with your finances.
Do you know of other companies that should have been included here? If you do, kindly let us know and we'll promptly update this post.
On another note, if you have recorded bad debts in your financial statement, you may need the services of the best debt collection firms in Auckland to flip the script.