The 19 Best Personal Trainers in Auckland
Each person has a unique health and fitness goal. But what kind of workout or diet should you use to achieve yours? To help you answer that question, we've gathered the best personal trainers in Auckland in today's list!
We first chose skilful and supportive personal trainers. Also we picked those with neat and modern facilities, the latest gym equipment, and great client reviews.
In any case, here are the best personal trainers in Auckland.
1) K-FIT LAB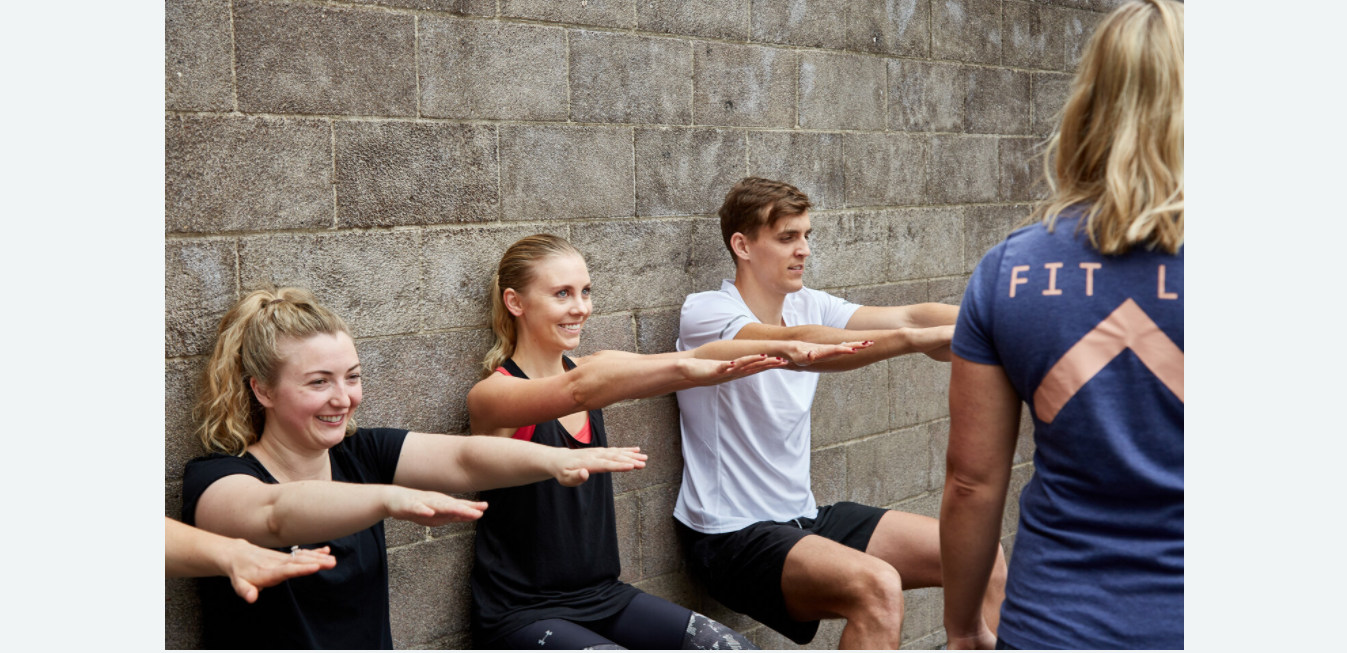 | | |
| --- | --- |
| BEST FOR    | Private personal training and Small group training |
| SERVICES | Personal training, Small group training, Corporate groups, Nutrition Coaching |
| WEBSITE | https://www.kfitlab.co.nz/ |
| ADDRESS | 79a Saint Georges Bay Road, Parnell, Auckland 1052, New Zealand |
| CONTACT DETAILS | +64 274 157 599 |
| OPERATING HOURS | By appointment only |
K-Fit Lab offers high-quality personal and small group training geared towards each client's individual goals. They work closely with clients to create movements that are challenging, dynamic, and targeted towards the clients goals. No matter your age or ability, K-Fit Lab is just honest training with honest, measurable results.
Founded by internationally experienced and well respected PT Kelly Small, K-Fit Lab is a unique private fitness and wellness studio.
Besides personal training, K-Fit Lab also offers small group training and corporate groups.
Each group only has a max of 6 participants. So each participant is guided closely by the personal trainer assigned for the session.
Highlights
Owned by a qualified and internationally experienced personal trainer.
Private boutique studio
Nutrition coach
One-on-one and small group training (max of 6 participants)
Focus on corrective exercise
Customer Reviews
Rob Fisher left this review on K-FIT LAB's website to share his positive experiences with the fitness company:
"Kelly Small delivers BIG results! Kelly has been my personal trainer for about 15 months. In that time I have improved my strength, muscle tone and balance. I usually train twice each week in 45 minute sessions. I am 75 years of age with a number of issues  from past injuries and surgeries. Kelly ensures the various exercises strengthen and do not strain my shoulder and hip flexors. I like to go cruising  and Kelly provides tailored programmes so I can keep up my fitness while away. Kelly is intelligent and knowledgeable. She is unfailingly cheerful and supportive in nature. I always feel better following a training session than before. I thoroughly recommend Kelly to anyone wanting personalised training by an expert."
2)  Tyla Jansen Van Nieuwenhuizen – SmartFit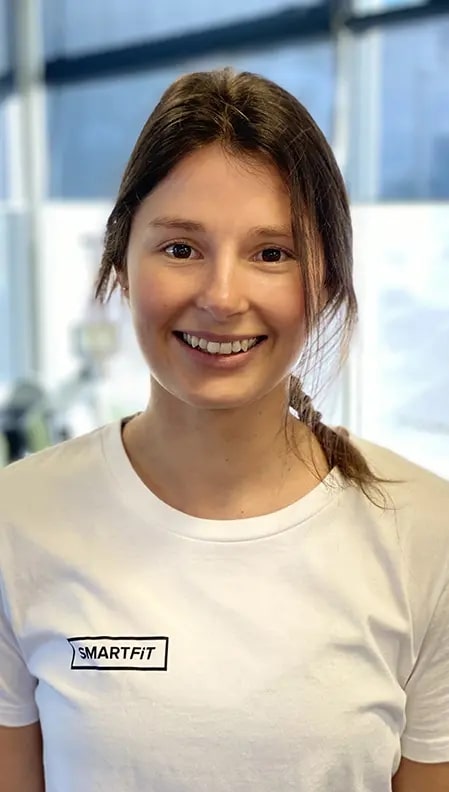 BEST FOR
Dynamic and strength workouts
SERVICES
Intense focused training

 

Kiehl's

Shower

Towels

Group classes

Supplements

WIFI

WEBSITE
https://smartfitstudio.co.nz/
ADDRESS
250A Marua Road, Mount Wellington, Auckland 1051, New Zealand
CONTACT DETAILS
+64 21 257 1801

 

OPERATING HOURS
Monday to Friday: 5.00am – 10.00pm

 

Saturday: 6.00am – 12.00pm
It's easier to train hard and stay fit and healthy with the guidance, motivation and expertise of certified trainers at SmartFit Personal Training Studio, especially Tyla.
A lover of exercise herself, Tyla has finished advanced personal training, holds a First Aid certificate and is working her way toward a degree in Acupuncture and Herbal Medicine.
Her method is to train your body through dynamic HIIT sessions and Pilates-inspired movements to build your overall fitness and strength.
They have a spacious studio with the latest workout equipment all to yourself. Whether your goal is to shape up or work on your wind or endurance, Tyla has your back.
The workouts at SmartFit are described by clients as challenging but fun and rewarding.
Highlights
Certified trainer
Newest training equipment
Intense-focused training
Modern amenities
Customer Reviews
Serious workouts coupled with fun — that's what Tyla and the rest of the SmartFit trainers are all about. Here's the comment of one client, Rob:
"Each session is definitely challenging but ultimately rewarding, with all trainers having a deep understanding of each discipline utilised to attain your goals"
3)  Dean Williams – Vision Personal Training
Vision Personal Training is the preferred personal studio for those who want to lose weight, stay in shape, and look and feel good mentally and physically — and enjoy it.
They offer personal and group training programmes whether in the studio, outside or online. A personal trainer will teach and train you to attain your body goals.
Just look for Dean Williams who is the owner as well as a fitness trainer who has won awards like the 2011 Australian National Personal Trainer and 2014 NSW Young Entrepreneur.
Your workouts are not only the main focus when you work with him because your nutrition is equally important. Dean will help you incorporate and maintain consistency with them in your lifestyle.
Dean and the rest of the trainers here also adopt a modern approach to personal training: you can track your fitness progress and set schedules through the MyVision app. This can be downloaded via the Google Play Store and App Store.
Plus, they put forward the Vision Promise where if you don't see any results after training for 9 weeks with them, your payment will be refunded. They will then train you for free until you get the results you want.
Highlights
Offers personal and group training programmes
Competent and award-winning trainer
Holistic approach to health and fitness
Convenient MyVision app
Guaranteed results
Customer Reviews 
With rave reviews of 4.9/5, you can rest assured they have some of the best personal trainers in Auckland. One client, Helen Vernon, wrote: 
"Thank you Dean and Daphne. You guys are the best. Great atmosphere at the gym, great trainers, great classes and great motivators. I am thoroughly enjoying training with Daphne – I feel so much better being fitter & stronger.  You all make coming to the gym fun and something I actually look forward too! You are greatly appreciated."
4)  Manik Kumar – MK Fitness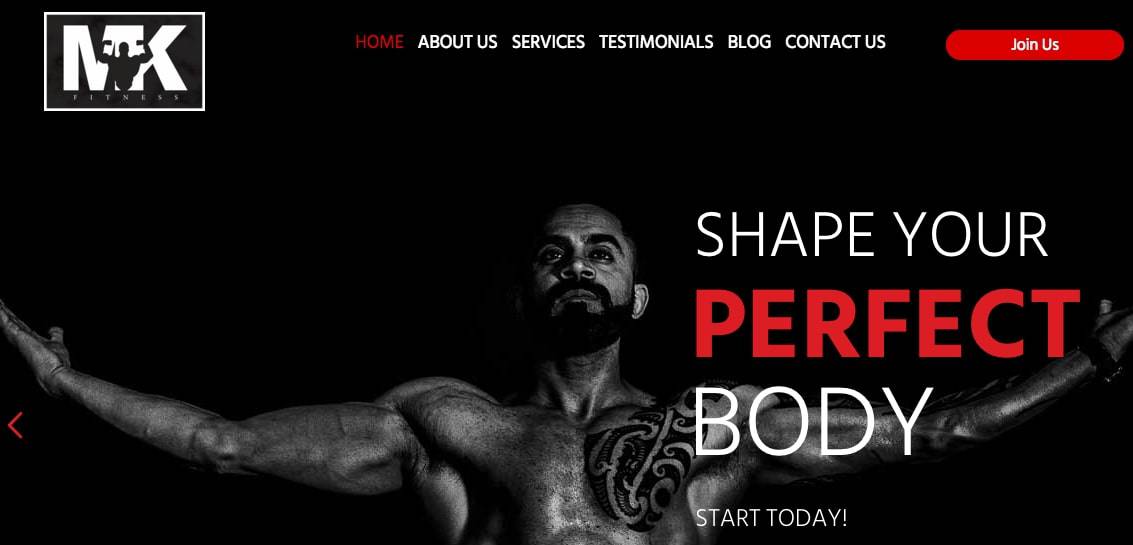 BEST FOR
Body strengthening and shaping
SERVICES
Weight management

 

Free consultation

Improve your posture

Abs workout

Body sculpting

Burn more calories

WEBSITE
http://mkfitnessnz.com/
ADDRESS
First Floor Royal Oak Shopping Mall, 691 Manukau Road, Auckland 1023, New Zealand
CONTACT DETAILS
+64 210 819 8900

 

OPERATING HOURS
Monday to Saturday: 6.00am – 8.30pm
If your aspiration is to have a lean, muscular body, then MK Fitness is the choice for you. In particular, look for Manik Kumar here: he's a certified trainer of the New Zealand Institute of Health and Fitness.
He will teach you the safe forms and techniques in your exercises as well as give you excellent advice on changing your diet and lifestyle, and staying the course.
Your fitness plan will be tailored to your diet, physical capabilities, and health. As one of the best personal trainers in Auckland, Manik has worked with many clients and brought incredible results with this personalised approach — just take a look at the client reviews.
Offering weight training, abdominal workouts, posture improvement, specific muscle exercises and cardio, Manik will whip you back in shape and make you feel better than ever before.
Highlights
Certified personal trainer
Teach you the correct and safe exercise form
Personalised workout
Give nutritional advice 
Customer Reviews 
MK Fitness has had several satisfied clients who have enjoyed the benefits of sticking with their personalised training. Check out Sheryl Khan's review on Google: 
"Just want to say thank you Manik your persistence keeps me focused and committed to a five-day weekly gym schedule. You've helped me develop a new attitude in me. Along with more confidence and drive to stay healthy, I make the right diet choices to support progress in the gym. I've discovered new confidence and fell in love with weights training. Now I look forward to each session ? highly recommended."
5)  Marcus Steward – Bodi
BEST FOR
Private personal training
SERVICES
Personal training

 

Cavi-Lipo body sculpting

WEBSITE
https://www.bodi.co.nz/
ADDRESS
23a Main Highway, Ellerslie, Auckland, NZ
CONTACT DETAILS
092823928

 

OPERATING HOURS
Monday to Sunday: 5.00am – 10.00pm
You'll look and feel great inside and out when you train at Bodi fitness studio in Ellerslie, Auckland. They offer an effective private personal training for clients that only takes half an hour.
You'll be working with a qualified trainer, Marcus Steward, who will push you to your limits with an enjoyable variety of workouts. Whether it's for burning the fat away or getting toned arms or improving your strength, balance and flexibility — you're covered.
Plenty of their clients have dropped a lot of weight, which is a great achievement. Moreover, one client was able to clear her stretch marks and fats acquired during pregnancy.
You can come by the gym to get a free fitness assessment. They will give you advice on how you can tick off your fitness goals and can even give you some workouts to start with.
Highlights
Excellent personal trainer
Offers private workout for 30 minutes
Calorie-burning exercises
Free fitness assessment 
Customer Reviews 
Marcus's fitness studio is a popular place for people who want to transform their body image. Let's see what Jessica Nahanrain has to say on Google:
"I highly recommend Bodi for personal training, group fitness and the facilities. I have been a member for over a year and can speak to their high quality and personable approach. I always feel welcome, safe and respected. My personal trainer and the group leaders are knowledgeable and professional. I appreciate the level of cleanliness, friendly fellow members, and the song lists."
6) Liam Wilkinson – Ascend Fit
BEST FOR   
Athletic training (improvement in sport, strength & fitness)
SERVICES

Personal training

Run coaching

High level, customised 10 week+ running/training plans

WEBSITE
https://www.ascendfit.co.nz/
ADDRESS
9 Holder Place, Rosedale, Auckland 0632, New Zealand
CONTACT DETAILS
+64 21 124 9747

 

OPERATING HOURS
Monday to Friday: 6.00am-9.00pm
Ascend Fit is designed to help the weekend warriors who love playing social sports, getting outdoors and maybe even do the odd running event, but want to actually train to get better at what they love.
Liam helps people either through personal training and a fully supported plan, or through building a specific, customised self-directed training plan.
Liam has a long history in various sports such as trail running, obstacle course racing (OCR), and martial arts. He also has over 10 years experience as a trainer and holds a variety of certifications and qualifications that include being a certified running coach and personal trainer .
Highlights
Expertise in various competitive sports
Goal-setting session and measurement-based progress tracking
Nutritional plans and workout routines
Certified UESCA running coach, gravity suspension and ZUU
Customer Reviews
Read what a customer named Paula Bookworm has to say about Liam's services:
"I have been training with Liam since 2017 and since that time have seen a huge beneficial change to my health and fitness. Liam is incredibly smart at advising newbies like me on how to tailor my nutrition and exercise for the best results – and making it fun. He's great with experienced athletes too! Ascend Fit is a friendly, people oriented business that makes anyone feel welcome."
7)  Aimee Blok – Aimz Fitness Ltd
BEST FOR   
Cardio and strength training
SERVICES
8-week challenge

 

5-week training plan

4-week plan

Kick start plan

Nutritional plan

Group workout classes

WEBSITE
http://www.aimzfitness.com/
ADDRESS
17/345 Chapel Road, Flat Bush, Auckland 2016, New Zealand
CONTACT DETAILS
+64 9-274 4666

 

OPERATING HOURS
Open 24/7
Aimz Fitness offers group classes as well as personal training options to cater to all types of fitness enthusiasts. The gym was established by one Aimee Blok, whose mission is to provide science-based exercise prescriptions to clients in a way that promotes both physical and mental well-being.
This mission was a culmination of Aimee's lifelong journey. She had severe asthma since birth, making it impossible to do physical activity without an inhaler onhand.
To combat this, she was recommended by her doctor to get fitter to ease the symptoms of her condition. As she got fitter, the need for inhalers lessened — this is what she wants for her clients: To experience exercise as medicine even if they are using it as a preventive measure to move well and feel good through all life stages. 
Now, for personal training, Aimz Fitness offers the 8-week challenge complete with a nutritional plan, gym training, and weekly group workouts. They have five fitness trainers offering personal training programs such as the kick start training, 4-week, and 5-week challenge plans.
Owner and trainer, Aimee Blok specialises in pilates, strength, and TRX suspension training. Other trainers are also experts in yoga, calisthenics, weight loss, boxing, body sculpting, and rehabilitative training.
By signing up with them, you also get 24/7 access to their gym. Aimz Fitness's gym has chest press, leg presses and extension curls, and other equipment perfect for cardio and strength workouts.
Highlights
Founder of Aimz Fitness since 2012.

 

Diploma of Fitness Training from AUT

 

15 years experience in the industry
Customer Reviews
Here's what Rozanna Latif has to say about Aimz Fitness Botany's gym and Aimee's customer services:
"If you want a gym that is truly your friendly neighbourhood gym – this is it! Aimee who runs the place impeccably is always there to greet you when you walk in with a smile and a wave. There is no ego here, no intimidation. People are friendly and respectful. Very warm, welcoming gym. Great machines and selection of exercises to choose from – you are only limited by your imagination here. And if you dont know what to do, Aimz or any one of the people who work there are amazing at helping you out!"
8)  Naz Spencer – Inlife Fitness Health & Wellbeing
BEST FOR   
Holistic approach
SERVICES
One-on-one training

 

Buddy training

Small group training

Wellness assessments

Corporate wellness seminars

Consultations

WEBSITE
https://www.inlife.co.nz/
ADDRESS
290 Sunset Road,Windsor Park Auckland, Neuseeland 0632
CONTACT DETAILS
+64 21 130 8018

 

OPERATING HOURS
Monday to Thursday: 7.00am – 8.00pm

 

Friday: 7.00am – 3.00pm

Saturday: 7.00am – 12.00pm
Inlife Fitness follows a holistic approach to health and wellness. With the help of trainer Naz Spencer, you'll get personalised plans for exercise routines, nutrition, and life balancing changes.
She has various training plans, including the one-on-one personal training and buddy training. Before you start your training, you can also avail of Naz's full wellness assessment.
Inlife Fitness also has rehab training to help patients recover from a sore back, knee pain, and other musculoskeletal injuries.
To add to their holistic approach, Inlife Fitness also conducts workshops about managing stress, balancing life, eating and exercising. They also have corporate packages for these seminars.
Highlights
One-on-one, buddy, and group training
Rehabilitative training plans
Life balancing workshops with corporate packages
Assessment for fitness, nutritional, postural, and core wellness
Customer Reviews
One of their customers, Lois Tongs, wrote this review on Facebook:
"Naz makes fitness fun, with much attention given to individual technique. Classes are always varied with good instruction. Going to Naz's class is not an effort, it is a must every week, I look forward to the challenges she sets."
9)  Jason – AndFit Auckland
BEST FOR   

CrossFit training

SERVICES

Personal training

Group sessions

Strength coordination

Sports coaching

Nutritional support

WEBSITE

ADDRESS

4 South Street, Auckland CBD, Auckland 1010, New Zealand

CONTACT DETAILS

+64 22 439 4938

OPERATING HOURS

Monday to Thursday: 5.30am – 7.30pm

Friday: 5.30am – 6.30pm

Saturday: 8.30am – 10.30am 

Sunday: 11.30am – 1.00pm
If you're up for some high-intensity training, you should try out Jason and AndFit's services. Jason has a degree in Sports Coaching and a postgraduate diploma in Sport and Exercise.
Aside from those credentials, Jason also has Crossfit L1 and L2 certifications. Thus, he guarantees to provide you only with professional personal training for Crossfit training.
He designs his training plans in such a way that you get the results best fit for your body and lifestyle. You can even avail of his remote personal training sessions if you want to train at home.
Since Jason is a part of Andfit, he also won't charge you any joining fees and ask you to sign binding contracts. But if you sign up with him and AndFit, you'll gain access to a fully-equipped gym and nutritional support.
Highlights
Crossfit L1 and L2 certifications
Fully-equipped gym
Nutrition and exercise training plans
No joining fees and contract
Customer Reviews
Here's a customer review to tell you more about how Jason can be the best personal trainer in Auckland for you:
"I am a physio who had never done crossfit before and loved the session I attended this week with friends. The instructor for that session (Jason) was friendly and professional and everyone who was there to do the workout was supportive and encouraging! Thanks so much!"
10)  Dene Flude – Ultimate Body Transformation
BEST FOR   
Body transformations
SERVICES
Ultimate Body Trainer

 

Ultimate Home Version

Ultimate Challenge

WEBSITE
https://www.ultimatebody.co.nz/
ADDRESS
113 Wairau Road, Wairau Valley, Auckland 0627, New Zealand
CONTACT DETAILS
+64 210 669 173

 

OPERATING HOURS
Monday to Friday: 5.30am – 9.30pm

 

Saturday: 7.30am – 4.30pm

Sunday: 8.30am – 12.30pm
Ultimate Body Transformation aims to help you achieve your desired figure and overall fitness. They have six trainers, a nutritionist, and a physiotherapist who are all experts in their field.
With their Ultimate Body Trainer package, they offer two sessions of personal training per week for 10 weeks. This package comes with workout routines, required running distance, ultimate conditioning, group sessions, and nutritional plans.
Ultimate Body Transformation also offers a self-training option. All you have to do is to install their app and meet the required milestones of their UBT Challenge or UBT Home version.
And if you have questions about your training program, you can simply email trainer and owner, Dene, anytime.
Highlights
$99 per week Ultimate Body Trainer package
Own trainer package with UBT mobile app
Daily activities for overall fitness
Customer Reviews
Read this review from Jono Benton, another one of Ultimate Body Transformation's successful clients:
"The Ultimate Body Transformation has been the most enjoyable and challenging ten weeks I have experienced in a long time! With the help of Jon, I achieved outstanding results in such a short period of time and established an addiction to exercise that I didn't think I would ever have!"
BEST FOR   
Outdoor fitness
SERVICES

Strength training

Function training

Outdoor group fitness training

Nutrition plans

WEBSITE
http://www.outdoorfitness.co.nz/
ADDRESS
Victoria Park Market 206 Victoria Street West, Auckland CBD, Auckland 1010, New Zealand
CONTACT DETAILS
Mobile: 027 5191111
Email: [email protected]
OPERATING HOURS
Open 24/7
DRILL Bootcamp Victoria Park is well-known for its group and outdoor physical programs. However, they also offer personal training with the help of their team of fitness experts.
For the Auckland area, DRILL Bootcamp has fitness expert, Neil Share to provide you with personal training. He is an expert coach more than 20 years of experience in the industry.
To stay true to DRILL's outdoor branding, Neil and the other personal trainers will also be conducting personal training outdoors. However, you can also choose to train within your home, wherein they will still bring the necessary equipment.
Highlights
Use of battle ropes, kettle bells, medicine balls, strength bags
Experienced trainers
Free first session
Multiple locations around the country
Customer Reviews
Here's what a customer from Google Business can say about DRILL Bootcamp Victoria Park's training programs and staff:
"Such encouraging, motivating and supportive trainers! And workouts are varied so always interesting! Best boot camp in Auckland for sure!!"
12) Cara McNaughton – TOMFIT Gym
BEST FOR
Friendly and supportive trainer
SERVICES
Memberships

 

Group fitness

Personal training

24/7 gym

WEBSITE
https://tomfit.co.nz/
ADDRESS
9c Holder Place, Albany, Auckland 0632, New Zealand
CONTACT DETAILS
+64 21 211 9871

 

OPERATING HOURS
24/7
If you're hitting the gym and want to make friends along the way, then TOMFIT gym is for you. One great trainer here, especially for women, is Cara McNaughton.
Cara's qualifications include a Max Fitness Diploma, Thump Boxing Level 1 & Advanced Certification so you can definitely hit the mitts with her. In addition, she can assist pregnant women in specialised exercises.
The gym has a reputation for having a convivial and supportive atmosphere where whatever training you're doing will be fun, exciting and social. Cara definitely contributes to that, say her clients.
Let their professional, world-class team set your workout goals for you to get back that confidence you were missing lately and personalise a hard-hitting workout for you.
To track your progress in health and exercise, you can even download the TOMFIT app. This makes it easy to plan your exercises and keep tabs on your nutrition, for instance. 
Highlights
Convivial gym
Professional and friendly trainer
Neat facilities and modern equipment
TOMFIT app
Customer Reviews 
TOMFIT has some of the friendliest and best personal trainers in Auckland. On Facebook, Alyshia Woods commented:
"Everyone is so friendly and always happy to help! It's nice to feel welcomed in what can be a scary environment  They support really good values and have time for everyone. Thank you Tomfit "
13) Candi Soo – Candi Soo Fitness Albany Studio
BEST FOR   
Fun and personalized fitness plans
SERVICES
Individual fitness

 

Couple fitness sessions

Group sessions

Online fitness programs

WEBSITE
https://www.candisoo.co.nz/
ADDRESS
Mon-Wed, Fri-Sat: D9, 18 Oteha Valley Rd Extension Albany North Shore, Auckland 0632, New Zealand

 

Thu: 120 Goatley Road Warkworth Rodney, Auckland 0981, New Zealand

CONTACT DETAILS
022 687 0737

 

OPERATING HOURS
Monday to Friday: 7.30am – 8.00pm

 

Saturday: 7.30am – 12.30pm
Candi Soo offers personal training services in Albany and Warkworth in small workout rooms. However, you can also enjoy personal training at your home through her online programs.
Candi has been in the industry for over 30 years. She used this time well by serving Malaysia, New Zealand, and Australia.
She will help you achieve your physical goals through one-on-one sessions. But if you want some company, you can also book Candi for training services with your chosen partner.
And if ever you change your mind, you can join Candi's group sessions. Zumba, barbell matrix, circuit training, and yoga are some of her famous group fitness programs.
Highlights
Zumba, barbell, thigh and tummy, circuit training, and yoga group lessons
Personal and pair training program with free access to group fitness
Complete privacy and friendly training sessions
Offers online fitness sessions
Customer Reviews
Read this review from James Mathieson for more details:
"Ok. This place is the most PERFECT fitness retreat ever. Based just out of Warkworth it has the best studio and land for all fitness activities. Particularly boot camp and hard out Boxing and Military style training sessions. As well as Yoga and Zumba"
14) Personal Trainer MIKIKO – Design Your Body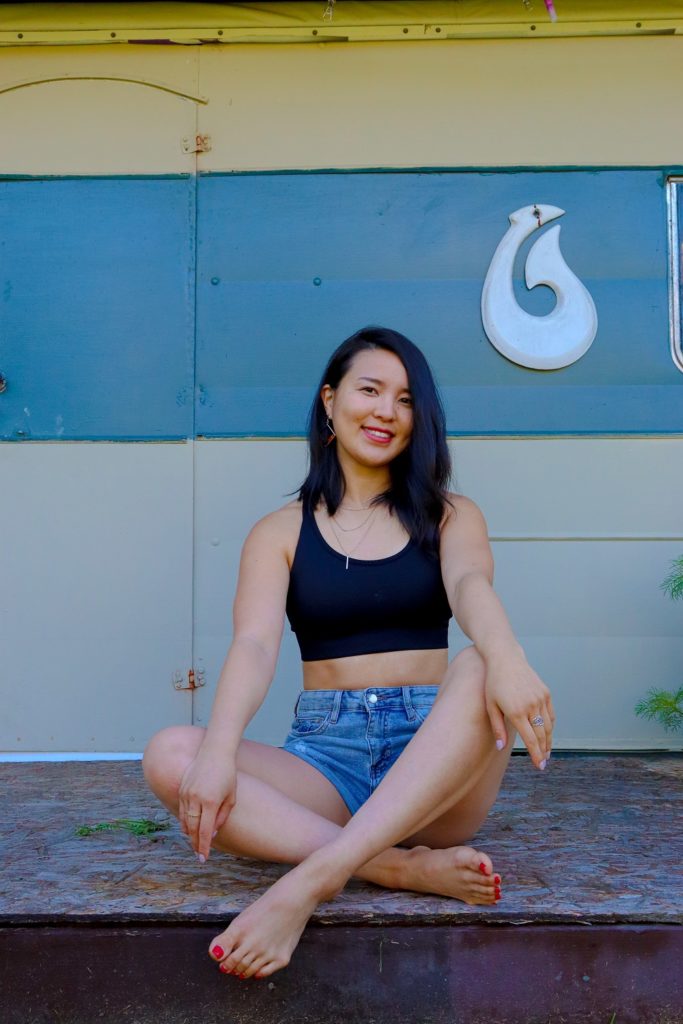 BEST FOR   
Holistic approach for a wide demographic
SERVICES
Weight control
Rehabilitation
Positive body image
Posture
Nutrition advice
Sports massage
WEBSITE
https://www.personaltrainer-mikiko.com/
ADDRESS
Les Mills Britomart 2 Britomart Place, Auckland CBD, Auckland 1010, New Zealand 
CONTACT DETAILS
022 454 0747


[email protected]

OPERATING HOURS
Tuesday to Friday: 7.00am – 7.00pm
Saturday: 7.00am – 4.00pm
Personal Trainer Mikiko has spent six years studying and eight years helping others design their body. She had worked in Japan and Australia before she moved to New Zealand.
She has a bachelor's degree in health and physical education and a masters in sports and health science. Thus, you can trust that Mikiko provides only evidence-based coaching to help you reach your body and wellness goals.
Mikiko uses a holistic approach to help reach your goals because she considers your genetics, posture, stress exposure, water intake, hormones, sleep, and nutrition. This approach makes her services applicable to a wide demographic, including beginners, mothers, and even patients undergoing rehabilitation.
Reaching up to 1400 personal training sessions per year, Mikiko offers her services online and at gyms. She also provides a free consultation and movement check for first-time clients.
Highlights
Finalist of the Personal Trainer of the year in the New Zealand Exercise Industry Awards in 2020
Education and evidence-based physical coaching
Training sessions for beginners, mothers, rehabilitation, and body image improvement
Holistic approach to training
Free consultation and movement check
Customer Reviews
Here's a review from Catherine, a mother who opted for Mikiko's weight control training sessions:
"The purpose of my PT lesson was to get back into shape after giving birth to two kids. I have really enjoyed the style and approach of Mikiko's classes. Mikiko is never boring, very motivating. Mikiko is able to quickly identify some key issues I had with my posture and joints, and whenever I had issues with muscle tightness or fatigue, Mikiko was able to help me recover very quickly by using different stretches or other recovery exercises to get me back into the training very quickly."
15) Steve Butler – BAReFIT Group Training
| | |
| --- | --- |
| BEST FOR    | Small groups |
| SERVICES | Small group trainingFood guideLive online sessionsCorporate wellness |
| WEBSITE | https://www.barefitnz.com/ |
| ADDRESS | 3/86 Saint Johns Road, Meadowbank, Auckland 1072, New Zealand |
| CONTACT DETAILS | +64 210 827 6004 |
| OPERATING HOURS | 24/7 |
As head of the BAReFIT Group Training, Steve Butler are passionate about helping Kiwis improve their well-being through exercise and proper diet. He is an amateur swimmer, which is why he knows how hard work can take you places.
His personal training sessions incorporate high energy and group cooperation. Each session also follows a bootcamp-style approach.
You'll receive 24/7 support and a 1-month food guide from BAReFIT so that you can start eating clean and healthy. And if you're looking for a trainer for your employees or peers, you can also hire Steve for corporate wellness.
One of the best things about Steve's training is that you can also attend any session you'd like, as long as you train with them at least three times a week. This way, you'll have full control of your pacing and your physical goals.
Highlights
Small group classes
Flexible schedule
24/7 support
Food guide and eating plan
Corporate wellness
Customer Reviews
Corinne Butler expressed her delight over BAReFIT Group Training's services:
"Great atmosphere. Great community. Great trainers! With a big outdoor/indoor location, Barefit has served my fitness needs for the past 3 years + I continue to love it. All classes are so diverse, we never do the same routine twice. Thanks guys!"
16) Ngaire Lynch – Ponsonby Private Health Club
BEST FOR   
Body for Life Challenge
SERVICES
12-week Body for Life Challenge
Meal plans
Fat and cellulite treatments
WEBSITE
http://www.bodyforlifeponsonby.co.nz/
ADDRESS
7 Maidstone Street, Grey Lynn, Auckland 1021, New Zealand
CONTACT DETAILS
+64 9-376 3800
OPERATING HOURS
Monday to Friday: 6.00am – 9.00pm
Saturday: 7.00am – 6.00pm
Sunday: 8.00am – 6.00pm
Ngaire Lynch has been a personal trainer for over 26 years and has won the 2002 Body-for-Life title. With an extensive experience in boxing and kickboxing, she can help you achieve your personal goals in fitness and strength training.
She offers her services to enthusiasts of all ages. Such various services include a 12-week Body For Life Program, fat treatments, and even recipes to help you eat healthily.
At her private gym, the Ponsonby Private Health Club, you'll get a physical assessment and body analysis. These services will help Ngaire understand your body and create a training plan perfect for you.
Another benefit of signing up with her gym is that you'll get two free personal training sessions.
Highlights
Private gym
26+ years of personal training experience
Physical assessments and body analysis
Free 2 personal training
17) Raewyn James – GetSet Personal Training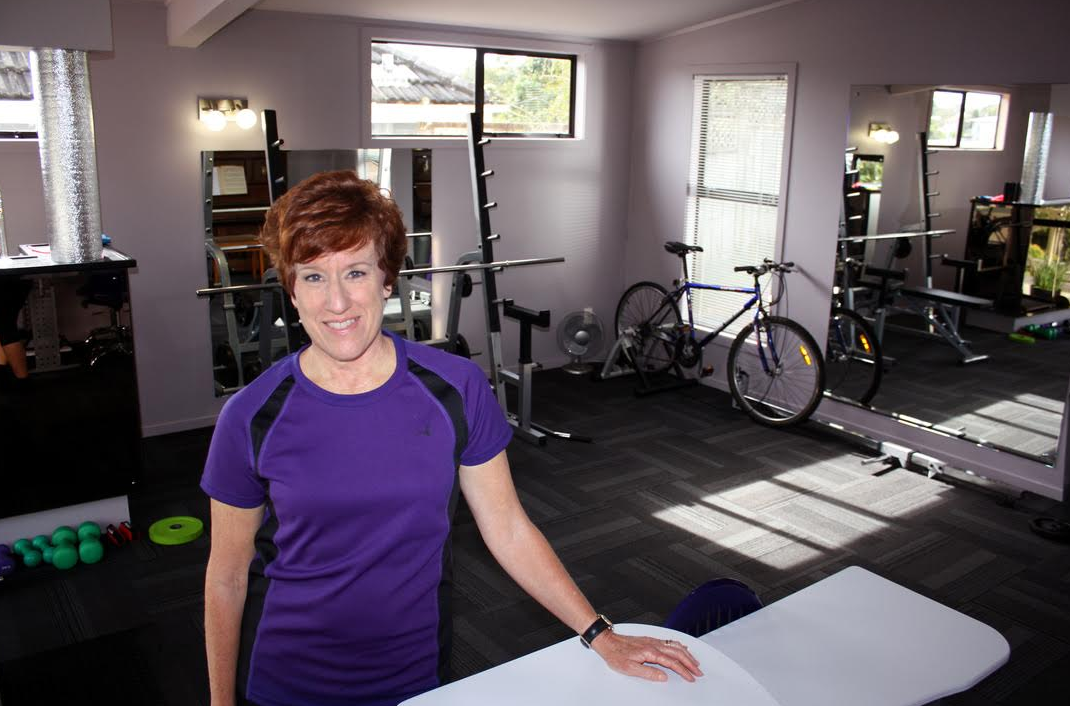 BEST FOR   
Personalised health and aging well
SERVICES

Private personalised strength training, with results

'GetSet on the Go' – training programme for you at home

Senior Fitness

Personalised Health coaching PH360

WEBSITE
http://www.getset.co.nz/
ADDRESS
438 Beach Rd., Murrays Bay, North Shore Auckland
CONTACT DETAILS

+64 2102361585

OPERATING HOURS
Weekdays per booking
Raewyn James is a middle aged personal trainer specialising in 'aging with strength and a smile'. All training is personalised according to your goals, whether they be toning, weight change, stress reduction, flexibility, balance, sleeping better…
Specialised programmes are created for those dealing with chronic health concerns or old injuries. No one is too old or broken – we start where you are, and we move forward.
Raewyn is also an International PH360 Health Coach and can analyse and target your workouts and nutrition according to your specific biotype. This takes away all the guess work and uncertainty over which food and lifestyle will work best for you. Ever wondered whether Kale is actually good for you?
Highlights
Private boutique studio
Specialised workouts according to your goals, likes and abilities
Strength, yoga, functional movement, boxing, pilates, taiChi, cardio and more
Personalised health coaching (PH360)
Motivational workshops
Customer Reviews
A client named Ron Stroeven wrote this on Google Reviews:
"I've been going for a few years now and my body feels so much better for it. Raewyn is very good at varying the exercises to keep it interesting and at the same time conditioning the whole body including stretching, building strength, and fitness."
18) Robert Smith – Robert Smith Training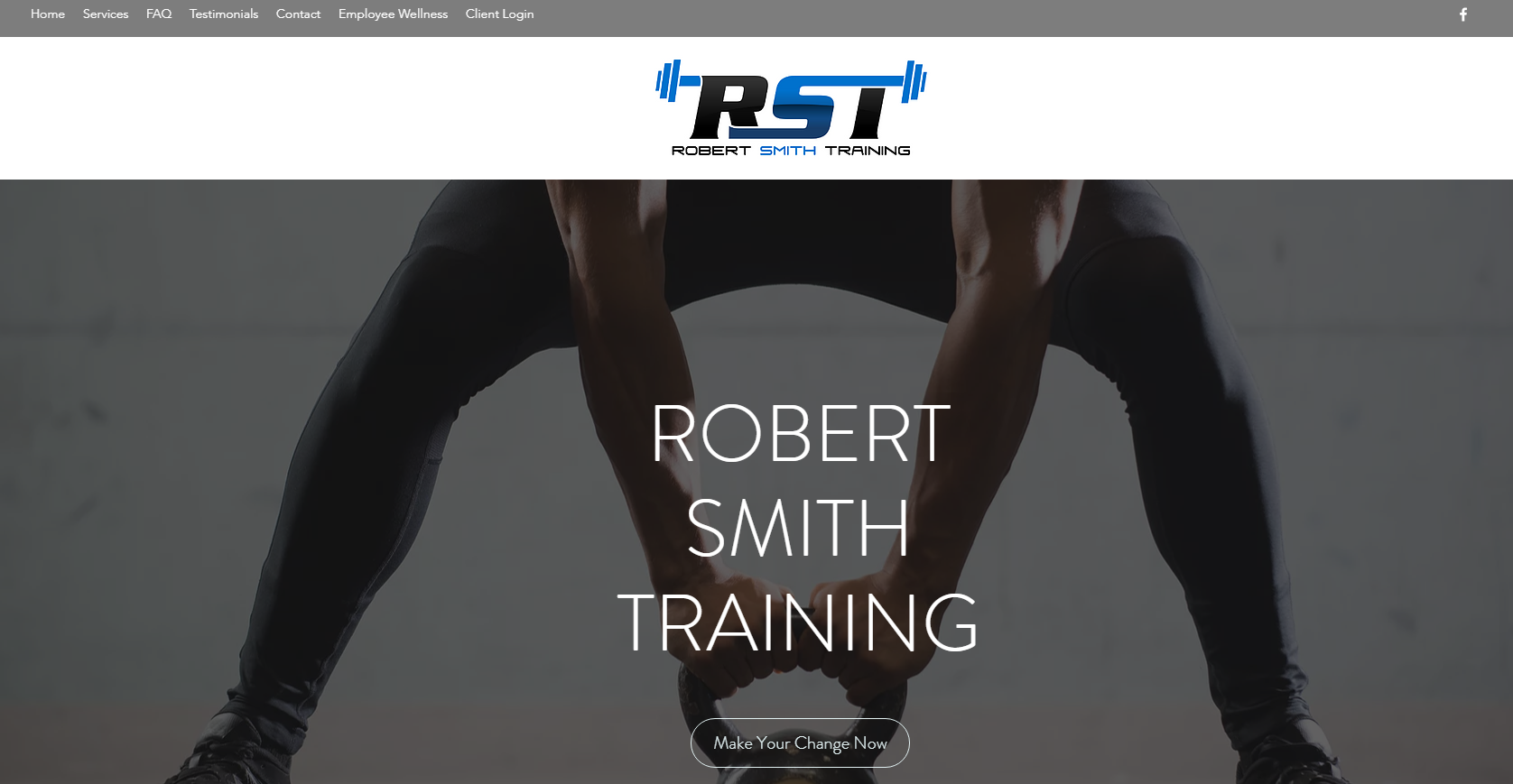 | | |
| --- | --- |
| BEST FOR    | Tailored fitness plans |
| SERVICES | Personal Training, Group Training, Event Training, DIY Program |
| WEBSITE | https://www.robertsmithtraining.com |
| ADDRESS | Karaka, Auckland |
| CONTACT DETAILS | 027 828 0172 |
| OPERATING HOURS | Weekdays per booking |
Robert Smith began Robert Smith Training with a simple goal in mind: To help clients achieve their fitness goals. 
In an effort to achieve such a feat, Robert Smith offers four options for training: Personal Training (for one person or a pair), Group Training, Event Training, and the DIY Program. 
All of these options are similar in that Robert Smith takes the time to consult with the clients, learning about their needs and goals, before moving forth with fitness plans designed to meet said needs and goals. 
The one that separates itself from the group is the DIY Program, which is mostly for clients who wish to do their training at home. Those who opt for this program will be given a training plan to follow, with Robert checking in from time to time to ensure that everything is on the right track.
Now, it's worth noting that Robert Smith makes an excellent choice for a personal trainer given his background and credentials.
Robert is registered with the NZ Register of Exercise Professionals and is certified in various levels of exercise. Moreover, he has Pro Series awards in Boxing, High Intensity Interval Training (HIIT), Trainer Assisted Stretching, Exercise and Pregnancy (pre and post-natal), Olympic Lifting Fundamentals, Golf Conditioning and Kettlebell Fundamentals.
Highlights
Individually tailored fitness plans
Private facility
Measured progress
Highly qualified and experienced trainer
18) Hayley Feaver
Hayley Feaver is a personal trainer that enables clients to build stronger bodies along with a mental fortitude that equally strengthens their mindsets. Having always lived an active life, she was able to attain a Level 4 certificate in Personal Training and a Level 3 for fitness which makes her highly qualified for personal training services.
We find her training to be highly attentive and efficient since she offers both online and physical one-on-one training sessions at various locations that she is able to accommodate which clients can choose from.
We think that her 30–60-minute session is efficient and makes a lot of room for customization so that she is able to give exercises and techniques to attain the client's specific fitness goals and further improve on future sessions as well.
She also gives online coaching with a solid approach and a 100% personalized plan that is regularly updated every 6 weeks. With a wide range of inclusions, Hayley is able to give regimes both optimal for home and gym-based training.
Overall, her past clients have expressed satisfaction with her approach to personal training both on physical and online platforms. They find her highly motivating and challenging in which they can expect an effective session with her at the end of each one.
Highlights
Multiple styles of training
Holisitic methodology
Accommodates physical and online sessions
Customer Reviews
Here are some reviews from their clients:
"Signing up to work with Hayley was one of the best decisions I've made in a long time. I no longer spend hours in the gym thrashing pointless cardio. I have made more improvements with my strength in a couple of months than I did in a year working on my own. I love having someone to take the thinking out of my workouts, and to hold me accountable. I can't speak highly enough of the support and guidance, both mentally and physically, that I've received from Hayley. She's the best!" – Rochelle H.
"Training with Hayley has been game-changing. It has revolutionised my approach to fitness and helped me focus more on gaining strength and skills rather than simply chasing aesthetics. The result is I can do a myriad of things I never imagined I'd be able to, and I appreciate my body more everyday. She pushes me, challenges me, and some days counsels me! I can't recommend training with her highly enough." – Nadine H.
19) Drury Strength & Fitness
BEST FOR
Group Training
SERVICES
Memberships, PT Options, Group Classes
WEBSITE
https://www.drurystrengthfitness.co.nz/
ADDRESS
46 Bremner Road Drury 2113
CONTACT DETAILS
092-947-899
[email protected]
OPERATING HOURS
Monday: 5:30 AM – 8:00 PM
Tuesday: 5:30 AM – 8:00 PM
Wednesday: 5:30 AM – 8:00 PM
Thursday: 5:30 AM – 8:00 PM
Friday: 5:30 AM – 7:00 PM
Saturday: 8:00 AM – 1:00 PM
Sunday: 8:00 AM – 1:00 PM
Drury Strength & Fitness is a company that offers a variety of training systems that is tailored to both home and gym settings that are in accordance with what the client needs. Known for their proactive group classes, they are a highly warm and welcoming community that is ideal for sharing a fitness journey.
We think that their facilities are adequately equipped for different training regimes and are able to accommodate several clients at once which is very essential when it comes to group training sessions.
While they specialize in group sessions, they also offer personal training packages with the trainer of their choice along with personalized touches that are geared to help clients have an effective experience with them.
We find all of their trainers to be highly certified and knowledgeable with the approaches they use in which clients can get information readily on their website so that they can have a background before choosing which one best suits their needs.
Overall, clients find their services to be very motivating and their staff to be very flexible to work with as well. They also feature a lot of customization options when it comes to training plans which is very ideal for clients looking for a personalized training regime for them.
Highlights
Welcoming community
Certified trainers
Personalized regimes
Customer Reviews
Here are some reviews from their clients:
"This is a fabulous facility very welcoming and awesome vibe.
I did a few drop in classes in January,Jess was a motivating trainer who knows her stuff and friendly members."
"Love Drury strength and fitness! people are awesome, trainers are awesome! Em and Ange are awesome! so welcoming, friendly and all help you to achieve your goals! Love the fact theres options for classes and weights! And they help you to achieve your goals!! They go above and beyond! 😁"
You can sculpt the body you want if you're willing to put in the effort for it, but oftentimes you need the help of the best personal trainers in Auckland. Go to the ones we recommended above for best results
Do you agree with our picks for trainers? Tell us what you think of them by sending us a message and we'll get right back to you.
Other than that, if you have no time to go to the gym due to your hectic schedule, you may be interested to read about the best treadmills in New Zealand for a home gym.