The 6 Best Pillows in New Zealand
Featured Image Source: Pixabay
There's only one thing more important than a mattress to help you get a good night's sleep, and that's a proper pillow… and we're dedicating today's list to that indispensable tool of our nightly respites.
We've done the research and have come up with this list of the best pillows you can get in New Zealand. We considered their prices, the company's reputation, product quality, and of course, feedback from their customers.
But before you get to know these products, let's see how much this is all going to cost first.
How much do pillows cost in New Zealand?
Pillows are among those odd products that can vary immensely in price range, ranging anywhere from $20 – $300. This great variance in price range is largely attributed to the material that a pillow is made from.
"Supermarket pillows", as they are sometimes called, are usually filled with polyester and are the most affordable option. These typically cost around $20 to $40 depending on size.
Memory foam or orthopedic pillows on the other hand, are significantly more expensive and will typically cost around $150. These pillows are designed to provide more support for your neck and spine.
This shows you the sort of price difference you can expect, based on filling type. You'll find many other pillows with varying fillings, from silk to down ones, so finding something within your price range should be doable.
We've summarized the prices for the products included in our articles in the table below so that you can easily compare prices and decide which you think is best for you.
| | | |
| --- | --- | --- |
| Emma Foam Pillow | 70 x 40 cm | $219.00 |
| The Winkl Pillow | 38 x 70 cm | $150.00 |
| Innature Organic Buckwheat Husk Pillow | 36 x 50 cm | $75.00 |
| | 40 x 60 cm | $90.00 |
| | 45 x 70 cm | $110.00 |
| Ecosa Pillow | 38cm x 56cm | $144.00 |
| Tempur Symphony Pillow | Standard | $209.00 |
| | Medium | $219.00 |
| | Large | $249.00 |
| Peace Pillow Connect | 32 x 60 cm | $99.00 |
The Best Pillows in New Zealand
Now that you know how much pillows typically cost, we can take a look at our list of the best pillows you can buy in New Zealand.
1. Emma Foam Pillow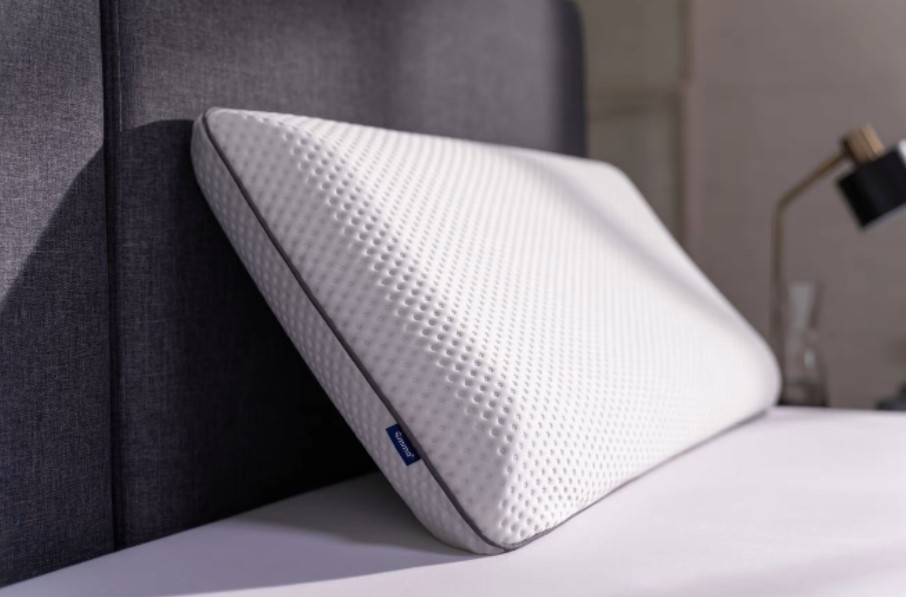 Emma – The Sleep Company is the world's leading direct-to-consumer sleep brand. Since it was founded in Germany in 2013, Emma has set out to awaken everyone's best through the transformational power of sleep.
Emma is constantly pushing the boundaries of what technology can do for our sleep. And with a team of sleep researchers leading the way of Emma's product development, there is no surprise that Emma has won more than 40 product awards globally.
Getting enough good night's sleep is not easy these days. However, with the Emma Foam Pillow, we believe that it will change your whole sleeping schedule.
What makes this pillow stand out is how compatible it is for all sleeping positions and body types. No matter if you are a side, back, or stomach sleeper, it can still correct your posture.
Did you know that this is the only pillow in the country that has removable foam layers?
This gives the buyer the ability to adjust the pillow's height and user's comfort level. You just simply remove a layer and see if it fits your liking!
Unlike the other ones on this list, Emma Foam Pillow has a memory technology that allows it to adapt to the position of your neck and then provide support throughout the whole night.
This pillow is non-toxic, naturally hypoallergenic, and easy to clean, which are similar characteristics to other pillows.
Pressure-relieving viscoelastic memory foam
Supportive HRX hyper-soft cold foam
Ultra-breathable Airgocell® memory foam
Ultradry moisture-resistant top cover
Can be adjustable in height and firmness
Pricier than others but offers promos from time-to-time
Has one size only
Customer Reviews
Here are a few reasons why customers love the Emma Foam Pillow:
"Really solid and supportive
How did I ever live without these?! They have been absolutely brilliant- really solid and supportive. I will definitely be buying from Emma again." – Clare
"I absolutely love this pillow!
It feels that it's helping me sleep in the correct position. I'm sure it's helped with previous back ache, I loved it so much I had to buy another for the odd occasions I end up on the other side of the bed, not often but I can't bare the thought of a different pillow!" – Louisa Hernandez
2. The Winkl Pillow
Winkl is a New Zealand company that has helped Kiwis from all over the country get a good night's rest. The brand is best known for their luxurious mattresses, streamlined online ordering system, and fast delivery times.
Building on its success, Winkl now also offers customers a pillow that the company claims "dreams are made of". To achieve this, they took their trademark mattress foam and ingeniously stuffed it inside a pillow.
Offering to provide harmony between balance, support, and comfort, this is essentially a plush luxury mini mattress for your head. It comes encased in premium fabric that you can easily unzip and pop in the washing machine for a quick and easy clean.
Measuring 38 x 70cm at around 12 cm high, those who prefer a flat pillow may find it difficult to adjust to the Winkl Pillow. Moreover, a standard pillow measures 51cm x 56cm and a queen pillow 51cm x 76cm, so you can see that the Winkl Pillow falls somewhere in between in length.
So the soft outer covering this pillow comes with is a welcome addition since it may be difficult to find a pillowcase that can fit!
Nevertheless, this pillow is ideal for the side sleepers out there or those who like a little lift to support their neck and head. It's also CertiPUR-US and OEKO-TEX STANDARD100 certified, meaning it's made from safe hypoallergenic materials that's resistant to dust mites
It also comes with Winkl's 120-Night trial, which we love. You can literally try it for 4 whole months to decide if it's a good fit for you.
With its affordable price and offer of free delivery anywhere in New Zealand, we are hard-pressed to find any disadvantages to trying out the Winkl Pillow.
If you decide that it's not for you, no worries – they'll even pick it up from your doorstep and donate it to the Salvation Army.
In short, the Winkl Pillow is a great risk-free purchase – it's affordable and offers its trademark mattress foam inside it a pillow. Its bouncy feel offers great support for your neck and when coupled with its premium fabric cover, easily makes our list of the best pillows in New Zealand.
Uses Winkl Foam
120-night sleep trial offer
CertiPUR-US and OEKO-TEX certified
Non-standard size
May be a little high for some people
Customer Reviews
The Winkl Pillow has found its place in many homes around New Zealand. This includes Lana J, one of their customers, who bought the pillow for partner. She shares:
"We love our Winkl pillows so much that we bought them for the kids as well! My ongoing shoulder and neck problems have almost resolved, and I now have such a comfortable sleep. My partner loves the weight of the pillow and that it doesn't move around during sleep, plus the fact that you don't have to bunch it up to give the right support!"
Jennifer C, another customer, likes how the pillow conforms to her sleeping style. She writes:
"These pillows are so good, don't lose their shape at all, soft yet firm and just generally very comfy no matter what way I sleep, also great as a cuddle pillow and my cats enjoy them too!"
3. Innature Organic Buckwheat Husk Pillow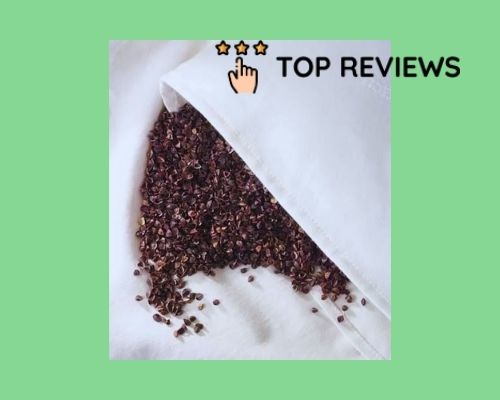 PRICE
Small: NZ $75.00
Medium: NZ $90.00
Large: NZ $110.00
DIMENSIONS
Small: 36 x 50 cm
Medium: 40 x 60 cm
Large: 45 x 70 cm
FEATURES
Organic and All-Natural Materials
WARRANTY
14-Day Warranty
WEBSITE
https://innature.co.nz/
CONTACT DETAILS
Phone: (09) 838 0087
E-mail:

[email protected]
Innature is composed of experienced artisans and craftspeople who produce all-natural eco-friendly products. It was founded in 2006 by Sukhita and Natalia Derova and primarily produces organic natural mattresses for newborn babies.
This Innature pillow is made from organic buckwheat husks from Mongolia. When laid on, it doesn't contour excessively, providing stable and continuous support for your neck and spine as you sleep through the night.
What makes these pillows unique is that you can customize their shape or "firmness" by taking out some of the husks via an internal zipper. It arrives packed quite tightly, so you can adjust the filling to best suit your needs.
The pillow will decompress or soften over time, so you can refill it as you see fit. It can take some rearranging or "fluffing up" to get the husks to settle in just right, so you can expect to adjust your pillow regularly.
Nevertheless, if you're an advocate of sustainability and environmentally friendly products, then this pillow is for you. It comes with a cover that's made from an organic cotton-hemp blend and you can purchase additional ones if you want to have spares.
The Buckwheat pillows come in three sizes but their medium size is the most popular one. Oddly, Innature doesn't recommend its largest size as the husks inside can shift around and settle in the corners, which is useful information.
Most products at Innature are handmade when they are ordered, so there is no same-day delivery option. It can take at least two days to manufacture a pillow, with delivery times following shortly thereafter.
If you want to see their full range of products, you can drop by their showroom to view their mattresses or children's products.
With an all-natural business model and excellent craftsmanship, Innature earns a spot on our list of the best pillow makers in New Zealand.
Uses all natural, organic and sustainable materials
All products are handmade to order
Has a variety of organic products for children
Two-week warranty and returns policy
No same-day delivery
Customer Reviews
Buckwheat pillows are proving to be a great alternative to traditional goose down pillows for those looking for a vegan option. Tania Ransfield, a verified buyer, shares her thoughts:
"Best pillow ever the buckwheat pillow ill only ever buy these. My sceptical partner got one also and loves it. Comfortable and only need this pillow now all other pillows are put away."
Denise Frayle, another verified customer, purchased the buckwheat pillow for her husband. She writes:
"Great product ! Bought it for my husband for his birthday and he loves it. No longer listening to complaints about some necks and headaches. Well worth every cent!"
4. Tempur Symphony Pillow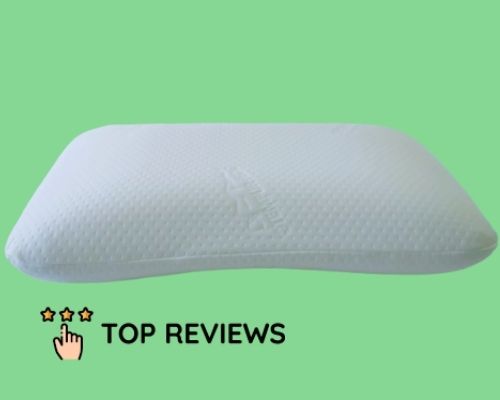 Tempur has built its business reputation as the only manufacturers of mattresses and pillows that are recognized by NASA and certified by The Space Foundation. Their viscoelastic material (commonly known as memory foam) was developed specifically to relieve pressure and provide you with unparalleled comfort.
The Tempur Symphony is aptly named because it claims to "harmonize" any sleeping position into one product. Whether you're a back, front or side sleeper, this pillow claims to provide you the necessary support for restorative sleep.
This dual-side pillow features a lightly arched side for back sleepers, and a flatter side for stomach and side sleepers. Inside, you'll find a single molded piece of their infamous memory foam material.
The Symphony also features a 100% Polyester removable cover that's resistant to allergens and mites. It can easily be thrown into your washer and dryer for a quick clean.
However, do take note that you can't wash the pillow itself – the only way to clean the Tempur material is either to let it breathe or wipe it with a very lightly damp cloth to remove stains.
The Symphony is available in 3 sizes – standard, medium, and large. If you have broad shoulders, Tempur recommends choosing a larger pillow while a smaller one is best if you have an extra soft mattress.
With a medium to soft feel, the Symphony may feel rather firm at first, but it will soften with time as it adjusts to your weight and body warmth. Tempur advises its users to sit on the pillow so that the foam's "cells" open up to help it become softer.
You shouldn't roll up the pillows though as you can crack these cells, and there's no indication what might happen if you do. With its hefty price tag, we'd recommend you follow their instructions on how to care for this pillow.
The Symphony comes with a 5-year limited warranty, but they don't offer a trial period. Before you buy a Tempur pillow, make sure you're committed because you can't return it after purchase.
Dual-side to cater to different sleeping styles
Trademark memory foam for comfort
Won't flatten or lose its shape
Can't wash or dry the actual pillow
No trial period
Expensive
Customer Reviews
Tempur has made a great reputation as being one of the first to commercialize using memory foam as a sleep solution. Mikayla, a customer, bought the Symphony to aid in her health as she shares:
"As a woman who suffers from migraines and neck tension, this pillow has been a lifesaver. I never leave the house overnight without it. This is the second time I have purchased the Symphony by Tempur, as I had a moment where I mistakingly pit the previous one in a commercial washing machine and it broke it in half. Whoops! Second time round I will just be airing it out in the sun and washing the cover as described in the instructions. I have had the best sleep since using this again. I was in misery the week that I went without it! It is the most comfortable pillow I have ever had in my life."
5. Ecosa Pillow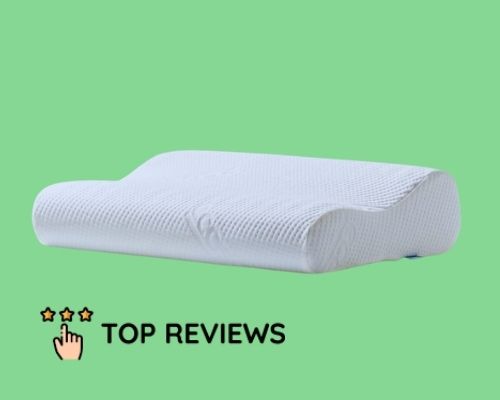 PRICE
Buy 1: NZ $144.00 each
Buy 2: NZ $124.00 each
Buy 4: NZ $124.00 each
DIMENSIONS
38cm x 56cm
FEATURES
CertiPUR-US Certified foam, STANDARD 100 by OEKO-TEX for Washable Cover, Activated Charcoal Memory Foam
WARRANTY
100-Night Trial
WEBSITE
https://www.ecosa.co.nz/
CONTACT DETAILS
Phone: (09) 888-0677
Email:

[email protected]
Ecosa was first founded in 2015 in Australia and expanded their operations to New Zealand a year later in 2016. They're best known for their ergonomic mattresses and bamboo sheets, but they also offer other sleep solutions for their customers, such as their memory foam pillow.
Before you learn about the Ecosa Pillow, you'll be pleased to know that they offer a 100-Night Trial to see if it's a good fit for you. If you return it within the time frame, they'll give you a full refund and donate the pillow to one of their charity partners.
This is good news for those who are unsure if they're willing to take the plunge in using a memory foam pillow, as these can be quite firm if you're coming from a traditional down pillow. The Ecosa Pillow is no different – it can take some getting used to.
However, what makes their pillow different is that you can adjust its height with "elevation pads" so you can find the right fit for your sleeping style. These are basically two extra pieces of flat foam mats that you slip underneath the pillow to raise it up.
Although the Ecosa Pillow is marketed towards any sleeping type, it's probably best suited for back and side sleepers who often wake up with pains in their neck, shoulder, or arms. The contoured memory foam offers added support for the natural curve of your neck, and provides better support if you toss and turn throughout the night.
The memory foam is also composed of activated charcoal, which helps control odors and also protects against bacteria build-up. With a removable cover that you can put in the washing machine, the Ecosa Pillow can easily blend into your current "sleepstyle" and lifestyle.
If you travel frequently, this pillow comes with two compression bags that can essentially squish up your pillow so that it can fit inside your luggage. That way, you're guaranteed to have a great night's sleep whether you're traveling for business or pleasure.
Activated charcoal memory foam
Elevation pads to adjust height
100-Night Trial
Comes with compression bags for travel
Only one size
May be too firm for some people
Customer Reviews
Ecosa might be a young company but they have quite the solid following for their sleep products. Rachel B. bought the Symphony for the adjustable height. She writes:
"Great pillow, soft but firm and has helped greatly with my neck pain. Love the inserts that enable you to adjust the height of the pillow to suit you"
Marilyn M., another customer, bought the Symphony for her husband who has trouble sleeping. She shares her story:
"My husband has not slept well for over a decade – maybe longer. – he sleeps on his stomach and tosses and turns all night – over many years I have bought him many pillows of different sizes shapes and types – all claiming to give you a better nights sleep – to no avail – so I bought your bundle of two pillows one for me which I love ? and another for my husband – yes I got the lecture why did you buy this pillow don't you ever learn etc etc etc – well … from the first night of using this pillow there has been no looking back – well done Ecosa – he's actually sleeping in his back and at times his side bug the main thing is he wakes up refreshed in the morning thank you"
6. Peace Pillow Connect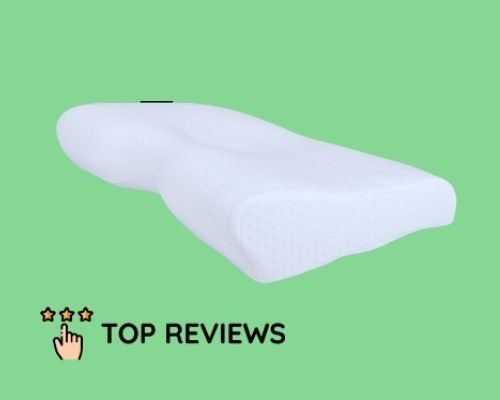 Peace Pillow was founded and designed by Elaine Bennett, a New Zealand-based osteopath and acupuncturist originally from London. She has over 15 years of experience in her field and is now helping people get a better night's sleep.
The Connect is a medium-soft pillow that provides a "scallop" in the raised edge to provide better support for your neck. It's aimed to help those who have poor sleep posture when they lay on their back or side.
It's also suitable for those with broad shoulders, or for smaller and older people who prefer a softer pillow. The Peace Pillow advocates the correct sleep posture, maintaining an aligned spine that helps prevent circulation cutoffs while you sleep.
They claim that this pillow is made of the same memory foam that NASA uses and so it will conform to your shape and slowly mold itself around your body's contour. The pillows are heavy and firm and will take some getting used to. However, after a week of use, you should be comfortable with using it.
Unfortunately, there are no returns or trial periods offered for this product unless there's something wrong with it or they delivered you the wrong one. If you want to try it out first in the flesh, you'll only find it sold in the offices of osteopaths, chiropractors, acupuncturists, and physiotherapists.
The Connect is not typically sold in retail stores because it recommends the advice of a health practitioner. This means that your best option would be to purchase it directly from Peace Pillow.
Nevertheless, it's supplied with a removable cover as well that can easily be laundered in a washing machine. Take note that you can't wash the pillow itself directly, since getting it wet is not recommended.
Some of the benefits of using the Connect include reduced snoring, stress relief, and better support for your neck. Since it's created by an osteopath, it's our opinion that this is one of the best pillows you can buy in New Zealand if you want to have a comfortable sleep.
Can alleviate neck pain
Ideal for sleeping with an aligned spine
Can reduce or eliminate snoring
Has delivery charge
No trial period
Not typically sold in retails stores
How to Choose the Right Pillow
A pillow's main purpose is to support your body in its sleeping position. It should keep your head, neck, and spine aligned and should support your spine's curvature.
To check the neutral alignment of your spine, your ears need to be in line with your shoulders and your chin must be aligned with your sternum.
Sleep Position
There are three main ways that people lie down when they go to sleep. These are on their side, back or stomach.
Pillow manufacturers will often state what type of sleep positions their product is best suited for. A thinner pillow is better for back sleepers, while a thicker one is best for side sleepers.
Sleeping on one's stomach or front is not recommended as this position doesn't provide any adequate support for your spine or neck.
Personal Preference
The material that a pillow is made of essentially comes down to personal preference. While orthopedic foam pillows do provide the best support for the neck, some sleep experts say that personal comfort plays a big factor in how well people sleep at night as well.
FAQs about Pillows
---
We've come to the end of our list of the best pillows in New Zealand. Did you find a pillow that will suit your needs and your budget?
Did we miss your favorite pillow? If so, send us a message and we'll check it out!
Now, a great pillow needs a great mattress. So why don't you check out our list of the best mattresses in New Zealand to help you decide!