The 4 Best Plumbers in Howick
It can be difficult to choose from among the best plumbers in Howick, but luckily for you, we do have some experience with this. We've already looked for the best plumbers in various NZ cities before, from Auckland to Wellington!
So, we've narrowed it down for you in Howick too. We took a look at the services the top recommendations offer, their experience, and feedback from their previous clients.
That being said, before you save these plumbers' numbers on your phone, let's discuss the cost first.
How much do plumbers cost in Howick?
A plumber's work isn't all about labor or time. There are other factors that go into the final overall cost, which include call-out fees and the cost of materials.
In Howick, plumbers cost around $75 to $135 on average for each hour that they work. Call-out or travel fees can even add an additional $100 to $120 to your final bill.
Below is a sample of how a typical plumber might charge for their labor for a job at your home:
| | |
| --- | --- |
| Call-out or Travel Charge | $30.00 |
| 1st Hour Charge (Minimum Charge) | $85.00 |
| Succeeding Hours Per 15-minute Increments | $85.00 |
The first hour of work is a standard minimum charge, meaning even if the work doesn't take a 1 hour to complete, you'll still be charged this amount. Now, in the example above, if the work lasts 1 hour and 20 minutes, you will be charged for two 15-minute increments or 1 hour and 30 minutes, and so forth.
Take note that the example above doesn't include the cost of materials just yet.
We've summarized in the table below some common services and their estimated costs. Take note that these prices may vary for each plumber.
| | |
| --- | --- |
| SERVICE | AVERAGE ESTIMATED COST |
| Clearing a blocked kitchen sink | $125 to $200 |
| Replacing a tap or a leaking pipe | $100 to $200 |
| Clearing a blocked toilet | $100 to $200 |
| Installing a new toilet | $200 to $500 |
| Installation or replacement of faulty shower set | $150 to $300 |
Some plumbers offer emergency services, but this service costs more than a standard call-out fee, especially if they respond after hours.
Emergency call-outs usually average around $150 to $200 for the first hour and around $100 for every succeeding hour. After-hour emergencies, on the other hand, can cost as much as $300 for the first hour.
The Best Plumbers in Howick
It isn't cheap to hire a skilled tradesman, but it's always better to stay informed. Since you have a general idea of what to expect in terms of costs, we can now take a look at our picks for the top plumbers in Howick.
1. Red Sea Plumbing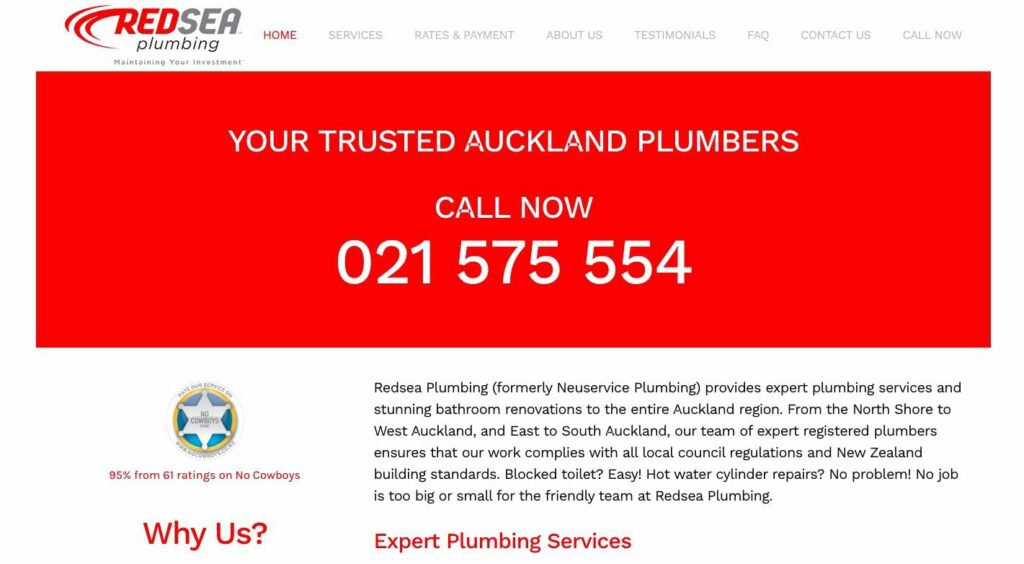 SERVICES
Plumbing, Hot Water Cylinders, Gasfitting, Bathroom Renovations
WEBSITE
https://redseaplumbing.co.nz/
ADDRESS
57A Vincent Street, Howick, Auckland 2014, New Zealand
CONTACT DETAILS
Phone: (021) 575-554
Email:

[email protected]

OPERATING HOURS
Monday to Friday: 7:30am – 4:30pm
Redsea Plumbing (formerly Neuservice Plumbing) was established in 2021 by Dave Neumann. This full-service plumbing company can handle a variety of work such as maintenance, renovations, family homes, or commercial establishments.
They offer a "do it once, do it right" guarantee to customers as assurance for a job well done. However, if something goes wrong with a project, they will fix it for free, albeit in a rather long time frame of 12 months.
While Redsea Plumbing's back-job turnaround leaves more to be desired, perhaps it speaks more of their confidence in their services.
Redsea Plumbing has a team of expert registered plumbers spread out across the entire region of Auckland. This means that you don't have to pay more than 30-minutes worth of travel expenses during a call-out.
With multiple plumbers around the area, they can get to your location quickly if needed. They provide 24/7 emergency services, although expect extra overtime charges to occur for work done after hours.
Nevertheless, Redsea Plumbing has a fleet of fully equipped vehicles on standby, ready to roll out when a call comes through. With all the basic parts and supplies already in their vans, they'll minimize the need to travel around to merchants to get basic parts, saving you time and money.
One of Redsea Plumbing's specialties is bathroom renovations – they can assist you with designing your project and will stay until the last screw is tightened. The free consultations occur at your home, where you can also peruse fixtures and materials from their network of suppliers.
Another of their specialties is hot water cylinder supply, offering a handpicked selection of energy-efficient products that include solar-powered options. They offer both low and main pressure cylinders and can install compatible thermostats as well.
Redsea Plumbing can also arrange for a partner electrician to install the needed parts for hot water cylinders. However, they can also work with your preferred electrician if you choose to do so.
This company offers free no-obligation estimates within 3 working days for any of its contracted plumbing services. Moreover, if you just need advice with a plumbing issue at home, just give them a call and they'll be happy to oblige at no cost.
Free no-obligation consultations 
Offers 24/7 emergency services
No more than 30-minutes of travel charge
Overtime rates apply at all other times
More expensive rates than other plumbers
12-month turnaround for back-jobs
Customer Reviews
Excellent quality of work
"The tradesman attended to a number of tasks over several visits (disconnections, install new HWC, replumbing kitchen waste pipes, reconnecting water in kitchen, and repairs to WC sewer pipe). Excellent quality of work thoughout, high work rate, and helpful manner. Office easy to deal with, and company owner responded very quickly when first asked to quote. Hourly rate seems a little high, but quality and productivity easily offset that slight negative. No hesitation to use again, and happy to recommend highly." – Tracy
Efficient and very courteous
"I was stuck for a plumber, as the contractor let me down while a kitchen was being installed. I called Red Sea Plumbing and they arrived within an hour to sort out the mess. They were efficient and very courteous." – Robin
The Best Plumbers Near Howick
2. Barkers Plumbing Ltd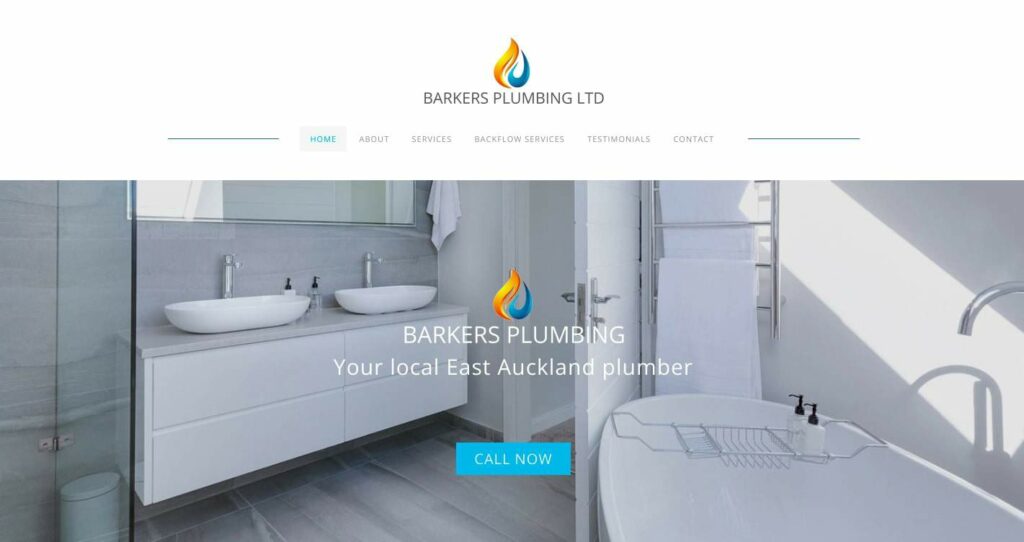 | | |
| --- | --- |
| SERVICES | General Plumbing, Hot Water Cylinder, Bathroom, Kitchen, Water Filter, Backflow Services, Emergency Services |
| WEBSITE | https://www.barkersplumbing.co.nz/ |
| ADDRESS | 14 Willowbank Close, East Tāmaki Heights, Auckland 2016, New Zealand |
| CONTACT DETAILS | Phone: (021) 634-543 |
| OPERATING HOURS | Monday to Friday: 7:30am – 5:00pm |
Mike Barker is the man behind Barkers Plumbing Ltd., packing over three decades of experience under his belt as a plumber and gasfitter. This family-owned business was founded in 2020, providing services to the entire East Auckland region.
As he's the owner and service provider, you'll always deal directly with Mike, whether it's over the phone or repairing something in your home. He is a registered Certifying Plumber with an Electrical Serviceperson Licence.
Small startups like Barker Plumbing Ltd. are an option to consider if you prefer to deal personally with the owner. However, the downside is that if the owner is busy with another job, he may not be able to attend to you right away.
While this may not be an issue for regular service calls, it is a factor once you need emergency services.
Nevertheless, Barker Plumbing Ltd. can attend to various call-outs relating to lack of water pressure, blocked sinks, leaking toilets, burst pipes, or no hot water. They can also install a water filter so you can have chlorine-free water in your home.
Now, a lot of business owners and homeowners don't know that a backflow prevention device is needed if there's a chance that cross-contamination of water can occur. Only an approved device can be installed and only a certified professional can install it.
Luckily, Barker Plumbing Ltd. is also an Independently Qualified Person (IQP) and can conduct backflow testing and installations. To ensure that your plumbing is up to code and following regulations, they can also arrange for annual testing and certification to ensure that it's up to standard.
All plumbing repairs and maintenance from Barker Plumbing Ltd. come with a quality workmanship guarantee. We like this company because even though they're a small startup, they have the qualifications and certifications to back up their work.
Offers 24-hour emergency services
Certifying Plumber with an Electrical Serviceperson Licence. 
IQP for backflow testing and installation
May have conflicts of schedule
Might not be able to attend to emergency calls
Customer Reviews
Delivers outstanding jobs
"Michael Barker is a very professional plumber. He delivers outstanding jobs to ensure high quality for the customer. We're really impressed from his performance onsite." – Grace Hu
Our go-to man
"Easily the fastest and cheapest plumber we have used. Mike fixed a drainage issue on a very tricky new design vanity that several plumbers said was a 'design fault' and couldn't fix. He is now our go-to man!" – Ross Vernall (Newmarket Apartments)
3. Platform Plumbing Ltd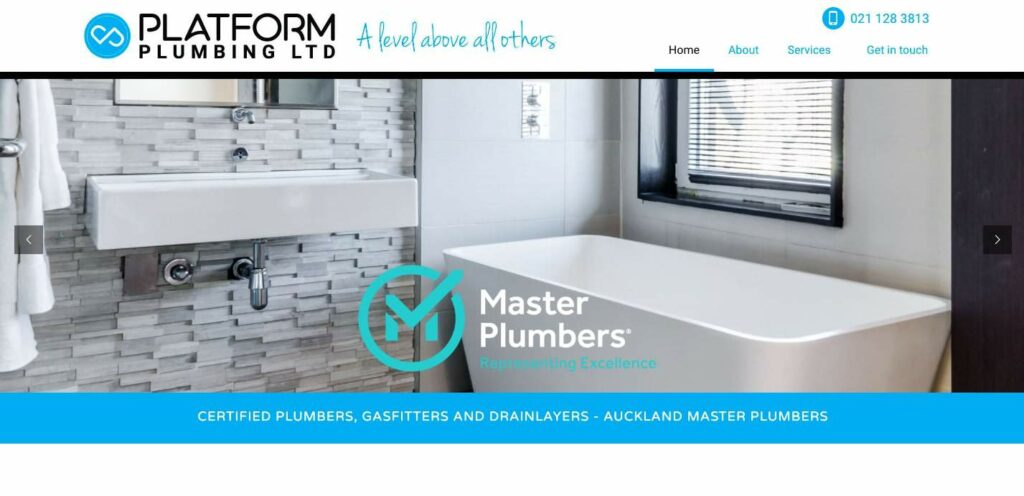 SERVICES
Plumbing, Gasfitting, Drainlaying, Roofing Services, New Builds, Renovations, Commercial, Residential, Luxury
WEBSITE
https://www.platformplumbing.co.nz/
ADDRESS
15 Eiger Place, Northpark, Auckland 2013, New Zealand
CONTACT DETAILS
Phone: (021) 128-3813
Email:

[email protected]

OPERATING HOURS
Monday to Friday: 9:00am – 5:00pm
Saturday: By Appointment
Platform Plumbing was founded by Benjamin Platt in 2017, with a special focus on new build construction plumbing, gas fitting, and drainage. They are members of the NZ Master Plumbers Association with certified and registered plumbers on their team.
Offering a wide range of services that include commercial and residential projects, Platform Plumbing comes with a Master Plumber guarantee. If you need assurance that the tradesmen you hire can get the job done, this is the highest pledge you can get.
Servicing the wider Auckland area, both businesses and homeowners alike can benefit from the services offered by Platform Plumbing. They have a Certifying Tradesman on the team ensuring that all work is performed up to the highest standards.
Every member of the team is trained and licensed in all aspects of their services – plumbing, gasfitting, and drainlaying. Aside from having a workmanship guarantee, this company is fully insured as well.
For commercial establishments such as restaurants or bars, Platform Plumbing is your one-stop-shop for most of your needs. They can outfit your gas and drainage in the kitchen and can handle the design elements needed in your bathroom as well.
One of their unique services is upgrading bathrooms and kitchens with luxury fitouts. Whether you're building something from scratch or enhancing a part of your home, Platform Plumbing is an option worth considering if you have a lavish or extravagant vision.
Dealing with high-end fixtures is one of their specialties, having been trained on proper handling and installations that require white-glove service.
In short, Platform Plumbing's Master Plumber guarantee and their specialty in luxury fixtures are the main reasons for choosing them as your contracted worker. While they can perform other standard plumbing work, this combination is hard to beat and makes them one of our top picks of the best plumbers in Howick.
Member of the NZ Master Plumbers Association
Fully-insured
Specializes in luxury fixture and installation
No 24/7 emergency services
No finance options offered
Customer Reviews
Absolute professional
"Ben is an absolute professional. In a new build having a drain layer, gas fitter and plumber all in one was a true godsend. You know your working with a quality tradesmen when the council inspectors compliment the excellent quality of the work. I would highly recommend Platform plumbing." – Chris Mears
Knows what needs to be done
"Ben has completed several plumbing projects at my property and has always completed them with an excellent standard. He is very informed and knows what needs to be done." – Rachael Stent
4. Laser Plumbing (East Tamaki)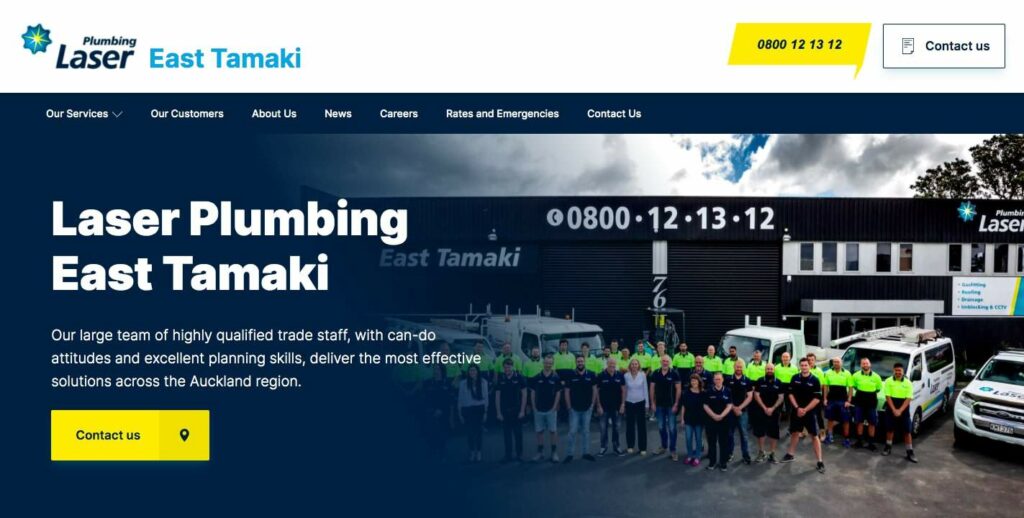 SERVICES
General Plumbing, Maintenance & Servicing, Home Renovation, New Homes, Roof Repairs, Hot Water, Gas Fitting & Heating, Water Tanks & Harvesting, Water mains, Property Management, Commercial Maintenance and Servicing, Back Flow Retention, Drainlaying & Cleaning, Subsoil Drainage, Watermains, Property Management
WEBSITE
https://www.laserplumbingeasttamaki.co.nz/
ADDRESS
76 Kerwyn Avenue, East Tāmaki, Auckland 2013, New Zealand
CONTACT DETAILS
Toll-Free: 0800-121-312
Email:

[email protected]

OPERATING HOURS
24 Hours a Day, 7 Days a Week
Laser Plumbing East Tamaki is owned and directed by Roger Westbrooke and Marc Firman. They are both a Certifying Plumber, Gas Fitter, and Drain Layer under the Laser Group of companies.
Offering their services to the entire greater Auckland region, Laser Plumbing East Tamaki's head office is located just a stone's throw away from Howick. They offer one of the most comprehensive services on our list, providing roof repairs, subsoil draining, and even regular property management.
What makes this company unique is that all training is conducted in-house under the guidance of a "coach" specifically hired for this sole purpose. Moreover, Laser Plumbing East Tamaki also takes several apprentices under their wing, training them in tandem with the Apprenticeship Training Trust and Skills Organisation.
This company's speciality services even include crafting maintenance plans and reports to help you manage your property to ensure that it's safe and complies with regulations. These customized maintenance plans include long-term solutions for tenants, owners or property managers.
For commercial properties, Laser Plumbing East Tamaki can check your backflow valves annually to ensure compliance. They also have an Independently Qualified Person (IQP) approved technician on their team to ensure that all standards are being met by your establishment.
Laser Plumbing East Tamaki can also provide CCTV inspections of your current stormwater systems. They can suggest the best solutions to keep your property well-maintained through the use of technology and state-of-the-art tools.
They also offer regular plumbing services that include repairs, maintenance, and installations. One reason to favor Laser Plumbing East Tamaki over others is that as a large company, they have greater purchasing power, which means they can acquire materials at a lower cost at wholesale prices.
Laser Plumbing East Tamaki also offers 24/7 after-hours emergency response services if you have a burst pipe, blocked drain, gas leak, or dripping roof. Calling their toll-free hotline immediately connects you to a technician who can respond urgently to your needs.
Owners are Certifying Tradesmen
Offers lower prices for supplies and materials
Can craft property management plans
Offers 24/7 emergency services
Call-out rates are higher compared to competition
Charges after hours fees for emergency services
Specializes more in commercial properties
Customer Reviews
Very helpful & friendly
"Job done quickly and cleaned up after himself. Plumber was also polite during interaction. Very happy with the all round service received from communication with Michelle online who was very helpful & friendly right through until the job was done. Will definitely use again in the future." – Nia Finau
FAQs about Plumbers
---
And that concludes our list of the top plumbers in Howick. We hope this list gives you good options to call for your plumbing needs.
Was there a plumber that we missed that you think should be added on our list? If so, please let us know by dropping us a line and we'll check it out.
Now, if after reading this list you decided to get a new hot water cylinder, then you're in luck! You should check out our list of the best hot water cylinders in New Zealand.