The 5 Best Plumbers in Pukekohe
Is your toilet backed up or do you have a leak in your home? If so, we would suggest calling one of the skilled professionals in our list to handle the problem for you.
It wasn't easy narrowing down this list of the best plumbers in Pukekohe. We selected the following tradesmen based on their professional reputations, services offered, and client feedback.
But before you pick up that phone, you might need to prepare yourself for the costs first. So, let's go ahead and discuss that first.
How much do plumbers cost in Pukekohe?
A plumber is an experienced and knowledgeable tradesman with a particular set of skills. Therefore, it isn't surprising that acquiring the services of a plumber can be quite costly.
The fees of a plumber are determined by factors that include labor, call-out expenses, service parts, tax and the use of special equipment at times. In Pukekohe, the cost of labor is generally around $75 to $135 per hour.
Moreover, labor rates increase for emergency call-outs, especially after regular business hours. Calling a plumber to fix an urgent problem after-hours can cost you $135 to $420 an hour.
Other factors that can affect labor fees include the plumber's experience as well. Hiring an apprentice plumber will cost significantly less than hiring a master plumber.
To give you a better idea of how much hiring a plumber will cost, we've listed some of the most common services below.
| | |
| --- | --- |
| SERVICE | COST |
| Leaky Pipe Repair | $100 – $200 |
| Toilet Repair | $100 – $250 |
| New Basin Installation | $125 – $250 |
| Shower Installation or Repair | $150 – $300 |
| Sewer Line Cleaning | $248 – $640 |
| Gas Installation or Repair | $350 – $570 |
The Best Plumbers in Pukekohe
Now that you know what to expect when hiring a plumber, we can take a look at our picks for the top plumbers in Pukekohe.
1. Flynn Plumbing & Gasfitting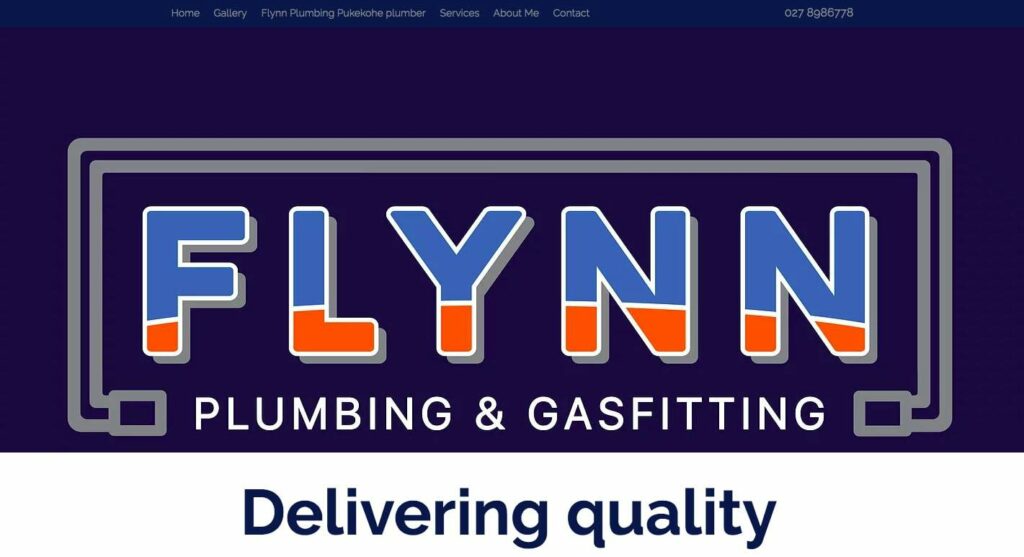 SERVICES
Residential Installation, Commercial Installation, Repairs, New Builds, Bathroom & Kitchen Renovations, Tapware Installation, Toilet, Shower, Bathtub, Hot Water Cylinder Installation, Gas Pipe Out, Water Filter Installation, Project Management, Plumbing Design, Drainage, Gas Fitting 
WEBSITE
https://www.flynnplumbing.co.nz/
ADDRESS
7 Stonedale Drive, Pukekohe, Pukekohe Hill 2120
CONTACT DETAILS
Phone: (027) 898-6778; (021) 426-672
Email:

[email protected]

OPERATING HOURS
Monday to Friday: 8:00am – 6:00pm
Flynn Plumbing and Gasfitting Ltd is a family-owned and operated company specializing in services around the Franklin community. Chris Flynn and his Father Patrick are both highly experienced in plumbing and gasfitting, offering affordable solutions to their customers.
While repairs are part of their list of various services, Flynn Plumbing & Gasfitting is more specialized in installations in both residential and commercial sites. Whether it's designing a drainage system or a hot water cylinder installation, this father and son team has it covered.
We would have liked to see them offer 24/7 emergency repair services (especially for any of their installations), though. However, they're a small team of two and probably can't guarantee that kind of service.
Since there are only two of them out on the field, this means that they might not be the best company to call if you need urgent services. It could also mean that a large-scale project might either take longer or may entail them hiring outside laborers, which could drive up costs.
Nevertheless, we like the ambitious propositions of Flynn Plumbing & Gasfitting, as they offer commercial work. Moreover, a father and son tandem could prove to offer customers a more cohesive team that may get the job sooner than you think.
Moreover, when you deal with Flynn Plumbing and Gasfitting Ltd, the owners themselves are doing the grunt work. So if any decisions on repairs or fitting need to be made quickly in the field, a resolution can quickly be made by the top decision makers.
Can negotiate pricing
Allows you to deal directly with owners for quicker decision making
Small team can mean difficulty to schedule
No 24/7 emergency service
Customer Reviews
They are the team you want!
"Outstanding service! Pat and Chris are both top blokes producing high quality work. They were able to fix our problem quickly; fitting us into a busy schedule. If you are looking for a plumber give Flynn Plumbing they are the team you want!" – Jay Ferguson
Highly recommended
"Patrick and Chris are so easy to work with, communicate with and are reliable and efficient. Their pricing is great for the quality of work and work ethic. They even clean up well after their job is done. Thanks guys. Highly recommended." – Corrie Taylor
2. Tilyard Plumbing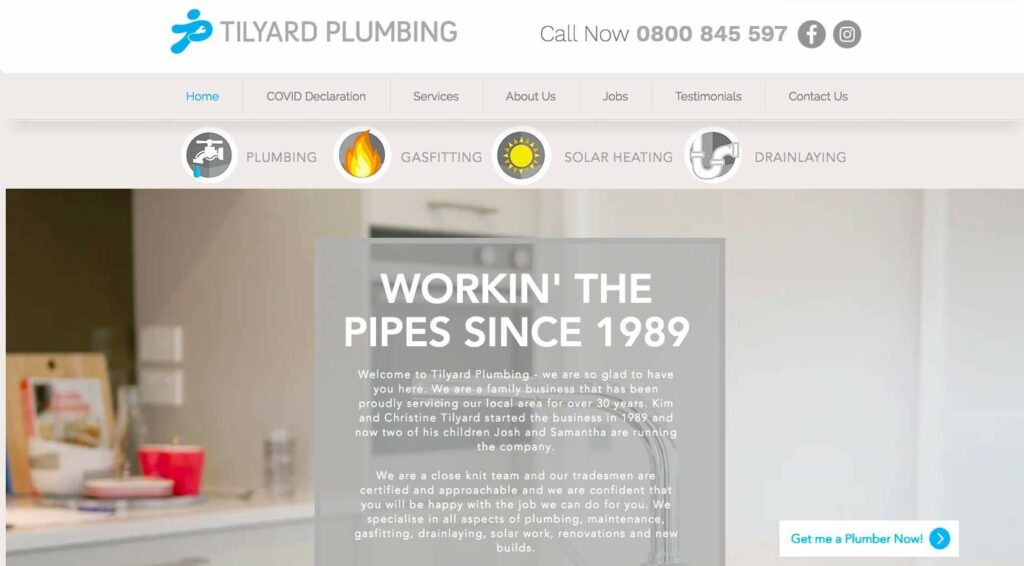 Tilyard Plumbing is a locally owned family business that's been around since 1989, having been passed down one generation already. It's currently operated by siblings Josh and Samantha Tilyard, having taken over for their father (and founding father) Kim.
Through the years they've built their team of experienced and certified plumbers, gasfitters, and drainlayers. Most of the staff have been trained by and apprenticed with Kim Tilyard himself to ensure that standards of service stay consistent.
Now, skilled tradeswork such as plumbing only gets better with experience… and at Tilyard Plumbing, some of their plumbers have been going at it for four decades. So whether it's a simple leaking pipe or a complicated water tank installation, it's safe to say they've got more than a few tricks up their sleeves to get the job done.
Moreover, if you're hiring them for an installation, they can even meet you at a showroom with one of their merchant partners to help you pick out the best fixtures and other supplies. If that isn't personalized service, we're not sure what to call it.
They take pride in their reputation within the Franklin community, especially since most of their business relies on word of mouth. We like the passion for old-fashioned marketing, but they could make more of an effort to get on social media.
Nevertheless, we like that Tilyard Plumbing is also an authorized agent for Sunz Solar, with two specialist tradesmen on their team. If you're interested in installing solar panels or simply need maintenance or troubleshooting, you can try giving this company a call.
With affordable and competitive pricing, Tilyard Plumbing offers a good package of services. Whether it's commercial or residential work, this family-owned company has earned its reputation as one of the top plumbing companies in Pukekohe.
Free quotations via phone or site visit
Authorized agent for Sunz Solar
Works commercial and residential jobs
No on-call emergency services
Doesn't offer promotions or discounts
Customer Reviews
Definitely recommend them
"We had a number of jobs for Tilyard Plumbing, and they completed each to a quality finish, and were within the quote provided. Definitely recommend them." – Stuart Uren
Service is outstanding
"Moved to the Pokeno area recently and needed a plumber on a few occasions. Didn't know who to call but luckily we found these guys. They are without a doubt the most responsive, easy to deal with plumbers I have used over many years. Just great people to deal with and their service is outstanding. Not like any other plumbers I have used in the past." – Matt Noy
3. Ross's Plumbing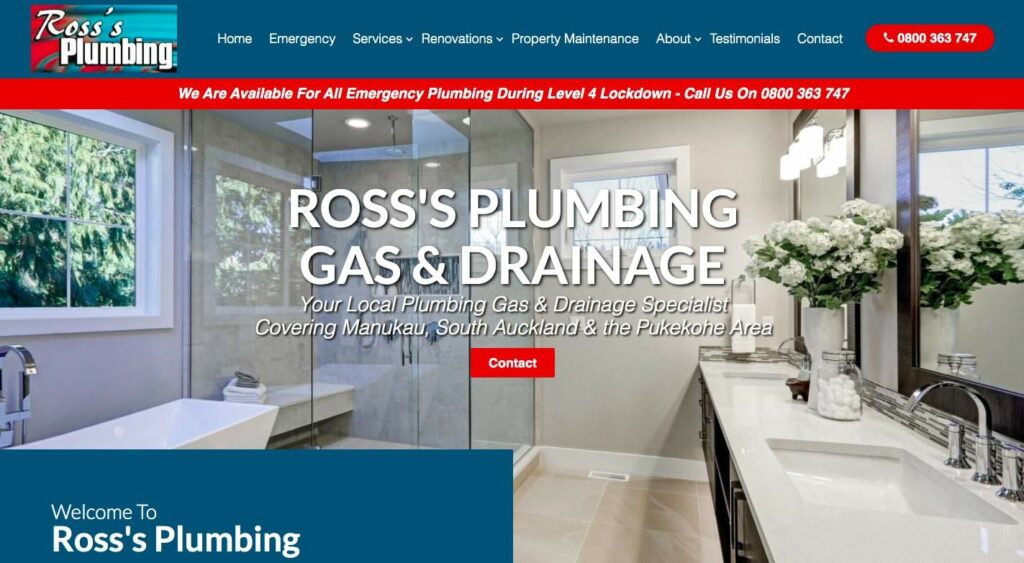 | | |
| --- | --- |
| SERVICES | Plumbing, Gas, Blocked Drains, Hot Water Cylinders, Kitchen Renovation, Bathroom Renovation, Laundry Renovation, Property Maintenance, Emergency Services |
| WEBSITE | https://rosssplumbing.co.nz/ |
| ADDRESS | Pukekohe 2104, Auckland, New Zealand |
| CONTACT DETAILS | Toll-Free: 0800-363-747 |
| OPERATING HOURS | 24 Hours a Day, 7 Days a Week |
Ross's Plumbing is a husband and wife operation, fulfilling their roles as plumber and business manager respectively. They claim that their aim is to provide clients with personalized service from the moment customers call them until the moment the final payment is made.
Ross (the husband) is a traditional craftsman, plumber, and gasfitter with years of working in the field of maintenance and swimming pool work. He is on the board of the Auckland Society of Plumbers and the company is part of New Zealand Plumber's Drainlayers and Gasfitters Association Inc.
All of their work is covered by a guarantee and their staff is well-versed in commercial work that have stringent requirements as well. Whether it's gasfitting for a restaurant or plumbing requirements for a funeral home, they've got it covered.
With a personally trained team of plumbers at their disposal, their coverage is wide, providing services all over South Auckland and Franklin. They can handle residential jobs, new builds, rental property maintenance, and renovations.
What we especially like about Ross Plumbing is their 24-hour 7-day a week emergency plumbing service. If you have leaking taps, running toilets, blocked drains, burst pipes, or a gas leak, just call up their toll-free number and they'll send one of their plumbers over as soon as possible.
Another of their specialties is property maintenance, with experience handling the requirements of landlords. They've even completed work for international clients and are well-versed in what types of issues to look for and resolve.
Offers 24/7 emergency services
Specializes in property management
More expensive than competitors
Charges extra fees for late night work
Customer Reviews
My lifesaver on many occasions
"I have used Ross's Plumbing both personally and in my role as a property manager and found them to be friendly, professional and reliable. From the girls in the office to the plumbers on the ground nothing is ever too much trouble and they always go the extra mile. No job is too big of too small and one phone call is all it takes to get my plumbing problems sorted! Thanks guys you've been my lifesaver on many occasions!" – Julie Walters
Prompt service
"Phoned Ross Plumbing about a kitchen tap that was not working on hot.They were easy to contact and seemed very knowledgable.The plumber was very professional,arrived on time *and cleaned up after himself.We would certainly recommend this company to our friends.Martin was our plumber and he was a great guy.Yes you can use our recommendation on you website.Thanks again for your prompt service." – Pat Sullivan
4. DMI Plumbing Ltd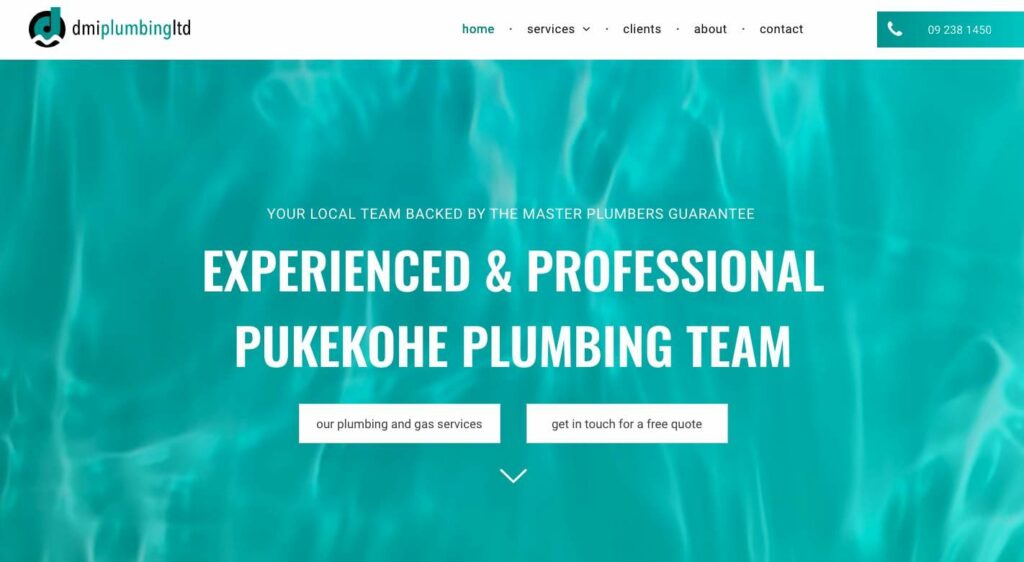 SERVICES
Commercial Plumbing, Group Housing Plumbing, Installations, Repairs, Maintenance, New Homes, Renovations, Residential Plumbing, Testing, Advice, Maintenance, Installation, Gas Piping, Gasfitting, Troubleshooting, Jet Cleaning, Camera Inspections, Drain Cleaning, Cylinder Testing, Gas Hookups
WEBSITE
https://www.dmiplumbing.co.nz/
ADDRESS
Unit 16a, 518 Buckland Road, Pukekohe, Auckland 2677
CONTACT DETAILS
Phone: (09) 238-1450; (021) 992-595
Email:

[email protected]

;

[email protected]

OPERATING HOURS
Monday to Friday: 8:00am – 5:00pm
DMI Plumbing Ltd first offered its professional services in 2002, when it was founded by Dean and Suzanne Ihaia. From their humble beginnings, they've since grown to a team of twelve plumbing professionals serving Franklin and the greater South Auckland area.
This company consists of registered plumbers and gasfitters along with journeymen and apprentices in training. We like the mix of experienced tradesmen and fresh pairs of eyes, as it creates a balance of knowledge and perspective in problem-solving any repairs.
Another reason why we like DMI Plumbing Ltd is their support for the local community, providing a plumbing scholarship worth $1,500 to a Pukekohe High School student seeking a trade apprenticeship.
Anyway, whether it's retail, hospitality, apartments, or hotels, DMI Plumbing Ltd can cover your commercial needs. They are well-versed in the mandated standards of commercial establishments and can ensure that your place of business complies and keeps running smoothly.
DMI Plumbing Ltd is also a reliable partner with large-scale home building companies, earning a reputation for their responsiveness and workmanship. They can handle plumbing design and installations as well as certification and post-build maintenance.
If it's emergency call-out services you need or scheduled maintenance work, DMI Plumbing Ltd is up for the task. So, whether you have a warehouse with a backed drainage system or a leaking pipe in your home, they've got it covered.
Even though this company focuses more on commercial builds and maintenance, they'll take on any job. Each project is backed by a Master Plumbers guarantee as well, which makes them one of our top picks for the best plumbers in Pukekohe.
Offers free quotations
Provides opportunity for apprentice scholarships
Has emergency call-out services
Focused more on commercial work
Emergency services aren't 24/7
Customer Reviews
They're pretty much our only plumber
"I've been working with Dean for almost 15 years. They're pretty much our only plumber. You can rely on them to do it all, from new house fit-outs to commercial. Really nice job. Never have an issue with them. Yeah, really good." – Shane Callander (Callander Construction)
Give them a job and you know it's gonna get done
"They're such a relief to busy property managers. Been dealing with Dean and the DMI team for many years and they are well onto it. You can give them a job and you know it's gonna get done. They make themselves available after hours too and text you to let you know it's completed." – Denise Smyth (Barfoot & Thompson Rentals)
5. TAPIt Plumbing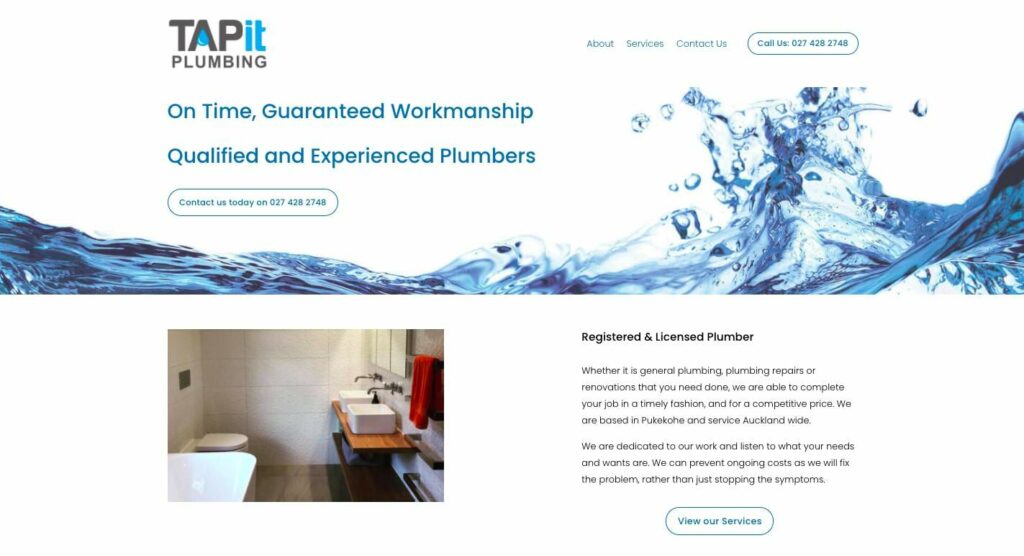 SERVICES
Waste Disposals, Downpipes, Tap Repairs & Replacement, Toilet Repairs, Emergency Plumbing, Sewer Pipes, Waste Pipes, Roofing, Spouting, Gutters, Renovations, Drain Repair & Replacement, Hot Water Cylinder Replacement & Relocation, Spouting And Downpipes, Plumbing Advice
WEBSITE
https://www.tapitplumbing.co.nz/
ADDRESS
Pukekohe East, New Zealand 2340
CONTACT DETAILS
Phone: (027) 428-2748; (027) 42-TAPIT
Email:

[email protected]

OPERATING HOURS
Monday to Friday: 7:00am – 6:00pm
TAPit Plumbing was founded by Pete Faulkner in 2014, who has over 15 years of experience in the field. Although his childhood was spent in Patumahoe, he settled down to open his family-owned business in Pukekohe.
Offering Auckland-wide plumbing services, TAPit Plumbing provides scheduled repairs and maintenance to Kiwis. They also have emergency call-out services 24 hours a day, 7 days a week, and 365 days a year.
However, do take note that an emergency call-out between 6 pm and 8 am might be subject to additional fees. Regardless, once you call them, they can offer advice and walk you through a temporary remedy to ensure the problem is contained before they arrive.
Skilled work such as plumbing highly relies on experience, and TAPit Plumbing's has almost two decades of it, so they've seen almost every kind of problem. Whether it's a simple job like a dripping faucet or intricate plumbing services for a full renovation, you'll receive quality workmanship only an experienced plumber can provide.
Fully licensed and registered, they promise that each job will only use the highest quality materials, thanks to Pete Faulkner's specialty in product knowledge. In our opinion, it's refreshing to know that a plumber is actually familiar with products and not just skilled in their craft.
What we like best about TAPit is that opting to choose their services helps a small startup grow. Since the owner himself will be present and working at the job site, quick decisions can be made on repairs resulting in a quicker turnaround time.
Fully licensed and registered plumber
24/7 emergency call-out services
Doesn't offer gasfitting or other extra services
Extra charge for late night emergency call-outs
FAQs about Plumbers
---
And that concludes our list of the best plumbers in Pukekohe! We hope you were able to find a professional from this list to fix your plumbing problems!
Did we miss some quality services from this list? Hit us up on the comments below if so, and we'll update the article accordingly.
Now if you're interested in finding the best plumber in the entire country, we've got what you're looking for. Check out this list of the best plumbers in New Zealand to help you out.