The 14 Best Podiatrists in Auckland
Taking care of our feet is vital simply because we use them everyday. But you don't have to worry, as right here, we have outlined the best podiatrists in Auckland to help you with that.
Podiatry is defined as the clinical treatment and care of the feet. Whether you have an injury, callus, corns, verrucae, or ingrown nails, this unappealing band of misfits can be removed or treated by a podiatrist.
They're also great to have by your side when you're recuperating from a debilitating foot injury. With their help, you can be sure that the pain will be kept at bay and won't reoccur again in the longer term.
And so if you're ready, we now bring you the best podiatrists in Auckland. Let's start!
1) Kaisarah Babwani – Jones Health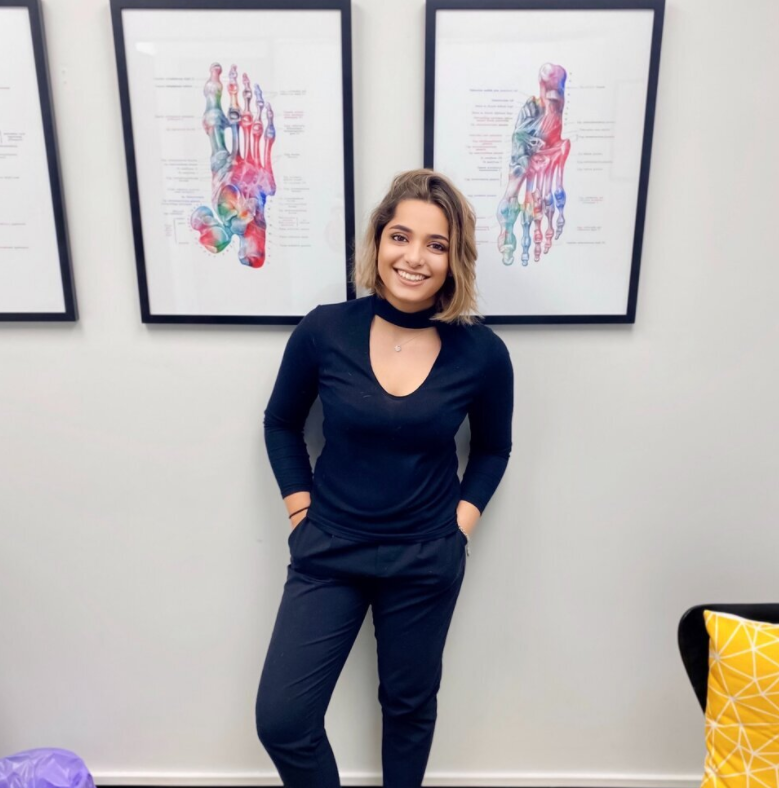 | | |
| --- | --- |
| Best for | Senior Care and Diabetes, Ingrown Toenail Surgery, Trigger Point Dry Needling, Stretching and Strengthening, Orthotics, Strapping/Taping, and General Foot Care |
| Services | General care, orthotics, sporting injuries, minor surgeries |
| Address | 360 Remuera Road, Remuera, Auckland, NZ, 1050 |
| Contact no | Phone: 09 524 4360 |
| Website | https://joneshealth.co.nz |
Jones Health is a locally based Podiatry Clinic and Health Centre found on Remuera Rd that's dedicated to assisting patients with their healthcare needs.
Kaisarah Babwani, the principal Podiatrist at Jones Health, has been practicing for a while now. Her passion for podiatry began in her teens and she has been dedicated to helping patients maintain and improve their foot health ever since.
For Podiatry treatment, Kaisarah would be your best pick for a podiatrist. She could also be considered as one of the best podiatrists in Auckland for her unselfish passion and skill set alone.
Kaisarah Babwani's expertise covers general foot care, ingrown toenail surgeries, orthotics, sporting and ACC injuries and much more- all of which work to help to keep her patients  active in life.
Highlights
Offers services to both adults and children
ACC and Southern Cross affiliated
Free parking available
Located in the heart of Remuera Village
Goes above and beyond for all patients through all walks-of-life
Customer Reviews
Here are some feedback left by previous clients of Kaisarah Babwani:
"Kaisarah has been brilliant with both diagnosing the problem and the solution. I was preparing myself to not to play sports for some time due to pain in my feet but thanks to her spot on treatment, now Im back weeks earlier than expected. This was the first time Ive been to a podiatrist in my life but I wont have any second thoughts about where to go next time. Highly recommend!"
"Kaisarah Babwani is the best podiatrist I have ever visited. She has treated my feet in ways that have allowed me to walk comfortably for the first time in years." 
2) Liya Janali – Mobile Feet Podiatry

| | |
| --- | --- |
| Best for | Sports Injuries and Podiatric Surgery |
| Services | Sports-Related Injuries, Podiatric Surgery (removing of warts, verrucae, and ingrown), and Walking Improvements |
| Address | 45 Mackelvie Street, Ponsonby, Auckland 1021, New Zealand |
| Contact no | (09) 392 4342 |
| Website | http://www.mobilefeetpodiatry.co.nz/ |
If you're looking for an all-around podiatrist, check out Liya Janali of Mobile Feet Podiatry. She has experience in cosmetic podiatry, sports podiatry, and podiatric minor surgeries, including nail surgeries and diabetic foot assessment and management.
Liya helps you deal with your foot, ankle, and lower limb problems. As foot and ankle specialists, she has helped various people with their lower limb needs.
Her past patients include children experiencing growing pains, middle aged people with walking, and sports injuries and elderly people with painful nail and skin concerns.
Unlike other clinics, Mobile Feet Podiatry has various clinics, including ones in Takapuna, Birkenhead, Ponsonby, Devonport, and Manukau. Seeing as they are all in highly accessible areas, this makes it easier for patients to come visit them for any concerns they may have.
Highlights
ACC provider podiatrists
Assesses the patient's walking pattern
Customer Reviews 
Here's the review from Carli Davis on Facebook:
"Excellent!!! Highly recommend!!"
3)  Sarah Saadat – Footcare Specialist Podiatry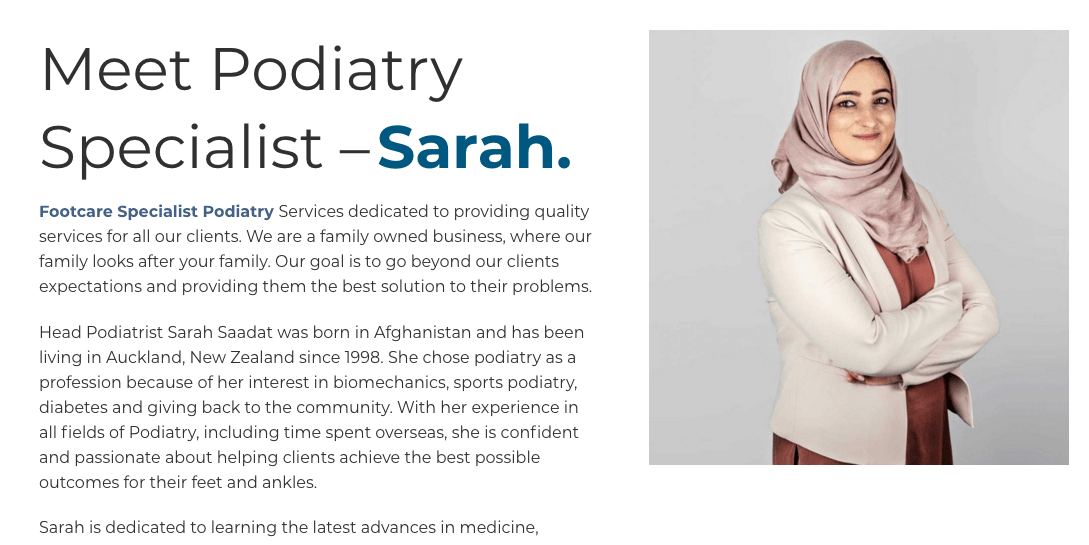 | | |
| --- | --- |
| Best for | Care for the Customer |
| Services | Biomechanics, Sports Podiatry, Diabetes, Foot and Ankle Care |
| Address | 1492 Dominion Road Extension, Mount Roskill, Auckland 1042, New Zealand |
| Contact no | 021 124 8684 |
| Website | https://aucklandpodiatryclinic.co.nz/ |
It's always helpful to have a podiatrist who genuinely cares for the customer. Such is Sarah from Footcare Specialist Podiatry.
First off, it's worth noting that Sarah's clinic is family-owned. This makes it so that you get more personalised attention in their service.
As for Sarah, she has had experience both locally and abroad in podiatry. And she constantly stays updated in the recent trends and knowledge in her field.
Her line of expertise includes foot and ankle care, posture, sports injury, and diabetes. She always strives to give you the best foot care and service to exceed your expectations.
Highlights
Caring and proficient
Always gives quality treatment
Wide range of services
Updated with the latest findings about podiatry
Customer Reviews
Gary Lin was very satisfied with Sarah's help. On Google Business, he writes:
"Thanks Sarah for taking care of my foot! I have had a wound at the bottom of my foot refusing to heal properly over the last 5 years. Little did I know it's actually a verruca until Sarah pointed it out! Just one treatment and my Verruca has been vastly improved! Looking forward to get my foot finally healthy again!"
4)  Lisa Hinchcliff – Greenlane Podiatry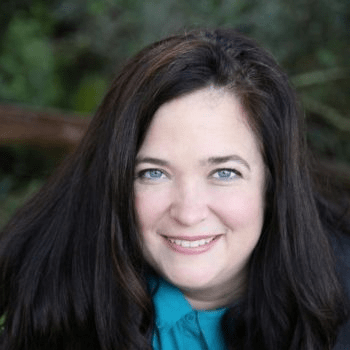 | | |
| --- | --- |
| Best for | Paediatric Foot Care and Injury Prevention |
| Services | Heel Pain, Verrucae, Ingrown Toenails, and Achilles Tendon Pain, and other podiatric conditions |
| Address | Level 2, 2 Kalmia St, Ellerslie, Auckland, New Zealand |
| Contact no | 09 524 2599 |
| Website | https://www.greenlanepodiatry.co.nz/ |
Greenlane Podiatry owner and Podiatrist Lisa Hinchcliff has a special interest in Children's Podiatry. Her goal is to keep their growing feet healthy for the years ahead.
She studied Podiatry in the respected Auckland University of Technology and has more than 25 years of experience in treating problems like heel, achilles tendon pain, ingrown, verrucae, and lesion surgery.
Plus, she's a great listener when it comes to her patients' needs. This helps her develop the best treatment, making it possible for the patient to eventually go outside and walk and run without any hint of pain.
And that makes her one of the best podiatrists in Auckland.
Highlights
Specialises in children's foot ailments
Wide scope of services
More than 25 years of clinical experience
Operates 2 clinics in Ellerslie and Remuera
Customer Reviews
Diane Gribben gave it an impressive 5 stars, saying on Google Business:
"I am so impressed with the care I get from Lisa and all the Podiatrists at Greenlane Podiatry.  I have had a number of problems with my feet and they are always sorted out quickly and professionally.  I have also had orthotics which have been fantastic.  The ongoing care is always such a high standard."
5) Cameron Palmer – Auckland Sports Podiatry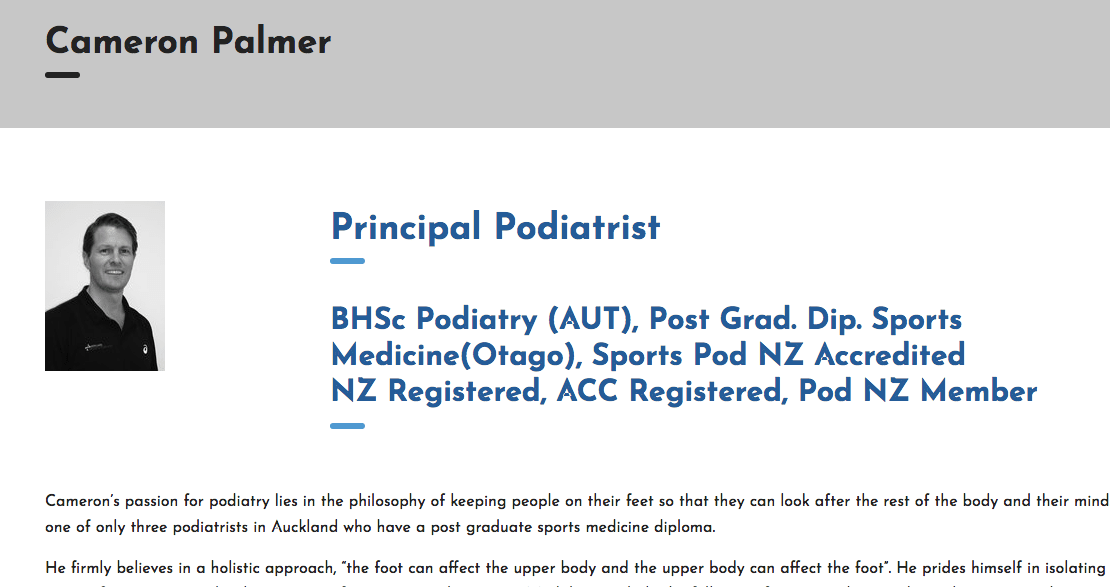 | | |
| --- | --- |
| Best for | Holistic Centred Treatment |
| Services | Footwear Advice, Orthotics, Stretching and Strengthening, Strapping/Bracing, Gait Technique Changes, and Activity Modifications |
| Address | 14 Davis Crescent, Newmarket, Auckland 1023, New Zealand |
| Contact no | 09 354 4427 |
| Website | https://aucklandsportspodiatry.co.nz/ |
Cameron Palmer is the head podiatrist in Auckland Sports Podiatry. He has a bachelor's degree in Podiatry from AUT and a postgraduate diploma in Sports Medicine from Otago University.
He conducts his podiatric treatment holistically, meaning he emphasises the connection between the feet, body, and mind. That way, the patient will always have well-balanced health in the entire body.
He is one of the best podiatrists in Auckland and offers assessment, advice, and treatment of a variety of conditions mostly relating to sports and biomechanics like orthotics and rehabilitation.
Highlights
Holds a Podiatry degree and Sports Medicine diploma
Focuses on holistic treatments
Provides valuable advice
Offers a range of services
Customer Reviews 
Vicki McGeorge commented on Google:
"Throughout the consultation I was treated with courtesy and respect, and felt "heard." Cameron also took into consideration the short time period I had before going overseas, and I left the practice feeling confident that I was in great hands and my issues could be solved before my journey. I'm very grateful that this practice was recommended to me, and I shall be recommending it to my family and friends in turn. 🙂 Thank you!"
6) St Lukes Foot Clinic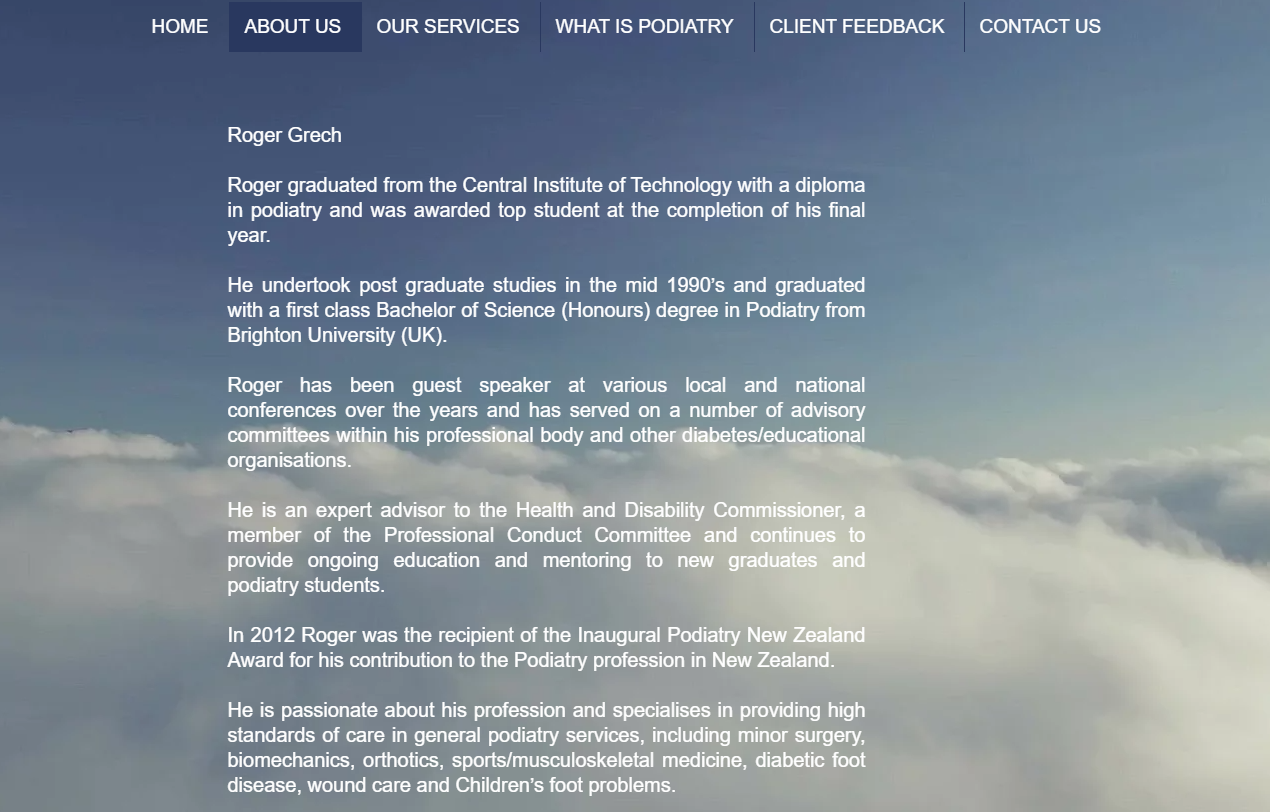 BEST FOR
Professional foot healthcare, Heel, Arch, Ankle pain, Orthotics, Ingrown toenail surgery and Children's foot problems
WEBSITE
http://www.stlukesfootclinic.co.nz/
ADDRESS
81 St Lukes Road
Sandringham, Auckland 1025
CONTACT DETAILS
021 498 038/[email protected]
OPERATING HOURS
Tuesday to Friday 9am – 6pm, late nights and Saturdays also available
The staff at St Lukes foot Clinic are committed to providing a professional and comprehensive approach to foot and leg problems. They use evidence-based and best practice guidelines.
Not only that, but the staff are also confident with many years of experience. They provide the highest level of care to meet all kinds of podiatry needs.
Established in 1993, the podiatrists of St Lukes foot Clinic are highly skilled in treating all foot problems from very young children to the very mature senior citizens. They are also members of the NZ Podiatry Board and ACC registered, as well.
Highlights
Knowledgeable podiatrists
Professional service
Affordable treatments
Customer Reviews
"I must thank you for treating my right foot. It has healed perfectly now and I can walk without any pain. Once again, I thank you for relieving my pain."
"I have been a client at St Luke's Foot Clinic for many years. I am impressed with the care during my regular routine visits
and the diagnosis and treatment of specific foot problems that have occurred during that period.
I thoroughly recommend this clinic to people needing first class care for their feet."
7) Care Podiatry (Picton Surgery)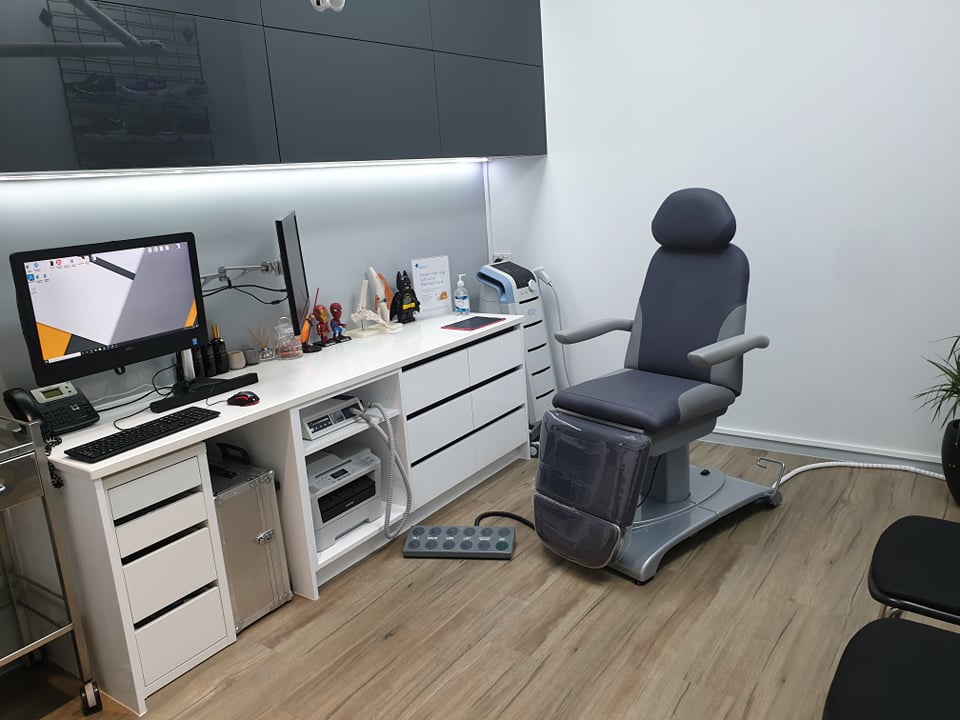 BEST FOR

Podiatry services and consultations

WEBSITE

http://www.carepodiatry.co.nz

ADDRESS

2/2 Fencible Drive




Howick, Auckland 2014

CONTACT DETAILS

64 9 534 7176/[email protected]

OPERATING HOURS

Monday to Friday, 8.30am to 5.30pm
Our clinics are located in Papatoetoe (South Auckland), Howick (East Auckland), and Beachlands (Franklin). We offer a range of podiatry services to the general public. We are here to help your feet and help you achieve a better quality of lifestyle. ​
We are the only clinic in New Zealand that offers podiatry consultation in Cantonese (廣東話), Mandarin (普通話) and Korean (한국어). There is ample parking space for clients and guests. The vicinity also has a pharmacy, x-ray laboratories, and Labtests close by.
Our dedication to spend time with our clients and our expertise in the lower limbs, makes us the best people to talk to when it comes to the care and well being of your feet.
The quality of our services is regconised across the community. In 2015, we were awarded with 2nd place for "Howick Best Professional Practice" Award. We are also awarded in 2015 & 2016 with "Highly commended Podiatrist" award by the Eastern Commitee.
Highlights
Comprehensive consultations

Wide-range of services

Affordable and cost-effective
Customer Reviews
Here are some examples of the feedback posted by customers on Google Reviews:
"This is a good practice. The doctors are all quite lovely (and the nurses!) I like how you can book appointments online. Usually you are fine booking the night before for an appointment (you may not get your usual doctor but it is better than other places that are booked up weeks in advance). There is a pharmacy next door which is super helpful. Lots of parking. My entire family comes here. Oh and the nurse is so good with giving vaccines – barely feel it. My almost four year old didn't even cry."
"Excellent reception area and friendly front staff. Very grateful for the wonderful podiatry services. Highly recommended."
8) Clear Step Podiatry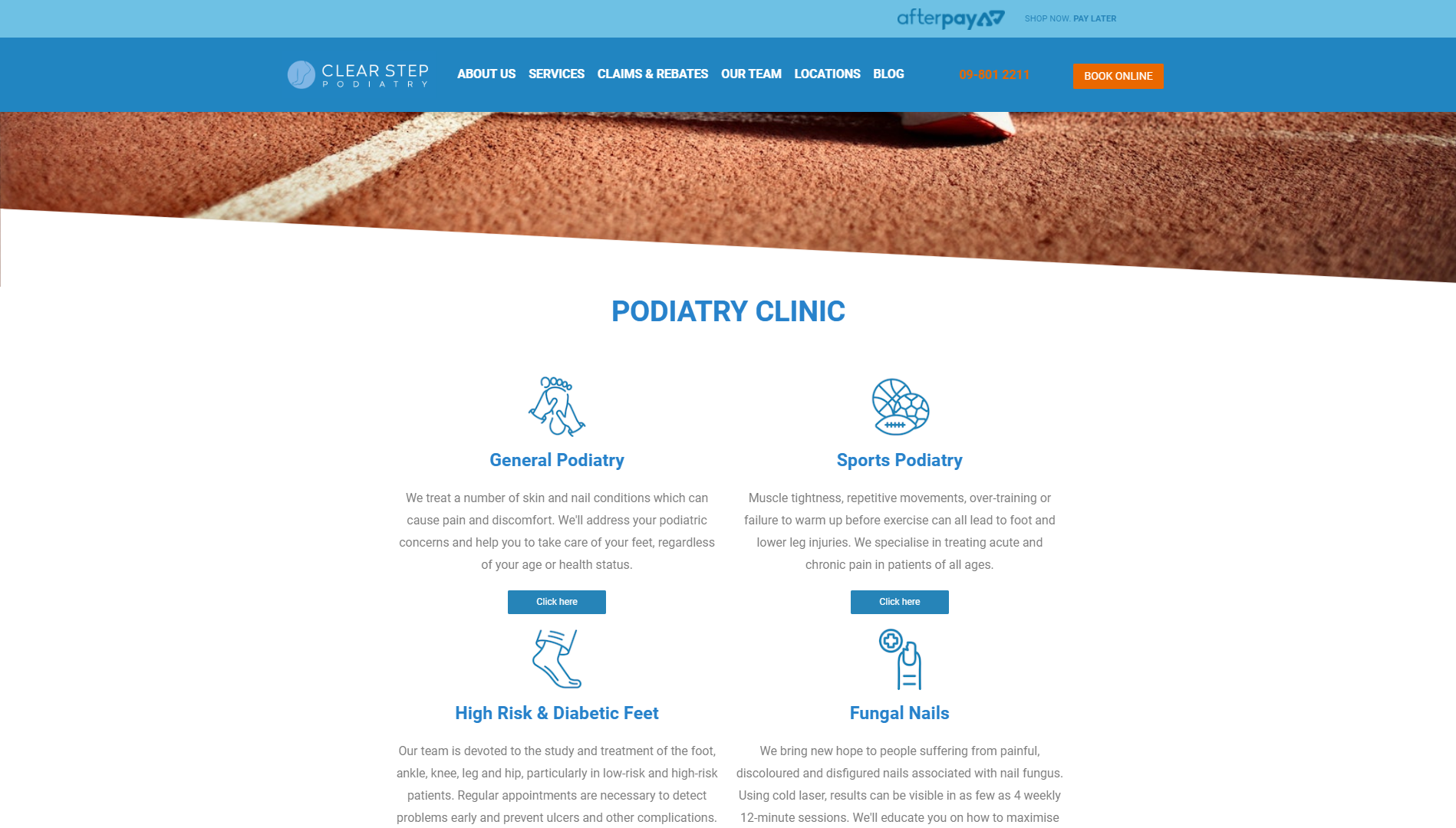 Clear Step Podiatry is a clinic that aims to provide professional and compassionate podriatric services. At the heart of these services are evidence-based techniques and a compassionate approach to patients.
Their team of podiatrists are more than qualified in their line of work– they're registered with the Podiatrists Board of New Zealand. You can rest assured that any podiatric issue you may have will be handled by them efficiently.
Highlights
Qualified foot health experts
Empathetic, thorough approach
9) Clear Nail Laser Clinics

Clear Nail Laser Clinics is a nail treatment provider in New Zealand. They're well-known for their cold laser treatments.
This simple process has a higher success rate compared to other treatments. As a plus, it's a pain free way to treat fungus.
Treatment only takes a few sessions to finish. If you're interested, make sure to contact Clear Nail Laser Clinics now!
Highlights
Pain-free
High success rate
10) Corrective Foot Solutions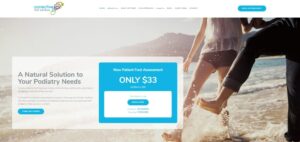 Corrective Foot Solutions is one of the best podiatrists in Auckland due to its innovative method of treatment. Unlike other clinics, they don't make use of traditional orthotics.
They focus on stimulating the body to heal naturally and restore itself. With Corrective Foot Solutions, you'll experience a gentle and pain-free way of treatment.
Highlights
Innovative podiatry techniques
Treatment doesn't use traditional orthotics
11) Stride Podiatry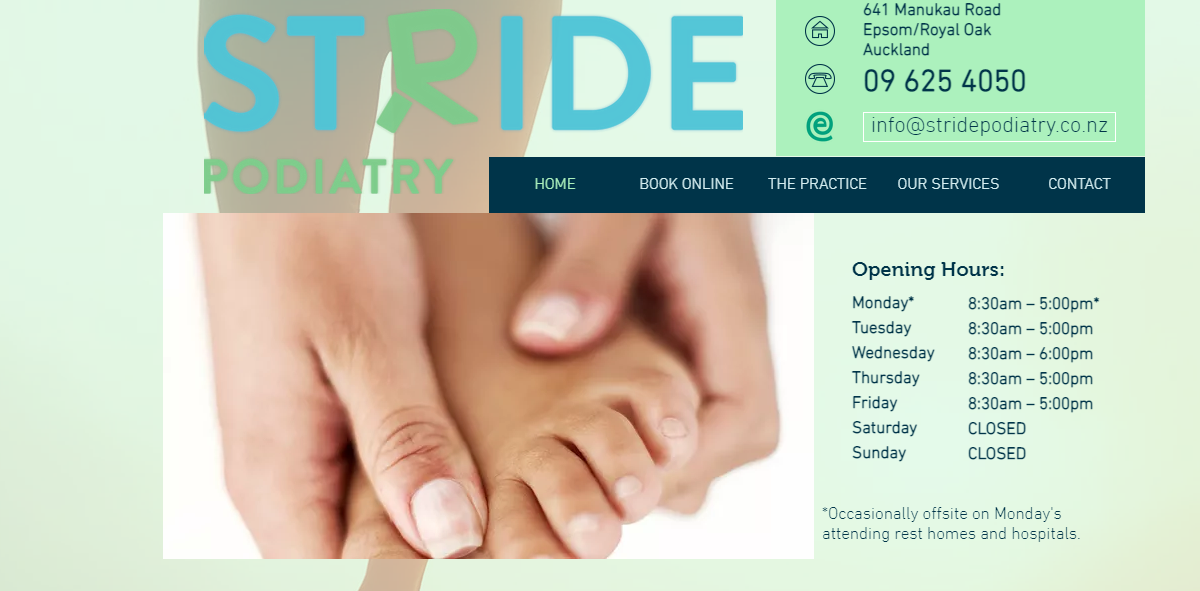 BEST FOR
Quality Podiatry Treatments
WEBSITE
https://www.stridepodiatry.co.nz
ADDRESS
641 Manukau Road, Royal Oak
CONTACT DETAILS
09 625 4050
[email protected]
OPERATING HOURS
Mondays, Tuesdays, Thursdays, and Fridays: 8:30 a.m. to 5:00 p.m.Wednesdays: 8:30 a.m. to 6:00 p.m.
If we're talking about convenient location, quality treatments, exemplary team of professionals, and cosy and comfortable clinics, then Stride Podiatry has all of the boxes ticked.
This humble clinic is conveniently located within the Greenwoods Medical Centre opposite the entrance to Cornwall Park.
Stride Podiatry offers a wide range of patient services, which include callous and corn removal, ingrowing toenail surgery, wart treatments, fungal nail treatments, biomechanical assessments, treatment of foot pain, rehabilitation and therapy, and many more.
The head Podiatrist, Chris Hughey, has over 10 years of experience in the field. He constantly strives to improve in his chosen profession, which in turn allows Stride Podiatry to grow as a clinic.
Patients new and old will find that Stride Podiatry works to provide up-to-date treatments with the help of modern technology and updated treatments and procedures. So, if you're having trouble with your foot, we strongly recommend visiting them for a consultation.
Highlights
Wide range of treatments and procedures
Convenient location
Warm and cosy ambience
Online booking available
12) FootWise Clinic

BEST FOR
Quality Podiatry Care
WEBSITE
https://www.footwise.co.nz
ADDRESS
Milford Clinic

161 Shakespeare Road

Milford, Auckland 0620

New Zealand

Henderson Clinic

7 Catherine Street,

Inside Waitakere i-Medical Centre

Henderson, Auckland 0612

​

Botany Clinic

211 Ormiston Road,

2nd floor Ormiston Medical centre

FlatBush, Auckland 2016

CONTACT DETAILS
09 213 0699
021 618 530
OPERATING HOURS
Milford Clinic

Mon, Tue, Thur and Fri 8:00am – 6pm, Wed 8:30am – 4:30pm, Sat 10am-3pm

Henderson Clinic

Tue 1pm – 6pm, Fri 9am – 2pm

Botany Clinic

Wed 1pm – 5pm, Fri 8:30am – 5:15pm
Next on our list is Footwise Clinic, a podiatry centre that endeavours to provide quality care to the Auckland area.
With three locations, one in Milford, the other in Henderson, and the last in Botany, Footwise Clinic is one of the more accessible clinics on our list.
The Footwise Team consists of highly skilled and experienced individuals whose training and years in the field allows them to confidently work with clients no matter the treatment they need.
Moreover, their unique cultural backgrounds give them the opportunity to connect with the diverse clients seeking their help across the whole of Auckland.
In terms of the services, Footwise Clinic offers a wide array of options, including general podiatry, sports and biomechanical podiatry, orthotic therapy, antifungal and nail treatments, and ingrown nail surgeries.
The staff at Footwise Clinic always takes the time to consult with each patients, learning about their history and their current situation before moving forth with any services.
Those who are having trouble with their foot and have more questions need only inquire via phone or email. The Footwise Clinic will try to get back to inquiries as soon as possible.
Highlights
Extensive range of podiatry care services
Accessible locations
Trained and experienced team
13) Foot Sense Podiatry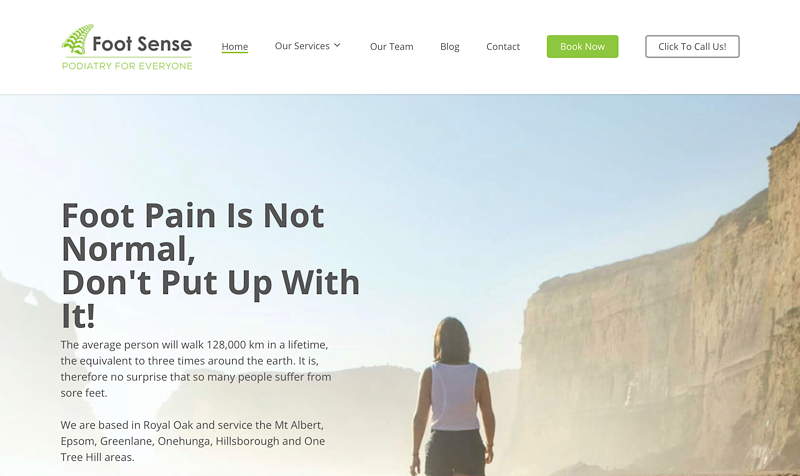 Best for

Podiatry, Treatments, and Procedures

Services

General Foot Care, Biomechanical Assessments for Foot Pain, Surgical Procedures, and Deluxe Medical Procedures.

Address

778 Manukau Road, Royal Oak, Auckland

Contact no

[email protected]

09 625 9785

Website
https://footsense.co.nz
Foot Sense Podiatry is an Auckland-based podiatry clinic with a team of graduates from Bachelor of Health Science (Podiatry) in Auckland University of Technology. Their specialists are trained to have expertise in dealing with the prevention, diagnosis, treatment, and rehabilitation of both the foot and lower limb. 
Foot Sense Podiatry is no stranger to sore aches, running injuries, fungal infections, ingrown toenails, and corns and callus. With this, their services include general foot care, biomechanical assessments for foot pain, surgical procedures, and deluxe medical pedicures.
While they are located in Royal Oak, they also service the surrounding areas of Mt. Alber, Epsom, Greenlane, Onehunga, Hillsborough, and One Tree Hill. 
The Foot Sense Podiatry is also open Saturdays and late nights. Appointments can be made through their website.
Highlights
Offers various services on podiatry

Has trained specialists

Services different areas

Accepts all types of payments
14)
Step Up Podiatry

Best for
Treats almost any foot condition
Services
Skin and Nail problems​
Ingrown toenails

Verrucae/ Plantar Warts

Callus and corns

Fungal nail and skin infections

Walking Issues

In-toeing gait (Pigeon Toes)

Out-toeing gait

Tip-toe walking

Balance and coordination problems

Delayed walking

Other Problems

Heel Pain (Sever's disease)

Painful flat feet

Limb length differences

Sports injuries

​Growing pains

High In-step

​Footwear advice

Address

Step Up Podiatry – Pukekohe

13B Hall Street

Pukekohe

Auckland

​

Step Up Podiatry – Otahuhu

(Level 2 Otahuhu Physiotherapy Clinic)

15/23 Station Rd, Otahuhu, Auckland

Step Up Podiatry – Waiuku

(Level 2 Waiuku Health Centre)

30 Constable Road

Waiuku

Step Up Podiatry – Mangere

Mangere Health Center

6 Waddon Place

Mangere

Step Up Podiatry – Te Kauwhata

12 Main Road

Te Kauwhata

Contact no
If you have question for a podiatrist please email [email protected]
​
Please call 0800 111 224 to book an appointment at the following branches: Pukekohe, Waiuku, Te Kauwhata and Otahuhu
​
You can also call Otahuhu Physiotherapy on 09 276 0448 to make an appointment at our Otahuhu clinic
​
Please call 09 255 0600 to book an appointment at our Mangere clinic you have questions for a podiatrist please email

[email protected]


​
Please call 0800 111 224 to book an appointment at the following branches: Pukekohe, Waiuku, Te Kauwhata and Otahuhu
​
You can also call Otahuhu Physiotherapy on 09 276 0448 to make an appointment at our Otahuhu clinic
​
Please call 09 255 0600 to book an appointment at our Mangere clinic
Website
https://www.stepuppodiatry.com/
Step Up Podiatry offers their services for a wide range of foot conditions where they can treat everything from ingrown toenails and verrucae to simple concerns like trimming thick toenails and repairing broken heels. 
Aside from that, they can also advise sports patients on the best shoes for their feet and help with injury healing and long-term treatment strategies. 
Podiatrists are also crucial in the treatment of diabetic patients and the reduction of amputation rates. That is why we are impressed that they have free diabetic foot clinics
If you plan in availing Step Up Podiatry's services, it is worth the money for their director and lead podiatrist Carmen earned a BHSc degree, a pod graduated from AUT University and is licensed by the New Zealand Podiatry Board and ACC in addition to her being a  licensed aesthetician.
Highlights
Offers various services on podiatry

Has free diabetes foot clinics

Has trained specialists

Services different areas

Good services
And with that, we conclude our list of the best podiatrists in Auckland. Get your feet treated and entrust them to these podiatrists, as they deliver quality service and care.
Do you have any questions about the podiatrists we mentioned? Feel free to send us a message if so and we will get back to you very soon.
Oh, and if you want further help with foot injuries and the like, we've also written about the best Auckland physiotherapists. They're more focused on treating sports injuries, but they can work together with a podiatrist to treat a foot injury.