The 6 Best Podiatrists in Wellington
Depending on our footwear, our feet can sometimes develop calluses, ingrown nails, or bunions — and treating those can be a pain. That's why we put together the best podiatrists in Wellington to help you with them and all your other foot complaints.
They are your foot health experts and you should go to them whenever your walking or active lifestyle is hindered. For instance, they can tend to your injured knee or sprained ankle.
Anyway, let's not dilly-dally over it so that you can get your problem seen to as soon as possible! Here's our list of the best podiatrists in Wellington.
1)  The Podiatry Clinic
| | |
| --- | --- |
| Best for | Treating Feet Affected by Diabetes |
| Services | Diabetes Foot Ailments and other Foot Conditions |
| Address | Level 2, Symes de Silva House, 97-99 Courtenay Place, Wellington 6011, New Zealand |
| Contact no | 04 384 6821 |
| Website | www.podiatryclinic.co.nz/ |
Kathy Hitchcox  has been practising in the TeAro region of downtown Wellington at The Podiatry Clinic for over 40 years. Though she is a qualified podiatric surgeon with many years of practising surgical correction of toe deformities, she now concentrates solely on the surgical correction of ingrown and deformed toe nails and surgical removal of verrucae.
On the other hand, Tanya Rainey has practised extensively both at home in New Zealand and across the Tasman in Australia. She is experienced in the diagnosis and management of muskuloskeletal deformities and injuries.
All of The Podiatry Clinic staff has extensive experience in treating and managing a variety of foot and leg injuries and conditions. They have worked and studied extensively in New Zealand and abroad.
Highlights
Specialises in foot conditions caused by diabetes
Holds a degree in Podiatry from AUT
Experienced and skilled
Member of respected podiatric organisations
2)  Tim Steward – Johnsonville Podiatry Clinic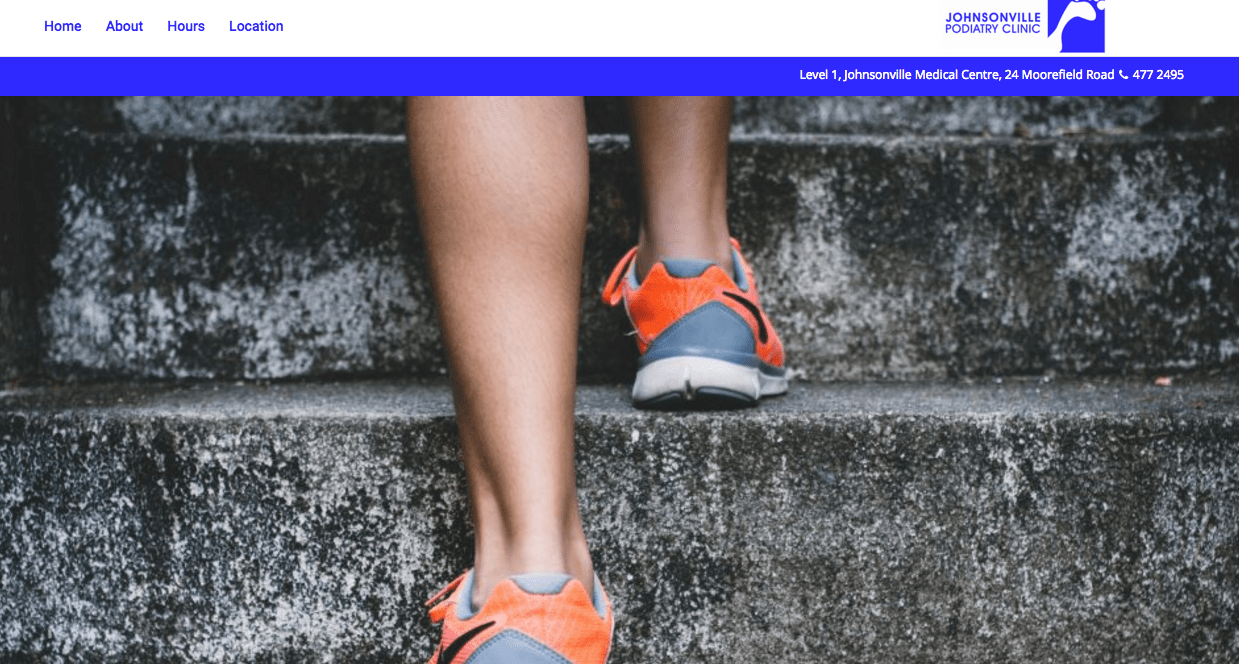 | | |
| --- | --- |
| Best for | Movement Analysis and Foot Correction |
| Services | General Podiatry, Biomechanics or Walk Analysis, Orthotics, Sports Medicine, Children's Foot Problems, Ingrowns, Diabetic Assessments, ACC Injuries |
| Address | Level 1/24 Moorefield Road, Johnsonville, Wellington 6037, New Zealand |
| Contact no | 477 2495 |
| Website | http://jvillepodclinic.co.nz/ |
If you live around Johnsonville, you don't have to go very far to find a great podiatrist. Take a drive to Johnsonville Podiatry Clinic and there you'll meet Tim Stewart.
Tim is a Podiatry degree holder and has more than 18 years of experience in treating patients' feet. He can deal with a wide variety of foot injuries and conditions for both adults and children.
For this, you can say that he's one of the best podiatrists in Wellington. He can do his magic and have you walking again in no time — or even running and doing intense workouts after a while.
Highlights
Can treat a wide range of foot problems
Over 18 years of clinical experience
Professional and friendly
Customer Reviews
David Johnson mentioned on Google Business:
"Tim is fantastic. He solved my serious flat feet issues. I had to quit football at age 11, but can play football again at age 50+."
3)  Katie Vodanovich – Resonance City Podiatry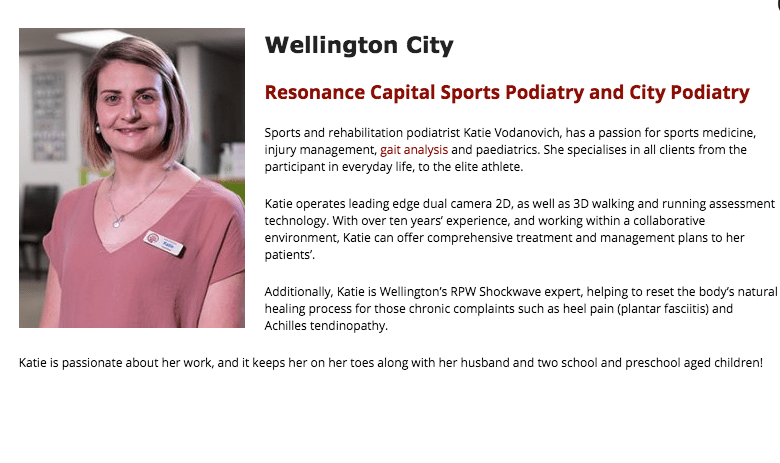 | | |
| --- | --- |
| Best for | Treatment of Sports Injuries |
| Services | Sports Medicine, Injury Management, Gait Analysis, and Paediatrics, Heel and Achilles Tendon Pain |
| Address | 5/187 Featherston Street, Wellington 6011, New Zealand |
| Contact no | 04 499 8103 |
| Website | https://respod.co.nz/ |
Recovery for sports injury takes work, but you don't need to be sidelined for too long. Katie can formulate the right treatment plan for you so you can get back on the court or pool and are fit to do so.
She has over a decade of experience and uses state-of-the-art equipment like 2D and 3D cameras to help her in the assessment — it's a good way to know if there's progress in your rehab.
No matter if you're a casual gym goer, footballer, or a high-ranked athlete, she can tend to your podiatrics and get you back in top form fast. You'll be ready to come back pain-free for the next season!
Highlights
Sports medicine specialist
Utilises high tech equipment
10 years plus of experience
Can cater to kids, adults, and athletes alike
Customer Reviews
Wendy Russell scored Katie and her team 5 stars and said from Google Business:
"Katie and the team are amazing!!! They are so knowledgeable about what they do and have great resources and technology to help them. They helped me recognise a problem with my left hip that was affecting my posture and how I walked. They are very friendly and passionate about helping people function well and get the best out of life!"
4)  Paul Craig – Paul Craig Podiatrist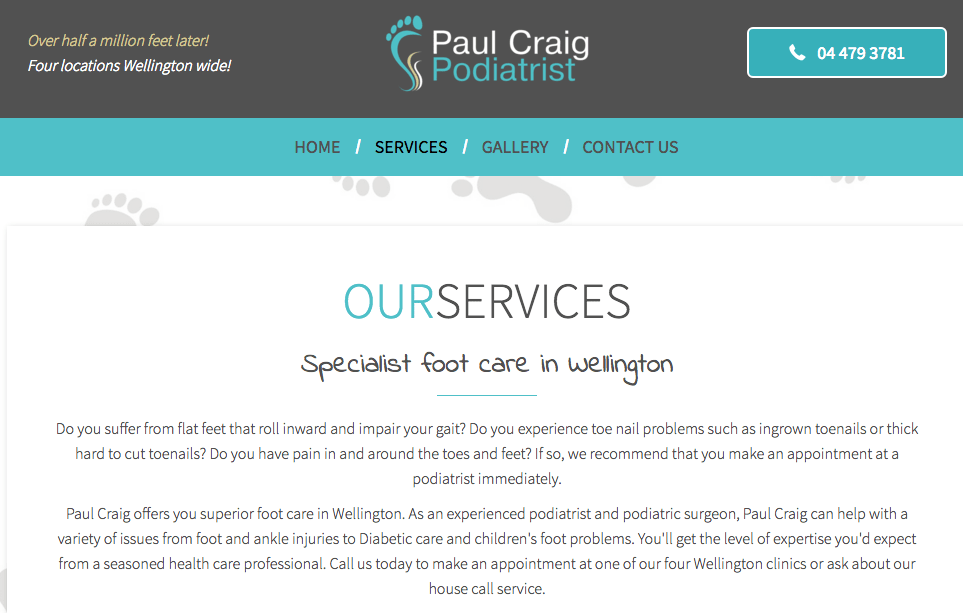 | | |
| --- | --- |
| Best for | Foot Treatment Surgery |
| Services | Orthotics, Injury and Pain Management, Footwear Advice, and Preventive Feet Treatment and Care |
| Address | 10 Ganges Road, Khandallah, Wellington 6035, New Zealand |
| Contact no | 04 479 3781 |
| Website | https://www.paulcraigpodiatrist.co.nz |
Got an unsightly dead toe or ingrown toenail? Look for Paul Craig in his clinic at Paul Craig Podiatrist, which serves 4 areas in Wellington!
He has 40 years of experience as a podiatrist and podiatry surgeon treating a diverse range of foot problems and injuries. Since it might prove difficult to come to the clinic with an injured foot, he can also make a house visit for you.
He is one of the best podiatrists in Wellington and can remove the root cause of what's been giving you a hard time. So call now and book with Paul Craig!
Highlights
Seasoned podiatrist with over 40 years of service
Specialises in foot treatment surgery
Also offers house visits
Treats a wide variety of foot ailments and problems
Customer Reviews
Let's see the Google review from Suzanne Pryde:
"Paul is the best podiatrist I have ever been to. He is very thorough and skilled at his job. My feet have never felt better! He has fixed every issue I have suffered from easily and quickly. He has also helped my son by fitting him with the correct orthotics, enabling him to continue his running. I highly recommend Paul."
5)  John Sloan – Wellington Sports Med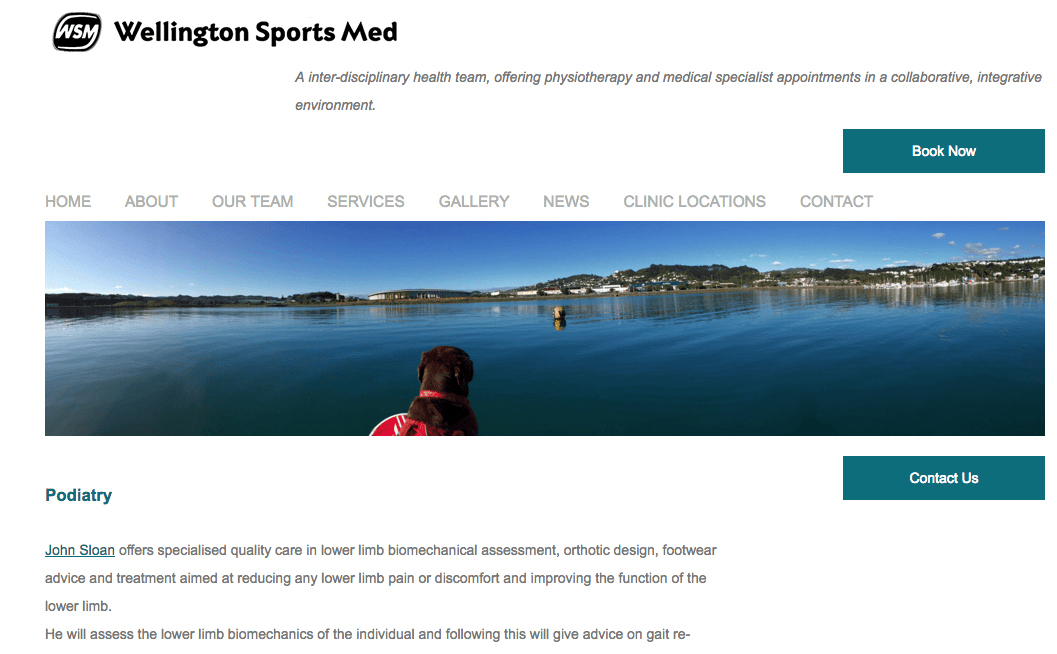 | | |
| --- | --- |
| Best for | Lower Limb Treatment and Orthotics |
| Services | Lower Limb Biomechanics, Orthotics, Footwear Advice and Treatment, and Injury Prevention |
| Address | North End of Mezzanine Floor, ASB Sports Centre, 72 Kemp Street, Kilbirnie, Wellington 6022, New Zealand |
| Contact no | 04 909 7609 |
| Website | https://www.wellingtonsportsmed.co.nz/ |
John Sloan specialises in lower limb and feet injuries. He can assess, advise, and treat you through fitting your feet with orthotics and giving specific exercises.
Orthotics can help you keep your feet correctly aligned as well as avoid future injuries. John is an expert in them and can provide you with the ideal orthotics for your needs.
It can be said from here that John is another of the best podiatrists in Wellington. He is also known among clients for his efficacy.
Highlights
Specialises in lower limb injuries and orthotics
Can prescribe exercises to strengthen the injured area
Highly skilled and experienced
6) Featherston Street Pain Clinic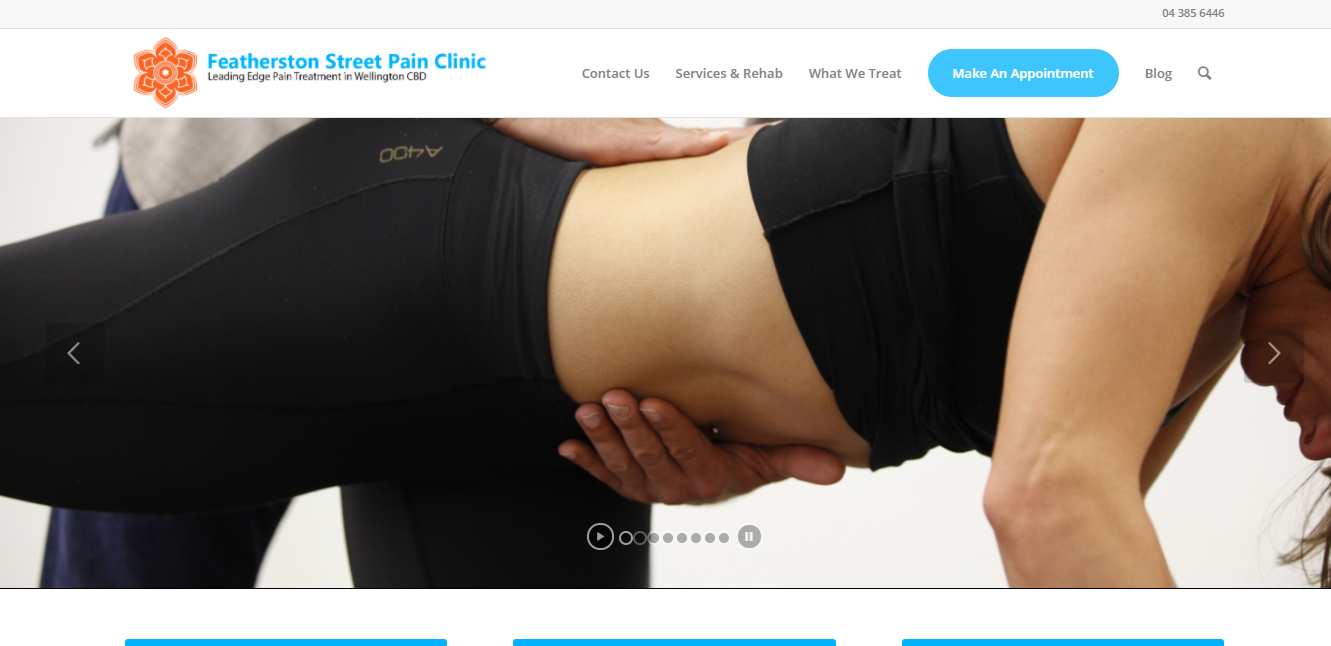 BEST FOR
Body pain relief
WEBSITE
http://featherstonpainclinic.co.nz/
ADDRESS
Featherston Street Pain Clinic
23 Waring Taylor St, Wellington, 6011 (Level 3)
CONTACT DETAILS
04 3856446/[email protected]
OPERATING HOURS
Mon: 8.30 – 3.00, Tues: 7.15 – 4.00, Wed: 7.30 – 6.00, Thurs: 7.15 – 4.00, Fri: 7.30 – 6.00, Sat: 9.00 – 12.00
Featherston Street Pain Clinic is a small team of allied health professionals with 30 years clinical experience. They are confident in offering legitimately transformative healthcare, in a warm, welcoming & professional environment.
They have evidence-based rehab exercises, modern technology like Gaitscan and Focused Shockwave Therapy, and more traditional methods like acupuncture. They also specialise in finding lasting pain solutions for people with headaches, migraines, neck pain, shoulder pain, back pain, sciatic pain, hip pain, IT band pain, knee pain, ankle pain, plantar fasciitis and foot pain.
Their treatment programs are more often than not an exploration of what your body requires in order to heal. Successfully managing stubborn pain is a job for the highly-capable team at Featherston Street Pain Clinic.
Highlights
Online appointment scheduling
Consultation and initial treatment
Affordable follow-up treatments
Customer Reviews
"Absolutely recommend! For the past three years they have kept my arthritic hip relatively pain free and very mobile!"

"I went to the team initially with headaches, through rehab headaches have gone. Any aches in my back have been resolved with different techniques. I'm able to get back to my sport activities, gym and general walks. Highly recommend!"
And that's all for the best podiatrists in Wellington. You can take better care of your feet with these qualified and professional podiatrists!
Are there any questions you would like to ask us? If so, we'd be happy to hear, so send us a message and we will get right back to you.
If you need help with leg and joint issues too, by the way, you may also want to consult chiropractors. In this case, feel free to read about the best chiropractors in Wellington.