The 8 Best Pool Cleaning Auckland Contractors
When your pool is teeming with dirt and debris, it becomes less enjoyable to swim in, as you're aware that it can affect your health negatively. Fortunately, we have you covered with a list of the best pool cleaning Auckland contractors.
We carefully selected the ones who have highly skilled valets and the latest equipment to clean your pool. Apart from this, we also considered those with terrific customer feedback.
So without further ado, here are the best pool cleaning Auckland contractors that will make your pool mesmerisingly blue and neat, ready for everyone to enjoy a great swim!
1) 
GTM Pools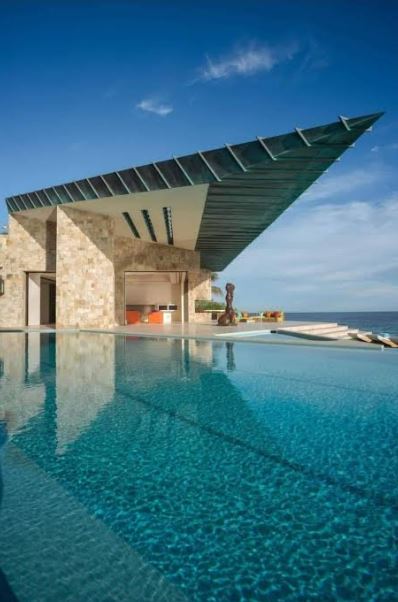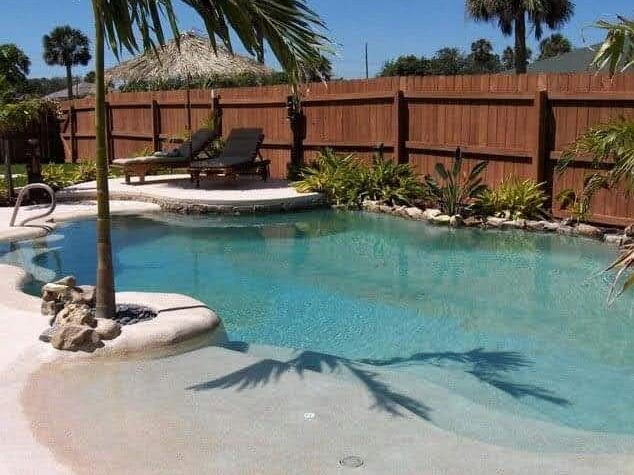 Best for
Swimming Pool Service and Maintenance
Services
Chemical balancing of pools/spas

Regular maintenance

Repairing / Replacing / Upgrading all equipment

Address
Auckland, New Zealand
Contact no
[email protected] |021 547 520
Website
https://www.gtmpools.co.nz/
GTM Pools is an Auckland based swimming pool/spa service and maintenance contracting company.
What we think is incredible about them is their ability to handle small scale jobs to complex large concrete pools.
They can even deal with all maintenance and equipment services.
We like how all members of their team fully-qualified professionals specialising in the pool and spa industry.
Another reason why we think they're worth recommending is their impeccable professionalism, precision and punctuality. Very easily to deal with!
So if you'd like top quality work for a wide range of services like chemical balancing of pools/spas, regular maintenance, or repairing/replacing/upgrading all equipment, we highly recommend them!
Highlights
Wide range of services
Specialises in pool services
Handles small scale and complex jobs
Fully-qualified team of professionals
Customer Reviews
"We've owned a swimming pool for 20+ years. We have just recently completed a new pool build in our "new" home. The pool is a bit complex, with UV and magnesium sanitation, gas and solar heating, and an automated cleaner. Greg commissioned the pool chemistry and then took me through all the technical aspects to monitor and check chemistry in the settling-in period. Greg is, without doubt, the best pool maintenance guy I've had working on my pools. He discusses his work schedule and required chemicals, he queries with you before committing costs, and he is very responsive. A happy and relaxed pool guy, who knows what I want to achieve, and is always communicating. A pleasure to have him on site at any time. Highly recommend."
2) Sparkling Pools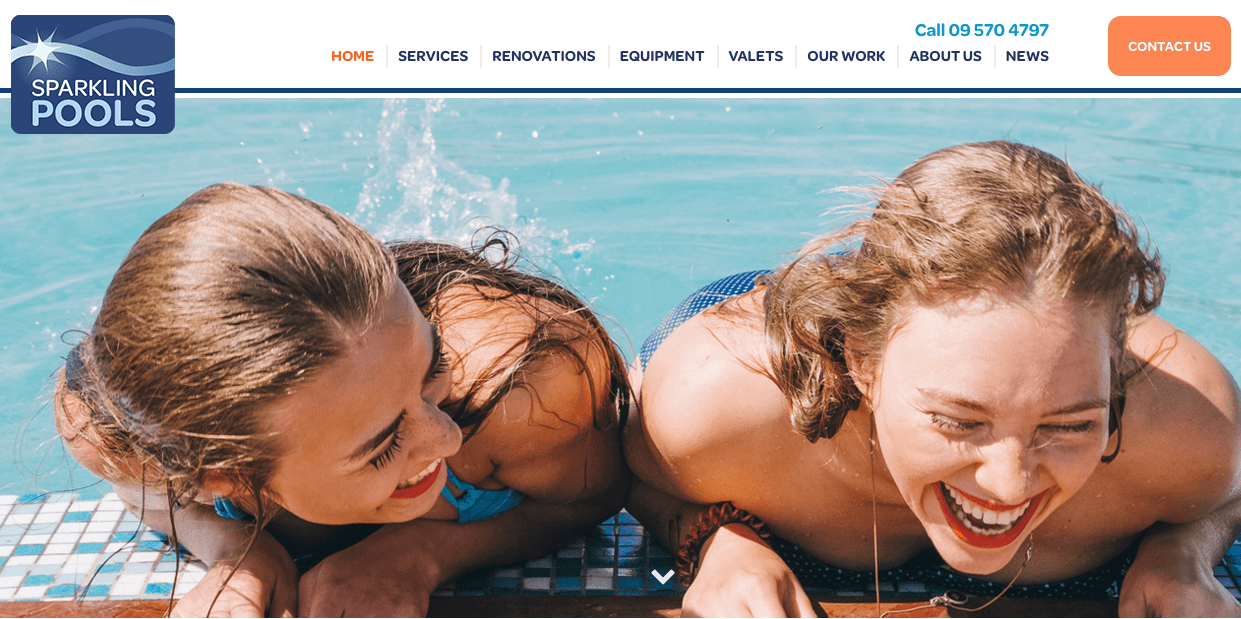 | | |
| --- | --- |
| Best for | Customised Pool Cleaning Options |
| Services | Renovations, Equipment and Valets |
| Address | 646 Great South Road, Ellerslie, Auckland 1051, New Zealand |
| Contact no | (09) 570 4797 |
| Website | https://www.sparklingpools.co.nz/ |
Because every pool is unique, it helps to have the customised cleaning that you require. For this, Sparkling Pools offers flexible pool cleaning options that suit your needs and budget.
They mainly offer standard and contractual packages with a set price and services. Prices start from $30 to about $300+, but they are lower for more frequent pool cleaning.
The valet team uses state-of-the-art equipment to vacuum your pool, remove debris, clean the floor or tiles, and maintain chlorine levels for a sparklingly clear and hygienic pool!
Highlights
Results in a sparkling and neat pool
Offers customised packages
Highly trained valet servicemen
Uses state-of-the-art pool equipment
Price range from $30-$300+
Customer Reviews
Ron and Barbara Birkenhead spoke highly of the team as can be read on Sparkling Pools' website:
"Grant and his team provide an excellent service, regular valet visits and other maintenance when required, which due to their excellent care of the pool hasn't been too often. And when the odd thing does go wrong, they are very quick to respond…"
3) Auckland Pool Services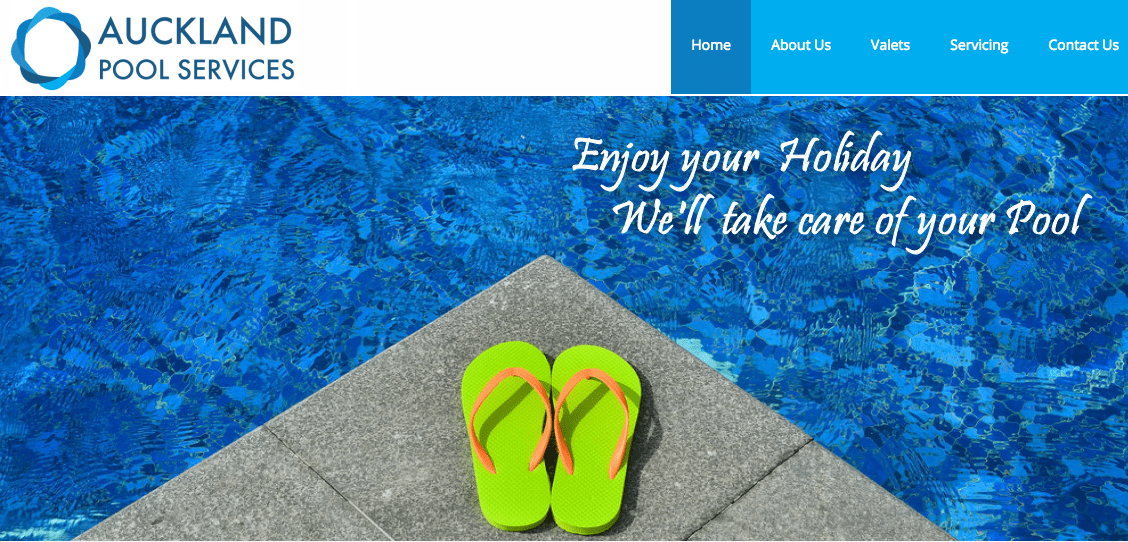 | | |
| --- | --- |
| Best for | Shining Blue Pool Quality |
| Services | Water Balancing, Chemical Adding, Surface Skimming, Tile Brushing, Leaf Strainer Emptying, Pool Vacuuming, Backwashing and Inspection and Report |
| Address | Auckland, New Zealand |
| Contact no | 09 475 9695 or 021 0422 677 |
| Website | http://www.aucklandpoolservices.co.nz/ |
Auckland Pool Services specialises in pool and spa cleaning and repairs Auckland-wide. It is locally owned and operated by James Cross — racking up over 23 years of experience in the pool industry.
Their valet service differs in a range of options and price. Services include skimming the surface for the debris, backwashing, chemical adding, vacuuming, and others.
With their comprehensive service, they've earned a reputation for turning the dirtiest, swampiest pools into shining blue pools.
Also, they can dive underwater to repair your swimming pool without having to drain it. Furthermore, they can install heat pumps and do painting on your pool as well!
Highlights
Amazing pool cleaning
Affordably priced options
23 years' professional experience
Can also paint and install heat pumps for your pool
Customer Reviews
Paria Ataie remarked from Google Business:
"Our pool went from swampy to swimmable in only a week! Completely amazed with the results. Thanks James for the excellent job!"
4) Crystal Clear Pool Spa & Electrical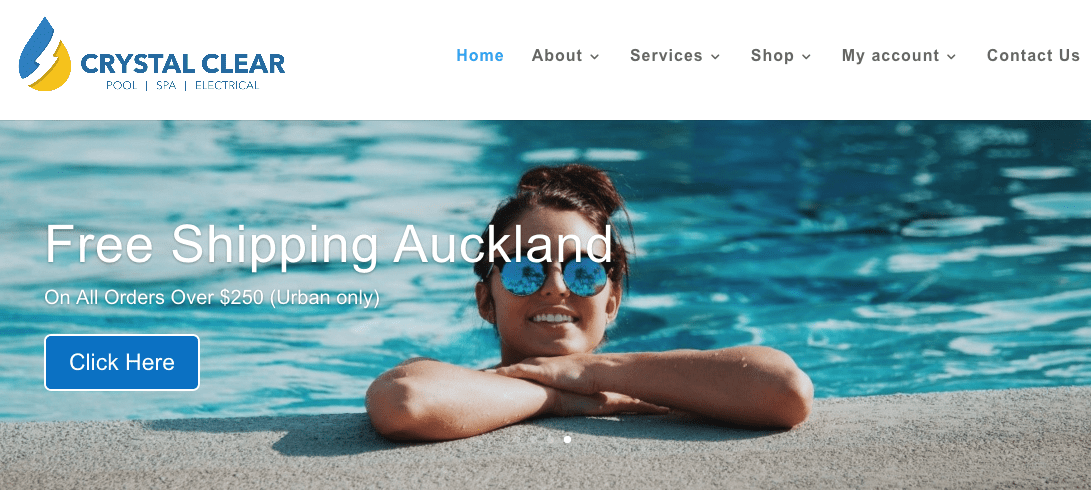 | | |
| --- | --- |
| Best for | Flexible Schedule for Servicing Your Pools and Spas |
| Services | Spa Valet Service, WOF, Filters, Heaters, Spa and Pool Lights and Pump Repairs |
| Address | Level 4, 17 Albert Street, Auckland CBD 1010, New Zealand |
| Contact no | 09 391 0002 |
| Website | https://www.crystalclearpools.co.nz/ |
Need an urgent pool or spa cleaning on after hours? Phone Crystal Clear Pool Spa & Electrical! They will get your business open soon, with people splashing about in a clean, beautiful pool.
Their valets can look into any sort of problem present in your pool, be they broken filters, lights, or heaters. They use only leading products to keep your pool clean and attractive.
With dependable and excellent service, they are indeed one of the best pool cleaning Auckland Contractors.
Highlights
Excellent pool cleaning service
Uses only branded products
Dependable and friendly staff
Available on-call for after hours or holidays
Customer Reviews
Mandy Thomas mentioned on Google Business:
"Excellent service and completely professional. The extra attention to making sure things are clean and tidy when they are done is really appreciated. They arrive when they say they are going to arrive and do the work very professionally with a great eye for detail – to make sure it's done as perfectly as possible."
5) Pool Panthers

| | |
| --- | --- |
| Best for | Personable, Reliable and Efficient Team |
| Services | Water Testing, Pool Cleaning, Pump Repairing, Leak Repairing, Parts Replacement, New Equipment Sale and New Spa Pool |
| Address | 7/327 Great South Road, Takanini, Auckland, New Zealand 2113 |
| Contact no | 0800 726 8437 |
| Website | www.poolpanthers.co.nz |
Maintaining your pool's clearness and hygiene couldn't be easier. That's because Pool Panthers offers panther-quality pool cleaning and servicing Auckland-wide.
Basically, they conduct water and chemical tests on your pool to check its condition. Then, they will check the parts, filters, and pumps, to see if they are working correctly.
As for cleaning, the valet technicians will scoop up the debris or leaves in the water, as well as empty out the skimmer baskets. Chemicals will be applied to keep your pool water sanitised.
Service is top-notch and efficient at an affordable price. Soon, your pool will be ready for swimming again!
Highlights
Get an amazing and crystal-clear pool
Personable and committed valet servicemen
Conducts water and chemical checks
Affordable prices
Customer Reviews
On Google Business, Robyn Tuanau wrote that Pool Panthers is one of the best pool cleaning Auckland contractors:
"Lovely staff every single person I have dealt with has been Awesome.! Always happy and willing to assist. And for a new pool owner they have had lots of patience with me and my questions 🙂
Highly Reccommend."
6) Swimart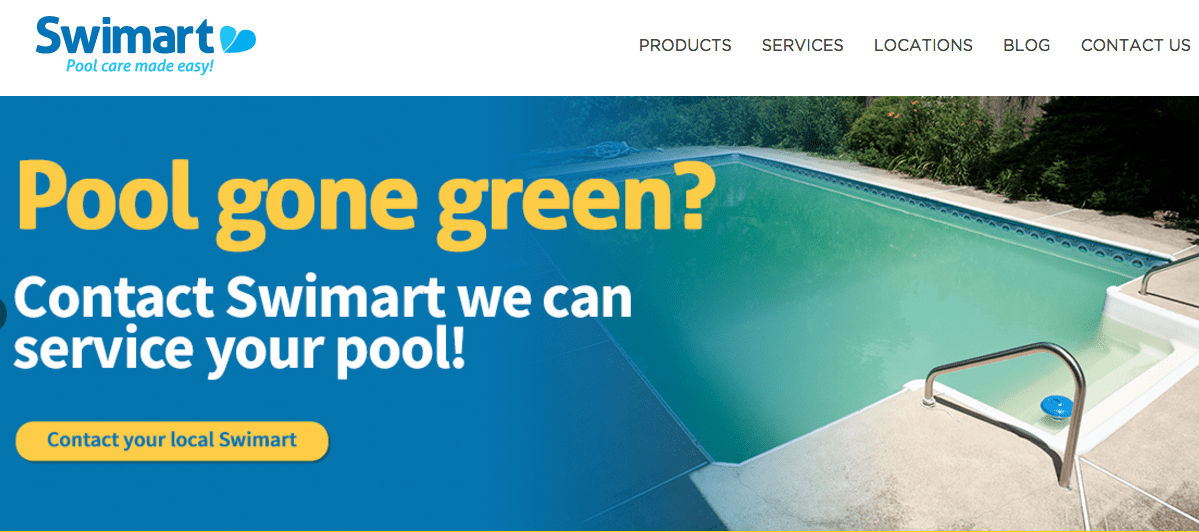 | | |
| --- | --- |
| Best for | Convenient and Helpful Service |
| Services | Pool/Spa General Repairs, Filtration, Equipment, Water Checks, Instruction and Cleaning |
| Address | 1 Tony Street, Henderson, Auckland 0610, New Zealand |
| Contact no | (09) 836 1121 |
| Website | https://swimart.co.nz/ |
Swimart is another of the best pool cleaning Auckland contractors. For over 30 years, they have served customers in more than 70 branches across New Zealand and Australia.
They are the trusted experts when it comes to pool and spa care and maintenance. From free water checks to pool cleaning, they can guide you every step of the way and solve your pool issues.
Depending on your pool condition, they will tailor their service to get your water pleasantly blue, flowing, and glistening in the sun.
Highlights
Makes for exceptional pool quality
Helpful and dedicated staff
Offers a wide range of services
Operates over 70 branches across Australia and NZ
Customer Reviews
Edwina Apiata was elated with the service provided by Swimart. She wrote from Google:
"Excellent Service always helpful thankyou for teaching me how to do our pool if it wasn't for the team at Swimmart I wouldn't have a clue I'm so happy I know how to do the chemicals and keeping it clean Thankyou so much."
7) Oasis Pools Pool & Spa Specialists

Best for
One-stop-shop from construction to chemicals
Services
Construction
Renovation
Repairs and Maintenance
Valet Services
Pool & Spa Accessories
Retail and Online store
Address
2 Astley Avenue, New Lynn, Auckland New Zealand
Contact no
09 826 0112

Website
https://www.poolwerx.co.nz/locations/poolwerx-west-auckland/
Oasis Pools is a one-stop shop for pool and spa renovation and construction. They have more than forty years of experience in the industry, which has helped them become pool and spa specialists.
They can accommodate a wide range of pool needs, from construction and renovation, as well as maintenance and supplies. You can count on them to offer only the best every time you're in need of their services.
Highlights
Over 40 years of experience
Free consultation available
One-stop-shop for pools and spas
8) Poolside North Shore

Best for
Pool Maintenance
Services
Sand Changes
Pump repairs
Pump and filter replacements
Heat pump installation
Solar heating repair and installations
Valet
Leak detection and repair
Liner repair
Spa pool repair
Pool WOF for new home buyers
Address
1 Cowley Place
Albany, 0632,
Auckland
Contact no
PHONE NUMBER
0800 800 744E-MAIL
[email protected]
Website
https://poolsidenorthshore.co.nz/
When it comes to pool problems, Poolside North Shore is a company you can rely on. They offer a wide range of services– from pool installation to maintenance.
Their professional team of experts is prompt and efficient when it comes to their work. With their years of expertise, there's no doubt that you can count on them to get the job done.
Highlights
More than 12 years of experience
Supported by leading pool product brands
Anyway, that completes the list for the best pool cleaning Auckland contractors. If there's been a leak or murky appearance on the pool, just ring these dependable and efficient valets!
Do you have any questions about this topic? Feel free to send your questions, and we will get back to you in a jiffy!
Unless you're planning to renovate the pool area, your builders might need concrete suppliers. For this, you can try the best concrete suppliers in Auckland!