During summer, the weather can get hot to the point of being distracting. Hence, we'll be featuring the best portable air conditioners in New Zealand here to help you find new ways to chill out.
Air conditioners are a huge help in keeping your home cool and comfortable. But what if you don't want a stationary one and don't want to put up with all the troublesome installation steps either?
Portable air conditioners are the solution to that. They're a smaller, more convenient version of the big ones that also cool, filter, and dehumidify your room.
We've scoured the market for the best models and come up with a list of 7 we'd recommend. Take a look at them below!
1.  Delonghi Pinguino Silent Air-to-Air (PACCN86)
Best in Quietness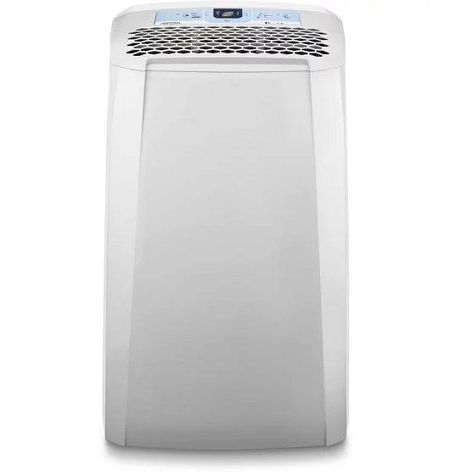 Price: NZ$849
Maximum Cooling Capacity: 9800BTU/hr | Noise Level: 47dB(A) | Dehumidifier: Yes | Ideal for rooms: up to 19.3 sq. m | Dimensions: 39.5 x 44.9 x 75cm
If you need a reliable air conditioner to use during the night for comfortable sleep, look no further than Delonghi Pinguino. It has honeycomb air vents that provide less noise and increased airflow.
It has a max cooling power of 9800BTU/hr that removes the warm air from rooms of up to 19.3 sq. m. And at only 47dB, it won't cause a stir while you're doing something.
You can even use its dehumidifier function as a standalone feature so the air around your room will be freshened with circulation. It gathers 63 pints of moisture at the most without a need to empty water tanks or trays.
Furthermore, recessed handles and castors make it easy to transfer from room to room. And you have a tidy ergonomic panel and LCD screen that indicates the temperature and other info.
A 12-hour timer and thermostat is also incorporated, useful for saving energy. Along with this, you can set and customise the settings via remote control.
Highlights
Honeycomb air vents for dispersed cooling
Ideal for rooms of up to 19.3 square metres
Functions as a separate dehumidifier
Sleek display and panel
Built-in 12-hour timer and thermostat
2. Whynter (ARC-14S)
Best Dehumidifying Portable AC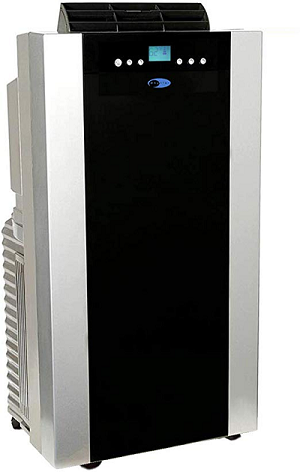 Price: NZ$613
 Maximum Cooling Capacity: 14000BTU/hr | Noise Level: Less than 56dB(A) | Dehumidifier: Yes | Ideal for rooms: up to 46.5 sq. m | Dimensions: 40.64 x 48.26 x 90.17cm
The Whynter ARC-14S gets its appeal from its sustainable qualities — it's free from CFC and lead materials. It uses Puron or R-410a refrigerant that is totally harmless to the ozone layer too.
Then comes the serious cooling capacity of 14,000BTU/hr coupled with a dual hose. This results in a far more efficient and quicker cooling for medium-sized rooms like kitchen or dining rooms.
What's more, it's also fairly quiet, registering a sound range of less than 56dB. It adjusts to your needs, as it can be an air conditioner, a fan, and dehumidifier too, complete with a carbon air filter to capture dust, dirt, and pollen.
You have a sleek and bold design with this one, which also has castors for easy transport. And it features a 24-hour timer and a thermostat, plus it's UL-listed, meaning it passed safety tests.
To top it off, it dehumidifies 101 pints in a single day. That's the highest dehumidifying capacity on this list! 
Highlights
Environmentally friendly
Powerful cooling with 14,000BTU/hr
Quiet operation at less than 56dB
Extracts 101 pints/day
Dual hose
Works as an air conditioning, fan and dehumidifier
24-hour timer and thermostat
UL-listed
Customer Reviews
While 56dB is relatively quiet for a portable air conditioner of its size and power, it's worth noting that some users thought that was still on the noisy side. There were even a few who said they couldn't sleep with it on, proving that this is one factor that's subjective.
One owner also complained that it's not possible to reach the condenser fin (for cleaning) without taking its parts apart.
That having been said, there was a lot of praise for it too. Not requiring to drain the unit, coolness  and being energy efficient is a plus, while Bluejay1964 writes:
"I bought this unit four ago for helping to cool my 20 x 14 foot sunroom. While this unit was never intended to cool a space that big, I knew if I could keep the sun out of the room the unit would do a good job. I installed awnings on the east and south sides that roll down as far as needed to keep the sunroom in shade. I am sitting out here in the sunroom now while the outside temperature is 96 degrees and The Whynter 14,000 BTU unit is keeping the room at a constant 75 degree temperature. The dehumidifying option is all that is needed some days and works tremendously. Four years into ownership and it's still going stong."
3. Honeywell MO series (MO08CESWK)
Best to Cool Small-Medium Rooms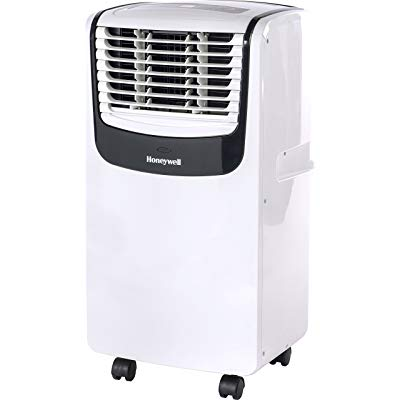 Price: NZ$749
Maximum Cooling Capacity: 8000BTU/hr | Noise Level: 48-53dB(A) | Dehumidifier: Yes | Ideal for rooms: 23.2-32.5 sq. m | Dimensions:  34.29 x 37.08 x  72.90 cm
Honeywell is a trusted brand in portable air conditioning and fans. In this case, the Honeywell MO08CESWK portable AC delivers cool air to cover smaller spaces (up to 350 square feet, or 32.5 square metres).
Versatility is its middle name, as it can work as an air conditioner, dehumidifier, and fan. Its dehumidifier draws in 44 pints in one whole day, and you can drain it by the hose, so there's no need to empty it frequently.
Setting it up is not an aggravation with its flexible hose and window kits. Castors and a compact shape makes it mobile and very easy to move around your place.
Plus, you have air filters that not only keep you cool in the summertime but also filter dust and allergen particles for clean, purified air.
As one of the best portable air conditioners in New Zealand, this is our pick for smaller rooms. It's also pretty reasonably priced for its power.
Highlights
Comfortable small area cooling
3 in 1 function (Air conditioner, fan, and dehumidifier)
Air filters
Relatively easy to set up thanks to its flexible hose
Simple and compact design
Blue or white colours
Customer Reviews
Many owners noted that it's great for small spaces and is easy to use. Let's see how J.J. describes the Honeywell MO08CESWK: 
"We've had a couple unseasonably warm days here and decided we needed an AC sooner than later. We ordered this Honeywell unit because it's a great price for the square footage it covers (up to 350 square feet). 
And it seems great so far for our living/dining room, it's more streamlined than other units we've seen so it doesn't take up much space. We tested all the settings, even though it's still cold here, and it got noticeably cooler pretty quickly in our living room. 
Set up couldn't have been easier, even with a nosy dog poking around. The box came with clear instructions for unboxing. All of the necessary set up accessories were included—including batteries for the remote and the right size window venting piece for the sliding style windows we have. The pieces fit easily together. It took only about 10 minutes to fully install. 
This is an AC unit so there is going be some noise when it's running but nothing I'd consider intrusive. It's much quieter than your standard old fashioned window unit. The fan and dehumidifier functions do appear to be quieter."
4. Honeywell MN series (MN10CESWW)
Most Convenient to Install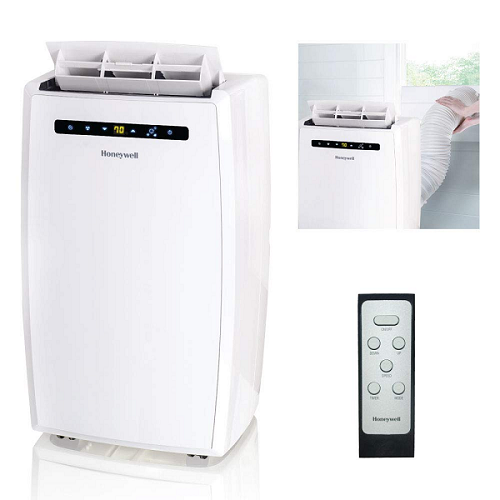 Price: NZ$649
 Maximum Cooling Capacity: 10000BTU/hr | Noise Level: 53dB(A) | Dehumidifier: Yes | Ideal for rooms: up to 32.5 sq. m | Dimensions:  38.61 x 45.97 x 74.42cm
Next up on our list of the best portable air conditioners in New Zealand is another Honeywell — Honeywell's MN10CESWW. It has an airflow rate of 174 cfm to chill and dehumidify your bedroom for 70 pints every 24 hours.
There is no need to drain the condensed moisture either, owing to its auto-evaporation. It also uses a single and flexible hose and window kit, which makes it easy to install.
If the weather is mild and not too hot, you can just turn on the fan. We like the yellow LED indicator that sits in between the feather-touch buttons.
It can be controlled remotely for convenience. And you don't have to lift and carry it thanks to the castors.
Highlights
Fast cooling of bedrooms, pantry, RV, and others
174cfm airflow rate
Simple to install and uninstall
Extracts 70 pints of moisture per day
LED display and buttons
Ground-smooth castors
Customer Reviews
This is a popular model coming from an even more popular brand. Fast responses from the customer support is noted by users, including Robert Siverling, whos review is as follows:
"…This AC unit works great…..has been now for about 100 hours. Set up is straight-forward and simple for anyone with low to moderate mechanical skills. For all products, I always desire less high-tech features, but I realize that most people like bells and whistles and the need to have controls that are more complex than the dashboard of a Boeing 747. I wish the warranty would last longer, but I think the one-year is pretty standard for any AC/fan/dehumidifier unit. The Honeywell company seems to always rate high for their products of any kind, and this one is no different, to my knowledge. I called customer help twice for basic questions. The phone was answered in less than a minute, the technician I spoke to was knowledgeable, pleasant and considerate. Thank you."
5. Frigidaire Cool Connect with Wifi control (FGPC1244T1)
Best Overall Performance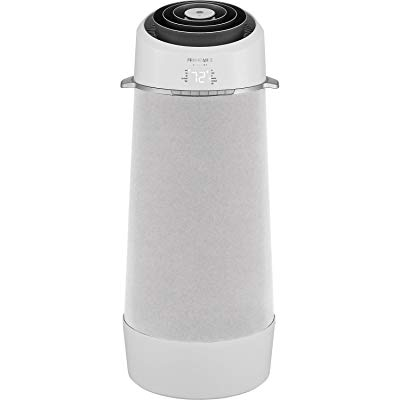 Price: NZ$960
Maximum Cooling Capacity: 12000BTU/hr | Noise Level: 53dB(A) | Dehumidifier: Yes | Ideal for rooms: up to 51.1 sq. m | Dimensions:  32.07 x 32.07 x 93.50 cm
Frigidaire (FGPC1244T1) is a revolutionary portable air conditioner. It's unique thanks to its lighthouse-inspired shape with mesh vents that makes it so the air flows out of it in a consistent spiralling motion.
That speeds up the cooling process. That's why it's so powerful, being capable of taking on a room that's 51 square metres or 550 square feet in size.
You have a single hose that connects to this thing, alongside the window kit placed under the window for quick setup. To add to that, it has anti-theft features for safety for windows.
It's controllable by Wifi through your phone. You can also just use your voice to let Alexa turn it on or change the temperature and timer settings by verbal command.
If you are looking for the best portable air conditioners in New Zealand, this model is a sure contender!
Highlights 
Unique lighthouse-inspired style
Circulates air in consistent spirals across your room
Wi-fi and Alexa voice-controllable
Setup is extremely simple
Customer Reviews 
The Frigidaire FGPC1244T1 averaged 4.1 out of 5 scores from 630 reviews. An issue for some was that the WiFi would occasionally disconnect and the appearance of some leaks.
Other than that, it was well-received for its low energy output, timer and alarm features, Wifi (ironically, given the critique we just noted), and of course, coolness.
StudioGuy explains it in detail:
"…After comparing it with the other air-conditioners I decided on this one because of it's efficiency rating and how it runs at lower energy output which is good for the planet but it also looked so cool. I could see that it would fit into tight places because of its shape, which is the situation in my studio so I went out and bought one. I love how the control panel is transparent and only lights up when you are changing settings or just want to look to see the temperature. The remote control which is also round, of course allows you to control the unit from where ever you are in the room. I also love the alarm feature which warns you about various functions. Toward the end of the summer a red light turned on for the filters warning me that they needed cleaning…"
Then he continues, note the quietness of the unit:
"I cleaned the filters as the manual suggested, put them back, held the reset button (for 3 seconds) the red light turned off and I was back in business. This unit is awesome and by the way, is way quieter than other air-conditioners that I have had. I love this thing. Kudos to Frigidaire."
6. LG Portable Air Conditioner with LCD Remote Control (LP1215GXR)
Best in Design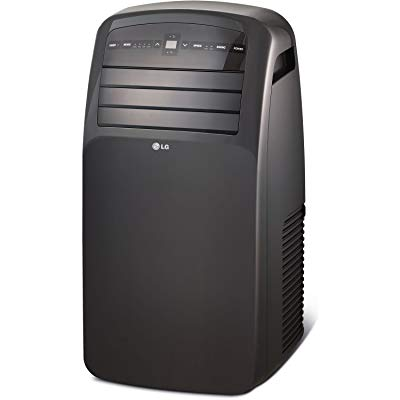 Price: NZ$974
Maximum Cooling Capacity: 7000BTU/hr | Dehumidifier: Yes | Ideal for rooms: up to 27.9 sq. m | Dimensions:  35.05 x 42.93 x  83.06cm
LG usually delivers the goods on user friendliness and performance, and this LG Portable AC LP1215GXR is no exception. You have a strong airflow of 7000 BTU that swings in order to fill your lair with coolness.
It used to be 12000BTU until the 2017 standard test procedures rated it at the current cooling capacity. The dehumidifier adds a bit of warm air so that your home climate is balanced and healthy.
It gathers 1.2 pints per hour or 28.8 pints a day. Not a whopping lot when compared to some others here, but it's enough to take care of you and your furnishings.
Veering from the grey or white colour standards of rivals, LG employs a brushed and pure black design that oozes attitude. It comes with a remote control too.
And the button panel is very easy to figure out. It's light in weight and has integrated handles for easy transport.
Highlights 
Oscillating airflow for 7000BTU
Extracts moisture (up to 28.8 pints/day)
Lightweight
Simple controls
Brushed and black
Customer Reviews 
As with most other models, there were some owners who had issues with this air condition, with some saying that theirs leaked. Here's a review by Stoney 11 to show what some experienced:
"The first unit is bought was replaced within the first month by Home Depot because it constantly leaked. The filled light never came on. The brand new replacement unit did the same thing. I called customer service and they told me I needed to hook up a drain hose. Thanks for nothing LG." 
In spite of that, the good outweighs the bad where most users of this air conditioner are concerned. The online rating for this model even totalled 4 out of 5 stars.
Anthony84 says:
"I bought this air conditioner this past summer, and it was a life saver. Our house stayed cool, and it didn't run up out electricity bill despite running 12-8 pm daily. Would definitely recommend to others." 
7. Black+Decker (BPACT08WT)
Best in Value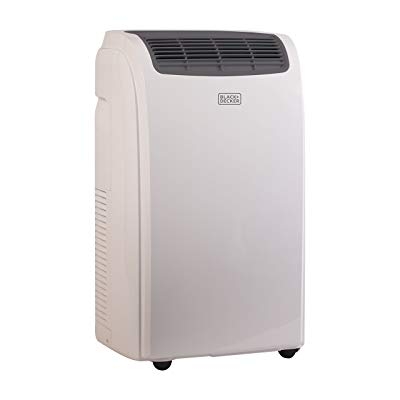 Price: NZ$492
Maximum Cooling Capacity: 8000BTU/hr | Noise Level: 53dB(A) | Dehumidifier: Yes | Ideal for rooms: up to 27.9 sq. m | Dimensions: 29.21 x 41.91 x 66.04cm
Black+Decker is all about the small details and you can see that in the BPACT08WT model. This sleek portable AC has a dehumidifier capability that impresses, along with 8000BTU for an affordable price.
Installing it is so simple that you don't have to call anyone to set it up for you. With 53dB, it works pretty quietly too.
That means you can use it as you sleep through the night. And to save energy, just take the really nice remote and set the timer or thermostat so it doesn't run any longer or harder than it needs to.
You have a slide out filter that's easy-to-wash and forever usable with this unit. For the environment's sake, it uses an environmentally-friendly R410a refrigerant.
Highlights
Sleek matte look
Vertical airflow
Impressive dehumidifier function
Operates quietly
 That's all for our list of the best portable air conditioners in New Zealand. With any one of these, you won't have to suffer the summer heat any longer, no matter what room you're in!
So what do you think of our list in this article? If we missed anything or if you have any questions or opinions, feel free to let us know!
And if you'd rather get a fan than an air conditioner, check out our picks for the best cooling fans in New Zealand.