The 8 Best Pressure Cleaning Wellington Contractors
Keep your house attractive by giving it an occasional wash. Wondering whom to call? We have your back for that, as we've listed here the best pressure cleaning Wellington contractors.
We opted for the ones that provide safe and efficient washing services. Next, we chose those who are easy to communicate with, and punctual, honest and friendly.
You're just one call away from having a spotless home. So, without any further ado, we give you the best pressure cleaning Wellington contractors!
1)  Chemwash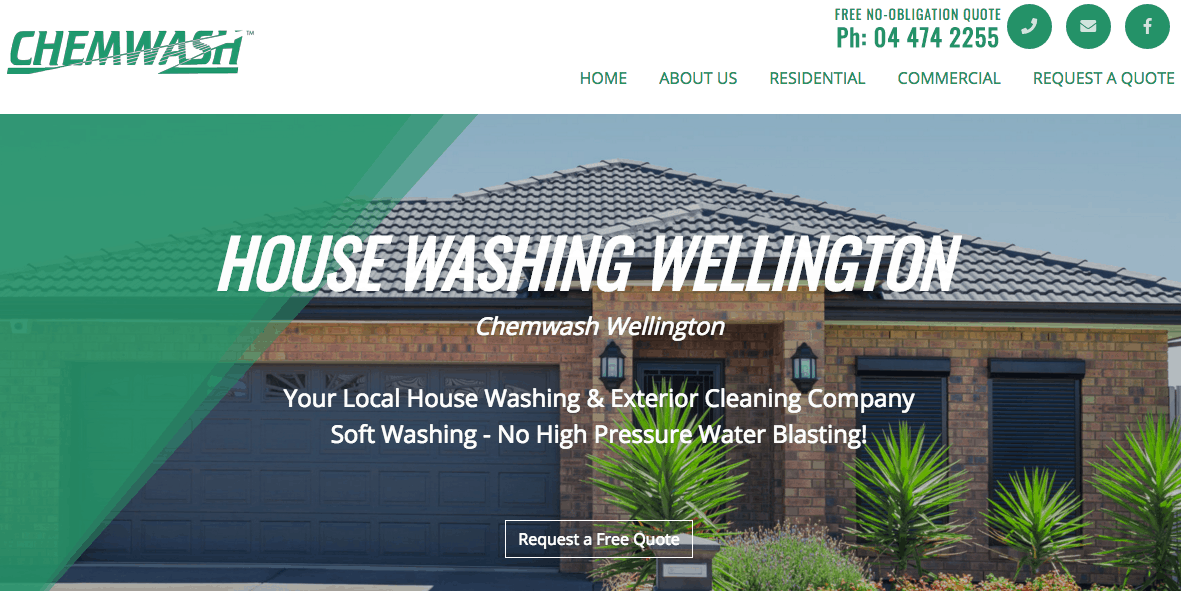 BEST FOR
Safe and Gentle House Washing
SERVICES
Residential

●     House Washing

●     Roof & Gutter Cleaning

●     Deck Cleaning

●     Concrete Cleaning

●     Carpet Cleaning

●     Pest Control

Commercial

●     Sanitisation

●     Exterior Cleaning

●     Commercial Carpet Cleaning

●     Pest Control

WEBSITE
https://wellington.chemwash.co.nz/
ADDRESS
83 Kenepuru Drive, Tawa, Wellington 5028, New Zealand
CONTACT DETAILS
0800 CHEM WASH

04 474 2255

OPERATING HOURS
Monday to Friday: 7am – 6pm
Since 1990, Chemwash has been cleaning homes and workplaces around Wellington. They offer full house washing jobs, which includes pressure cleaning and pest control.
Unlike competitors, they conduct safe and gentle low-pressure cleaning, which prevents damage to your house and its exterior surfaces.
They care about your property as if it were their own. And add to that, the solutions they use are environmentally-friendly to decrease the harmful impact on the planet.
The cleaning will be effective and spotless — something attested to by a great number of their clients. Thus, they are one of the best pressure cleaning Wellington contractors!
Highlights
Effective and spotless cleaning
Care about your property as if it were their own
30 years' experience
Use only environmentally-friendly solutions
Complete range of cleaning services 
Customer Reviews
Christine, one client, writes on the website: 
"Thanks very much for the job you did at my house. I'm really pleased with how the house was cleaned. I have already recommended you to one of my work colleagues and will be recommending you to another colleague who is looking for a house wash."
2)  Mighty Oaks Pressure Washing Solutions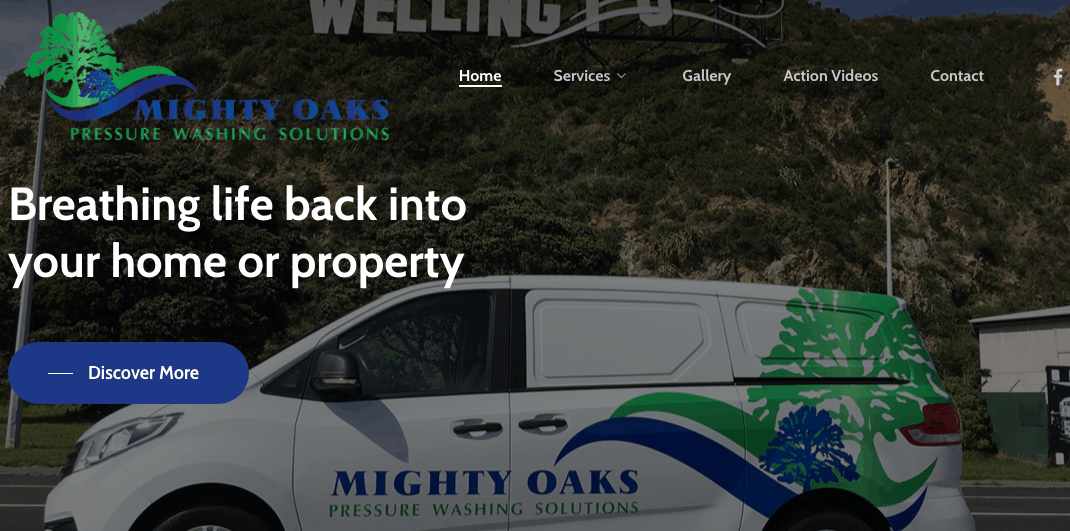 BEST FOR
Fast and Efficient Service
SERVICES
House Washing

Gutter Clearing

Decks, Steps and Paths

Presale Tidyups

Roof Spraying

WEBSITE
https://mightyoaks.co.nz/
ADDRESS
Hutt Valley, New Zealand
CONTACT DETAILS
+64 27 630 4516
OPERATING HOURS
24/7
Mighty Oaks is a small residential and commercial cleaning contractor stationed in Hutt Valley. With high ratings, it's one of the best pressure cleaning Wellington contractors.
Like the previous cleaner, they also utilise a soft washing process that is easy on the paving, paint work, and surfaces. The staff are careful and efficient all the way through.
They can also give the house a thorough clean for the purpose of selling it. They have had some experience working alongside property managers and real estate agents.
And for gutter clearing and roof treatments, they've got it covered too. You will just love the immaculate results for your house.
Highlights
Immaculate results
Fast and efficient service
Specialise in house sale cleanups
Soft washing process
Professional and safe cleaners
Customer Reviews
Here's what Carla Schollum said on the website:
"Highly recommend Hamish. I got him to do a full house wash and he did an outstanding job. Am now hooked and will be ensuring i get my house cleaned by Mighty Oaks each year makes a massive difference. Quality job and very reliable."
3)  Wellington Wash Ltd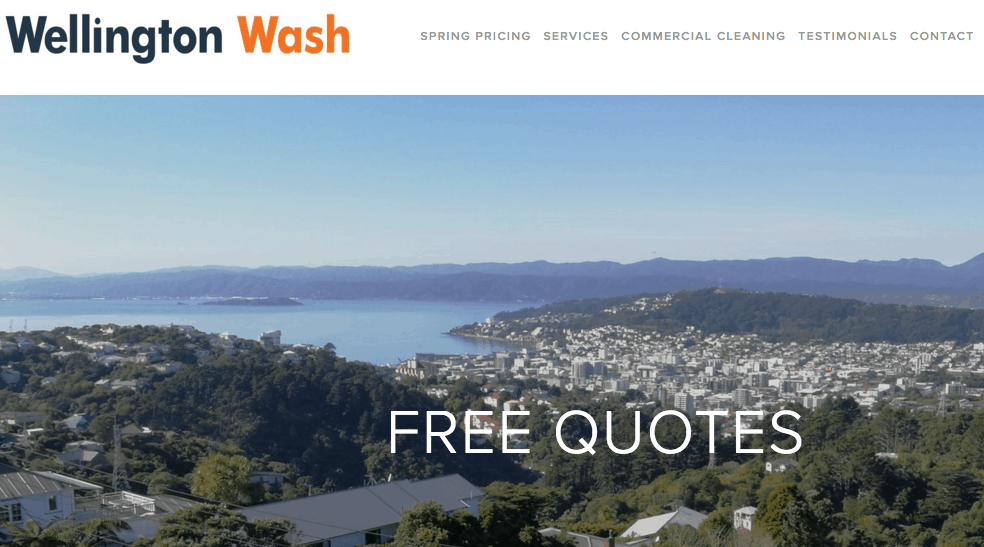 BEST FOR
Mould, Algae and Lichen Removal
SERVICES
Window Cleaning

House Washing

WEBSITE
https://www.wellingtonwash.com/
ADDRESS
Wellington, New Zealand
CONTACT DETAILS
+64 20 4141 0521
OPERATING HOURS
Monday to Friday: 9am – 5pm
Is your dwelling covered in moss, algae or lichen? Are you pressed for time to give your house a full washing? Wellington Wash can do it for you!
Fungal growth not only mars your home image: it also poses a health risk for you and your family. That's why it's best to get the greenish infestation removed quickly.
Their experienced team uses a soft-pressure wash with eco-friendly biocide to kill and remove the moss, algae and lichen. They do the same for your roofing also.
Wellington Wash serves clients in and around Greater Wellington. Now you can get your weekend back all to yourself — let them handle all the cleaning of your house or office.
Highlights
Washes out the mould, moss and lichen
Soft-pressure wash to prevent surface damage
Serves clients in the Greater Wellington Region
Experienced team
Uses an eco-friendly biocide
Customer Reviews
One customer, Virginia, commented on the webpage:
"Excellent service, thank you. A very efficient and polite man did the work with the minimum of fuss and I was totally satisfied with the result. I'll certainly be using you again. Thank you."
4)  JETX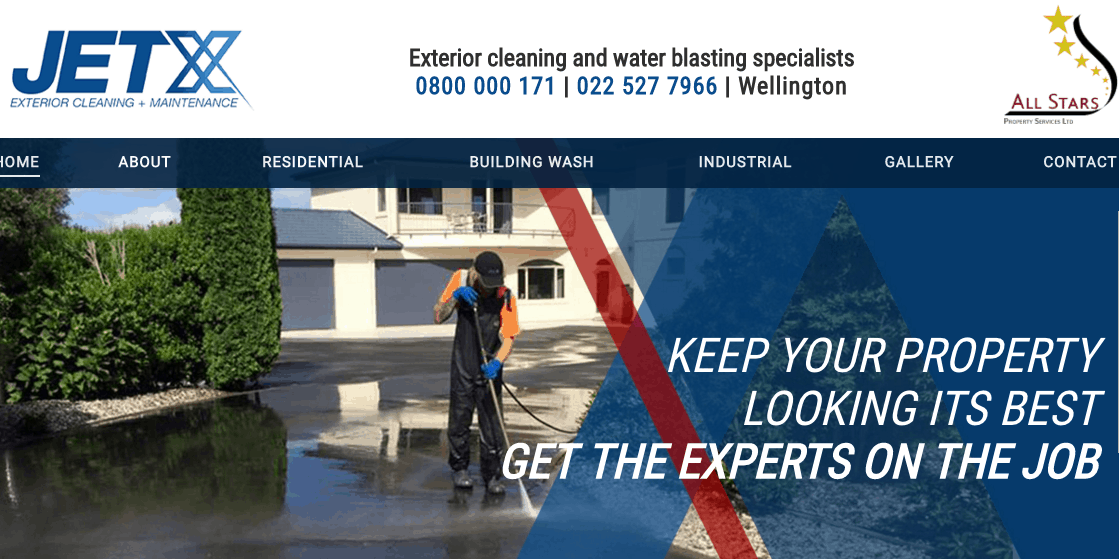 BEST FOR
Safe, Biodegradable Washing Solutions
SERVICES
House Wash

Waterblasting

Gutter Clearing

Building Wash

Restoration

WEBSITE
https://www.cleaningserviceswellington.co.nz/
ADDRESS
Unit 9, 5 Wakefield St, Alicetown, Lower Hutt 5010, Wellington, New Zealand
CONTACT DETAILS
0800 000 171

022 527 7966

OPERATING HOURS
Monday to Friday: 7am – 5pm
All aspects of house and building cleaning that you need: all under the roof of a single company.
JetX specialises in building and house washes in Greater Wellington. They are focused on providing their clients value through first-rate workmanship and professionalism.
Their equipment and vehicles are state-of-the-art and well-maintained. Depending on the task, they adjust the intensity of their pressure washing to suit it. They also use safe and biodegradable solutions which are better for the environment.
Their highly trained team can also clear your gutter of debris and treat your roof for mould and moss. They follow through their quoted price and complete the work on time.
Highlights
First-rate workmanship
Offer house and building washing services
Highly trained team
State-of-the-art equipment
Safe and biodegradable solutions
Customer Reviews
Let's see the review of Rebecca Flowerday on Google Business:
"These guys are awesome and great at what they do.  Chris and Alec were very hard workers and the finished result was like a new building.  We have used their competitors but I would highly recommend this company above them."
5)  Absolute House Wash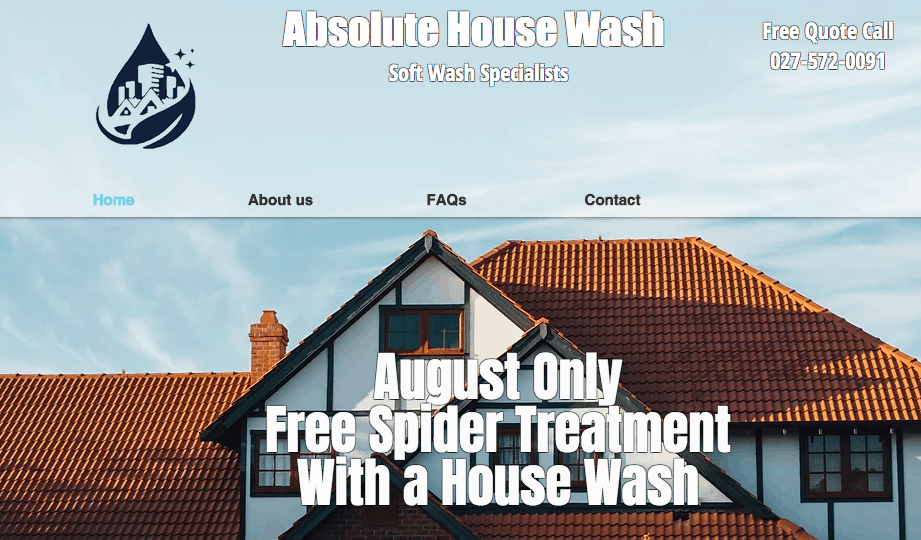 BEST FOR
Cost-Effective Pressure Cleaning
SERVICES
Soft Wash

House Wash

Pathways

Driveways

Roof Treatment

Roof Wash

WEBSITE
https://www.absolutehousewash.com/
ADDRESS
Johnsonville, Wellington, New Zealand
CONTACT DETAILS
027-572-0091
OPERATING HOURS
Monday to Friday: 7.30am – 5pm
Transform your home from grimy to sparkling clean with Absolute House Wash. They are a relatively young company that uses effective, modern techniques and equipment.
Absolute House Wash comprises a motivated and skilled team who strive to bring high-quality cleaning. They are soft-pressure washing specialists you can rely on.
Punctuality and fast response are their strengths, according to their clients. And they work on your property with care like that of an owner.
With cost-effective service and careful washing, they fit right in with the best pressure cleaning Wellington contractors. 
Highlights
Cost-effective service
Punctual, motivated and skilled cleaners
Use soft-pressure washing
Fast response 
Customer Reviews 
Anna Smith, one client, said this: 
"Absolute House Wash did an amazing job washing down my house and decks. It all looks like new. Wade took so much care with everything and was great to deal with. Highly recommended."
6) OceanView Pressure Cleaning & Painting

OceanView Pressure Cleaning & Painting is a go-to company for quality work at affordable rates. The team is made up of dependable and skilled individuals whose expertises allow them to provide the best service imaginable to their clients.
As the company's name suggests, OceanView specialises in pressure cleaning, but their work doesn't stop there. They also offer interior and exterior painting, water proofing, and landscape architecture. Interested in any of these? Contact the company today to learn more about their work.
Highlights
Free estimate
Top-notch customer service
7) GoClean
BEST FOR
Thorough Cleaning Services
SERVICES
Window Cleaning, House Washing, Commercial Cleaning, Gutter Cleaning
WEBSITE
https://www.goclean.co.nz
ADDRESS
Johnsonville, Wellington
CONTACT DETAILS
027-440-6794
[email protected]
OPERATING HOURS

24/7
The next entry on our list is GoClean, a locally owned and operated cleaning company that has been serving Wellington for a number of years now.
GoClean is one of the most trusted cleaning companies for a few reasons. First, it offers an array of cleaning services that are not only limited to window cleaning, but also include house washing, commercial cleaning, and gutter cleaning.
Second, GoClean's team of cleaners, which consists of trained, highly skilled individuals who are not only excellent at their jobs, but are also very professional, polite, and courteous to every client they encounter.
These cleaners are equipped with some of the finest equipment and cleaning products in the market, and endeavour to bring each and every area they clean to its previous spick and span state.
Lastly, GoClean is one of the companies that operate 24/7, making them an excellent choice for regular and emergency cleaning.
Highlights
Trained and skilled cleaners
Operates 24/7
Uses eco-friendly equipment and materials
8) Odd Job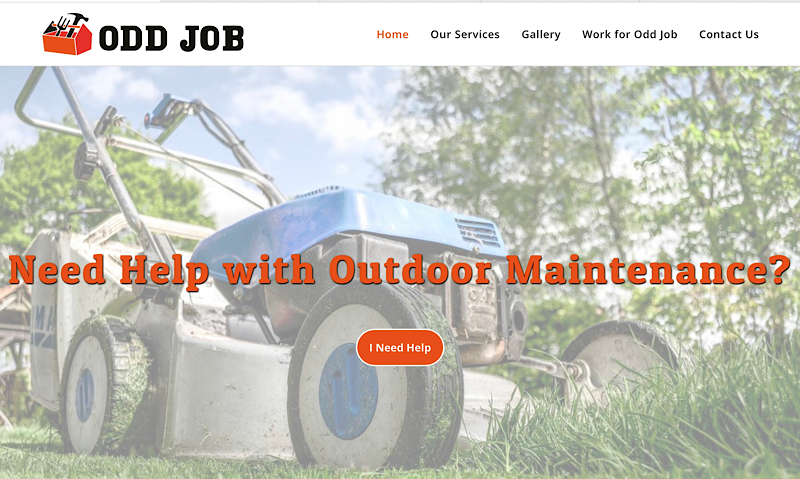 BEST FOR
Outdoor Maintenance Services
SERVICES

Lawn Mowing, Weeding, Tree Felling, Painting, Water Blasting, Rubbish Removal

WEBSITE
https://oddjobnz.co.nz
ADDRESS

Steven Buck, 2/27 Mahora Street, Kilbirnie, Wellington 6022, NZ

CONTACT DETAILS

[email protected]

02 1071 5225

OPERATING HOURS
Contact for more details.
Established in 2018, the Odd Job has been providing outdoor maintenance services in New Zealand. Their business incorporates the values of freedom, self-improvement, sense of community, and integrity.
The Odd Job offers pressure cleaning services in the maintenance of your weatherboards, house trimmings, or of anything that you wish to be cleaned. They can service annually or bi-yearly depending on your need.
Aside from water blasting, their services include lawn mowing, weeding, tree felling, painting, and rubbish removal. What they have to offer is great especially for those who are not able to maintain the beauty of their homes due to a busy schedule.
Seeing is believing so if you're a skeptic who'd like to see results prior to investing in their maintenance services, their previous works can be viewed on their website. 
For those on a budget, the Odd Job offers WINZ quotes on their services. This makes their services affordable and inclusive for all.
Highlights
Best for outdoor maintenance services

Offers a number of services

WINZ quotes are available upon consultation

Team of contractors is punctual and professional
Customer Reviews
Here are some of their previous clients' reviews on their website:
"Steve and Louise did a very good job on the lawns at our units. Professional, punctual and courteous. Highly recommend Oddjob. Thanks for the great work." – Athina from Kilbirnie, Wellington
"If you need a jungle to be tamed, or lawns to be done, Oddjob is your number one team. They were so great. They have fantastic communication, fast but very efficient workers, and were on time. Thanks again." – Erin from Mount Victoria, Wellington
And there you have it for the best pressure cleaning Wellington contractors. With them, your home will be carefully and safely cleaned for a fresh and clean result!
Do you have any lingering questions about the subject? If you do have one, feel free to drop us a message and we'll get right back to you.
Other than that, check out our other cleaning and maintenance lists. For example you can read about the best cleaning services in Wellington if you need to clean up your home's interior.