The 7 Best Private Schools in New Zealand
Great schools play a big role in shaping a child's character, ideas and talents for a bright future. But if you don't know which school to enroll him in, no worries, as we've listed the best private schools in New Zealand here for you.
We chose the schools that have a proven track record in academic achievement. Also, we added those that have adept and caring teachers, wonderful facilities and positive reviews.
So without any further ado, here are the best private schools in New Zealand. These are the ones to consider if you want a private school for your children.
1)  Auckland International College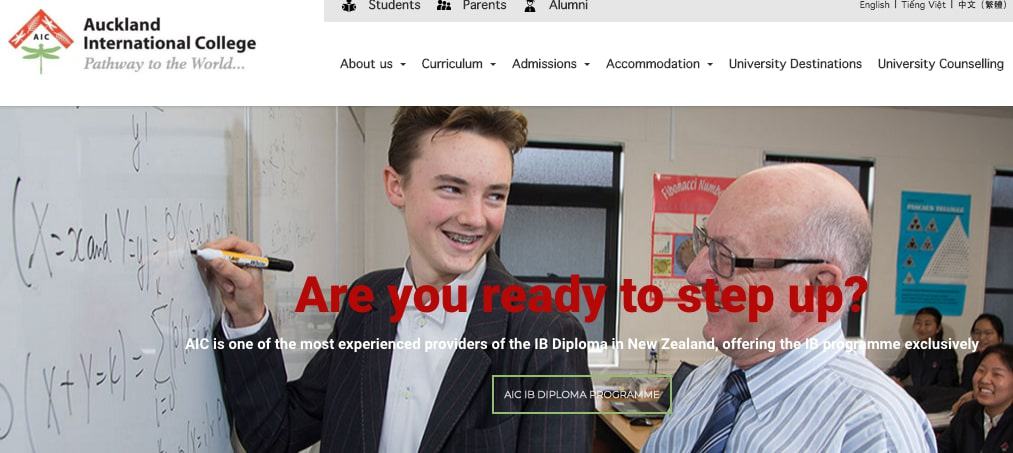 BEST FOR
Getting into Top Universities
SERVICES
IB Diploma Programme

The Preparation Year Programme for the IB Diploma – Year 11

AIC English for Senior Secondary Studies

Clubs & Activities

Student Support

SAT Testing Support

WEBSITE
https://www.aic.ac.nz/
ADDRESS
37 Heaphy Street Blockhouse Bay Auckland 0600, New Zealand
CONTACT DETAILS
+64 9-309 4480
OPERATING HOURS
Monday to Friday: 8am – 5pm
Auckland International College is a leading private secondary school offering the IB Diploma programme. They have a reputation for academic excellence.
With students getting offers into top universities in the world including US, UK, Canada, Japan and Korea, this is the place for your son or daughter to enroll in.
They have internationally-trained, adept teachers at the school. Their curriculum includes preparatory IB Diploma study and the IB programme itself.
What's more, they are one of the best private schools in New Zealand. This is due to the fact that most students get an above-average international score in the IB Diploma course.
Highlights
Offers IB Diploma course
AIC graduates get offers from world-leading universities
Skilled teachers with international experience
2)  Medbury School

BEST FOR
Bespoke Learning Programmes
SERVICES
Enrolment

Boarding

WEBSITE
https://www.medbury.school.nz/
ADDRESS
109 Clyde Road, Fendalton, Christchurch 8041, New Zealand
CONTACT DETAILS
+64 3-351 6169
OPERATING HOURS
Monday to Friday: 8.30am – 3.30pm
For years 1-8, Medbury School is one of the best private schools in New Zealand for young men. They uphold Christian values, have personal learning programmes and a top-class curriculum.
They also have boarding services that allow young boys to become independent, develop confidence and foster lifelong friendships.
At Medbury School, they will be directed and guided to reach their potential in both life and academia. It's all about discovering their passion and learning collaboratively with others.
There's no doubt that it has received stellar reviews from the parents. That's why it made our list!
Highlights 
Independent school for years 1-8
Top-class curriculum
A place where students can realise their potential
Upholds Christian values 
Customer Reviews 
Check out the feedback from Reuben D on Google: 
"This is an incredible school that I would recommend to anyone that needed a school. It goes from year 1 to 8, has really nice teachers and is perfect for almost anyone. There is so a pretty large area for lunchtimes and the classrooms are just the right size. Almost perfect school."
3)  The Cathedral Grammar School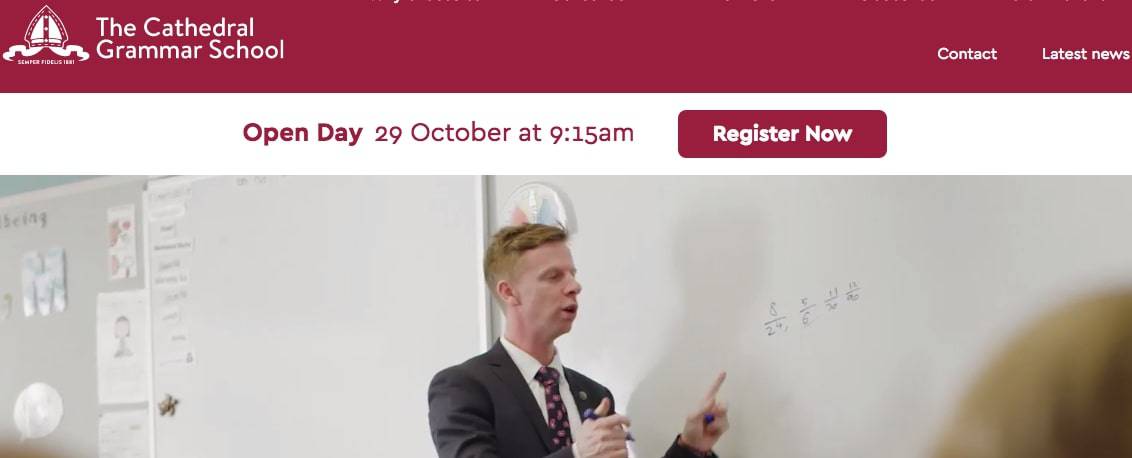 BEST FOR
Nurturing and Supportive Environment
SERVICES
Pre-School

Junior School

Boy's School

Girl's School

WEBSITE
https://cathedralgrammar.school.nz/
ADDRESS
2 Chester Street West, Christchurch Central, Christchurch 8013, New Zealand
CONTACT DETAILS
+64 3-365 0385
OPERATING HOURS
—
We only go through education for a brief period in our lives and time wasted never comes back. With Cathedral Grammar School, your kid can make the most of his education with a learning, nurturing and supportive culture.
Offering pre-school, junior, boy's school and girl's school courses, this school will create unforgettable memories as well as give a solid academic foundation for your child.
There's a beautiful rooftop playground, which is the kids' favourite hangout spot. Also, they have choir, swimming, Karate, music activities and lessons, all of which are tonnes of fun.
Highlights
Nurturing and supportive environment
Primary school based in Christchurch
Learning and having fun
Create unforgettable memories
Customer Reviews 
Karlos, one parent, said on Google Reviews: 
"Brilliant school. My daughter actually cant wait for holidays to finish and for school to start back. The facilities the students have access to and the general environment is top class."
4)  Springbank School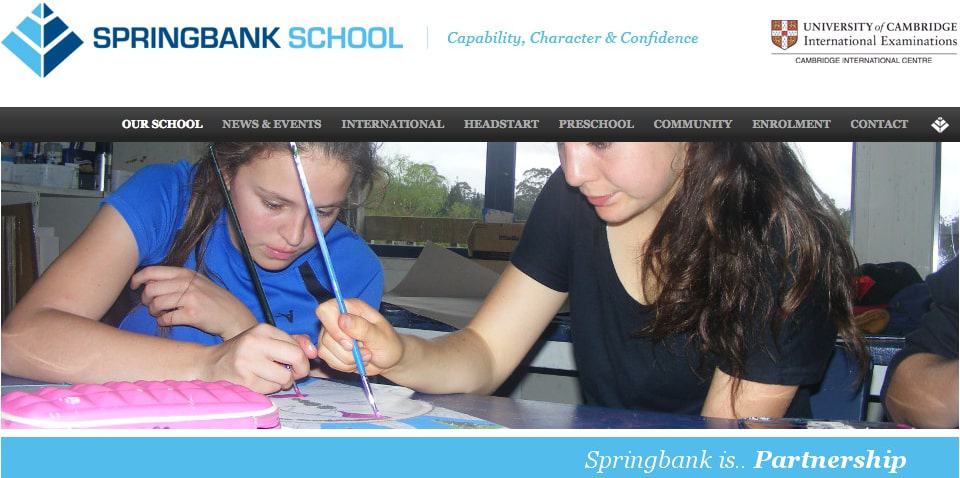 BEST FOR
Exceptional Learning Environment
SERVICES
Junior School

Middle School

Senior School

WEBSITE
https://www.springbank.school.nz/
ADDRESS
78 Waimate North Road, Kerikeri 0293, New Zealand
CONTACT DETAILS
+64 9-407 5236
OPERATING HOURS
Monday to Friday: 8.35am – 3pm
Located in a rural setting in the exciting Bay of Islands Region, Springbank School is a premier private co-ed school offering school programmes for Year 1-13 students.
The school primarily aims to build confidence, character and capability for the students. It is known for having a safe and caring learning environment.
Focused on family values and academic achievement, they are one of the best private schools in New Zealand. And the fun part: there are lots of extracurricular activities your child can participate in like surfing, sailing, golf, equestrian, fishing, hiking and diving.
Highlights
Co-ed school
Aims to build confidence, character and capability
Exciting and fun location
Safe and caring learning environment
Customer Reviews 
One client said this on Google:
"I was an international student at Springbank School and it was amazing. The nicest people, a familiar atmosphere and big school grounds."
5) Ardmore Flying School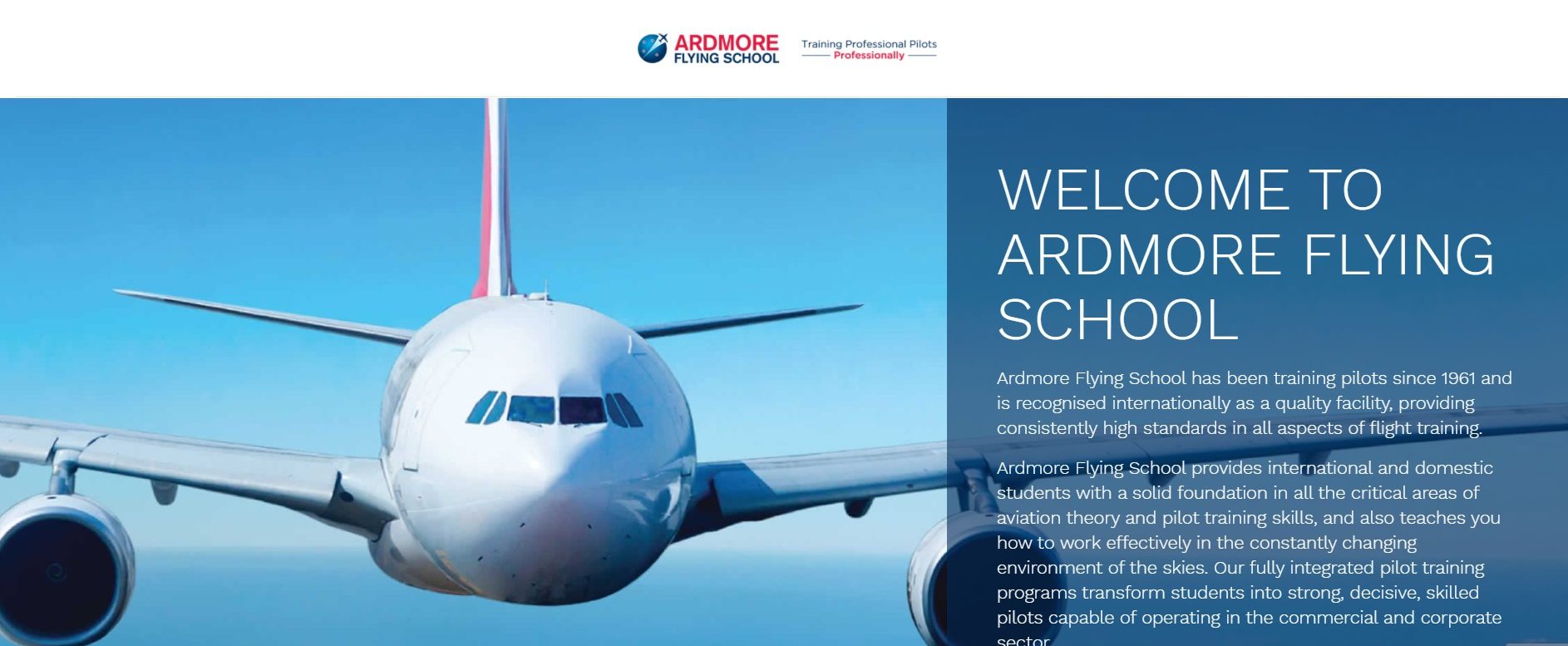 BEST FOR
Well-rounded aviation training
SERVICES
Learn To Fly
Fixed Wing Course
First Solo Flight
Intro Flight Packages
Jet Simulator Experience
WEBSITE
https://ardmore.co.nz/
ADDRESS

2 Harvard Lane, Ardmore 2582, New Zealand

CONTACT DETAILS
Local:
(0800) ARDMORE or (09) 298 5055

From Overseas:
+64 9 298-5055

OPERATING HOURS
Daily: 7am–6pm
Since 1961, Ardmore Flying School has provided their students consistent premium education through expert teachers and high quality facilities.
They're recognized internationally for being one of the best private schools for those who are interested in becoming pilots. A solid foundation in aviation is given, while integrating the ever-progressive skills a pilot aspirant should learn.
Both international and local students are welcomed to enroll. Simply read more information at Ardmore Flying School's website. You can also start the registration there.
Highlights
Consistently high standards
Supportive mentoring
Large, modern fleet of fixed wing aircraft
6) Whitby Collegiate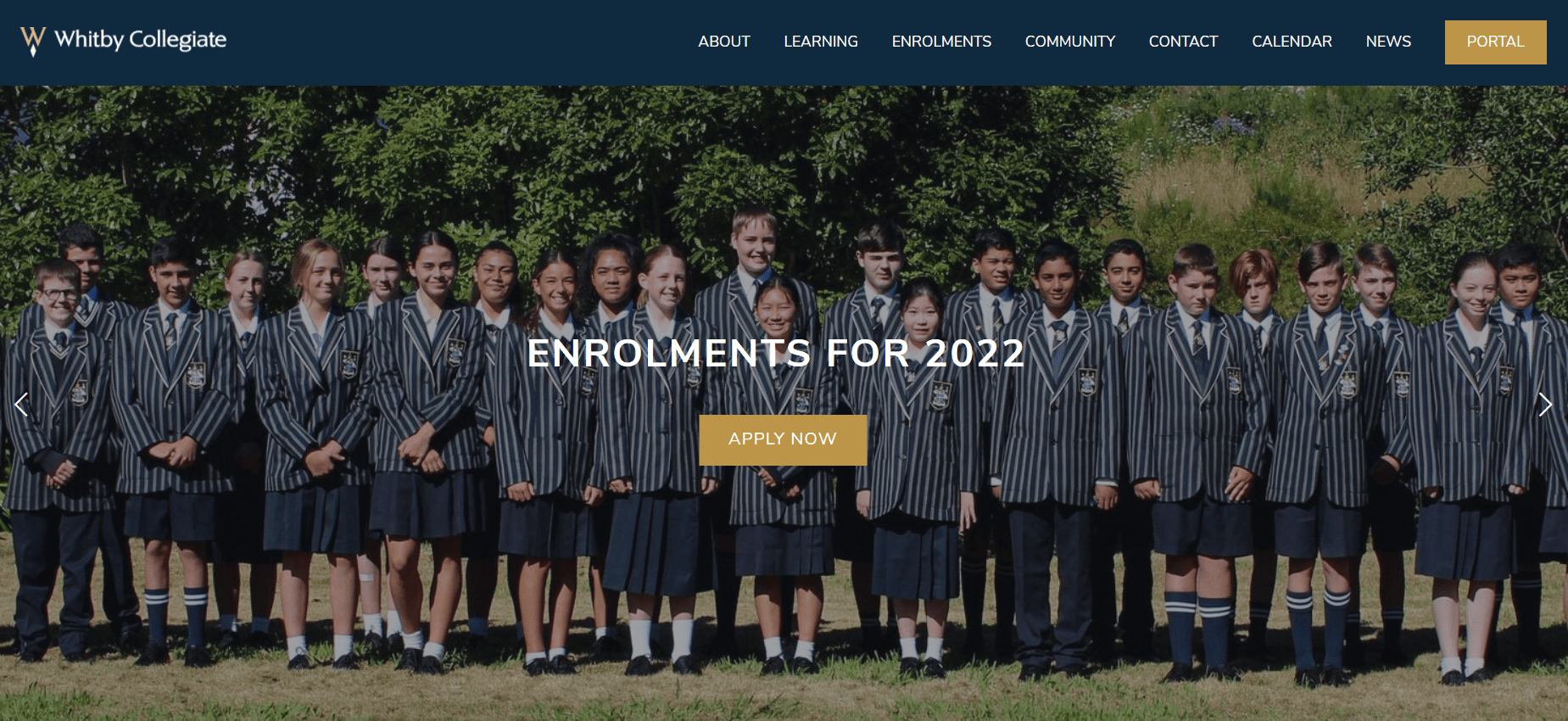 BEST FOR
Educations for Years 7-13
SERVICES
English, Mathematics, Science, Social Sciences, Art, Digital Technology, Religious Education, Music, Physical Education and Health, and more
WEBSITE
https://www.whitbycollegiate.school.nz
ADDRESS
2 Starboard Lane, Whitby, Porirua 5024
New Zealand
CONTACT DETAILS
Administration & Enrolments
Lorraine Rose
(04) 234 1070 – Ext 710
[email protected]

General Enquiries
[email protected]

Absences
[email protected]

Marketing & Communications
[email protected]

OPERATING HOURS
Contact school for more information
Whitby Collegiate is one of the few co-educational schools that can be found in the Wellington region. They accommodate students for Years 7-13, and provide them with a wide range of subjects to study.
Many praise them for their supportive learning environment, which is conducive for their student's learning. Their small classes, in particular, allow their educators to focus better on their student's academic needs and nurture their growth more effectively.
They provide quality programmes of national and international levels to their students, as well as numerous learning opportunities that aren't restricted to the classroom. With curriculum subjects involving language, science, arts, and other areas of learning, students are presented with a wide range of ideas that can help them cultivate their interests and individual aptitudes.
More importantly, they accommodate students with additional learning needs. Given their welcoming environment, skilled teachers, and top-notch facilities, Whitby Collegiate is perfect if you're looking for a school that can help your child be the best they can be in all aspects of their lives.
Highlights
National and international programmes
Comprehensive set of subjects
Small classes
Supportive environment
7)  Green School New Zealand
Green School New Zealand is an academic facility that offers a wide range of educational services and accommodates primary to senior high learning. It is driven by John Hardy and has since then been capitalizing on sustainability and creativity on all the courses they teach.
Their facilities are unique and developed specifically to enhance the learning experience of every individual – both students and educators. This is to help students have a more open-mind mindset on the concepts they study and help them develop their own imagination and creativity as well.
The school also hosts and actively looks for events that can help their constituents have a more meaningful experience and deepen connections with their neighboring communities. Due to this, it is highly ideal for individuals who want a pro-active and engaging experience throughout their career and studies.
Their website is informative and easily supports online and contact-less registration. Furthermore, they also support at-home learning courses so that students will not be left behind should there be concerns with on-site learning.
Overall, it is an excellent place for students to grow due to their supportive student-led initiative systems that will also help the environment have a better state.
Highlights
Sustainable learning
Environmental-centered projects
Home learning is also available
And that finishes our list of the best private schools in New Zealand. You'll never go wrong with the schools we've featured here.
Think we missed anything in this list? If so, please let us know and we'll check it out and update this post promptly.
By the way, when your kids are starting school, they might need a lightweight, reliable laptop. For this, you can take your pick from the best laptops in New Zealand.