The11 Best Property Management in Christchurch Reviewed
Managing your property can cause a lot of headaches and stress, especially for those who are inexperienced. Fortunately, we've outlined the best property management Christchurch companies to help you manage your property.
We made sure to pick out the ones with qualified, professional, and trustworthy property managers. Furthermore, we also noted Christchurch property managers that have outstanding customer services and numerous positive reviews.
Now, let's start our list of the best property management Christchurch companies.
The Best Property Management in Christchurch Reviewed
1) Whittle Knight Property Management

BEST FOR
Free property assessment
SERVICES
Property Management
Property Assessment
Real Estate Sales
WEBSITE
https://www.propertymanagementchch.co.nz/
ADDRESS

Cnr Riccarton and Clyde Roads, Upper Riccarton, Christchurch 8041

CONTACT DETAILS
Phone: 03 348 4149
Email: [email protected]
OPERATING HOURS
Weekdays: 8:30am–5pm
Highlights
Trusted since 1966
Expert property manager
Hassle-free assistance
Great communication
Customer Reviews 
Receiving nothing but high praises from clients, Whittle Knight & Boatwood Ltd are Christchurch property managers that have proven that they're worthy of being on the top property managements in Christchurch. Below are some of the feedbacks left on their website to read:
"I have been a client of WKB now for nine years. In that time two agents have looked after my property. Both excellent. For the last few years Sophie has been my agent. Sophie has always been extremely reliable, capable and trustworthy. I would have not hesitation in recommending Whittle, Knight & Boatwood, and Sophie, to anyone wanting an agent for their property." – Sarah Black
"From the outset, the staff were outstanding in their professionalism, helpfulness and personable manner. No question was considered silly; no request left unattended. WKB have our unreserved recommendation." – Karen Eder
"I have been with Whittle Knight & Boatwood since 2010 and have found them extremely helpful and easy to deal with. They take they the hassle out of being a landlord. Sophie is quick to answer emails and deal with any problem no matter how big or small." – Margaret Cleary
2)  A1 Property Managers

BEST FOR
Extensive tenant profiling
SERVICES
Rental appraisal

 

Property maintenance

Property inspections

Holiday management

Property management mentoring

WEBSITE
https://www.a1prop.co.nz/
ADDRESS
84 Blenheim Road, Riccarton, Christchurch 8041, New Zealand
CONTACT DETAILS
+64 3-351 7643

 

OPERATING HOURS
Monday – Friday: 9.00 AM – 5.00 PM
A1 Property Managers is one of the most trusted property management in Christchurch. They manage hundreds of properties across the city and have over 800 new tenants per year.
They pride themselves on being honest and transparent in working with clients. This is because they value their work and the reputation of their business.
According to clients, A1 Property Management professionals are friendly and professional. They will go over and beyond their line of duty, answer all your questions, and assist you throughout the service.
So if you need someone to manage your rental property or if you are settling into a new home, choose A1 Property Management! 
Highlights 
Trusted property management firm
Honest and transparent work ethic
Friendly and professional team
Customer Reviews
Take a look at what C. John has to say about his experience with A1 Property Managers:
"It is a pleasure to deal with the team at A1 Property. I have found them to be helpful, prompt and professional in our Company's dealing with them – highly recommended"
3)  Xclusive Property Management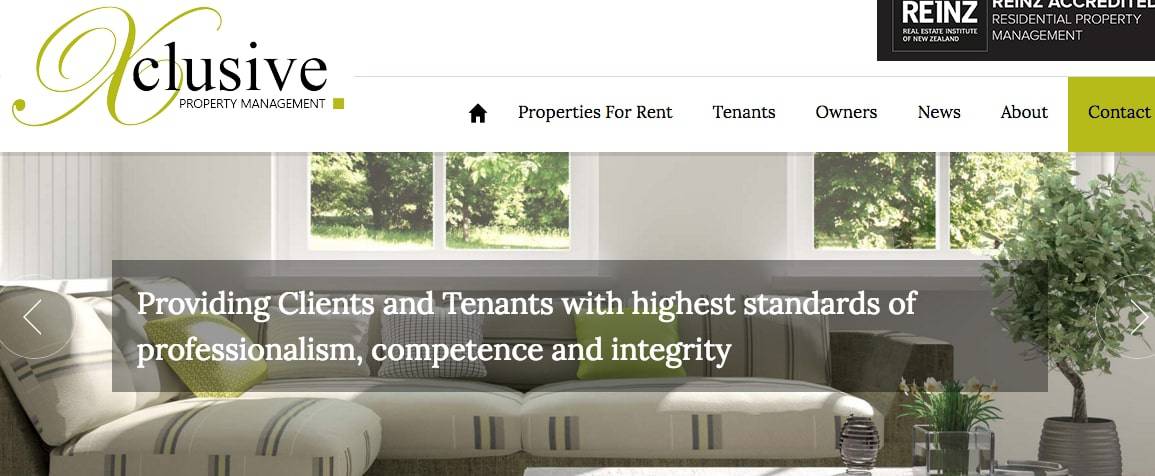 BEST FOR
Zero-tolerance rental policies
SERVICES
Property rental

 

Tenant profiling

Property maintenance

Property appraisal

Property management consultations

WEBSITE
https://xprop.co.nz/
ADDRESS
Airport Business Park B3/92 Russley Road, Russley, Christchurch 8042, New Zealand
CONTACT DETAILS
+64 3-423 9938
OPERATING HOURS
Monday – Friday: 9.00 AM – 4.00 PM
If you've invested in a property and want to maximise its potential, you can rely on Xclusive Property Management to help you with that.
Their team of property managers in Christchurch are NZQA L4 certified by the Real Estate Institute of New Zealand (REINZ). This means that their property managers are highly skilled and will be sure to provide you with top-quality and reliable service.
Furthermore, they strictly comply with all property laws such as the Residential Tenancies Act and Health and Safety at Work Act 2015. To protect their clients' investments, they also have zero tolerance on any rent arrears.
Knowing all this, it's safe to say that your investment is in safe, capable hands with Xclusive Property Management, one of the best property management Christchurch companies.
Highlights
Boutique property management firm
REINZ-accredited team
Top-quality service
Complies with Residential Tenancies Act
Customer Reviews 
Check out the review of one satisfied client named Anton S. on Google:
"Recently became a client of Exclusive Property Management. I am impressed by their service we have received over the past year or so. It is easy for me to recommend them."
4) Bayleys Property Management

BEST FOR
All-around rental property management
SERVICES
Property appraisal

 

Property maintenance

Rent guarantee for arrears

Moving services

Property insurance

Property selling

Tenant profiling

WEBSITE
https://bayleyspm.co.nz/
ADDRESS
3 Deans Ave, Riccarton, Christchurch, New Zealand
CONTACT DETAILS
03 375 4800

 

OPERATING HOURS
Monday to Friday: 8.30 AM – 5.00 PM
Property management in Christchurch involves a lot of work, from choosing tenants to regular maintenance. Fortunately, Bayleys Property Management can make it easy for you.
Whether you're a renter or landlord, the Bayleys team provides personalised services and excellent communication to provide you with property management solutions such as finding a great home or maximising your rent profits.
They pride themselves on their experienced property management experts and access to skilled contractors to deliver you a wide range of quality services.
They are sure to give you reliable advice on all aspects of property management.
If you aren't satisfied with their service, they offer a money-back guarantee, an important consideration when choosing the best Christchurch property manager.
Highlights
Personalised service
Excellent communication
Proactive and experienced team
Money-back guarantee 
Customer Reviews
Here's feedback from one happy client, Tania B., on Google:
"I would highly recommend Bayleys Property Management. From day one of thinking of renting our house out they have been very professional. Becky has been amazing to deal with. She was fantastic at finding us the perfect tenant. She is excellent with her communication and very helpful. I can highly recommend her."
5)  Rent Right Property Management Ltd

BEST FOR
Establishing and maintaining long-term property rentals
SERVICES
Property rental

 

Property maintenance

Financial and legislative management of properties

Tenant profiling

WEBSITE
https://www.rentright.co.nz/
ADDRESS
6/294 Montreal Street, Christchurch Central, Christchurch 8013, New Zealand
CONTACT DETAILS
+64 3-377 4939
OPERATING HOURS
Monday – Friday: 9.00 AM – 5.00 PM
If you want efficient and professional Christchurch property management services, consider working with Rent Right Property Management. With over hundreds of positive client testimonials, Rent Right is considered as one of the best property management Christchurch companies.
One of their company's main goals is to provide individually tailored services for both landlords and tenants. Rent Right prides itself on its effective property management solutions that ensures positive long-term rental relationships between all parties involved.
Whether you want to find suitable tenants, arrange property inspections, search for a new home, or more, they can do it all for you.
Highlights
Exceptional property management
Efficient and professional team
Great communication
Brings a personal touch to their service
Customer Reviews 
Check out this review by two property owners, Shawn and Debs, who were satisfied with Rent Right Property Management's services: 
"Everything Rent Right has done for us has been handled very professionally. We wish we had found them years ago, and so do our tenants!"
6) Streets Ahead Property Management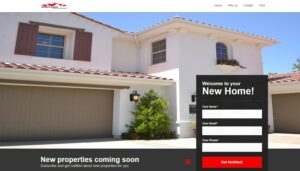 BEST FOR
Comprehensive property management service
SERVICES
Private landlords, Rent acquisitions
WEBSITE
http://www.streetsaheadpm.co.nz/
ADDRESS
6 Elmslie Grove, Halswell, Christchurch 8025, New Zealand
CONTACT DETAILS
Cell Phone: (021) 613 391
Office Phone: (03) 322 4741
E-mail: [email protected]
OPERATING HOURS
Monday-Friday: 9:00am-6:00pm
A Property Manager is a professional that can assist their landlords towards their goals. As a property manger in Christchurch, Kaye will be tasked with the job of finding the very best tenant available for a property.
They also have access to in-depth market information that will help maximize profit by choosing the best rental rates.
They have no tolerance to any rent non-payment regardless of circumstances. They deal with Tenants professionally and ethically and observing Residental Tenancy Act (RTA) statues.
Highlights
Pro-Active property maintenance
Friendly & professional
Full Property Management Service
Customer Reviews
"Extremely thorough-5 star rated to any prospective landlord-she knows how to make the tenants in the property keep up to date with rent…..very much as hands on manager who will get stuck in on jobs on the property to ensure the property is well maintained for her owners."
7) Quality Property Management

BEST FOR
Maximising property investment returns
SERVICES
Property rental

 

Property appraisal

Property maintenance

Property inspection

Tenant profiling

Property portfolio management

WEBSITE
https://www.qpmltd.co.nz/
ADDRESS
332 Blenheim Road, Upper Riccarton, Christchurch 8041, New Zealand
CONTACT DETAILS
+64 3-341 0985
OPERATING HOURS
Monday – Friday: 8.30 AM – 5.00 PM
Quality Property Management is one of the best property management companies in Christchurch, with over two decades of experience in tenant and property management.
Their professional team can handle everything about the management of your property, from tenant profiling to property maintenance. Because of their team of experienced professionals and wide range of services, you can have peace of mind that your investments are safe and well taken care of.
To ensure effective communication, they always keep their communication lines open to clients. This ensures that you are informed of any issues, updates, or emergencies in every step of the way.
Best of all, the company tolerates zero rent arrears so that there won't be any backlogs in your financial statement.
Highlights
Constant communication
Wide range of property management services
Zero rent arrears 
Customer Reviews 
Here's what Annette S. had to say about one of the best property management Christchurch companies:
"I supported my brother with a shift to Christchurch. The Property Manager Richard Griffith was excellent to work with. He was professional and caring; treating us both well. He showed a genuine interest and empathy towards my brother which we both appreciated. His prompt work and guidance on what to do meant we were able to secure a lovely property. I highly recommend him as a Property Manager.  Thank you Richard for caring!"
8) Priority Property Management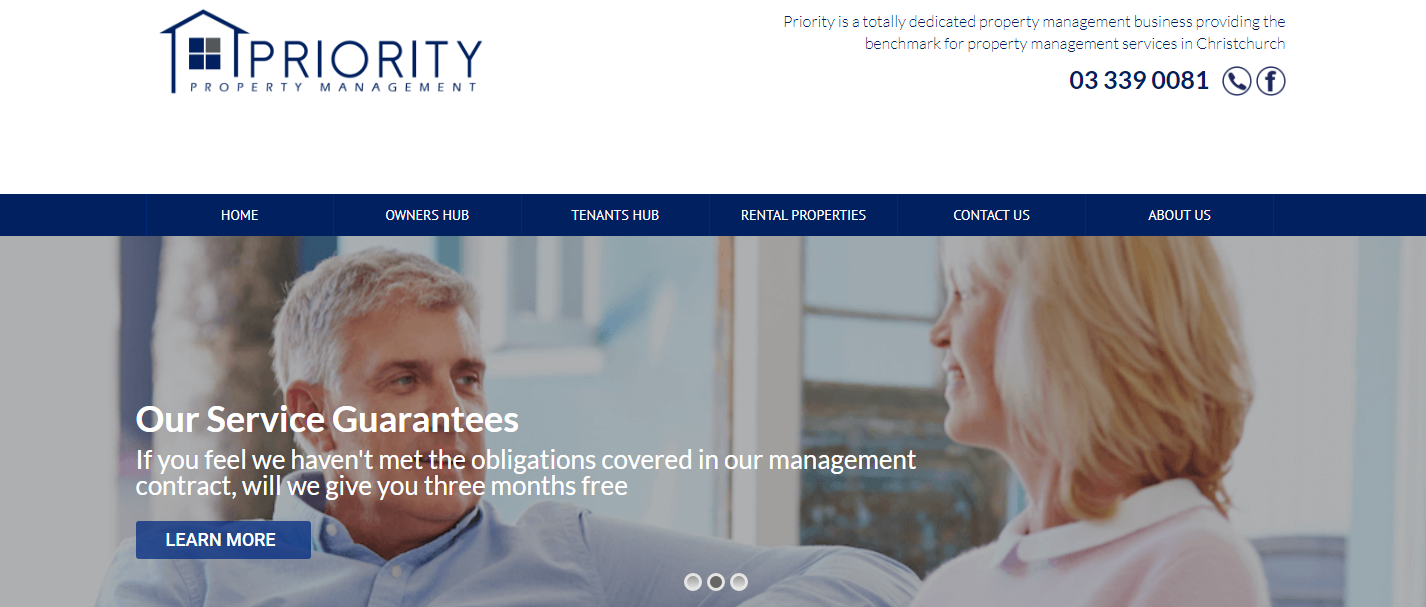 When it comes to property managers in Christchurch, it's best to find one that cares about your property as much as you do. Here is where Priority Property Management comes in, where your property is always the main priority.
Priority Property Management is known for many things, one of which is the array of services they have to offer.  Unlike other Christchurch property management firms, Priority Property Management caters to the needs of aspiring property owners, landlords, and tenants.
Landlords can easily manage their current properties with Priority Property Management's help since the firm handles tenant vetting, property viewing and appraisal, and even escorted viewing. Investing in this firm's services allows landlords to focus on other aspects of their lives while having peace of mind that their properties are doing fine.
For the tenant side, Priority Property Management offers to inspect properties, hold rental bonds, and even keep a spare key should the original one go missing. Priority Property Management can even help tenants acquire contents insurance on the off chance that they lose their valuables.
Aside from their range of services, Priority Property Management is also known for their prompt, professional service. Years of experience in the field has resulted in the firm building up a network of connections and relations with previous clients who can vouch for their trustworthy services.
So if you're one of those who both lease and rent property, Priority can be one of the best companies for property management in Christchurch for you.
Highlights
Wide range of property management services
Fee structures start from 8.5% +GST (Landlord services)
Handles tenancy and maintenance applications
Zero arrear policy
Customer Reviews 
With an average rating of 5 stars on Google, Priority Property Management has cemented their spot on this list. See what a few clients have to say about their services:
"If you're looking for someone who really knows about all the tricky legislation, requirements and processes that landlords need to address then look no further than Chris at priority property management. He's professional, super well informed and absolutely on top of everything there is to know and do when renting a property. As a landlord you'll be in safe and reliable hands with Chris – highly recommend!!"

"I recommended Chris at Priority Property to some friends about to become first time landlords. They were nervous about dealing with tenants, but hadn't really considered using a property manager. Chris took the time to meet with them and explain how his service worked and they felt really comfortable engaging him to look after their new rental. Since then they have been super happy with everything Chris does and have had none of the dramas or unexpected financial strain they thought could be almost part and parcel of being landlords. Chris has only ever had top notch tenants in the property and does detailed, photographed inspection reports on a regular basis. My friends couldn't be happier and I am extremely pleased I recommended Priority Property to them."

9) Whittleknight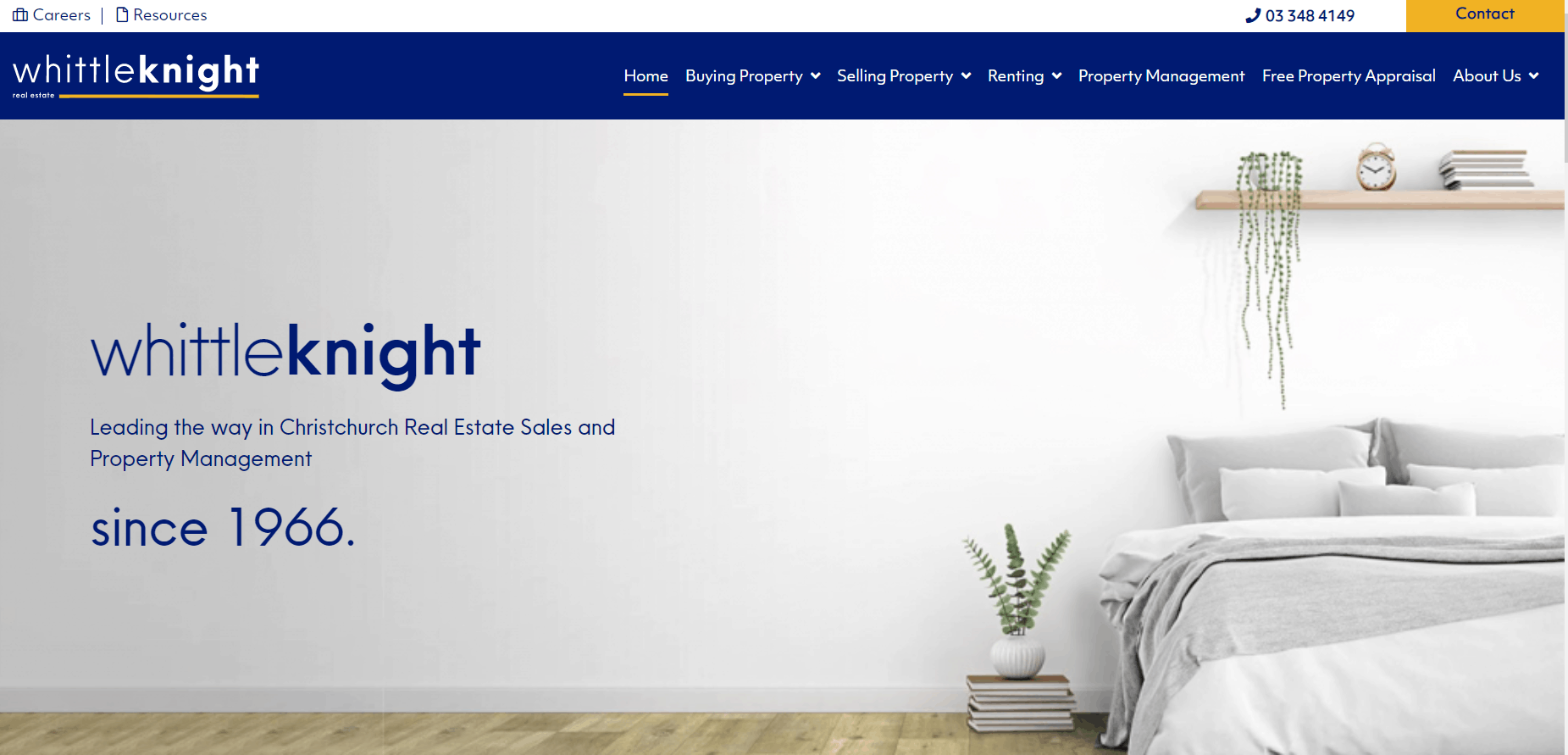 BEST FOR

Individualized handling and assistance

SERVICES
Rental appraisal
Property maintenance
Property inspections
Holiday management
Property management mentoring
WEBSITE
http://whittleknight.co.nz/
ADDRESS
Cnr Riccarton & Clyde Roads
Upper Riccarton
Christchurch 8041
CONTACT DETAILS
[email protected]
03 348 4149
OPERATING HOURS

Monday – Friday: 9:00 AM – 5:00 PM
Whittle Knight is one of the leading companies in the field of real estate. They're well-known to properly manage properties and handle sales.
Since they first started in 1966, their team of Christchurch property managers have continuously provided great assistance for sellers and buyers alike, ensuring that their clients receive the service they need exactly when they need it.
It doesn't matter if it's for property sales, property management, or even valuations, Whittle Knight is sure to be able to help you. Given their quality services and competitive prices, there's no doubt that they are option more than worth considering.
Highlights
Over 50 years of experience
Motivated group of professionals
Offers services both locally and internationally
Customer Reviews 
Read some of the reviews left for Whittle Knight:
"Megan helped me throughout the process of buying my first home, and was always available to answer any questions, no matter how big or small. Everyone involved was very professional and concise about how the process worked and what was expected of me, and so everything went very smoothly. I always felt that I was in possession of all the facts, and knew what was happening at all times. I'm very grateful for the honesty, professionalism and communication."
"Megan was fantastic to work with purchasing our new home. After missing out on a number of other houses Megan helped us to buy our dream home. She had open, clear and responsive communication. I felt she was honest and trustworthy and supported us through the whole process. Professional, reliable and easy to work with. Highly recommended."
"I just sat down to write a review of WKB and was unsurprised to see all of the glowing reviews they already have. We rented a lovely house, managed professionally and courteously by Justine. We would absolutely go back, as a renter or a home owner. Thank you very much Justine!"
10) Property Scouts

BEST FOR
Wide Range of Property Management Services
SERVICES
Property Management, Advising, Paperwork Management, Investment Property Finding
WEBSITE
https://www.propertyscouts.co.nz/christchurch
ADDRESS
PO Box 1160
Christchurch
8011
CONTACT DETAILS
Email: [email protected]
Call: 022 3252 130
Mobile: 022 3252 130
OPERATING HOURS
Always Open
Property Scouts is a property management company in Christchurch that provides a comprehensive set of services to their clients. Many praise them for going above and beyond what's expected of a normal property management company, especially when it comes to increasing their client's investment.
They manage everything that goes under property management, from maintenance to tenancy, and everything in between. While investment properties are their forte, they can also accommodate properties whose owner's circumstances have changed.
They have experience managing properties furnished or unfurnished for varying periods of time. They also provide advice regarding the local services and amenities, which makes the quality of living of the property even better.
Finally, they also provide investment property finding services for those looking to expand their business. Given their extensive services, professional staff, and flexible working plans, Property Scouts is a reliable property management company that can serve you no matter what your property may be. 
Highlights
Wide range of services
Manages all aspects of property tenance
Handles various types of properties
24/7 service
11) Harcourts Accommodation Centre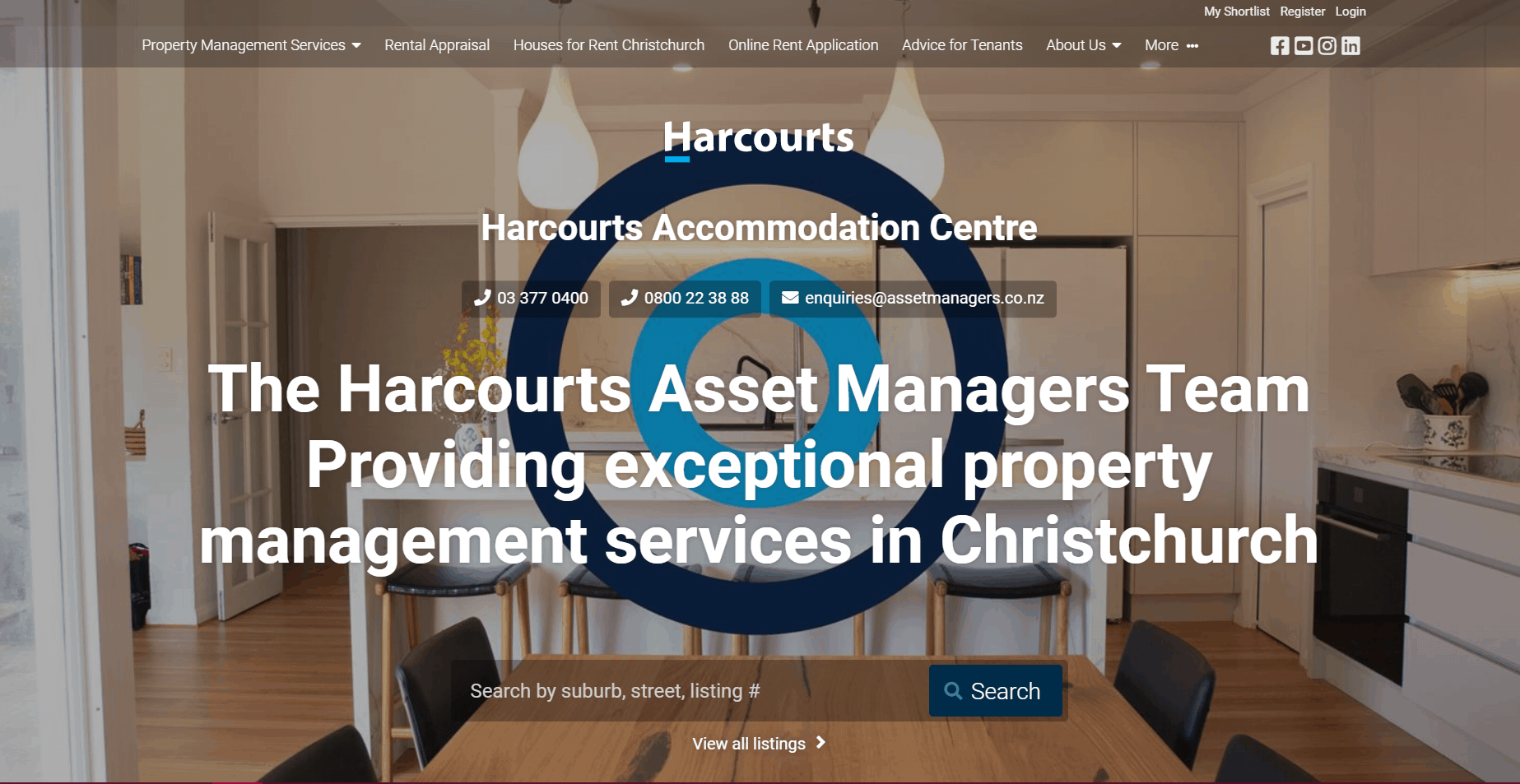 BEST FOR
Tailored Property Management Services
SERVICES
Property Management, Rental Appraisal
WEBSITE
https://assetmanagers.harcourts.co.nz
ADDRESS
98 Moorhouse Avenue, Addington, Christchurch 8011
CONTACT DETAILS
Phone: +64 3 377 0400
Email: [email protected]
OPERATING HOURS
Contact for more information
Harcourts Accommodation Centre provides a comprehensive set of property management services with the goal of giving their clients more free time and peace of mind. As a company that has been operating since 1990, they have extensive experience and knowledge regarding the property management industry.
Their team of professional property managers have many years of combined industry experience, which allows them to accommodate clients with various property and rental needs. They not only offer rental property management services, but also advice for future property renters.
Many praise them for their personalised services, all of which are tailored according to their client's goals and needs. Their eye for detail is what make their results better than other property management companies as they go above and beyond their client's expectations.
Finally, their proactive and client-focused team keeps up with the latest developments in the property management industry, so they can continue providing exceptional services to their clients even today. Given their dedication to their clients and consequently, high quality services, Harcourts Accommodation Centre is a property management company that will serve you well if you decide to hire them.
Highlights
In-depth knowledge of property management
Over 200 years of combined industry experience
Proactive and client-focused property managers
Excellent eye for detail
And that completes our list of the best property management Christchurch companies! If you've read everything above, you now know who to call to take care of your property for you.
Any questions, thoughts or comments about our listed companies here? If so, feel free to message us and we'll get right back to you.
To keep your property well-maintained and pest-free, you might be interested in our list of the best pest control Christchurch handlers. They will keep your premises safe and healthy for your tenants.
Lastly, if you want to specifically look at real estate, you may want to view our list of best real estate companies in Christchurch.