7 Centres for the Best Psychologists in Christchurch
At one point or another, we get overwhelmed with stress and anxiety. If you are unable to make amends with those feelings, we have rounded up the best psychologists in Christchurch for you.
A clinical psychologist can not only talk you out of them, but gives you a chance to learn and apply new skills. You carry this ability as you go through life to make the most of it.
If you are trying to clear away the old mental patterns of thinking or working out your relationship with your spouse, they are a great help — and even to guide the children as they develop and grow up.
That said, here are the best psychologists in Christchurch who will help you find your balance and live your best life possible.
1) Positive Step Psychologists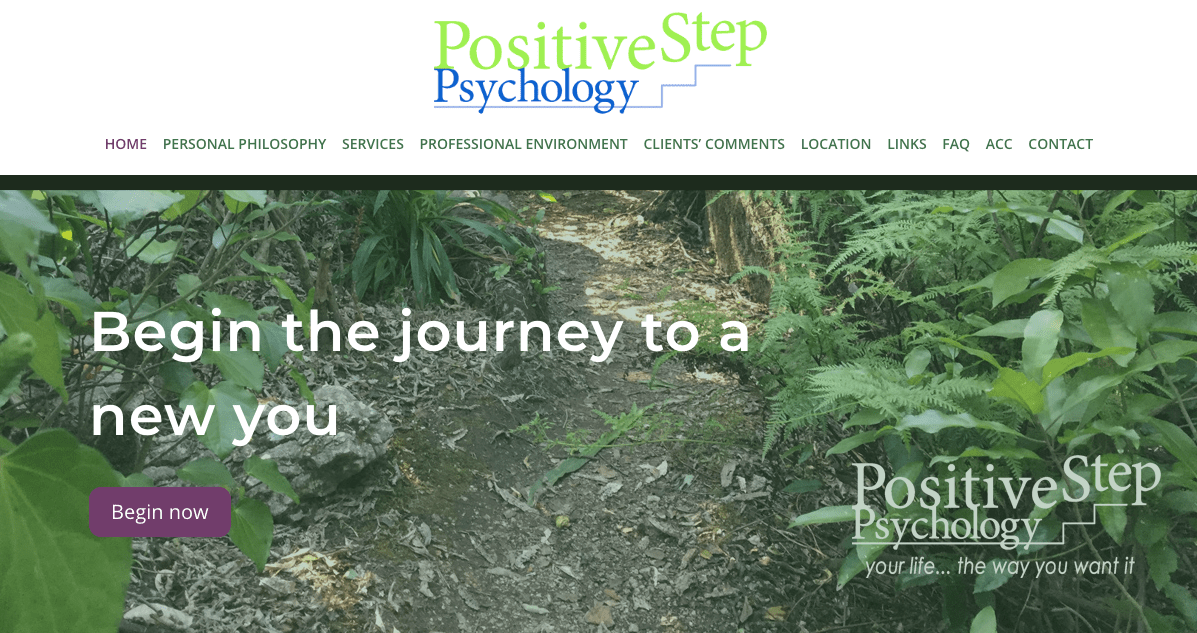 | | |
| --- | --- |
| Best for | All-Around Psychologist |
| Services | Depression, Bipolar, Anxiety, Sexual Identity, Interpersonal Skills, Alcohol and Drug Addiction, Relationships, and Sports |
| Address | 57 Epsom Road, Sockburn, Christchurch, New Zealand |
| Contact no | 021 777 875 |
| Website | https://www.krystynarzoska.com/ |
At Positive Step Psychology, your session will be conducted in an uplifting and relaxing atmosphere without you being judged.
Krystyna Rzoska is a registered clinical psychologist with over 28 years in the field. She treats people in a variety of conditions, but specialises in depression, stress, trauma, and relationship.
If you don't have a support team such as a friend or family, she can fill that role and act as a life coach and counsellor to you. You don't have to be shy as the sessions are kept confidential.
Many of the patients have worked with the psychologist for longer than a year. And since the clinic is all-around, this must be one of the best psychologists in Christchurch!
Highlights
Caring and empathic psychologist
Wide area of expertise
Customer Reviews
Deb Clarke writes on Google Reviews:
"I would highly recommend Krystyna from Positive Step Psychology. Her empathic and sensitive approach to your therapy sessions is wonderful. You feel at ease and can open up and share honestly and in a safe environment. Krystyna has helped me considerably both personally and professionally."
2) Alex Mortlock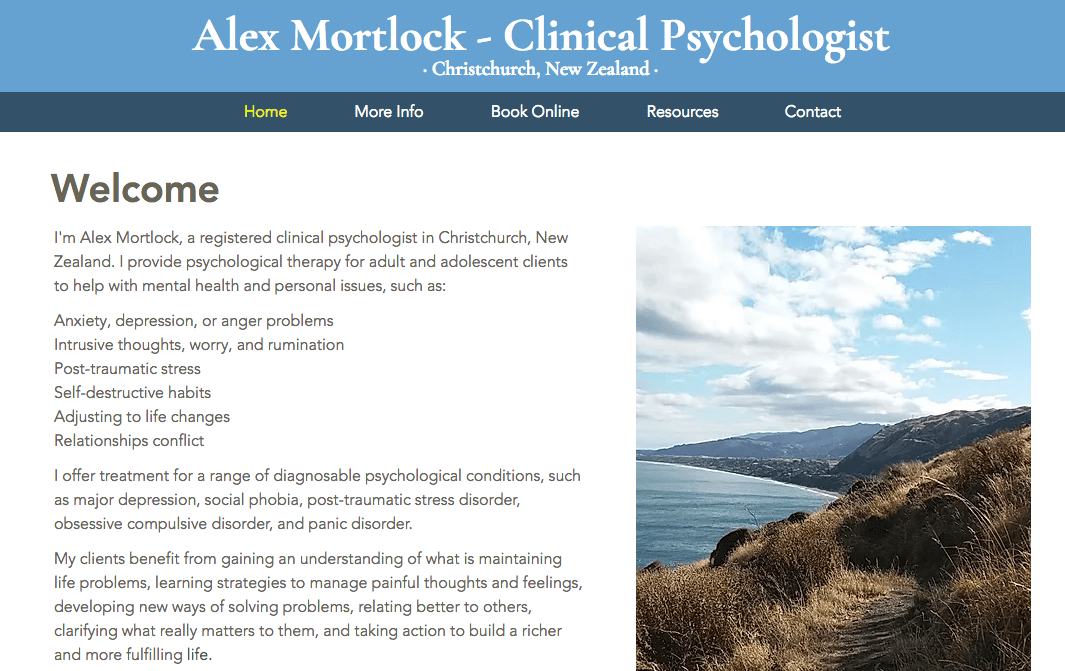 | | |
| --- | --- |
| Best for | Mental Health Disorders |
| Services | Anxiety, Depression, Anger, Intrusive Thoughts, Worry, Post-Traumatic Stress, Self-Destructive Habits, Changes, and Relationships |
| Address | 20 Gamblins Road, St Martins, Christchurch 8022 |
| Contact no | 021 120 9295 |
| Website | https://www.alexmortlock.co.nz/ |
For those with rumination or post-trauma disorder, check out Alex Mortlock. Alex is a qualified psychologist who treats mental health as well as general issues for children and adults.
Racking up experience in these fields, he has treated thousands of patients and helped them break free from their conditions. Trauma, OCD, & changes into adulthood are in his line of work.
He uses Cognitive Behaviour and Acceptance and Commitment therapies, which are very effective for the patient to understand their thought processes better and change how they've been acting.
Highlights
15 years in treating mental disorders
Expert in CBT and ACT treatments
Also looks into adolescent issues
3) Cherie Benns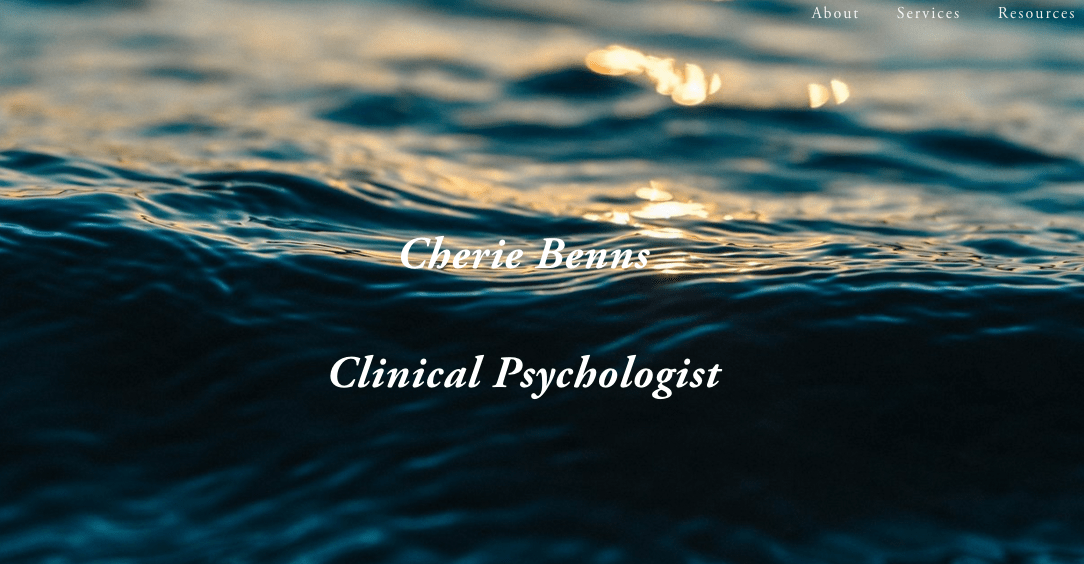 | | |
| --- | --- |
| Best for | Children and Families |
| Services | Anxiety, Trauma, Abuse, Mood, Stress, Parenting, Child Behaviour, Relationships, and Tics or Tourettes |
| Address | Rosewarne House, 303 Selwyn Street (Entrance off Rosewarne Street), Christchurch, New Zealand |
| Contact no | 02 7505 0678 |
| Website | https://www.cheriebenns.com/ |
It takes a more creative approach for problems in children as they are learning and developing. And here, Cherie Benns can help or treat your child with anxiety, trauma or tics.
A specialist in certain aspects of clinical psychology, Cherie has over 14 years of experience and uses Cognitive Behaviour Treatment through study and play for little ones.
But adults will benefit here as well. Cherie can help them deal with the stresses and challenges of parenting, mood swings, depression, and so on and so forth.
Located in Selwyn Street, this place has natural sunlight and a fun and relaxing environment — yet another one of the best psychologists in Christchurch!
Highlights
Deals with children anxiety and trauma
Creative fun and play
Trained in CBT and EMDR
4) Child and Family Psychology Services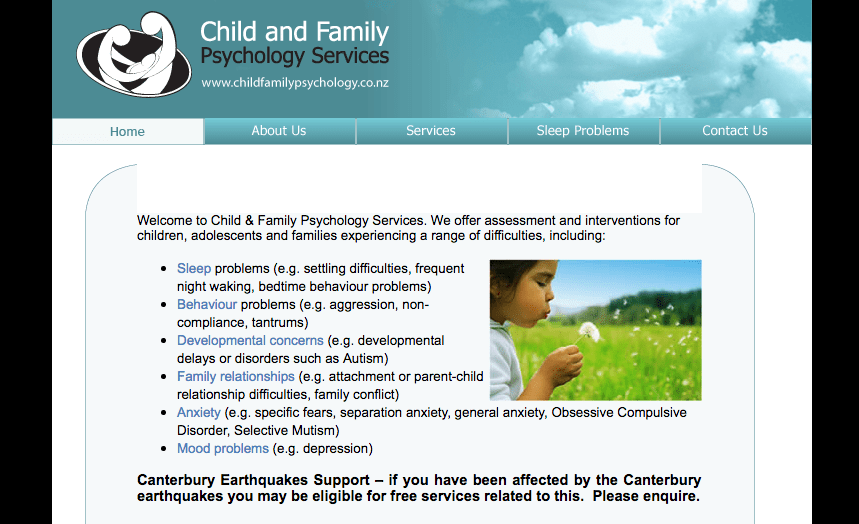 | | |
| --- | --- |
| Best for | Kids Development and Behaviour |
| Services | Sleep, Behaviour, Autism, Family, Anxiety, and Depression |
| Address | 184 Papanui Road, Merivale, Christchurch 8014, New Zealand |
| Contact no | 021 806 909 (Shelley) or 021 270 3131 (Cherin) |
| Website | http://www.childfamilypsychology.co.nz/ |
Kids form their characters in the place or environment they live in. It's really paramount that at this stage they are guided and encouraged, especially when they are going through stress, anxiety, or trauma.
Child and Family Psychology Services is one of the best psychologists in Christchurch when it comes to this. Kids taken here will be guided by registered psychologists that are friendly and supportive.
So, if your child finds it hard to sleep, throws a wild tantrum randomly, or has family problems, these psychologists can really help them recover.
Highlights
Works with children or adults with stress or anxiety
Registered psychologists
Offers Triple P parenting programme
5) PsycInsight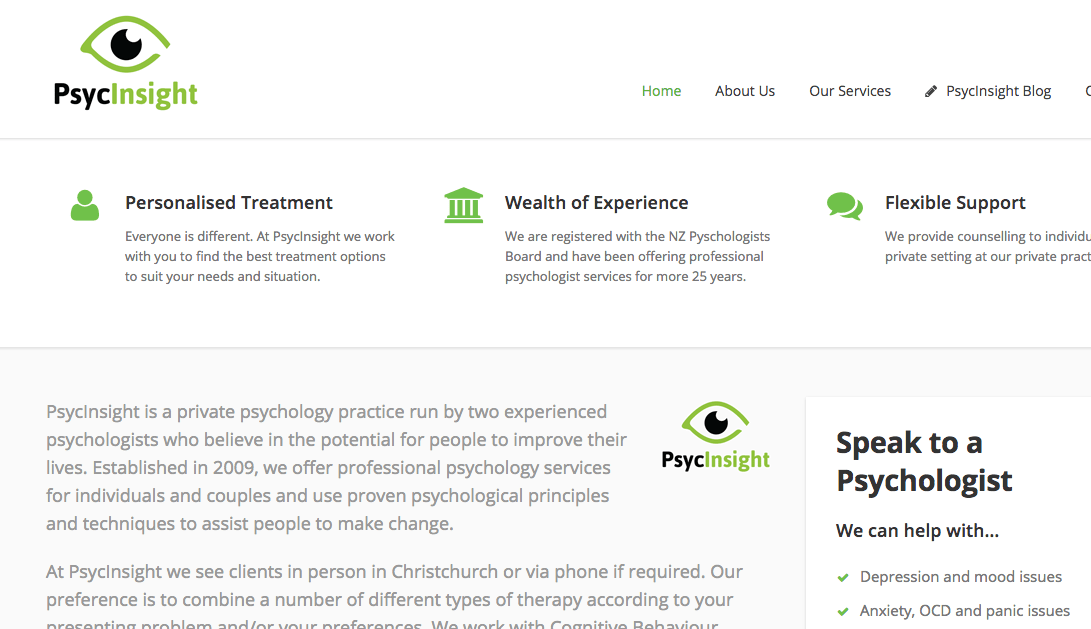 | | |
| --- | --- |
| Best for | Personalised Therapy |
| Services | Depression, Anxiety, OCD, Stress, Eating Disorders, Chronic Pain or Medical Condition, Gender, Goal Setting |
| Address | Unit 1, 110 Mandeville Street, Riccarton, Christchurch 8011, New Zealand |
| Contact no | +64 (0) 27 509 1799 |
| Website | http://www.psycinsight.co.nz/ |
If you have a busy schedule and can't commit to your sessions, you can try PsycInsight. It's your choice whether you visit their office or have your session by phone instead.
PsycInsight is lead by Andrea Mulligan and Mike McKinney. It was formed in 2011 and caters to people with depression, anxiety, trauma, body image issues, work-related stress, etc.
Your problem will be identified and assessed. After some coaching and support, you will be able to apply what you've learned to your anxiety or stress before the next session.
Furthermore, they contract their services through ACC for company employees or businesses. It is beneficial to the company concerned too, as doing so can motivate the team and increase their productivity.
Highlights
Personalised treatment
Psychologists with 25 years plus
Broad range of services
6) Bryan Wright

Best for
Psychology and Cognitive Behavioural Therapy
Services
Depression, Anxiety, OCD, Stress, Eating Disorders, Chronic Pain or Medical Condition, Gender, Goal Setting
Address
78 Maidstone Road
Ilam, Christchurch
Contact no
(03)366-6126 |

[email protected]

Website
https://bryanwrightpsychology.co.nz/#home
Bryan Wright is a Registered Psychologist who provides psychological services to patients of all ages. No matter the difficulties one faces, nor their background, Wright is readily prepared with open ears and years of experience in the field.
He carefully assesses each patient to create a detailed plan on how to help them. Having problems with Anxiety or Depression, or dealing with angst in your relationship? He is also an excellent choice for such situations, as he has the knowledge and skills to adequately handle each.
Highlights
Standard fee of $200 for 50 minutes
Offers supervision of psychologists and other mental health professionals
Member of NZ Institute of Clinical Psychologists
7) Richard Wheeler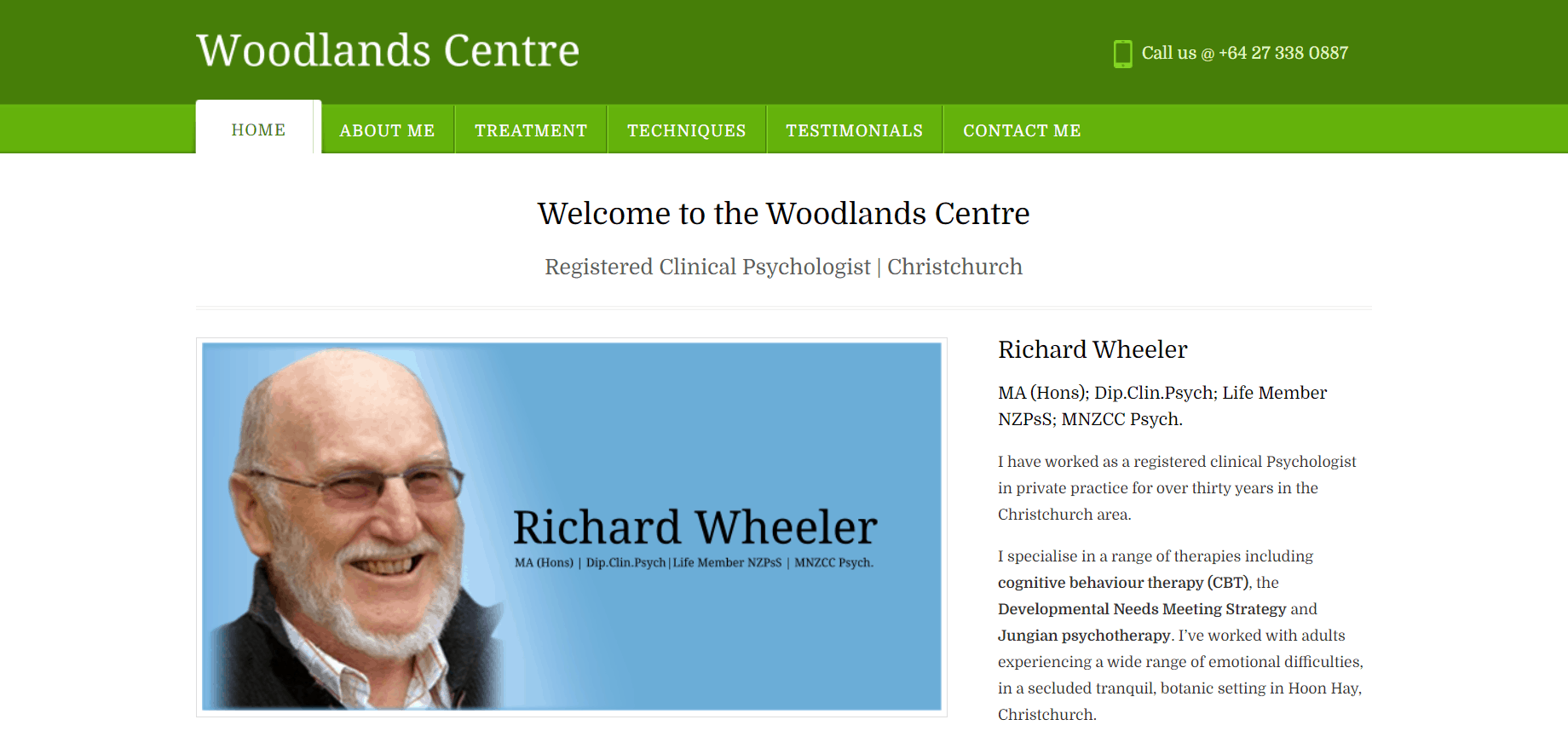 Best for

Behavioral Therapy

Services
Psychological Services
Psychotherapy
Post Accident Counselling
Clinical Psychology Treatment
EMDR
Relaxation Training
Clinical Psychology
Life Crisis
Professional Supervision
Anxiety and Mood Disorders
Trauma
Grief and Loss
Address

Woodlands Centre, 36 Country Palms Drive, Halswell, Christchurch

Contact no
Phone: +64 27 338 0887
[email protected]
Website
http://richardwheelerpsychologist.co.nz
Richard Wheeler has been providing his services as a highly regarded clinical psychologist for decades. With over 30 years of experience, he has utilised a lot of treatments and techniques, namely Cognitive Behaviour Therapy, Developmental Needs Meeting Strategy, and Jungian Psychotherapy, among others.
He has undergone a multitude of extensive trainings, and is already considered a long-term Psychotherapist. After practicising in private, community, and hospital settings, there's no doubt that he will be able to handle any psychological issue he encounters.
Given his diverse skillset and wealth of experience, Richard Wheeler is a psychiatrist you should consider, especially when it comes to Cognitive Behavioural Therapy.
Highlights
Many years of experience
Offers long-term therapy
Wide range of therapies available
Proposes effective strategies for coping
And that's it for the best psychologists in Christchurch. If you are struggling with a mental health condition or if your kid is exposed to a toxic environment, book an appointment with these as soon as possible.
Have you tried any one of these services? We'd love to hear about your experiences, so share them with us by dropping us a line and we'll get back to you.
If you want to try other therapies for your troubles, though, why not try getting a quick high on endorphins as a stopgap until you can visit your psychologist? For this, you might like to take a look at the best treadmills in New Zealand for a home gym.