The 6 Best Public Liability Insurance in NZ
Feartured Image Source from Brave Day
Businesspeople have a responsibility to keep their clients safe in providing their goods and services. But no matter how careful and focused they are, accidents can still occur.
That's where public liability insurance comes in. It covers businesses from the expenses incurred due to property damage and personal injury done to others.
As liability insurance features an array of benefits and options, it can be hard to understand, much less find a suitable policy that meets your business needs.
Fortunately for you, we've written a guide on how to choose the best public liability insurance in NZ here. Through this, you'll be able to browse our list below effortlessly.
How to Find the Right Public Liability Cover
Each business is different in terms of offerings, skill and experience, and risk levels. Hence, you need a public liability cover specifically tailored for it.
Your client may state in the contract a certain public liability clause. You should know the minimum level of that required cover so that you can abide by the contract.
Below are several things you need to take into consideration when buying public liability insurance:
1. Level of Coverage
To protect your business, it's essential to have the right level of cover. Your business has to be fully protected from the many risks involved as much as possible.
An insurance broker can talk you through your options and help you decide on the right coverage for your business.
2. Extensions
As we mentioned earlier, liability insurance products offer different benefits or extensions. Here are the most common ones:
Legal compensation – This covers legal defence and settlement costs if a client has filed a charge against you and decides to take the fight to the court.
Damage costs – This provides cover if you are legally liable to pay for damage to another person's property or business.
Accidental injuries – In case someone has been injured through your business, employee, or product, you are covered for the accidental expenses.
Advertising liability – This protects you from claims that accuse your company of slander, libel, copied ideas, copyright infringement, and invasion of privacy.
Lost or stolen keys – If you've lost the keys entrusted to you and they have been stolen or duplicated, you will be covered up to a certain amount.
3. Excess
You have to be aware of your policy's excesses and make sure you can afford them. These typically range from $500 to $2,500 depending on the extension.
4. Premium
The premium you have to pay is based on several factors including your company's nature of business, yearly sales, claim history, number of staff, and size.
Remember, getting a cheap policy isn't always the best if it leaves your business open to certain risks. After all, you seldom know what's going to happen every day.
You can visit your top providers online and get quotes from them, or use the BizCover comparison tool to give you useful insights about which policy is best for you.
5. Policy Wording
The policy wording has particular sub-limits, conditions, and excesses that apply. You have to read the fine print so you won't miss any important details in your cover.
Besides that, you have to know the exclusions in your policy. That way, you won't be shocked all of a sudden to realise you aren't covered for something when you need it.
Also, it's worth noting that you shouldn't admit any guilt or blame concerning the claim made against you. Let your lawyer handle the case in the best way for you.
The Best Public Liability Insurance in NZ
Now that you know how to choose public liability policy, here's our roundup of the top public liability insurance in New Zealand!
1) AA Public Liability Insurance

Best for
Small businesses
Products
Public and Products Liability Insurance
Benefits
Legal compensation
Employee's possessions
Product recall
Lost keys or access control devices
Defective workmanship
Address
New Zealand-wide
Contact Details
Phone: 0800 500 231
Claims: 0800 500 216
Overseas: +64 9 927 2306
Email them here
Office Hours
Monday – Friday: 8.00 AM – 8.00 PM
Weekends and public holidays: 8.00 AM – 6.00 PM
The AA Public and Products Liability Insurance can back you for third-party damages and injuries unknowingly caused by your service or product.
Their policy is one of the best public liability insurance options for small businesses. It offers reliable features that protect you and your business from the following:
Defective workmanship
Product recall
Personal belongings of your employees
Compensation for a court appearance
Lost keys and security access devices
You are covered in legal liability up to your sum insured. Different excess fees apply for each benefit, for example, $1,000 excess for poor service outcome and $2,500 if you are ordered to recall your product.
And by taking out one or more policies from AA insurance, you'll receive a discount on your premiums each month or year.
Strong financial rating (A+ as rated by Standard & Poor's)
Simple claims process
Multi-policy discount
2) State Public Liability Insurance

Best for
Full liability protection
Products
Public Liability Insurance
Benefits
Public and product liability
Defence costs
Advertising liability
Business advice and service
Business travel to a non-territorial country
Care, custody, or control
Goods lifted or carried by crane
Hot works away from your promises
Innkeeper's liability
Landlord's liability
Lost or stolen keys
And more…
Address
58 Killarney Road, Frankton, Hamilton 3204, New Zealand
Contact Details
0800 80 24 24
Office Hours
Customer Service
*Monday – Friday: 8.00 AM – 6.00 PM
Saturday: 8.00 AM – 2.30 PM
Sunday: closed
*Excludes public holidays

New Claims
Monday – Friday: 8.00 AM – 6.00 PM
Saturday – Sunday and public holidays: 9.00 AM – 6.00 PM

Overseas
Australia: 1800 887 863
United States: 1800 593 9482
United Kingdom: 0800 096 5308
All other countries: +64 9 969 1150
For over a century, State has been a trusted insurer for Kiwi people and businesses. It is a company under and whose policies are underwritten by IAG New Zealand Ltd.
IAG has achieved an AA- rating proving that they have a very strong claims-paying ability.
State's Public Liability policy provides extensive cover for your business against sums incurred out of accidentally injuring another and/or damaging his property.
In other words, the policy is versatile and appeals to different business industries including construction, real estate, marketing, business consultancy, and others.
Some of its exclusions include piloting an aircraft or driving a vehicle, defamation, asbestos, and hot work carried away from your premises, to name a few.
Very strong financial strength (AA- as given by Standard & Poor's)
Rewards you with Flybuys (1 Flybuys for every $25 of premium you pay)
Online policy management
No cover for defective workmanship or product recall
3) AMI Public Liability Insurance

Best for
Tailored insurance options
Products
Tradies Bundle
Shop Insurance Bundle
Hospo Insurance Bundle
Public Liability Cover
Benefits
Tradies Bundle

Public liability
Tools and equipment cover

Add-on

Theft cover
Natural disaster cover
Other business insurance options

Shop Insurance Bundle

Business assets liability
Employer's liability
Statutory liability
Business interruption

Add-on

Theft cover
Natural disaster cover
Business interruption cover
Other business insurance options

Hospo Insurance Bundle

Business assets
Public liability (Broadform)
Statutory liability
Business interruption
Employer's liability

Public Liability Cover

Business vehicles

Repair and replacement of business vehicles
Legal liability
Transport and towing expenses
Windscreen and windows
Uninsured drivers protection
Manslaughter defence costs

Business Liability

Public Liability (Broadform)
Statutory Liability
Employer's Liability

Business Assets

Mobile business assets
Material damage cover

Add-on

Theft cover
Natural disaster cover
Other business insurance options
Business Interruption
Loss of profit Loss of rent
Payroll
Expenses incurred in quantifying your claim

Machinery Breakdown and Stock Deterioration

Sudden and accidental breakdown of mechanical, electrical or electronic plant and equipment
Refrigerator breakdown
Address
New Zealand-wide
Contact Details
Freephone: 0800 100 200
Overseas: +64 3 371 9000
Office Hours
Monday – Friday: 8.00 AM – 6.00 PM
Weekends and Public Holidays: 9.00 AM – 6.00 PM
For a tailored cover and affordable premiums, you can apply with AMI Insurance! They have 8 public liability policies that cater to your business type and requirements.
Policy rates only start from $18 with flexible payment frequencies of weekly, monthly, and annually. Add-ons are also offered that allow you to expand your liability cover.
Whether you're a shop owner, tradie, entrepreneur, or courier boss, you'll be able to find more suitable insurance to protect your assets, employees, and clients.
AMI has longstanding experience in the business. And as they don't have a broker, you get a lower premium when you purchase insurance from them.
Flexible payment frequency
Competitive rates
Dedicated claims team
Incomplete policy benefits
4) QBE Public Liability Insurance

Best for
Legal defence and cover
Products
General Liability Insurance
Benefits
Advertising liability
Business advice or service
Contractors or subcontractors additional insured
Defective workmanship
Forest and rural fires act
Goods on hook
Hazardous substances emergency
Innkeepers liability
Landlords liability
Lost or stolen keys
Mechanical plant liability
Car park liability
Product withdrawal costs
Property in care, custody, or control
Punitive or exemplary damages
Remotely piloted aircraft systems
Tenants liability
Underground services
Vehicle or equipment service or repair
Vibration or removal of support
Visits to North American countries
Warrant of Fitness
Address
Head office: Level 21, QBE Centre, 125 Queen Street, Auckland 1140, New Zealand
Contact Details
Customer Service +64 9 366 9920
Claims Phone: 0800 QBE CLAIMS / 0800 723 252
Email:

[email protected]
The QBE General Liability insurance is mainly designed for people working in the manufacturing, building, installation, and service or repair sectors.
This liability policy covers costs concerning legal defence, court proceedings, and out-of-court settlements as a result of third-party injury or property damage.
Furthermore, QBE works with NZ's top defence lawyers who have your back, in case someone files a case as well as demands compensation against you.
Their extensions include defective workmanship, advertising liability, punitive damages, property in care, custody, and control, and goods on hook, amongst others.
By being insured, you can give your 110% focus to growing your business. You'll attract more customers given your ability to pay should anything go wrong with your service.
Strong financial strength (A+ as given by Standard & Poor's)
Adept claims team
Access to the best NZ lawyers
5) Vero Liability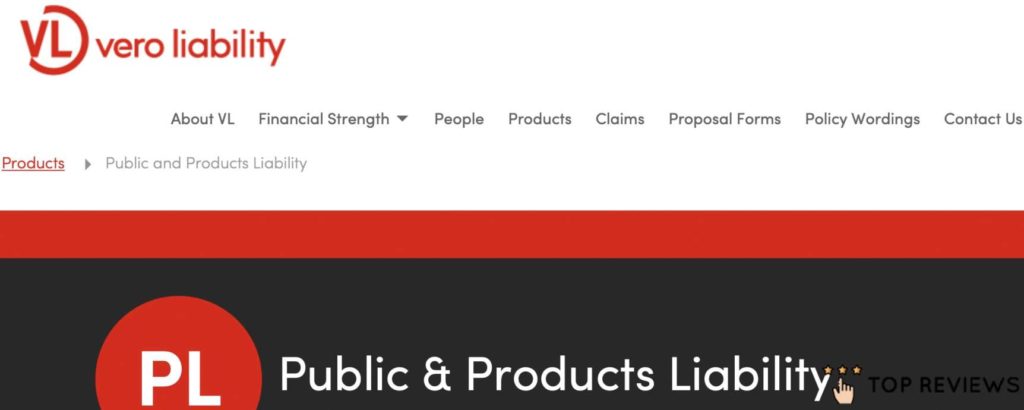 Best for
Fast claim response
Products
Public and Products Liability
Benefits
Advertising liability
Contractors/sub-contractors
Defective workmanship
Forest and rural fires act
Goods on hook
Hazardous substances emergency
Innkeeper's liability
Keys and locks
Product recall
Property in care, custody, or control
Property owner's liability
Punitive or exemplary damages
Service and repair
Tenant's liability
Trade advice or services
Underground services
Unmanned aerial vehicles
USA/Canada coverage (products only)
USA/Canada visits Vehicles (additional provisions)
Vehicle inspection certification
Vibration or removal of support
Address
Level 32, ANZ Centre, 23-29 Albert Street, Auckland 1010, New Zealand
Contact Details
09 306 0350

[email protected]
Vero Liability has an expert legal team that can defend your business from allegations or claims, provided that you inform them of the situation as early as possible.
They offer a public and products liability policy that indemnifies your company for sums arising out of unintended personal injury or property damage to your client.
Their product offers a full gamut of extensions from advertising liability to Warrant of Fitness (WOF) for vehicles, and everything in between.
One of the best public liability insurance providers in NZ, Vero Liability has strong financial security characteristics, having been given an A+ by rating agency Standard & Poor's.
Strong financial strength (A+ as given by Standard & Poor's)
In-house legal team
Easy claims process
Only offers product through insurance brokers
No online policy management
6) Progressive Insurance Brokers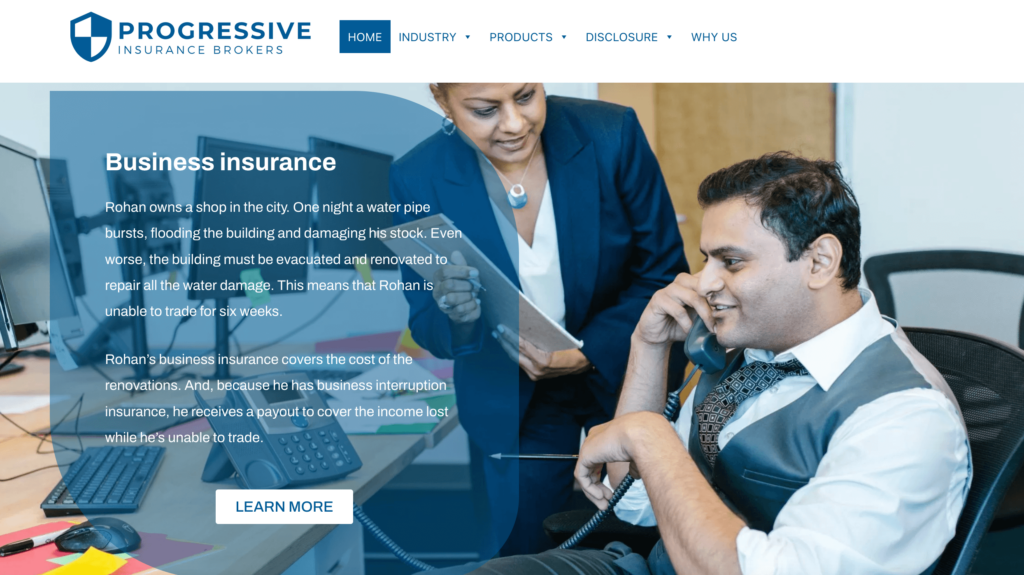 | | |
| --- | --- |
| Best for | Affordable cover |
| Products | General Liability Insurance |
| Benefits | Legal liability to third parties, including clients, customers and the public for injury or damage to their property, caused by the business |
| Address | 20 Royal Road, Massey, Auckland 0614 |
| Contact Details | 0800 461 262 |
Progressive Insurance Brokers can help you find the best deal that fits your business's budget. From AIG to QBE, their large network of insurance providers can find you the most suitable policy options to match your unique requirements.
They specialise in working with businesses across a wide range of industries. This means that they can help identify risks that are specific to your type of business.
We had to include them here because they can also make claims during your time of need, so you don't have to.
We heard that they can help with the paperwork and follow up on delays, so you can get on with running your business.
So if you're after convenience and affordability, then you might want to consider hiring a broker such as Progressive Insurance Brokers to help you deal with your public liability insurance.
Large network of insurers
Easy claims process
Assists with paperwork and delays
No online policy management
No online quoting
FAQS about the Top Public Liability Insurance in NZ
---
And that concludes our list of the top public liability insurance in NZ! With this cover, your business will be insured from accidental damage and injuries to someone else.
Have you got any questions or suggestions for us? If you have one, kindly drop us a line and we'll get back to you promptly.
Also, if your work involves advising clients, such as if you're a financial adviser or lawyer, you may want to be insured by the best professional indemnity insurance in NZ.