The 9 Best Resistance Bands in New Zealand
Resistance bands give great workouts that you can do just about anywhere. Apart from that, they're gentle on the joints, unlike other exercises.
Anyway, if you're planning to get one, we've listed the best resistance bands in New Zealand here.
There is a myriad of resistance bands varying in tension, length, and application, so it can be confusing to know which product will best suit your fitness needs.
That's why we will first tackle the basics of buying a resistance band. Afterwards, we will be featuring the best resistance bands in New Zealand and help you pick out the one most suited for you!
How to Buy a Resistance Band
Before you buy a resistance band, you should first think about your body goals and the body parts you would like to work on like arms, shoulders, glutes, ankles or legs. Considering these things will give you a better idea of what you need.
Here are other things you should know to find the right resistance band to raise your fitness game.
Type
There are three types of resistance bands that you can find: loop bands, open bands and band tubes.
Loop bands – also called mini bands; These are oval in shape and are best for working out the lower body. These can be used for exercises such as squats, kickbacks, glute bridges, and hip thrusts.
Open bands – These are the resistance bands without any closed sides. These are best used to tone your biceps, triceps, shoulders, and back muscles.
Band tubes – These come with two holders which assist you in pulling off a variety of strength exercises. It lets you train your body with more stability and grip.
Among the options, not one is better than the other. Choosing the right type of resistance band depends on the exercise you're doing and which of them you're comfortable with.
Tension Level
It's crucial that you train with a resistance band with the right tension level. Otherwise, you might accidentally injure yourself or have no use for the band at all.
Fortunately, you can find resistance bands with various tension levels sold as a single set. Usually, they come with low, medium, and high resistance levels to suit your training.
Length
Most people don't realise that length is an important factor in choosing a resistance band. Having the correct length lets you have the proper form when you're training.
The rule of thumb is that the resistance band length should be within a few inches of your height. That said, if you're taller, you should pick longer resistance bands.
Durability
If you plan on using the resistance band frequently, you should pick one that's durable enough. That is to say, it shouldn't break off from its anchor point or during the exercise itself.
Those made with PVE and latex are wear-resistant, flexible and won't tear off with rigorous use. Resistance bands made from cotton and polyester fabric also make durable choices.
Moreover, some workout bands are made from eco-friendly latex. Besides being flexible and soft on the skin, it helps to reduce your carbon footprint.
Design
Add some style to your workout with a resistance band design that you prefer. There are a ton of fashionable and sleek options out in the market.
If you want simpler designs, you can get resistance bands that come in plain colours. Many also have a nice carrying bag, so you can take the workout bands with you on the go.
Warranty
Finally, you should check if the product has a warranty — preferably a year or more.
It will save you headaches and extra costs along the way in case the resistance band has a quality issue.
The Best Resistance Bands in New Zealand
With the fundamentals in mind, you're now ready to see the best resistance bands in New Zealand. Here they are:
1) Exercise Training Resistance Bands Set (100 lbs)
Best Resistance Band Set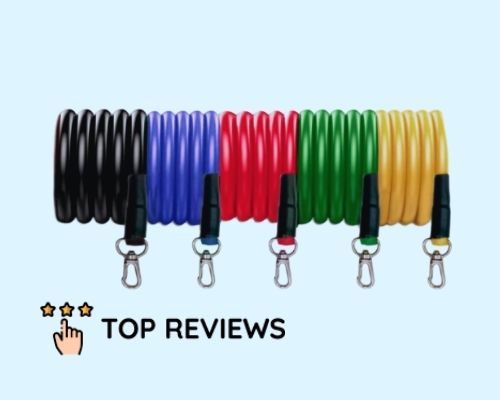 Price: NZ$14.99
Great for any skill level, the Exercise Training Resistance Bands feature five colour-coded resistance bands measuring 110cm each, ranging from 10 to 30 lbs.
You can get a full-body workout without leaving your room. You work on your arms, shoulders, legs, glutes, and abdominals — or mimic the sport you're playing.
If you've built your strength to a high level, you could combine all resistance bands (totalling to a 100 lbs).
Made of durable EVA, the rope won't break or snap during use. The soft, sweat-absorbent grip help you maintain proper form without losing your rhythm.
This set contains 5 resistance bands, 2 straps, 2 handles, 1 door buckle and a small storage bag so you can take your workout wherever you go.
Pros
Great for all skill levels
Comfortable and sweat-absorbent grip
Durable belt
Complete set with bands and accessories
Affordable
Cons
No instruction guide
No ankle straps
2) Aim'n Espresso Fabric Resistance Bands
Best Resistance Band for Design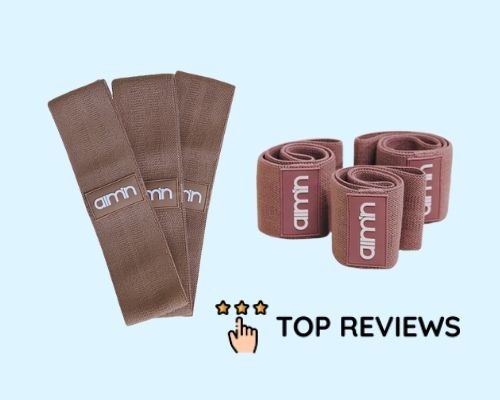 Price: NZ$40
If you're looking for a more fashionable way to train your upper and lower body, look no further than Aim'n Espresso Fabric Resistance Bands.
Its toffee colour will perfectly match any workout garment. Also, since it's made of polyester, cotton, and latex, it's comfortable and soft to use yet hard-wearing.
With three strength levels in one purchase — light (11-13 kg), medium (15-17 kg), and heavy (20-23 kg) — you can have the perfect resistance workout suited to your fitness goals. A travel bag is included so you can carry the bands when you travel.
Pros
Fashionable resistance bands
Hardwearing and comfortable
Includes 3 strengths in one buy
For upper and lower body training
Travel bag included
Cons
3) Yoga Non-Slip Resistance Bands for Glutes Hips and Legs (3 pcs)
Best Resistance Band for Lower Body Training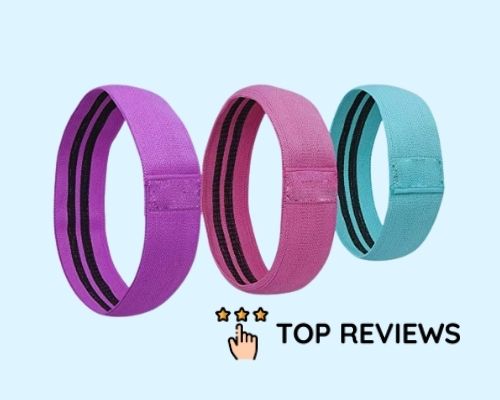 Price: NZ$29.99
Find This Product On The Market
Exercise your hips through a variety of lower body exercises. These resistance bands will help you achieve a sexier figure by working your glutes and legs.
Besides slimming your lower body, the resistance bands can also be used to work your arms.
Exercises will be on point with the anti-slip latex on the inner side of the workout band. Its high tensile strength lets you challenge your body without the band snapping off.
They come in three varying colours and weights. Those are blue, pink, and violet, measuring 66, 76, and 86 cm in length respectively.
In addition, the three resistance bands are sewn with cotton and polyester, making them durable and wear-resistant. You'll be able to use them for a few years or more.
Pros
Excellent for working the glutes, legs, and hips
High tensile strength
Set of three
Anti-slip and wear-resistant
Value for money
Includes a pouch bag
Cons
Limited use for certain exercises
4) Aim'n Mint Resistance Band
Best Overall Resistance Band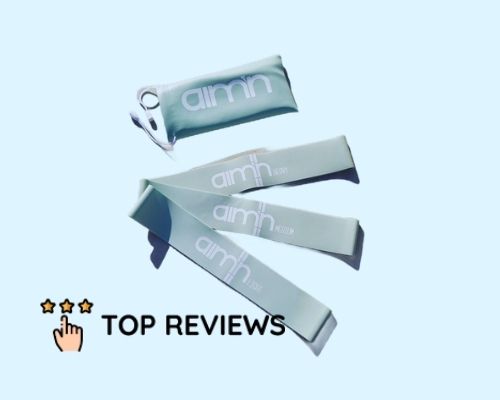 Price: NZ$30
Stay fit and healthy by using the Aim'n Mint Resistance Band. Included in the pack are three resistance bands in varying sizes, so you can work your way up toward the hardest resistance band.
These resistance bands have superb quality and great designs. You can bring these with you wherever you want with the cute pouch that comes with every purchase.
They're made from 100% natural latex, with each band measuring 60 cm long and 5 cm wide. Check out its other colourways in hydro, black, pink, and pale plum.
Pros
Excellent quality
Lovely design
You can feel the burn when using the bands
Comes with a cute pouch
Available in other colours
Cons
Can leave white powder/residue
Thinner in some areas
Customer Reviews
Aim'n Mint Resistance Bands received rave reviews from numerous satisfied customers. Most of them praised the quality and colours of the Aim'n Mint Resistance Band.
Check out these reviews:
"So cute, super good quality and I'm literally in love, just got them today but I can't wait to start using them !!"
"So happy with my booty bands! Such a beautiful colour and awesome design. They work really well to create extra resistance when working on my booty, I am always feeling the burn the next day. Definitely recommend xx"
5) DMK Fitbands Set – Resistance Bands + DMK Bar
Best for Whole Body Fitness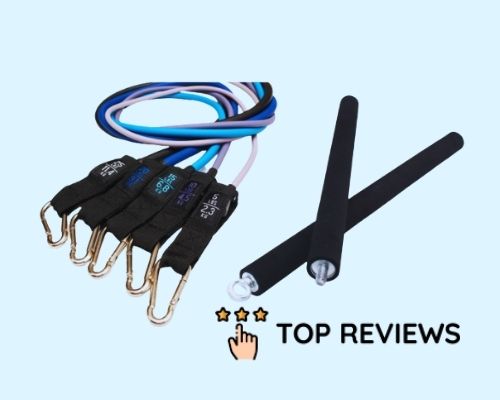 Price: NZ$129.99
Sale Price: NZ$84.99
The DMK Fitbands Set allows you to work out in the confines of your home. It features a various resistance bands, DMK bars and other items, all of which can be used differently depending on your regimen.
The resistance bands can accommodate a wide range of stress levels, depending on the color. Darker colors mean higher resistance levels.
When combined with the DMK Bar, the resistance bands can be used to conduct upper body and lower body workouts more easily. Not only that, but a protective sleeve is included for the resistance bands to help conduct exercises safely and prevent damage to the bands when exercising.
The set also comes with a free workout program — perfect for beginners with no established routine yet.
Pros
Can workout your entire body
Accommodates all stress levels
Protective sleeve included
Comes with a free workout program
Only company in Australasia to offer the resistance bands + bar set
Cons
6) Figure 8 Exercise Toner Resistance Band (20 lbs)
Best Resistance Band for Price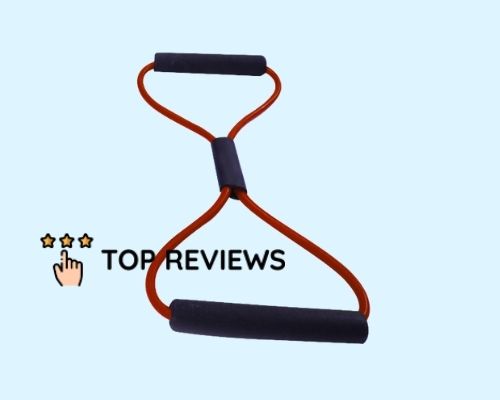 Price: $7.99
For just a low price, you get two Figure 8 resistance bands. For a total upper body workout, this is one of the best resistance bands in New Zealand you can get.
With its 20 lbs resistance, you can do different exercises to tone your arm, chest, back, and shoulders. You can activate your legs and glutes as well!
Durability-wise, the Figure 8 resistance band is manufactured using TPE and EVA. You can stretch it with all your strength and it definitely won't snap off.
The best part is you can roll the resistance band into your suitcase or backpack when you go out. You can keep up your strength training routine without having to use weights.
Pros
Wonderful for upper body conditioning
Durable product
Travel-friendly
Comfortable grip
Economical price
Cons
7) Resistance Tube in Red
Best Resistance Band for Arms and Legs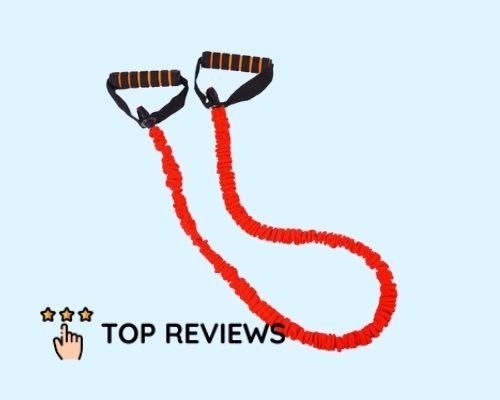 Price: NZ$16.00
Get the perfect band for full arm and leg training. The resistance Tube Red can also train your abdomen and lower body.
It has a maximum tension of 20lbs and length of 1200mm which makes it a professional training level accessory. It's a great value for your money especially with the comfortable hand grip and anti-pull material.
It's also made of latex with a nylon cloth cover. And apart from all of this, it has a striking red color that gives it a great look while working out.
Pros
Perfect for professional training level

Comfortable hand grip

Nylon cloth cover
Cons
Elastic gets worn out over time
8) FITBANDZ Island Girl Collection – Mauritius
Best for Stylish Fitness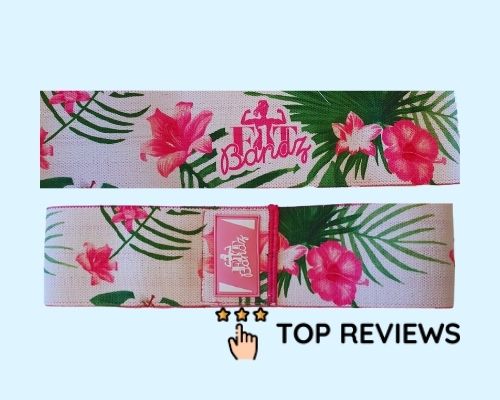 Price: NZ$45.00
The Fitbandz Island Girl Collection allows you to work your lower body in style. Its tropical design features gorgeous flowers and palm leaves against a white background.
It's made to last, thanks to its durable thick cotton and reinforced stitching. The anti-slip strips on the inner part of the band ensure that you'll be able to work out properly, even if you start sweating.
It comes in two size and fits, intermediate for people of all fitness levels, and hard/advanced for those looking for a more challenging work out. No matter your choice, you can rest assured that the Fitbandz Island Girl Collection will be able to serve you for a long time.
Pros
Ideal for training lower areas of the body
Made of durable, thick cotton
Anti slip strips in inner part of band
Latex-free
Cons
Only two designs in the collection to choose from
9) Apefit The Vine Band – Medium
Best for Stylish Comfort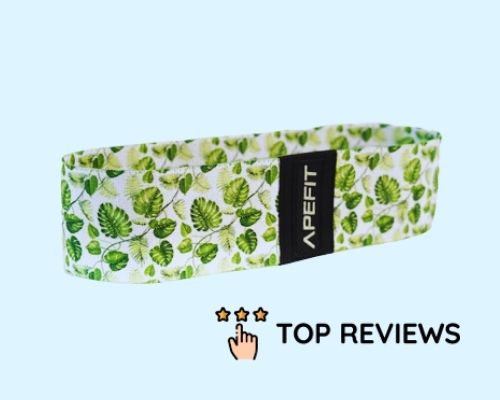 Price: NZ$30.00
A resistance band that takes your workout experience to the next level! Apefit's fabric is made with a custom blend of cotton, polyester and rubber with the greatest quality.
This band is versatile as it can be used for glutes, legs and upper body workouts regimes. It also has a dimension of 8cm width x 36.5cm length and comes with a carry bag that's a waterproof and portable.
To top it off, it also sports a bright, leaf patterned style to keep you looking stylish while working out.
Pros
Comes with a waterproof case

Easy to carry around

Comfortable to use
Cons
And that's all for the best resistance bands in New Zealand. With these, you'll get a calorie-busting, full-body workout without needing to go to the gym.
Do you have any questions or comments regarding these products? If you have one, feel free to leave us a comment, and we'll get back to you as soon as we can.
Furthermore, you may also be interested in the best personal trainers in Auckland. They can help you achieve your fitness goals and even check if your form in using the resistance band is correct.