Rice is a beloved staple around the globe that keeps our tummies satisfied. If you're looking for a good appliance with which to cook it, you're at the right place, as we're listing the best rice cookers in New Zealand today.
A good rice cooker can cook your rice to your desired texture, be it soggy, firm, or somewhere in between. In addition, you will be able to boil and steam beans, vegetables, and soups in it as well.
You can find a wide range of rice cookers out there. Some are just basic with manual controls, while some have reliable digital timers where you only need to press a button for them to start.
We've already done the research for you, but before we proceed to the best rice cookers in New Zealand, we'll enumerate the things you have to look for first so you will know exactly what to pick from our list later on.
Things to Consider before Buying a Rice Cooker
Provided you have decided to buy in-store or online to get a new rice cooker, you should consider the type, features, capacity, convenience, and price before getting one.
Let's now take a look at each of them below:
1)   Type
Rice cookers can be divided into two types: manual rice cookers and digital rice cookers.
Manual rice cookers need to be operated manually to change between cooking or warming mode. They are not equipped with a timer unlike digital rice cookers, along with pre-set buttons to boil or steam certain types of food.
As long as the rice cooker cooks your rice to perfection, either manual or digital rice cookers can work for you. And the former obviously costs less than the latter type of rice cooker.
2)   Capacity
Capacity refers to the maximum amount of rice you get from one cooking. It is measured in litres or rice cups: a good rule of thumb is that 1 rice cup equates to 1 person.
Think about how many people are in your family or group. If only a few people will eat rice, then you should opt for a cooker with smaller capacity, whereas if you have a lot of people, you can get the bigger one.
3)   Convenience
This simply pertains to the portability and user-friendliness of the rice cooker. Portable rice cookers are easier to bring over to your holiday home or your friend's house.
4)   Features
Having a rice cooker with nifty features can make your cooking a breeze. Some examples are a timer, pre-set functions, safety features, and a scoop holder, which is also stylish and convenient.
Not all features are practical, so you need to carefully think about what foods you usually cook and how often you would use the appliance.
5)   Price
There are many well-known brands for rice cookers that will match your budget. Find something that will give you value for your money and not something that breaks after a few months or so.
The Best Rice Cookers in New Zealand
Now that you know the essentials of buying a rice cooker, let's now list the finest rice cookers in New Zealand.
1)   Breville the Smart Rice Box (LRC480WHT)
Best Overall Winner for a Rice Cooker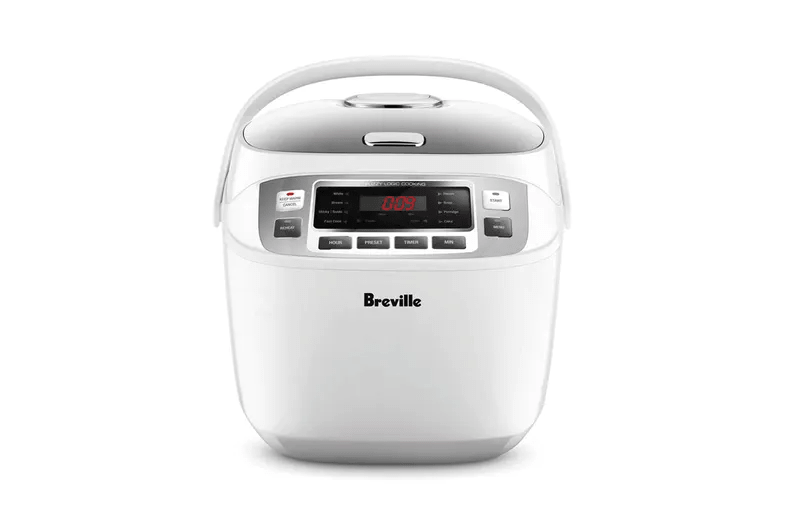 Price: NZ$119
No need to worry about heating it right with the Breville Smart Rice Box. It's designed with Fuzzy Logic Technology that applies the appropriate heat to any type of rice you're cooking.
The Breville Smart Rice Box is also a steamer and cooker in one (you just have to attach the steaming basket). You can cook white rice, brown rice, veggies, sushi, cake, sticky rice, and porridge.
The anodised ceramic pot is durable and not prone to corrosion and wear. More importantly, it is PFOA- and PTFE-free, meaning there are no toxic and harmful chemicals that are present.
It also comes with a removable pot that makes for easy washing and maintenance. Additionally, it has a built-in timer so that you can still have your rice dishes hot when served.
With these premium features, the Breville Smart Rice Box is one of the best rice cookers in New Zealand. Needless to say, it offers you value for your money and will last through many years of use.
Highlights
Built with Fuzzy Logic Technology
Variety of cooking options
Dependable timer feature
Easy to clean and use
PFOA- and PTFE-free
Customer Reviews
Breville the Smart Rice Box was well-received on Harvey Norman NZ, receiving an overall score of 4.8 out of 5 stars from 23 reviewers. Charlie70 said:
"We purchased the Breville Smart Rice Box back in February and it is such a great appliance! Not only have we stopped wasting money on boil in a bag rice, it is so reliable and fast. We use it all the time for our asian dishes!I like the fact that you can cook a large quantity if needed. Don't know why we didn't get one sooner!"
2)   Panasonic 1.8L Rice Cooker (SRDF181WST)
Best Rice Cooker for Budget and Design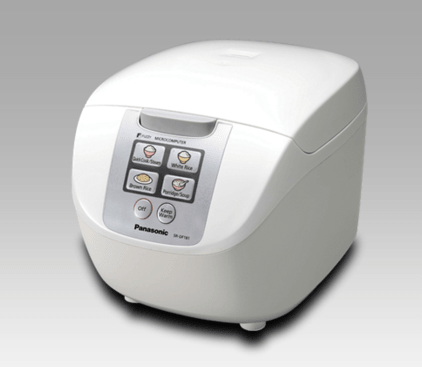 Price: NZ$99
Like a rice cooker that's trendy and affordable? Take the Panasonic 1.8L Rice Cooker that has a super-simple one-touch button for steam or fast cook, white or brown rice, and soup or porridge.
The Panasonic rice cooker is likewise equipped with the Fuzzy Logic Technology that dishes out perfectly made steamed rice, thanks to its ability to adjust the heat or cooking time as needed.
Aside from being very simple to use with no frills, it is easy to wash and clean. The inner pan is non-stick, so stains come off easily under soap and running water and the parts are removable (including the steam basket).
Furthermore, the warm mode keeps your food hot for a full 5 hours, so you won't have to reheat your food even after a while.
Try to be creative with the Panasonic rice cooker by trying your own recipes to surprise your family! It's among the best rice cookers in New Zealand for home chefs.
Highlights
Ultra-simple with one-touch buttons
Uses the Fuzzy Logic Technology
Easy to clean and wash
5 hours max warming time
Customer Reviews
Ms Masterchef writes a helpful review from the Panasonic website. An excerpt of it reads:
"Best thing about it? Convenience! The cup and water fill lines allow me to get that perfect balance of rice to water ratio right every time, meaning I can throw everything in, switch it on and then focus my attention on cooking the rest of my meal! It's really that simple! The keep warm function keeps it hot and fresh. It's easy to clean, pack up and store."
3)   Sunbeam 3-Cup Rice Cooker (RC1000R)
Best for Small Families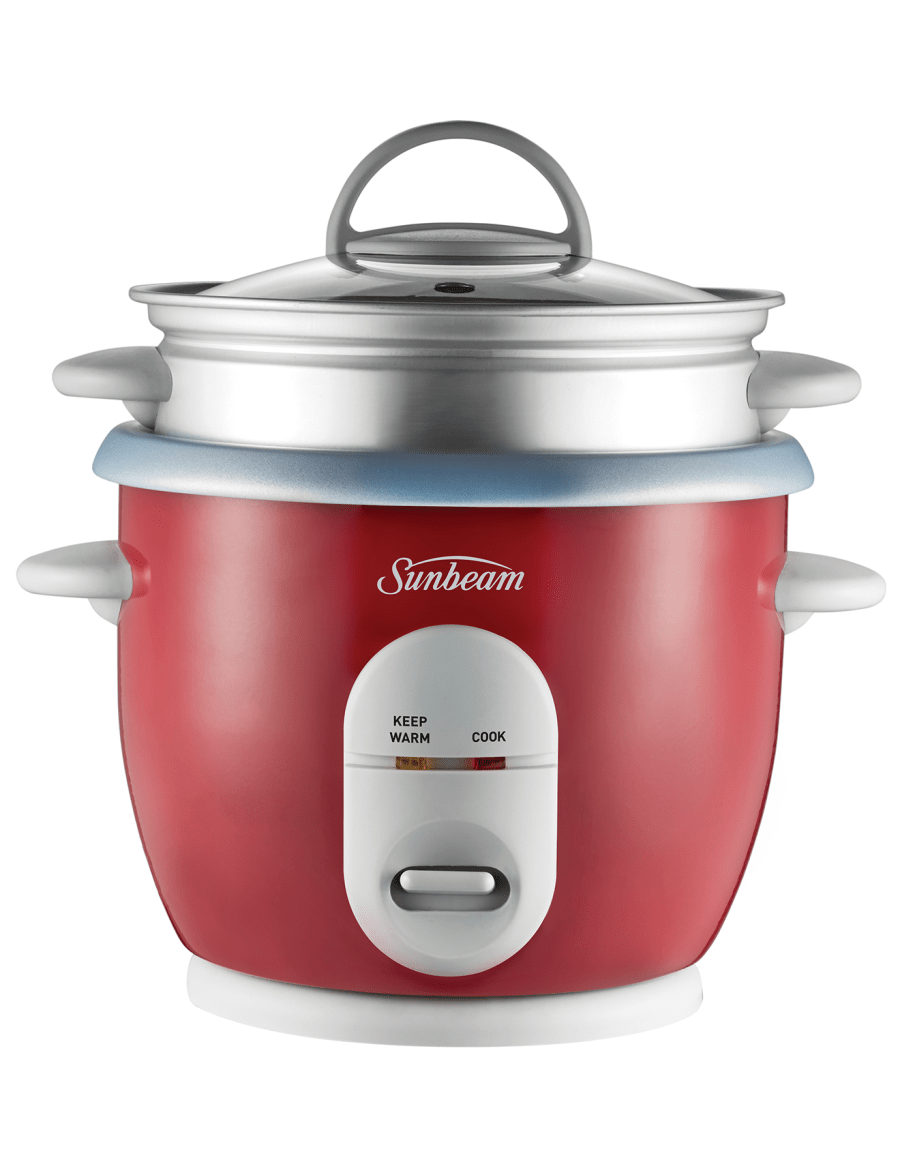 Price: NZ$79.99
Australian company Sunbeam is a recognised brand in the home appliances industry. They pride themselves on offering a broad range of products catering to any budget.
One of them is the Sunbeam 3-Cup Rice Cooker, which has a capacity of 6 cups, suitable for 2-3 persons. Its steamer and cooker can be used together to let you cook different foods at the same time.
With a flip switch to turn on the keep warm or cook modes, it is a very straightforward product. And what's cool about this rice cooker is its 2-story design.
It has a lid with a steam vent to let your food boil properly. Furthermore, the inner pan can be removed and washed effortlessly with stains that easily come off.
So, if you want a fairly simple and decent-quality rice cooker, you won't go wrong with Sunbeam Rice Cooker (RC1000R). Also, note that this appliance is not fit for brown rice cooking.
Highlights
Has a capacity of 6 cups for about 2-3 persons
Non-stick pan surface
Unique design
Simple to wash and clean
4)   Philips 6L Pressure Cooker/Rice Cooker
Best in Safety for a Multi Cooker/Rice Cooker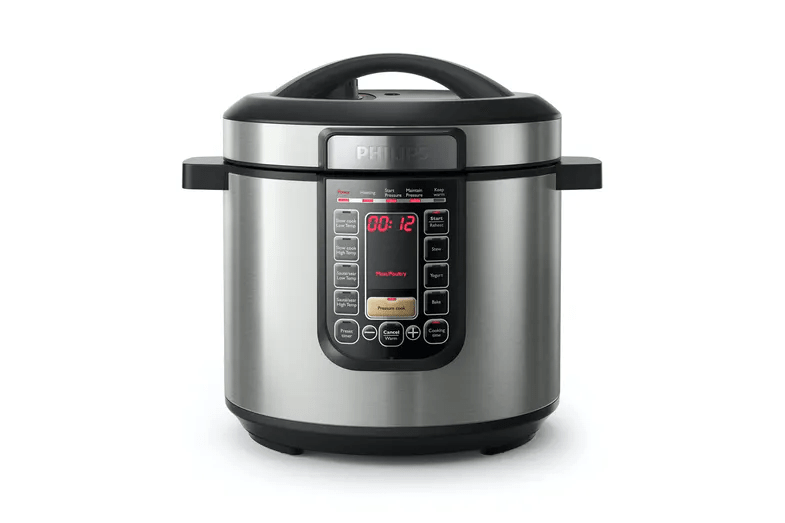 Price: NZ$239
Introducing the colossal Philips 6L Rice and Multi Cooker! It can be used to slow cook, pressure cook, steam, boil, saute, and bake, basically in just a single appliance.
The Philips 6L Rice Cooker is marketed as having tremendous power, being 25% faster to heat up food than others. And it has a 6L capacity, equivalent to 24 cups — perfect for large get-togethers or parties at your house.
The front panel may look like a recipe for total confusion, but in reality it's not. You'll actually be getting the hang of it the first time you do it, although there's a lot to learn about its timing and heat pre-sets.
Amazingly, it has 9 safety options to ensure you have a safe cooking time whether you're cooking roasted chicken or preparing apple pies.
This hefty appliance has a removable inner pot and lid that washes cleanly and easily. The inner pot is made of ProCeramic+ technology that resists scratches and makes it highly durable.
The Philips brand has a great reputation among health care and various home products. This one is no different as it comes with exceptional quality and usability that you can always depend on.
Highlights
Multipurpose rice cooker
Grand 6L capacity to feed a crowd
25% faster heating
Easy to maintain and clean
Super durable inner ceramic pot
Has 9 safety options
5)   Russell Hobbs Express Chef 6L Multi Cooker/Rice Cooker (RHPC1000B)
Most Versatile Multi Cooker/Rice Cooker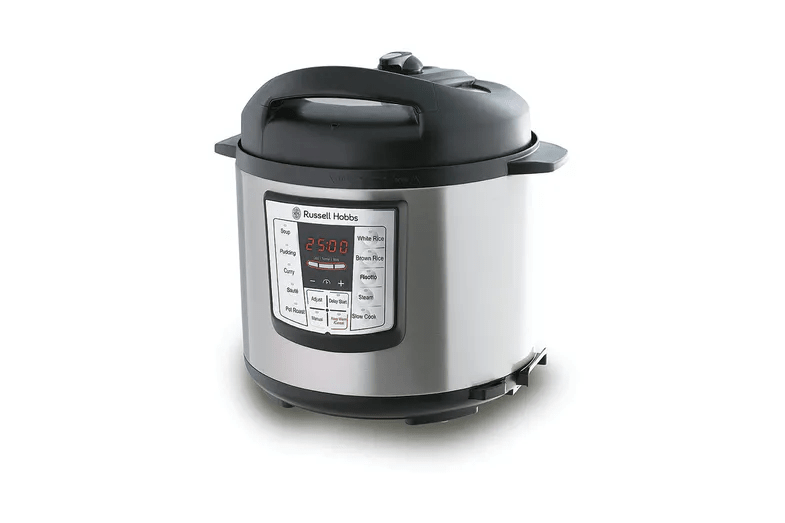 Price: NZ$144
A little bit cheaper than our previous multi-cooker is the Russel Hobbs Express Chef. It has several functions, including white and brown rice, risotto, pot roast, saute, soup, slow cook, steam, curry, and pudding.
With its fast heating time, you can create sumptuous meals quickly with this rice cooker. Make risotto without having to stir again and again, roast lamb chops and beef, or steam some delightful beans.
The lid locks in tightly to preserve the flavour and nutrients of the food, while you have a timer in order to stall the cooking until later, which helps you prepare other meals in the meantime.
Then, of course, its cooking pot is removable for a safe washing and cleaning prior to your next use. Plus, it is also dishwasher-safe.
Therefore, this is another of the best rice cookers in New Zealand because it can make you  tasty and delicious meals so easily — as well as quickly, hence the name Express Chef.
Highlights
Excellent multi-cooker with several settings
Fast heating of your food
Secured lid for pressure cooking
Dishwasher-safe inner pot
Easy to clean
Customer Reviews 
The product was admired for its terrific speed, especially in slow and pressure cooking. Bogglebo writes from the Harvey Norman website:
"I was a terrible cook. The Express Chef has changed that – can cook a roast in under an hour. No interference needed, melt in the mouth food. You won't ever regret buying this. Saves so much time and makes it easy to feed a family regardless of what time you get home."
Anyway, that completes the list for the best rice cookers in New Zealand. If you're up for some excellent rice recipes, these products will give you a hot and perfectly cooked rice every time!
What did you think of our selections? Are you using the same brands for your rice cookers? Send us a message and let us know all about it and we will get right back to you.
By the way, we've also written an article about the best air fryers in New Zealand. With those, you can have your low-fat fried side dish go together with your brown rice for a healthy, and guilt-free meal.