The 11 Best Roof Replacement Auckland Contractors
If your roofing is beyond repair or has a design that's out of date, you might want to consider replacing it completely. For this, we've gathered the best roof replacement Auckland contractors to help you.
We chose the ones who are qualified, professional, and efficient workers. Then we picked those who have reliable customer service, friendly and dedicated personnel, as well as being known for using the best materials.
So that we can be sure that we've selected the best roofers in the city, we also read the customer reviews — this let us know that we weren't mistaken in our selections.
You can get the ones we picked to assess your roof first too, to see whether you need repair or replacement. At any rate, here are the best roof replacement Auckland contractors!
1)  Solution Roofing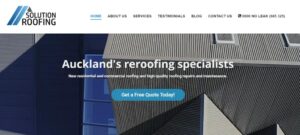 BEST FOR
New Roof Installation
SERVICES
Commercial

Residential

Repairs

WEBSITE
https://solutionroofing.co.nz/
ADDRESS
Auckland, New Zealand
CONTACT DETAILS
0800 NO LEAK (665 325) | [email protected]
OPERATING HOURS
Contact for more details
Solution Roofing s a locally owned West Auckland based roofing company that cates to various people in the Auckland area.
Their licensed installers have many years in the industry and thrive on a new challenge, from high-end detailed residential to large scale commercial.
Their mission is to take the worry and stress out of your roofing requirements by using their knowledge and expertise to provide you with easy and cost-effective solutions.
Highlights
Reasonable rates
Only uses high-quality materials for every project
Punctual and professional crew
Customer Reviews 
Here's what people have to say about Solution Roofing:
"Got a competitive quote from Solution Roofing to replace a leaking roof (after 2 other outfits couldn't be bothered) and they were around to fix it a week later. Went outside at the end of the day to check they had a tarpaulin covering where the old roof had been ripped off and found the entire new roof in place. Brilliant!! We've had no leaks since. Could not be happier."
"Excellent personal service from Kyle. He really ensures your needs are listened to. He is professional and works hard to meet the agreed deadlkines. We are very happy with the finished product. Highly recommend."
2) Master Roofing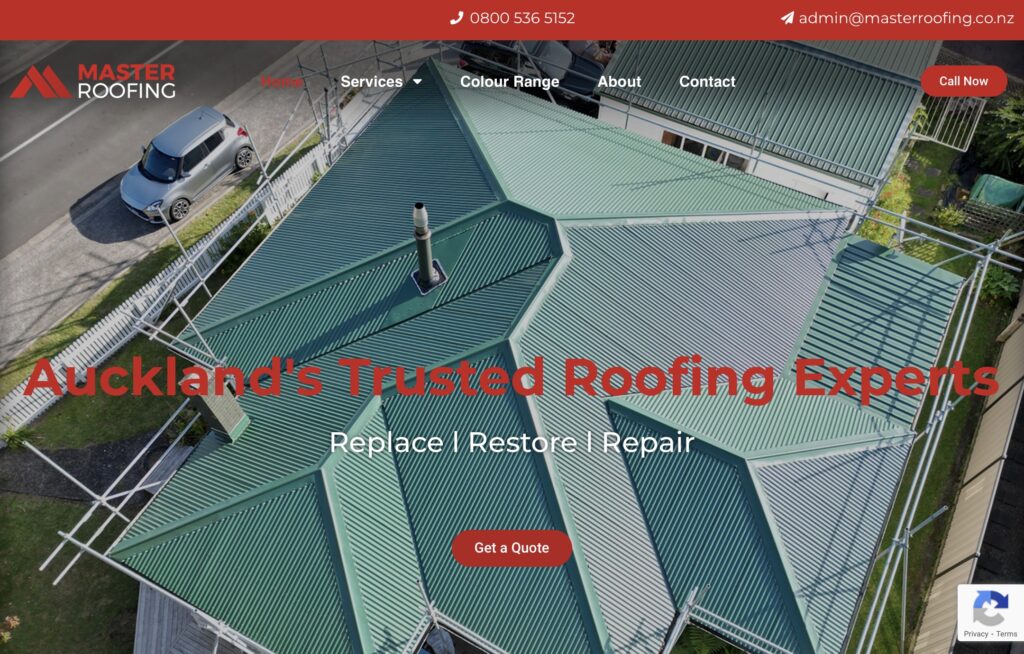 BEST FOR
New Roof Installation
SERVICES
Commercial,

Residential, Moss Treatments, and

Repairs

WEBSITE
https://www.masterroofing.co.nz/
ADDRESS
Auckland Wide, New Zealand
CONTACT DETAILS
OPERATING HOURS
By appointment basis
Our experience with Master Roofing left us both delighted and reassured. Their roofing services exhibited an unparalleled level of efficiency and quality that we found truly remarkable.
From the moment we contacted Master Roofing, their professionalism and prompt response set the stage for our exceptional journey. The initial consultation, where they meticulously assessed our roof's condition, showcased their commitment to precision.
The swiftness with which they executed the roof replacement was nothing short of astounding. We hardly noticed their presence, which, considering the scale of the task, was impressive. This seamless efficiency translated into minimal disruption to our daily routine.
The crown jewel of our experience was undoubtedly the quality of their work. Master Roofing's expertise is a cut above the rest. They flawlessly replaced our roof, leaving no room for complaints. It's as if they performed a surgical procedure on our house, with precision that would make a neurosurgeon proud.
Master Roofing surprised us here as well. Their pricing was competitive without sacrificing the quality of their service. In fact, we'd say their work was worth more than what we paid.
However, they can get busy during peak days. We suggest checking their website for other affordable deals.
Highlights
Exceptional Quality Work
Efficient and Timely Service
Competitive Pricing
Professional and Precise Assessment
Customer Reviews
"Master Roofing completely transformed our home with their exceptional work. The efficiency and quality of their service were beyond our expectations. We're thrilled with the result!"
"I was pleasantly surprised by Master Roofing's pricing. Their team's professionalism and attention to detail in the assessment and replacement were remarkable. Highly recommended!"
3) Roof Repair Specialists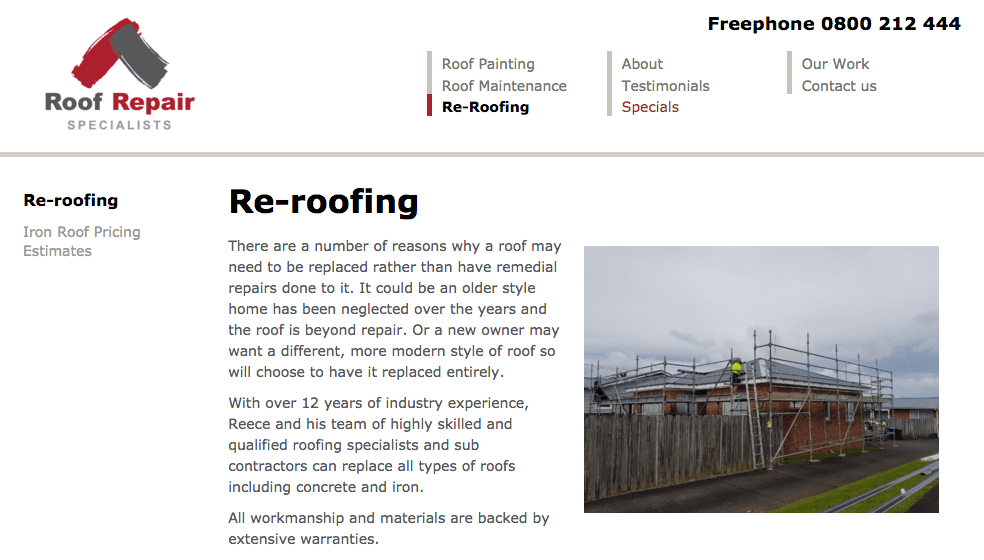 BEST FOR
Professional and Reliable Re-Roofing Experts
SERVICES
Roof Painting

Roof Maintenance

Re-Roofing

WEBSITE
https://www.roofrepairspecialists.co.nz/re-roofing/
ADDRESS
Auckland, New Zealand
CONTACT DETAILS
0800 212 444
OPERATING HOURS
Monday to Friday: 9am – 5pm
Think that roof replacement will be a better idea than repairing it? We know a great company for that and it's Roof Repair Specialists — they have over 12 years of industry experience.
They are fully qualified and well-trained in height and safety. Whether you're having a concrete tile, iron, or any other type of roof installed, they've got you covered.
Furthermore, you can rest assured of excellent re-roofing work from them, according to their clients. And all workmanship and products are backed up by solid and reliable warranties.
As such, Roof Repair Specialists is one of the best roof replacement Auckland contractors you can get!
Highlights
Excellent roof replacement
Fully qualified and height- and safety-certified team
Offers a range of roofing services
Over 12 years of industry experience
Extensive warranties 
Customer Reviews 
Here's John & Deb's feedback as posted on the website: 
"Reece, Tyler and the team did a great job in reroofing our house. The process went smoothly, the team was very helpful at all stages of the reroofing and the result is excellent. We are pleased to be able to recommend Rood Repair Specialists."
4)  Aspect Roofing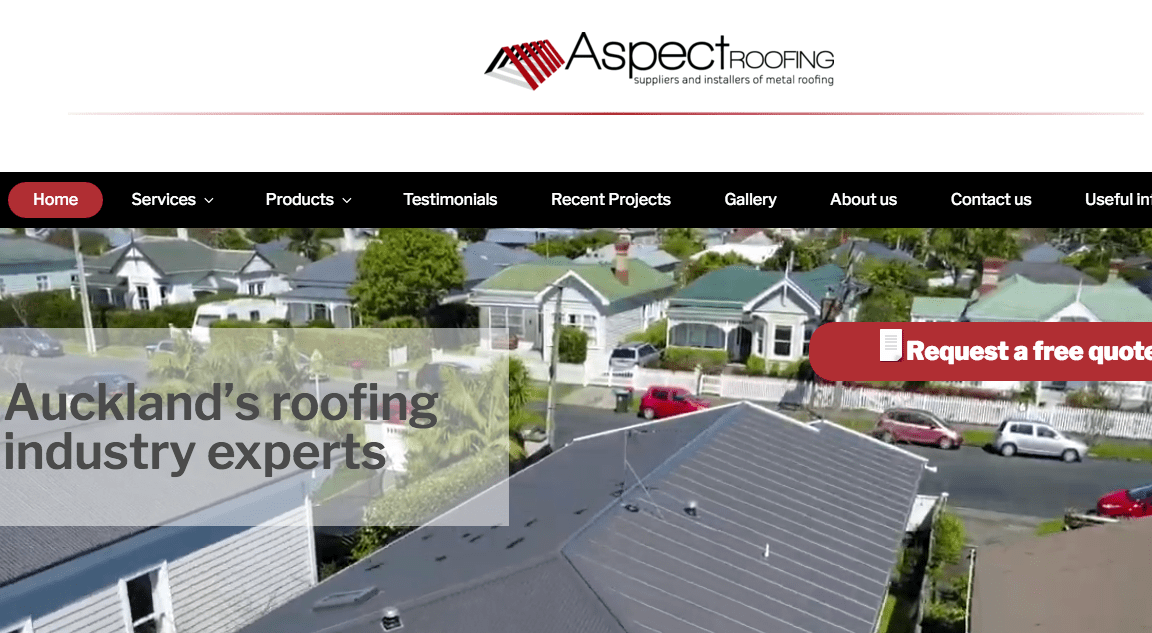 BEST FOR
Metal Roof Replacement
SERVICES
Decramastic Roofing

New Roofing

Residential Roofing

Replacement Roofing

WEBSITE
https://aspectroofing.co.nz/
ADDRESS
218B Marua Road, Mt Wellington Auckland 1051, New Zealand
CONTACT DETAILS
0800 958 620
OPERATING HOURS
Monday to Friday: 6.30am – 5pm
Metal roofing, like long run and metal tiles, is both durable and low-maintenance. So for new installations or re-roofing of this type, you should get in touch with Aspect Roofing.
Their team has a decade of skill and knowledge to give you. They provide complete service from design to installation, finishing within your schedule and budget.
Whether you're renovating your property, adding an extension, or building a new house in Greater Auckland, let their certified builders and SiteSafe team assist you.
Their certifications prove that they can provide high-quality workmanship to meet your roofing requirements. And they use only the best products available in the market. 
Highlights
Provide high-quality workmanship
Offer a full, end-to end roofing work
Certified builders and SiteSafe team
Use only the best products in the market 
Customer Reviews 
Check out Hayley Rosoman's review on Google Reviews:
"The Aspect team were easy prompt and reliable from start to finish of our residential re-roof. We are so happy with their workmanship and quality and highly recommend them. Thanks guys!"
5)  Roof Repair Auckland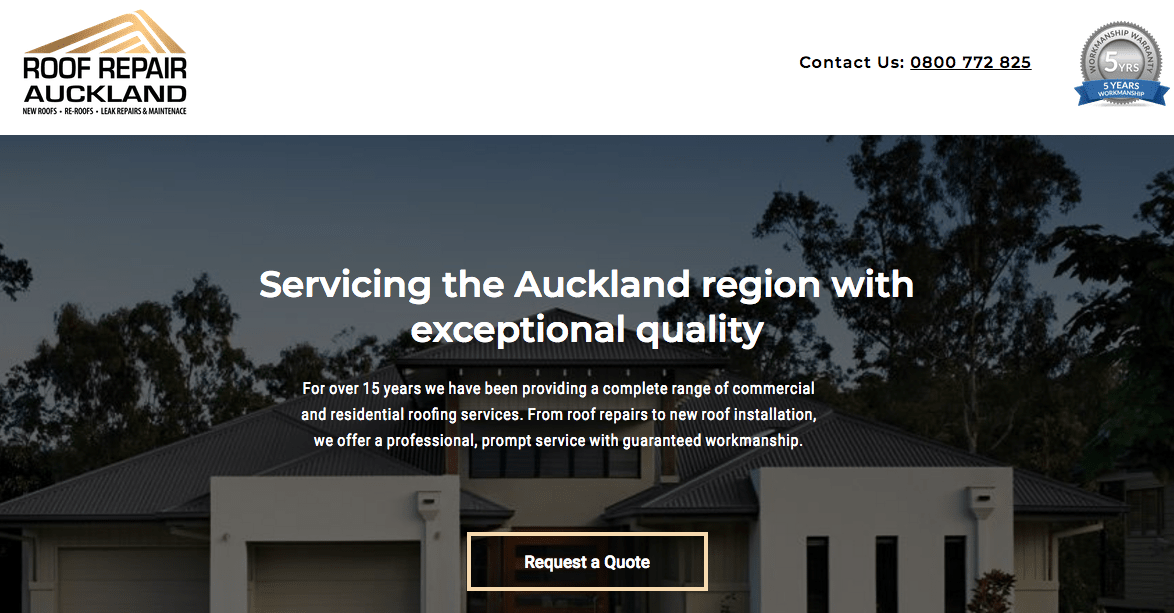 BEST FOR
Professional and Prompt Re-Roofing
SERVICES
Re-Roofing

Repairs & Maintenance

New Roofs

Asbestos Removal

WEBSITE
https://www.roofrepairauckland.co.nz/
ADDRESS
36 Rewi Street, Torbay, Auckland 0630, New Zealand
CONTACT DETAILS
0800 772 825

021 406 036

OPERATING HOURS
Monday to Saturday: 8am – 8pm
Knowledgeable, honest and efficient, Jordane and his crew at Roof Repair Auckland deserve a spot in the best roof replacement Auckland contractors list.
Their team provides top-quality, guaranteed work. Services include re-roofing, repairs and maintenance, new roofs, emergency leak repairs and asbestos removal.
Jordane always explains the job in detail, truly caring about the customer and not trying to upsell anything. He's the kind of tradesman you can certainly trust.
What's more, their prices are competitive: you won't have to break the bank to replace your roof. That makes it a double win — great prices, great service!
Highlights 
Top-quality, guaranteed work
Knowledgeable, honest and efficient
Fantastic customer service
Competitive rates
Offer a list of services 
Customer Reviews 
One customer, Jennifer Larkins, shared on the website:
"We had nothing but friendly, attentive and professional service from Jordane and his team from day one. They gave us competitive pricing on a partial roof replacement and went that extra mile to make sure we were always in the loop of what was going on. Would use Roof Repair Auckland again – definitely recommend."
6)  Summit Roofing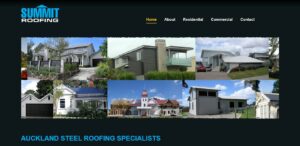 BEST FOR 

 

Expertise in any type of roofing

SERVICES

Roof installation

Roof replacement

WEBSITE

http://www.summitroofing.co.nz/

ADDRESS

11 Fifth Avenue, Mount Albert, Auckland 1025, New Zealand

CONTACT DETAILS

+64 21 946 549
Summit Roofing guarantees its customers high-quality services at affordable prices. They provide roof installation and replacement services to residential, commercial, and industrial clients.
They already have over 30 years of experience in the industry, which is why they take pride in their workmanship.
They are also licensed Butyl rubber membrane installers and certified Dimond roof installers. With Summit Roofing's connections with such brands, they can offer top-tier metal roofs, cladding, and other structural products.
They even have various roof colours and styles perfect for residential and commercial applications.
Highlights
Residential, commercial, and industrial roofing

Over 30 years of experience

Connections with Butylclad and Dimond
Customer Reviews
Here's what a customer, named Mike Sanders, has to say about Summit Roofing's services:
"Steve and his team did a great job, excellent communication and flexible with timing and changes to roofing jobs as required. Removing chimney decision made after job already started and Steve happy to accommodate. In my opinion Steve does not just try and sell you an entire new roof (as many others just do)… he has patched some roofs for me and replaced completely others … nerved a "hard" sell for a entire new roof. I trust his opinion and honesty"
7)  JP Franklin Roofing Services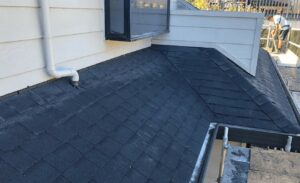 BEST FOR
High-Performance and Long-Lasting Re-Roofing
SERVICES
New Roofs

Re-Roofing & Replacements

Asbestos Removal

Commercial Roofing

Roof Repair & Maintenance

Spouting & Guttering

WEBSITE
https://jpfranklinroofing.co.nz/roof-replacement-auckland/
ADDRESS
Auckland, New Zealand
CONTACT DETAILS
0800 456888
OPERATING HOURS
Monday to Sunday: 8am – 5pm
JP Franklin Roofing Services is dedicated to providing home and business owners a remarkable-quality, long-lasting roof that will endure the harsh climate of Auckland.
Offering a wide range of services, their personable and qualified roofers are keen on delivering a cost-effective solution suited to your requirements and preferences.
They can replace most types of roofs such as flat Colorsteel roofing, decramastic tile, butynol or rubber roof, timber shingles, asphalt shingles, and corrugated iron long run.
What's more, they can remove any and all types of health-endangering asbestos roofing and replace them with the roofing material of your choice.
Highlights
Provide a remarkable-quality, durable roof
Personable and qualified roofers
Can replace most types of roofs
Offer a depth of services
Tailor a cost-effective solution for you
Customer Reviews 
Let's take a look at what Sarah James has to say on Google Reviews:
"I was looking for someone to replace my old roof and I absolutely had no idea who to approach. Then a friend of mine suggested this company and I made contact with them. From the initial contact to finishing of the work everything was just amazing. Very good communication and they will go out of their way to provide good service. I would like to  offer thanks to my friend and to the team."
8)  Shamrock Reroofing Ltd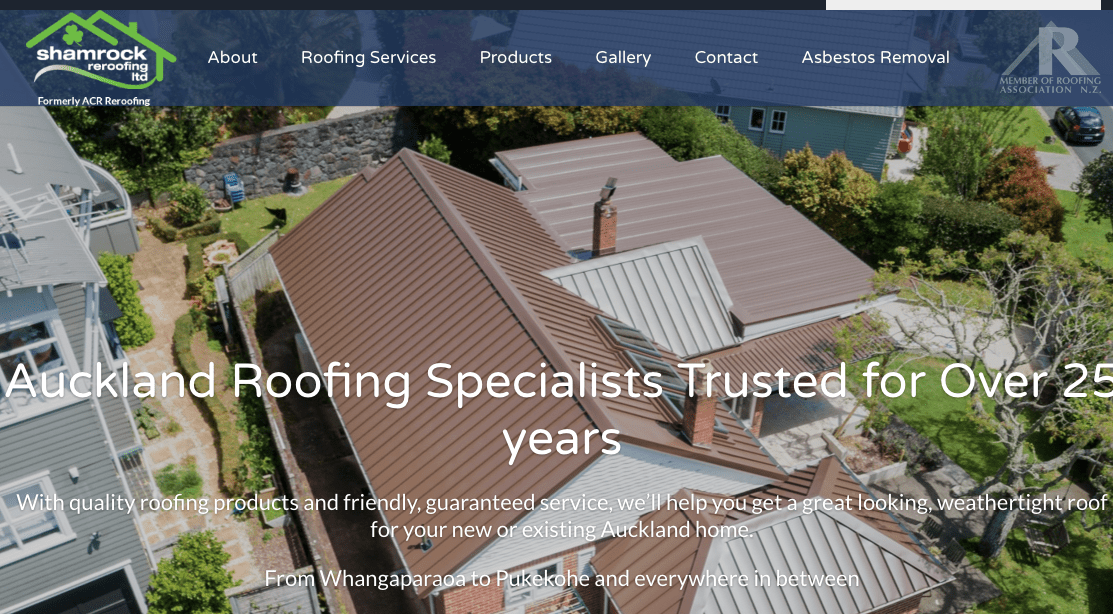 | | |
| --- | --- |
| Areas covered | Auckland-wide |
| Services | Long Run Steel Roofing, New Roofing, Re-roofing/Replacements, Insulation, Spouting/Downpipes |
| Address | 1/21a Ruarangi Road, Mt Albert, Auckland 1025, New Zealand |
| Contact no | (09) 846 6434 or 021 941 447 (Brendan) |
| Website | https://shamrockreroofing.co.nz/ |
Shamrock Reroofing is one of the best companies to call when it comes to roof replacement. They also work on roof repairs, gutters, downpipes, fascia, and spouting.
Their 25 years of experience speak for their skill in the industry. Since they strictly follow the NZ Health and Safety Regulations, you can rest assured that you will get high-quality and safe work.
Highlights
Offers home re-roofing
More than 25 years of experience
Complies with NZ safety regulations
Gives a 10 year service warranty
Customer Reviews
Nathan McClintock gives it a rad score of 5 stars but he said:
"Where is the 6th star???!!! If you need a roof repaired or replaced at a very competitive price, call these guys. Have used them twice and have been super impressed with their service and workmanship."
9) Barrier Roofing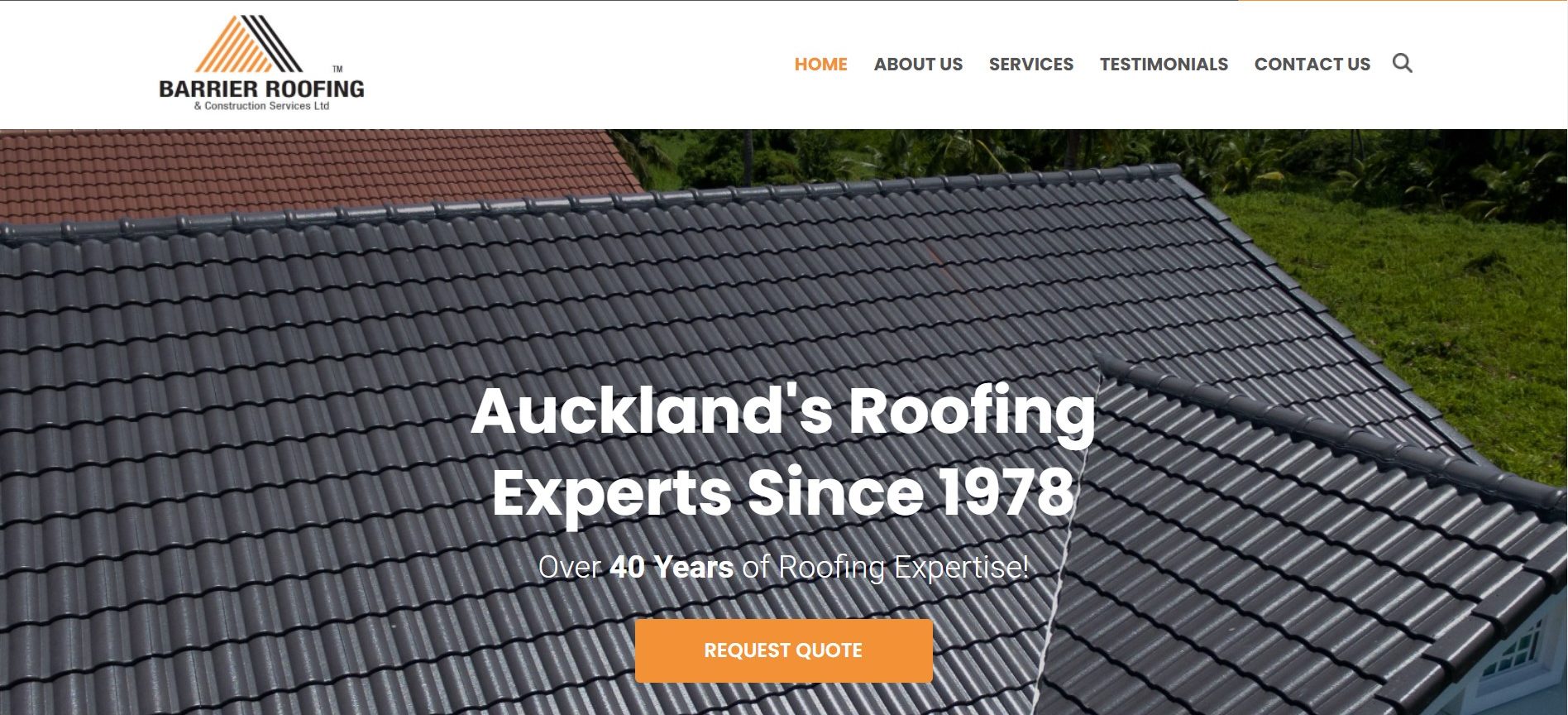 BEST FOR
Over 40 years of experience
SERVICES
RE-ROOFING

RESURFACING

REPAIRS AND MAINTENANCE

ROOF TREATMENTS

EDGE PROTECTION

SCAFFOLDING

WEBSITE
https://barrier.co.nz/
ADDRESS

44 Parkway Drive, Rosedale, Auckland 0632

CONTACT DETAILS
Phone: 09 478 7740
Freephone: 0800 222 500
OPERATING HOURS
Monday – Friday: 8:30 am- 5:00 pm
Barrier Roofing offers a wide range of roofing services to acquire. From installing, to maintenance, and even repair, rest assured that Barrier Roofing would be able to help you.
Since they first started in 1978, they have provided the people of Auckland high-quality products and affordable roof assistance. All of their supplies are locally made so as to guarantee the quality and not have to wait long for them.
Get your money's worth and so much more when you hire Barrier Roofing. Contact the experts now.
Highlights
No waiting time
Accurate pricing
Realistic project assessment
Customer Reviews
Read this review left on Barrier Roofing's website, describing how they did the job well:
"I wanted to take the time to pass on to you and your team how pleased I was with the whole service Barrier Roofing provided. From the prompt and efficient quote Paul provided to the work Carl did and your visit to confirm the job had been completed. I had attempted to obtain 3 quotes for the work to be done from 3 companies and by far you and your team delivered the best service overall. I also work in a service based industry and am only too aware how quick a consumer can jump to the negative and often fail to recognise the positive.
So job well done. Thank you."
10) Archer Roofing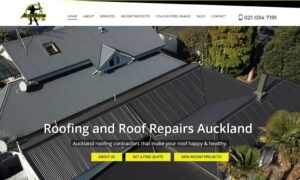 | | |
| --- | --- |
| BEST FOR | Fast, reliable roofing services |
| SERVICES | New Roofs, Re-roofing, Roof Repairs, Roof Replacement, Gutters |
| WEBSITE | https://www.archerroofing.co.nz |
| ADDRESS | 22 Bay Street, Red Beach 0932, New Zealand |
| CONTACT DETAILS | 021 0347191 |
| OPERATING HOURS | Monday to Friday, 8AM to 5PM |
If we're talking about roofing services, then there is no missing the next company on our list.
Archer Roofing is a locally owned and operated roofing company based in Auckland. The company is dedicated to providing quality roofing services, and has unfailing done for over ten years.
Now, Archer Roofing's dedication to quality roofing services manifests in two parts: One, the use of top of the line equipment and materials to ensure that everything goes smoothly and lasts for a long time.
The second is the creation of a team consisting of trained and experienced roofing professionals. These professionals have years of experience under their belt, which allow them to confidently and competently work on any roof regardless of its make or problem.
Aside from being skilled at their jobs, these professionals should also be commended for their professionalism and courteousness. They strive to make each customer happy, which is why they're always prompt, personable, and honest in their work.
Highlights
Free quote
Customised roofing solutions
Guarantees the best workmanship and products
Customer Reviews
Archer Roofing is rated with 5-stars on Google Reviews with over eighty reviews cited. Here are some comments left by previous clients:
"Kevin and his team did an amazing and professional job on our recent roof replacement. They coordinated well with the company removing the previous fibrolite roof, and had the new roof pretty much on in one day. We have an unusual roof configuration, and Kevin himself oversaw all the work, making sure that everything was being done properly. He was a fantastic communicator with us, always replying to questions immediately and keeping us in the loop. We knew exactly when he would be on site, and he even helped us make the final decision about the colour of the roof. We are absolutely delighted with the final result and feel it was excellent value. We would highly recommend Kevin and his team to anyone needing a new roof!"

"Archer Roofing was recommended to me by a friend, and it was a good recommendation. The entire roof of my three story home required replacement, and some building work was also required at the same time. It ended up being a totally painless process. Kevin and his team organised everything, and the final result was a roof I am completely happy with. I have no hesitation whatsoever in recommending Archer roofing, and I in turn will be recommending them to anyone that asks me about my experience."

11) Accredited Roofing & Coatings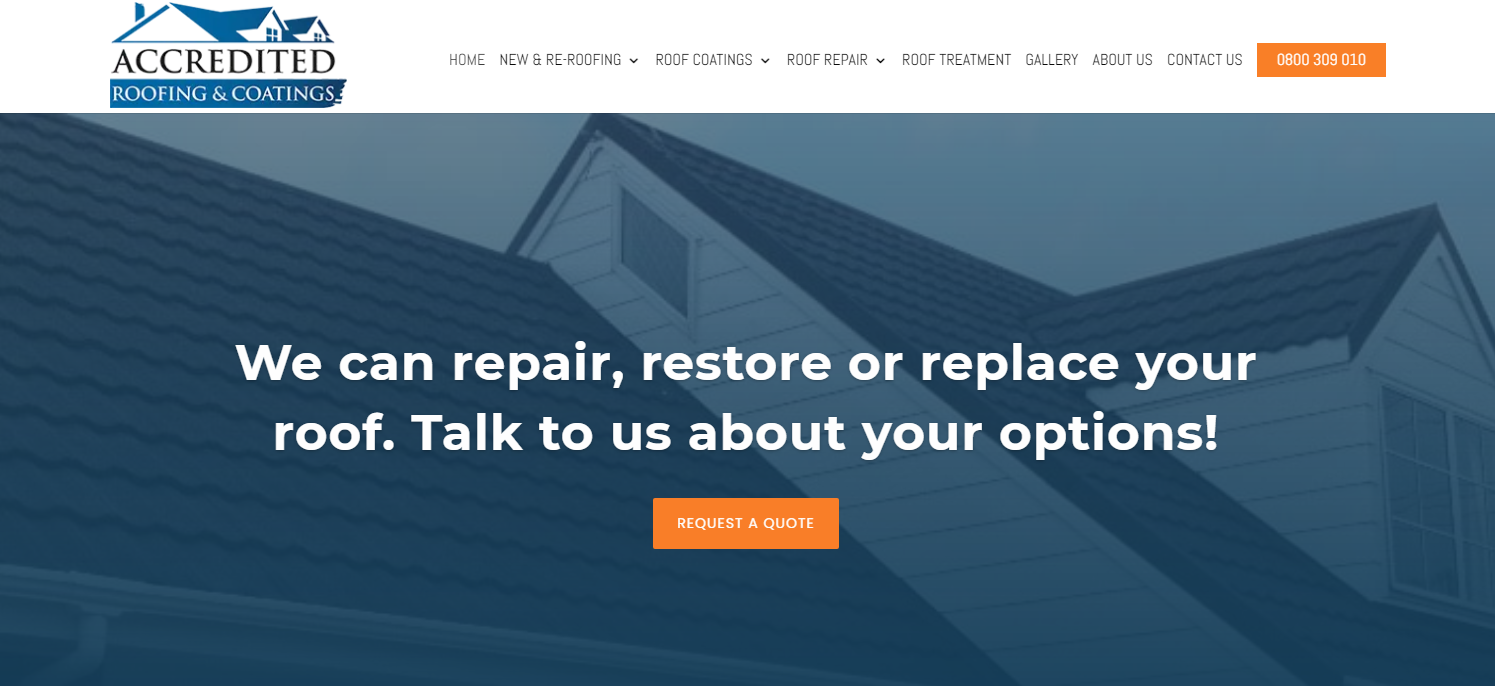 BEST FOR
Roofing Specialists in Auckland and North Shore
SERVICES
Roof Treatment
Roof Repair
Roof Replacement
Roof Coatings
Decramastic Repairs
Concrete Tile Sealing
Colorsteel Replacement
Metal Tile Roofing
WEBSITE
https://www.accreditedcoatings.co.nz
ADDRESS
Unit 2, 41 Porana Road, Wairau Valley, Auckland
CONTACT DETAILS
0800 309 010 | [email protected]
OPERATING HOURS
Contact for more information
Accredited Roofing & Coatings is a family-owned and operated business that has been serving the people of Auckland for several years now. The company, from the get go, committed to providing quality roofing services, making use of only the best equipment and products on the market.
As a result, countless people now trust the Accredited Roofing & Coatings name.
For those who are looking for a new company to depend on in terms of roof services, Accredited Roofing & Coatings offer treatment, repair, replacement, and coating to those who are in need of it. Aside from the general service, Accredited Roofing & Coatings also provides decramastic repairs, concrete tile sealing, colorsteel replacement, and metal tile roofing.
It's worth noting that each and every service that Accredited Roofing & Coatings has listed can be personalised to fit the clients needs. This, alongside the extensive list of services, makes the company highly recommended.
The last reason why we recommend Accredited Roofing & Coatings is the quality of customer service.
See, Accredited Roofing & Coatings strives to attain 100% customer satisfaction with each client they take on. So, it isn't at all surprising that the company comprises skilled and knowledgeable individuals who are also punctual, professional, and courteous.
All in all, Accredited Roofing & Coatings makes an excellent choice for all roofing needs.
Highlights
Concrete tile restoration experts recommended by Monier NZ

Qualified in decramastic metal tile repair and replacement

Trained in colorsteel roofing and recommended in NZ Steel Manufacturers

Over 20 years industry experience

Site safe licenced

Auckland distributor for Metrotile Roofing Systems
And with that, we conclude the best roof replacement Auckland contractors. They will replace your roof with something that will be solid, efficient and lasting.
Do you have any questions about what we discussed? If you have one, just drop us a line and we'll get back to you as soon as we can.
Aside from this, you may be interested in the best Auckland specialists in solar panels. This would be perfect to install on top of your roof to help cut down your power bills.