The 7 Best School Bags in New Zealand
Thinking of getting a new, cool school bag for your kid? You're in the right place if so, as we've listed the best school bags in New Zealand for the academic year!
Of course, even with our selection to narrow down your choices, you may not know what to look for in a school bag if it's your first time buying. Don't worry, though, as we'll go over the basics of picking a school bag too.
After that, you should be ready to see the best school bags in New Zealand for your kids. Feel free to leap straight to the list of bags if you already know how to pick one, however!
What to Look for in a School Bag
Here are the fundamentals you need to consider before getting a school bag:
1) Comfort
A comfortable bag is great as it can help prevent shoulder or back pain for your child. If it's not comfortable, it should be changed, as this can affect his/her health negatively.
Hence, you should look for those with a soft and comfortable back (these are often padded). In addition, it helps to have padded and adjustable straps, so you can be certain it perfectly fits your kid's body size.
2) Design
There are a vast range of backpack designs available online or in-store. Take note that it's not all about looks, though.
Design can affect the bag's function as well. One example would be the sleek S-curved shoulder strap design — these straps are actually more comfortable and easier to wear over the shoulders than regular options.
3) Price
Let's say this right now: you don't need to spend a lot just to get a decent bag.
You can find a lot of affordable options for bags that offer great value. It's better than getting something that's expensive and isn't what your kid likes or feels comfortable with.
4) Compartments
Usually, more compartments are better. It allows the user to keep things organised.
There are backpacks that have only one compartment for simplicity, but it's not generally recommended for kids. In that situation, chances are high that the kid will take longer to find something in the bag.
Ask your kids what they'd prefer here, though. While it depends on your kid's preference, remind them that a multi-pocketed backpack is a big help in that it keeps things more organised and protected (from, say, becoming wet or dirtied).
5) Lightness
A lighter backpack is advisable — especially for kids, since they have growing bodies. That doesn't mean lack of durability, mind you: some of the most durable backpack materials now are very light too.
What matters is that the empty bag isn't too heavy by itself. A heavy bag will only become heavier when packed, and that strain the back and shoulders.
The Best School Bags in New Zealand
Now that we've talked about the basics of choosing a bag that suits your specific kid or situation, allow us to present to you the best school bags in New Zealand!
1) Smiggle Flow Backpack
Best Overall Backpack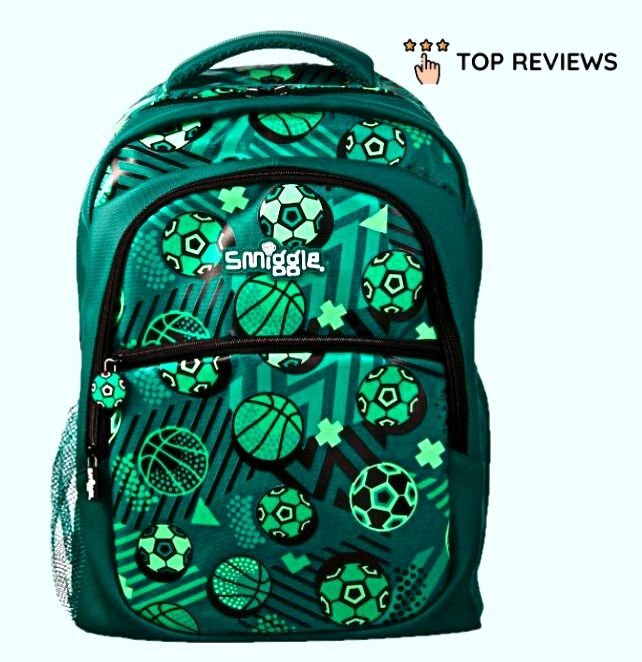 Price: $40.19
School fashion has never been more stylish than with the Smiggle Flow Backpack. Flow is the brand's nifty collection that includes pencil cases, tumblers, lunchboxes and drawstring bags.
With a cool colour scheme and comfortable padded shoulder straps, your little one will be the star of the day with this bag. He'll be sure to gain compliments and friends, making it more fun for him to go to school.
It sports 3 compartments to carry snacks, accessories, notes, art supplies, face towels, books, as well as the ability to carry a 15-inch laptop safely and securely.
Not too garish or bright, your kiddo will never tire of the sporty design. And there's also a small noticeable detail of a football zipper if they're at all into the sport.
Along the way, if your kid gets thirsty, they have double bottle sleeves on the bag too — ready for taking a sip to rehydrate and re-energise to be able to participate in school discussions.
Highlights
Nifty and stylish
3 roomy compartments
15-inch laptop holder
Dual bottle sleeves
Comes with a variety of colours
2) Jansport Big Student Style
Best for Bigger Students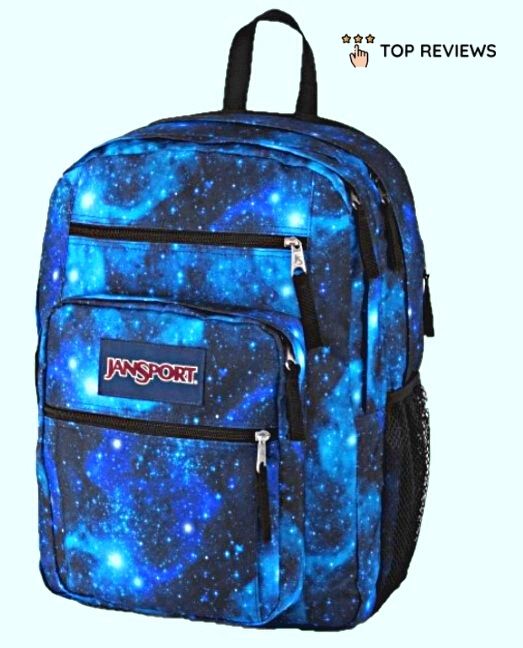 Price: $119.99
For high school or college students with lots of books and stuff to carry, the Jansport Big Student Style is a great choice. It features plenty of pockets to carry various items, from a ballpoint pen to digital instruments.
For instance, it has a front utility pocket for quick storage of change or coins, bubble gum, stapler, and glue. You can place folded clothing, books, brochures and a laptop in the bigger compartments.
It also has a pocket at the side for water bottles, which can stretch to accommodate even the thickest of water bottles, perfect for students who like to carry around their own.
Now, there have been many oversized bags that sacrifice looks for capacity… but not this one, as it is cleverly designed so you can carry a lot of things and look good at the same time.
Another highlight is found in its S-curved shoulder straps and the fully padded back for style and comfort. The web haul handle also provides easy lifting during your class or when you put it inside the locker.
As for the cosmic design, it's very cool. Kids will be proud to carry it around, whether to class or to an exciting urban trip.
There's no doubt that the Jansport Big Student Style is a best-seller in the Jansport store, which is why we also included it in our list of the best school bags in New Zealand!
Highlights
Groovy oversized bag
Comfortable to carry
Large spaces for your items and accessories
S-curved shoulder straps
Fully padded back
Includes a 15" laptop compartment
Provides you a lifetime warranty
Customer Reviews
Most of the reviewers on Jansport's online store have been happy with the rucksack. They noted its comfort and space as its strong points.
One customer, Katie F, posted her feedback:
"There are heaps of pockets and compartments which is great. There has been one spill already but it was contained to one compartment due to the robust construction. Cleaned up easily too. Great design too!"
3) Dakine Hana Pack Vista
Best for Girls Backpack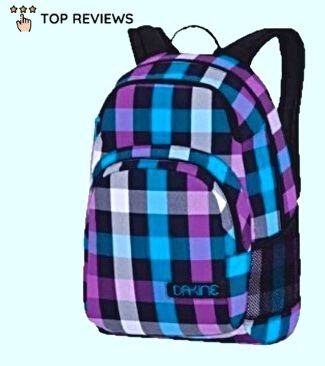 Price: $79
If you like a backpack that is simple but fashionable, then the Dakine Hana Pack Vista is for you. It sells for a price that is reasonable and won't break the bank despite being made like a high-end bag.
With a fabric made of 600-denier polyester, it can endure the rigors and stresses of everyday use to be long-lasting. Furthermore, it's resistant to shrinking and fading.
It has the adventurer in mind with a fleece-lined sunglasses pocket, making it neat to take with you in the sunny outdoors like sightseeing, hiking, camping or simply visiting a friend's house.
Its compartments have ample space for the essentials. In addition, there's also a mesh pocket on the side to hold a bottle of water to quench your thirst.
On top of that, this bag is lightweight and comfortable to carry, whether for that bike ride on the way to school or university. Thus, the Dakine Hana Pack Vista is certainly one of the best school bags in New Zealand you can get.
Highlights
Made of 600-denier hard-wearing polyester
Lightweight and comfortable
Simple but fashionable styling
Contains a fleece-lined sunglasses pocket
Organised division of compartments
Affordable price point
4) JWORLD New York Cornelia Backpack Prizm
Best in Design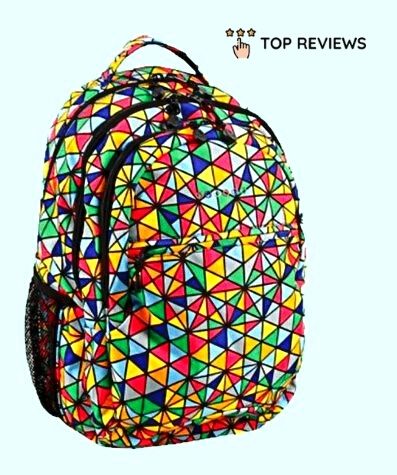 Price: $65
See It Here On Yum Yum Kids Store
Colourful mosaic patterns, Rubix cube (sort of) and creativity-inspired — who doesn't love JWORLD New York's Cornelia Backpack? This is your child or teen's ticket to unique style and abounding comfort.
It's actually a large backpack that can hold your items, gadgets, lunchboxes, books, binders and clothing. The front compartment lets you insert items with no fuss.
This bag offers comfort for your child's back and shoulders. Dual mesh holders allow the sports-loving child to hydrate and replenish his energy by offering ample space for protein bars and drink bottles.
The Cornelia backpack is suitable for taking to school, sports, hangouts, libraries, family outings and picnics. It's akin to beautiful but functional art you carry around, and your kid will surely like it!
Highlights
Artistic and unique design
Large backpack with multiple pockets
Comfortable for the back and shoulders
Dual mesh bottle holders
Versatile and water-resistant
Customer Reviews
Although one user has pointed out that the mesh tends to wear easily, others have raved about the backpack being able to hold up so well even after a school year or two. They also said that it's very comfortable to carry.
One Amazon customer, Merk_man reviewed this backpack. He wrote:
"I was waiting for closer to the end of the school year to rate this. I have to say that it has held up amazingly well. No signs of tearing, no stress on the seams (she loads it full) and the color still looks new. Looks like it will not only survive this school year but next as well."
5) Spider-Man School Backpack
Best for Budget Backpack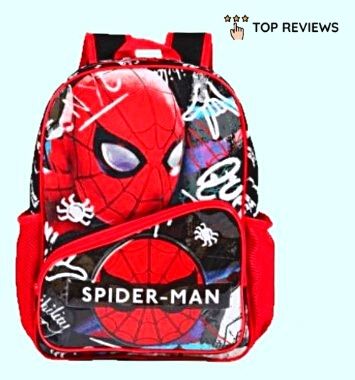 Price: $49
Want something cool, sturdy, and cheap? Get this awesome wall-crawler's graffiti-styled backpack for your little one. Besides the cool design, it can hold books and necessities, and two water or juice bottles on the sides.
It also comes with a soft padded back that makes it easy to carry. With the adjustable strap, you can get this backpack to be just the right fit for your child.
Materials used are polyester and polyvinyl chloride (PVC), which explains its durable and water-resistant properties. And that's all for $17 — totally worth it!
The design is very eye-catching as well. It can be the perfect gift for your child or nephew and will make them very happy!
Highlights
Made of durable polyester and PVC
Awesome Spiderman design
Light to carry and comfortable
Adjustable straps
Mesh water bottle holders
Value for money
Customer Reviews
Most of the customers from Kmart have been happy with the purchase for their kids. They said that the Spiderman backpack had lots of room to carry clothing, lunch and books. The pricing has been great for them also.
Cheynie S. wrote a great review:
"This is surprisingly a really great quality bag considering the low price. The bag is sturdy and is the perfect size to hold everything that my son needs for his first year at school. Spiderman is a bonus!"
6) Unicorn Kids School Bags
Best for Fabulous Design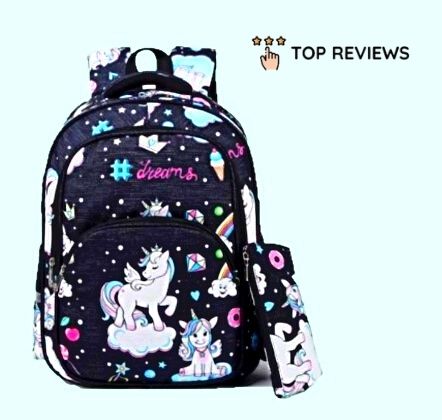 Price: $59.90
Sale Price: $49.90
The Unicorn Kids School Bags combines function and form excellently. It features a fabulous unicorn design and various accompanying motifs suited for its magical theme.
It's made from lightweight and durable material, as well as reinforced stitching. It has an air mesh cushioned bag, sternum strap, and padded grips which ensures that carrying it won't be an issue.
Best of all, it is waterproof. Your child won't need to worry about losing or damaging their stuff if they're using this bag.
Highlights
High visibility
Waterproof
Padded ergonomic S-shaped shoulder straps
Comes in black, blue, and pink
7) Spencil Backpack Skate Print
Best for Fun Prints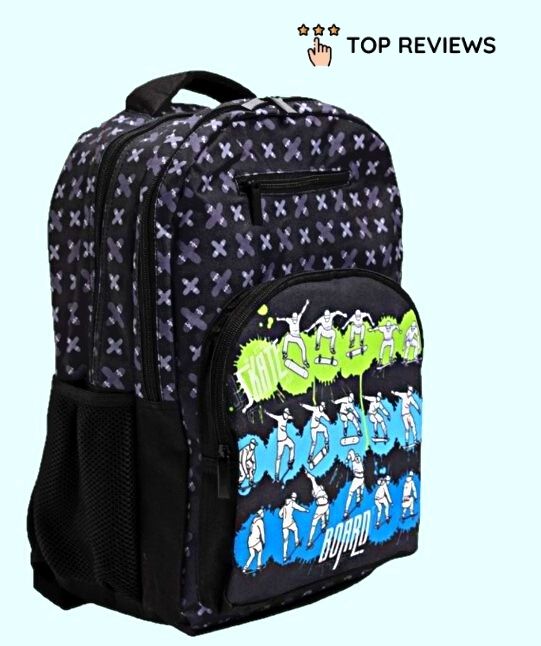 Price: $44.99
Express your interests while keeping your stuff safe with the Spencil Backpack Skate Print. This backpack features a black base, adorned with crossed skateboard patterns and graphics of someone doing skateboard prints.
It has many pockets in the front, back, and sides, all off which can be accessed easily. As a plus, its cushioned top handle and adjustable padded shoulder straps make for easier everyday use.
This is one of the many print bags available in School Depot. If you're interested in their bags, you'll be glad to know that they have backpacks with other prints in stock.
Highlights
Cushioned top handle
Adjustable padded shoulder straps
Numerous pockets available
Other print designs available
And that's all for the best school bags in New Zealand. These backpacks are not only rad but are also comfortable and convenient for your kids to carry.
Have you found anything you liked or think we should add in this list? Tell us all about it by dropping us a line, and we'll get right back to you.
Other than that, you may like to see the best booster seats in New Zealand! While you're driving your kids to school, these will be great options for keeping your child safe and sound in the car.