The 7 Best Sewing Machines in NZ
Featured Image Source from Love Sewing
Looking for a good sewing machine? If so, we have your back, as we've compiled a list of the best sewing machines in NZ here for you!
But before we dive into our top product choices, we'll go through the basics of buying a sewing machine. By doing so, we can help you find the one that suits your needs and budget.
How to Buy a Sewing Machine
Here are the things you need to consider when buying a sewing machine:
1) Stitch Patterns
Stitch patterns refer to the types of stitches that a sewing machine can do. Depending on your unit, it can have up to 100 stitch patterns to sew different styles and finishes.
A sewing machine with more stitch patterns means that it's more expensive. But it may not be practical because you likely won't be using them all!
All models have straight and zig-zag patterns. You can already accomplish all kinds of sewing just by having these two patterns.
So, to figure out the stitch pattern problem, you have to consider what stitches you will need to use as well as the budget you have.
2) Types of Sewing Machines
Here are the two types of sewing machines you can get:
Mechanical Sewing Machine
This is the most common sewing machine type. Although it is easy-to-use and affordable, it has fewer stitch patterns and features compared to computerised ones.
Also, mechanical sewing machines are simple to clean and maintain. Aside from that, you won't have trouble finding a repairer in case the unit becomes damaged.
Computerised Sewing Machine
You'll know that a sewing machine is computerised if it has a digital screen and controls.
Computerised sewing machines let you adjust the sewing speed for precision and have premium features such as the needle staying in the 'up' position as the unit stops.
Of course, having these features at your disposal means that you'll have to pay more for these machines. It'll be harder to find someone to repair them too.
3) Ease of Use
A sewing machine should be easy-to-use, especially if you are new to sewing.
You should choose one that produces smooth and great stitches, has a durable build (preferably metal), and reliable basic features that won't add to the confusion.
This is only a guide, though, since a sewing machine can be easy-to-use for one person, but not for another. It will also help if you can test out the machine yourself so you can get a feel of it before you buy.
4) Features
There are various features you can expect from a decent sewing machine. Here are some of the functions you may want to look for:
Start/Stop Button -These buttons areuseful when you're doing detailed work as it saves you from over-stitching or making a mistake.
Reverse Stitch -A feature that stitches backwards to make the seams extra secure.
LED lighting – This lights up what you're sewing so you can see even when you're in a poorly lit corner.
Top-Load Bobbin -Newer sewing machines have top-load bobbins where you only have to place one in the sewing machine to start.
Body Ruler -One of our featured sewing machines has this: a ruler on its body. This allows you to make precise measurements while you're sewing.
Free Arm – You will have to take out the sewing machine's compartment to reveal the free arm.This lets you slip in a sleeve or leg and sew it accurately.
Buttonhole – With this function, you can make buttonholes for shirts, blouses, and trousers. A 1-step buttonhole means a buttonhole can be made in 1 step, while a 4-step buttonhole means it can be done in 4 steps.
5) Price
In New Zealand, sewing machines cost around $100 to $1000+, including computerised and mechanical machines.
For a beginner, a cheaper sewing machine with the essential features will do, but if you're experienced and want niftier features, you can get a higher-priced one.
Along with that, you'd want to buy a product with a warranty. This will protect you if the unit gets damaged within a few months or doesn't live up to your expectations.
The Best Sewing Machines in NZ
With that in mind, you now know to pick a sewing machine. So now, let's round up the best sewing machines in NZ!
1) Brother Sewing Machine GS2700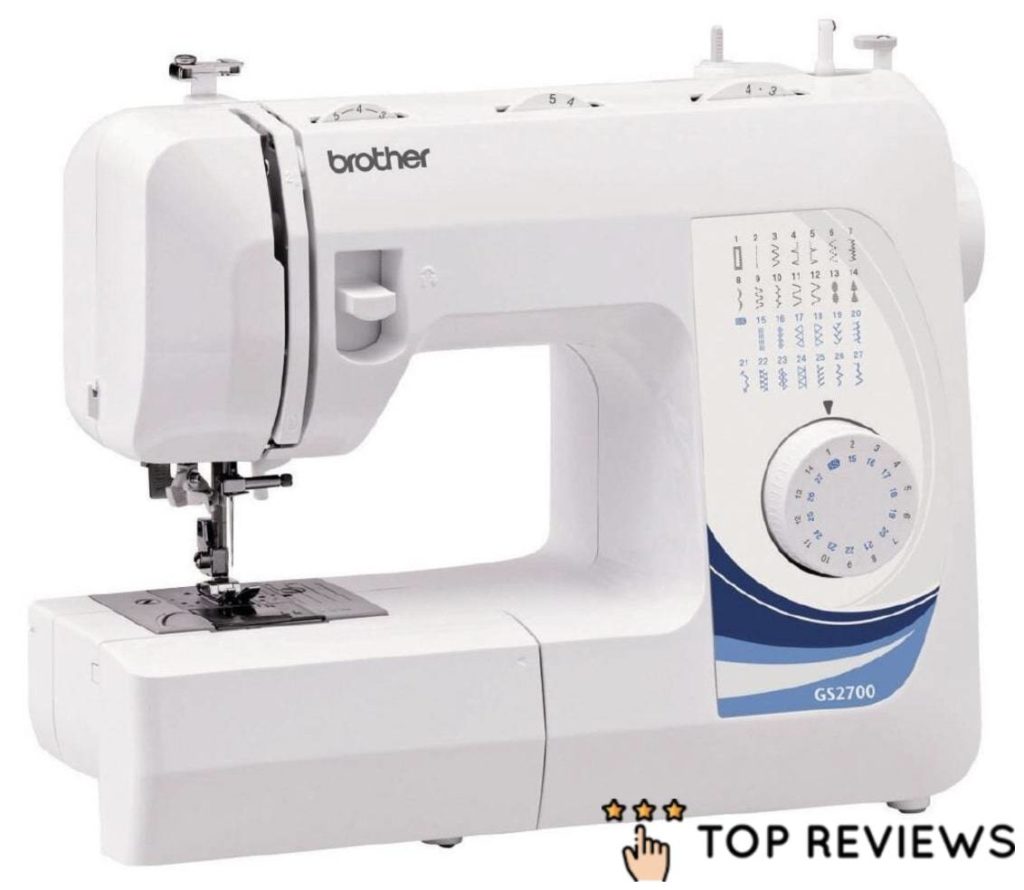 | | |
| --- | --- |
| Best for | Beginner-friendly sewing machine |
| Dimensions | 46 x 21.5 x 38.4 cm |
| Stitch types | 27 |
| Weight | 10 kg |
| Price | $369.99 |
Making a new dress for your daughter or resewing a button to a pair of pyjamas? If so, the Brother Sewing Machine GS2700 could be for you.
This sewing machine features a quick-set bobbin and automatic 1-step buttonhole. It has 27 stitch types that let you add decorative touches to a wide range of garments.
It also comes with an LED light so you can see the small details better and work flawlessly.
On top of that, the sewing machine is built to last owing to the resilient metal chassis. Furthermore, there's no need to use oil to clean or maintain the machine, which makes it easier to use compared to other models.
Pros
Top-load bobbin
Automatic needle threader
1-step buttonhole
Sewing LED light
Cons
Customer Reviews
Whether you're just starting to sew or have been for many years, this Brother GS2700 is a superb option. Many users loved the fact that it was super easy to use!
Here's a review from one owner named Kaydee:
"I got this baby a few months ago and my my.. I have been sewing everyday since. It is a beginner friendly machine with many good features. I thought the price was excellent for a not-so-basic sewing machine yet an invaluable machine for a beginner like me. I basically started using it right away, making A-line skirts, simple summer dresses and shawls.
drop bobbin case, automatic 1 step button hole (brilliant for beginners), automatic needle threader (my eyesight is rather poor), inexpensive and very reliable."
Furthermore, let's see Adelina's comment on the machine:
"I haven't used a sewing machine since high school home ec and did a huge amount of research before ultimately buying this machine (based largely on the positive reviews on this site and the fact that it was on sale at Myer for $189). The DVD is super useful – I just popped it in and it got me started. No jams or issues at all so far. Will update this review if I have any future issues. I'm so glad I chose this machine – love it."
2) Electric Household Sewing Machine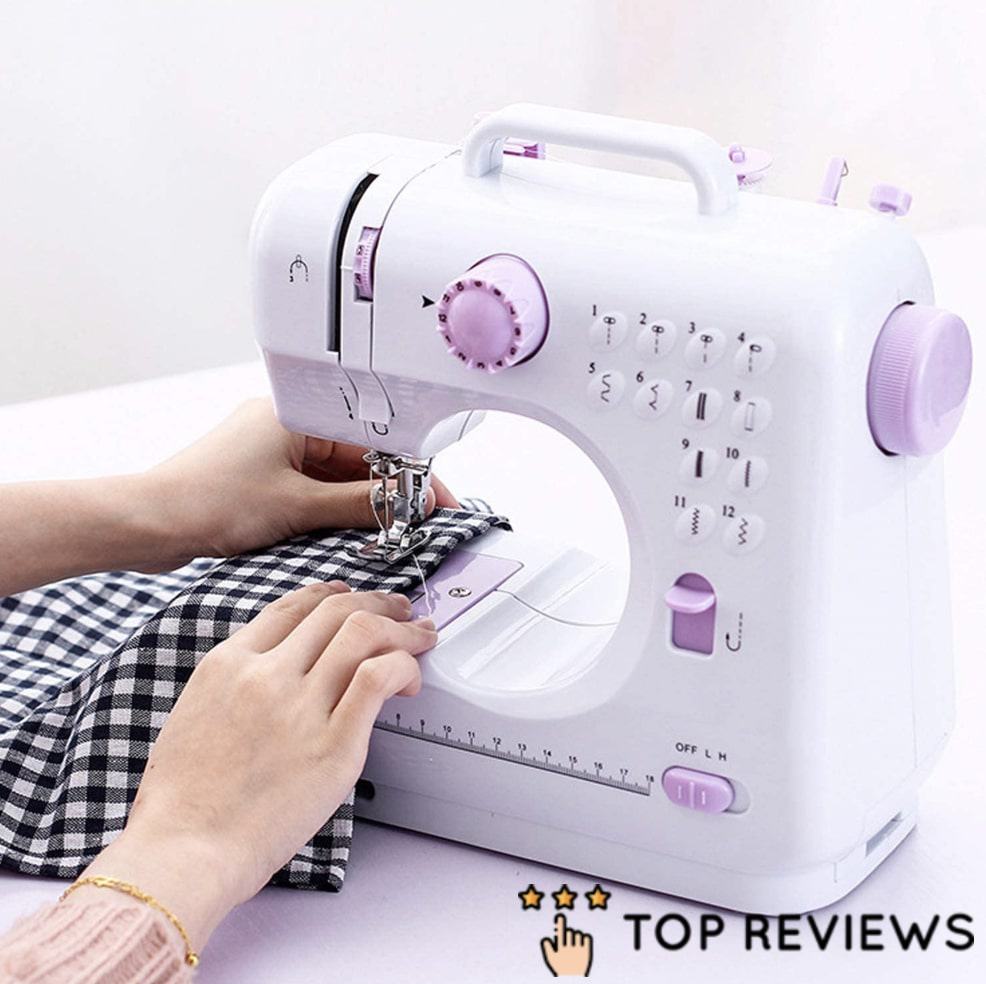 | | |
| --- | --- |
| Best for | Portable sewing machine |
| Dimensions | 20.07 x 9.91 x 19.05 cm |
| Stitch types | 12 |
| Weight | 1.75 kg |
| Price | $89.99 |
The Electric Household Sewing Machine is designed for simple sewing and alterations. It is so small, compact, and portable that you can easily carry along with you.
Though its 12-stitch patterns are only basic, the unit is good enough for small sewing jobs at home. However, it's too light and can move on the table, even with non-slip pads underneath.
Some of its other convenient features include a body ruler for precise measurement, an accessory drawer, integrated lights, and a reverse function.
It can be powered either through batteries for short uses or a charger for long durations — say, if you have a lot of garments to sew.
Pros
Small and compact size
Good for beginners
Reliable body ruler
Auto-thread rewinder
Cons
Not suitable for complex sewing work
Too light for stability
3) Singer Heavy Duty Sewing Machine 4411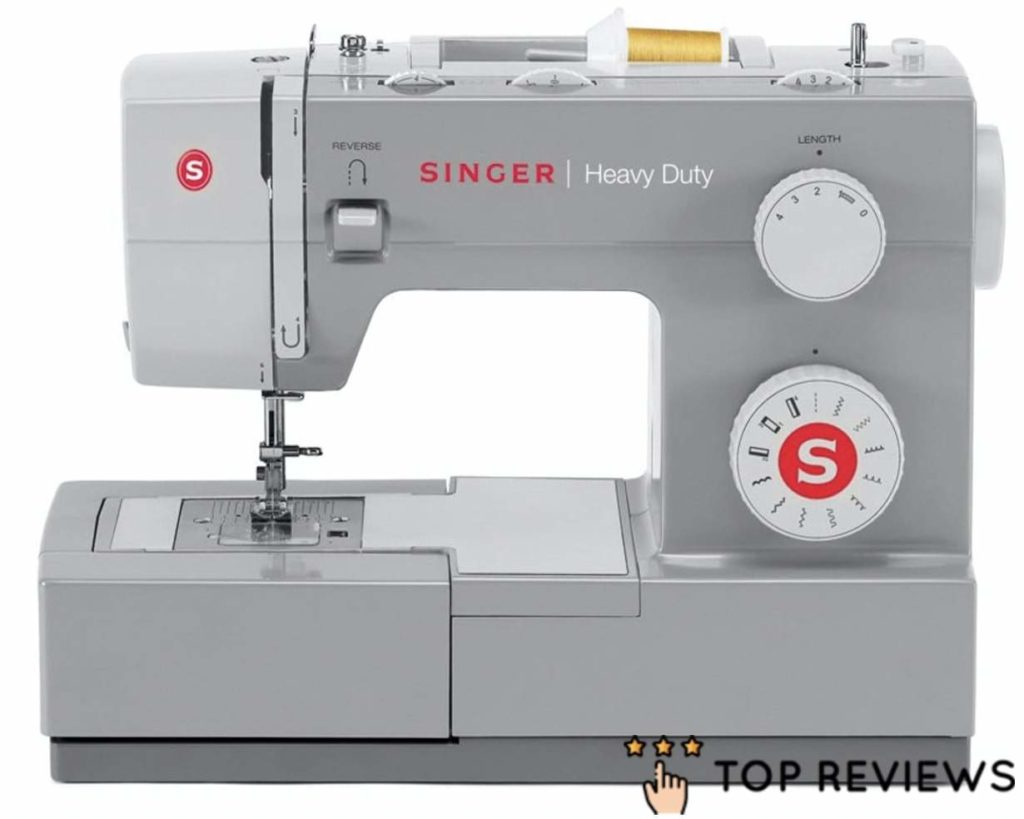 | | |
| --- | --- |
| Best for | Value for money |
| Dimensions | 15.5 x 6.25 x 12 cm |
| Stitch types | 11 |
| Weight | 14 kg |
| Price | $499 |
With a powerful motor and remarkable stitching speed, The Singer Heavy-Duty Sewing Machine can sew through any fabric you throw at it.
This machine is both rugged and durable, being constructed of metal. It also looks vintage and stylish with rotatable knobs for the stitch pattern and length.
It's very convenient to use with a top drop-in bobbin, auto-reverse function, 4-step buttonhole, stainless steel bedplate, sewing item storage, and more.
Owners gave this a nod as it's smooth and simple to use at a value price. Thus, the Singer Heavy Duty sewing machine is no doubt one of the best sewing machines in NZ!
Pros
Swift stitch rate (1100 stitches/minute)
Strong motor
Top drop-in bobbin
1-year warranty
Cons
Hefty machine, so not always easy to move
Customer Reviews
This heavy-duty sewing machine received praises from buyers on Harvey Norman. Not only can it sew a variety of materials, but it's also extremely easy to use.
One owner, Zettie, wrote this comment:
"In the two months since I've purchased this machine, I have tested it on several materials and used several setting. The machine is simplistic and easy to use. Comes with a great little manual with easy to follow instructions. Great Buy!"
Also, Lettie said of the product:
"Singer still doing that thing they do so well. Sewing machines that do exactly what they say on the can (well, on the box actually). Fuss free, robust, straightforward, enough variety of stitches to satisfy almost your every whim without all the complicated computerised, fluff you'll never actually use. Wonder if it will last me as long as my old Featherweight? Don't see why it shouldn't."
4) Janome 4120QDC Computerized Sewing Machine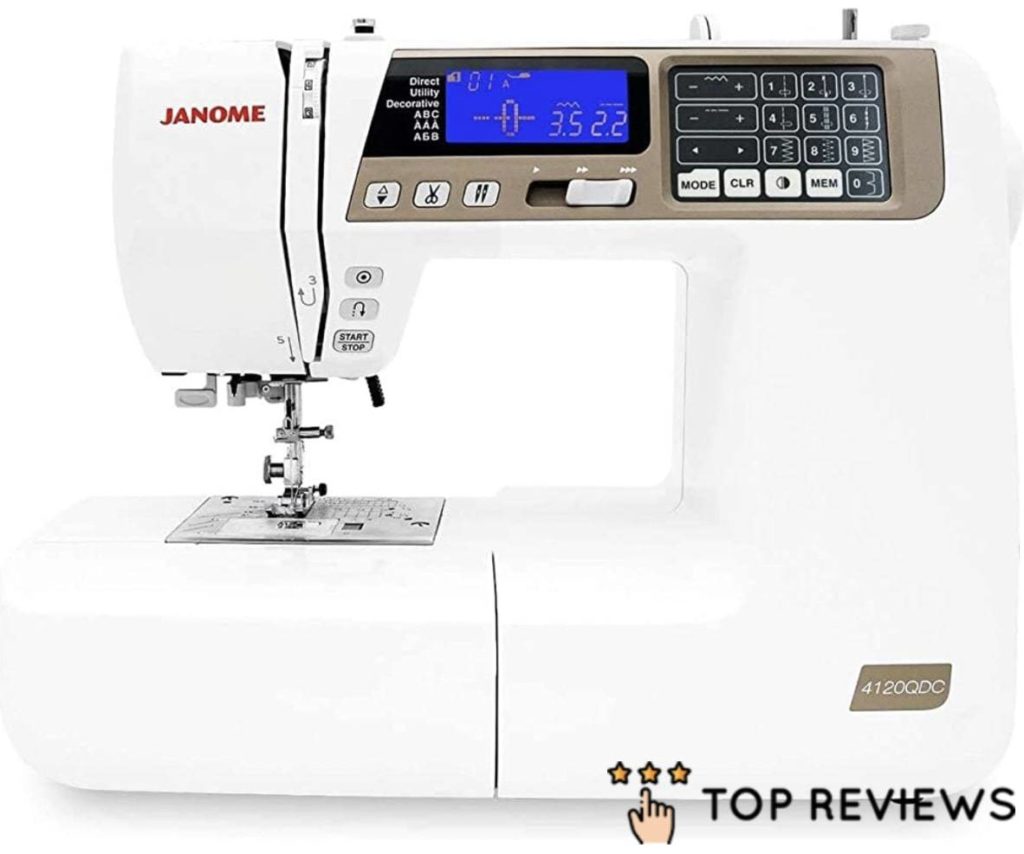 | | |
| --- | --- |
| Best for | Quilting work |
| Dimensions | 38.1 x 48.26 x 25.4 cm |
| Stitch types | 120 |
| Weight | 10.07 kg |
| Price | $1536 |
This computerised sewing machine is totally next level. It is jam-packed with many useful features that make your sewing less of a challenge.
Janome 4120QDC has 120 stitch patterns that enable you to make all sorts of fabric from colourful quilts to fashionista outfits.
Our favourite features include the Lock Stitch, which always finishes your stitching; the Needle Up or Down button where the needle will stop where you want it to; and the super-simple automatic needle threader so you won't have to strain your eyes.
Along with that, with the Start and Stop buttons, you won't need to press a pedal under the sewing machine. You only need to press either of the buttons—as simple as that.
Finally, the unit comes with a ton of accessories including a hard case, a wide range of sewing feet, an instructional DVD, and an extension table, to name a few.
Pros
120 stitch patterns
Intuitive control panel
Jam-proof bobbin system
Loads of features
Quiet operation
Cons
Customer Reviews
The Janome sewing machine received acclaim from Amazon users. For them, the stitches came out perfectly every time and the suite of features was impressive.
One owner, Rebecca, wrote her feedback about the sewing machine:
"So easy to figure out and it sews like a dream. It is heavy, but i could care less beacuse i dont need to tote it around. I have done four quilts on it already. And very easy to clean up! Dont get me started on the feet free start button, and auto thread cutter. I no longer have long strings of thread wasted. And never have to rethread my machine."
Moreover, check out Susan's review:
"Love the machine! I've been sewing for over 40 years and this machine is wonderful! The extras for quilting are perfect and a good value. Arrived as scheduled and well-packaged. Would definitely buy again."
5) Brother Innov-Is A150 Sewing Machine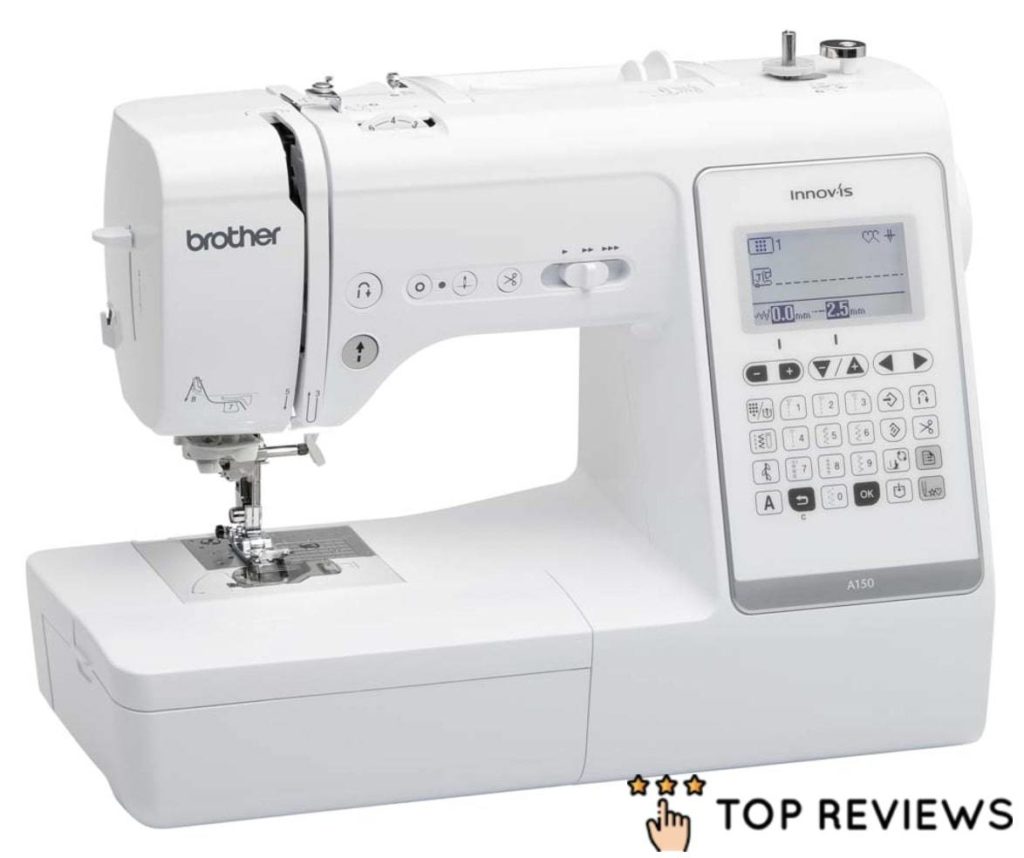 | | |
| --- | --- |
| Best for | Ergonomic sewing machine |
| Stitch types | 150 |
| Weight | 6.6 kg |
| Price | $754 |
For a digital sewing machine that's significantly less costly, the Brother Innov-Is is a brilliant option!
In just a few simple steps, you can sew many fabrics like stretch, denim, or sheers. There is an automatic thread cutter that will finish the job neatly and quickly.
This sewing machine even has 150 stitches for you to choose from via the touchpad, as well as alphabets (3 alphabet types and 1 in Japanese).
Furthermore, the machine features twin needles to create parallel and eye-catching styles. Its dependable tension system provides you with wonderful stitches every time – basically, it's easily one of the best machines we've ever had the pleasure to try!
Pros
Cost-effective sewing machine
User-friendly
Massive range of stitch types
Full range of features
3-year warranty
Cons
A bit heavy, so again, not easy to move around
Customer Reviews
Owners of the sewing machine raved about how easy it was to use, the array of stitches available, and the handy automatic needle threader, amongst others.
Here's what one owner has to say about the machine:
"I love this machine. Once you familiarise yourself with the various functions it's a breeze. Touch screen operated and a handy visual card with the numbers of various stitches. Screen tells you what presser foot to use. One button "tie off" for neat start and finish and thread snipped. The automatic needle threader is quick and easy – a blessing for short sighted and shaky fingers. Stitches beautifully even. One step buttonholes couldn't be easier. Too many functions to describe and all easy to use. Worth every penny."
Also, Nick posted this comment:
"Absolutely love my new sewing machine. Does so much and easy to use. Book has clear instructions to help you get around the machine and all the many stitches. I've always had very basic sewing machines, but this is a great step up. So if your looking for an upgrade go for this ??."
6)  Singer Sewing Machine – Quantum Stylist 9960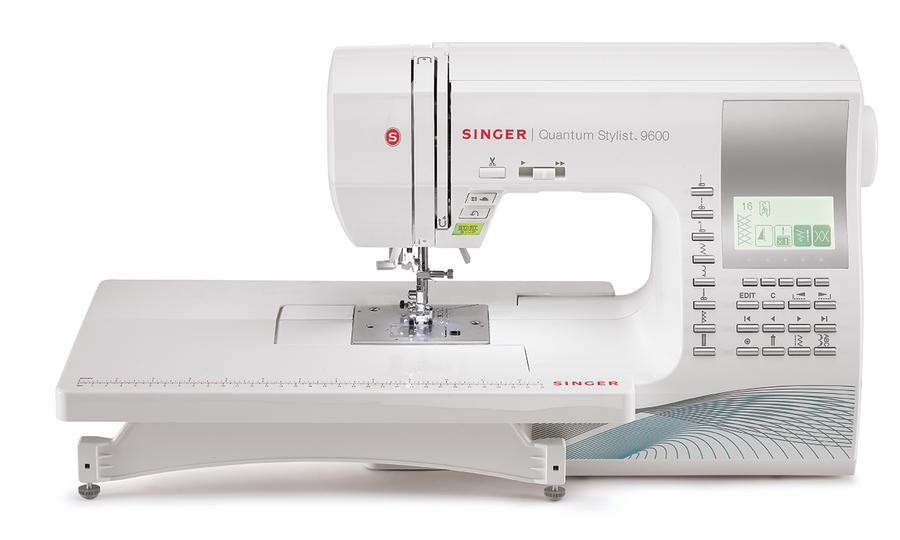 | | |
| --- | --- |
| Best for | multi-purpose sewing machine |
| Dimensions | 17.25 x 8.25 x 12 inches |
| Stitch types | 600 |
| Weight | 9 kg |
| Price | $1,799.00 |
The Quantum Stylist 9960 offers the best deal for an all-rounder sewing machine. It's built for both heavy duty spinning that needs fast stitching, and detail-oriented projects that need slower sewing. There is also a screen 
What's more, is that with 600 stitch types possible, you can mix in some lettering along your stitches, and create unique sequences true to your style. And although it is very expensive, it's a good investment in the long run as it's durable, and a machine making sewing easier and much more convenient. You won't be worrying about changing models or brands anytime soon when you decide to purchase this one.
All in all, the Quantum Stylist 9960 is the perfect thing for whatever design and material you decide on, because you can do everything with this small but powerful machine.
Pros
Automatic needle threader
Computerized sewing machine
Convenient stitch selector with stitch style/width/length preview
Cons
Customer Reviews
With over 5000 reviews, the Quantum Stylist 9960 has been nothing but a great choice for the users. They like its qualities and the number of stitching available, which more than the usual sewing machines.
Check out what one user who bought from amazon, had to say about it:
"I am very pleased with this machine! I have only had it for 1 month, but so far it seems like a very solid sewing machine. I bought it mainly for all the stitches that are available on it. I have a Janome mechanical machine as well that has just basic stitches on it and I wanted something with more choice.
I was hesitant to purchase a Singer, because I had buyers remorse from another Singer model in the past. But the reviews for this machine were so good on numerous web sites, that I had to see for myself. This machine does not have the needle up/down option. It does have the automatic thread cutter which requires the needle to be in the down position to work. This is a handy feature. The machine is very easy to use right from the start. The manual is easy to read and understand ,and the machine screen tells you which foot to use for which stitch pattern.
Buying from Amazon was ok. I like that I had options of where to have the machine delivered. I didn't like that it said it qualified for free shipping because of the cost, then when I actually paid for it, shipping was not free, because of the weight I'm guessing. Also the 2 day delivery turned out to be 5 days. But these are minor issues with Amazon, not the sewing machine.
I have and will continue to purchase from Amazon in the future. Overall I am very pleased. This machine was a little pricey, but I'm hoping it lasts for many years."
7)  Singer Heavy Duty Sewing Machine 4432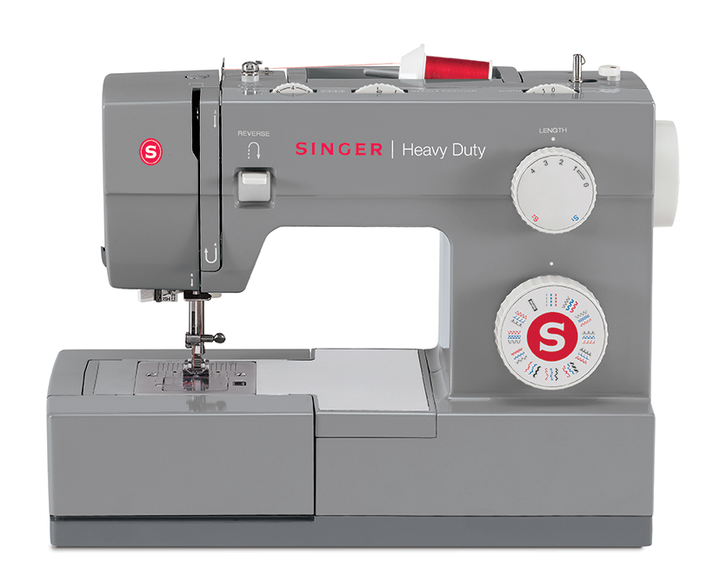 | | |
| --- | --- |
| Best for | Denim and canvas stitching |
| Dimensions | 15.2 x 6.25 x 12 inches |
| Stitch types | 32 stitches |
| Weight | 6.6 kg |
| Price | $699.00 |
True to its name, The Singer Heavy Duty Sewing Machine 4432 is fit for use on thicker fabrics most other sewing machines can't pierce through properly and at longer time frames. With its metal fixture, it can provide better stability while working so you can have an easier time sewing.
There's also a built-in reverse lever for reverse stitch sewing, allowing you to reinforce stitches and assure the durability of the style you're doing to the cloth or fabric.
However, some users have said that there are certain times the sewing machine could jam, but it's nothing a good re-set up can't fix. Hotlines for Singer are readily available to clear up confusions and help with fixing the machines.
Check out more details on the site, and take a look at the Singer Heavy Duty Sewing Machine 4432!
Pros
Reverse Stitch Sewing
Heavy duty metal frame
Cons
Sometimes prone to thread jams
Customer Reviews
The Singer Heavy Duty Sewing Machine 4432 has received an average of almost a perfect 5-star rating from users. They rave about its durability and fast stitching.
Here's what Stacie, a very satisfied customer, had to say about it:
"Old habits die hard. I am a stay at home seamstress and do arts and crafts show at least once a month. I was sewing hours a day on my old faithful Singer 247 until the timing needed to be readjusted. I had used this machine for the past 20 years and was very hardheaded about giving it up. Not saying I won't fix my original one, gifted to me by my grandmother on Christmas morning when I was 11, because I certainly will, and will eventually teach my daughter how to sew on it as I learned. I decided finally to upgrade to something a little fancier as my business is continually growing. I don't know how I sewed this long without this machine. It is a workhorse and a half. I chose this model based on the heavy duty description, as I really do sew for hours a day.
Other reviews complained a little about the noise, but it is whisper quiet compared to my old tank. I love the clear bobbin window so I can keep track of my thread. The LED light is also very nice and the seam allowances are stamped onto the plate with fractions. As you can tell, I am used to sewing on a very old machine, so all these little upgrades are a huge deal to me. I haven't sat down to figure out the automatic threader yet as I was super excited to get to work on this thing. The buttonhole option is easy to use and makes beautiful buttonholes. I'm looking forward to exploring the various stitch options. My only regret is not paying more attention to the differences between the models. I probably would have bought the 4452 to be able to have the extra accessories and feet included in that package, and now I have most of them on my wish list to get for Christmas. I am extremely happy with this machine and would recommend it to any sewist looking for a good, dependable machine. I call it my 247 from the future. Do not hesitate to buy this machine!
198 people found this helpful"
FAQS about the Top Sewing Machines in New Zealand
---
And that's all for our list of the best sewing machines in NZ. All of these are simple to use and can be relied upon to do simple or ornate sewing work. You just need to make sure you choose the one that suits your situation best!
Do you have any questions about our selections? If you have one, kindly drop us a line and we'll get back to you as soon as we can.
Also, you may want to read about the best bedsheets in NZ too. These bedsheets may match the quilt you've made with your new sewing machine!