The 6 Best Sleeping Bags in New Zealand
Spending the night out under the stars and in the open by the campfire? We can help you with that, as we've gathered the best sleeping bags in New Zealand for our roundup of New Zealand's best things today!
As New Zealand can get really cold at night amid the season transitions, we looked for sleeping bags that will be perfect to help you to stay warm and create an unforgettable outdoors experience!
That said, if you've never shopped for a sleeping bag before, it can be difficult to know how to choose one, even if you already have a selection like the one we'll provide in this article.
Hence, we've included a section regarding what you should look for in a sleeping bag below. This will hopefully help you to select from our list, which will follow.
What to Look for in a Sleeping Bag
Following are some of the things you should consider to make sure your purchase of a sleeping bag is the right one, so you can start your backpacking soon!
1) Insulation
When it comes to sleeping bag insulation, you will come across two kinds: down and synthetic fills.
The two can also combine with each other, but we'll discuss them separately, for convenience.
Down comes from the plumage of geese and ducks. It is a commonly used insulation that has excellent heat retention, and is very durable, lightweight, and compressible.
However, it doesn't do well when it gets wet, as it will take a long time to dry. It's also more expensive than the synthetic type.
On the other hand, synthetic performs excellently in wet conditions unlike its down counterpart. It is also hypoallergenic, which is great for asthma or allergy sufferers.
But while it is less pricey than down, it packs a lot more weight, has weaker insulation, and is also less durable.
Bottomline is that not one of them is entirely better than the other, so it will depend on your preferences and situation.
2) Right Fit
This is very important and the first thing you should look for when getting a sleeping bag. The right fit will make the difference between a comfortable sleep or distressing one.
Some sleeping bags are designed more for a straight, ordinary sleeping position, and only for that position — in other words, such bags won't be suitable for side sleepers.
And in terms of the footbox, if you buy too small, you will feel cramped and closed in around your feet. Whereas, if you buy too big, it'll take the bag longer to insulate.
3) Comfort
Obviously, a comfortable sleeping bag should be warm and relaxing. That will help you sleep better, feel recharged for the next day, and more importantly, enjoy the outdoor experience.
4) Lightweight
Carrying all the camping essentials with you shouldn't get to the point where it drags you down. So, for a sleeping bag, it's a great help if it's light and convenient to travel with.
Most of the products below have a compression sack you can fit the sleeping bag into, thus make it easier to tote around.
5) Temperature
Make sure to plan ahead of your trip and think about the weather conditions. How cold will it be in the hiking or camping spot you're going to?
Each sleeping bag has a season rating tested by governing bodies. It is a sort of indicator that pertains to the bag's performance under the temperatures of the place you're in.
Sleeping bags can be between Season 1 and 5, with the former being suited to warm summer nights, which are usually 5℃ or higher. The latter is ideal for extremely cold temperatures down to -40℃ for expeditions such as mountaineering.
We have indicated the comfort range for each of the items we listed, so remember that it's ideal to use a sleeping bag for those temperatures. Don't insist on buying a Season 1 bag if you know you'll be facing cooler seasons.
6) Price
We mentioned that down-insulated sleeping bags are costlier than synthetic bags. However, they are also more durable and can even last decades if taken proper care of.
At any rate, if you're not an avid camper, then synthetic ones may be for you, having a less expensive price, sufficient warmth and waterproof quality. You may not get enough use out of the bag to justify the cost of a down one, after all.
The Best Sleeping Bags in New Zealand
Now that we've gone through the fundamentals, let's see the best sleeping bags in New Zealand!
1) Torpedo7 Wilderness Sleeping Bag
Best Buy Sleeping Bag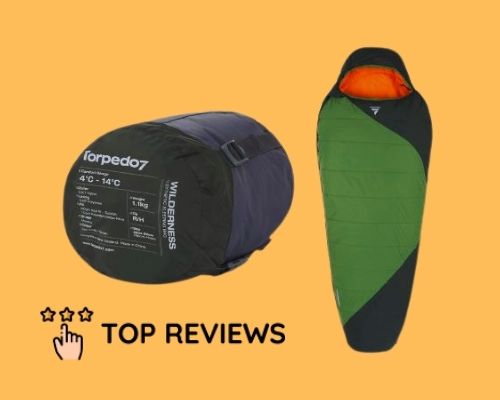 Price: $119.99
Insulation: Synthetic | Weight: 1.1kg | Comfort Range: 4℃ to 14℃ | Dimensions: 220cm x 80cm
If you're spending the night in the great, cold outdoors, you shouldn't miss the Torpedo7 Wilderness Sleeping Bag!
It comes with Duraloft 7 synthetic insulation that will keep you warm and cosy overnight. And it's also because it offers a comfort range of 4℃ to 14℃.
Along with that, it brings tremendous comfort woven in soft-touch fabric. It weighs only 1.1 kilograms for easy carrying in your rucksack while you explore the vast country.
Needless to say, the Torpedo7 accents your camper spirit with rad forest green and dark khaki colour. And there's no worries about the sleeping bag getting wet, it being waterproof.
With affordable pricing and reliable quality, the Torpedo7 Wilderness belongs to our list of the best sleeping bags in New Zealand!
Pros
Comfortable and warm sleeping bag
Waterproof synthetic nature
Affordable prices compared to other bags
Cons
Less durable than down insulated bags
Slightly heavier to take along your hiking or camping trips
2) Marmot Sawtooth 15 Sleeping Bag
Best Lightweight Sleeping Bag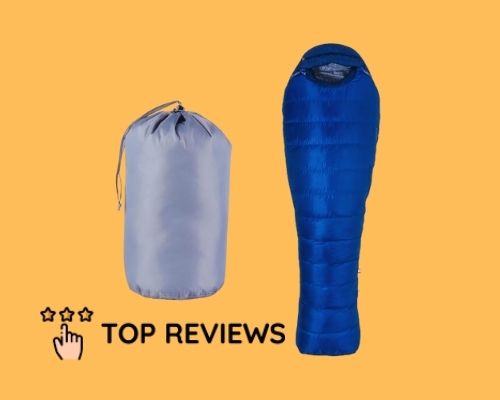 Price: $579
Insulation: Down | Weight: 0.91kg | Comfort Range -9℃ to -2.72℃
Sleep in ultimate comfort and warmth in the duck down-filled Marmot Sawtooth 15 Sleeping Bag. It is exceptionally designed in that no strong currents of cold air can get through.
Having a waterproof nylon shell, this sleeping bag can be used on wet ground conditions without any problem.
It features a wraparound and roomy footbox that keeps your feet warm and comfortable at the same time. Add to that its cosy baffled hood and draft-blocking collar and you have a truly comfy sleeping bag.
Its durability is also noteworthy in that it delivers excellent all-round performance. This sleeping bag is definitely handy, so you can readily bring it on your exciting trips.
Also, there's an internal stash pocket to keep your valuables in. That ensures it's safely tucked away as you call it a night.
Pros
Excellent down-fill insulation
Keeps you warm from head to toe
Remarkable Season 3 performance
Light to carry
Baffled hood and draft collar hinders cold air from entering
Cons
High price point
Not the best for side sleepers due to its size
Customer Reviews
The Marmot Sawtooth 15 has met rave reviews from many users. It held up well in below-freezing temperatures and kept them warm and comfortable throughout.
Here's an informative review written by LittleBear on Rei:
"Thus far, I've used this sleeping bag on 7 or 8 various trips/occasions. One such trip was to Pemi Loop in the White Mountains of New Hampshire in late November. First day, temps dropped down to barely below freezing with high winds, some precipitation. Second day, we were hit with a vicious blizzard all day long, temps down just below 20 F, had no issues sleeping in the Sawtooth. Have yet to test it below it's rating, but I'm confident it would be sufficient with a couple layers of clothing on.
Also, this packs down reallllyyy nicely with a simple compression sack and weighs in pretty light IMO."
3) Marmot Women's Angel Fire Long Sleeping Bag
Best Sleeping Bag for Women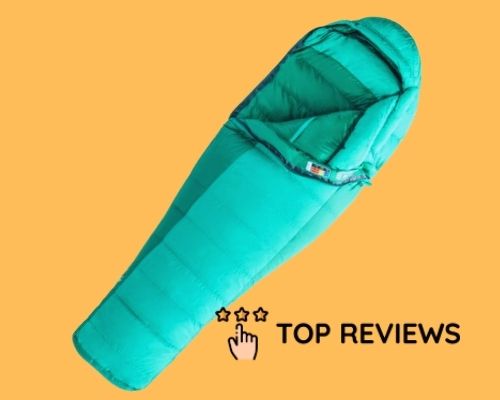 Price: $389.95
Insulation: Down | Weight: 0.91kg | Comfort Range: -12.72℃ to -5.78℃
For women eager to go out in the wilderness and experience the camp life, the Women's Angel Fire Long Sleeping Bag is perfect!
As you can see from the picture, it is specially designed for women with more space for the hips and less for the shoulders. It's very attractive too, given its green lime hue.
This sleeping bag is filled with a certified 650-fill down that wraps you in pleasant and soothing warmth. In areas where there is more heat loss, it also boasts more insulation.
Stretch tricot baffles allow the sleeping bag to battle the Season 3 (cold but no frost) weather. And it's treated with down defender, meaning it will fare well over soaking wet ground.
Apart from those features, the Women's Angel Fire comes with a pocket to stow your nightly essentials. And its double hang loops let you freshen up and store it when it's not in use.
Pros
Specially designed for women
Added insulation in major heat loss areas
Durably made
Light to carry
Cons
Size too small for some women
Warmth issue, as one Rei reviewer mentioned
Customer Reviews
While there are some who complained about its quality and warmth, others are all thumbs up with the Women's Angel Fire Sleeping Bag. On Rei.com, Kaisa posted a review:
"I've used this bag on several weekend camping outings and it has kept me warm. I sleep very cold and had trouble finding a bag warm enough even with thermal sheets. This bag keeps me warm all night and is like a big plush hug. Packs down nicely in a compression dry sack for transport and stores nicely in the included roomy mesh sack."
4) Deuter Orbit +5 Sleeping Bag
Overall Best Sleeping Bag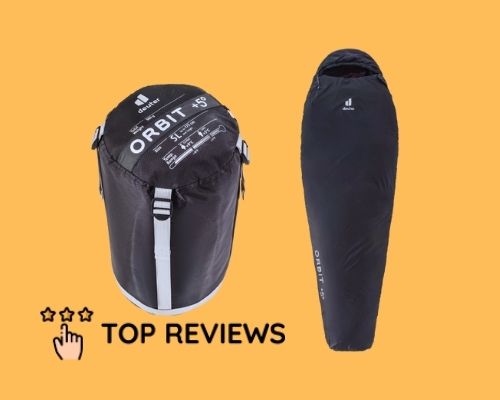 Price: $159.95
Insulation: Synthetic | Weight: 0.93kg + 0.75kg (packsack) | Comfort Range: -9℃ to 5℃ to 9℃ | Dimensions: 205 x 75 x 48cm
Nothing can slow down your adventure, thanks to the Deuter Orbit +5 Sleeping Bag. Being lightweight, you can carry it with you with ease in its compressed packsack.
This synthetic sleeping bag has a comfort rating of +5℃ that can shield you from the shivering cold under the usual New Zealand weather.
The Deuter Orbit also features a soft fleece body warmer that provides you with extra warmth and comfort where it matters. A raised footbox allows more relaxed positioning of your feet.
What's more, there's an internal pocket within the sleeping bag in which to place your personal items, such as your wallet and smartphone, as you turn in for the night.
And to top it off, this product comes with a lifetime warranty! That's proof that the Deuter Orbit +5 is one of the best sleeping bags in New Zealand!
Pros
Lightweight and comfortable sleeping bag
Great warmth
Affordable price
PFC-free coating makes it dirt- and water-repellent
Unrivalled lifetime warranty
Cons
Not as warm as other sleeping bags
5) Trespass Chief DLX Sleeping Bag
Best for Warmth Backpacking Sleeping Bag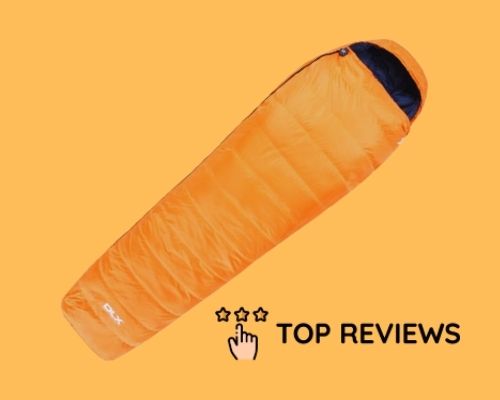 Price: $213.71
Insulation: Down | Weight: 1.5kg | Comfort Range: -8℃ to 0℃ to 5℃ | Dimensions: 220 x 80 x 55cm
Bring this Season 3 sleeping bag as you trek to places you haven't been before and camp in the midst of cold nights. You'll stay warm and toasty throughout with its help!
With duck down filling, the Trespass Chief DLX Sleeping Bag is light to carry and can be effortlessly compressed into its nifty packsack.
Draughts will be kept from entering the sleeping bag with its ample insulated shoulder baffle and zip. This will keep you dry and comfortable throughout your sleep.
Don't forget to place your valuables in the internal pocket of the sleeping bag to keep them secure too. Also, a mesh storage bag is included for neat storage until your next camping trip!
Pros
Outstanding performance under cool nights
Easily compressible and lightweight
Keeps you dry, warm, and comfortable
Cool compression sack
Cons
May shed feathers if not handled with deliberate care
Customer Reviews
Although one customer's sleeping bag became torn in the first use, he nevertheless noted its amazing comfort and warmth. Furthermore, Maire F. wrote a review on the Trespass website:
"It is really warm and yet light weight and compact …. significant features when packing for a 2 week walking/mountaineering trip!"
6) Redline
Best for Cold Conditions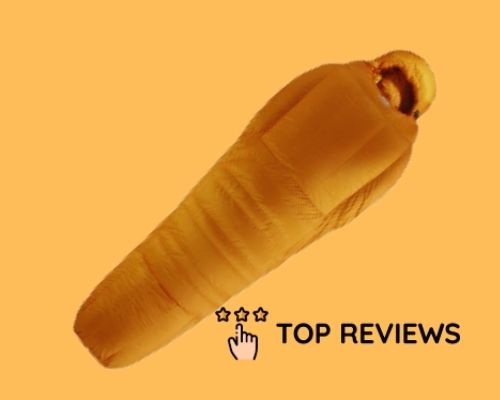 Price: £800.00
Available Now On Outdoor Action
Insulation: Down 800 | Weight: 1.9kg | Comfort Range: -45°C/-49°F | Dimensions: Regular: 80″ x 20″ | Long: 85″ x 20″
If you're going to be facing the harshest weather conditions on your trip, Redline from Mountain Equipment is the best companion to take along. It's guaranteed to give you a good night's sleep — no matter the situation.
It's made of Gore-Tex Infinium, a material that's rain and snow resistant, as well as windproof. It's also highly breathable, so there's no need to worry about it feeling stuffy.
The insulation is made of Eastern European down, which has a minimum down cluster of 90%. Warm evenings and a good night's sleep are all you will experience when using this item.
Pros
Windproof
Highly breathable
Weather-resistant
Good night's sleep guaranteed
Cons
And those were the best sleeping bags in New Zealand at the moment. We hope you have found a sleeping bag that you would need from our list, as they all have amazing quality.
Have you any questions for us about the topic? We'd be more than happy to answer them, so feel free to drop us a line, and we'll get back to you in a bit.
Oh, and if you're interested in other camping essentials, you may be interested in campervans as well. For this, you can browse our list of the best van rentals in New Zealand.