The 8 Best Solar Panels Wellington Specialists
Using solar energy lets you cut your energy bills and reduce your impact on the environment. If you're giving it a go, you're at the right place, as we've featured the best solar panels Wellington specialists here.
We selected the ones who are experienced and professional enough to set up solar panels without a hitch. In addition, we chose those with the best solar panels in Wellington, solid warranties, and a helpful and knowledgeable team.
More and more people are switching to solar since it has great benefits. Now, we bring you the best solar panels Wellington specialists!
1) GreenVan
Greenvan offers eco-friendly home electrical solutions to clients and their homes. They're known as the lead supplier of solar panel builds and other related systems.
Their services are applicable for both residential and commercial properties. With their help, you can easily upgrade your home's energy efficiency.
Highlights
Wide variety of services
Specialises in solar power system supply
Complies with Healthy Homes Act
Free quote available
2)  NZ Solar Ltd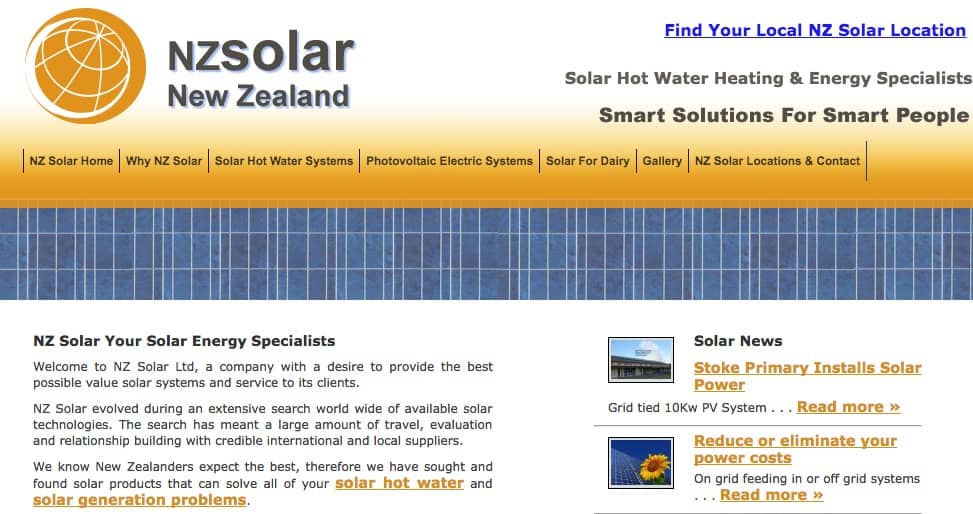 BEST FOR
Solar Hot Water and Power Generation
SERVICES
Solar Hot Water Systems

Photovoltaic Electric Systems

Solar for Dairy

WEBSITE
http://www.nzsolar.co.nz/
ADDRESS
Thorby Street, Northland, Wellington 6012, New Zealand
CONTACT DETAILS
+64 274 330 837
OPERATING HOURS
Monday to Friday: 8.30am – 4.30pm
NZ Solar Limited specialise in solar hot water and power generation and have a network of branches across New Zealand.
Their aim is to give clients the best service and value. They have a range of top-quality solar PV systems that are made for the long haul for you to see a return on investment.
The installation of your solar panels will be conducted by qualified and trained professionals. They ensure that you'll enjoy all the benefits of using solar energy.
There will be a big improvement on your monthly bills, not to mention you'll be able to  enjoy a warm shower and electricity whenever solar power is generated in your home.
Highlights
Specialises in solar hot water and power generation
Gives clients the best service and value
Top-quality solar PV systems
Qualified and trained professionals
Has a large network across NZ
Customer Reviews
Tom Dixon, one client, said on Google Reviews:
"Geoff and his crew  installed my solar panels and solar hot water……more than happy with the service and product."
3)  GreenCo Solutions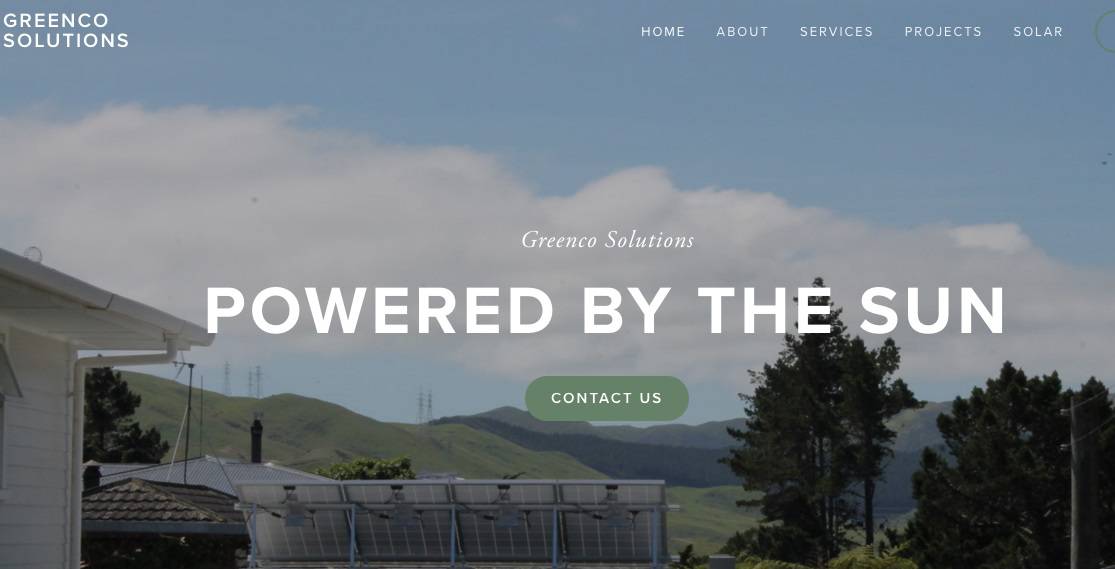 BEST FOR
Green Living Solutions
SERVICES
Solar Power

LED Lighting

Hot Water Solutions

Residential Solutions

WEBSITE
https://www.greencosolutions.co.nz/
ADDRESS
8 Duval Grove, Tawa, Wellington 5028, New Zealand
CONTACT DETAILS
0274261837
OPERATING HOURS
Monday to Sunday: 8am – 5pm
Another of the best solar panels Wellington specialists is GreenCo Solutions. Having worked in Australia for two years, they have installed about 200 solar panels to date.
They are focused on providing green solutions for the domestic and commercial sectors. With solar, you'll reduce your power bills — and be able to sell the excess to the grid.
Apart from installing solar, they offer a wide range of electrical services including LED lighting, new build electrical installations, and energy-saving hot water solutions.
Highlights
Cut down your power bills
Provide green solutions for homes and businesses
Adept solar panel installers
Wide range of electrical services
4)  Green Spark Solar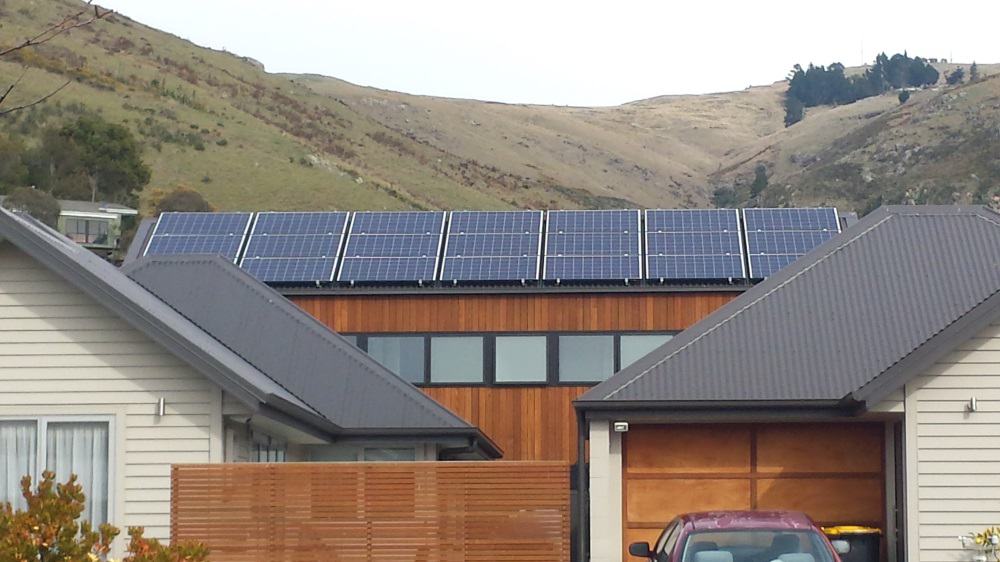 BEST FOR
Off-Grid Solar Installations
SERVICES
Grid-Tied

Hybrid

Off-Grid

WEBSITE
https://greensparksolar.co.nz/wellington.php
ADDRESS
Wellington, New Zealand
CONTACT DETAILS
0800-2-GO-SOLAR

0800-2-46-76527

OPERATING HOURS
—
If you're opting for an independent solar PV, then you should get in touch with Green Spark Solar. They specialise in the supply and installation of off-grid solar PV systems.
As a member of the Sustainable Energy Association of New Zealand (SEANZ), they assure you that their solar panels are of the best quality so you can trust them completely.
Their qualified electricians can install solar power systems for small homes, farms, and lifestyle blocks.
Other than that, the team supplies grid-tied and hybrid solar solutions. They service the Wellington Region including Kapiti Coast, the Hutt, and Porirua.
Highlights
Specialise in off-grid solar PV systems
Premium solar panels
SEANZ member
Can also supply grid-tied and hybrid solar panels
Service the Wellington Region
Customer Reviews
One customer, Alison Cairns, commented on Facebook:
"Good service, knowledgeable people, longer warranties than others."
5)  SolarKing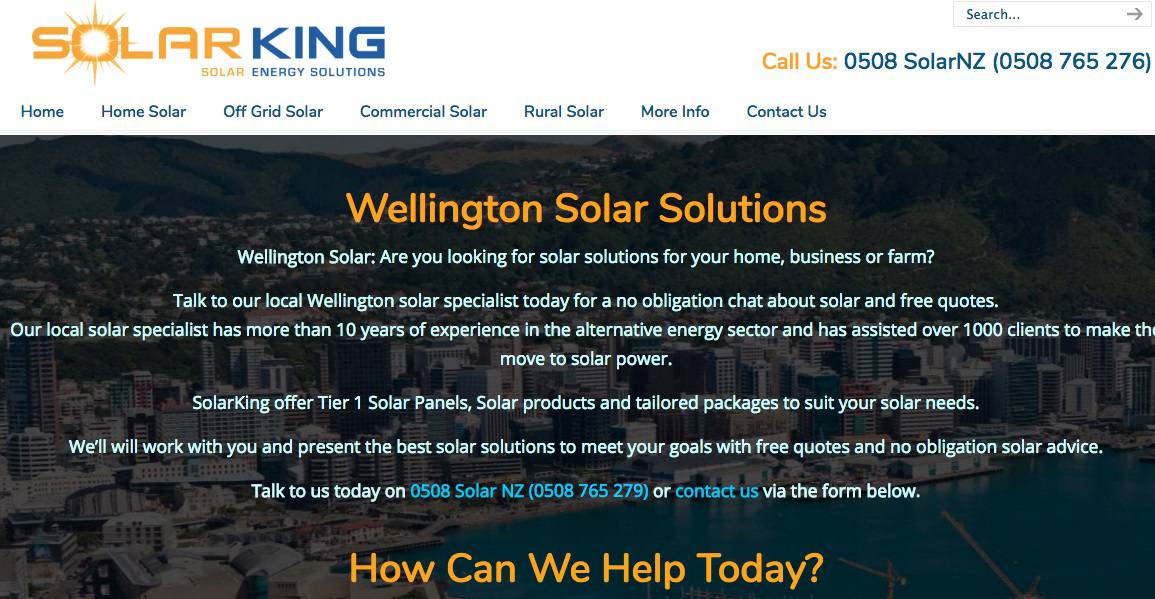 BEST FOR
Customised Solar System
SERVICES
Home Solar

Rural Solar

Commercial Solar

WEBSITE
https://solarking.co.nz/
ADDRESS
24B Parkway Drive Rosedale, Auckland 0632, New Zealand
CONTACT DETAILS
0508 SolarNZ (0508 765 276)

+64 9 486 7443

OPERATING HOURS
Monday to Friday: 9am – 5pm
SolarKing provides a customised solar solution (and its installation) wherever you may be in New Zealand. Whether you need an off-grid, hybrid, or grid-tied solar system, they're here for you.
Assisting you will be a qualified and experienced team. More importantly, their products are all premium in quality and come with a production warranty of up to 25 years.
Their team is more than happy to discuss with you about getting more savings or selling the excess to the power company, or what solar PV will fit your home or needs best.
As such, they are some of the best solar panels Wellington specialists you can call!
Highlights
Premium solar panels
Customised solar solution
Qualified and experienced team
Provide professional advice
Offer product and workmanship warranties
Customer Reviews
One customer, Frances, said on the webpage: 
"I have been very happy with SolarKing's good and fast service, great communication, and listening to customers requirements.
Thank you all so much."
6) Harrisons Energy Solutions Wellington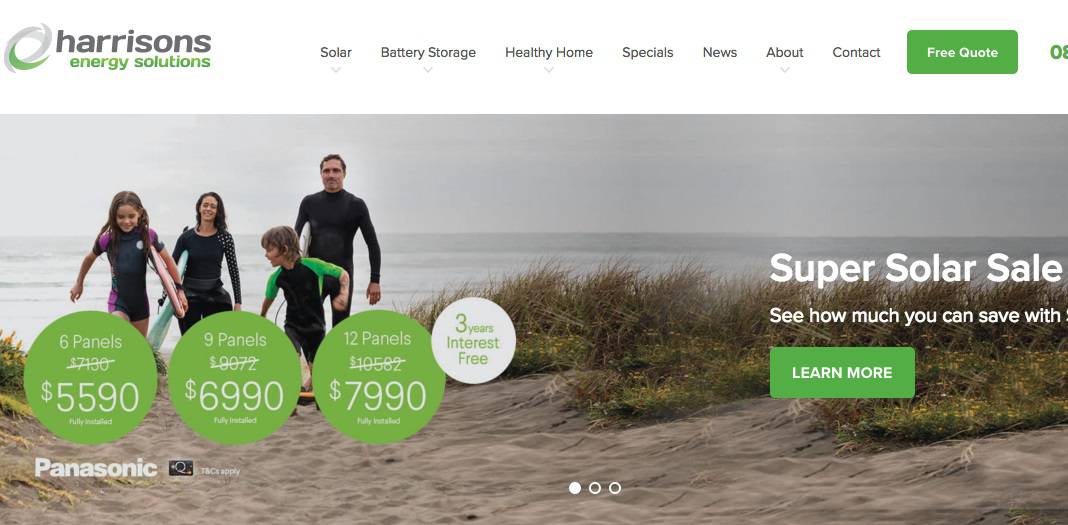 BEST FOR
Professional and Efficient Service
SERVICES
Solar PV Systems

Battery Storage

Ventilation, Insulation and Heat Pumps

WEBSITE
https://www.harrisonsenergy.co.nz/
ADDRESS
Wellington, New Zealand
CONTACT DETAILS
0800 00 33 54
OPERATING HOURS
Monday to Friday: 8am – 6pm

Saturday: 8.30am – 4pm

Sundays and Public Holidays: Closed
Harrisons Energy Solutions is dedicated to providing Kiwis a cosy, healthy and more energy-efficient home. One way of doing that is by offering solar PV systems to clients.
The company has partnered with well-known companies like LG, for instance. LG solar panels are some of the best solar panels in Wellington, as they're generally said to be durable & high-performance, and come with a 25-year warranty.
Their staff are knowledgeable and friendly… and, say past clients, will answer your queries and assist you from start to finish. They will tailor a custom solution that will fit your lifestyle and home.
Highlights 
Great-quality solar systems
Knowledgeable and friendly staff
Committed to giving you an energy-efficient home
Custom solution
Long-term warranties 
Customer Reviews 
One client, Lloyd Mason, said this on Google Reviews:
"Daryl is great to work with. He is very knowledgeable and answered all my questions ands queries. I would highly recommend getting solar from him. The lads that did the job were just as awesome, knew exactly what they were doing and just very professional."
7) Lux Solar

LUX Solar is the premier choice for high-quality caravan and marine solar panels in Wellington. The company has on board an exceptional Research and Development team with years of electronic and mechanical engineering experience under their belt.
With their backgrounds, the R&D constantly strives to develop top-notch solar systems that are both efficient and durable. Everything comes with groundbreaking technology, be it a small or big system.
Highlights
Plug and play kits available
Maintenance-free systems
Longevity guaranteed
8) Solarworx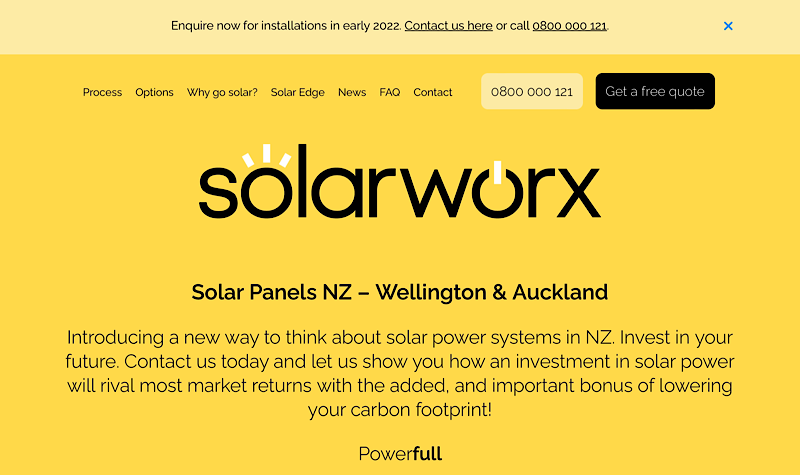 BEST FOR
Quality Solar Systems
SERVICES

Standard Grid Tie

Hybrid Solar Edge System

Battery Systems

WEBSITE
https://solarworx.co.nz
ADDRESS
Auckland office

Eden Terrace, Auckland

Wellington office

Kapiti Coast, Wellington

CONTACT DETAILS
Auckland office

09 9509446

Wellington office

04 213 8238

OPERATING HOURS
Contact for more details
Solarworx is a solar panel system company based in Auckland and Wellington that provides solar systems in homes, businesses, and farms. 
Based on what they offer, their clients can choose from their Standard Grid Tie, Hybrid Solar Edge System, or Battery Systems. These typically take one day to install in most residential homes, which is a plus factor to getting their job done quickly and efficiently. 
Compared to other companies, Solarworx prides itself in being competitive with pricing. Transitioning to a solar system is becoming a good investment in homes and businesses.
In addition, all of Solarworx's solar panels come with a minimum 10-year manufacturing guarantee. Some systems come with a warranty of up to 20 or 25 years, assuring their customers of the high quality of their products and services.
Solarworx also uses solar equipment from quality brands like Victron Energy, Seraphim, and Solax Power. They ensure that their products and services are of good standard.
Highlights 
Three different types of high-quality solar systems available

Competitive pricing 

Long-term warranties are available

Free quote available upon request
Customer Reviews 
Here is a review found on their website:
"Alex is incredibly informative and always willing to answer my queries in an easy to comprehend manner. 100% satisfied customer" – Sean Llewellyn
And with that, we conclude our list for the best solar panels Wellington specialists. Now you know whom to call for superb solar products that will last for more than a generation.
Do you have any questions about what we talked about? If you have one, feel free to send us a message and we'll get back to you pronto.
Also, you may want to read about the best gutter cleaning Wellington professionals. They can clear your gutter's accumulated debris which could cause roof leaks.