The 7 Best Tattoo Removal Studios in Auckland
If you've decided you no longer want that old tattoo on your arm, leg, or back, it's time to go to a tattoo removal pro. Fortunately for you, we've featured the best tattoo removal studios in Auckland here.
We've looked for the ones with a qualified team, the latest equipment, and people who'll take care of you and do all they can to ensure minimal to no scarring. Based on that, here are the ones we deemed to be the best tattoo removal studios in Auckland:
1) 
Laser Studio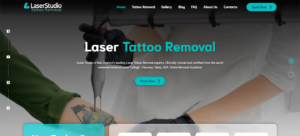 | | |
| --- | --- |
| Best for | Laser Tattoo Removal |
| Services | Laser Tattoo Removal |
| Address | 111 Newton Road Eden Terrace Auckland 1010 |
| Contact no | 09 363 2004 |
| Website | https://www.laserstudio.co.nz/ |
Laser Studio is a company that can help you transform your skin with advanced laser technology.
They're made up of a team of highly trained professionals with extensive experience when it comes to laser tattoo removal.
We like that they provide safe, effective, and comfortable tattoo removal treatments so that clients can achieve the results that they want.
We also like their commitment to provide the highest level of care and support through the entire process.
They provide personalized treatment plans because they understand that each tattoo and client is different.
We think the process is very simple and is done painlessly.
Their staff is very friendly and will explain everything professionally. All in all, we highly recommend!
Highlights
Painless process
Excellent customer service
Professional staff
Personalized treatment plans
Customer Reviews
"I had an amazing experience at Laser Studio. Brandi is very welcoming,
professional, and has enormous amount of experience and practice in the field. During the removal process the pain was absolutely minimal and it was quick. Looking forward to my next session. Highly recommended for anyone wanting to remove tattoos ! 10/10."
2)  deINK Tattoo Removal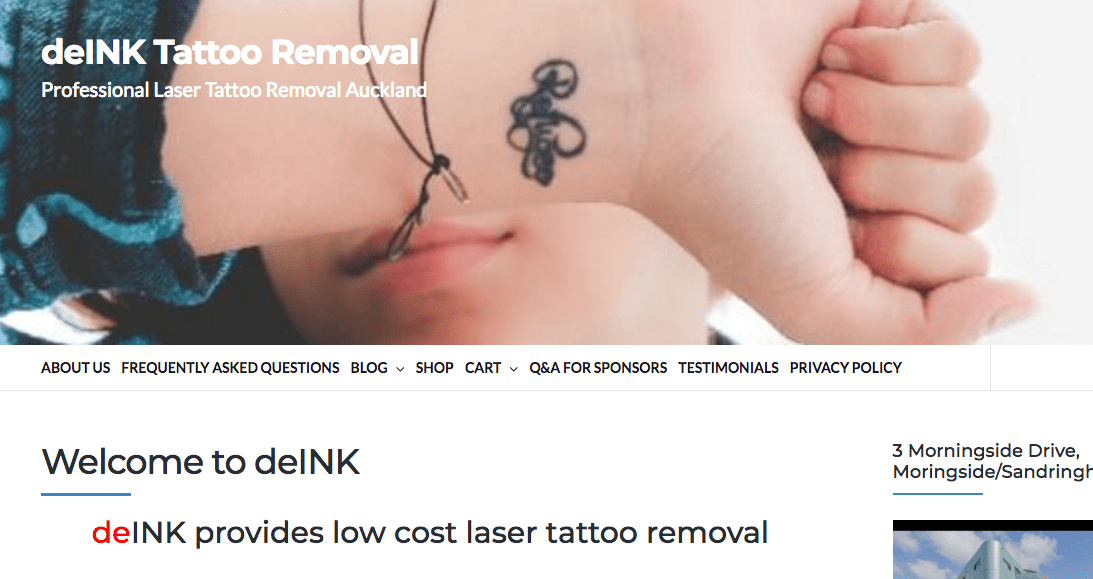 | | |
| --- | --- |
| Best for | Affordable Tattoo Removal |
| Services | Tattoo Removal, Laser Hair Removal, and Hypnotherapy |
| Address | 3 Morningside Drive, Morningside, Auckland 1025, New Zealand |
| Contact no | +64 21 905 990 |
| Website | https://tattooremovalauckland.com/ |
Have a tattoo you like to get rid of on a budget? deINK Tattoo Removal is just the place you need! It's a small business that Helena, its owner, has been passionate about.
Helena studied Laser Tattoo Removal at Fleming Laser in Melbourne and now has more than 8 years of experience. She uses a QSwitched Yag laser for procedures. Moreover, she can be a friend too, so you can share your stories with her while getting your tattoo removed.
Highlights
Effective and careful laser treatment
Affordable prices
More than 8 years' experience
Approachable and kind
Customer Reviews
On Google Business, Deanne Rakete scored deINK 5 stars and writes:
"Wow, Helena is amazing! Excellent service on all levels. Has done a fantastic job for my removal but Helena is also was very personal and I throughly enjoyed talking with her and am looking forward to utilizing more of Helenas' services. Thanks!"
3)  Naked Laser Studio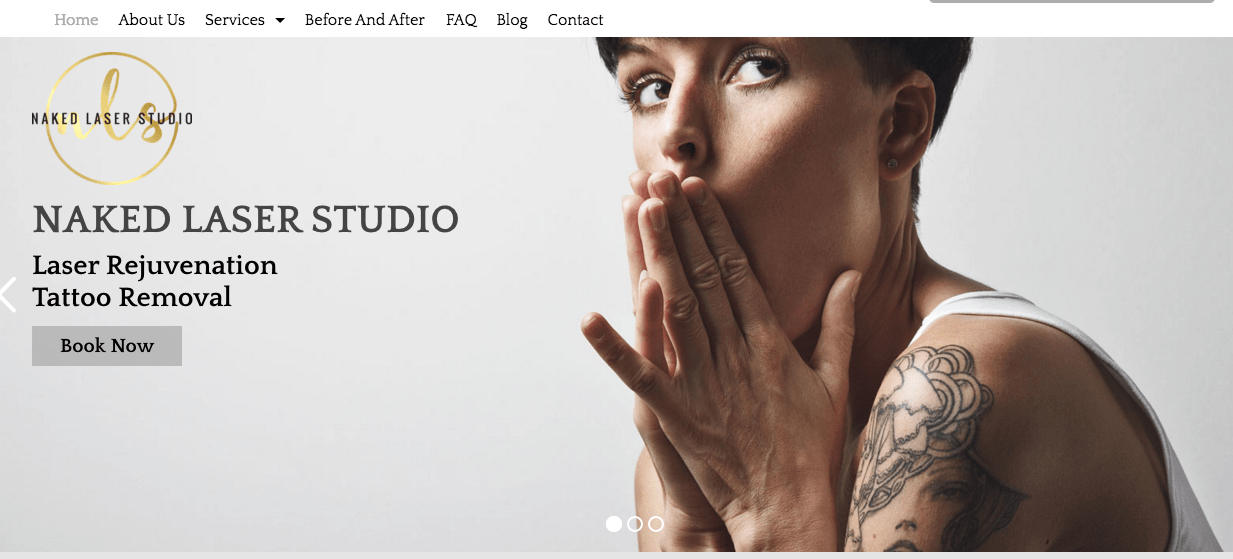 | | |
| --- | --- |
| Best for | Less Painful Tattoo Removal |
| Services | Tattoo Removal and Laser Rejuvenation |
| Address | 8a Anzac Street, Takapuna, Auckland 0624, New Zealand |
| Contact no | 09 217 3695 |
| Website | https://www.nakedlaserstudio.co.nz/ |
If you'd like fewer treatments for your skin to be entirely rid of the tattoo, then try Naked Laser Studio. They use the integrated Nano and Pico laser that is perfect for all skin and ink types.
The expert staff will use the laser at the appropriate intensity and depth to bring about the best de-inking for your skin. They'll also do their best to ensure your discomfort is kept to a minimum.
The entire time, they will keep it safe and controlled, so you don't have to worry. They will also explain to you the essentials before and after the treatment.
Hence, we selected Naked Laser Studio to be part of the best tattoo removal studios in Auckland. Their professionalism and dedication makes them very reliable for tattoo removal.
Highlights
Less pain, less treatments
Uses the revolutionary Nano and Pico laser
Friendly and caring staff
Customer Reviews
Linsay Box wrote on Google Reviews about her experience with the clinic:
"Thanks to the ladies at Naked Laser, laser tattoo removal is very painful and not for the faint hearted especially when removing a half sleeve! However I felt at ease & in safe hands during the treatment which definitely made it more bearable!"
4)  Tattoo Removals Auckland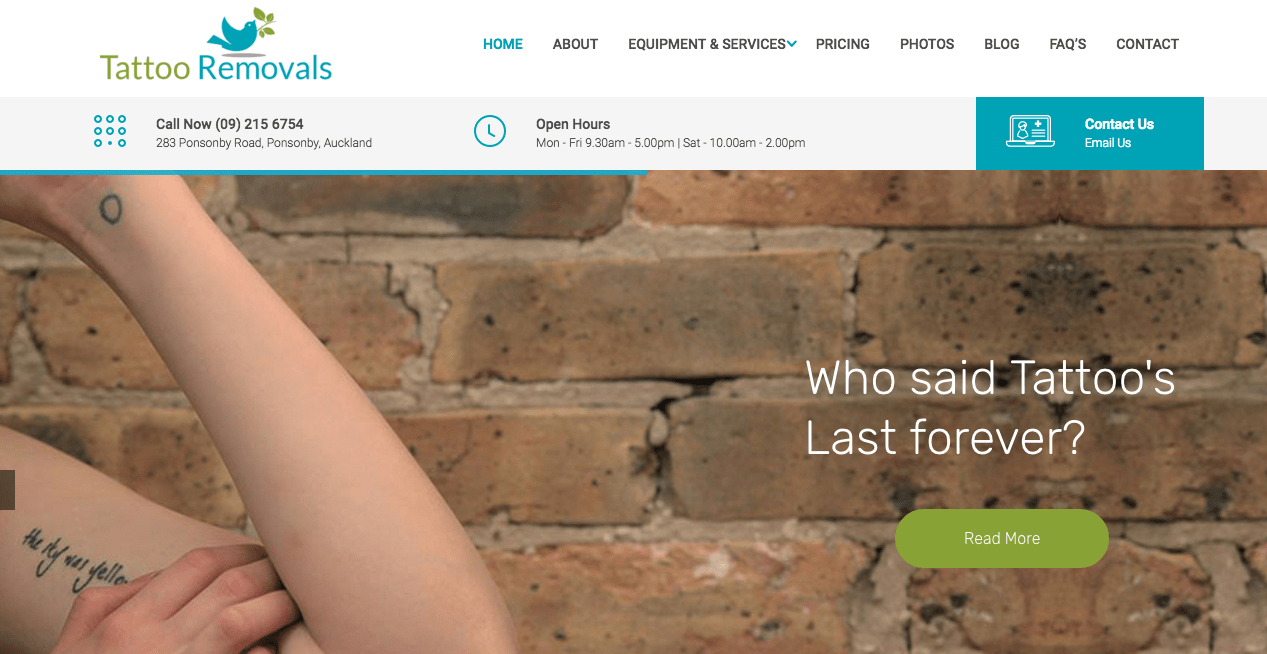 | | |
| --- | --- |
| Best for | Safe Tattoo Removal |
| Services | Laser Tattoo Removal and Carbon Laser Facial Treatment |
| Address | Three Lamps Plaza 283 Ponsonby Road, Ponsonby, Auckland 1011, New Zealand |
| Contact no | (09) 215 6754 |
| Website | https://tattooremovals.co.nz/ |
It's safety and health first at Tattoo Removals Auckland! In addition to having a Health Protection Licence, all their staff have completed training in Laser Safety for your peace of mind.
Since tattoos and skins are unique, they tailor the treatment to  your situation. Also, they have invested in a bunch of laser equipment so that they can find what suits each client perfectly.
Pain is made more tolerable with the cooling device of their laser machine too. Once the removal is done, you will see clear improvements and will likely have your tattoo totally removed in the next sessions.
Highlights
Health Protection Licenced
Personalised approach
Latest laser equipment
Customer Reviews
Google reviewer Jo Peters commented:
"The difference. Had previously had one treatment at a small home based business and it was not a good experience. Checked out a few other places and ended up going to Tattoo Removals. Amazing clinic, staff know what they are doing and really reasonable rates as well."
5)  Ammara Medical Laser Clinic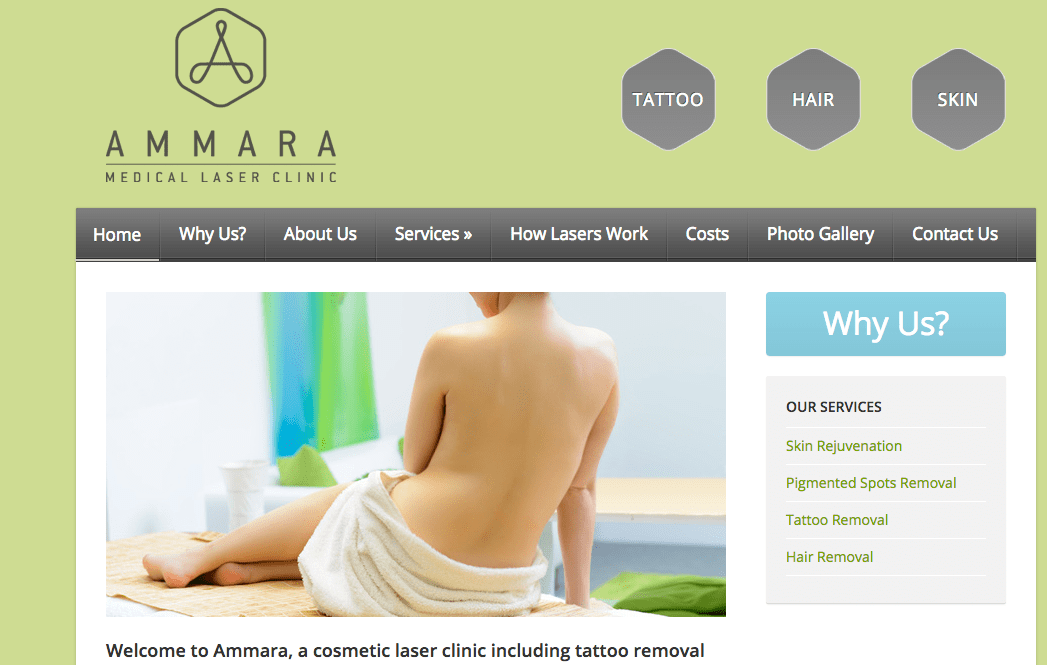 | | |
| --- | --- |
| Best for | Professional Medical Team |
| Services | Tattoo Removal, Hair Removal, Pigmented Spots Removal, and Skin Rejuvenation |
| Address | 212 Wairau Rd, Glenfield, Auckland, New Zealand |
| Contact no | (09) 444 6637 |
| Website | http://www.tattoocare.co.nz/ |
For a tattoo removal in a hygienic clinic, come to Ammara Medical Laser Clinic. They also provide a safe and effective treatment in line with the clinical standards they must meet.
The clinic is also DAA-certified (NZ Department of Health auditors), which assures you of safety in their services. Plus, they use the highly advanced Nd-YAG Laser with multiple wavelengths to remove tattoos from any skin type.
Standards- and results-wise, this is one of the best tattoo removal studios in Auckland. They're friendly too: at their clinic, you'll even share a laugh or two with their nurses or doctors.
Highlights
Safe and effective procedures
Uses high end Nd-YAG laser equipment
DAA safety certified
Gregarious and professional team
6) Beautilase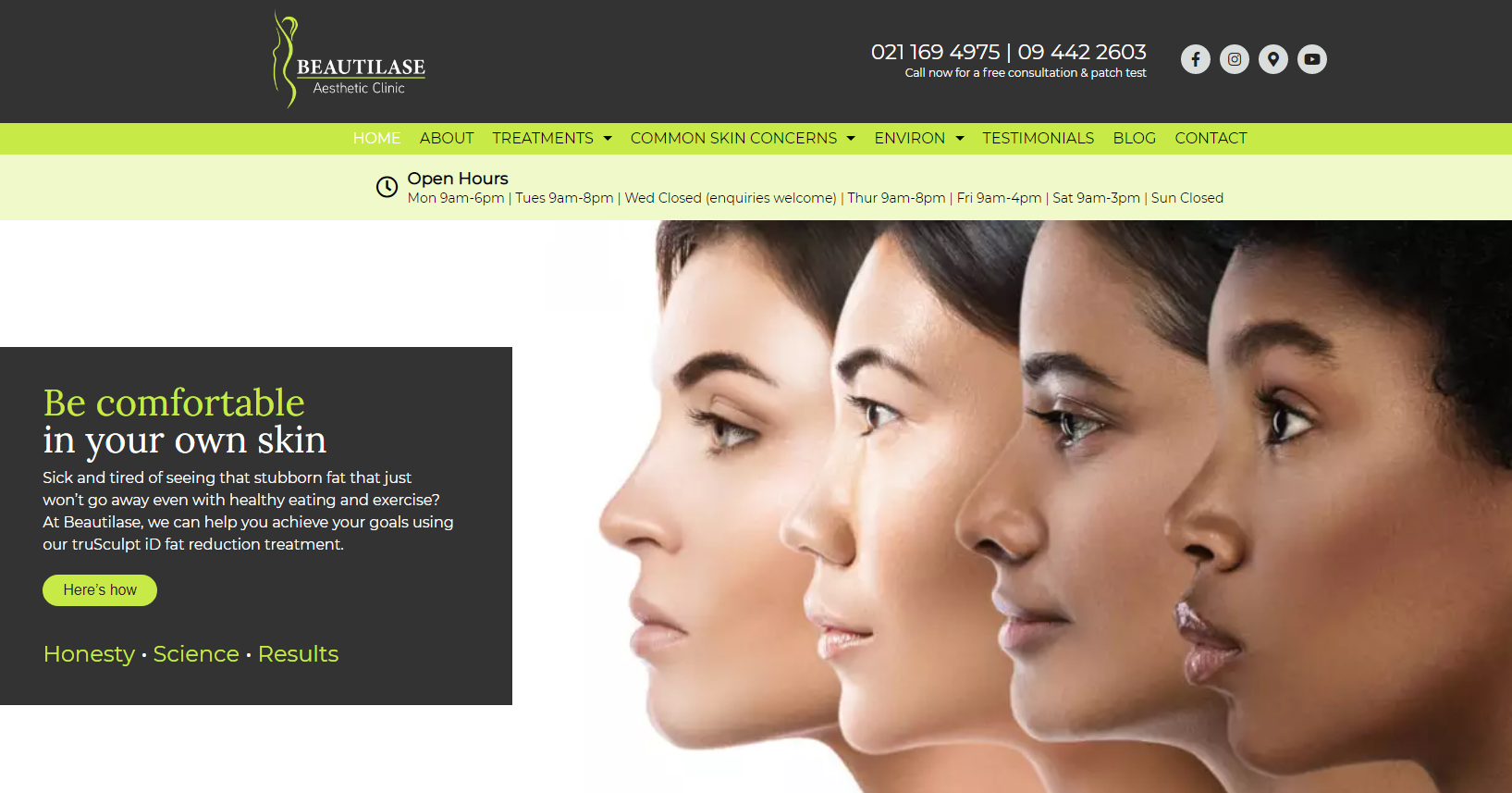 Best For
Aesthetic services
Services
Tattoo Removal
Laser Hair Removal
Body Sculpting & Fat Reduction
RF Microneedling
Focus Laser Skin Tightening
Plasma Fibroblast Pen
Vein Removal
Facial Peels
Address
34 Target Road, Totara Vale, Auckland 0629
Contact no
Mob: 021 169 4975

Phone: 09 442 2603

Email: [email protected]

Website
https://www.beautilase.co.nz/
Beautilase is most known for the open and honest approach it takes when it comes to beauty and wellness. The head beauty therapist, Smita, has a passion for providing every client with the care and attention they deserve.
Coming into Beautilase, clients can expect to receive personalised treatment based on their needs and requests. The staff is highly accommodating and prioritises customer satisfaction alongside quality treatments.
Highlights
Offers Picosecond Laster Tattoo Removal
Free consultation
Personalised treatment plans
7) Exit Ink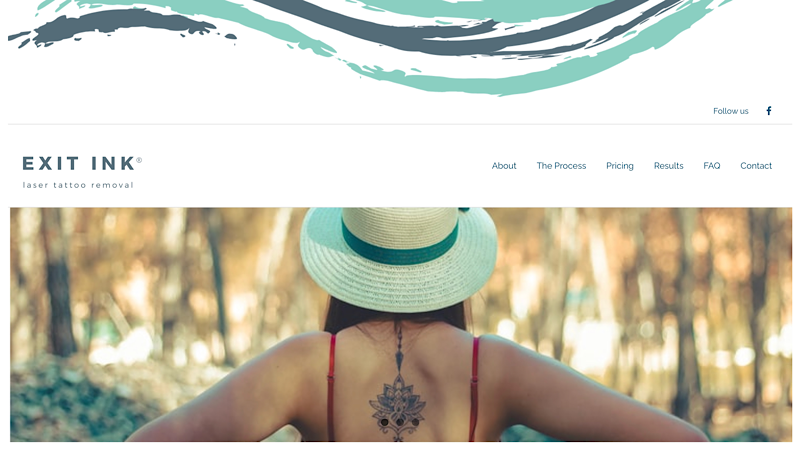 Best For
Laser Tattoo Removal
Services
Laser Tattoo Removal
Address

The Health Centre at 40 Saint Benedicts Street, Eden Terrace, Auckland 1010

Contact no
Email: 

[email protected]

Mob: 021 922 984

Website
https://exitink.co.nz
Exit Ink is owned and operated by a NZ Registered Nurse, Kay, who has a surgical experience of more than 30 years in the field. She has substantial knowledge on wound care and has acquired certificates in Laser Safety and Laser Tattoo Removal from the Rejuv Skin and Laser Training Centre. 
It offers laser tattoo removal services using the industry gold standard Q Switched Nd Yag Laser with prices ranging from $75 to $300 depending on the size of the tattoo. Pricing is per session and the pricing guide is available on their website, however an in-person consultation is encouraged to determine the actual price of tattoo removal.
Quotations may be requested through emails which should include a picture of the tattoo and its measurements. 
In terms of payment plans, they accept Humm (formerly known as Oxipay). Gift vouchers are also available for redemption upon contacting the clinic.
Exit Ink is also only available by appointment only, with flexibility around evening and weekend options to suit your schedule.
Highlights
Laser tattoo removal performed by a professional

Uses the industry gold standard Q Switched Nd Yag Laser

Flexible payment options

Appointment is required

Free consultation and pricing estimate
And that's all for the best tattoo removal studios in Auckland. If you have a tattoo you'd like to undo, these professionals are fantastic choices to give you safe and less painful treatments.
Have you got any questions for us about this topic? Feel free to send us a message, and we'll get back to you in a bit.
Other than that, how about some laser hair removal to look even more gorgeous or neat-looking? You can learn more about it with the best laser hair removal services in Auckland.