The 8 Best Tauranga Hotels
Want to stay at a comfortable and stunning hotel but don't know where to find such a hotel in Tauranga? Well, you've come to the right place, as we are bringing together the best Tauranga hotels for you!
We picked the best ones in terms of favourable customer reviews, inviting atmosphere, comfortable beds, and neat rooms. Moreover, we restricted our list to those with professional but friendly service!
That is to ensure you have an unforgettable experience in your stay. So without any further ado, we now present to you the best Tauranga hotels!
1)  Hotel on Devonport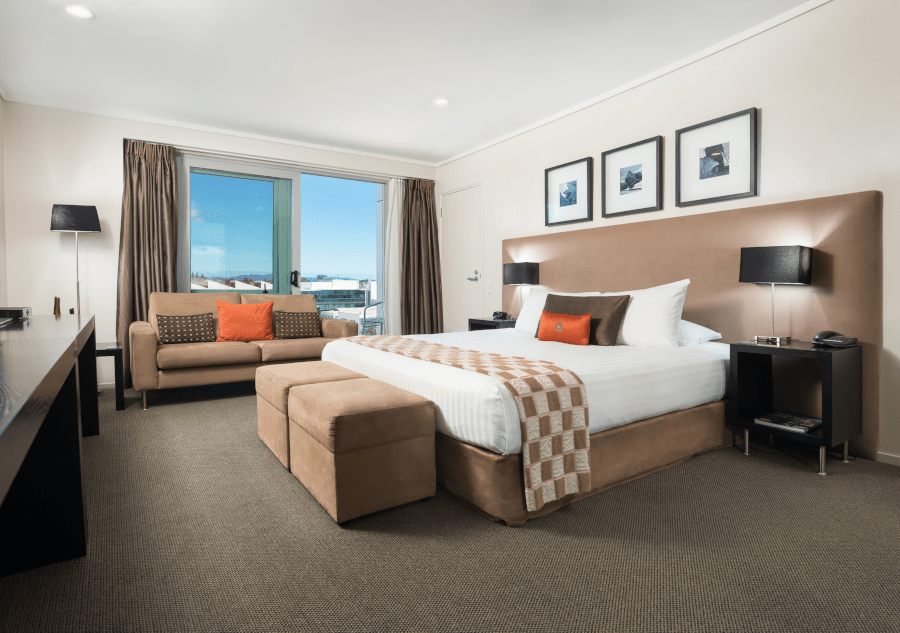 | | |
| --- | --- |
| BEST FOR | Stylish and Comfortable Rooms |
| SERVICES | Hotel Accommodations |
| WEBSITE | http://www.hotelondevonport.net.nz/ |
| ADDRESS | 72 Devonport Road, Tauranga, New Zealand |
| CONTACT DETAILS | +64 7 578 2668 |
Based in downtown Tauranga, Hotel on Devonport offers a selection of premium accommodations that can either have a picturesque harbour or city view.
They are comfortable and stylish yet functional. Since the hotel room is spacious, it is ideal for taking your work with you, watching rugby football or taking a reinvigorating nap.
The service is exceptional and by no means are you going to meet rude people at this hotel. And there are lots of shops and restaurants for you to explore during your stay.
As customers will say, this is one of the best Tauranga hotels you can find! And in case you're not sure which package to book, let the welcoming concierge sort you out!
Highlights
Stylish, comfortable and functional rooms
Provides exceptional service
Picturesque view of the city or harbour
Close to shops and restaurants
Customer Reviews
One guest, Miles McAlister, wrote on Google Business:
"Great spot for a downtown hotel. Handy to everywhere. Slightly pricey but well worth it. The lovely reception lady made us feel so welcome. Thanks for the stays!"
2)  Trinity Wharf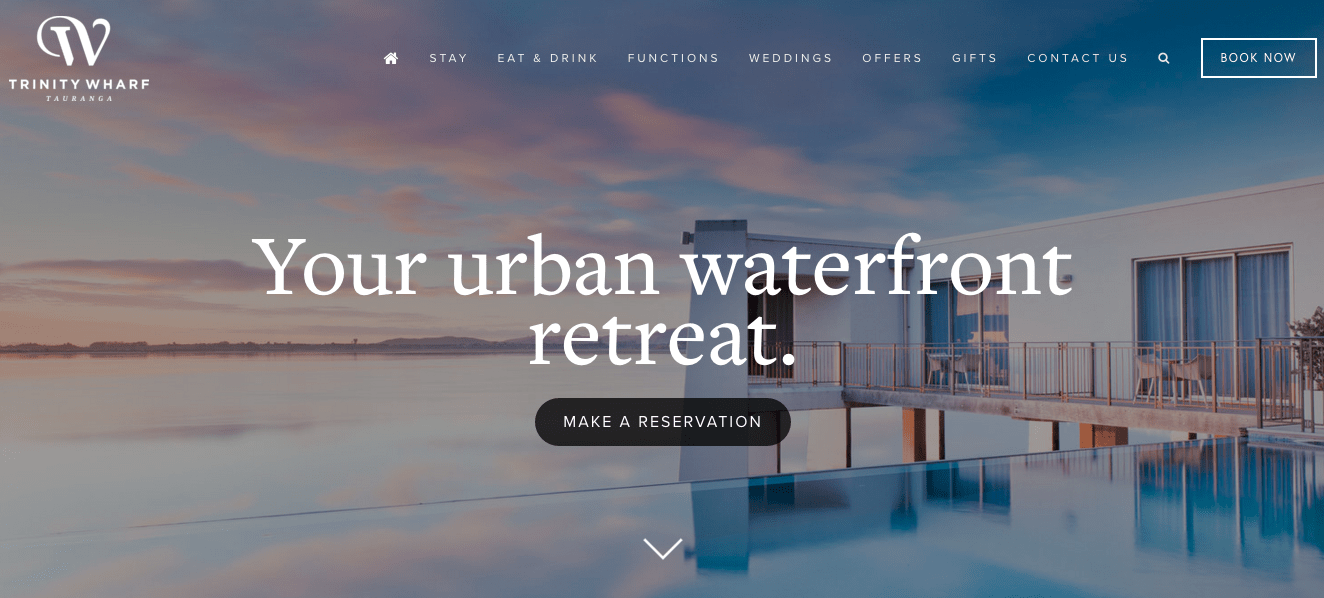 BEST FOR
Waterfront Hotel Retreat
SERVICES
Stay, Eat & Drink, Functions, Weddings, Offers, and Gifts
WEBSITE
https://www.trinitywharf.co.nz/
ADDRESS
51 Dive Crescent, Tauranga, Bay of Plenty, New Zealand, 3110
CONTACT DETAILS
+64 7 577 8700

0800 577 8700
Tauranga has plenty of stellar hotels, but you'll rarely see one like Trinity Wharf. Trinity Wharf is an urban waterfront hotel where you'll see the city's breathtaking blue harbour.
Cosy up in the lounge around a fireplace with a beautiful view. Swim in the infinity edge pool whenever you need to work out. At times, you might also see the magnificent stingrays flowing in the water.
It is located right at the heart of Tauranga CBD yet seems far away from it. The Halo Lounge & Dining restaurant in it also offers delicious, appetising meals if you don't feel like going into the business district just to get quality food — it's open daily from 7am.
Furthermore, if you really want your stay to be worth it, you can also go for a late checkout. Leave later so you can enjoy the harbour view longer!
Highlights
Awesome waterfront hotel
Located at the heart of the Tauranga CBD
Offers delicious and healthy meals
Relaxing and pleasant room
Customer Reviews
Wayne Cooper, a guest, said on Google Business:
"This is the perfect place for business or pleasure. I had a room by the pool, and views out to the inner harbour. Just amazing. Staffing is very professional and swift in their approach. Beautiful facilities.The room was impeccably appointed, clean and fresh. It was a great stay for business. Can't wait to return."
3)  Hotel Armitage & Conference Centre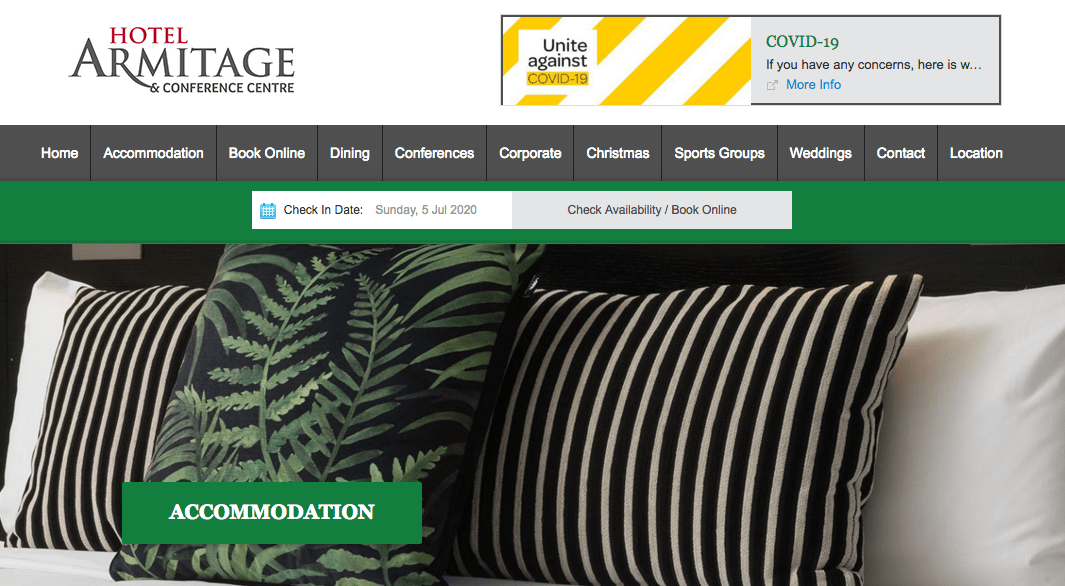 BEST FOR
Competitive Rates
SERVICES
Accommodation, Dining, Conferences, Corporate, Christmas, Sports Groups and Weddings
WEBSITE
https://www.hotelarmitage.co.nz/
ADDRESS
9 Willow Street, Tauranga, New Zealand
CONTACT DETAILS
0800 276 482

(07) 578 9119
If you're spending the night with your family or have an upcoming business event, Hotel Armitage & Conference Centre is a great choice! They charge affordable rates here!
Mainly, the hotel offers spacious rooms: you can choose between a Super King or Californian King bed, to give you an idea of how big the rooms are. All rooms have a balcony for some fresh air and sunlight too.
Armitage & Conference Centre is also prepared to provide you a space for your business event and meetings. There are 5 distinct rooms for you to host your event here.
Apart from that, there is a Poolside Restaurant offering a fresh variety of food. Also, the hotel is only a short drive away for those who want to get to the white sand beaches of Mt Maunganui!
And for these reasons, we are certain that this is one of the best Tauranga hotels!
Highlights
Spacious and comfy rooms
Short distance from the city center
Fresh variety of food
Affordable rates
Customer Reviews
Here's an Expedia reviewer commenting on Google Business:
"I think the 3 star rating on this hotel is harsh, its one of the best places I've stayed in over the whole of the North island. I stay at a lot of hotels and motels traveling with my job and will definitely stay here again. Very friendly staff and great amenities. 10 out of 10!!!"
4)  City Suites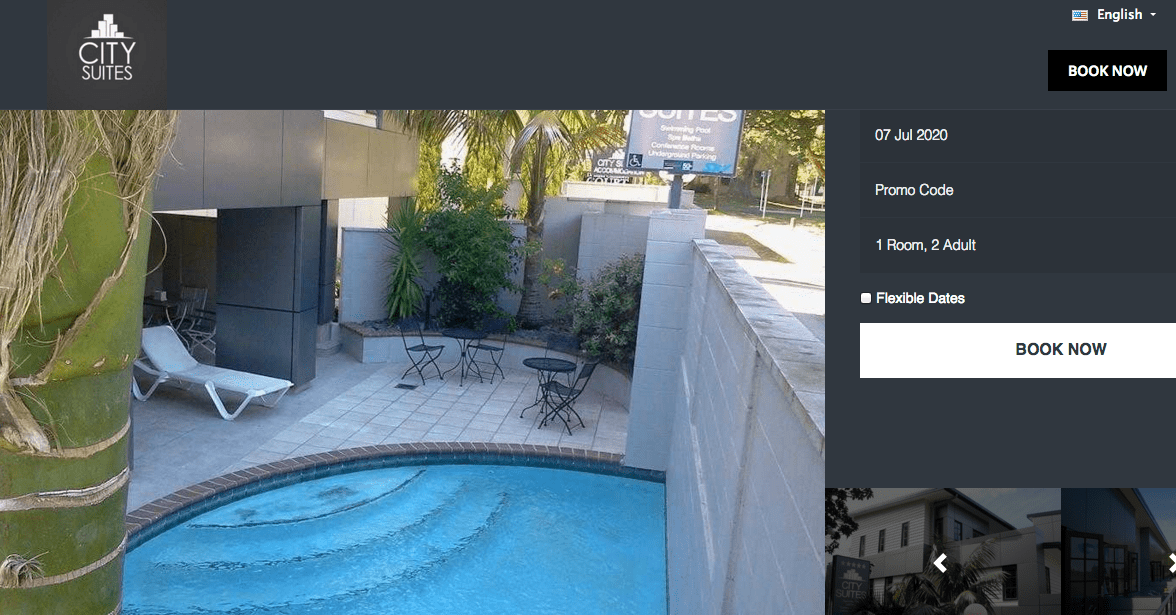 | | |
| --- | --- |
| BEST FOR | Studio or Apartment Rooms |
| SERVICES | Accommodation and Facilities |
| WEBSITE | https://citysuites.co.nz/ |
| ADDRESS | 32 Cameron Road, Tauranga 3110, New Zealand |
| CONTACT DETAILS | +64 7 577 1480 |
City Suites offers neat and well-appointed studio and apartment rooms. They come with a kitchenette that includes a microwave, toaster, and a coffee- and tea-making apparatus.
Every room is equipped with cable TV, a DVD player, an air conditioner and a heater, along with free WiFi. You can swim anytime in their crystal-clear pool from downstairs to keep fit.
As for the food, they offer a healthy Continental breakfast of various pastries, as well as jam/spread, hot chocolate, coffee, porridge or oatmeal, sausage and eggs, and more.
But the highlight of this hotel is its close proximity to the Tauranga airport — it's only an 8-minute drive away. Likewise, Mount Maunganui Beach is very close to the area too!
Highlights
Modern and neat rooms
Have kitchen and entertainment amenities
Convenient location
Small but very nice swimming pool
Customer Reviews
Melissa, one client, wrote on Google Business:
"Great location to town and the domain, very clean and modern, amazing shower, safe underground parking and friendly staff A+"
5)  Clarence Hotel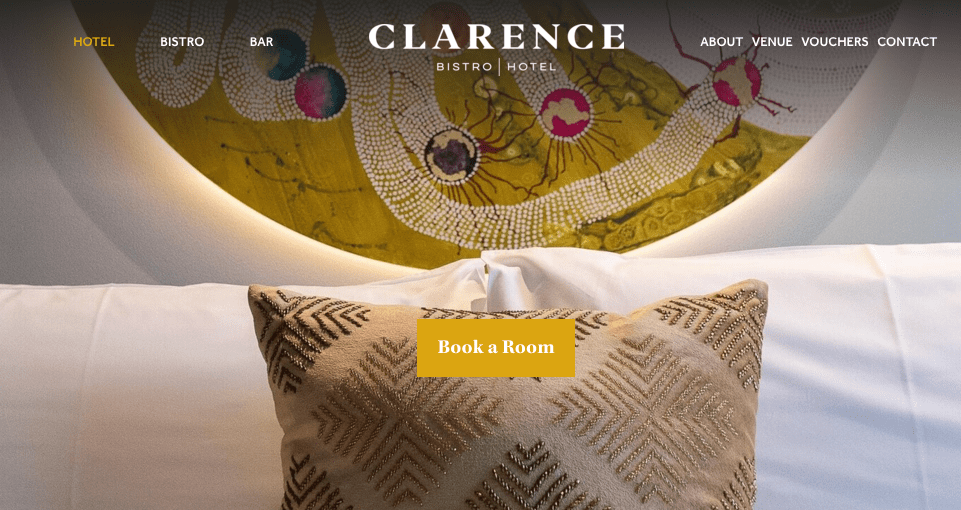 Thus far, we've talked about some of the best Tauranga hotels and what they offer. Now, here is a hotel providing a luxurious and tranquil room — Clarence Hotel.
Clarence Hotel only has a total of ten rooms categorised into Queen Deluxe, King Executive and King Premier options. Amenities can include a mini bar, luxe bathroom, Wi-Fi and Netflix!
As it's located in the heart of Tauranga, you will have lots of things to do here. You can have a light lunch at a coffee shop, buy something for your loved one at the local stores, or visit the art gallery.
However, if you don't like to go that far, Clarence Hotel has their own bistro and bar. That's why they say it's an oasis from the bustling city, your home away from home.
Highlights
Luxurious and tranquil room
Offers three room packages
Premium amenities
Great, convenient location
Have their own bistro and bar
Customer Reviews
Check out the comment from Hotels.com reviewer:
"Amazing service from all, especially bar team! Great restaurant, comfortable room and beautiful hotel all round. Highly recommend!"
6) Westridge Dales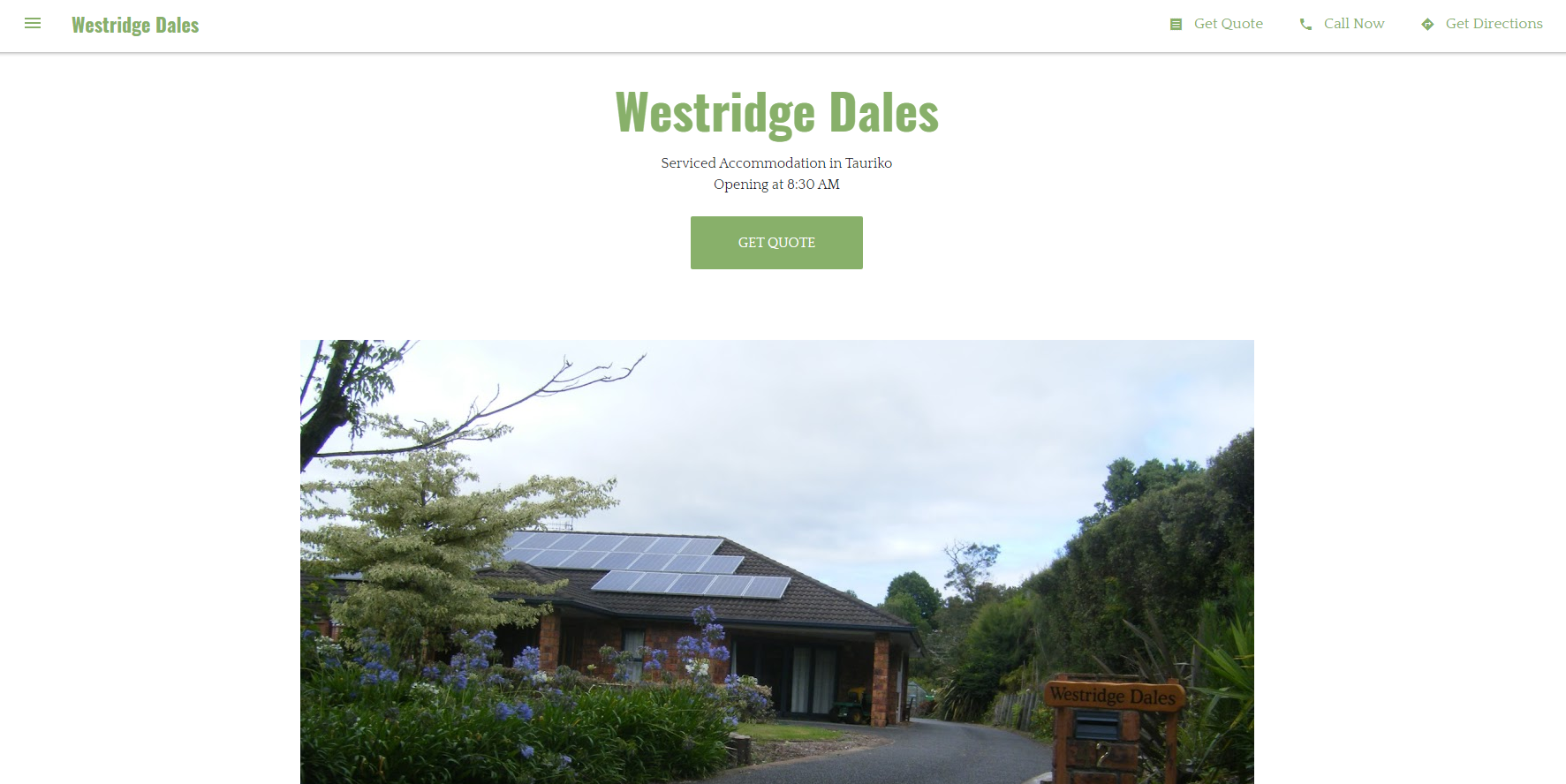 BEST FOR
Hotels and accommodation
SERVICES
Lodging, Dining
WEBSITE
https://www.westridgedales.com/
ADDRESS
42 Westview Place
Tauriko
Tauranga 3110
New Zealand
CONTACT DETAILS
07-579 2151
Situated in Tauranga, Westridge Dales features a garden and various features that can satisfy their clients. The apartment provides guests with a patio, garden views, and a seating area.
They also offer rooms with satellite flat-screen TV, a fully equipped kitchenette with a microwave and a fridge, and a private bathroom with a shower and a hairdryer. A toaster and kettle are also available.
Continental and vegetarian breakfast options are available each morning at Westridge Dales. The area is also friendly, with hiking, cycling, and fishing possible in the surroundings.
Highlights
Easy to reach location
Luxurious rooms
Amazing food and service
Customer Reviews
"What an amazing stay! So comfortable, private and quiet. The entire unit was spotless with great quality linen and furnishings. Claire and Colin are terrific hosts and go the extra mile to make you feel welcome and comfortable. I would rate them 6 stars. I will definitely stay there again when I am in Tauranga again."

"Great hosts. Great place to stay. Very clean and comfortable. Just great…"

"Beautiful and clean place to stay. Lovely hosts too"
7) Waimapu Lodge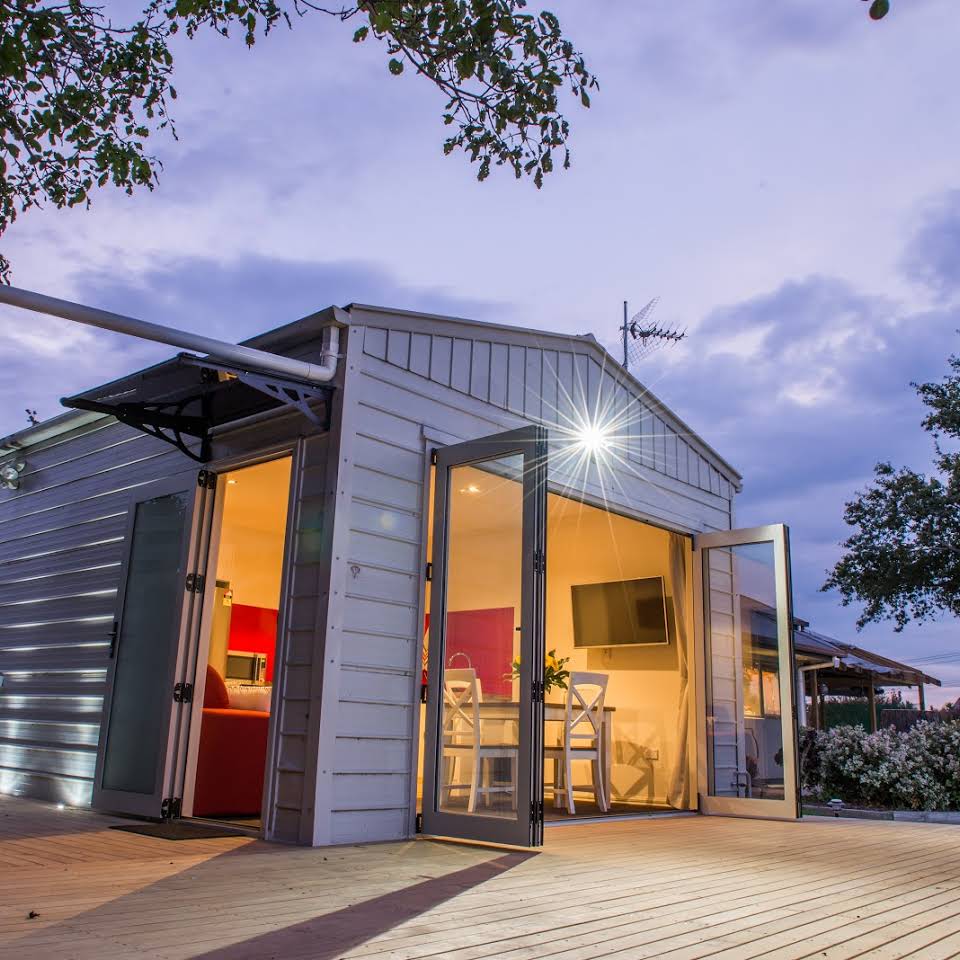 Waimapu Lodge offers a lot of things for an accommodation, one of which, is their comfortable lodging. From the bedroom, to the lounge and bathroom, the small place works well for customers who prefer a cozy atmosphere and a quiet stay.
Add on to it their competitive pricing, and you've got yourself an amazing option to consider. The service of the staff also is something to commend as previous guests have noted the fact that they were all so friendly and welcoming.
Don't waste your time looking for other 'hotels' in Tauranga, book a reservation at Waimapu Lodge!
Highlights
Homey accommodation
Affordable rates
Pleasant customer service
Customer Reviews
Check out some of the reviews left on Waimapu Lodge's website, furthering their credibility as an amazing hotel in Tauranga:
"Awesome place to stay when visiting Tauranga, Danie and Mariska will make your stay memorable."
– Wayne N
"Great hosts and peaceful surroundings."
– Vanessa L
8) Cottage Park Thermal Motel
BEST FOR
Ideal for families, Corporates and Contractors
SERVICES
Hotel stay accommodations, fun activities, scenic attractions, culture, and top dining experiences.
WEBSITE
https://www.cottagepark.co.nz/
ADDRESS
19 Hairini St. Hairini, Tauranga
CONTACT DETAILS
Reservations: 0800 268 8243
Phone: +64 7 544 0039

Email: [email protected]
When we choose a hotel, we would want that feeling of home away from home.
It's a good thing we were able to come across what Merv and Louena have to offer.
Cottage Park Thermal Motel are owned by these two great people for you will feel the warm homey feeling upon arrival and during your stay.
If you want to escape from reality, even if it is just for a short time, and to treat yourself for your well-deserved RNR, all of their units have double-glazed windows with underfloor heating, and some even have their renowned thermally heated private plunge pools. 
Their thermal water, which is used for underfloor heating in their rooms and to heat their outdoor swimming pool, is one of their most distinctive features.
You can even wake up and enjoy the views down the harbour from the top decks while preparing your dinner on the barbeque or relaxing by our outdoor pool.
But if you are the type of person who wants a balance of everything – rest and relaxation and at the same time discovering activities of the places you visit, you will be amazed as this motel is only located off State Highway 29 in Tauranga. 
That is why we are impressed that it is conveniently positioned, only a 6-minute drive from the town center, cafés, restaurants, and shopping. 
Mount Maunganui, New Zealand's most famous surf beach, is only 12 minutes away from this motel. 
Also, in 3 minutes, you may be at our speedway track or at the Trustpower Sports and Events Arena for a sporting, cultural, or home show event. 
That is why if you book an accommodation with them, you will be able to experience the best of both worlds.
Highlights
Thermally heated pools
Warm and homey accommodation
Affordable rates
Pleasant customer service
Close to the main raod
Near to other establishments
Customer Reviews
Check out some of the reviews left on Google about Cottage Park Thermal Motel's great service, furthering their credibility as an amazing hotel in Tauranga:
"Have had such a lovely 2 night stay. Unit was very clean and had everything I needed, even has a bath tea bag for the spa bath very relaxing experience. The free wifi was very fast which is fab for work on the go! 100% coming back. Thanks all staff for such a lovely time" – Sydney Wells
"Very neat and tidy and awesome location ,convenient to all basic necessities ,very well managed complex will surely make more trips in future" – Sacheda Naicker
And that's all for the best Tauranga hotels! Now you know which hotel to stay in to relax and rejuvenate, have a great time with your family, or to explore more of Tauranga!
Do you agree with the Tauranga hotels we suggested? You can let us know about it by dropping us a line, and we'll get back to you as soon as possible.
Other than that, you might be interested in reading about the best van rentals in Tauranga. You can rent a van or camper from them for an exciting trip or adventure!