The 7 Best Tree Removal Christchurch Contractors
It's crucial to pick a professional arborist for tree removal to assure your and your property's safety when you have to get big trees removed. Here, we've listed the best tree removal Christchurch contractors for you!
We picked qualified and safety-certified professionals. Also, we selected those who are eco-conscious, who will leave your premises neat and tidy, and who are said by customers to be friendly and reliable.
When it's convenient, just give these companies a call to arrange a quote. Now, without any more ado, here are the best tree removal Christchurch contractors!
1)  Beaver Tree Service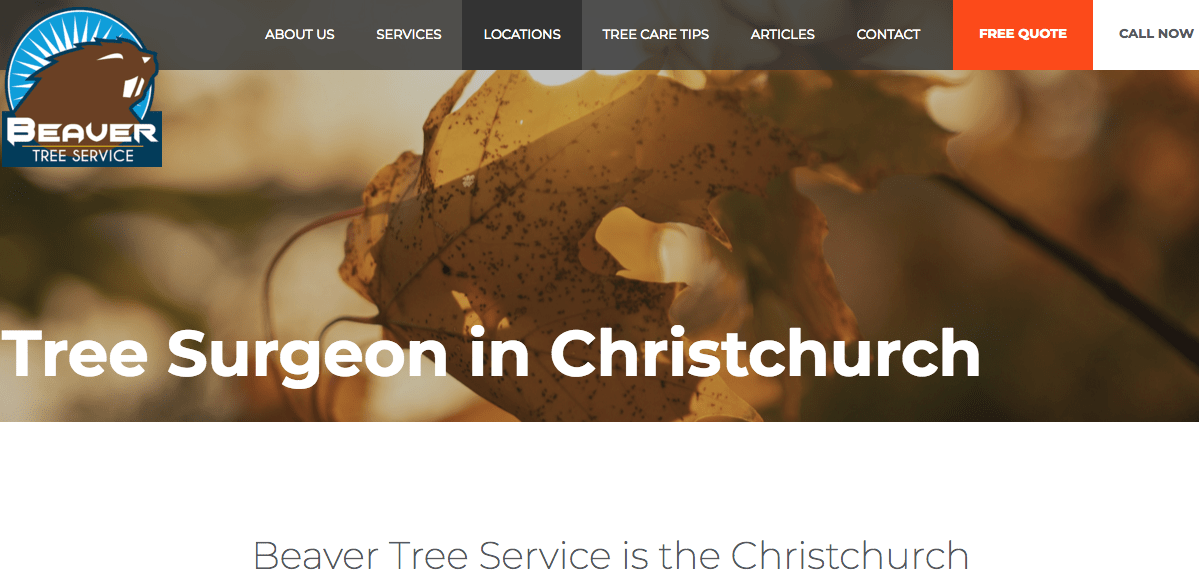 BEST FOR
Superb Staff and Service
SERVICES
Difficult Tree Removal

Tree Removal

Tree Pruning & Shaping

Pruning

Stump Grinding

Tree Reports

Arboriculture Consultations

WEBSITE
https://beavertree.co.nz/locations/christchurch/
ADDRESS
373 Wigram Rd, Halswell, Christchurch 8025, New Zealand
CONTACT DETAILS
0800-423-283

0800-422-328

OPERATING HOURS
Monday to Friday: 8.30am – 5pm
Beaver Tree Service is one of the best tree removal Christchurch contractors, with over 50 years' experience, a fully qualified team, and dependable customer service.
They are safety-certified and insured so you'll be less worried about their work. They always show up at the appointed date and will inform you if they are going to be late.
From shrub pruning to difficult tree removal, they can handle any tree removal task you throw at them. They also provide tree consultation to keep the flora around your place lush, healthy, and beautiful.
What's more, they recycle the green waste to use as mulch or firewood. Not to mention the team always cleans and tidies the area after work.
Highlights
Exceptional service
Over 50 years' experience
Great range of services
Safety-certified and fully insured team
Recycles the tree material as mulch or firewood
Customer Reviews 
One client, Michelle Smith, wrote a review on Google Business: 
"I had reason to call Beaver Tree Services and I had a most extraordinary experience. The staff member was absolutely brilliant. The service was beyond reproach. The knowledge was invaluable. The assistance provided was brilliant. I was treated with respect and empathy. Nothing was a bother. If you ever need assistance regarding tree and shrub problems/concerns, please contact these people. They are simply wonderful and I would highly recommend them to anyone at any time. They are superb."
2)  Hollands Tree Services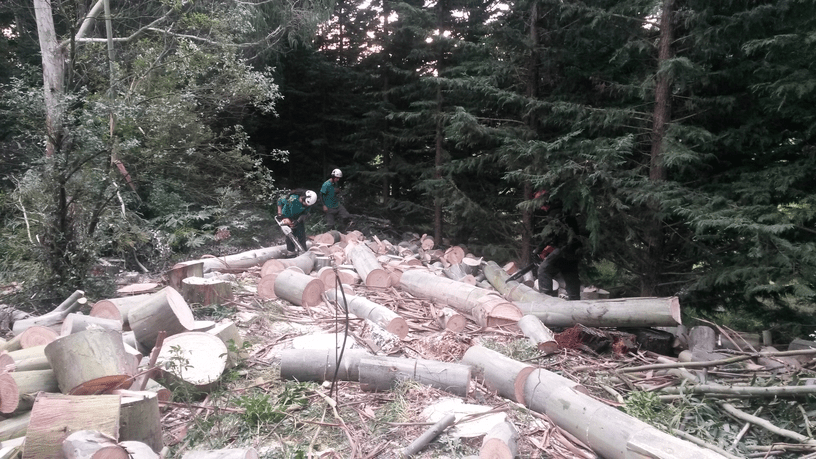 BEST FOR
Top-Quality Tree Services & Competitive Rates
SERVICES
Large Tree Removal

Pruning and Shaping

Hedge Trimming

Consultancy/Reports

Brush Chipping

Planting and all other aspects of arboriculture

WEBSITE
http://www.hollandstreeservices.co.nz/
ADDRESS
3 Bounty Street, Bryndwr, Christchurch 8053, New Zealand
CONTACT DETAILS
0800 220 990
OPERATING HOURS
Monday to Friday: 8am – 6pm
Need to remove a large, overgrown tree without any fuss? You can count on Hollands Tree Services! They have an impressive depth of knowledge about tree care in the Canterbury area.
They offer diverse services, from large tree removal to brush chipping. In addition, they can carry out site reports where they will give advice on bettering your trees or garden.
Their qualified team is accredited by the New Zealand Arboriculture Association. They are also liability-insured and hold the highest safety qualifications for your peace of mind.
They provide a high-quality service and value for money, according to their past clients. Hence, they're one of the best tree removal Christchurch contractors.
Highlights
High-quality service and great rates
Diverse range of services
New Zealand Arboriculture Association member
Hold the highest safety qualifications
Fully insured 
Customer Reviews 
Here's one review coming from Julieana Findlay on Google Business:
"Holland's tree Services did a fantastic job with the felling and removal of 11 silver birch trees that were causing us a lot of issues.  The trees were large and overgrown, but Adam and his team handled the job well and safely.  I would recommend them to anybody needing tree felling or topping.  They were reliable, efficient and hard working, and the quote was very good too."
3)  ArborPro Canterbury Limited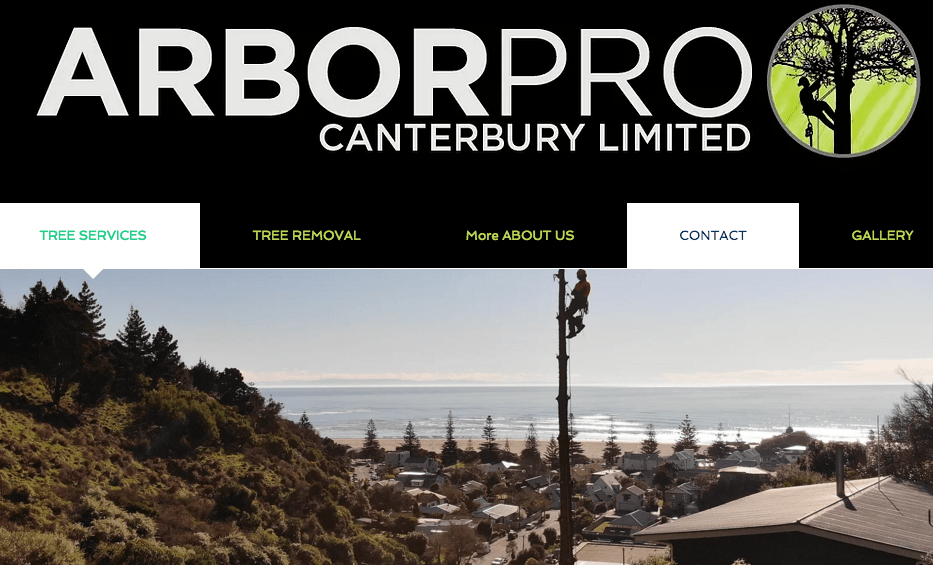 BEST FOR
Value for Money
SERVICES
Tree Removal

Tree Pruning

Site Clearance

Hedge Trimming

Tree Planting

Tree Felling

Tree Management

Stump Grinding

Wood Chipping

WEBSITE
https://www.arborpro.co.nz/
ADDRESS
35 Flemington Avenue, North New Brighton, Christchurch 8083, New Zealand
CONTACT DETAILS
0800 902 209
OPERATING HOURS
Monday to Sunday: 7am – 7pm
Searching for a company that'll give you the most bang for your buck? You're looking at it with ArborPro Canterbury. Here, they offer a wide range of tree care services.
Whether you're felling or removing a tree, trimming a tall and tricky tree, planting a garden, or clearing the site for commercial development, they have you covered.
Professional and knowledgeable service will be provided to meet your arboriculture needs. They handle all kinds of work, no matter how large or small, residential or commercial.
Most importantly, their team is proficient and safe in removing trees that are too close or unsightly to your property. Quality workmanship is therefore certain.
Highlights
Give you value for money
Offer a broad range of tree management
Proficient and knowledgeable team
Handle both residential and commercial work 
Customer Reviews
One client, Troy Spiers, shared on Google Business:
"I would probably say the best arborists around Christ church. Removed a very large tree from my house. Cleanest tidy up job even cut it into firewood for me. What a great team. Fantastic service. If there were more stars I would give them!"
4)  Jim's Tree & Stump Removal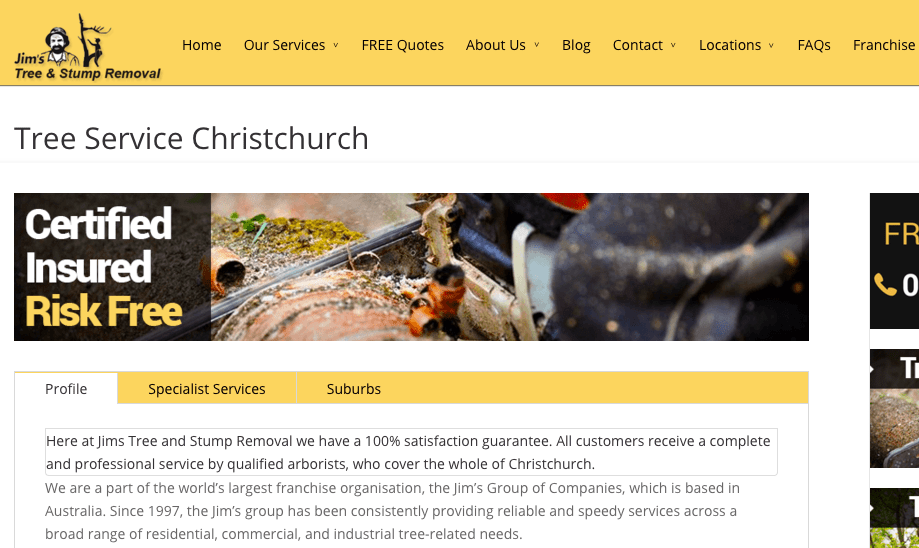 BEST FOR
Customer Satisfaction
SERVICES
Tree Felling

Branch Chipping

Stump Grinding

Rigging and Dismantling in Confined Situations

Pruning

Shaping

Tree Assessments

WEBSITE
https://www.jimstrees.co.nz/tree-removal-christchurch-nz/
ADDRESS
56 Conway Street, Somerfield, Christchurch 8024, New Zealand
CONTACT DETAILS
0800 454 654
OPERATING HOURS
Monday to Saturday: 7am – 8pm

Sunday: 8am – 3pm
Jim's Tree & Stump Removal is a subsidiary of the globally renowned Jim's Group of Companies that was formed back in 1997.
Jim's Tree & Stump Removal offers a quick, safe and professional service across a wide range of tree activities. They are totally insured for your protection and confidence.
They are committed to giving you customer satisfaction so they always go beyond the line of duty to assist you. This way, you're going to get value from their service.
When work is undertaken, the franchise owner always remains on-site to ensure the highest standards. Thus, they are one of the best tree removal Christchurch contractors!
Highlights
Quick, safe and professional service
Subsidiary of globally renowned Jim's Group of Companies
Fully insured team
Focusses on customer satisfaction
Customer Reviews 
Here's what Pauline Berryman said on Google Business:
"Tony was quick to reply to my initial request, he arrived on time, the job was done as I wanted it to be and the clean up was excellent. Thanks so much. I really appreciate it."
5)  Advanced Tree Services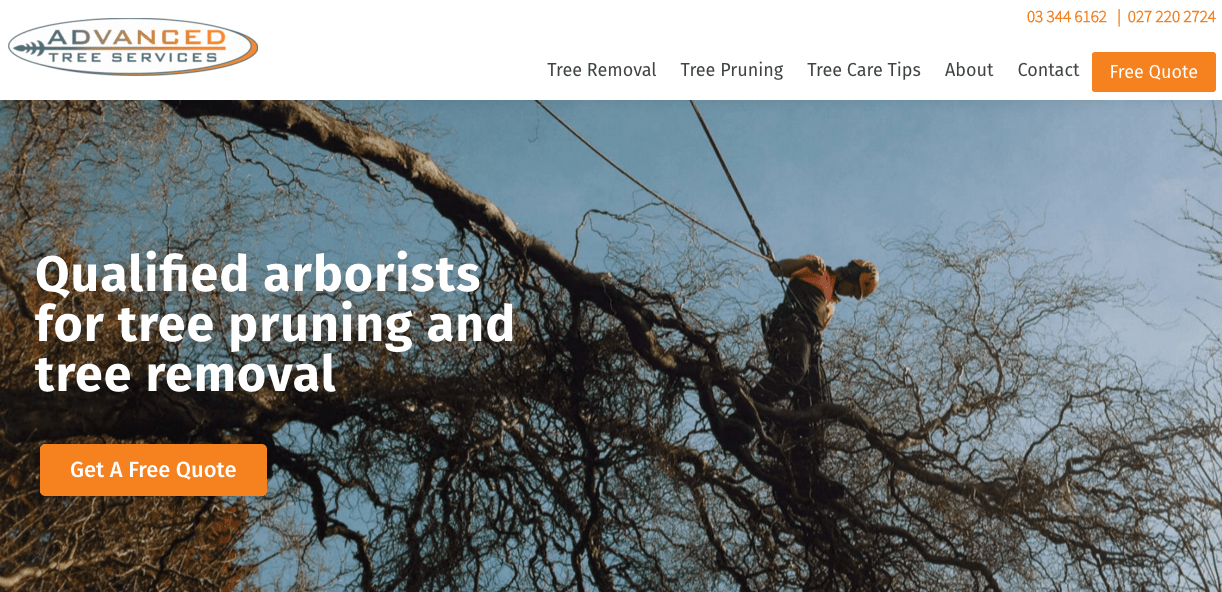 BEST FOR
Sustainability Practices
SERVICES
Tree Pruning & Care

Tree Felling & Removal

WEBSITE
https://www.advancedtreeservices.co.nz/
ADDRESS
Christchurch, New Zealand
CONTACT DETAILS
03 344 6162

027 220 2724

OPERATING HOURS
Monday to Friday: 8am – 4pm
For a tree removal company dedicated to helping the environment, Advanced Tree Services is your best option. Their eco-mentality goes into everything that they do.
Some examples are that they use biofuel for their chippers and trucks, electric or battery-powered equipment, and e-bikes to travel over to your place to give you a quote.
Next, their professional arborists are members of the NZ Arboricultural Association and International Society of Arboriculture. They are insured and highly trained in safety.
Unsafe or unwanted trees, no matter how large, will be removed by them safely and effectively. And for tree pruning, thinning, or reduction, they also do all of that expertly.
Highlights
Committed to eco-friendly tree removal
Certified tree surgeons
Safe and effective solutions
Use modern equipment
Have insurance coverage 
Customer Reviews
Check out the feedback of Meira Smith de Bouter on Google Business: 
"These tree specialists were wonderful to deal with from the initial contact to the end. I highly recommend them."
6) The Tree People
| | |
| --- | --- |
| BEST FOR | Tree Care |
| SERVICES | Commercial, Residential, Tree Consultancy, Emergency Services |
| WEBSITE | https://thetreepeople.nz/ |
| ADDRESS | 112 Bamford Street, Woolston, Christchurch 8023, New Zealand |
| CONTACT DETAILS | +64 3-384 9630 |
| OPERATING HOURS | Weekdays, 9:00 AM – 5:00 PM |
Since 2004, Four Seasons Tree Care has been combining science and tree care with their services. They know that tree care could be done economically and sustainably and not just by simply chopping it. 
Their arborists are highly trained and experienced making them suitable for getting the job done efficiently. They are passionate about their work and constantly do research on how to improve. 
Highlights
Fast

Good quality service

Best crew
Customer Reviews 
Here's a review from one of Four Seasons' clients:
"Great service. Fast and professional. Left us the mulch from two trees for our garden on request. Will employ then again." – Aaron McLoughlin
Here's another one:
"Highly skilled, can take on any tree related work from protected trees, powerline clearances and pruning trees growing over the road where traffic management is required.
They successfully transplanted a large fan palm tree for me (they specialise in this type of work over the winter) the tree is healthy and thriving in its new location.
Highly recommended" – Jared Donald
7) Total Trees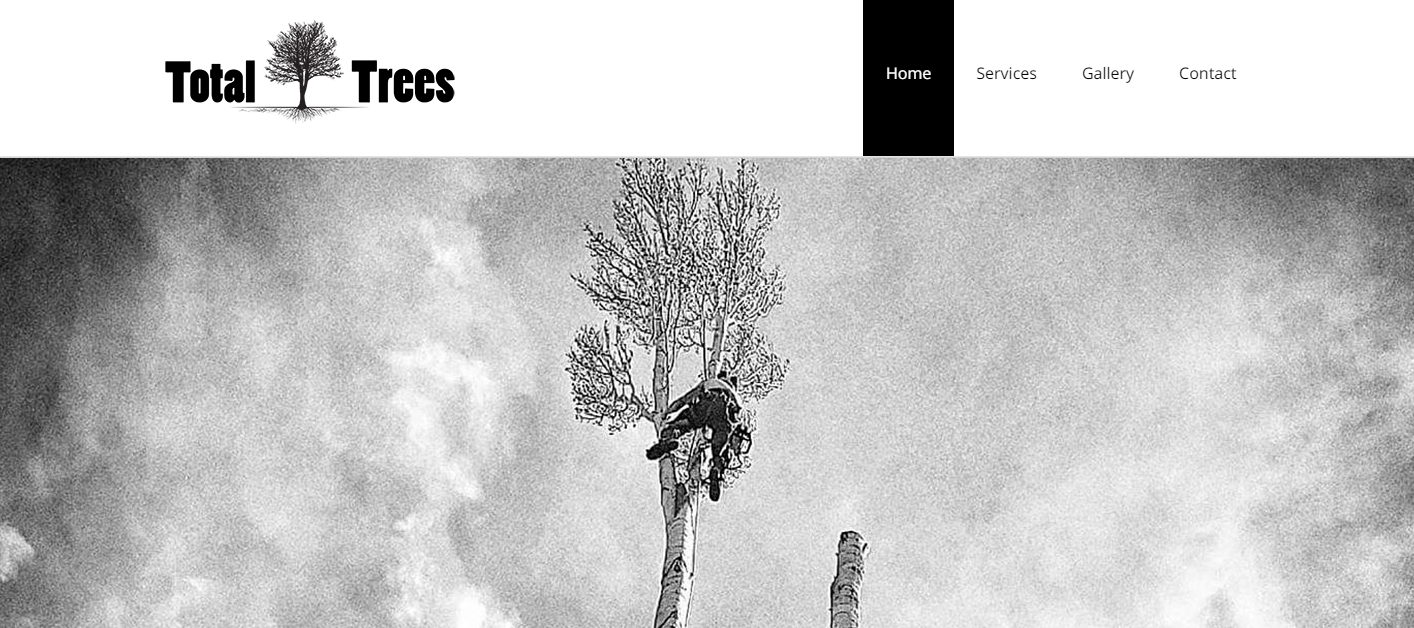 BEST FOR

Extensive Tree Care

SERVICES
Tree Pruning

Tree Removals

Crown Reductions

Deadwood Removal

Tree Planting

Site Clearance

Milling

Stump Grinding

Crown Thinning & Lifting

Mulch Delivery

WEBSITE
https://www.totaltrees.nz
ADDRESS

New Zealand

CONTACT DETAILS
027 925 8600 | [email protected]
OPERATING HOURS
24/7
Caring for trees is a task that usually requires professional help. Fortunately, there are many qualified arborists in New Zealand, especially in Christchurch.
Some of these arborists are part of the Total Trees team, which comprises fully qualified and insured arborists.
Now, Total Trees is a small, locally owned and operated company of arborists servicing Christchurch and the entire Canterbury area. The company offers a wide range of tree care services, including but not limited to tree pruning, deadwood removal, stump grinding, mulch delivery, and of course, tree removals.
Total Trees is open seven days a week, with flexible hours. This makes them one of the most accessible arborist companies in all of Christchurch.
Highlights
Open seven days a week

Offers an array of tree care services
Professional, punctual, and experienced arborists
And with that, we complete our list of the best tree removal Christchurch contractors. As they are safety-qualified, you can trust and rely on their tree services.
Do you have questions or suggestions for us? If you have one, feel free to send us a message and we'll get back to you as soon as we can.
Other than tree removal, you may like to read about the best lawn mowing Christchurch gardeners. They'll make your house have a beautiful, inviting, and healthy green lawn.