12 Best Vacuum Cleaners In New Zealand Tested and Compared
Vacuum cleaners help a lot in keeping the house clean, hygienic, and comfortable to live in. Since our home is where we live and usually spend our time, it should be looked after regularly.
We searched all throughout the country to find the best vacuum cleaners in NZ for your home. We based our findings on the company's reputations, the product's efficiency, and of course customer feedback.
If you're ready, let's take a look at our list of the best vacuum cleaners in New Zealand.
The Best Vacuum Cleaners in NZ Reviewed
1. Lupe Technology Pure Cordless Vacuum Cleaner
Best Cordless Vacuum Cleaner in NZ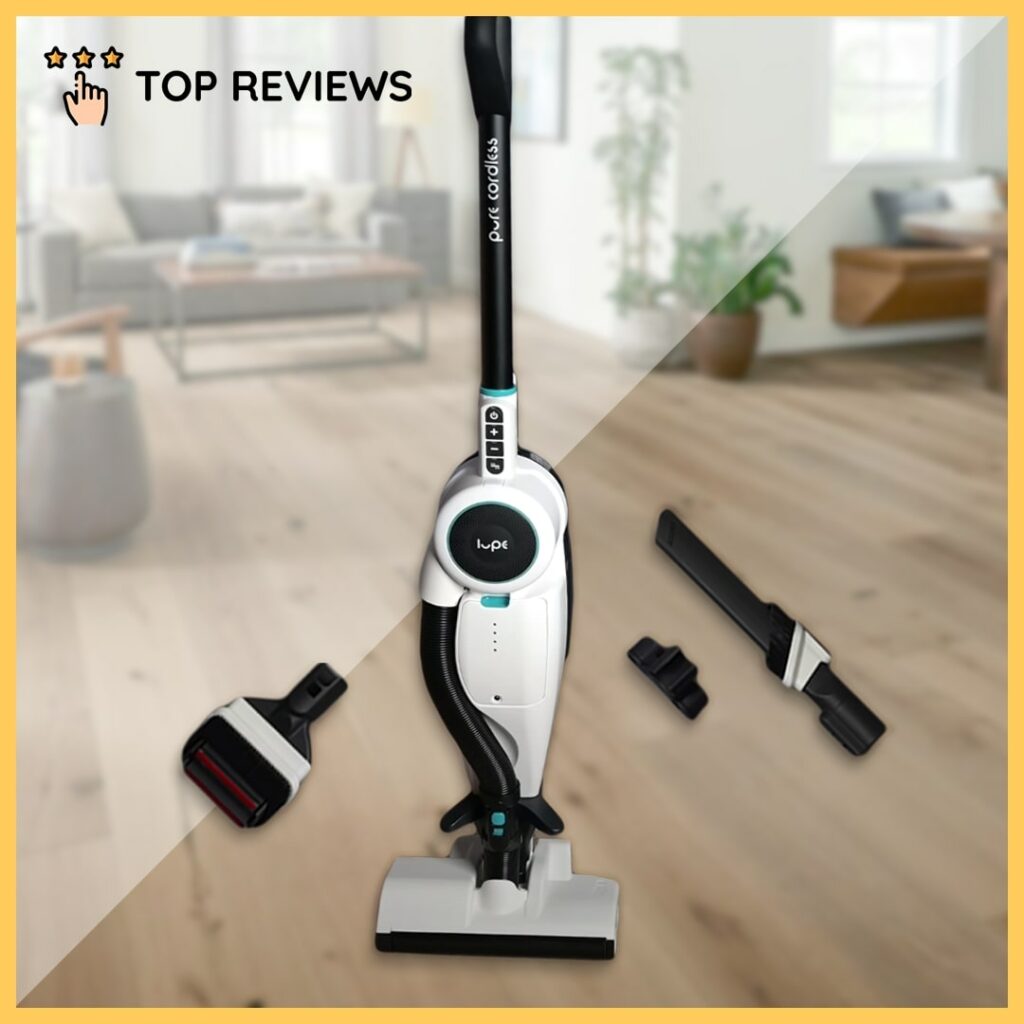 | | |
| --- | --- |
| PRICE | NZ$1,145.00 |
| MOTOR | 400W |
| SUCTION POWER | 3000 pascals |
| DUST BAG | Bagless with 4 stage filtration (HEPA filter) |
| CORD LENGTH | Cordless |
| OPERATING RADIUS | Contact for more details |
| WEIGHT | 4.6kg |
| WEBSITE | https://uk.lupetechnology.com/ |
In comparison to the other vacuums on this list, Lupe Technology is the only company that offers a pure cordless vacuum cleaner in NZ. It is also the only vacuums that is super durable with easily replaceable parts.
According to Forbes, this product is "the Rolls Royce of Vacuums." The reason behind this is other than it offers the usual features of detachable hoses, powerful suction, and versatile cleaning, it is one of the vacuums that are very easy to clean. charge, and to empty.
A previous buyer mentioned that their carpets were visibly a different color after vacuuming them and it was also able to suck bigger debris that other vacuums struggled with.
What is unique about this product is how it only has one head yet still has an optimum pick-up across different surfaces and types of debris. Another factor why people prefer to but this is is how its charging time is only 3 and a half hours,.
A factor for us is its great design. It offers a lot of extra features yet its design easily makes it one of the best stick vacuum cleaners in NZ
In line with the battery, another amazing feature of the Lupe Pure Cordless Vacuum Cleaner is its three modes, eco, normal, and max. Eco is the power level for maximum cleaning since you can use it for about 60 minutes.
Normal is the default level that is perfect for general use and it can last up to 30 minutes of usage. Max is the last mode that can be used for about 15 minutes and has an enhanced power that is suitable for dirty areas.
In a nutshell, if you have the budget for it and really want your living area to be spic and span, this could be the
best cordless vacuum cleaner in NZ for your needs.
Most powerful useful suction available
60 minute run time
One head, all surfaces
Bagless 4 stage filtration
HEPA filter
Built to last
Some complaints about small vacuum head
Customer Reviews
Here are some reviews from their previous buyers:
"This machine is amazing! The best vacuum I have ever had! I love it."
"Ordered on line arrived within a couple of days. Excellent service"
"We tried a cheaper stick vacuum and promptly returned it. Lupe is much quieter, better performance, and we appreciate the thoughtful design to make a versatile and effective product. I also appreciate the carbon neutrality & commitment to repair & circular economy rather than just throwing products in a landfill. Stay ambitious with your environmental objectives and you'll always have loyal customers."
"Innovative, effective and great looking tech, backed up by the best customer service and readily available spares and repairs. Top marks!"
2. Panasonic ECO-Max Bagged Vacuum Cleaner (MC-CG712AG43)
Most Efficient Canister Vacuum Cleaner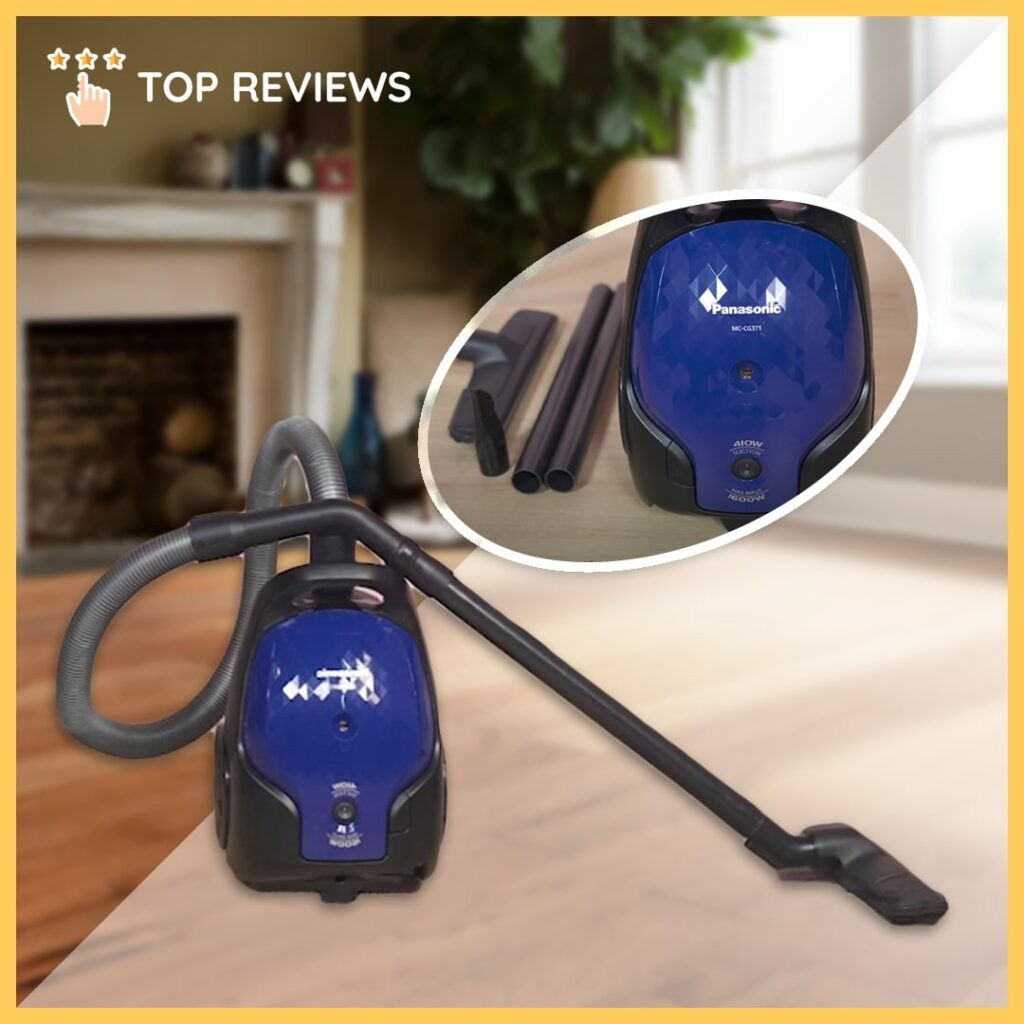 | | |
| --- | --- |
| PRICE | NZ $349.00 – $569.00 |
| MOTOR | 1400W ECO-Max Motor |
| SUCTION POWER | 420W |
| DUST BAG | 4 Liters |
| CORD LENGTH | 7 Meters |
| OPERATING RADIUS | 11 Meters |
| WEIGHT | 5.5kg |
| WEBSITE | https://www.panasonic.com/nz/ |
If you want a reliable cleaner that offers quality hoovering, then this Panasonic model might be the best vacuum cleaner in NZ for your home.
The Panasonic Eco-Max Canister Vacuum Cleaner is equipped with a 1400W Eco-Max motor. When paired with its patented 3D-inducer fan, this vacuum is capable of up to 420W of suction power.
Apart from offering you efficiency, this vacuum comes stocked with all the accessories you'll need to perform virtually almost any cleaning job. Each attachment can easily be interchanged with its EZ Release Pedal, whether you need to vacuum a sofa, hardwood floors or dust off your blinds.
You won't need to empty the dust bag often either, since the Eco-Max has a generous 4-litre dust bag. With its 7-meter long extendable power cord, you won't have to change outlets as you vacuum from room to room.
We like that this vacuum has a HEPA H10 air filter that keeps the air in your home clean, pure, and free from fine particles that can be hazardous. It's so efficient that it can capture dust or particles as small as 0.3mm in diameter!
Although we would have like to see a bit more suction power on the Panasonic Eco-Max, it can still do the job well while remaining energy efficient at the same time. With its moderately budget-friendly price, this canister vacuum cleaner is a great choice and earns a spot on our list of the best vacuums.
Equipped with HEPA H10 air filter
EZ Release Pedal for attachments
72db silent operation
Low suction power
Only available in one colour
Customer Reviews
Nina purchased this vacuum several years ago and is still satisfied with its performance and durability. She shares:
"Great vacuum with incredible suction. The EZ release on the vacuum foot is pretty handy for changing foot accessories without having to bend over. We've had ours for 3 years and it's still going strong."
3. Miele Blizzard CX1 Excellence Bagless Vacuum
Best Vacuum Cleaner for Ergonomics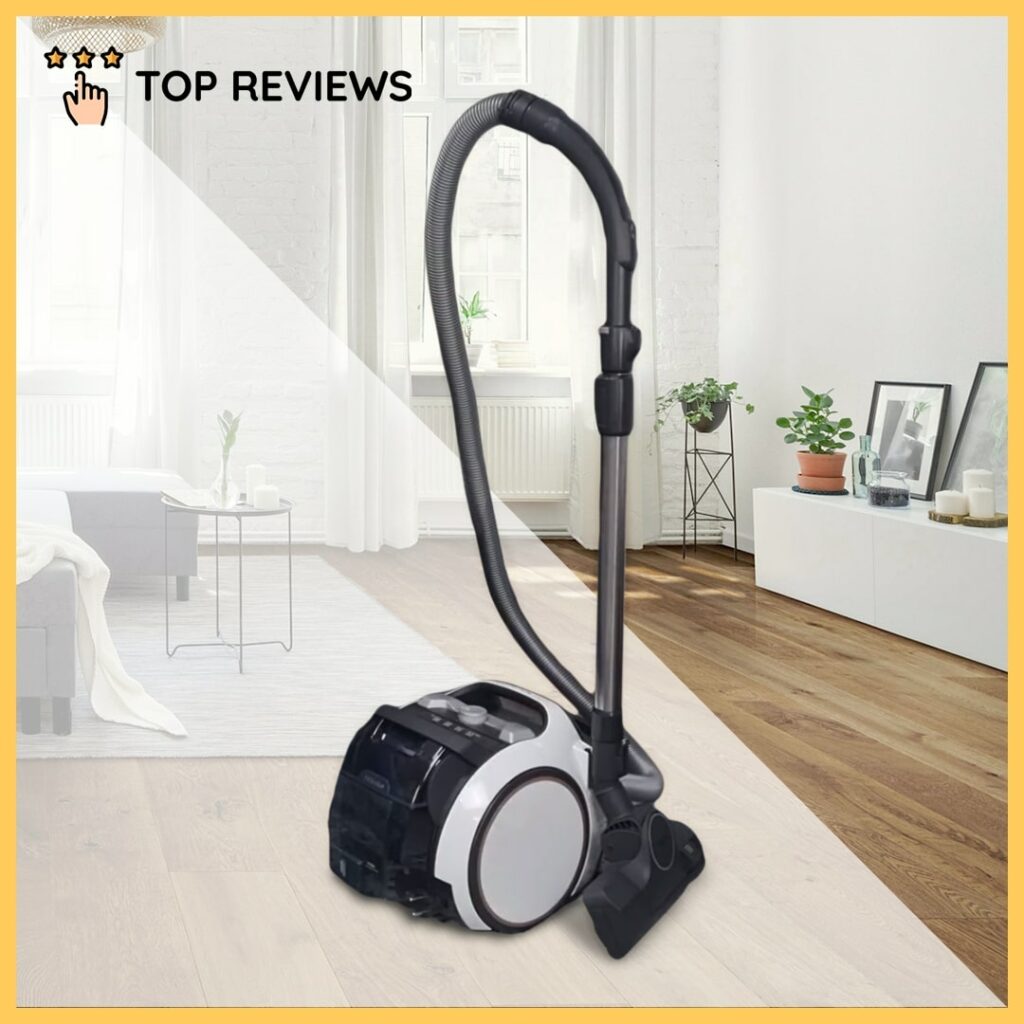 | | |
| --- | --- |
| PRICE | NZ $ 649.00 – $719.00 |
| MOTOR | 1100W |
| DUST BAG | Bagless |
| CORD LENGTH | 7.5 Meters |
| OPERATING RADIUS | 11 Meters |
| WEIGHT | 8.56kg |
| WEBSITE | https://www.miele.com.au/ |
If you want a Miele vacuum in NZ that is bagless and is easy to use, then you may want to continue reading.
The Miele Blizzard CX1 Excellence can achieve a whopping air flow rate of up to 100km/h, thanks to its patented Vortex technology. With an airtight floorhead and bagless system, any form of dust and debris can be sucked in and separated with ease, passing through several containers and filters.
The CX1 Excellence offers powerful cleaning and an easy-to-use dust filter. Its HEPA AirClean filter has a lifetime guarantee and is capable of deep cleaning your home, tracking down and capturing up to 99.95% of even the finest particles.
We like that it has a built-in thermal protection system that will automatically shut down the motor if it's overheating or clogged. The power will automatically resume after 20 seconds so that you can get back to cleaning.
Once you're done vacuuming, you can easily remove the dust container for cleaning with one simple motion and touch of a button. Since there's no bag, you can dump the contents straight into the trash.
The Blizzard CX1 is the first bagless vacuum from this company to have a three-piece accessory kit included, consisting of an upholstery nozzle, crevice nozzle, and an integrated dusting brush. Although the brush can be a bit difficult to remove, the EcoComfort Handle it's attached to is ergonomic so that you can remain comfortable while cleaning.
The extra points of comfort are very much welcome especially since the CX1 is a bit heftier compared to its competitors, weighing in at 8.56kg. However, its super cool design and sleek colours of Blizzard or Arctic White make it one of the best vacuum cleaners in NZ.
2-year warranty
Comes with 2 accessories, plus a dusting brush
Automatic thermal protection
Heavier compared to other vacuums
Dust brush can be hard to remove
Customer Reviews
The Miele Blizzard CX1 garnered extremely favourable reviews from buyers. They commended its powerful suction, long cord, easy-to-clean filter and simple dust release.
That said, Robert M, one customer, wrote on Noel Leeming:
"Excellent vacuum cleaner does everything required. After the first clean it was full of dust, it sucked so much out of the carpet. Subsequent cleans have less dust now. So old vacuum was not doing it properly. Easily handles hair and dog fluff. Filter is easy to clean in warm water. Extra fittings are on the machine. Cord tucks away easily."
4. Electrolux ErgoRapido Allergy Stick Vacuum (ZB3311)
Best Versatile Stick Vacuum Cleaner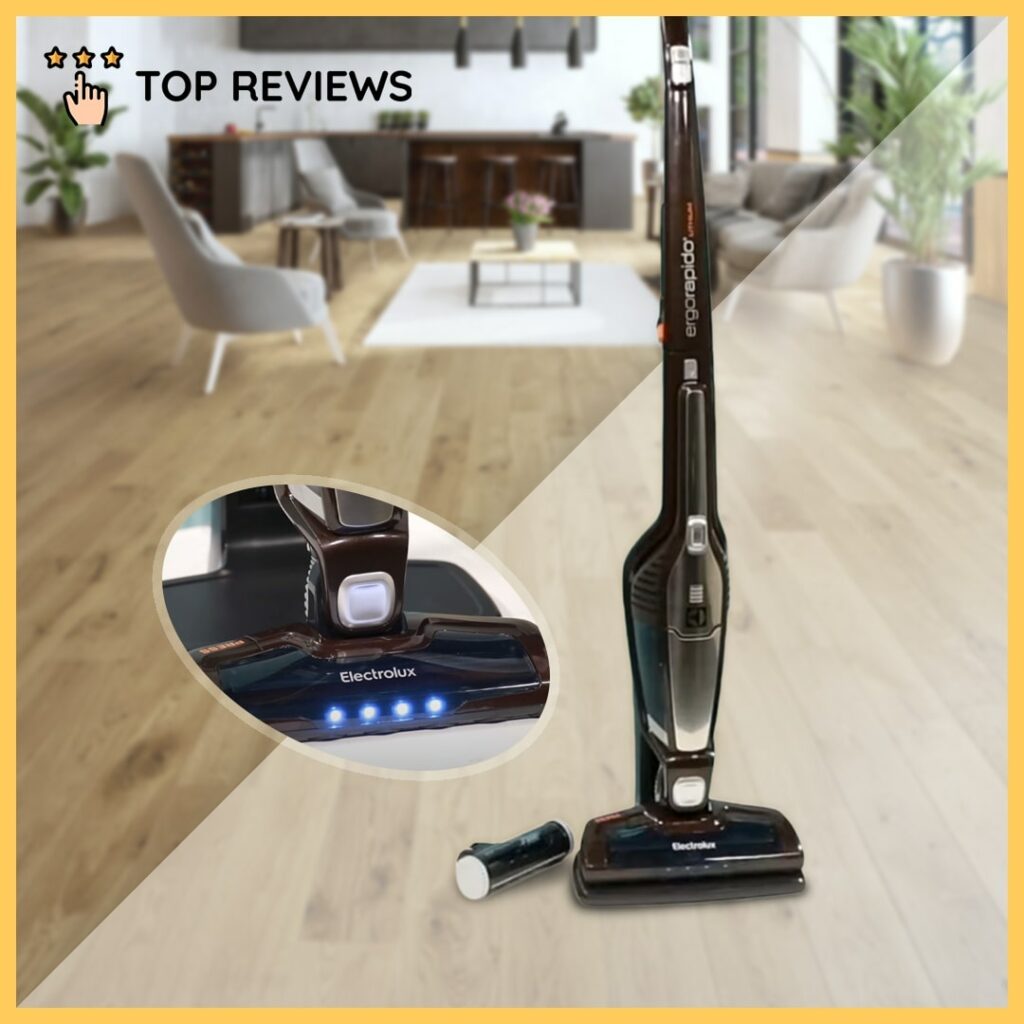 | | |
| --- | --- |
| PRICE | NZ $397.00 |
| DUST CAPACITY | 400 mL |
| BATTERY | 18V Lithium-Ion Battery |
| BATTERY CHARGE TIME | 4 hours |
| BATTERY RUN TIME | 48 minutes |
| WEBSITE | https://www.electrolux.com.au/ |
If you love 2-in-1 products, then you'll definitely need the Electrolux Ergorapido Stick Vacuum in your home. This versatile vacuum cleverly doubles up as a handheld unit for the ultimate flexibility in cleaning.
Say goodbye to sweeping dust off the table or the couch onto the floor just so you can vacuum it. With the Ergorapido, you simply detach the handheld unit and you can instantly clean any countertop or upholstery with ease.
Not to be outdone, the main vacuum unit eliminates the tangled mess of cords on your floor since it's powered by a Lithium TurboPower battery. Although we would have like to have seen a charge time quicker than 4 hours, Electrolux says it can last up to around 48 minutes on a single charge.
On a real-world application, the Ergorapido will run for that long only if it's set on low speed. But if you turn up the power to its boost function, you can expect only around 15 minutes of cleaning time before it runs out of juice.
Moreover, since it runs on battery power, you can expect less suction, which means that you may end up cleaning a single spot for a longer time. Since your vacuum has to work harder, it ultimately means that the battery life may not last long enough to clean a larger home.
However, its cordless operation makes it portable and with its smooth 180-degree swivel action, helps you get into all those nooks and crannies. It's also fully endorsed by the British Allergy Foundation since the Ergorapido's allergy filter has been proven to capture 99.99% of fine particles around your home.
Overall, we love its smart design and how it can easily be handheld. So if you want something light and easy to use, this could be the best stick vacuum cleaner in NZ.
Can function as a handheld vacuum
Cordless operation means no more messy cables
Captures 99.99% of allergens
Fills up quickly with dust
Short battery life on boost function
No HEPA filter
Customer Reviews
Most of the buyers said that the Electrolux stick vacuum is lightweight and swivels easily, making it great to use for various floor surfaces. Let's check out the comment of Jessica on Electrolux Australia's website:
"Best vacuum I've ever had. Super easy to use and lightweight, while also being powerful. You don't need to worry about manoeuvring and realigning it as it swivels around with ease. It comes with a detachable hand vacuum with head attachments which is a massive bonus for cleaning spaces like my car. It also has a foot pedal to self-cleaning the brush roll. This is such an amazing vacuum, it blows my mind. It even has a LIGHT for enhanced visibility. Wow. Electrolux made it worth spending my bucks. This was an INVESTMENT. 10/10 would recommend."
5. Karcher WD6 Premium Wet and Dry Vacuum
Best Commercial or Industrial Vacuum Cleaner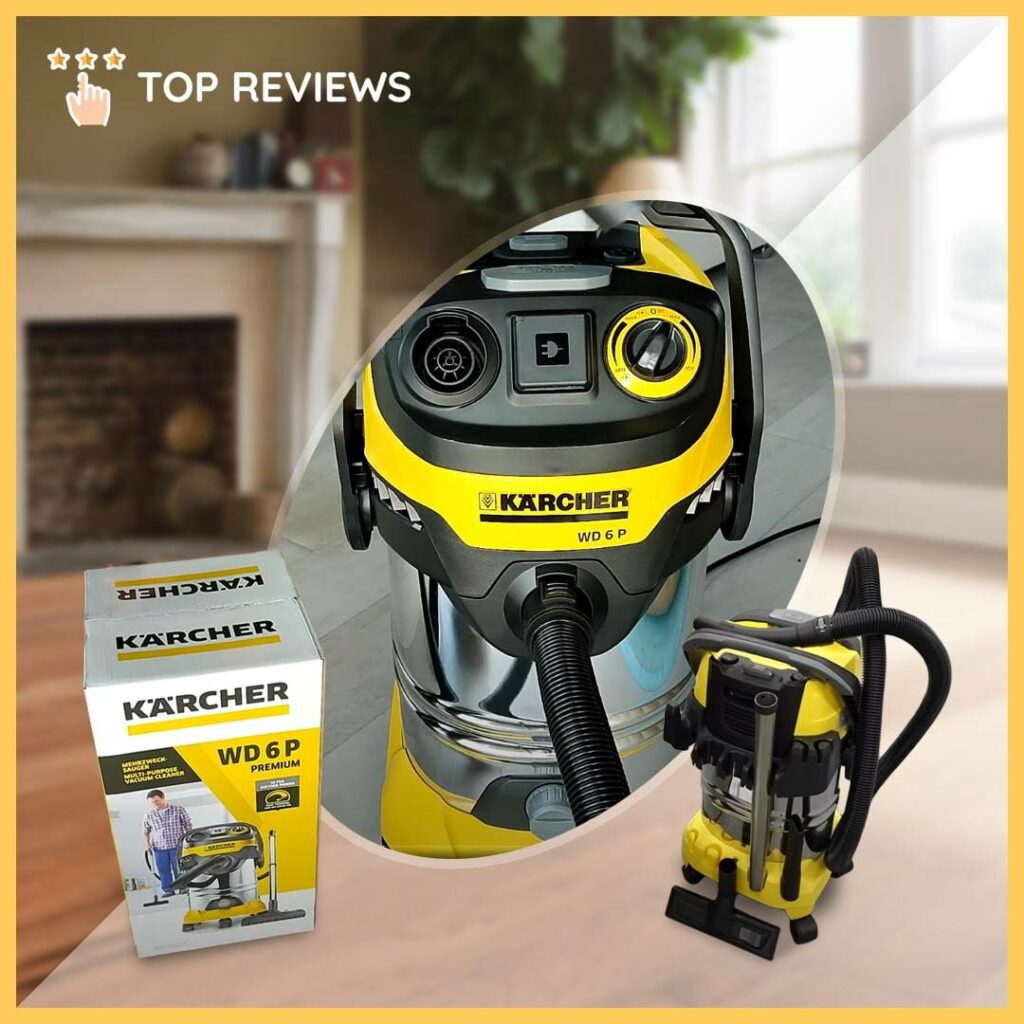 | | |
| --- | --- |
| PRICE | NZ $359.00 – $399.00 |
| SUCTION POWER | 2000W (actual energy consumption 1300W) |
| DUST CONTAINER | 30 Liters |
| CORD LENGTH | 6 meters |
| WEIGHT | 9.5kg |
| WEBSITE | https://www.kaercher.com/ |
The Karcher WD 6 Premium is a multipurpose vacuum that can clean up both wet and dry dirt with many applications mainly aimed towards commercial use. Whether it's carpentry work, wet floors, car upholstery, or small particles, this vacuum cleaner won't leave any traces of mess behind.
With a whopping 30-litre stainless steel container, it has different accessories that can be easily attached to the removable handle to adapt to your needs. Varying speeds can also adjust to the working environment, making it a perfect companion to use with heavy power tools.
It has an innovative flat filter placed inside a cartridge that can be removed fuss-free and without touching any of the dirt inside of it. Alternatively, you can conveniently press a button to activate the integrated self-clean function, which can clear any clogs instantly.
Afterwards, you can simply detach the tools and place them in the accessory storage on the side of the unit. The WD 6 Premium also allows you to organize the power cord with a hook for tidy storage.
What we like best about the Karcher WD6 is the built-in power outlet where you can directly plug your power tools. It has an automatic power switch that can automatically suck up dirt whenever you turn your tools on or off.
Although it has a 2000W suction rate, its power consumption is only rated at 1300W, meaning it sucks more but costs less energy.
If you're using the WD 6 Premium for your business, this gives you more savings and can help you operate more efficiently, making it one of the best industrial vacuum cleaners in NZ.
High-powered suction
Built-in outlet with automatic switching
Short power cord
Can be difficult to use on wet carpets
Customer Reviews
Clearly one of the best vacuum cleaners in New Zealand, reviewers were very satisfied with the powerful suction and efficiency of the Karcher WD 6 Premium. Let's see the review of one customer, user VacBoyMelb, on the official Karcher website:
"Purchased this early 2019 and have been impressed with the ease of use and the power it has to make a difficult cleaning job ever so simple. Broom vs Karcher WD6…well there is no contest! Have used it to make the garage look pristine and used it to clean the car and both done with ease. Have a problem with cob webs and dont like cob web brooms? Ha! No problem! Do yourself a favour and get one. Have also bought the extension hose for greater reach as I intend to clean my guttering with my new best friend. First rate product that is hard to fault."
6. Bissell Cleanview Canister Vacuum 1994F
Best for Budget Vacuum Cleaner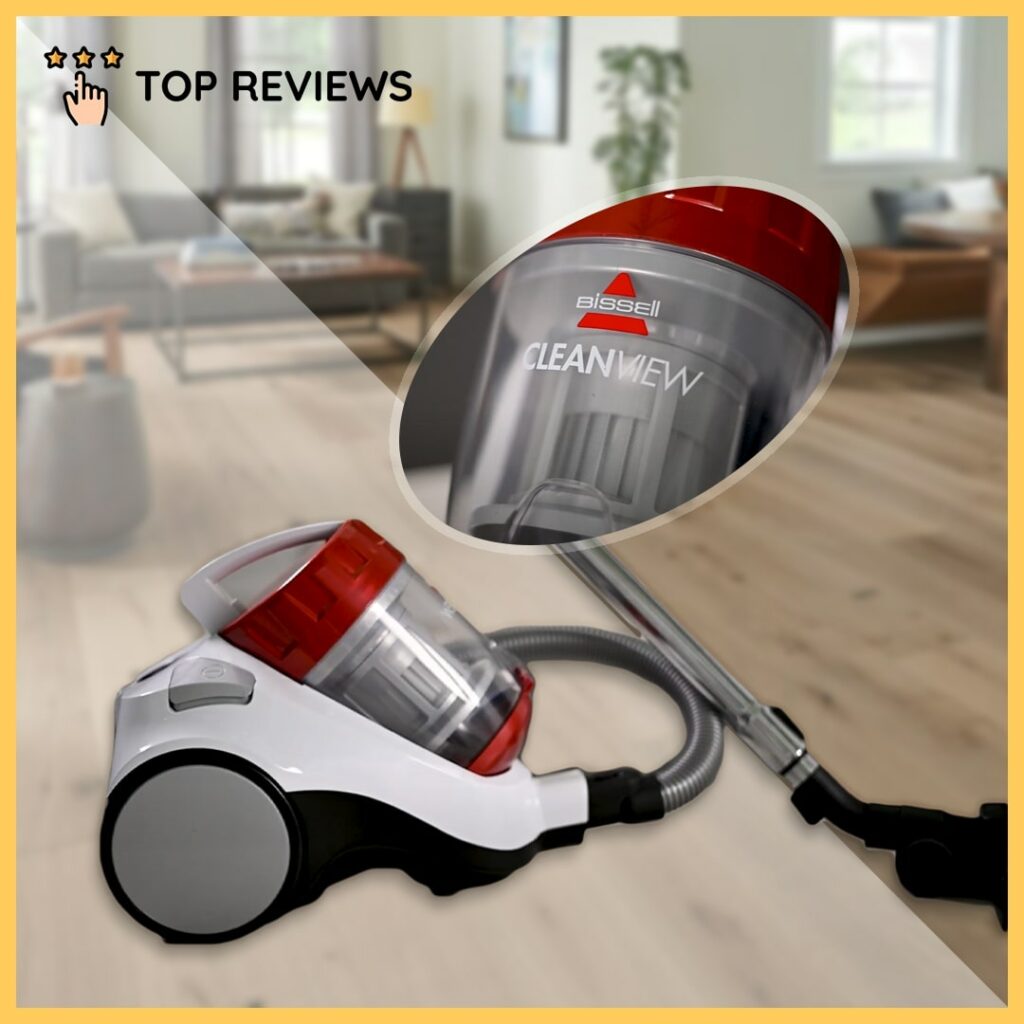 | | |
| --- | --- |
| PRICE | NZ $ 169.00 |
| SUCTION POWER | 2000W |
| DUST CONTAINER | 2.2 Liters |
| HOSE LENGTH | 1.5 meters |
| CORD LENGTH | 7.6 meters |
| AUTOCORD REWIND | Yes |
| WEIGHT | 4.6kg |
| DIMENSIONS | 322 x 511 x 395mm |
| WEBSITE | https://bissell.co.nz/ |
With the Bissell Cleanview Bagless Vacuum Cleaner, you can still get yourself an efficient vacuum cleaner in NZ without spending a fortune. With its high-powered suction, you can glide across hard floors and carpets with ease.
Bissell's Multi-Cyclonic technology helps the Cleanview rapidly and powerfully suck up dirt, dust, and pet hair into its 2.2L canister. It comes with a dusting brush, upholstery nozzle, combination floor tool, and a durable telescopic wand that lets you clean those hard-to-reach areas of your house.
You won't need to touch the dirt to completely dispose of it either. The Easy Empty Dirt Tank empties through the bottom, meaning you don't need to fiddle with dirty moving parts just to clean it out.
The relatively lightweight design of the Cleanview makes it easier to steer around the different rooms of your home. It also has a convenient one-button switch on the combination floor tool to change the vacuum's suction from a carpet to a hard floor.
Although it may have some difficult cleaning carpets and the Cleanview does run a bit loud when you consider the price of this vacuum, you get quite good value for your money.
With a 2-year warranty to assure it meets (or exceeds) your expectations. If you're on a budget and still want powerful cleaning capabilities, this is easily the best vacuum cleaner in NZ in 2021 for you.
Easy to manoeuvre and steer
Best suited for hard floors
Affordable
Filter needs to be cleaned often
Has difficulty on carpets
Loud operation
Customer Reviews
Users generally found that the Bissell Cleanview 1994F function as advertised. One reviewer, user Kat W, wrote:
"Does what it's supposed to do – clean my floors and carpet really well while being easy to maneuver. It does get a workout, – I have dogs, and a "dying carpet" where the limestone powder in the carpet glue is dissolving and you can see a white powder being sucked up through the carpet each time I vacuum."
7. Dyson V11 Absolute Extra
Best Overall Vacuum Cleaner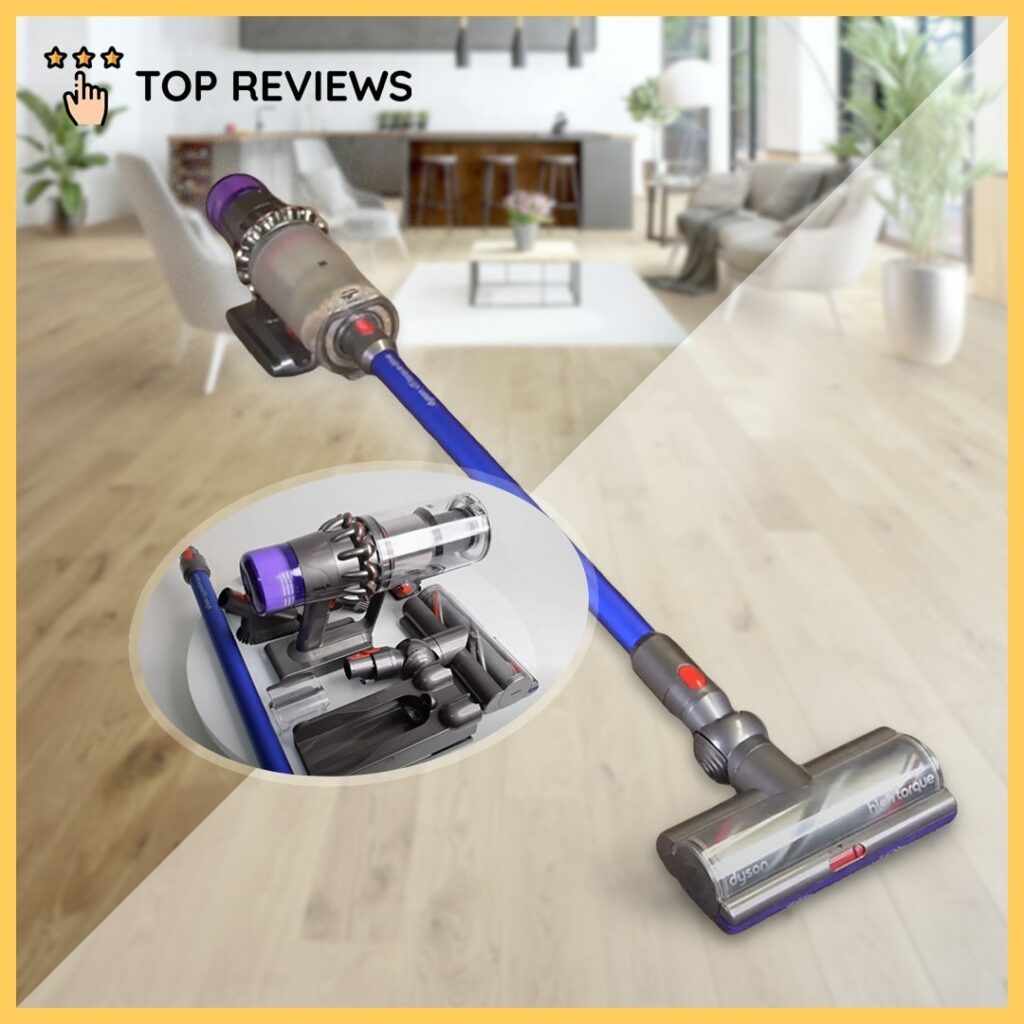 | | |
| --- | --- |
| PRICE | NZ $ 1,299.00 |
| MOTOR | Hyperdymium Motor |
| SUCTION POWER | 185 Air Watts |
| DUST BAG | 0.76 Liters |
| BATTERY RUNTIME LENGTH | 60 minutes |
| BATTERY CHARGE TIME | 4.5 hours |
| WEIGHT | 3.09 kg |
| DIMENSIONS | 128.6 x 26.1cm |
| WEBSITE | https://www.dyson.co.nz/ |
If you want the best stick vacuum cleaner in NZ regardless of the cost, read up please.
The Dyson V11 Absolute Extra is lightweight and nimble, offering the most powerful suction power ever seen in a cord-free vacuum.
Thanks to its patented Hyperdymium motor that spins at up to 125,000rpm along with its High Torque head and Dynamic Load Sensor, the extra stiff bristles can spin 60 times in a single second, allowing it to dig deep even into the smallest of crevices.
What we like best about the V11 Absolute is the futuristic LCD screen that keeps track of the vacuum's performance, reporting it digitally in real-time. You can even keep track of your battery usage so you won't have to wonder how much power you have left, helping you balance between Eco, Auto, and Boost modes.
If you have a large space to cover, you can always purchase the optional battery pack, which you can swap out easily in the middle of vacuuming. Most users though will be completely fine with simply placing it on its stylish wall cradle to recharge.
Apart from its battery power and suction performance, we also like the fluffy cleaner head that's included. This attachment is covered in soft nylon and anti-static carbon fibre filaments which helps pick up even the finest particles from hard floors.
With all these features, there's really only one downside to the Dyson V11 Absolute – it's expensive. Users need to decide for themselves if all the advanced features of this luxury vacuum justify its price tag of $1,299.
Although available at third-party retailers, buying directly from Dyson entitles you to free shipping, a 30-day money-back guarantee, and access to their premium customer service hotline. With premium features and unparalleled suction power, the V11 Absolute deserves its spot on our best vacuum cleaners in New Zealand.
Modern, stylish LCD screen
Optional battery pack
Superior suction
Expensive
Small 0.76L dust bin
Customer Reviews
The Dyson V11 Absolute is one of the best vacuum cleaners in New Zealand since it carries out a cleaning performance second to none, let alone its roster of handy features that make things that much easier.
Russell Harrison, reviewed the product on Amazon as he writes:
"I have had this vacuum for two years and my crew has been using it for all the detailing in tight areas and more…I was impressed…Let's be honest, Dyson is legit! This is the first one I have purchased it my life and not for personal use in a house. I did not even spend my money on it. I am going to buy the new V10 series because it looks beefier for what I need.
8. Miele Compact C2 Electro+
Best Vacuum Cleaner for People with Allergies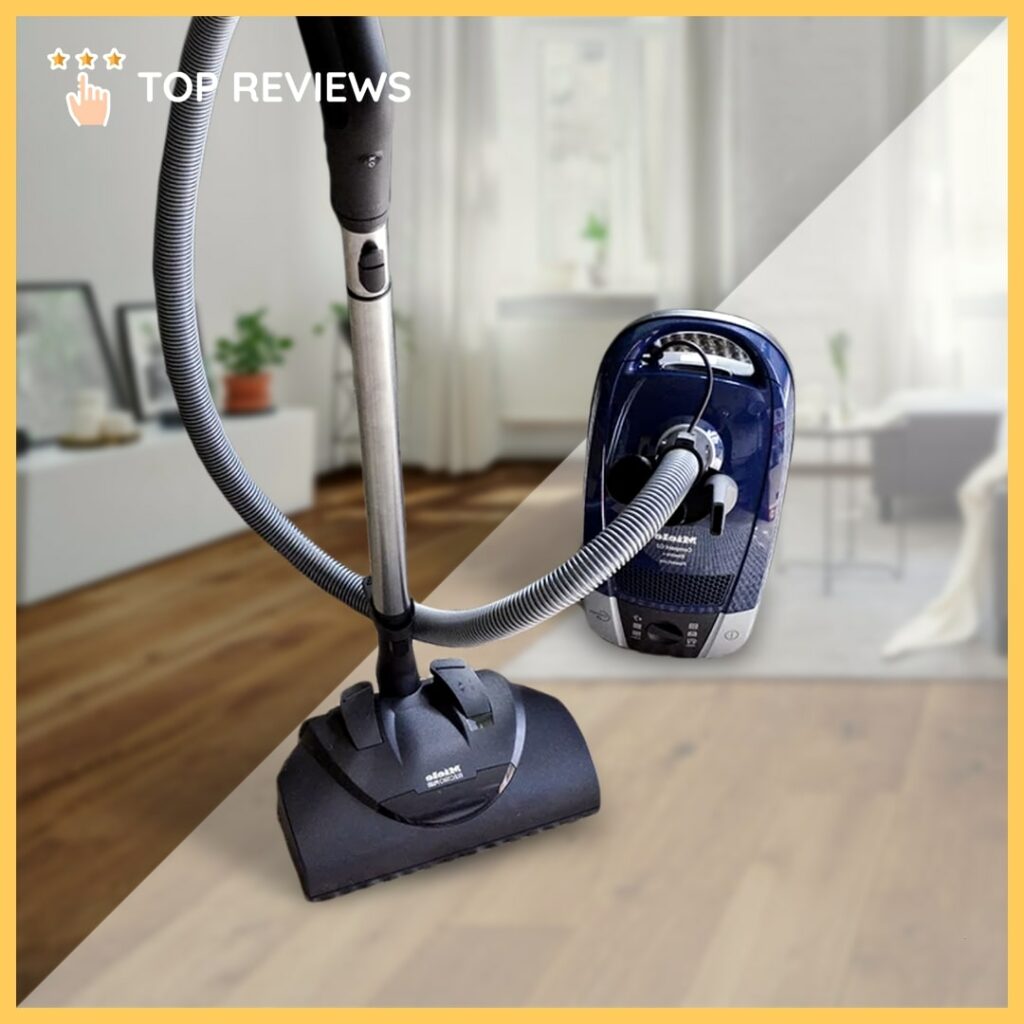 | | |
| --- | --- |
| PRICE | NZ $997.00 |
| MOTOR | 1200W Vortex Motor |
| DUST BAG | 3.5 Liter |
| CORD LENGTH | 9 meters |
| WEIGHT | 6.8 kg |
| DIMENSIONS | 58.42 x 35.56 x 27.94cm |
| WEBSITE | https://www.miele.com.au/ |
The Miele Compact C2 Electro+ Canister Vacuum offers a cleaning performance best suited for those who have allergies. Its 1,200W Vortex motor along with an air-tight seal ensures superior suction and airflow for your cleaning needs.
The best feature in C2 Electro+ is its AirClean System with unique HEPA AirClean FilterBags that ensure 99.9% of allergens, dirt, or dust doesn't come out back into the air. It has six suction settings and two floorhead attachments to ensure that you have the right tools to clean, whether it's a carpet or hard floors.
The electro brush is this vacuum's highlight feature, which has 2 rows of soft bristles that are best suited for gently vacuuming the floor and carpets while tightly hugging the walls. While the parquet brush is also a wonderful attachment, using the electrobrush with the roller brush switched off is equally effective and achieves the same results.
It comes with a crevice tool for tight, narrow spaces and a gentler soft cleaner head for your hard floors as well. We liked the upholstery tool better though, which can pick up even the finest of pet hairs from sofas and couches.
While we would have preferred that the attachments and accessories could be stored inside of the canister instead of clipping onto the vacuum, it does help to keep the canister compact and manoeuvrable through narrow spaces.
The best part about the Miele Electro+ is that it has a 7-year manufacturer's warranty on the motor and a 2-year warranty on parts and labour. With this kind of guarantee, you can rest assured that you'll be getting a durable product that'll stay with you for several years.
Overall, if you have allergies or young kids at home, this Miele vacuum in NZ could easily be the best match for you.
7-Year Warranty for motor and parts
HEPA filter for persons w/ allergies
Airtight seals
Accessories clip on the exterior
Hose can be a little stiff to use
Expensive replacement bags
Customer Reviews
Customers on Amazon have said that in addition to its impressive suction, it cleans tidily without any dust, dirt or particles flying out.
D. Coral, a top 100 reviewer of Vine Voice, reviewed two Miele models side by side: one with the Miele Compact C2 Electro+ whereas the other is with Miele S6270. And this is what he came up with:
"The handle on this one is a heavier than the handle on the non-carpet brush models because it has the electrical wires and switch inside. This difference is quite noticeable when using the small accessories. The carpet brush is a powerful, heavy duty tool! When the brush is spinning the sound reminds me of a professional vacuum cleaning a retail store carpet, except with a more pleasant muffled sounds that is not as loud (everything on these models have been engineered to make them as quiet as possible)."
9. Bissell Powerforce Helix Bagless Upright Vacuum
Best Value for Money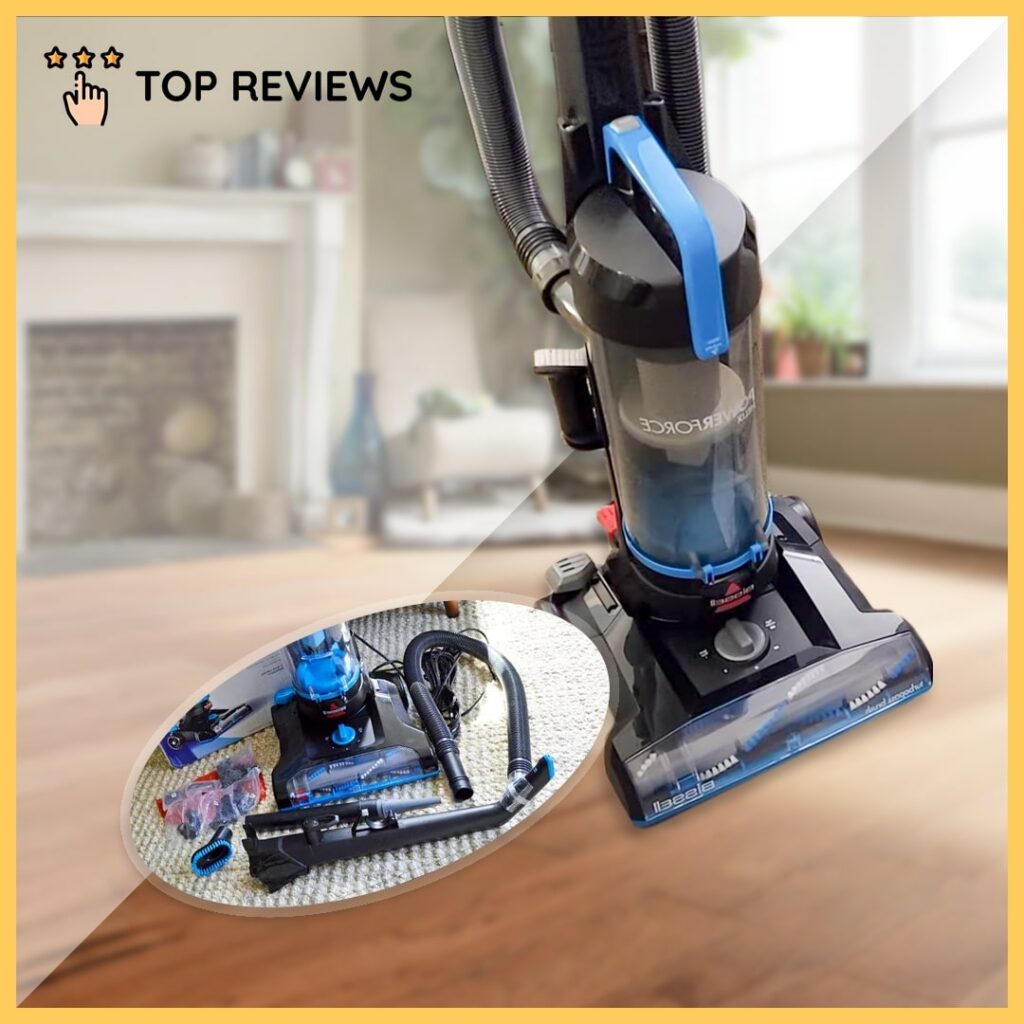 | | |
| --- | --- |
| PRICE | $219.00 |
| DUST BAG | 1 litre |
| HOSE LENGTH | 1.5 meters |
| CORD LENGTH | 7 meters |
| WEIGHT | 5.44 kg |
| DIMENSIONS | 24 x 36 x 81cm |
| WEBSITE | https://bissell.co.nz/ |
If you're on a tight budget but need a vacuum that can do the job, you can't go wrong with Bissell's Powerforce Helix Bagless Upright Vacuum. It performs with long-lasting power suction to keep your living room and bedroom free of allergens, particulates, and grime.
However, for a vacuum selling at this price, don't expect the sturdiest construction. The PowerForce is primarily made of plastic and may feel flimsy to those expecting durable construction.
Regardless, this makes the vacuum lightweight and it functions excellently with suction that can rival other expensive competitors despite feeling like a toy. It's easy to steer and manoeuvre and will benefit those who need to carry the PowerForce Helix up and down the stairs.
The PowerHelix comes with an extension wand to reach high places and remove the dust from sticking around on walls and ceilings. While we would have liked the extension wand to be longer, it's a useful accessory that might be better adept at reaching underneath beds and sofas.
Once you've started using the vacuum, you'll notice the dirt you're sucking up spinning around in a "helix" through the transparent canister, which prevents clogging. When you're done cleaning up, you simply empty the stylish canister into the trashcan and wash the filters.
While the PowerHelix may not come with variable suction control, if you're looking for a vacuum that is budget-friendly and can still get the job done, then this is a wonderful choice. You may not expect it to last long, but you can surely expect it to perform.
If you're not willing to shell out big bucks yet want to have big time cleaning power in your machine, this is the best vacuum cleaner in NZ for your needs.
Lightweight
Inexpensive
Powerful suction
Short extension wand
Flimsy construction
No variable suction control
Customer Reviews
Here's what one customer, Noelani V, thinks about the Bissell vacuum cleaner:
"We have two free roam rabbits and a messy parrot so we've been needing a new vacuum for a while. We vacuum literally every day and were blown away by the value of this vacuum. Pulled all the hair, dirt, and seeds out of the carpet . After vacuum daily with our old vacuum it pulled out SO much from the carpet and now we vacuum much less. Only complaint would be I wish I had a longer hose but you can easily make do with that."
10. Shark Rocket Ultra-Light Corded Stick Vacuum (HV302)
Lightest Vacuum Cleaner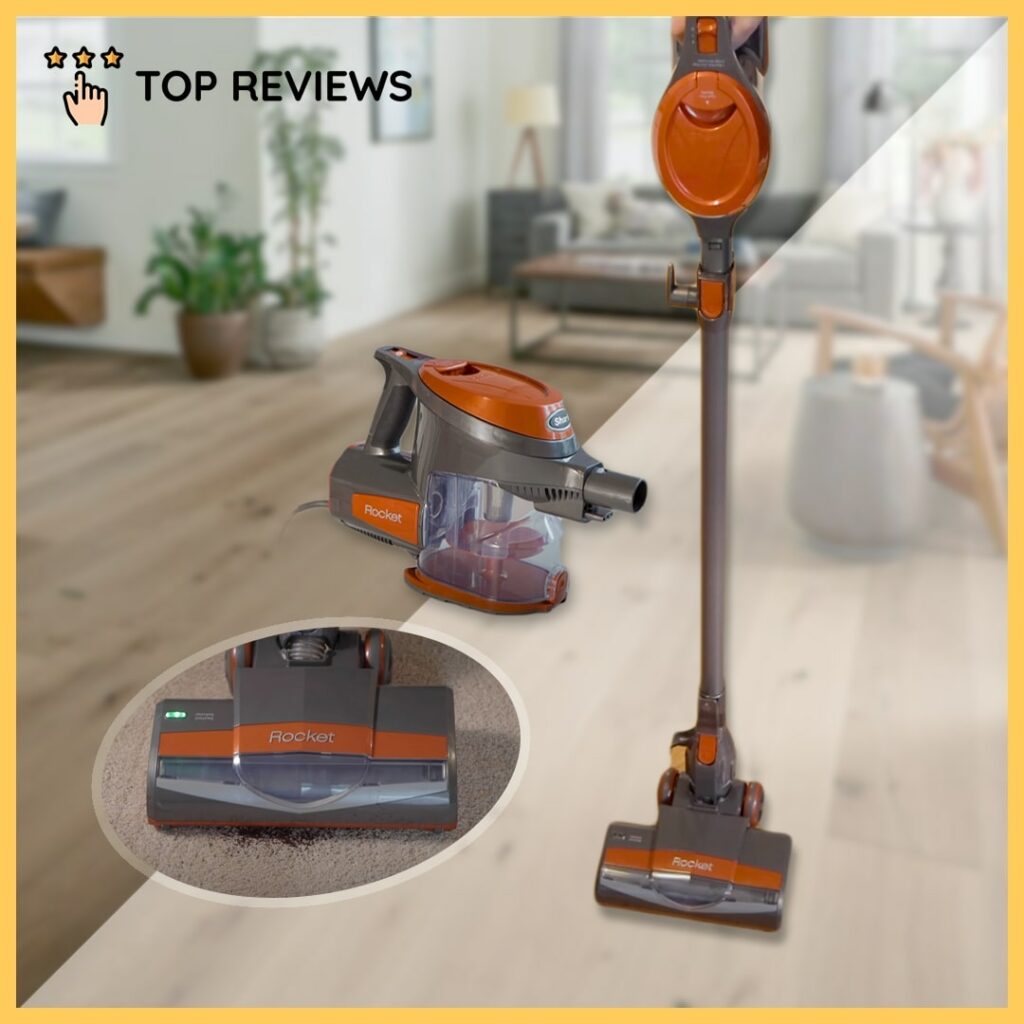 | | |
| --- | --- |
| PRICE | NZ $330.00 |
| MOTOR | 500W |
| DUST BAG | 0.40 litre |
| HOSE LENGTH | 0.76 meters |
| CORD LENGTH | 7.6 meters |
| WEIGHT | 3.6kg |
| WEBSITE | https://sharkclean.co.nz/ |
If you want the best vacuum cleaner in NZ that won't give you back pain from the cleaning action, this one's for you.
If a lightweight vacuum is what you're looking for, then the Shark Rocket HV302 is right up your alley. Weighing in at only 3.6kg, it's one of the lightest vacuums in the market.
However, the highlight of this product is that it can function both as an upright stick vacuum and a handheld unit. This makes it especially useful if you want to vacuum your car using the included specialized attachments.
For it to become lightweight, though, sacrifices in the build quality had to be made, and the plastic used in the HV302 feels mediocre at best. While it's generally a durable product, we can't help but wonder if it might crack if dropped on the floor, especially since it has trouble staying upright on its own.
Nevertheless, we like that there's an indicator light on the unit to inform you of blockages or overheating. The HV302 is also very easy to maintain despite the dirt container needing frequent emptying and the filters are easily accessible for washing,
While you can't change the vacuum's suction levels, it works on two modes for hard floor or carpet cleaning, easily activated by a simple switch. Take note that this doesn't change the height of the brushes but only adjusts the speed at which they spin.
All in all, the Shark Rocket Ultra-Light HV302 doesn't weigh too much, and you can reconfigure it as a handheld vacuum if you need a little more manoeuvrability, earning it a spot on our list.
Extremely lightweight
Can be used as a handheld by detaching the wand
Includes car kit attachments
Has difficulty staying upright during storage
No variable suction levels
Not HEPA grade filters
Customer Reviews
Joel Huggins, one customer, wrote an insightful review:
"Yes, this device has a cord but I'm not spending $400 on a cordless stick vac that may or may not have as much power as this one or a run time of 15 mins per 4 hour charge – gimme a break. I've had this now for a couple months and LOVE it. We bought it primarily b/c we got a puppy and while her hair isn't that bad yet we always track in grass/debris from taking her outside so often, so it is primarily used on our hardwood floors and our carpeted living room area. This product is exactly what I needed and I'm very happy with the purchase. It's versatile, powerful and easy to put away. Does a really nice job on our carpeted areas as well. I will recommend this to anyone who asks – great purchase."
11.   Dyson Light Ball Multi Floor +
Best in Design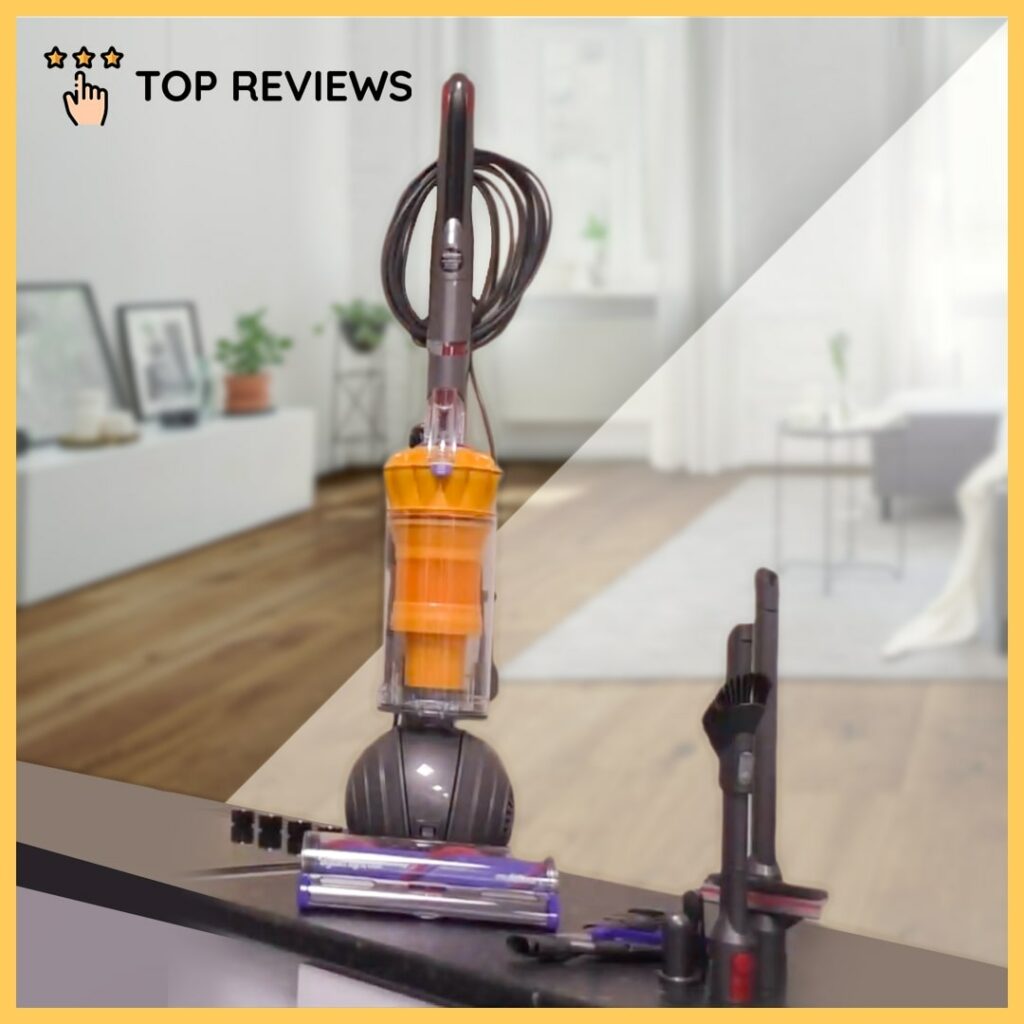 | | |
| --- | --- |
| PRICE | $649.00 |
| MOTOR | 700W |
| SUCTION POWER | 900W |
| DUST BIN | 1.6 litres |
| HOSE LENGTH | 3 meters |
| CORD LENGTH | 9.4 meters |
| WEIGHT | 6.33 kg |
| DIMENSIONS | 106.5 x 39.6 x 34cm |
| WEBSITE | https://www.dyson.co.nz/ |
The Dyson Light Ball Multi Floor + is an entry-level vacuum that boasts a more eco-friendly approach to its product line. It's smaller, lighter, quieter, and has an energy consumption of only 28kWh on a 700W motor.
The best part about this Dyson is that it's also one of their most affordable products that still retains the high performance they are known for. With plenty of suction power coupled with some nifty and handy features, the Light Ball Multi Floor + is a great entry-level product.
Powered by its Radial Root Cyclone bagless technology, this system optimizes airflow and is highly efficient in capturing fine particles of dust and dirt. This patented engineering is so effective that the vacuum only needs two washable filters that are supposed to last a lifetime.
Love it or hate it, what makes this vacuum interesting though is its design, which looks more like something an astronaut might bring on board. This is partly due to the way that all the attachments clip onto the vacuum, which fastens quite securely too.
The Light Ball Multi Floor + is easy to steer and comes with an extendable wand and a hose that can flex and stretch superbly. It also has a long 9.4-meter power cord which means you can pretty much take this vacuum anywhere.
In the event it's not working according to your expectations, Dyson gives a guaranteed 5-year warranty for a defect in its parts or accessories. We don't think you'll need it though, since customers have loved this model praising both its eye-catching design and superb suction power.
It may be entry-level but the efficient performance of this Dyson model makes us think its one of the best cordless vacuum in NZ.
HEPA filtered to trap allergens and other particulates
Has an extendable wand for high surface and under furniture cleaning
Ball-designed structure makes it easy to manoeuvre
Some users find it bulky and heavy
Modest suction power for a Dyson
Customer Reviews
The Dyson Multifloor 2 had been a cause for celebration for a lot of the customers as it literally sucked all the dust and dirt particles invisible to the naked eye.
One user CoeCoeBean71, shares their story:
"There are three things I love most in this world. My family, my dog, and my Dyson. I vacuum 1-2 times per week. After every time, I hold the dust container up and say to my husband, "I mean just *look* at it. I just vacuumed the other day." The design is incredibly intuitive and it is light and easy to use. We have a 150 pound mastiff and you would never know because this vacuum sucks up every strand of dog hair from our carpet and hardwood floors. It doesn't just eliminate dog fur, it sucks up my bad attitude after I watch the news. It washes away stress and cleanses my soul. This vacuum is getting me through the pandemic."
12.   IRobot Roomba 690 Vacuum
Best Robot Vacuum Cleaner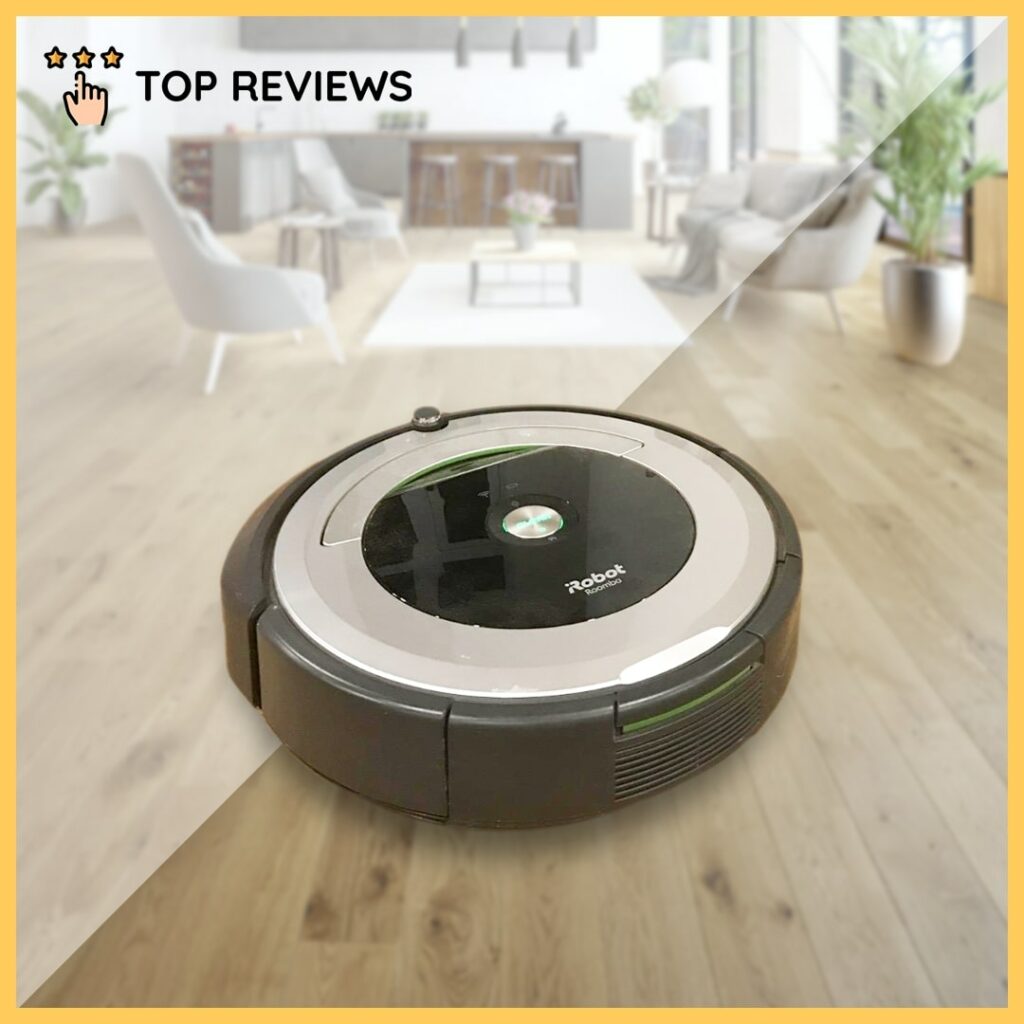 The iRobot Roomba 690 is a round-shaped robot vacuum measuring 33cm wide and about 9.4cm tall. Its size and shape make it ideal for cleaning under most furniture in your home.
Although it's surprisingly heavy weighing at 3.4kg, this makes it feel like it's durable and will last a long time. Since it tends to bump into furniture or items around the house, it feels durable and sturdy at this heft.
We like the Roomba 690 because it makes manually vacuuming the house a thing of the past. It has smart sensors that help the robot vacuum make more than 60 choices per second, directing its movement safely whilst looking for dirt and cleaning them up completely.
Its Dirt Detect Technology is surprisingly very accurate, recognizing dirty areas in your home and will leave the floor spotlessly clean. Its 3-Stage Cleaning System, Dual Multi-Surface Brushes, and a unique Edge-Sweeping Brush can pick up any stubborn dirt and debris from your floors.
If there are rooms or areas in your home you don't want the Roomba 690 to enter, it comes with a handy Virtual Barrier that sets an invisible boundary. This is a useful feature for rooms that have power cords on the floor or thick rugs, especially since this vacuum has been known to get tangled in them and can get stuck.
Take note that the Roomba 690 may use up more power if travelling on uneven surfaces. Nevertheless, the battery lasts for about 90 minutes and it can sense when it needs a recharge, automatically returning to its docking station.
The best part about the Roomba 690 is that it's Wi-Fi-connected and can be controlled via the iRobot HOME App. You can conveniently clean your home even when you're away, and it's even compatible with Alexa and Google Assistant.
If you have a very busy schedule but would like to have a perfectly clean home, then the Roomba is the best vacuum cleaner in NZ for you.
3-stage cleaning system
Detects dirt via patented Dirt Detect around the house
Can be controlled with an app
May not work well on dark flooring
Can have trouble around rugs
Can get stuck on power cords
Customer Reviews
Clairem purchased the Roomba 690 and was amazed at how independently it worked. She shares her story:
"We have her set to clean every day and are amazed at how much dirt she still picks up. I wasnt sure if the app was necessary at first, but I love it. You don't even have to be within WiFi range to start her, as long as you have Internet on your phone and she's within WiFi range. It also tells you when she's stuck, done cleaning, or any other important statuses. It shows you how to clean her and when she needs to be clean with instructional videos , which really helps my mom since an instruction book would be too small for her to read. She is part of the family now, though we probably feed her too much. I feel bad for anyone that doesn't have an experience like us. I've bragged on her so much that two of my mom's friends went and bought one after seeing the videos I've posted. Too bad I don't get paid for this, lol."
The 5 Types of Vacuum Cleaners in NZ
Before purchasing a vacuum cleaner for yourself, you have to understand the different types first, so you know exactly what you need. These are the vacuum cleaner types you'll find on our list:
Canister Vacuum
A canister vacuum is a common type of industrial or commercial type of vacuum that has a body with wheels, which houses the motor, filters, and dust container. It usually has a plastic hose and powerhead that can clean a variety of surfaces.
Upright Vacuum
An upright vacuum is often lightweight and is commonly used in households as an all-in-one device of sorts. There is no separate body or hose as the powerhead, dirtbag, and other parts are all integrated into one homogenous unit.
Stick Vacuum
A stick vacuum is a hybrid of an upright and a canister vacuum – it uses a container to trap dust but is shaped more like an upright vacuum with all parts in a single body. These are usually the lightest and most portable type of vacuum available, but its small motor means it has less suction power.
Handheld Vacuum
A handheld vacuum, as the name implies, can be used with one hand and are best for hard to reach places or tight spaces. This kind of vacuum is usually used to clean the inside of cars.
Autonomous/Robot Vacuum
A robot vacuum is the newest type of vacuum available today and is popular because it can work autonomously or on its own. It comes equipped with multiple sensors that can detect dirt and its surroundings, allowing it to operate independently.
FAQs about the Best Vacuum Cleaners in NZ
---
And now we've come to the end of our list of the best vacuum cleaners in NZ. We hope you find the right one for your home from our list!
Did we miss a vacuum that you think should be added on here? If so, kindly send us a message, and we'll take a look at it!
Now, if you need more thorough cleaning in your home, it's best to hire professionals. You can check out these best cleaning services in Auckland if you're in the area!