By Leo Williams
Vacuum cleaners help a lot in keeping the house clean, hygienic, and comfortable to live in. Since home is where we live and usually spend our time in, it should be looked after regularly. The most noticeable parts of the interior are the flooring, walls, carpets, and ceilings. If we leave them as they are, they are going to show through accumulated dust, mildew, or undesirable odours that could make the dwellers more prone to sickness. Cleaning simple rugs and cabinets would take time, or it might be too short to reach the top of the dusty shelf leaving you with more work to be done.
To make matters easier, and to avoid all of them from happening, you'll need a vacuum cleaner up for the task. Not just a vacuum cleaner, but a reliable, efficient one.
The 5 Types of Vacuum Cleaners
Before purchasing a vacuum cleaner for yourself, you have to understand the different types first, so you know exactly what you need. These are the vacuum cleaner types you'll find on our list:
1) Canister Vacuum
A powerful type of vacuum that comes together separately with the canister. The canister can be moved around in wheels until the reach of the cord allows it and pulls in the small particles, dust, and dirt into its suction up to the bag. It can clean all types of floors like wood, tiles, carpet, and marble. Unless it has an extension wand, manoeuvring on the stairs will almost be impossible.
2) Upright Vacuum
Lighter in weight, more affordable, upright vacuum cleans your home spotlessly on the floor, sides of the walls, door entrances, attic, and others. Its only disadvantage is in its flexibility and reach in small spaces. But others seem to do just fine. This is the vacuum that many use and intend to buy today.
3) Stick Vacuum
Stick vacuum is the hybrid of upright and canister, improving on their strengths and cutting on their weaknesses. Though it could reach the hidden crevices and isn't as heavy as the canister, it is less powerful in its suction and charge. But in terms of storage, it only uses a minimal space, and is easily stored in your cabinet.
4) Handheld Vacuum
Small and handy, handheld vacuums are used to clean places not normally reached by upright, canister, or stick vacuums. For example, the inside of a car. A stick vacuum would reach the floor and upholstery but it will not be able to clean as efficiently and easily as using the handheld because of the limited space.
5) Autonomous/Robot Vacuum
Robot vacuums are the ins today. Its state-of-the-art sensor is able to detect dust, pet hair, coffee spills and clear it singlehandedly. It moves by its own without any controls on your part and it is smartly constructed to leave the floor to be cleaned by them. They connect to your phone's app. And they are absolutely cool and harmless.
The 11 Best Options for Vacuum Cleaners in New Zealand
Now that you have some idea of the different types of vacuum cleaners, here are the best and must-have vacuum cleaners in New Zealand:
1)   Panasonic ECO-Max Bagged Vacuum Cleaner (MC-CG712AG43)
Most Efficient Canister Vacuum Cleaner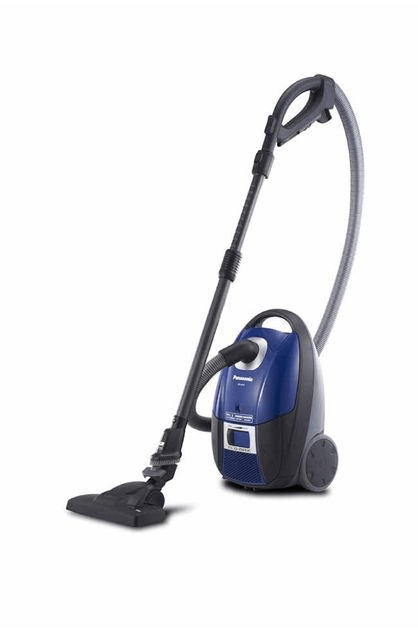 Price: $569
Power and efficiency is what the Panasonic Eco-Max Vacuum Cleaner is all about. Thanks to its 1400W Eco-Max motor, you won't have to clean the same area twice!
What's more, this vacuum does not only offer efficiency but also tools for every cleaning job. For instance, it comes with crevice, parquet, upholstery and dusting brush attachments.
What you'll have to do is step down on the pedal for an EZ release, then attach the proper tool. It's utterly simple and so easy that it can make your house cleaner than ever before!
The efficient Eco-Max vacuum can also take in dust and dirt with its huge 4-litre dust bag. At the same time, the HEPA H10 air filter keeps your air clean, pure and healthy.
Furthermore, the vacuum is designed to be user-friendly with an extendable cord. This means you won't have to change outlets as you vacuum from room to room.
If you want to be able to vacuum with ease, efficiency and power, we don't see why you shouldn't get the Panasonic Eco-Max CG7 Bagged Canister Vacuum Cleaner!
Highlights
Fitted with 1400W ECO-Max motor
Offers power and efficiency
Designed with an extendable cord and telescopic wand
Includes several nozzle attachments
Large 4-litre dust bag capacity
HEPA H10 air filter
Easy to use
2)   Miele Blizzard CX1 Excellence Bagless Vacuum (CX1 EXCELLENCE)
Best Vacuum Cleaner for Ergonomics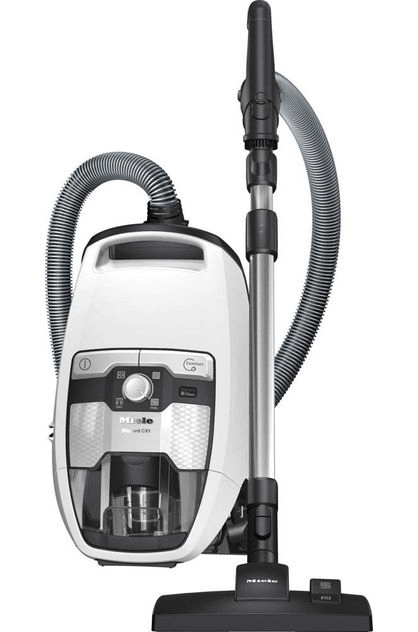 Price: $749
The Miele Blizzard CX1 Excellence offers powerful cleaning and an easy-to-use dust filter. It features Vortex technology, giving thorough, spotless vacuuming time and time again.
Its HEPA AirClean filter takes in fine and coarse dust. As it's designed for lifetime use, you can reduce your expenses by not buying another filter.
The container is relatively simple to detach from the vacuum. You just pull it up using the handle, head to the garbage bin, and press the release button to empty it.
Also, it comes with two accessories which you can actually store in the vacuum's compartment! That's a great detail overlooked by other brands of vacuum cleaners.
And of course, its Blizzard or Arctic White colour gives the vacuum a super-cool design. Besides this, it has sleek and easy-to-use controls characteristic of the Miele brand!
Highlights
Provides a thorough and spotless clean
Easy-to-use HEPA AirClean filter
Takes in fine and coarse dust and dirt
Comes with 2 accessories, plus a dusting brush
Sleek and cool design
2-year warranty
Customer Reviews
The Miele Blizzard CX1 garnered extremely favourable reviews from buyers. They commended its powerful suction, long cord, easy-to-clean filter and simple dust release.
Some cons would be that the vacuum cleaner was a bit heavy to use. One also mentioned that taking out the brush from the handle was slightly difficult.
That said, Robert M, one customer, wrote on Noel Leeming:
"Excellent vacuum cleaner does everything required. After the first clean it was full of dust, it sucked so much out of the carpet. Subsequent cleans have less dust now. So old vacuum was not doing it properly. Easily handles hair and dog fluff. Filter is easy to clean in warm water. Extra fittings are on the machine. Cord tucks away easily."
3)   Electrolux ErgoRapido Allergy Stick Vacuum (ZB3311)
Best Versatile Stick Vacuum Cleaner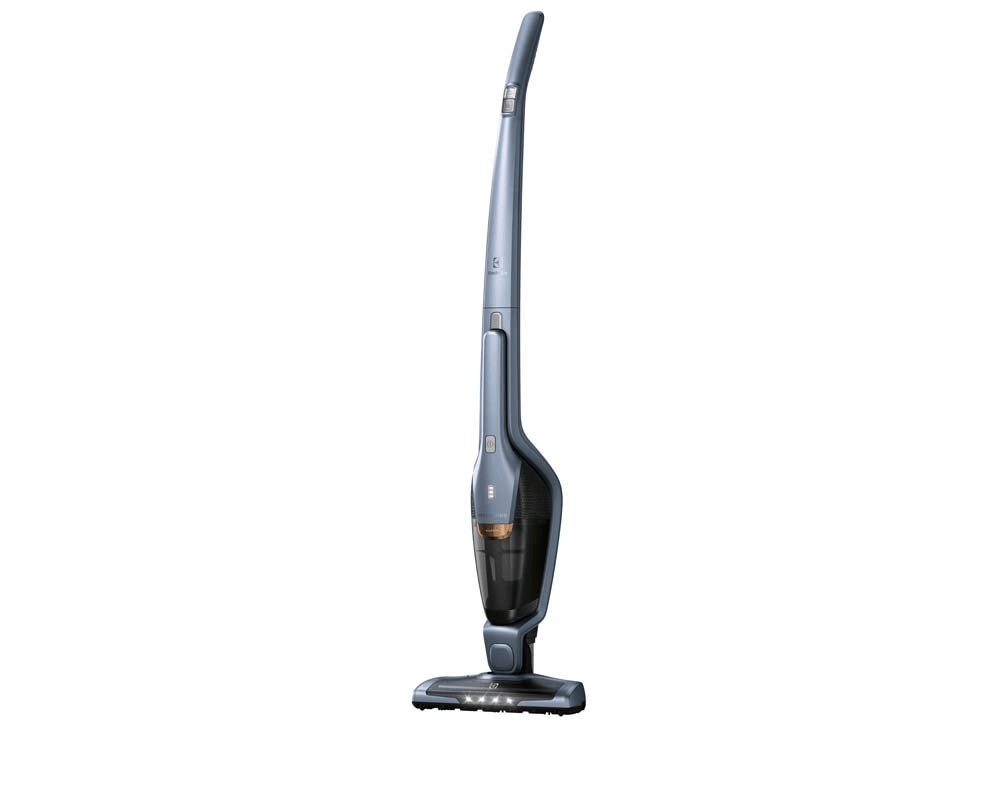 Price: $639
Interested in a versatile vacuum cleaner? Check out the Electrolux Ergorapido Stick Vacuum! This stick vacuum cleverly doubles up as a handheld unit for flexibility in cleaning.
It doesn't have a bag and cord with it, just a stick and a high-performance suction. Given its 180-degree metal plate and low centre of gravity, vacuuming is a breeze.
Powered by a Lithium HD TurboPower battery, the stick vacuum brings efficient suction capability and long run times. Specifically, it can last for 48 minutes on a single charge.
Need to clean your car upholstery or countertop? It's not a problem when you use the handheld unit to take out lingering dust and dirt barely visible to the naked eye!
Furthermore, this 2-in-1 stick vacuum is endorsed by the British Allergy Foundation. Its allergy filter has been proven to capture 99.99% of fine particles around your home.
Highlights
2-in-1 stick vacuum
Features EasySteer metal plate
Captures 99.99% of allergens
Lasts for 48 minutes on a single charge
Endorsed by the British Allergy Foundation
Customer Reviews
Most of the buyers said that the Electrolux stick vacuum is lightweight and swivels easily, making it great to use for various floor surfaces.
Interestingly, one user commented that it suited seniors and those with arthritic hands.
But for all products, there are always cons. And in this vacuum's case, some users noted that it couldn't clean well under beds and furniture, battery life is short for their needs, and that the suction could use more power.
However, let's check out the comment of Jessica on Electrolux Australia's website:
"Best vacuum I've ever had. Super easy to use and lightweight, while also being powerful. You don't need to worry about manoeuvring and realigning it as it swivels around with ease. It comes with a detachable hand vacuum with head attachments which is a massive bonus for cleaning spaces like my car. It also has a foot pedal to self-cleaning the brush roll. This is such an amazing vacuum, it blows my mind. It even has a LIGHT for enhanced visibility. Wow. Electrolux made it worth spending my bucks. This was an INVESTMENT. 10/10 would recommend."
4)   Karcher WD6 Premium Wet and Dry Vacuum
Best Commercial or Industrial Vacuum Cleaner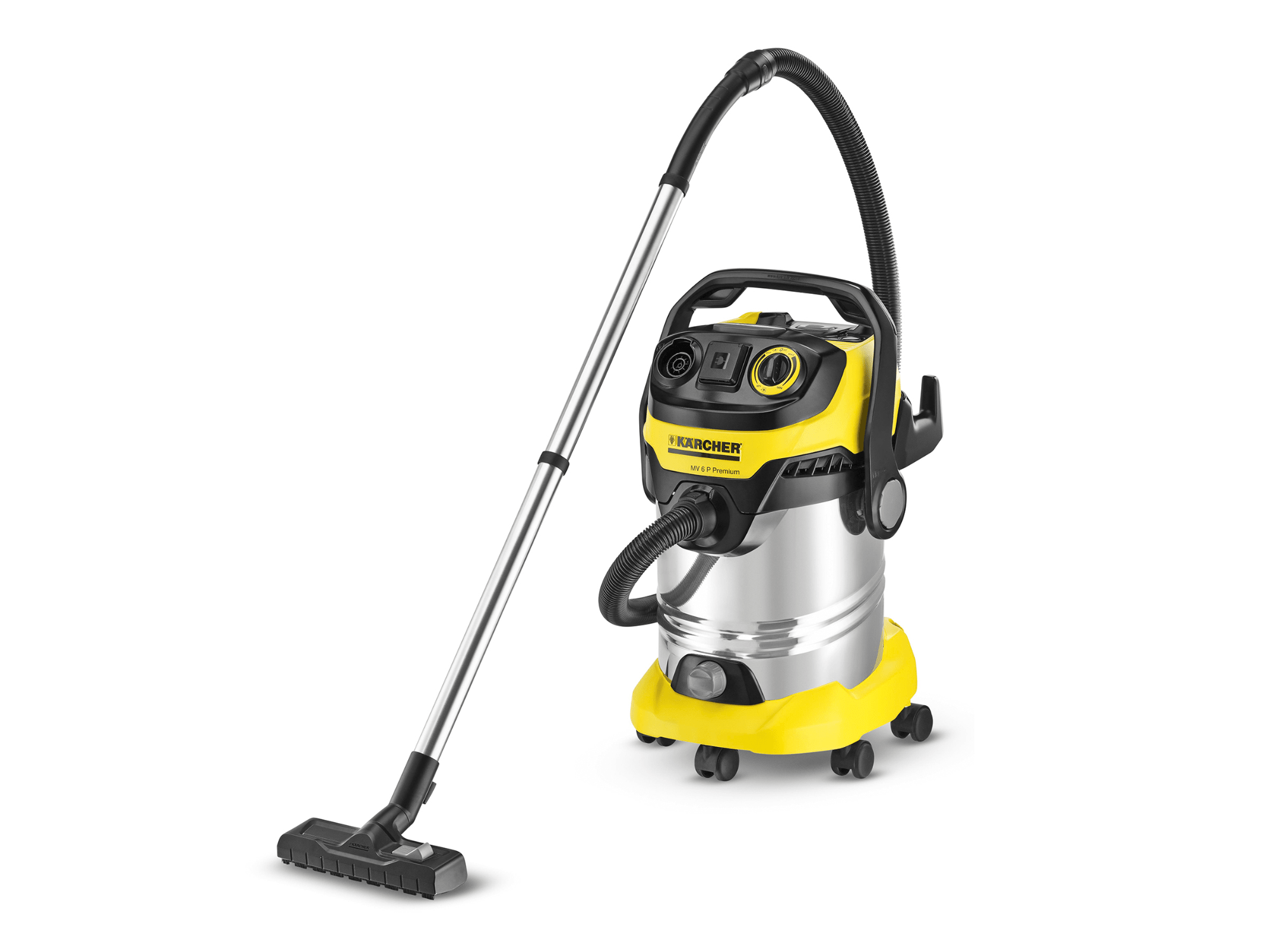 Price: $399
The Karcher WD 6 Premium is a wet and dry vacuum with many application possibilities. Because of its motor, it functions with increased efficiency and optimised performance.
Carpentry work, soiling, wet floors, car upholstery, small particles — you can use this vacuum cleaner for those. It will leave no trace of mess due to its powerful suction.
Different accessories can be easily attached to the removable handle to adapt to your needs. You wouldn't even have a problem in cleaning small spaces or crevices.
The filter can be removed with no fuss and without touching the dirt. Alternatively, you can press the clean-out button to let it self-clean the filter within its structure.
Afterwards, you can simply detach the tool and place it in the accessory storage on the side of the unit. It also lets you organise the cord with a hook for tidy and neat storage.
Highlights
Multi-purpose vacuum cleaner
High-powered suction
Efficient operation
Fits different accessories/nozzles
Easy to remove filter without touching the dirt
Practical accessory storage
Customer Reviews
Clearly one of the best vacuum cleaners in New Zealand, say owners. Reviewers were very satisfied with the powerful suction and efficiency of the Karcher WD 6 Premium.
Let's see the review of one customer, VacBoyMelb, on the official Karcher website:
"Purchased this early 2019 and have been impressed with the ease of use and the power it has to make a difficult cleaning job ever so simple. Broom vs Karcher WD6…well there is no contest! Have used it to make the garage look pristine and used it to clean the car and both done with ease. Have a problem with cob webs and dont like cob web brooms? Ha! No problem!
Do yourself a favour and get one. Have also bought the extension hose for greater reach as I intend to clean my guttering with my new best friend. First rate product that is hard to fault."
5)   Bissell Cleanview Bagless Vacuum
Best for Budget Vacuum Cleaner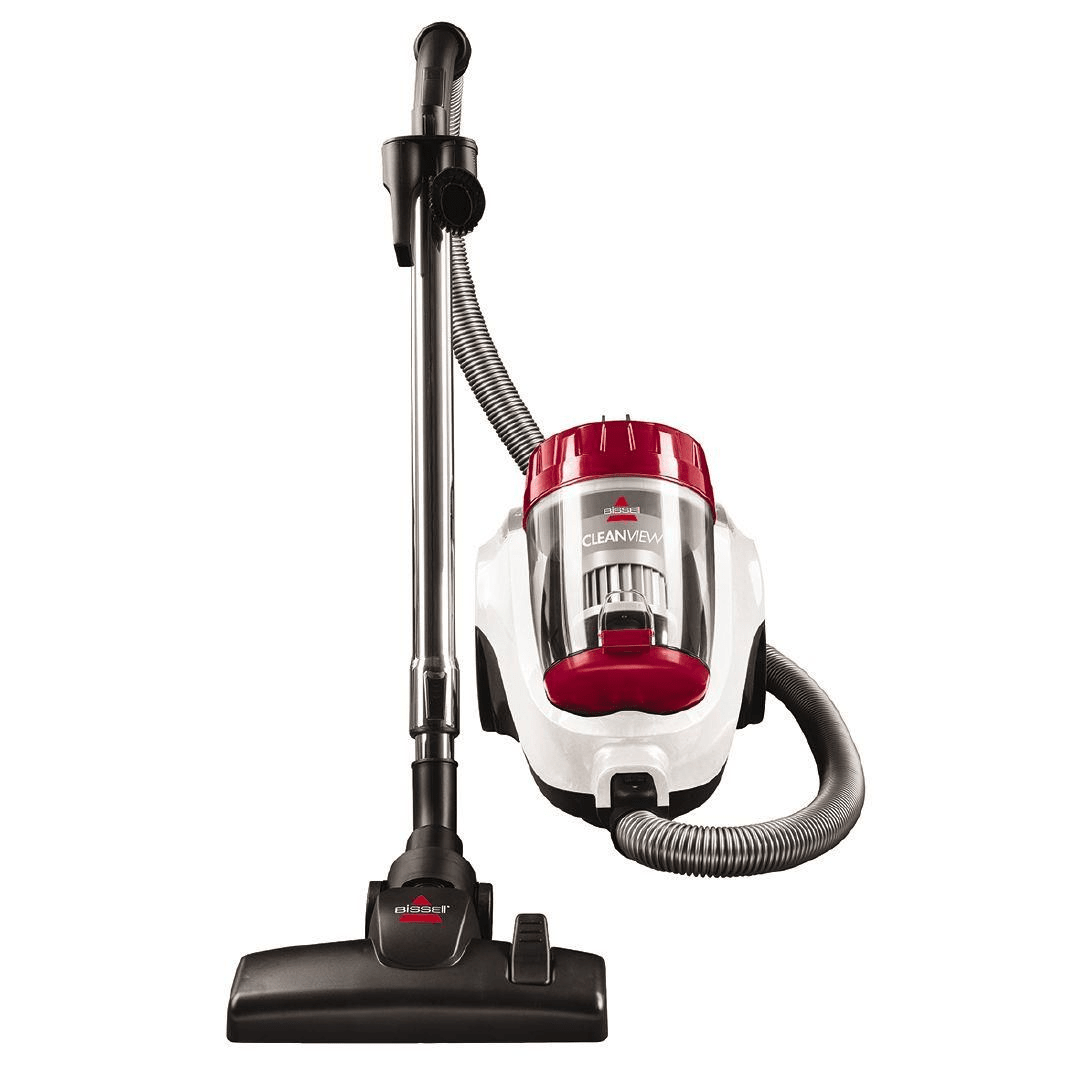 Price: $169
Without spending a fortune, you can still get yourself a worthy vacuum cleaner. Take the Bissell Cleanview Bagless Vacuum Cleaner — it lets you glide across hard floors and carpets with high-powered suction.
It uses Multi-Cyclonic technology that rapidly, powerfully sucks up dirt, dust and pet hair into its 2.2L tank. And you won't need to touch the dirt to completely dispose of it!
It includes upholstery, dusting brush and combination floor tools. As for the combination floor tool, you only need to flip a switch to vacuum from carpet to hard floor.
The best thing about the vacuum is that it goes for a budget price without compromising its quality. In fact, you get a 2-year warranty to assure it meets (or exceeds) your expectations!
Not to mention the vacuum is lightweight and easy to manoeuvre with its swivel steering. That makes it easy to clean under furniture and in changing directions too!
Highlights
Multi-Cyclonic technology
Great at vacuuming hard floors and carpet surfaces
2-year warranty
Swivel steering
Includes upholstery, dusting brush and combination floor tools
2L tank
Budget price
Customer Reviews
The Bissell Bagless vacuum has received its share of criticism, though the good outweigh the bad.
One user said that the vacuum merely does a so-so job in cleaning carpets. He then added that the filter has to be cleaned each time or the suction won't work well.
Another brought up that the vacuum was a bit loud. However, for the price you are paying you get a vacuum that's lightweight, easy to manoeuvre and has decent suction… so several owners admitted the noise was a minor concern.
Under the subject line, 'Delightful vacuuming experience', Kat W wrote:
"Does what it's supposed to do – clean my floors and carpet really well while being easy to maneuver.
It does get a workout, – I have dogs, and a "dying carpet" where the limestone powder in the carpet glue is dissolving and you can see a white powder being sucked up through the carpet each time I vacuum."
6) Dyson V11 Absolute
Best Overall Vacuum Cleaner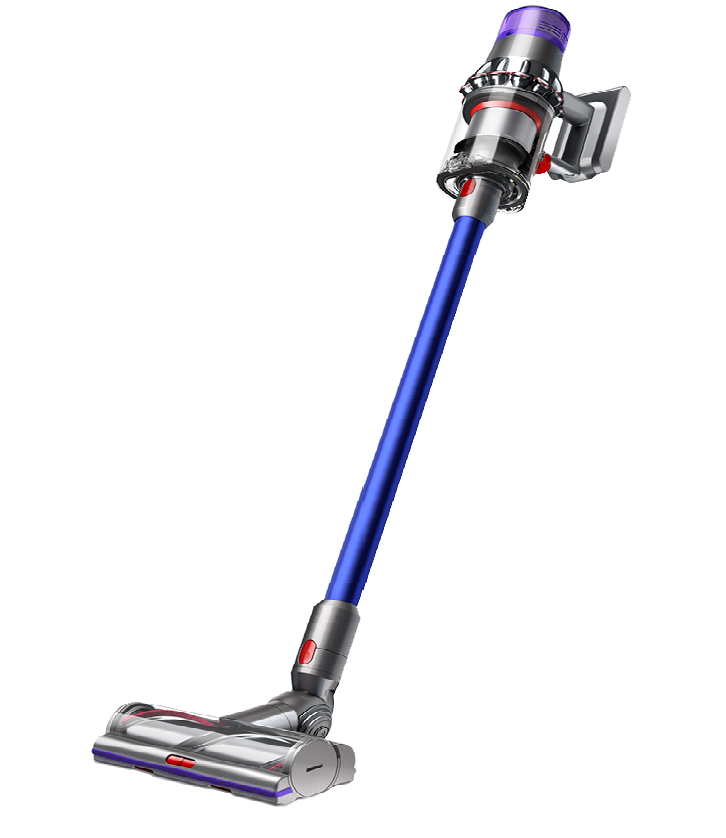 Price: NZD1299
The future is now. Dyson V11 Absolute cleans and vacuums your place powerfully and efficiently like never before. It uses a high torque cleaning head that can take in the finest dust, pet hair, and even micro-dirt like bacteria and pollen. All the time it monitors its battery with three modes of eco, auto, and boost depending on your choice. Plus, it is designed to work in minimal noise that won't disturb those around you. It is suitable on all your floor types without scratching the surface. And when you're all good and done, you can hang it back on the charging dock stylishly. (Note that the dirt brush, crevice tool, and charging dock is included in the purchase).
Customers mostly loved the strong suction that can compare directly with corded models. And needless to say, the modernistic LCD screen that makes it stand out. The reviews are from testfreaks.co.nz.
Highlights
Features a High Torque Cleaning Head
7 cell battery optimizes energy
LCD screen monitors performance
One button release to dispose dirt from the bin
8 tools to adapt to your cleaning needs
Mount wall charging dock
Customer Reviews
Indeed, the Dyson V11 Absolute is one of the best vacuum cleaners in New Zealand since it carries out a cleaning performance second to none, let alone its roster of handy features that make things that much easier.
After testing out the Dyson V11 Absolute vacuum, independent reviewer Techradar decided their verdict:
"The Dyson V11 Absolute is a fantastic cordless cleaner that can tackle both hard floors and carpets with ease. Even in Eco mode if offers powerful suction, enabling you to make the most of the 60-minute run-time. The LCD screen is easy to navigate, and is handy for letting you know if there's a blockage and how much run-time is left."
7) Miele Compact C2 Electro+
Best Vacuum Cleaner for People with Allergies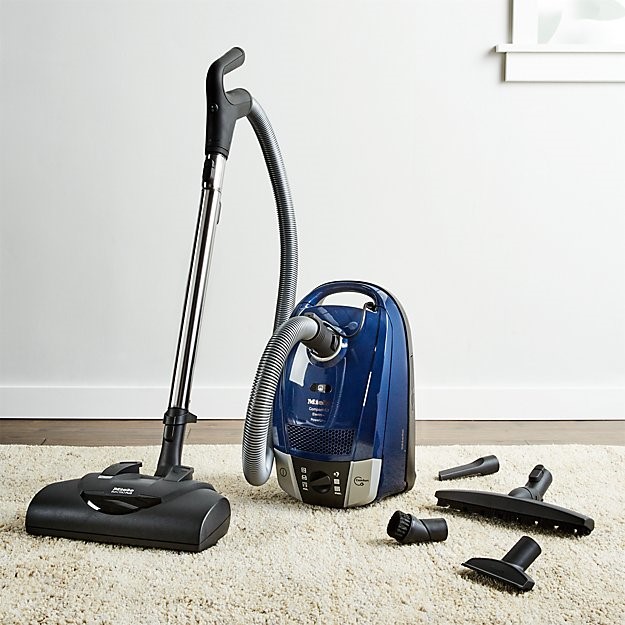 Price: NZD1514
The best feature in Miele Compact C2 Electro+ is its filtering system to ensure 99.9% of allergens, dirt, or dust doesn't come out back into the air. This will be a good factor for a family member with an allergy. It is built with Vortex motor, reliable and efficient to clear away the dirt and debris. And also, for tight spaces and narrow places, equipping the crevice tool will do the work. Let the soft glide of the cleaner head treat your floor with care and tidiness.
Miele has been a favorite brand in producing superb and high-quality appliances since 1899. That being said, you can never go wrong with Miele Compact C2 Electro+ vacuum cleaner.
Highlights
1200 w Vortex motor
6-setting Rotary Dial to control the suction level
Cleans all floor types softly and smoothly
Tools clipped around the hose (crevice, upholstery, dirt brush)
Comes with a useful HEPA filter for persons w/ allergies
Customer Reviews
Customers on Amazon have said that in addition to its impressive suction, it cleans tidily without any dust, dirt or particles flying out. What's more, another customer has said that it doesn't create too much noise for his dog to start barking noisily.
D. Coral, a top 100 reviewer of Vine Voice, reviewed two Miele models side by side: one with the Miele Compact C2 Electro+ whereas the other is with Miele S6270. And this is what he came up with:
"The handle on this one is a heavier than the handle on the non-carpet brush models because it has the electrical wires and switch inside. This difference is quite noticeable when using the small accessories. The carpet brush is a powerful, heavy duty tool! When the brush is spinning the sound reminds me of a professional vacuum cleaning a retail store carpet, except with a more pleasant muffled sounds that is not as loud (everything on these models have been engineered to make them as quiet as possible)."
8) Bissell Powerforce Helix Bagless Upright Vacuum
Best Value for Money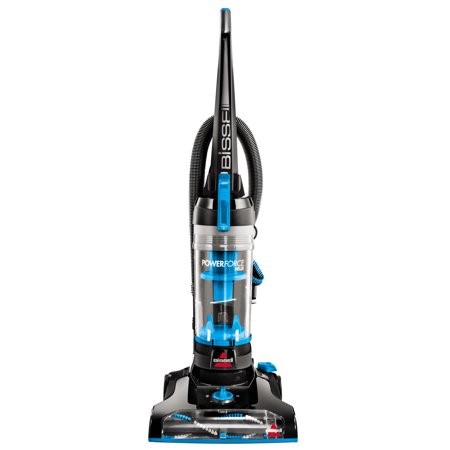 Price: NZD199
If you are on a tight budget and need a vacuum without to having to wait, then you can't go wrong with Bissell Powerforce Helix Bagless Upright Vacuum. It performs with long-lasting power suction to keep your living room and bedroom free from allergens, particulates, and grime. Three tools come with it; one such as the extension wand to reach high places and remove the dust from sticking around on walls and ceilings. After using it a couple times, you can simply wash the filter and have it run again as good as new!
People like this vacuum because it does the job under a short time and the price doesn't cost that much. The inner and outer filters for this model sells for a bundle that only costs $7.94.
Highlights
Good vacuum for an all-round cleaning
Longer-lasting suction power
Comes with a separate filter to capture fine dust & allergens
Includes tools of dusting brush, crevice tool, and extension wand
Very affordable
Customer Reviews
So far, customers have rated the Bissell Powerforce Helix 4.6/5.0 stars on The Warehouse NZ. While there's been a complaint with its shorter cord, the value and lightness it has seem to more than make up for it.
Here's what one customer, Noelani V, thinks about the Bissell vacuum cleaner:
"We have two free roam rabbits and a messy parrot so we've been needing a new vacuum for a while. We vacuum literally every day and were blown away by the value of this vacuum. Pulled all the hair, dirt, and seeds out of the carpet . After vacuum daily with our old vacuum it pulled out SO much from the carpet and now we vacuum much less. Only complaint would be I wish I had a longer hose but you can easily make do with that."
9)  Shark Rocket Ultra-Light Corded Stick Vacuum (HV302)
Lightest Vacuum Cleaner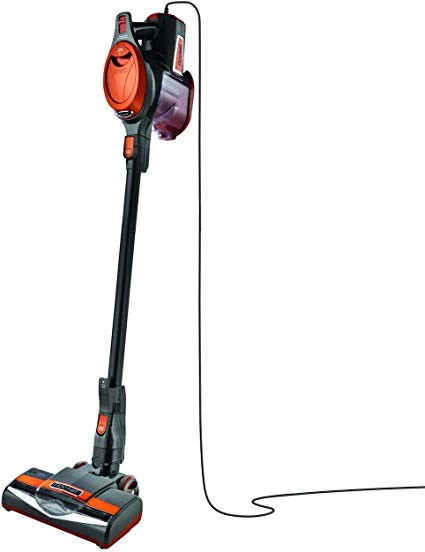 Price: NZD403
The highlight of this product is perhaps its dual feature of an upright and a handheld. Whenever you need it, you could convert it into a handheld and vacuum away at the dust between your knickknacks and collection. It is very light that keeping and using it to remove the mess after a Saturday night get-together will be an effortless task. It works on two modes, easily activated by the neighbor switches of hard floor or carpet cleaning.
For the most convenience and if you're doubting about getting what type of vacuum cleaner, this one is a smart choice. This vacuum is corded which means you won't have to worry about the battery running out.
Highlights
Extremely light at less than 8 lbs in weight
Can be used as a handheld vacuum for optimal cleaning
Swivel head for a smooth glide and flexibility
Choose between carpet and bare floor modes
Kit enables easy clean-up in tight spaces such as a car
Customer Reviews
There have been complaints regarding the after sales support and warranty coverage of the Shark Rocket on Amazon. Outside of that, many have had spotless cleaning results with this vacuum for all types of flooring, as well as pet litter/hair:
Joel Huggins, one customer, wrote an insightful review:
"Yes, this device has a cord but I'm not spending $400 on a cordless stick vac that may or may not have as much power as this one or a run time of 15 mins per 4 hour charge – gimme a break. I've had this now for a couple months and LOVE it. We bought it primarily b/c we got a puppy and while her hair isn't that bad yet we always track in grass/debris from taking her outside so often, so it is primarily used on our hardwood floors and our carpeted living room area. This product is exactly what I needed and I'm very happy with the purchase. It's versatile, powerful and easy to put away. Does a really nice job on our carpeted areas as well. I will recommend this to anyone who asks – great purchase."
10) Dyson Ball Multifloor 2
Best in Design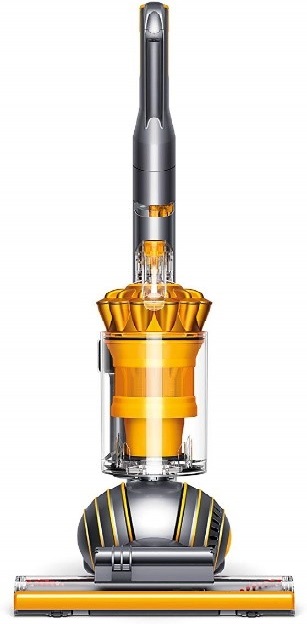 Price: NZD1182
Powered by a root cyclone more effective than other brands, it is even stronger and more accurate in lifting microscopic particles like fine dust or barely noticeable dirt. Its suction is very powerful unique to Dyson's vacuum design. And with the extendable wand it can freely suction under narrow spaces. Best of all, its design is very attractive and unique, and that only shows the greatness of Dyson brand vacuum cleaners.
And if it's not working according to your expectations, you are guaranteed a 5-year warranty for defect in its parts or tools. Customers have loved this model praising both its eye-catching design and redoubtable vacuum.
Highlights
Superior Dyson Vacuum
Ball-designed structure makes it easy to manoeuvre
Cleans hardwood, tile, vinyl, and carpet surfaces
One press release of dirt
Has an extendable wand for high surface and under furniture cleaning
HEPA filtered to trap allergens and other particulates
Customer Reviews
The Dyson Multifloor 2 had been a cause for celebration for a lot of the customers at the brand's web page. They said that it literally sucks hard and drew in those dust and dirt particles invisible to the naked eye. One also mentioned its longer cord as a total plus.
CoeCoeBean71 told how it went for her using the Dyson Multifloor 2:
"There are three things I love most in this world. My family, my dog, and my Dyson. I vacuum 1-2 times per week. After every time, I hold the dust container up and say to my husband, "I mean just *look* at it. I just vacuumed the other day." The design is incredibly intuitive and it is light and easy to use. We have a 150 pound mastiff and you would never know because this vacuum sucks up every strand of dog hair from our carpet and hardwood floors. It doesn't just eliminate dog fur, it sucks up my bad attitude after I watch the news. It washes away stress and cleanses my soul. This vacuum is getting me through the pandemic."
11)  IRobot Roomba 690 Vacuum
Best Robot Vacuum Cleaner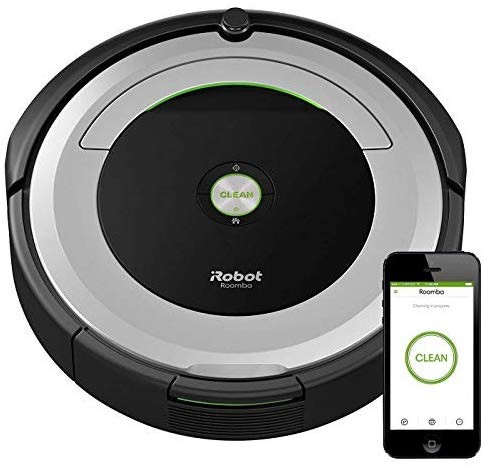 Price: NZD739
With the iRobot Roomba 690 vacuum, manually vacuuming the house is a thing of the past, at least for most of the time. It has smart sensors that will direct its movement safely whilst looking for dirt and cleaning them completely. It is very accurate and will leave the floor spotlessly clean. The edge sweeping brush first loosens the dirt, lifts it, and take them in through its rollers.
People have loved these robot vacuums that are intelligent on their own, letting you relax and chill after a long day. Although reviews point that this robot sometimes gets stuck in in tight spaces or around furniture, at least the sensors are sound enough to detect it's on top of the stairs to prevent it from falling.
Highlights
3 stage cleaning system
Detects dirt via patented Dirt Detect around the house
Adjusts its height automatically for the floor and carpet
Moves around the place safely and efficiently
Comes with a recharging dock for its battery
Customer Reviews
Claire posted a video on Amazon to show how it works for her. And she wrote:
"We have her set to clean every day and are amazed at how much dirt she still picks up. I wasnt sure if the app was necessary at first, but I love it. You don't even have to be within WiFi range to start her, as long as you have Internet on your phone and she's within WiFi range. It also tells you when she's stuck, done cleaning, or any other important statuses. It shows you how to clean her and when she needs to be clean with instructional videos , which really helps my mom since an instruction book would be too small for her to read. She is part of the family now, though we probably feed her too much. I feel bad for anyone that doesn't have an experience like us. I've bragged on her so much that two of my mom's friends went and bought one after seeing the videos I've posted. Too bad I don't get paid for this, lol."