The 12 Best Volunteer Auckland Groups
Volunteering lets us take action about the things we truly care about. If you're looking for a meaningful role to fill in, no problem, as we've put together a list of the best volunteer Auckland groups here.
We opted for the ones that allow you to benefit the people and community you work for. Also, we chose those where you can hone your skills as well as make great, lasting friendships.
If you're ready, here's our lineup of the best volunteer Auckland groups!
1) Volunteering Auckland

| | |
| --- | --- |
| BEST FOR | Fun and fulfilling volunteer roles |
| SERVICES | Individuals Team Volunteering Nonprofits |
| WEBSITE | https://volunteeringauckland.org.nz/ |
| ADDRESS | 10 New North Road, Eden Terrace, Auckland 1021, New Zealand |
| CONTACT DETAILS | +64 9-377 7887 |
| OPERATING HOURS | Monday – Thursday: 9.30 AM – 4.30 PM Friday: 9.30 AM – 3.00 PM |
Volunteering Auckland is dedicated to guiding people who are looking to make a positive change and give back to the community they're in.
There are tons of fun and fulfilling volunteer roles to join, whether as an individual, team, or non-profit organization.
You may want to participate in roles like a gift wrapper, elderly caregiver, usher, car park and security person, business facilitator, social media manager, or more.
Additionally, if your company is into its own volunteer programme, Volunteering Auckland can assist from training and recruitment to seminars and event organizations.
Highlights
Fun and fulfiling volunteer roles
Works with over 250 non-profit organisations
Amiable staff
Offers training and recruitment services
Customer Reviews
Fernanda V., one reviewer, wrote this of Volunteering Auckland:
"Volunteering Auckland is a great organization dedicated to make a positive change in the community. I highly recommend VA to those that are looking to give back to the community and need guidance to start their volunteer experience! The staff is very friendly and passionate about its mission."
2) SEEK Volunteer

Established in 2015, SEEK Volunteer's mission is to connect individuals to volunteer opportunities, for the cause they care about, in an environment convenient to them.
Animal care services, disability, retail, environment and conservation, education, aged care… the list is endless. You can help in many ways while expanding your skills too!
This can be a great stepping stone for your career, whether you're foraying into this line of work in the future or simply improving your leadership skills.
SEEK Volunteer works with a peak volunteer organization, Volunteering New Zealand. They have a number of useful resources for volunteer advice, help, and support, which you can check out.
Highlights
Established in 2015
Has an array of job opportunities
Provides a way to expand your skills
Great stepping stone for your career
3) Auckland Zoo

BEST FOR
Zoo volunteer
SERVICES
Visitor Assistant Zoo Guide Enrichment Volunteer Keeper Assistant Tuatara Club Junior Volunteer Zoo Crew Community Group
WEBSITE
https://www.aucklandzoo.co.nz/get-involved/volunteer
ADDRESS
99 Motions Road, Auckland, New Zealand 1022
CONTACT DETAILS
(09) 360 3805

[email protected]

OPERATING HOURS
Monday – Sunday: 9.30 AM – 5.30 PM
If you have a soft spot for animals and want to help out in some way, volunteering at Auckland Zoo is a terrific idea!
One of the best volunteer Auckland groups, they have a friendly and respectful culture, not to mention a true passion for conserving wildlife and their habitat.
At this place, you will develop valuable skills and forge lifelong friendships. Depending on your personality, you can volunteer from a range of front-end or back-end roles.
Among the things you can do are greeting the visitors on their way in, educating people about caring for animals, cleaning the surroundings, and helping out the zookeepers.
Highlights
Fun and friendly culture
A place where you can develop valuable skills
Have a range of roles you can volunteer for
Take care of animals and their places
Customer Reviews
Here's a review from one client, giving a glimpse of what it's like to work as a volunteer at Auckland Zoo:
"We had a great family day out here with my 3 nephews, all aged 3 & under. The volunteers here are just brilliant, engaging the kids with fun facts about the animals, helping you find your way around, and creating an all-around fun atmosphere. We will definitely go back."
4) Auckland City Mission

Auckland City Mission is a social services organization that provides help to people who are in desperate need, such as those in homeless communities and emergency situations.
The venue is at Grafton Distribution Centre or Haeata Community Centre. Here, you will be preparing food parcels and sorting out donated clothing and household items.
Shift times vary, so kindly check their website via the link provided above. If you have any questions, you can call Anne, the volunteer services manager, on 027 700 4208.
Highlights
Reputable social services company
You can help those in desperate need
Helpful and friendly staff
Prepares food packages and donates clothing and things to use
Customer Reviews
Here's proof that Auckland City Mission belongs to the best volunteer Auckland groups list. Max said:
"Very helpful place for food packages for the struggling or daily meals from appropriate times (I think just lunch and dinner), very nice meals and clean modern dining area. Helpful staff, doctors are available by appointment and many other services for the low-income families or persons."
5) New Zealand Red Cross

| | |
| --- | --- |
| BEST FOR | Volunteer opportunities where you can learn essential skills |
| SERVICES | Disaster Response Team Volunteer Event Volunteer Good and Ready Volunteer Meals on Wheels Driver Open Road Driver Training Mentor Red Cross Shop Volunteer Refugee Support Volunteer |
| WEBSITE | https://www.redcross.org.nz/get-involved/volunteer-opportunities/auckland/ |
| ADDRESS | 33 Lambie Drive, Manukau, Auckland 2104, New Zealand |
| CONTACT DETAILS | +64 9-262 0942 |
| OPERATING HOURS | Monday – Friday: 9.00 AM – 5.00 PM |
For over a century, Red Cross has been supporting people in times of need worldwide. You can be part of this admirable team.
They let you volunteer across a broad range of areas, including disaster response, events, refugee assistance, driving, meals on wheels, and even shop volunteering.
Not only will you be able to lend a helping hand to others who need it the most but also learn valuable skills like first-aid, for instance.
Therefore, New Zealand Red Cross is another of the best volunteer Auckland groups you can join.
Highlights
Fantastic experience
Learn valuable skills
Provides a broad range of volunteer works
Internationally-recognised company
6) Auckland Irish Society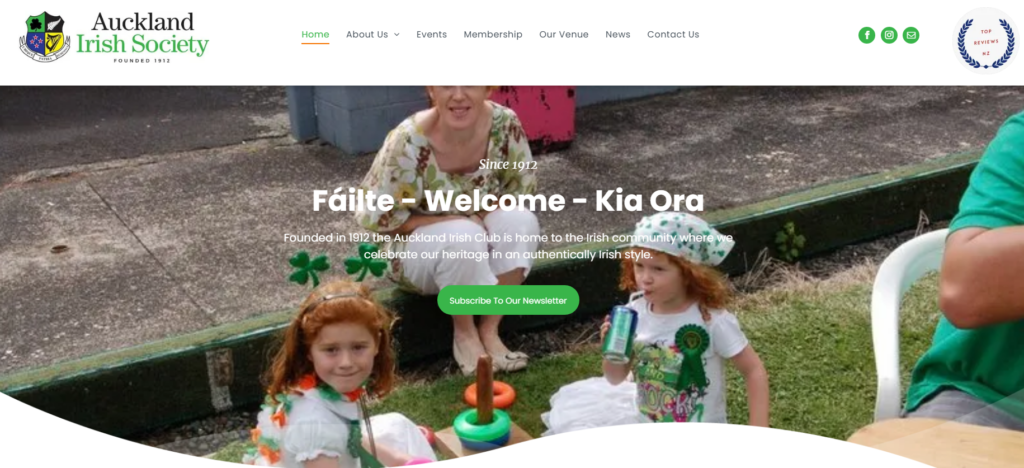 Founded in 1912, the Auckland Irish Society originally functioned as a volunteer group that allows immigrants to socialise and support each other in New Zealand. As time passed by, the organization grew to become an active and thriving community where members, both young and old, can celebrate their Irish heritage.
Auckland Irish Society gives Irish people the opportunity to do so by holding various events throughout the year. Some to name are cultural and sporting events, live music showcases, Irish dancing, and traditional ceili dancing classes, folk music club, a weekly quiz, and twilight bowls in the summer.
Currently, the organization has over 600 members participating in these events. To end things off, it's worth noting that the Auckland Irish Society opens its doors to Irish people as well as those who are Irish at heart.
Highlights
Wide array of cultural events held each year
Opportunity to socialise and build up network
Open to Irish and non-Irish people
7) New Zealand Nepal Society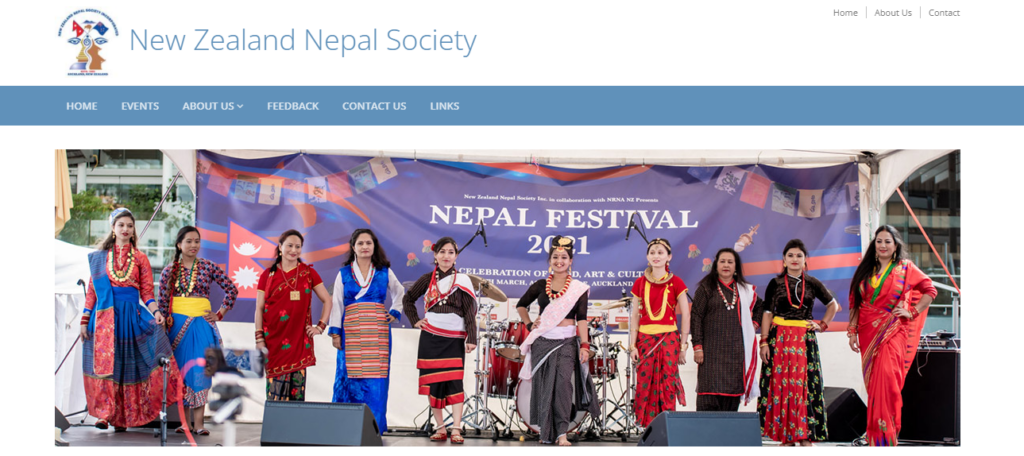 The New Zealand Nepal Society was first established on August 30, 1995, with the goal of creating a multicultural and multi-ethnic organisation for the people of New Zealand.
Over the years, the New Zealand Nepal Society has seen numerous volunteers who sought to help the organisation host events that celebrate and connect the various ethnic groups of New Zealand and Nepal, such as Sherpa, Gurung, Kiwi, Brahman, Chhetri, Newa, Rai and others.
Ever since it was first established, the New Zealand Nepal Society has not let a year pass by where they didn't host a cultural event. They even organise gatherings to thank the volunteers that help make celebrations happen.
Highlights
Hosts several events throughout the year
Provides volunteers the opportunity to join a community and network
Promotes harmony and understanding among all members and other ethnic groups in New Zealand
8) Aotearoa Latin American Community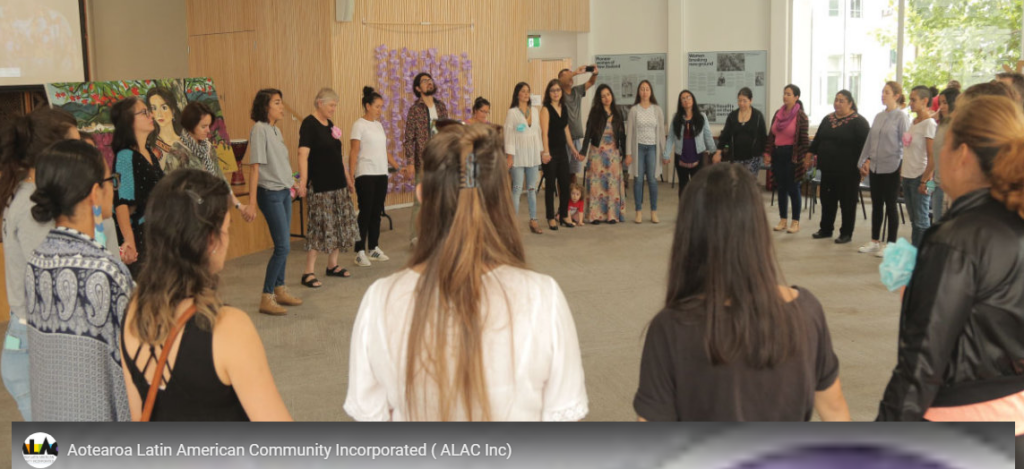 Next on our list is the Aotearoa Latin American Community or ALAC for short.
The Aotearoa Latin American Community stands for many things, including the respect and promotion of human dignity, cultural diversity, and non-discrimination.
ALAC endeavours to create a community that welcomes Latin American and Spanish people in New Zealand. In addition to that, they strive to give the community access to culturally appropriate, bilingual, and safe social and cultural activities.
All of these they do so that Latin American and Spanish people can happily resettle and live independent lives in New Zealand.
Highlights
Seeks to support and educate Latin American and Spanish people
Creates a community that celebrates diversity and non-discrimination
Holds various events throughout the year
9) It's Accessible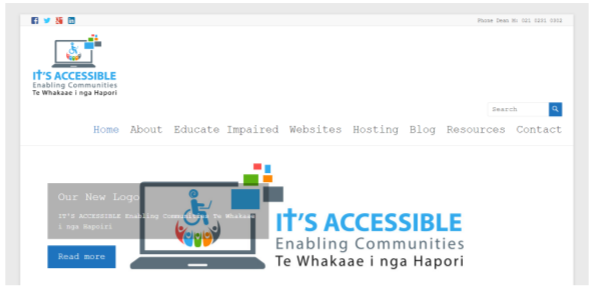 BEST FOR
Free Website Development for Charities
SERVICES
Content Management Systems
Website Designing
Redesigning your existing Website
Graphic Design
Responsive Design
Complete SEO Packages (On Page, Off Page)
Help set up Google Adword grants for charities.
Mobile Application and Development (iPhone, Android, Blackberry, Windows) etc.
Cyber Security
Software and Hardware
UI designing
MySQL Database
Programming
Business Analysis
WEBSITE
https://www.itsaccessible.net.nz/
ADDRESS
26 Coburg St, Waitakere City Auckland 0612, New Zealand
CONTACT DETAILS
Phone: + 64 (0) 9 8371166
Mobile: + 64 (0) 21 02310302
Email: [email protected]
OPERATING HOURS
24/7
It's Accessible is charity that helps physically impaired individuals learn IT-related services. They firmly believe that even those who are impaired have something valuable to contribute to society and in this way, they help them attain the skills for it.
They develop and create websites for charities for free and employ especially the impaired for the job. Furthermore, they charge justly for the hour in order to have a sustainable trust fund circulated for the organization and charity.
Having donated over $2000 already to these charities, they further their passion by giving free online lessons and resources to impaired individuals as well. They understand that it might be hard to acquire and employ the most suitable coach in honing these skills and so they guide them in getting started with the resources they have.
We recommend this charity to volunteer at due to their sustainable and inclusive advocacy for the impaired that will surely benefit the community as a whole.
Highlights
Open all week
Supports impaired individuals
Inclusive advocacy
Customer Reviews
Here are some reviews from their clients:
"…maintained the website over the years and brought in many improvements…We are very happy to support him in his application to you to help him in his worthy venture." – Di Willis, Elevate Christian Disability Trust
"…continues to study the latest web design applications and maintains the TASC website, keeping it up to date and user friendly. … now a Life Time member of TASC…" – Anita O'connor, The Association for Spinal Concerns
10) Age Concern Auckland Inc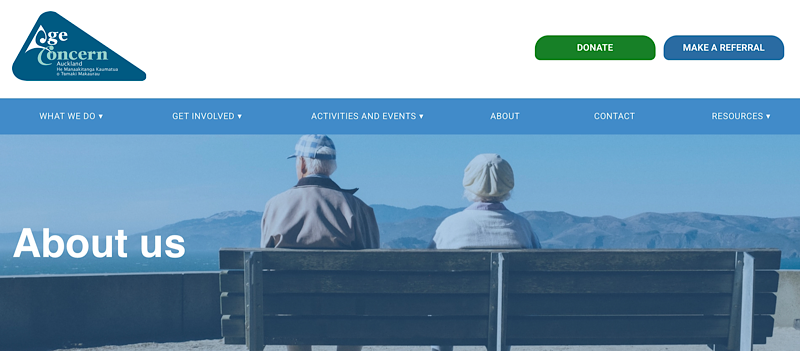 BEST FOR
Elderly Support and Engagement
SERVICES
Volunteering, Health Promotion Activities and Workshops, Memberships, and Support
WEBSITE
https://www.ageconcernauckland.org.nz
ADDRESS
Central & West
57 Rosebank Road, Avondale, Auckland 1026

Counties Manukau
Cambria Park Homestead, 250 Puhinui Road, Papatoetoe 2025

North Shore
177B Shakespeare Road, Milford, Auckland 0620
CONTACT DETAILS

[email protected]



Central & West Auckland
09 820 0184

Counties Manukau
09 279 4331

North Shore
09 489 4975
OPERATING HOURS
Monday – Friday: 9am to 4pm
Age Concern Auckland Inc envisions an inclusive society for people of all ages by pursuing the promotion of the wellbeing, rights, respect, and dignity of the elderly.
They recruit and select volunteer visitors by first conducting referee and police checks. Once volunteers undergo training, they are matched with an older person to provide support for.
Each location in Central West, Counties Manukau, and North Shore has health promotion activities involving workshops such as technology for seniors, improving sleep for seniors, and aging mindfully.
Aside from offering support and activities for the elderly, Age Concern Auckland Inc. offers services such as the total mobility half-price taxi card, elder abuse response service, community social work, counseling service, health promotion, community strength, and balance, and Asian services.
The community can also participate through one-off donations, monthly giving, legacy giving, memberships, supporting, and buying products such as the Nostalgic Nosh and Life Tube.
Highlights
Volunteering
Workshops and activities with older people
Mutually-benefitting experience
Charitable organization
11) The Korean Society of Auckland Inc. (N.Z)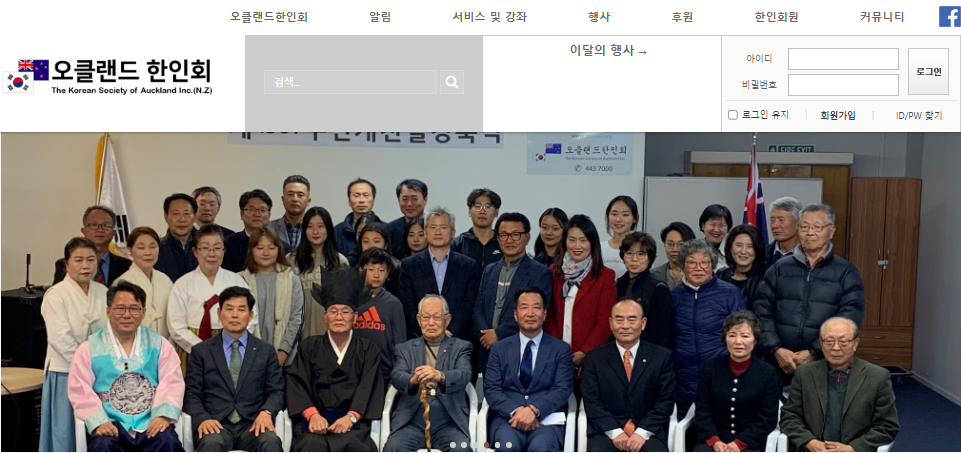 Setting in a different country is never easy and becoming homesick is inevitable.
Being led by Byeon Sook to date, the Korean Society of Auckland is one of the eleven Korean associations in New Zealand. This society provides vast support to Koreans and their families who have migrated.
The Korean Society of Auckland gives an avenue for Korean immigrants to support and socialize with each other. It provides them to adjust and at the same time preserve Korean culture upon living in Auckland.
They provide services such as JP Notarization, counseling sessions for consultation of complaints and accounting, and legal advice. They also have lectures, such as health promotion and nursing courses, music classes (Yeongnam Samulnori and Gayageum classroom), folk painting class, and line dance.
We also like that they ensure that you won't miss any social events and seminars in this society as they publish a Korean business directory yearly.
In becoming a member of this society, a membership fee applies and varies depending on your age and on how you would like to pay for your membership.
Being a member also has its perks. You will be granted voting rights on meetings, access to Korean American Association operation and business, financial, and accounting data.
You'll also get a 20% discount on health checkups at approved Korean hospitals with medical agreements, and a 10% discount on outpatient/hospitalization expenses.
Highlights
Promotes harmony and understanding among all members while appreciating, understanding, and practicing Korean culture
Promotes friendly relations between Korea and New Zealand
Hosts several events throughout the year
Catered specifically to Korean people
12)  Belong Aoteroa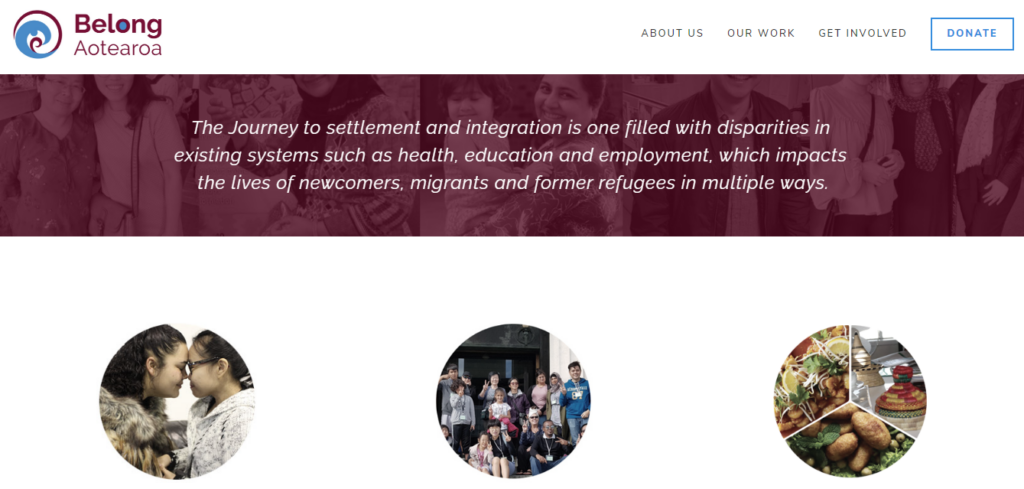 BEST FOR
Enriching and Guiding Volunteer Programs
SERVICES
Settlement Initiatives
WEBSITE
https://www.belong.org.nz/
ADDRESS
Level 2, 8 Virginia Ave East, Eden Terrace Auckland, New Zealand 1021
CONTACT DETAILS
+64 9-625 2440 /

[email protected]

OPERATING HOURS
Monday – Friday: 9:00 AM – 4:00 PM
Belong Aoteroa is a non-profit organization and social enterprise that aids migrants and other newcomers in settling around Aotearoa. They recognize that these communities are one of the most vulnerable and in need of guidance and so each of their activities is geared toward their sustainable settlement and development.
We find their programs enriching and proactive since it accommodates several locations across Auckland which are specifically designed to accommodate migrants, refugees, and newly established ethnic groups in the area in a multidisciplinary fashion.
Aside from this, they are partnered up with WISE Collective catering which serves fresh, authentic, and delectable local dishes that can surely introduce the culture to newcomers in an exemplary way.
With impact models and innovative strategies in place, their work toward an inclusive and non-discriminatory community has bore fruition as they are able to accommodate individuals of all ages. Though they currently have limited initiatives toward education which could also be a vital aspect for the newcomers.
Nonetheless, we recommend this organization and find it very ideal for volunteers and migrants alike since not only will the area's culture be shared but it also presents to individuals opportunities to get to know the community for both sides and form multi-cultural bonds as well.
Highlights
Geared toward migrants and other newcomers in the community
Various connections and partnerships for programs
Holisitic and innovative strategies
Customer Reviews
Here are some reviews from their services:
"Great support to new migrants to New Zealand to get right guidance towards their permanent settlement. Compliments to a very dedicated team of ARMS."
"ARMS is doing excellent efforts for the settlement of the immigrants."
And that's a wrap for the best volunteer Auckland groups list! Your volunteering goes a long way in assisting those in need and creating positive change in the lives of others.
Is everything about our discussion clear so far? If you've got questions, just leave a comment below and we'll get back to you promptly.
After a long day of volunteering, you might want to treat yourself to a classy restaurant with great food — everyone deserves to do a nice thing for him or herself every once in a while, after all. For this, you can check out our list of the best Ponsonby restaurants!