The 6 Best Volunteer Auckland Groups
Volunteering lets us take action about the things we truly care about. If you're looking for a meaningful role to fill in, no problem, as we've put together a list of the best volunteer Auckland groups here.
We opted for the ones that allow you to benefit the people and community you work for. Also, we chose those where you can hone your skills as well as make great, lasting friendships.
If you're ready, here's our lineup of the best volunteer Auckland groups!
1) Volunteering Auckland

| | |
| --- | --- |
| BEST FOR | Fun and fulfiling volunteer roles |
| SERVICES | Individuals Team Volunteering Nonprofits |
| WEBSITE | https://volunteeringauckland.org.nz/ |
| ADDRESS | 10 New North Road, Eden Terrace, Auckland 1021, New Zealand |
| CONTACT DETAILS | +64 9-377 7887 |
| OPERATING HOURS | Monday – Thursday: 9.30 AM – 4.30 PM Friday: 9.30 AM – 3.00 PM |
Volunteering Auckland is dedicated to guiding people who are looking to make a positive change and give back to the community they're in.
There are tons of fun and fulfiling volunteer roles to join, whether as an individual, team, or non-profit organisation.
You may want to participate in roles like gift wrapper, elderly caregiver, usher, carpark and security person, business facilitator, social media manager, or more.
Additionally, if your company is into its own volunteer programme, Volunteering Auckland can assist from training and recruitment to seminars and event organisation.
Highlights
Fun and fulfiling volunteer roles
Works with over 250 non-profit organisations
Amiable staff
Offers training and recruitment services
Customer Reviews
Fernanda V., one reviewer, wrote this of Volunteering Auckland:
"Volunteering Auckland is a great organisation dedicated to make a positive change in the community. I highly recommend VA to those that are looking to give back to the community and need guidance to start their volunteer experience! The staff is very friendly and passionate about its mission."
2) SEEK Volunteer

Established in 2015, SEEK Volunteer's mission is to connect individuals to volunteer opportunities, for the cause they care about, in an environment convenient to them.
Animal care services, disability, retail, environment and conservation, education, aged care… the list is endless. You can help in many ways while expanding your skills too!
This can be a great stepping stone for your career, whether you're foraying into this line of work in the future or simply improving your leadership skills.
SEEK Volunteer works with peak volunteer organisation, Volunteering New Zealand. They have a number of useful resources for volunteer advice, help, and support, which you can check out.
Highlights
Established in 2015
Has an array of job opportunities
Provides a way to expand your skills
Great stepping stone for your career
3) Auckland Zoo

BEST FOR
Zoo volunteer
SERVICES
Visitor Assistant Zoo Guide Enrichment Volunteer Keeper Assistant Tuatara Club Junior Volunteer Zoo Crew Community Group
WEBSITE
https://www.aucklandzoo.co.nz/get-involved/volunteer
ADDRESS
99 Motions Road, Auckland, New Zealand 1022
CONTACT DETAILS
(09) 360 3805

[email protected]

OPERATING HOURS
Monday – Sunday: 9.30 AM – 5.30 PM
If you have a soft spot for animals and want to help out in some way, volunteering at Auckland Zoo is a terrific idea!
One of the best volunteer Auckland groups, they have a friendly and respectful culture, not to mention a true passion for conserving wildlife and their habitat.
At this place, you will develop valuable skills and forge lifelong friendships. Depending on your personality, you can volunteer from a range of front-end or back-end roles.
Among the things you can do are greeting the visitors on their way in, educating people about caring for animals, cleaning the surroundings, and helping out the zookeepers.
Highlights
Fun and friendly culture
A place where you can develop valuable skills
Have a range of roles you can volunteer for
Take care of animals and their places
Customer Reviews
Here's a review from one client, giving a glimpse of what it's like to work as a volunteer at Auckland Zoo:
"We had a great family day out here with my 3 nephews, all aged 3 & under. The volunteers here are just brilliant, engaging the kids with fun facts about the animals, helping you find your way around and creating an all round fun atmosphere. We will definitely go back."
4) Auckland City Mission

Auckland City Mission is a social services organisation that provides help to people who are in desperate need, such as those in homeless communities and emergency situations.
The venue is at Grafton Distribution Centre or Haeata Community Centre. Here, you will be preparing food parcels and sorting out donated clothing and household items.
Shift times vary, so kindly check their website via the link provided above. If you have any questions, you can call Anne, the volunteer services manager, on 027 700 4208.
Highlights
Reputable social services company
You can help those in desperate need
Helpful and friendly staff
Prepares food packages and donates clothing and things to use
Customer Reviews
Here's proof that Auckland City Mission belongs to the best volunteer Auckland groups list. Max said:
"Very helpful place for food packages for the struggling or daily meals from appropriate times (I think just lunch and dinner), very nice meals and clean modern dinning area. Helpful staff, doctors are available by appointment and many other services for the low income families or persons."
5) New Zealand Red Cross

| | |
| --- | --- |
| BEST FOR | Volunteer opportunities where you can learn essential skills |
| SERVICES | Disaster Response Team Volunteer Event Volunteer Good and Ready Volunteer Meals on Wheels Driver Open Road Driver Training Mentor Red Cross Shop Volunteer Refugee Support Volunteer |
| WEBSITE | https://www.redcross.org.nz/get-involved/volunteer-opportunities/auckland/ |
| ADDRESS | 33 Lambie Drive, Manukau, Auckland 2104, New Zealand |
| CONTACT DETAILS | +64 9-262 0942 |
| OPERATING HOURS | Monday – Friday: 9.00 AM – 5.00 PM |
For over a century, Red Cross has been supporting people in times of need worldwide. You can be part of this admirable team.
They let you volunteer across a broad range of areas, including disaster response, events, refugee assistance, driving, meals on wheels, and even shop volunteering.
Not only will you be able to lend a helping hand to others who need it the most but also learn valuable skills like first-aid, for instance.
Therefore, New Zealand Red Cross is another of the best volunteer Auckland groups you can join.
Highlights
Fantastic experience
Learn valuable skills
Provides a broad range of volunteer works
Internationally-recognised company
6) Auckland Irish Society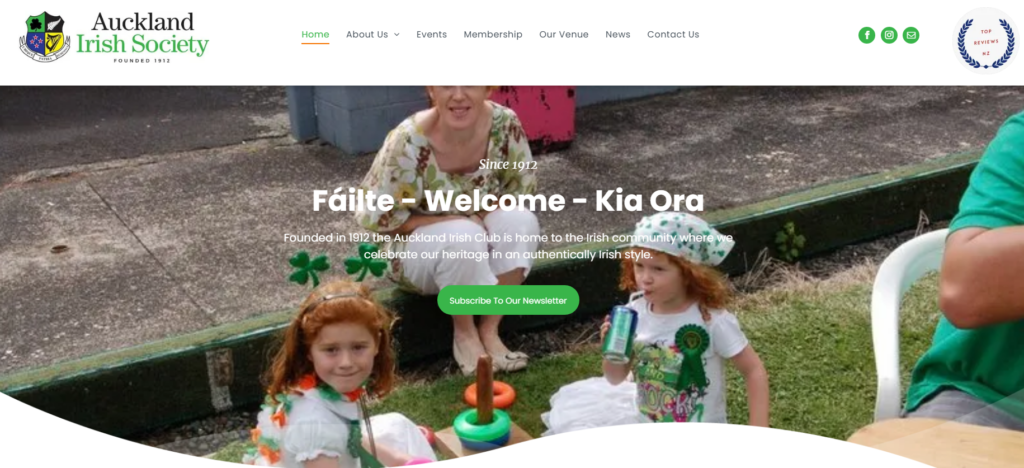 Founded in 1912, Auckland Irish Society originally functioned as a volunteer group that allows immigrants to socialise and support each other in New Zealand. As time passed by, the organisation grew to become an active and thriving community where members, both young and old, can celebrate their Irish heritage.
Auckland Irish Society gives Irish people the opportunity to do so by holding various events throughout the year. Some to name are cultural and sporting events, live music showcases, Irish dancing, and traditional ceili dancing classes, folk music club, a weekly quiz, and twilight bowls in the summer.
Currently, the organisation has over 600 members participating in these events. To end things off, it's worth noting that the Auckland Irish Society opens its doors to Irish people as well as those who are Irish at heart.
Highlights
Wide array of cultural events held each year
Opportunity to socialise and build up network
Open to Irish and non-Irish people
And that's a wrap for the best volunteer Auckland groups list! Your volunteering goes a long way in assisting those in need and creating positive change in the lives of others.
Is everything about our discussion clear so far? If you've got questions, just leave a comment below and we'll get back to you promptly.
After a long day of volunteering, you might want to treat yourself to a classy restaurant with great food — everyone deserves to do a nice thing for him or herself every once in a while, after all. For this, you can check out our list of the best Ponsonby restaurants!