The 8 Best Volunteer Wellington Services
Image credit: Stuff.co.nz
It's a win-win situation when you volunteer — not only do you get to help others, but you'll also learn new skills and knowledge. Hence, if you're keen on giving back to the community, we've listed the best volunteer Wellington services here for you.
We selected those whose activities have an element of fun, excitement, and gratification. Apart from this, we included those with friendly and wonderful staff as well as with outstanding reviews.
Interested? Good! You can scroll down now to know the best volunteer Wellington services!
1) Volunteer Wellington

BEST FOR
Enthusiastic and inclusive people
SERVICES
Individual Volunteering Employee Volunteering Training & Events
WEBSITE
https://volunteerwellington.nz/
ADDRESS
186 Willis Street, Te Aro, Wellington 6011, New Zealand
CONTACT DETAILS
+64 4-499 4570

[email protected]
If you're looking for the best volunteer Wellington services, your search is over. Volunteer Wellington advocates and champions volunteering more than anything else.
Here, it's all about diversity, passion, teamwork, friendliness, integrity, and respect. That's why they're excellent to work with — they work together toward a common goal.
They are partnered with 380+ community organisations whom you can volunteer for. Be it for an environmental cause, social service, or education, you are covered.
With them, you can get to know other like-minded people, acquire new skills, and gain self-confidence and self-esteem. On top of it all, you get to help the people you are with and the place you call home.
Training and recruitment services are also offered, in case you have your mind set on a voluntary programme for your employees or colleagues to participate in.
Highlights
Lots of volunteer opportunities
Passionate and inclusive people
Build your skillset while helping the community
Also offers training and recruitment services
2) Conservation Volunteers New Zealand

| | |
| --- | --- |
| BEST FOR | Conservation volunteers |
| SERVICES | Tree Planting Removing Pests and Weeds Rubbish Removal Protecting Threatened Animals |
| WEBSITE | https://conservationvolunteers.co.nz/ |
| ADDRESS | 21 Manchester Terrace, Melrose, Wellington 6023, New Zealand |
| CONTACT DETAILS | 0800 567 686 |
| OPERATING HOURS | Monday – Friday: 9.00 AM – 5.00 PM |
The environment has been sustaining us ever since we were born, and it did the same for all the people before us. It's a great thing to be able to give back to it in one way or another.
That's what Conservation Volunteers New Zealand is here for. They organise different conservation activities with the aim to protect Mother Earth and its beautiful animals.
Whether you want to plant trees, encourage others to reuse and recycle, or help threatened species, you're welcome to join as a conservation volunteer — it will be well worth it.
Highlights
Conservation volunteer activities
Gives you a wonderful experience
Enjoyable and fulfiling work
Customer Reviews
One volunteer, Jakia N., wrote a review of Conservation Volunteers New Zealand:
"It was great experience and when we give back something to our society we feel great."
3) Wellington Volunteer Coastguard

Probably the coolest thing you can volunteer for is to be a coastguard. Their mission is to save lives on the water.
Anyway, here's an interesting fact: the NZ Coastguard is comprised mostly of volunteers, especially those in the search and rescue team.
Here, there's a selection of things you can be a part of. That can be as a wet crew, communications personnel, air patrol (including being a pilot, of course), and administration.
The volunteer work is both exciting and challenging, but the best part of it is that you'll receive top-class maritime training. Also, you'll learn to trust and work with others and form new friendships along the way.
Highlights
Exciting and challenging
Volunteer as a coastguard
Selection of works available
Receive top-class maritime training
Customer Reviews
One person stated this about volunteering at Wellington Volunteer Coastguard:
"I don't do this to be rewarded. It's a personal thing. Coastguard enhances my skills, and the reward is helping the community and the gratification that comes with helping someone who needs us."
4) Wellington City Council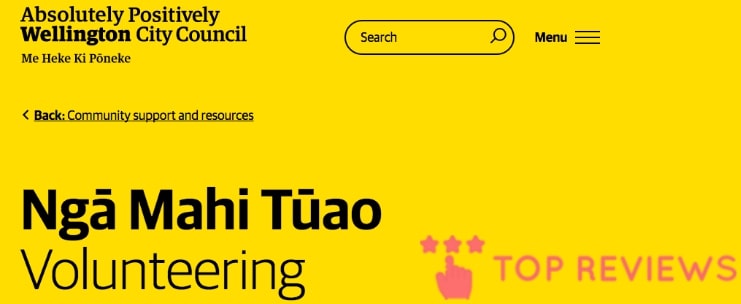 Wellington City Council offers a list of volunteer tasks including graffiti removal, group planting, track building, rubbish collection, and botanic garden tour and guide.
For graffiti removal, you can sign up as an individual or group. For this, you can drive around the metro to remove or spot and report any graffiti vandalism.
They have some of the best volunteer Wellington services where you can make an inspiring difference, learn new skills, and expand your network and social circle.
For other volunteer roles that may interest you, like working for Zealandia or Wellington Zoo, you can know more via the link indicated above.
Highlights
Has a graffiti removal programme
Also offers other volunteer activities
Great and fun experience
Learn new skills
5) Youthline

If you have a desire to help the youth by counselling or teaching, then you can volunteer at Youthline Wellington — they have some of the best volunteer Wellington services.
Having been around for 50 years, they are committed to helping young people grow to be confident and ethical individuals. Moreover, they can guide them to make wise decisions and support them so the kids can realise their potential.
However, you will have to attend their 2-week PDP programme before you can volunteer.
Their helpline counsellors get quite a lot of calls, text, and web chats. So, you have to know how to approach the situation and help the youth to deal with his problems.
You can also apply as a volunteer for youth work, operational roles, or events. For more details, kindly check their website.
Highlights
Rewarding and challenging
Offer youth work volunteer roles
Help young ones through education or counselling
50 years of service
6) Wellington Community Justice Project 

Wellington Community Justice Project was started by law students for co-students to help with volunteer work when it comes to providing the people of wellington a better access when it comes to different legal avenues.
Its main aim is to help those in need while still providing experience and knowledge to law students.
So if you're interested in volunteering with them and gaining new knowledge on legal works, then contact Wellington Community Justice Project for more information.
You're also free to suggest new ideas for them to do, then you're free to contact them, too!
Highlights
Amazing opportunities for law students that volunteers
Helps a lot of people with legal works
Offers a chance to make new projects
7) Dress for Success Wellington 

| | |
| --- | --- |
| BEST FOR | Women Empowerment |
| SERVICES | Donation Drives, Volunteer Work |
| WEBSITE | https://wellington.dressforsuccess.org/ |
| ADDRESS | Waterside, House, Level 3/220 Willis Street, Wellington 6011, New Zealand |
| CONTACT DETAILS | 64 4-473 2940 |
Dress for Success Wellington provides women one of the basic needs to start them up at work: professional attires. Their goal is to support and empower women, and more volunteers are just what they need!
By volunteering at Dress for Success Wellington, not only are you helping women, but you're also giving yourself a chance to develop new skills, meet new people, and also build your experience as you go.
They also accept clothes donations aside from volunteer work. Make sure to check their website for any upcoming events or contact them to sign up or start a new drive.
Highlights
Learn new skillsets
Educate women on dressing and make-up applications
Improve resumes
Customer Reviews
Read this review of Chris Halse on Dress for Success Wellington:
"Extremely helpful staff, with a very cheerful attitude & atmosphere. They are very dedicated to helping people look their best when getting into corporate work."
8) Kiwi Community Assistance

BEST FOR
Local charities
SERVICES
Food, Fund, Goods, and Time Donations
WEBSITE
https://www.kca.org.nz/
ADDRESS

Postal and Courier Address:

Kiwi Community Assistance
C/- 5 Peterhouse Street
Tawa, Wellington 5028 

CONTACT DETAILS

[email protected]

 
Kiwi Community Assistance or KCA was founded on the desire to make a difference in the community. Tawa couple Tracy and Phil first began by contacting local agencies to find out what's needed in the community before reaching out to others who also wanted to see a positive change in the world.
Nowadays, KCA has become a one-stop distributing hub to local charities, communities, and food banks. The KCA team works closely with the community, which consists of large-scale entities like supermarkets, hotels, and manufacturing groups, as well as smaller entities like farmers markets and common folks. 
They gather funding, food, and goods and help distribute them to communities in need. Those who do not have material possessions to spare need not fret since KCA always welcomes those who are willing to lend a helping hand. 
Volunteers can join in item distribution, sewing old materials and turning them into something new, or rescuing unused toiletries to reduce waste.
Highlights
Upcycles and donate linen, wool, and fabrics
Improve resume through good, honest work
Anyone welcome to volunteer
And that's it for the best volunteer Wellington services. Through these organizations, you can volunteer from a wide range of roles to give back to the community.
Do you have any other questions or opinions about our topic? If you have any, please leave a comment below and we'll get back to you as soon as we can.
Moreover, you can check out some of our other articles for resources that can help you gain skills that can benefit others — like the best cooking classes in Auckland. You can use the cooking skills that you've learned to help people when you volunteer at places like soup kitchens!