The 5 Best Waiheke Wineries
Dubbed as 'The Island of Wine', Waiheke has around 30 wineries scattered across the land. Most of them have scenic views, beautiful vineyards, and acclaimed restaurants.
To assist you in finding a winery that you'd want to visit, we've put together our own list of the best Waiheke wineries here for you.
It would be an exciting trip when you're coming from Auckland CBD. It will seem like an altogether different world as you take the ferry from the city to Waiheke Island.
We've already narrowed down the options to the very best wineries you can find. Scroll down to know more about them.
The Best Waiheke Wineries
Are you ready to proceed? If so, here are the most beautiful and best wineries in Waiheke!
1) Wild on Waiheke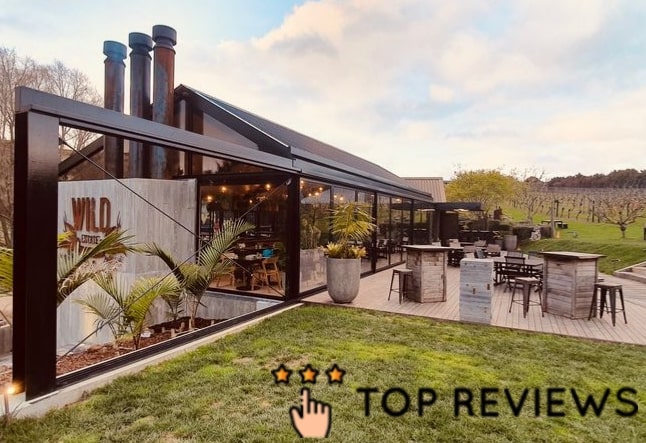 BEST FOR
Casual and relaxed wine tasting
SERVICES
Wine-tasting Lunch & dinner Wedding Activities Functions
WEBSITE
https://wildonwaiheke.co.nz/
ADDRESS
Wild Estate, 82 Onetangi Road, Auckland, New Zealand 1971
CONTACT DETAILS
+64 9-372 3434

[email protected]

OPERATING HOURS
Monday, Wednesday & Thursday: 11.30 AM – 5.00 PM Tuesday: closed Friday & Saturday: 11.30 AM – 9.00 PM Sunday: 11.30 AM – 5.00 PM Public holidays*: closed *This includes Christmas Day, Boxing Day, Waitangi Day, Good Friday, Easter Monday, Anzac Day, Labour Day
PRICES
Kindly view their rates here
Formed in 2007 by Simon and Keryn Matthews, Wild on Waiheke is set in a stunning backdrop of lush farmland with a boutique vineyard and bustling brewery on-site.
You can enjoy perfect wines and fresh, local food at their restaurant. The building has opening glass sliders, letting you enjoy al fresco dining regardless of the weather.
Furthermore, you can go to their cellar door for casual wine and beer tastings, costing you around $3 to $5 per taste.
Aside from that, Wild on Waiheke offers many fun activities for all occasions and all ages. Among them are channelling your inner Robin Hood by letting arrows fly toward the bullseye and shooting virtual clay pigeons up in the sky.
The winery is also conveniently located and easily accessible via bus stop going to and from the ferry terminal.
Offers vegan, vegetarian, and gluten-free choices
Al fresco dining available
Short distance from the ferry
Function space hire
Lots of people during summer
Customer Reviews
A lot of customers enjoyed their day trying out wines and beers at Wild on Waiheke. Also, they said that the food and service were very good.
Here's the review of Shane on Tripadvisor:
"Had a great afternoon here with my girlfriend. Food was very nice, also obviously the beer and wine! Very nice set up and friendly staff.
Archery was good, the English girl who helped us called Lucy was helpful and friendly.
Lasersport was brilliant, the host Ashley was very good and entertaining. It was just me, so he grabbed two girls from the bar for competition, they were great fun and nice. Staff here are great! Very good day trip and would recommend. Lucy and lulu need to practice shooting lol."
Furthermore, another user named Phillip shared his experience:
"Went to Wild for lunch on a really wet day. They sat us at a table alongside the roaring fireplace. Wild is in such a beautiful location it was sad it was so wet.
The food and service was excellent. You must try there home made ginger beer. I had it mixed with an island rum and it was delicious. My wife had there rose and really liked it. Next time we are up this way on holiday we will spend more time here as they also have there own brewery and I would like to try there beer."
2) Mudbrick Vineyard & Restaurant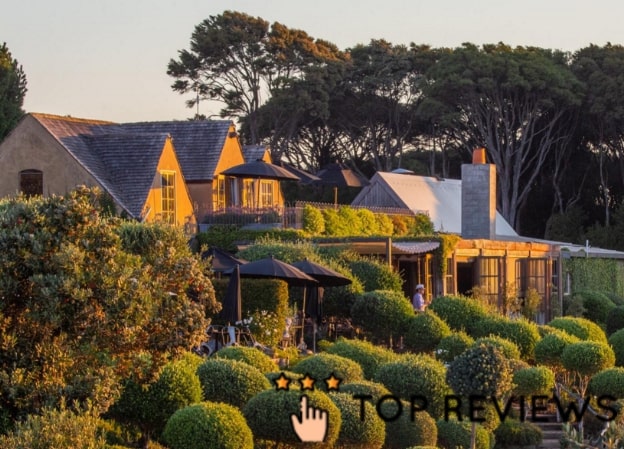 BEST FOR
Mesmerising sea views
SERVICES
Lunch & dinner Wine-tasting Wedding
WEBSITE
https://www.mudbrick.co.nz/
ADDRESS
126 Church Bay Road, Oneroa, New Zealand 1081
CONTACT DETAILS
+64 9-372 9050

[email protected]

OPERATING HOURS
Wine tasting: Open every day from 10.00 AM – 6.00 PM Mudbrick Restaurant: lunch from 11.30 AM, dinner from 6.00 PM Archive Bistro: open every day from 11.00 AM – late, weekend brunch from 9.00 – 10.45 AM
PRICES
You can see their set menu rates here
* For other prices, please contact the company
For unbeatable wines and sea views, you should go to Mudbrick Vineyard and Restaurant. You can arrive here 35 minutes from Auckland CBD via a ferry ride.
There are a lot of vineyards you can explore in Mudbrick Vineyard, all with astonishing views. At the rooftop bar, you can witness the beautiful sunset as you drink your glass of wine.
By the way, they offer 3 wine-tasting options: Light and Fresh, Bold and Complex, and Mudbrick Flagships.
The first option is a standard wine tasting which costs $11 per person. The second lets you taste both white and red wines for $15, and the third features the finest wines at $20.
Their restaurant offers a scrumptious selection of menu and drinks. However, booking is essential before you come in to dine.
It's not surprising that a lot of engaged couples choose to tie the knot here. According to them, Mudbrick is a paradise, away from the hustle and bustle of the city.
Wine shop discounts
Outdoor seating available
Accessible location
Holds wedding events
Customer Reviews
Many customers praised their wines, views, and service. Hence, the winery shines as one of the best Waiheke wineries you can visit.
One customer named Mark wrote a review:
"We have visited a lot of vineyards during our Waiheke trip and Mudbrick is absolutely one of the best! The view is so stunning. Staff at the restaurant are friendly and accommodating. Food is lovely. If you are planning to visit Waiheke Island then Mudbrick should definitely be on your list. Highly recommended and will certainly come back. ☺️"
Moreover, Jody commented of the winery:
"We had a wonderful wine tasting here, and were encouraged to take our time and enjoy the surroundings, which is exactly what we did. The rooftop seating has spectacular views, as does the Archive restaurant outdoor seating. The wine is lovely, the food is excellent. The grounds are beautiful, and worth taking the extra time to enjoy."
3) Tantalus Estate Vineyard & Winery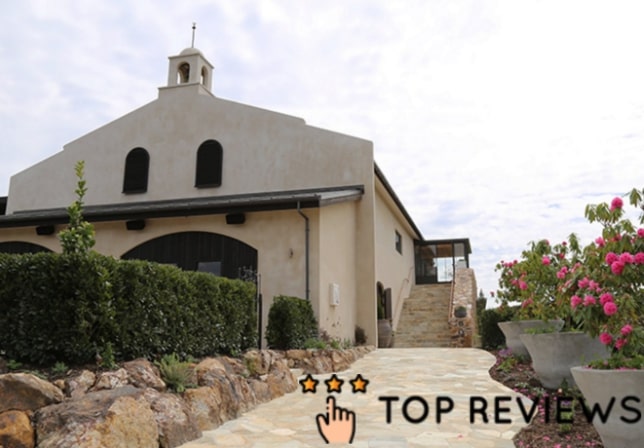 BEST FOR
Elegant setting and fine wines
SERVICES
Wine-tasting Lunch & dinner Wedding Events Shop
WEBSITE
https://tantalus.co.nz/
ADDRESS
72 Onetangi Road, Auckland, New Zealand 1971
CONTACT DETAILS
+64 9-372 2625

[email protected]

OPERATING HOURS
The Estate Restaurant Lunch: Thursday to Sunday: 11.00 AM – 5.00 PM Dinner (Trust the Chef): Saturday: from 6.30 PM Northern Lawn Menu: every day except Wednesday: from 11.00 AM
The Cellar Door Open every day except Wednesday from 11.00 AM – 5.00 PM * Private VIP tastings are available only by appointment
Alibi Brewer's Lounge Monday & Tuesday: 12.00 – 10.00 PM Friday, Saturday & Sunday: from 4.00 – 10.00 PM
PRICES
View their restaurant prices here
For cellar door tastings, click here
For Alibi Brewer's Lounge, click here
Tantalus Estate Vineyard is a sanctuary where you can simply relax, stroll around, and drink wine with your spouse or friends.
Nestled in Onetangi Valley, the magnificent estate sits on 8 hectares of land with sprawling vineyards, a restaurant, and a craft brewery.
The inner and outer dining areas of the restaurant flow into each other, as well as to the cellar door. The food is superb and features seasonal ingredients from NZ.
Through the windows, you'll see a wonderful view of the grapevines. Downstairs, you can view the brewery where the handcrafted beers are produced.
Along with your wine-tasting, you can expect friendly and attentive service. The staff will even explain in detail the drinks you are having.
Offers nut-free, gluten-free, vegan, and vegetarian choices
Hosts wedding ceremonies
Rents event space
Not many activities to do
Customer Reviews
One satisfied customer shared this review:
"…The flavor of the broccolini and green beans with dressing was excellent. The three cheeses were well sized and the taste and texture went well together. The delightful meal was made even better by a glass of estate Rose or Pinot Gris. The total cost of NZ$108 was well worth it. We followed up the lunch with a three wine selection wine tasting. The tasting was held with the three of us at one table. The cost of $15 for the three good wines and the explanation was good value."
Also, Evie left this feedback:
"Visited Saturday evening for the tasting menu and wine pairing. Wonderful service by knowledgeable staff and excellent food and wine.
Will definitely visit again. Beautiful gardens."
4) Man O' War Vineyards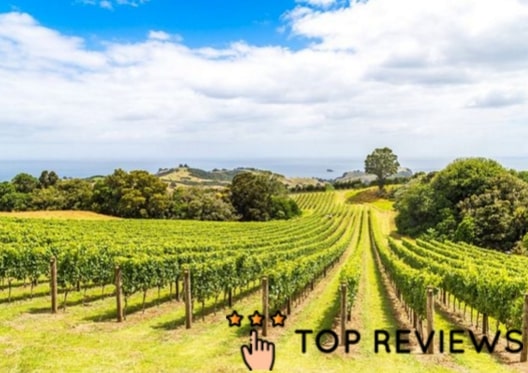 BEST FOR
Wide selection of wines
SERVICES
Wine-tasting Lunch & dinner Wedding Shop
WEBSITE
https://www.manowar.co.nz/
ADDRESS
725 Man O' War Bay Rd, Eastern End, Waiheke Island Auckland, New Zealand 1975
CONTACT DETAILS
+64 9-372 9678

[email protected]

OPERATING HOURS
Open every day from 11.00 AM – 6.00 PM
PRICES
Please enquire the company for rates
Want to taste seriously good wines in a beachfront setting? If you do, you should go to Man O' War Vineyard.
Man O' War Vineyard is enormous with 75 vineyards spanning across 4,500 acres. With golden beaches, rugged hills, and lofty cliffs, adventure is just around the corner.
Their wines are made using traditional and new techniques for unrivalled taste. They also have the Kulta series of wines which utilise the best fruits from their vineyards.
Another nice touch is their food truck which serves delicious food such as a pulled pork sandwich. You can pair it with wine as you take in the view of Man O' War Bay.
There's plenty to do out in the open as well. For instance, you can enjoy some outdoor games, take some pictures, or listen to the beats the DJ is playing.
Hosts wedding ceremonies
Has a coach to take you to the vineyard
Accepts Visa, Mastercard, and AMEX
Average quality food
Occasionally slow service
Customer Reviews
While some people complained about the service and food, Man O' War wines have been generally praised by customers.
Here's what David has to say about Man O' War Vineyard:
"We made our way to Man O War on a stormy day! It's a great drive out to the vineyard, and when you arrive it's quite spectacular! A great little spot with great staff and amazing wines! Well worth the trip off the beaten path! We will definitely be back!"
In addition, Leigh posted this review:
"We were fortunate enough to sail round to the bay New Years Eve and were moored there for the night. We took the dinghy in to sample the Man 0 Wars renowned beverages and it did not disappoint! A well run Vineyard that goes one step beyond to create a lovely atmosphere for the visitors – by land or sea. We had some simple platters and the food was good too."
5) Peacock Sky Vineyard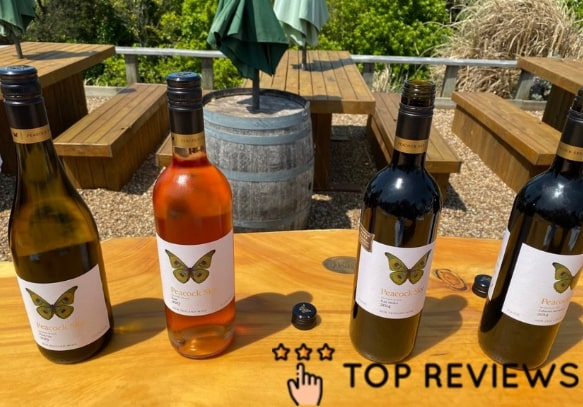 BEST FOR
Wine-tasting with complimentary food
SERVICES
Wine-tasting Lunch Shop
WEBSITE
https://www.peacocksky.co.nz/
ADDRESS
152 Trig Hill Road, Onetangi, Waiheke Island 1081, New Zealand
CONTACT DETAILS
+64 (0)9 950 4386

[email protected]

OPERATING HOURS
Tasting Room & Restaurant Monday, Thursday – Sunday: 12.00 – 4.00 PM
PRICES
Check out their wine shop here
For wine tasting rates, click here
For the Le Côté de la Colline lunch menu, click here
Peacock Sky Vineyard is named after the wild peacocks living in its greenery. Situated atop Onetangi beach, the vineyard overlooks the Hauraki Gulf and Auckland City.
The wine-tasting experience has been enjoyed by travellers and locals alike. The reason is that their wines taste great and include complimentary small bites.
In addition to trying wine, satisfied customers order bottles of wine to be shipped. One of the newest wines the vineyard has is 2019 reserved Cabernet Sauvignon.
Afterwards, you can dine at the Le Côté de la Colline for casual gourmet fare. You can choose to either sit in their large atrium or relax and dine outside the terrace.
Most importantly, they have knowledgeable and friendly staff who will advise you on wine-tasting and provide you alternatives in case you have dietary restrictions.
Offers gluten-free, nut-free, dairy-free, vegan, and vegetarian options
Has shop promos
Outdoor dining area
Customer Reviews
When it comes to wine-tasting, Peacock Sky Vineyard is another of the best Waiheke Wineries. Many customers said that the staff were personable and knowledgeable.
Let's take a look at Jim's feedback:
"We toured a few wineries on Waiheke Island and Peacock Sky was our favorite. The wines were excellent, in fact I ordered some to be shipped home. I finished them so quickly that I ordered more online! Connie had prepared some small bites to accompany the wines, a nice added touch to the experience. I would love to head back someday when things get back to normal."
And Katey also has this to say of the winery:
"Amazing time, pairing wine tasting, talked through with Olivia, very knowledgable and enthusiastic! The wine was beautiful and the food was amazing, the laksa was just to die for! Thank you guys and stay safe x"
And there you have it for the top Waiheke wineries! You can definitely bet on visiting these wineries for a great experience.
Have we missed anything in this list? If we did, kindly send us a message and we'll check out your recommendations.
Looking for the top restaurants in Auckland? You can check out our list of the best restaurants in Auckland for excellent food and wine.