The 5 Best Walkie Talkies in New Zealand
It can be difficult to call or talk to someone where there is no signal reception, especially when you're camping or hiking. But there's a better alternative: the best walkie talkies in New Zealand today!
There's a great array of walkie talkies out there, with unique sets of features and designs. Choosing on a whim might get you the wrong product, as some of these are better for particular situations than others.
That's why, before we start the list, we'll tackle the things you should know about buying a walkie talkie. However, feel free to skip this part and move on to browsing our list if you can't wait.
Either way, we'll be delving into the best walkie talkies in New Zealand!
How to Buy a Walkie Talkie
Before you shop for a walkie talkie, it's important to know what you'll use it for. For instance, are you using it at home or office? Or for exploring and camping?
Anyway, here are the things you need to consider when buying a walkie talkie. Hopefully, they will help you pick from our featured products later on!
1) Sound Quality
Your walkie talkie has to have clear and crisp audio in the chosen or available frequency. That also means it has less to no static or piercing noises when used.
And unless the radio is out of range, you should be able to hear the person from the other line as clear as a bell.
2) Channels
The more channels a radio has, the more you can access or tune in to it. You can use those frequencies to call or chat with your colleagues, friends, or spouse.
Two-way radios have a set range of channels available to you. Note however that GMRS and Ham Radio channels require you to get a licence prior to using them.
Some other channels have more interference than the others. Yet some come with CTCSS, which is a feature that blocks out those distractions when you're radioing.
3) Range
This is an important feature when selecting a walkie talkie. Range tells how far your radio can communicate with another on the same frequency band.
A walkie talkie's range varies from one to another. Make sure that the range is in line with your needs, such as when you're going to talk with your kid during a camping trip.
4) Battery
Walkie talkies typically use supplied batteries or rechargeable battery packs. If you want to save on costs, you should opt for the rechargeable type.
In your choices of walkie talkies, you should pick one that has 8 hours and up of battery time. This will come in handy when you're going to use the radio all day.
5) Easy to Use
Next, it should be easy to use with regard to the buttons, settings, talking and everything else. It makes for fun and enjoyable communication without a lot of figuring out.
LCD screens are a cool feature in that they help you to easily see the channel you're currently in, keypad lock, battery remaining, and others. Many great models have them.
6) Extra Features
We've already mentioned the LCD display screen. Apart from this, there are also customisable tones, emergency alert sirens, weather alerts, and interference blockers.
The emergency alert siren immediately lets others know when you need help. Meanwhile, the weather alert will provide you reliable information regarding the weather.
Also, there are walkie talkies that allow you to hook a carabiner on them that you can then attach to your backpack. Additionally, there are a lot of radios that come with belt clips too!
7) Price
In terms of price, walkie talkies are very affordable, in the main.
Take note though that some radios don't come with a battery, so you'll need to purchase a set of 3 AAA batteries and replacements when they're used up.
Also, mind that others require a licence to operate, such as for GMRS radios and amateur or ham radios.
8) Warranty
You should look for a warranty when buying a walkie talkie, as much as possible. This will save you from future headaches if a factory defect rears its head.
9) Type
Walkie talkies or two-way radios come in three types: FRS, GMRS and amateur radio. Allow us to differentiate them from each other.
FRS Radio
FRS stands for Family Radio Service, and as the name suggests, they're suitable for use with the family. This means that FRS radios are mostly used for fair distances.
Family Radio Service works between the frequency band of 462 to 467 MHz. It has 8 preset channels allowing it to have a greater range while having less interference.
GMRS Radio
On the other hand, GMRS stands for General Mobile Radio Service. GMRS radios have a max output of 50W, giving them a longer range that's ideal for off-grid places or backcountry.
However, they require a licence to operate: you'll have to settle the cost. It will be great for the long-term, though, especially if you camp or go hiking often.
Ham Radio
A ham radio also requires a licence for you to be able to access the channels… otherwise, it would be illegal, and you're bound to get in trouble.
Anyway, ham radios can access a range of channels that are like semi-private channels. That delivers a clearer frequency than FRS and GMRS for you to talk with someone.
The Best Walkie Talkies in New Zealand
Now that you know how to buy a walkie talkie, here's our roundup of the best walkie talkies in New Zealand!
1) Uniden UH615-2 (Twin Pack)
Best for Battery Life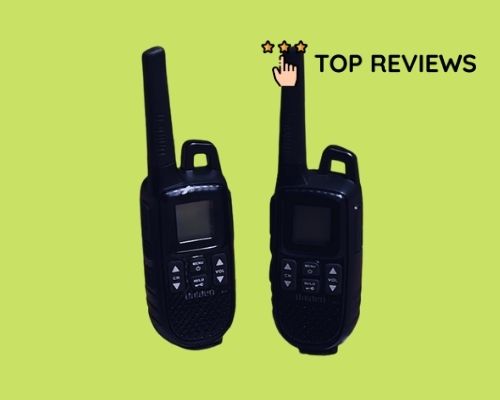 Price: $189.99
Are you going hiking, skiing, or exploring the backcountry? Since there is a weak mobile reception in those areas, the Uniden UH615-2 walkie talkies might come in handy!
Operating at a maximum output of 1.5W, each of these can pick up radio more than 10km away. It also features 80 UHF frequencies that let you easily communicate with others.
The two-way radios are housed in a compact and rugged exterior that grants them durability. Backlit LCD screens display a large channel, battery and other functions.
Moreover, this model doubles up as an LED light to use in dark surroundings or camping grounds at night. This way, you won't have to carry a flashlight and radio at once!
The Uniden UH615-2 also comes with a recharging dock via Micro USB connection. By the way, the walkie talkie can reliably last for up to 20 hours of continuous talking.
Pros
Sleek, compact, and rugged form
Great radio range of 10km or more
Ideal for adventuring, camping, fishing, biking, hiking, etc.
Inbuilt LED light
Long battery life up to 20 hours
1-year warranty
Built to NZ and Australian standards
Cons
2) Uniden UH45-3 (Triple Colour Pack)
Best for Kids and Parents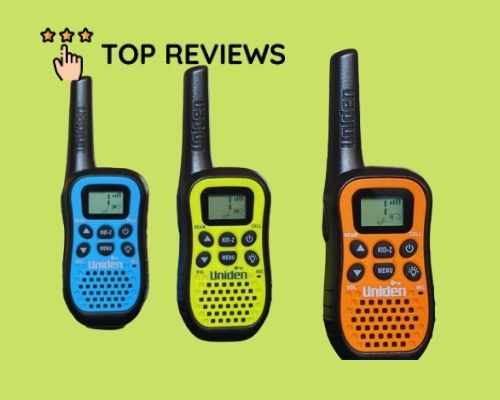 Price: $129.99
Uniden UH45 is a fun and excellent walkie talkie to have if you're not too far away from the other person. The radio pack contains three bright variants: Orange, Lime and Blue.
Being small and lightweight makes it suitable for kids' and parents' radioing. While its range goes up only to a distance of 3km, the communication is nice and crystal clear.
Furthermore, if your walkie talkie picks up a repeater station in the vicinity, its 3km distance can add an additional 30 to 100km, although this depends on the repeater.
The Uniden UH45 features 80 UHF channels to talk with your friends or family. While you're doing that, the interference will be blocked out from the channel you're in.
For this to work, you will need either triple A batteries supplying you 20 hours of power. Or a rechargeable triple A battery, if you like quick and economical charging.
Lastly, the Uniden UH45 indicates the channel and battery remaining on the LCD screen. And behind it, there's a belt clip for effortless on-the-go carrying!
Pros
Nice and crystal-clear communication
Vibrant, compact and lightweight design
Has interference blocker (CTCSS)
Great battery life
Perfect two-way radio for kids and parents
Affordable price
1-year warranty
Built to NZ and Australian standards
Cons
Low range
Batteries aren't included whether ordinary or rechargeable
Customer Reviews
Except that the batteries have to be provided and lack in range, JB Hi-Fi customers have noted that their quality up to 1km is very clear and the battery lasts for quite a while.
Certainly, it's excellent as a gift for kids or your nephew/niece for them to take in their caravanning and camping trips!
One customer, Kerrie6, posted her feedback on the same site:
"I bought this two weeks ago for the kids to use. They are easy for the kids to use, compact and light in size, feature ringing tones and the ability to lock the channel do there is no one else tuned in. The best feature is no static noise when no one is talking! Great product will be taking them on our camping trip now!!!"
3) Motorola T100TP Talkabout (3 Pack)
Best for Adventuring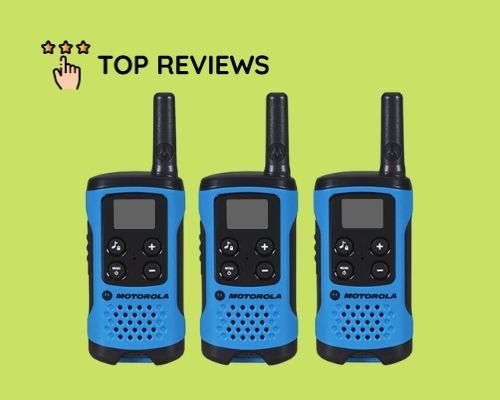 Price: $93
Keep in touch with your friends or family with the Motorola T100 Talkabout Radio. With these, you can be certain that your loved ones are safe and sound anytime — and that they are just one talk away!
This two-way radio is very long-range, reaching up to 16 miles. It has clear audio quality, alert tones and other useful features, including a keypad lock and auto squelch.
The Motorola T100 can receive and respond to all FRS and GMRS radios. It has 22 channels for you to communicate on.
All the information you need to know is indicated in the LCD monitor. When the battery is low, you can just enter power-saving mode to ensure you have sufficient power left for your trip.
Using AAA Alkaline batteries, the Motorola T100 has a maximum of 18 hours' battery life. Plus, you can get these high-performance dual radios at an affordable price.
All of that makes this model one of the best walkie talkies in New Zealand!
Pros
Fantastic range of up to 16 miles
Excellent audio quality
Can communicate with all GMRS and FRS radios
Affordable pricing
18 hours max battery time
Solid and durable construction
Has good call and alert tones
Great for adventuring, hiking, biking, picnicking, so forth
Cons
Customer Reviews
The Motorola T100 received rave reviews from customers on Amazon. A lot of them got the radio as a gift for their kids.
They also admired the impressive range and great battery that the radio had. One even heard a trucker on the highway talking at a distance of 15 miles from his house!
Here's a review as posted by one customer:
"I got these so that my fiancee and I could communicate with each other in separate cars moving to a new city. They worked great. Good sound quality, easy to use. I used the included clip to clip it to the seat belt and I was able to easily provide directions and keep up with when we needed to stop. We drove about 6 hours and these lasted the whole trip! I put batteries in when I got them and we tested them about 2 days before we left. We were driving through desert in the middle of the night and through city in the very early morning. I'm very pleased with these and would recommend!"
4) Midland GXT1000VP4 (Twin Pack)
Best Overall Walkie Talkie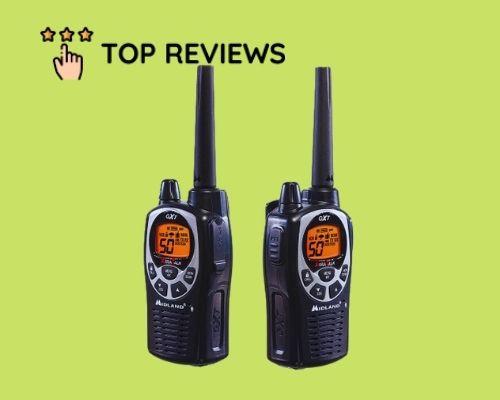 Price: $164
An American brand, Midland regularly produces cutting-edge products that come out far ahead of its competitors. And the Midland GXT1000VP4 is quintessential proof of that!
The Midland GXT1000VP4 has an unbeatable range of 36 miles, most effective when used in open areas, but less so in the crowded and compressed urban landscape.
It sports 50 GMRS channels with crystal clear communication and user-friendly buttons. There are customisable tones for incoming calls so you'll likely know who the caller is.
Then it gets more interesting with its JIS4 waterproof feature, SOS Siren to send out an emergency distress call, and NOAA weather radio to alert you of the violent weather.
Apart from what we've mentioned, Midland's GXT1000VP4 comes with 142 privacy codes, meaning it can block other conversations on the same frequency you're using.
And on top of that, you can enjoy hands-free radioing with the boom mic headset. It's not an add-on, as it's naturally included along with this set!
Pros
Whopping 36 miles of maximum radio distance
Classy and discreet design
Clear and crisp communication
NOAA weather report alerts you of violent weather
Easy to use
Waterproof
SOS Siren useful for emergencies
Boom mic included
Cons
Customer Reviews
The Midland GXT1000VP4 is terrific for the majority of the customers. They mentioned that it had an awesome range that still got through despite the obstructions in the way.
Another liked the weather report, ease of setup, as well as portability. One customer, Chase, commented on Midland's website:
"These are very nice high quality Walkie Talkies, for the price I got what I payed for. They work great at my house and all around my 50 acres we can get great coverage. I have yet to try out the new Micro Mobile base station, sounds like a great purchase. The headsets are wonderful I love the way they fit and look on my head, the covert acoustic headset that is. I get great over 8 hour charge on a full charge, they charge fast on the desk charger. Overall great product! Good Job Midland! I will only buy Midland now!"
5) BaoFeng UV-5R (Black)
Most Rugged and Affordable Walkie Talkie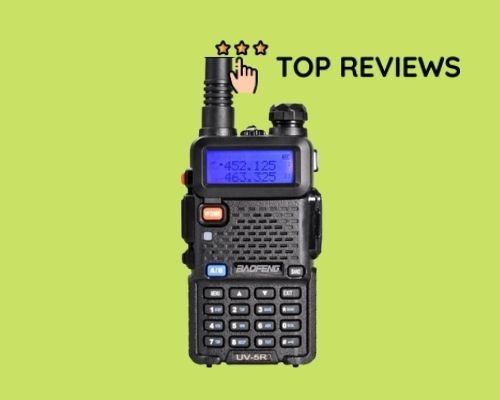 Price: $62
The BaoFeng UV-5R is a radio brute that is cheap yet resilient. Its body is made from a durable polycarbonate material that can take impacts, pressure, throws and the like.
This robust amateur radio is modelled to look like a traditional radio. It features dual bands of UHF and VHF where you can receive and transmit on numerous frequencies.
Among them are 136 to 174 MHz and 400 to 520 MHz, in addition to the 65 to 108 MHz which includes FM broadcast. This means you can listen to music while waiting for calls!
If you're taking this outside, the versatile radio can also be used as a flashlight and alarm. Just press the lower side key button from the side in order to turn on the light.
Bear in mind, though, that you need to get a licence to transmit on certain channels. Yes it's pretty hefty and a little hard to use, but it's durable and has great value nonetheless!
Pros
Dual band radio
Radio distance is up to 6 to 7 miles, and can be boosted still
Has a vast range of channels
Ultra durable as the frame is made from polycarbonate
Can be used as a flashlight, FM or alarm
Has great value for price
Cons
Harder to use
Old-fashioned design
Have to get a licence to transmit on certain channels
Customer Reviews
The ham radio has been a hit on Amazon with mixed reviews. The only criticism lies in its uninformative instructions, problematic charger and licence need for GMRS channels.
However, here's one comment written by Joe Blow on Amazon:
"I'm new to HAM, and this has got me hooked. It's my first radio, and within a day I had this thing programmed with all kinds of cool channels. As of right now, I've got every channel set to low, and all TX frequencies set to FRLs so that I don't accidentally key on actual repeaters. I'm looking forward to taking the AARL technician class license so that I can legally use this, as well as learn about cool radio stuff!
BTW, YouTube is your best friend when getting to know these radios/programming. Also, don't cheap out and buy the counterfeit programming cables. Spend the lousy twenty bucks and save yourself the massive headache and wasted time."
And with that, we conclude our list for the best walkie talkies in New Zealand! Quality-made and stylish, these radios will be dependable to use when you're out and about!
Do you agree with the products we suggested here? Let us know all about it or whether you have questions, just drop us a line and we'll get back to you shortly.
At any rate, you may also be interested in some of our connectivity device roundups. For example, check out the best Wi-Fi extenders in New Zealand! You can increase your Internet range just by putting one near your router!