By Leo Williams
To help you buy the most efficient washing machine for your needs, we will look into the features, pros, and cons, things to consider in buying one for your home, before we present the 8 best options for washing machines in New Zealand.
Washing our clothes is one of the essential activities in the household. We go out for at least 5 times a week to our workplace, carry out certain tasks, get tired, and go home to relax. Same thing goes for staying at home for the weekends. What we have donned in the day is made ready for the laundry. We need time to do them to make sure they're clean, neat, and ready again for the next day.
A good washing machine will do the trick and the necessary work in washing for you and your family. But what is a good washing machine? First we need to know what type it is: front-loaders or top-loaders. Front-loaders are the kind where it has a front round window (like our cover photo above) and you put the clothes inside for it to be spun clean. While Top Loaders are rectangular, opened from the top and are washed through its pole with water being constantly propelled on your clothing.
The pros and cons of Front Loader and Top Loader Washing Machine
Front Loaders
Top Loaders
Pros
• Designed for all types of washing (warm and cold)

• more energy efficient than top loaders

• fast spin durations

• quieter than top loaders

• more feature-rich than top loaders

• gentler and less forceful when used

• Perfect to use on cold water washing

• can hold a bigger capacity

• short cycle times (10-15 min)

• can add clothing in mid-cycle

• traditional

• also energy-efficient

Cons
• Longer cycle times

• some cannot add more clothes in mid-cycle

• can hold less capacity than top loaders

• more expensive

• consumes more water and detergent

• noisier than front loaders

• has a tendency to lint from friction
According to Canstar Blue's survey recently this year, 57% of Kiwis have mostly been using Top Loader type washing machine effective for a larger wash at a single time and energy efficient cleaning. However, people have been gradually switching to Front Loader types for its less forceful but careful spin that reduces the wear and tear of the clothing unlike the former.
Which washing machine size to choose?
A relevant factor to consider in choosing the size of washing machine is its drum. A larger drum means more capacity to house and hence, wash your clothing. For an ordinary family size of 4, 6kg-8kg will do. And for a minimalist 1-2 people in studio type apartments, 5kg will do. Choosing the correct size will save your water and utility consumption and allow more space at home.
And for the type of washing machine, front loads, due to their compact height can be stacked atop one another or placed side by side, contrary to the taller Top Loads.
Before buying, it's best to have a measurement of the space of where you're going to set up your washing machine. Don't forget about the fill and drain hose, waste water hose, and where to plug the washing machine.
Bosch 7.5kg Front Loading Washing Machine (WAN22120AU)
Samsung 8.5kg Front Loading Washing Machine (WW85K54E0UW)
Quick and Careful Top Load Washers for Kiwis
Fisher & Paykel 6kg WashSmart Top Loading Washing Machine (WA60T56GW1)
Samsung 7.5kg Front Loading Washing Machine (WW75J4233GW/SA)
Best streamlined washing machine
AEG 8kg 8 Series Front Loading Washing Machine (LF8E8411A)
Electrolux 10kg Front Loading Washing Machine (EWF1042BDWA)
Practical Large capacity and effective washing machine
LG 11kg Front Load Washing Machine (WD1411SBW)
Affordable and excellent Top Load washing machine
Panasonic 7kg Top Loading Washing Machine (NA-F70A5HNZ)
1.  Daewoo Top Loader Washing Machine 5.5 kg (DWF-ELC55BGN / DWF-ELC55GPN)
Most Affordable Top Load Washing Machine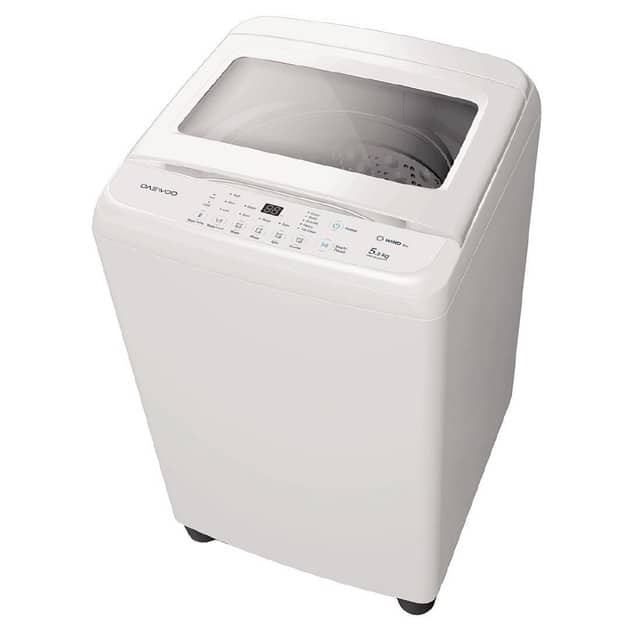 Price: $499.00
If you are looking for a top-loading washing machine that gives you value for price, then you might like the Daewoo Top Loader Washing Machine.
For a low price, this washer already has a 2-star energy rating and 3-star water rating. It can hold 5.5 kg of laundry with auto turn-off, a timer indicator, and a restart option.
It features something Daewoo calls a Magic Filter, which accumulates lint and separates it from the clothing during washing. Afterwards, the collected lint can be disposed of easily.
The Daewoo Top Loader washer also has a compact form factor with a nice and clean finish. The control panels are designed to be simple-to-use — to get you washing in no time!
Finally, this washing machine comes with a confidence-strengthening 2-year warranty if you get it from the shop in the link above, which should cover most issues or glitches that may arise from factory defects.
Pros
Fits in small spaces or apartments
Good efficiency for water and energy
Neat and simple design
Great features
Simple-to-use controls
Lower price
2-year warranty
Cons
Can't change settings mid-washing
Only suitable for small-scale washing
Customer Reviews
Plenty of customers were happy with the Daewoo washing machine. They said that it could fit in smaller spaces, washed clothes well, and had great features — all for a lower price.
However, others complained that the clothing hardly gets washed due to small washing movements. Another noted the washer couldn't change settings once the programme had started.
Anyway, here's the comment of Holly, a customer from The Warehouse NZ:
"Bought this over 6 months ago, and i really love it! I was worried i wouldn't be able to fit much in each load, but i can fit quite a lot. Its never let me down, washes the clothes amazingly. I would highly recommend it!"
And let's now see Christine B's feedback:
"We bought this machine 4 months ago for our family of 4 adults. Very happy with it. Was hesitant to buy a washing machine that wasn't a Fisher & Pykal machine. So pleased we did as I prefer our new machine. A lot gentler on our clothes. The Warehouse staff were very good and helpful, Thank you."
2.  Fisher & Paykel WashSmart Front Load Washing Machine 7.5 kg (WH7560P2)
Best for Customised Washing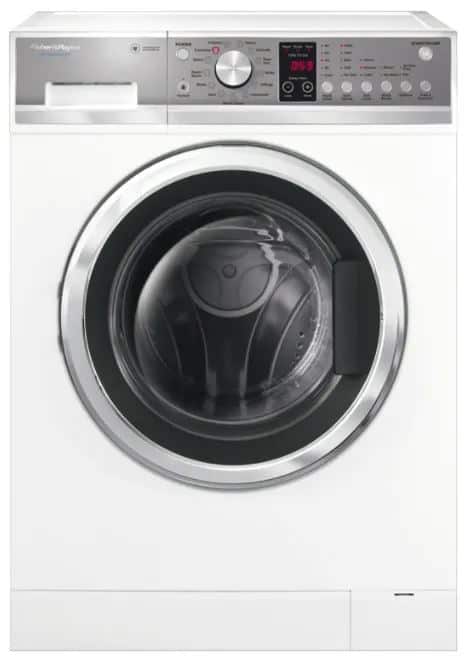 Price: $1,243.00
This list isn't complete without the Fisher & Paykel WashSmart Front Loader! You can launder almost any fabric with this washer, from tablecloths to blankets!
Its main feature is the patented SmartDrive technology that offers more efficient and effective washing. You can even stop midway to add new garments or adjust the temperature in 5 settings.
It scores high in energy efficiency with 4 stars, and even higher in water efficiency with 4.5 stars. As compared to other washers, its performance is stellar: you'll reduce your utility bills greatly!
Get cleaner, fresher clothing with its Quick Vortex wash cycle, helping to remove stubborn stains and dirt, besides helping you dry faster later. Aside from that, you'll have 13 wash programmes to choose from.
More importantly, this washing machine has an enormous capacity of 7.5 kg — perfect for the entire family. Plus, its relatively small size means it can fit into smaller rooms to save your space!
Pros
Pristine washing
Fantastic water and energy efficiency
Add a garment functionality
Fits into small gaps or spaces
Great front load capacity
Comes with a 2-year warranty
Cons
Customer Reviews
The feedback for the Fisher & Paykel 7.5kg has been overwhelmingly positive. People were definitely pleased with its wash quality, efficiency, and fully customisable settings.
Overall controls are excellent too, as you may expect from the remark on its customisable settings. One customer made use of the delay start button to take advantage of off-peak hours to reduce power cos, for instance.
There's actually not much in terms of cons for this washer, except for customer service or when customers get a defective product.
That said, one verified customer, Tracey S said this on productreview.com.au:
"Love love love, why didnt I buy a front loader earlier??? I am a domestic cleaner so wash 2 loads of rags a week plus my normal washes. The 30 min quick wash is fantastic for the rags, with less water used they still come out cleaner than a top loader full of water!!!"
3.  Haier Front Load Washing Machine 9kg (HWF90BW1)
Best for Gentle and Efficient Washing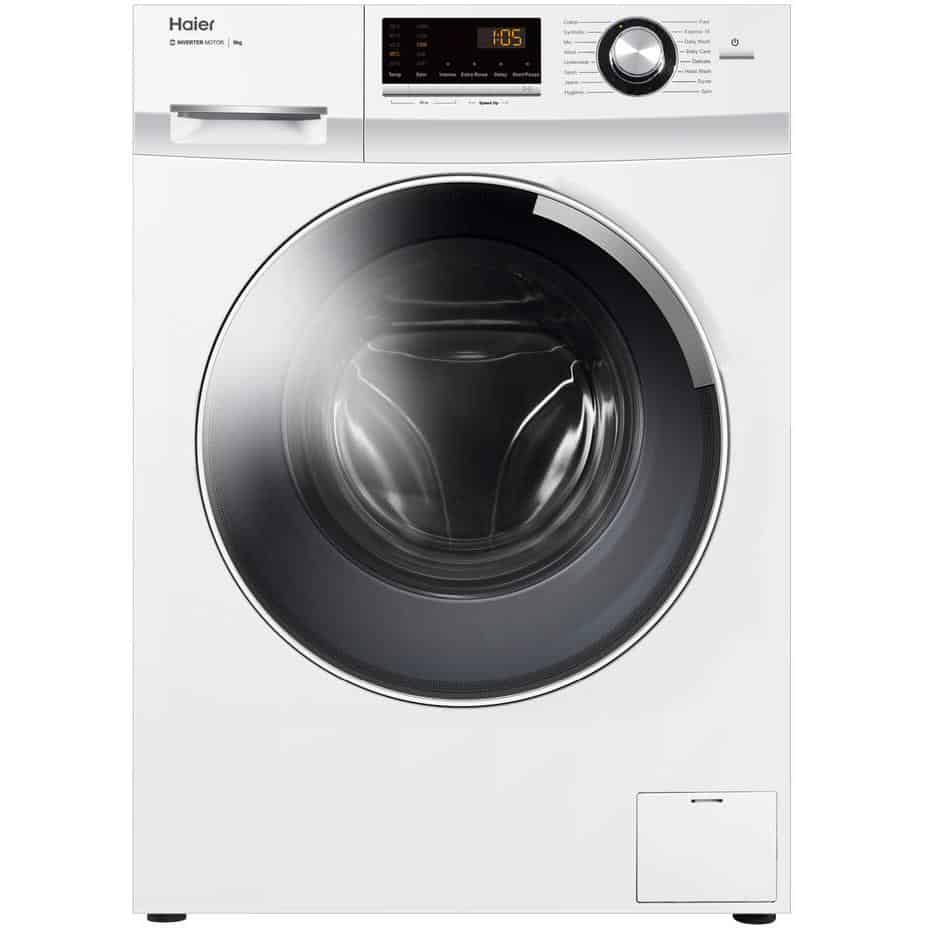 Price: $1,329
Haier is rapidly becoming a trusted name in the appliance market, offering reliable products at bargain prices. And for front loaders, you can't go wrong with Haier's Front Loader 9kg!
It features the Wave Drum design for gentler and more efficient washing, 16 wash programmes to suit your requirements, and a delay start timer to give you convenience.
With its massive 9kg capacity, you'll be able to get more laundry done within a shorter time. The controls and dial are also fairly straightforward and simple to use and adjust.
As it boasts an energy rating of 4 stars and water rating of 4.5 stars, you'll be able to save more with reduced power bills. And what's more, it's better for the environment too!
Additionally, this washing machine has an Anti-Bacterial Treated (ABT) door seal. This helps in prolonging the life of your washer.
Pros
Gentle and efficient washing
16 wash programmes
Massive 9kg capacity
Takes up only a small footprint
Wave Drum design
Cons
Customer Reviews
Nicola McDonell, one buyer from productreview.com.au, wrote a review:
"We usually wash a mix of fabrics and clothes, we are very satisfied with the machines performance. The washing times are efficient and everything comes out quite dry ready to hang!"
4. Samsung 8.5kg Front Loading Washing Machine (WW85K54E0UW)
User-Friendliness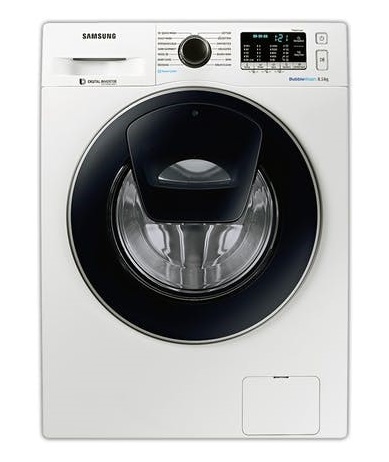 Price: NZ$1,096
With Samsung 8.5kg Front Loading Washing Machine, it performs as seamlessly as it is brilliantly finished in metallic silver.
It has BubbleWash function that works to mix the detergent, air, and water to form a foam and gives your everyday clothes a fresh, bubbly, and impeccable cleaning.
In the course of the washing, you can even add wayward socks in and if you needed to add some fabric softener, you're in luck.
The Steam Cycle provides every washing with hot steam if you like to take away the bacteria. The washing machine has 12 programmes you could choose from to personalize your washing style.
Pros
Simple, convenient washing machine
Fresh, bubbly, and impeccable cleaning
BubbleWash function
12 programmes to choose from
Can add more clothing mid-wash
Affordable price
Cons
Customer Reviews
On Noel Leeming, this washing machine received an astonishing 4.7/5 stars from 296 reviewers. Most of them were happy that their clothes came out clean and soft and that the fast spin cycle helped to dry out their clothing.
Karen C, one user, posted her review:
"All working as expected after three weeks. Have used most of the programmes and they all seem to do as they are supposed to. Clothes are clean and well rinsed – no powder residue – and the load is well spun. (Some items are barely damp.)"
Moreover, here's another one from Angela who said:
"Fantastic machine, clothes come out soft and very clean, spins out very well. Very happy."
5. Bosch 7.5kg Front Loading Washing Machine (WAN22120AU)
Best Overall Performance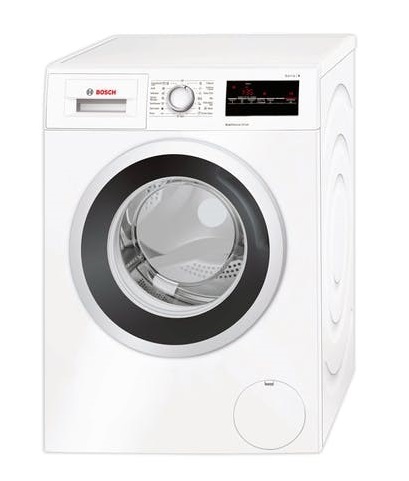 Price: NZ$999
Bosch 7.5kg Front Loading Washing Machine is an outstanding and economic choice when it comes to front loaders given a number of highly reliable functions and low price.
The feature of ActiveWater gauges only the necessary water and energy for a thorough wash, saving extra costs in utility.
The washing machine also employs VarioPerfect where you can set up programmes for a wash that best suit your choice by fabric and time.
Another feature are the sidewalls shaped like a ripple. Not only is it for a much sleeker design, but also to lessen the vibrations and noise while washing.
Pros
Outstanding and economic choice
Smartly conserves the energy and water amounts
VarioPerfect feature lets you set a customised programme
Less vibrations and noise
Cons
Heavyset machine
Complicated functions
Customer Reviews
The Bosch washing machine's quietness, simple installation and economical performance were praised by customers on Harvey Norman. However, they said that its a bulky unit and have complicated functions.
Let's take a look at Crafty2345's review:
"Purchased the above approx 3 months ago , have found the machine cleans much better, is economical on water and powder,(only need to use very small amounts)
Only drawback is the machine is heavy so not easy moving it"
Also, a Cantabrian user named Deb said:
"Easily installed. Easy to use washing machine, quiet, holds a good quantity despite being a good deal smaller than my former 8kg machine. Very happy so far."
6. Fisher & Paykel 6kg WashSmart Top Loading Washing Machine (WA60T56GW1)
Quick and Careful Top Load Washers for Kiwis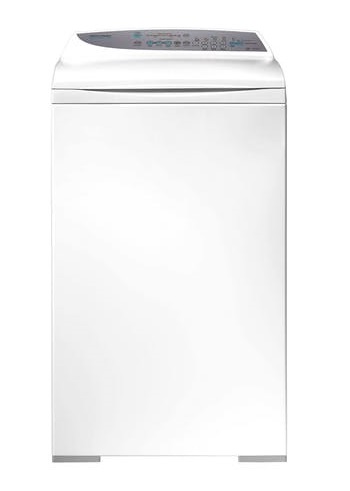 Made in New Zealand, Fisher & Paykel 6kg WashSmart Top Loading Washing Machine is equipped with 8 Wash Cycles, all you can do with 3 easy options of Eco, Soak, and Quick Wash.
If you are in a hurry, let's say, Quick Wash option will handle your laundry with the gentle care and cleanliness thanks to its finned agitator.
This washer levels with the ground, so it can guarantee stability and reduced shaking when being used. And its automatic water and temperature sensor will help reduce your utility costs like any other good washing machines.
Pros
Gentle care and clean washing
Equipped with 8 Wash Cycles
Reduced vibration
Energy- and water-efficient washing machine
Cons
Only has a few programmes
7. Samsung 7.5kg Front Loading Washing Machine (WW75J4233GW/SA)
Most Budget-Friendly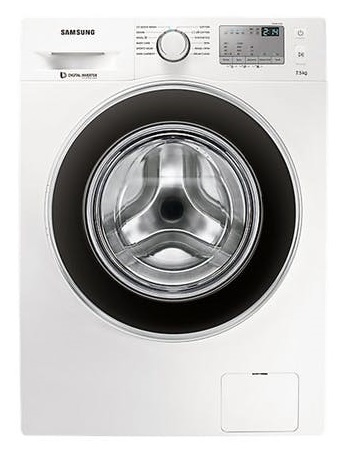 Samsung is a technology company from South Korea whose innovativeness has helped make people's lives better and more comfortable.
Samsung 7.5kg Front Loading Washing Machine is one of them. With Soft Curl, a diamond ridged drum construction, it spins, tumbles, and washes your clothes in the gentlest way, handling all types of fabric with care and less wear and tear.
Then what's new about it is its smart app connect will enable you to monitor it and see how it's doing; it even tells you how to repair minor issues by yourself.
Pros
Supremely gentle washing
Can handle all types of fabric with less wear-and-tear
Can be monitored through its app
Great value for money
Cons
Delicate cycle is average in washing clothes
Customer Reviews
People have high regard for the Samsung WW75J4233GW saying that it's excellent in washing, quiet, great value and durable. That said, other customers have their share of problem but is very minor and forgivable.
Let's hear about Jack M's review:
"Samsung washing machine is a fantastic and reliable washing machine. Never had any issues and cleans clothes very well. It doesn't crush the clothes too much either.
The washing machine is very quiet even when on spin. It has a nice ringtone when the washing is complete rather than just an ordinary beep. I would strong recommend this product."
And Tai Nguyen also weighed in on the washing machine:
"A great value washing machine that does it's purpose, and does it well. Suitable for a small family, the machine has many different power settings for all the different materials you'll be washing. Especially handy is an Eco bubble mode that allows the washing machine to operate more efficiently at a lower temperature."
8. AEG 8kg 8 Series Front Loading Washing Machine (LF8E8411A)
Best Streamlined Washing Machine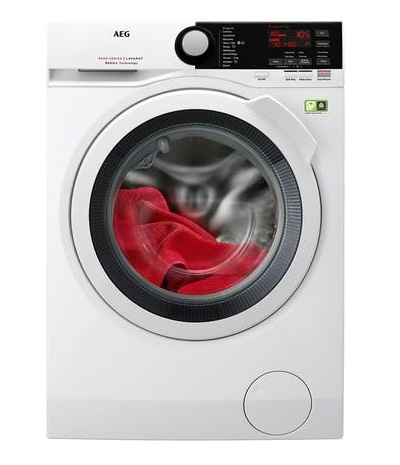 Price: NZ$2,173
AEG 8.5kg 8 Series Front Loading Washing Machine is a German-engineered powerhouse.
It has many exciting, impressive features such as the OKOMix technology where it smartly mixes the right amount of detergent, fabric softener and water before washing.
It is Woolmark Green accredited which means it can give your delicate, expensive clothing a gentle, thorough wash without the need of handwash anymore.
Alternatively, you may use its ProSteam to give a neat and clean treatment on your garments without worrying about wear-and-tear. Finally, a max speed of 1400 rpm means a faster drying time for cotton and casual wear.
However, for woolen fabrics, a slower speed of 600-800 rpm is ideal as it might damage it any higher than that.
Pros
Premium German branded washer
Has loads of exciting, impressive features like OKOMix technology
Gentle, thorough wash
1400 rpm means a faster drying time
Efficiency in all areas
Cons
Customer Reviews
One of the best washing machines in New Zealand, AEG 8kg 8 Series Washing Machine was rated a phenomenal 4.7/5 stars by more than 500 customers. Kudos to its superb washing that made fabrics fresh, clean and spotless!
One buyer, Dormiockery gave an in-depth review:
"The best washing machine our large family has ever bought. I'm actually enjoying doing the laundry and that's saying something when you consider that the children range in age from 8 to 22 years living on a semi rural property with more than our fair share of mud and car grease! This machine is turning out clothes like they are brand new. I am so impressed. It's a tad more expensive than what I wanted to spend but I'm glad I did, it's worth every cent. BTW the smell mentioned elsewhere is apparently caused by fumigation of one incoming shipment and AEG have been amazing organizing a seal replacement to fix the very slight odour in my machine."
9. Electrolux 10kg Front Loading Washing Machine (EWF1042BDWA)
Most Energy-Efficient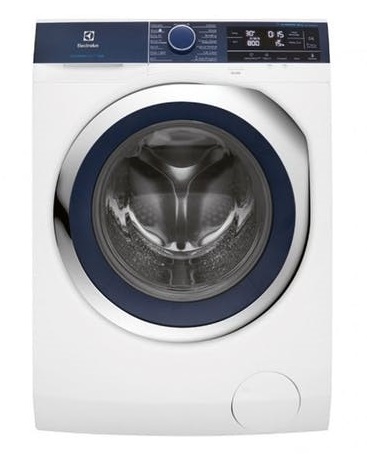 Price: NZ$1,973
For a delicate and smooth washing with 5 star rating on energy, and a larger door
If you need a compact washing machine at home for a bigger family, packed with decent features and some fabric care, pick Electrolux 10kg Front Loading Washing Machine.
It stands out with a 5-star energy rating as well as a 4.5 water rating. It has SensorWash keeping precision on conserving your utility levels, Woolmark Accredited Blue for sensitive fabrics, an extra-large door to place in your garments without any trouble, and Wi-Fi capability just to track how it's been doing in your laundry area.
Pros
Compact washing machine for a bigger family
Helps to conserves your energy consumption
SensorWash for conserving your utility levels
Extra-large door
Wi-Fi capability
Woolmark Accredited Blue
Cons 
Customer Reviews
Nice wash-finish tone, versatile settings and great washing are some of what customers have liked about the washing machine. However, there was one that had been misinformed about its capacity.
Anyway, Sanns, one customer, commented on Harvey Norman:
"Very pleased with my purchase. Amazing wash lots of settings .I can almost do everything in this machine."
10. LG 11kg Front Load Washing Machine (WD1411SBW)
Practical Large Capacity and Effective Washing Machine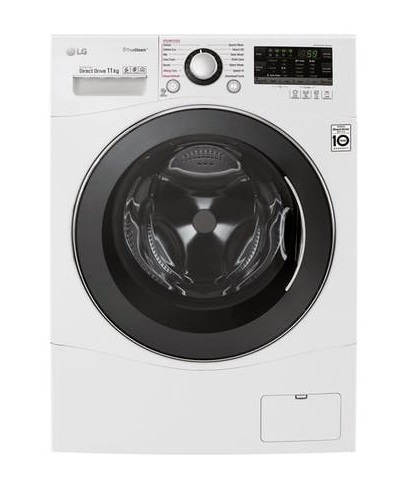 Price: NZ$2,599
Ideal for loads of laundry with various washing modes toward a neat and customized washing.
For a larger sized 11kg drum to wash all the weekly laundry—clothing, quilt, and bedsheets, LG 11kg Front Load Washing Machine is the answer. Tailor your needs with the 6 Motion Direct Drive where you can choose adjustments and programmes based on your preferred intensity, texture, and time.
Its rating in energy and water efficiency are both 4.5 that cuts the electricity use and saves water.
Pros
6 Motion Direct Drive for a customised washing
Neat and customized washing
Massive capacity
Efficient in both power and water use
Cons
11. Panasonic 7kg Top Loading Washing Machine (NA-F70A5HNZ)
Affordable and Excellent Top Load Washing Machine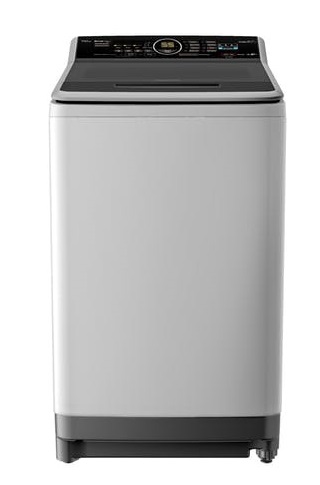 Top Loaders aren't all that bad and old school, in fact, it can change the tide and all the perceptions, and captivate you still by its ActiveFoam in an effort to bubble up your washing and soak, splash, and rinse it to high-level cleanliness, better than you expected.
And in conjunction, it has StainMaster technology that works on the stains thoroughly and tidily for a perfect cleaning, a worth it kind of day!
Best of all, it is super affordable and the 7kg drum size is sufficient enough to accommodate one family in a home.
Pros
Affordable and long-lasting washer
High-level cleanliness
Old design in a new style
Works on stains thoroughly and tidily
Ideal for one family
Cons
Could have more features
Small capacity
Features of washing machines
Washing machines come in a variety of programmes, modes, and functions but the most essential are:
Wash Options
Anti-crease – keeps your clothes free of creases as much as possible with a less need to iron afterwards.
Delicate – pertains to gentler washing of your clothing. It is a reliable feature when washing handwash only, wool, or easily damaged fabric.
Quick Wash – handy washing option when you're in a hurry, or for lightly soiled clothes. Doing it as thorough and neat as it can under the shortest time.
Spin speeds – the faster the speed, the quicker it washes and dries; but for more delicate washing, you'll have to lessen the speed to reduce wear and tear on the material.
Timer – This is to set up how long you'd like your washing to be done. Longer washing will use more water, electricity, and detergent. And if its heavily soiled then a longer time would apply. Some have used this feature to escape the tariff on utility.
Energy Star Ratings
The higher the rating for energy or water efficiency (WELS), the more expensive the product will cost. It is a good indicator if you're looking to compare your options. The cheaper ones, in comparison may be more affordable but its features and cleaning performance might be a level down and could incur you more cost in the long run.
Choosing the right temperature when washing
Washing machines have different temperature settings that will wash different kinds of fabric like cotton, wool, or synthetic. For a quick wash of clothing without much stain or dirt, a cold washing would usually be enough at 20°C or below. In this case, it will conserve water and utility as it is not warmed and only uses running water. Then for a general washing particularly cotton type, 30-40°C will do the work. These involve your everyday tees, socks, denim, blouse, and certain dresses (remember to use delicate for the very sensitive ones). A temperature of 60°C is used for the extremely dirty or grimy such as muddied cargo shorts or underwear.
How do you know what cycle to use when washing your clothes?
There are symbols indicated at the tag on the back of your garment. They show you the right method to use when washing it which is important in taking care to be able to use and enjoy it as much as possible.
A universal rule of thumb before washing is to separate whites from colours so as not let the color blemish into another shirt. And if you could take the effort, you may do a handwash on clothes that require it for instance you do it on polos, underwear (washing machine might loosen it because of spin speeds). It is also good reminder that items that aren't colourfast can't be put in warm water.
Caring for your washing machine
A washing machine is an investment on your part that can serve you for almost a decade, if it is taken well care of. Supposing you use the washing machine every day, once a day, it needs only be cleaned monthly by putting baking soda and vinegar into the drum with hot water and have it spin for one cycle time. For a simpler method, you can just use hot water (by adjusting the machine dial to 90°C) o and have it likewise run on an empty cycle. This is to constantly sanitize the drum and leave no room for bacteria to live in.
After every washing, leave its door open to give way for circulation and using a soft cloth, take the time to clean the sides with the dust, mould or mildew around. They were there in the first place as a result of wet clothes being left in the washer for some time. You can do this on a weekly or monthly basis. For issues that need technical help, you can have it checked by your warrantor or the customer support from where you bought it.