7 Best Web Hosting Services in NZ (New Zealand) Compared
Featured Image Source: Pixabay
Choosing the right provider for web hosting in NZ is vital to running your website, but it can be confusing to manage given the many options in the market today. Fear not though: we've rounded up the best web hosting services in New Zealand in this article.
We reviewed our top selections to let you know what each one offers and lacks. Our criteria for this list of best platforms for web hosting in NZ included the company's server location, services offered, quality of their plans, and their overall cost.
Anyway, before we browse our NZ web hosting picks, let's talk about how much you'll spend to host your website on one of these platforms first.
How much do web hosting services cost in New Zealand?
Picking a web hosting service is not as difficult as it seems. It's actually very similar to choosing a mobile or Internet plan for your home.
Web hosting providers usually offer customers several plan options, which usually come in three main tiers: a basic, intermediate, and advanced or professional option.
The three basic levels of hosting plans usually differ in terms of the number of websites you can host, amount of storage, and how much traffic you can receive each month. For example, if a basic plan only offers 1GB of storage. a premium plan may provide as much as 100GB or even unlimited storage.
Just like with a telecom plan, you can usually get a discount by subscribing to a long-term contract of more than a year. By doing so, your monthly payments usually enjoy 10-20% off the original price.
However, web hosting providers usually ask for the payment upfront and use the monthly fee as a way to better illustrate their low prices compared to competitors. The best way to find the best deal is to compare the plans' prices side-by-side.
Luckily, we've already done that work for you in the table you below. You can visit each company's individual websites after reading this article if you want more details on the various plans
Cost and Services for Web Hosting in NZ Compared:
| | | | |
| --- | --- | --- | --- |
| Bluehost (36-month Term) | Shared – Basic | 50GB | $4.03 |
| | Shared – Plus | Unlimited | $7.45 |
| | Shared – Choice Plus | Unlimited | $7.45 |
| | Shared – Pro | Unlimited | $19.07 |
| | Dedicated – Standard | 1TB | $109.34 |
| | Dedicated – Enhanced | 2TB | $136.68 |
| | Dedicated – Premium | 2TB | $164.01 |
| Crazy Domains (1-Year Term) | Linux – Economy | 150GB | $2.58 |
| | Linux – Premium | 500GB | $7.00 |
| | Linux – Unlimited | Unlimited | $12.33 |
| WebhostingNZ (1-Year Term) | Economy | 1GB | $4.95 |
| | WordPress Plan | 5 GB | $5.56 |
| | Delux | 50GB | $15.95 |
| Spark (1-Year Term) | Basic | 20GB | $14.95 |
| | Essential | 50GB | $22.95 |
| | Premium | 100GB | $34.95 |
| Voyager (Monthly Terms) | Lite | 1GB | $14.95 |
| | Plus | 10GB | $29.95 |
| | Max | 50GB | $49.95 |
| SecondMile | Silver | 4 page website | $55.00 |
| | Gold | 8 page website | $55.00 |
| | Platinum | 10 page website | $55.00 |
| Freeparking (1-Year Term) | Saver | 5GB | $13.42 |
| | Standard | 20GB | $18.00 |
| | Select | Unlimited | $34.25 |
The Best Web Hosting Services in New Zealand Reviewed
Now that we've seen how much web hosting plans cost, we're ready to take a look at our list of the best web hosting services in NZ.
1. BlueHost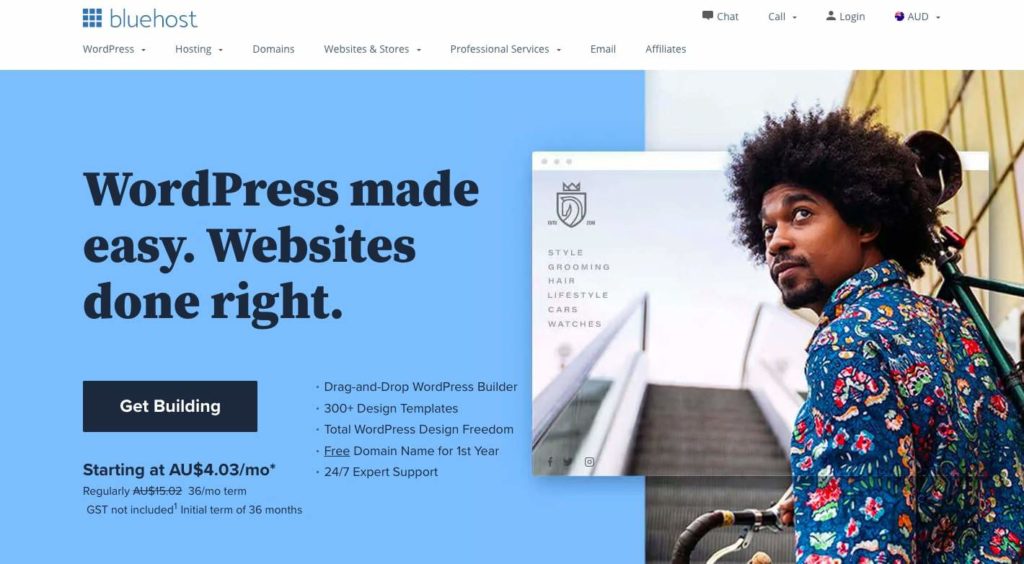 BlueHost was founded by Matt Heaton in 1996 and has since then amassed over 2 million websites on its platform. It has become one of the largest global web hosting providers.
The company doesn't have any servers in or near New Zealand though, so loading times for Kiwis will be much slower compared to North American clients unless you use a different content delivery network (CDN) to speed up site delivery.
Its popularity is not without reason – Bluehost is relatively stable, offers great features, and is affordable. It's an all-around platform that's easy to use whether you're new to website building or a seasoned professional.
One reason why they've become a household name and known to be one of the best NZ web host providers is because of their easy integration and flexible options when working with WordPress. For other content management systems, Bluehost offers Shared, Dedicated, and VPS hosting.
As its name implies, Shared hosting shares servers with other websites, which means that a sudden influx of traffic will result in slower loading times. Therefore, as the most affordable option, it is best for the part-time blogger or those who don't expect millions of simultaneous hits at once.
Shared Hosting is only offered at 12 or 36-month terms, with four plans to choose from namely Basic, Plus, Choice Plus, and Pro.
The Basic plan doesn't include free domain privacy, automated backup, and dedicated IP, unlike the other higher tiers. You'll only get one website with 50GB of storage as well.
Dedicated hosting on the other hand doesn't share a server with other sites, and is ideal if you expect higher traffic. This is a better option for those who are running a business or who expect their site traffic to go up in the future.
Only three plans are offered here at monthly payments: Standard, Enhanced, and Premium and is a significant jump in price compared to the Shared Hosting plans.
On the other hand, Virtual Private Server (VPS) web hosting may seem a little bit confusing because it's like a hybrid of the first two. Essentially you share server resources with other sites but a certain amount of space and memory is dedicated to you.
The VPS plans are similar to Dedicated hosting, offered in Standard Enhance, and Ultimate. But since it's still essentially a shared server, it's priced somewhere in between, but you can get discounts for long-term contracts.
Now, chances are, if you're looking at Bluehost, you're probably going to be building a WordPress-powered website. These are offered in plans that are exactly the same in price and name as Shared Web Hosting namely Basic, Plus, Choice Plus, and Pro.
With WordPress hosting, you'll automatically receive the most updated version of the content management system already installed. You'll also get a free domain name for a year, automatic updates, secure credentials, and integration with Google.
If you're already got another WordPress site on a different server, you can easily export this as a .XML file free of charge. But if you're transferring more than one site, you'll need to pay an additional fee.
Bluehost offers 24/7 telephone support, online web chat, a ticket-based system, and a knowledge base, making it convenient for even newbie web builders to get their projects up and running.
Fast and responsive customer service is always a plus when you're running a site and that's one of the main reasons why we included Bluehost as one of the platforms for best we hosting in New Zealand.
One-Click WordPress Install
Free SSL Certificates
WordPress Website Builder
User-friendly for both beginners and experts
Unmetered bandwidth
Free domain name
No servers located in New Zealand
Not Kiwi-owned or operated
2. Crazy Domains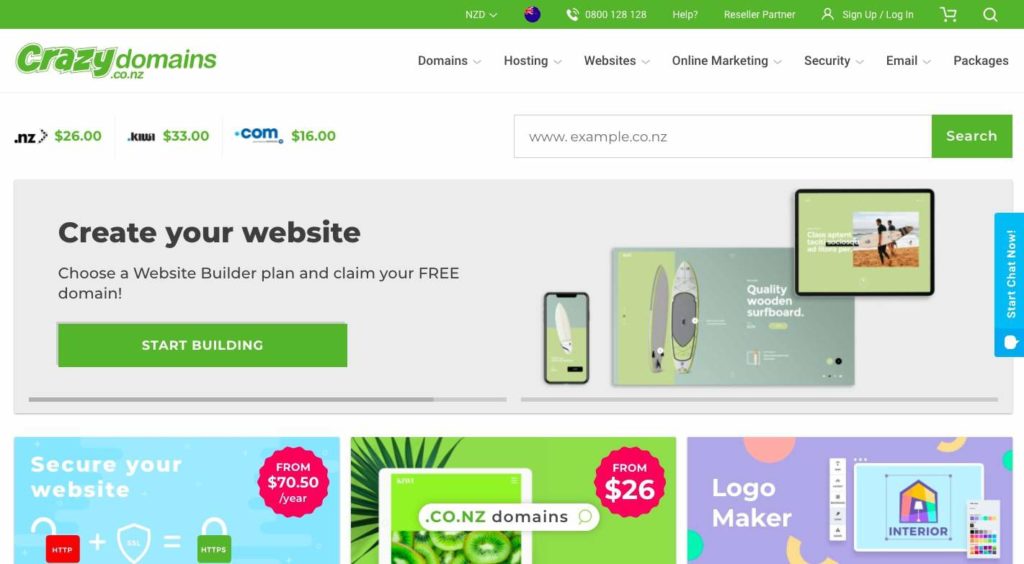 | | |
| --- | --- |
| SERVICES | Domains, Hosting, Websites, Online Marketing, Security, Email, Packages |
| WEBSITE | https://www.crazydomains.co.nz/ |
| CONTACT DETAILS | Toll-Free: 0800-128-128 |
| OPERATING HOURS | 24/7 Customer Care |
Crazy Domains has a vast network of servers and data centers located primarily in the southern hemisphere. They recently acquired Openhosts, one of the sites for best web hosting in NZ, and currently hosts the websites of over 1.5 million customers.
If you sign up with Crazy Domains, your site will be hosted on their Australian servers (Sydney and Perth) which means that your loading times will be much quicker. When it comes to competing against global giants for web hosting clients, they become a viable option for Kiwis because of proximity.
Offering Linux, Windows, and WordPress hosting, Crazy Domains offers plans in options of 1, 2, 3, and 10 years. However, you can get WordPress plans in shorter 3-month terms with three tiers of Economy, Premium, and Ultimate.
The WordPress plans offer varying degrees of storage space and the number of sites you can have. The most affordable Economy plan allows only one site but comes with 10GB of SSD Storage, which should be enough if you're just using images and not videos.
Unfortunately, you don't get free SSL Certificates – instead, you're offered Distributed Denial of Service (DDoS) protection. Crazy Domains' will monitor and protect your site(s) 24/7 and even has a plugin called WP Fort Knox that detects malware.
Crazy Domains offers an easy one-click WordPress installer to make it easy to get your site up and running, and you'll receive auto-updates as well. They also have one-click staging, which essentially lets you "clone" your website and edit a copy of it instead of the live version.
They also offer WP-CLI and GIT, which are geared more toward hardcore developers. In short, this essentially gives you more control over how you manage content in WordPress.
Crazy Domains makes automatic weekly backups, but you can use their backup wizard whenever you want or download a copy of the files directly to your computer.
One thing we like is the optimisation wizard which lets you manually control file compression. This means you can tweak it to help your website achieve higher load times and you can always revert to the original uncompressed version with the click of a button.
For those who want to have the control to tweak their site's load times, this feature will be important when choosing the best web hosting in NZ for you.
However, their Cache Blaster technology claims that it automatically speeds up loading times on your site anyway. Although it may seem redundant, when it comes to websites, you'll want all the help you can get to load your site faster.
In short, Crazy Domains offers some pretty amazing features for a very competitive price. Despite having to purchase an SSL Certificate separately (which is quite expensive), this company still makes it to our list of services for best web hosting in New Zealand.
24/7 server monitoring
Gives a 99.9% uptime guarantee
Fast loading times
60-day money back guarantee
Will migrate site for you for free
No SSL Certificates included for free
Domain names must be purchased separately
3. WebhostingNZ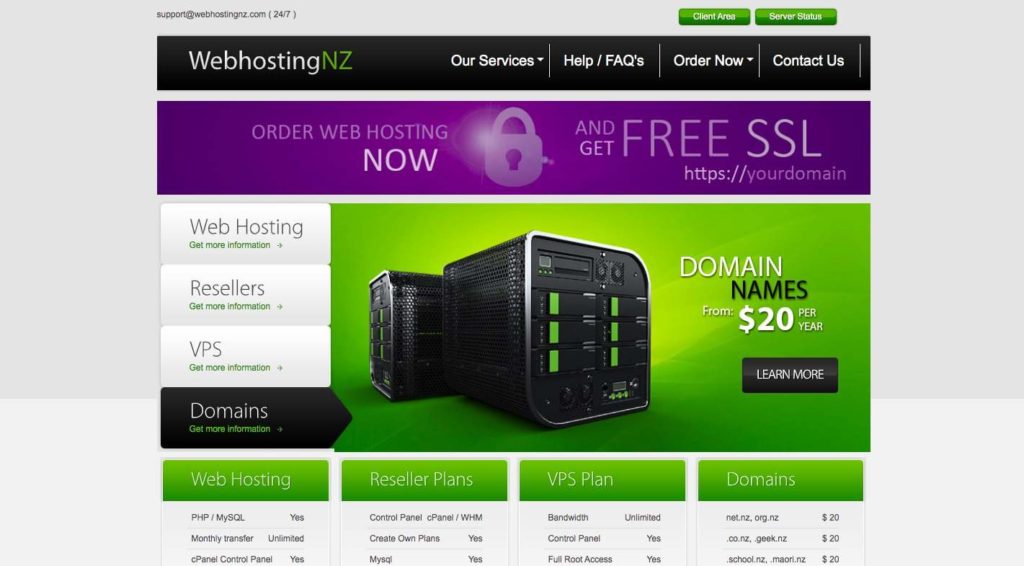 If you've been doing a lot of research about web hosting NZ reviews, chances are you would have come across WebhostingNZ.
WebhostingNZ is based in Auckland and has been providing its services since 2013. This company doesn't provide much information about their history and members, but instead, prefer to let their services speak for themselves.
WebhostingNZ's main selling points are 24/7 customer service and a 30-day money-back guarantee. It's a standard, no-frills marketing strategy that piques enough interest for you to at least browse what they have to offer.
At its core, WebhostingNZ provides the sought-after essential services you'd expect or want from a web hosting company.
One of their greatest inclusions is a free SSL certificate with each hosting account. This is a big selling point because surprisingly enough, a lot of web hosting services usually charge extra for this.
Secondly, WebHostingNZ offers free daily backups on offshore servers. While this is pretty much an industry standard, you'd be surprised at how many of their competitors only offer weekly updates with their standard packages.
WebHostingNZ also automatically includes email hosting in their services for web hosting in NZ, but it can be purchased as a standalone product as well. Domain registration is also included, although this isn't offered in their most basic package.
Moreover, one of their best guarantees is that if a crash should occur, they can have your site restored, up and running within six hours. With Linux servers connected to a high-speed 100MB/sec port to the web's backbone, they guarantee 99.5% uptime each month.
To manage your site and its content, you'll be using cPanel, a user-friendly interface that also has advanced features. You can view traffic statistics which can be presented graphically, so you can see where your clicks are coming from.
Offering five different plans, they offer Economy, WordPress, Basic, Advanced and Deluxe options. The differences are pretty standard, increasing storage space and the number of hosted websites included as the cost increases.
The plans offer from 1 to 11 hosted websites, 1 to 50 GB storage, 2 to unlimited email accounts, 1 to 50 subdomains, and 1 to 20 databases. You can also have your choice of content management system pre-installed.
Overall, we like that WebhostingNZ is a locally-owned company, but most of all, their flexible plans and easy-to-use interface are what makes us think that they are the best web hosting in NZ for beginners and pros alike.
Affordable hosting plans
Servers based in New Zealand
99.5% uptime guarantee each month
Daily offshore backups
24/7 live chat support
Unlimited bandwidth
Free SSL Certificates
No phone support, only via tickets
Lack of information about the company
4. Spark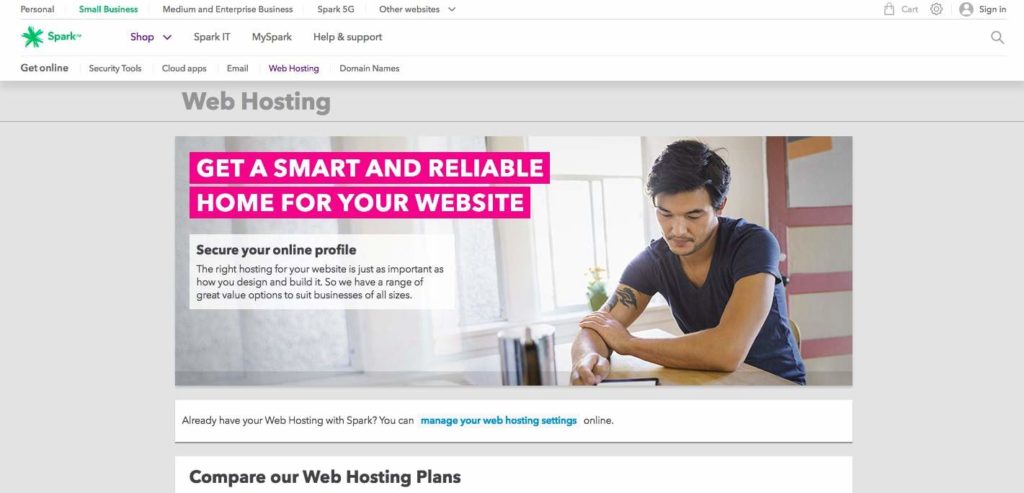 Spark is one of New Zealand's leading telecommunications and digital companies. They are primarily known for offering mobile and broadband services, although they provide services for web hosting in NZ as well.
Spark has servers located all across New Zealand, from North to South Island, which makes them a viable option as your web host provider in the country.
They only offer three plans namely Basic, Essential, and Premium. But before you register though, you'll first need a domain name before you can avail of their web hosting.
You can register a new domain with Spark, but you'll need to wait for at least one business day for them to verify its availability. You can also transfer an existing one, but you'll need your UDAI or EPP code from your current service provider first.
If you want a New Zealand domain name, you'll have to put out $35.95 annually, which is quite expensive compared to other web hosting services. Alternatively, you can get a global domain name at a more affordable $19.95 per year.
Now, if all you need is a simple website wherein you don't expect more than 500GB of traffic a month, the Basic plan should suffice. You'll get 20GB of storage which should be enough for a basic "brochure-style" site that offers basic information about a service, company, or product.
The Essential plan, on the other hand, caters to websites that are more intricate and expect a higher influx of traffic. With this plan, you'll get 50GB of storage, 1TB of traffic, and an upgrade to 3 databases.
However, if your goal is to run an online shop, the Premium plan is what you'll need. It offers 100GB of storage, 3TB of monthly traffic, and up to 10 databases.
Their web hosting services run on either Linux or Windows operating systems. You can easily manage your features via The Console – their in-house user-friendly control panel to modify and edit any of your content and features.
You'll also get access to statistics so that you can monitor your site's performance. You can keep track of the content visitors look at and which clicks bring them to your domain, so you can better plan your business strategy to drive more traffic.
It can sometimes be overwhelming to choose plans and packages for hosting, so Spark's straightforward plans make it the best web hosting in NZ for those who do not have a lot of time.
Great value plans
Simple-to-use control panel
Includes the web statistics
Servers located all across NZ
Can upgrade plans at any time
Phone support only
Must get domain name before registration
5. Voyager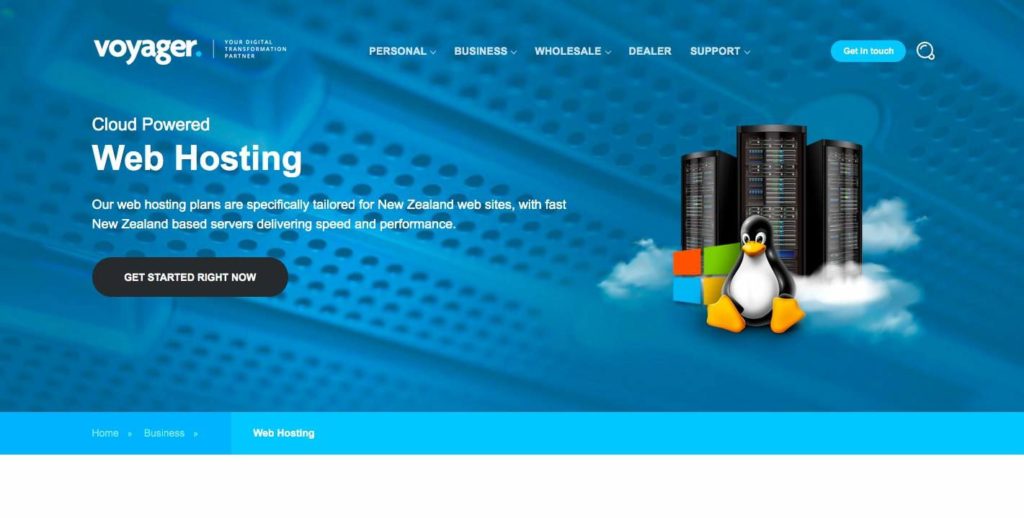 SERVICES
Broadband, Dedicated Fibre, Cloud Servers, Microsoft 365, Domains, Web Hosting, WordPress, Email Hosting, MS-SQL Hosting, Virtual Private Servers, Dedicated Servers, Email to SMS, SSL Certificates
WEBSITE
https://voyager.nz/
CONTACT DETAILS
0800 4 SPEED


[email protected]

OPERATING HOURS
Help Desk: Available 8am to 10pm – 7 days a week
To say Voyager is wholly New Zealand-owned and operated is an understatement – this company is extremely proud of its Kiwi roots. They are primarily known as a telecommunications provider, offering broadband, voice, domain names, and hosting services.
Voyager also has a good reputation for having one of the best customer services among web hosting in NZ. As a small business, they're in a unique position to understand your needs in the digital world.
Catering mostly to business websites, this privately owned company has been around for more than a decade and has a growing client base of more than 30,000 customers.
However, web hosting in NZ is not one of their primary services. Therefore, you'll only get standard offerings and not that many options to choose from.
Voyager offers three web hosting plans operating with both Linux and Windows servers. You can select from the Lite, Plus, or Max which all offer unlimited traffic and no fixed-term contracts.
What sets them apart is that they have put a premium on mailboxes, offering generous storage options and numerous inboxes even with the most basic plan. The Lite Plan, although only offering 1 GB of storage, provides for 10GB mail storage and 10 mailboxes.
Now, since Voyage is a telecommunications provider, you can expect reliable connections and consistent uptime. They are also in a unique position to expand or adjust their hardware as needed with minor inconvenience to customers.
You'll get daily backups, 24/7 monitoring, and website statistics included in your plan. You'll manage all your content and more through Plesk, their centralized control panel.
Through their in-house CMS, you can maintain your site, install apps and check your email. It has also been optimized for seamless integration with WordPress websites where you can adjust themes, install plugins, and more.
While Voyager might have attentive customer service representatives, they don't offer much in terms of a self-help knowledgebase for those who want to figure things out themselves.
Nevertheless, Voyager has proven itself as a reliable service provider in the field of telecommunications and we're not surprised that their services for web hosting in NZ can be excellent. For these reasons, this company has made our list of sites for best web hosting in NZ.
No-term contracts
Unlimited traffic
Multiple email storage and inboxes
Expensive
Limited plans to choose from
6. SecondMile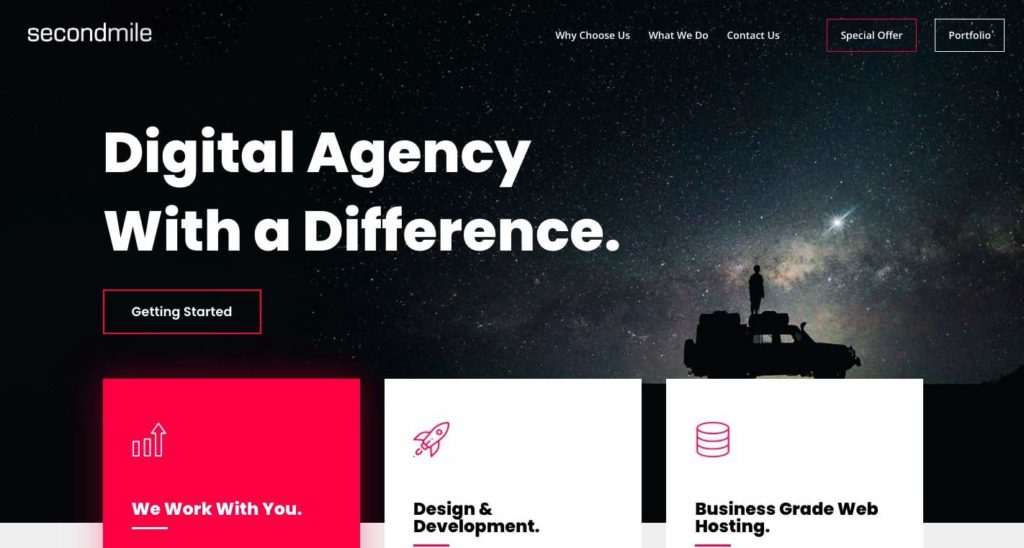 SERVICES
Web Design & Development, WordPress Content Management, Expert Reviews, Search Engine Optimisation, WordPress Training, Web Hosting
WEBSITE
https://www.secondmile.co.nz/websites/
ADDRESS
252 Otumoetai Rd Tauranga, BOP 3110 New Zealand
CONTACT DETAILS
Toll-Free: 0800-959-000
Phone: (07) 222-0580
Email:

[email protected]

;

[email protected]

OPERATING HOURS
24 Hours a Day, 7 Days a Week
Established in 2003, SecondMile Internet Solutions is a one-stop shop for most of your basic website needs. Even though they might be a relatively new company, their team has experts that have been building websites and optimizing web traffic since 1994.
Before you even upload your site, SecondMile can offer you their main specialty, which is designing and developing websites. They'll work to make sure your brand is represented well digitally to enhance your online presence in today's modern marketplace.
They only use WordPress as their Content Management System (CMS) though, but since their primary target market seems to be clients who have little to no experience in managing a website, this is a suitable choice.
They'll provide the necessary training to use WordPress as well, whether it is for an individual or a company so that you can manage the content on your own. They'll make sure you have the basics down so that you can update, edit and keep your content fresh.
They also provide data analysis services, providing you information that includes measurements of your Key Performance Indicators (KPI). They'll then take this data and optimize it for Search Engine Optimization (SEO).
Having these insights for your business can help you gauge your current traffic, identify weaknesses, and help you make the necessary modifications to maximize your digital reach.
As stated before, SecondMile provides end-to-end solutions – which brings us to their web hosting services. Their servers are located in New Zealand, which means Kiwis accessing your site will have fast speeds.
They can create custom hosting plans to suit your needs, although they have preset ones ready to go. These three plans are named Silver, Gold, and Platinum.
All plans come with free web design, domain registration, SSL Certificates, unlimited bandwidth, and 20 email addresses. They'll even set you up for SEO optimization and a listing in Google Business.
The web hosting plans come with 4, 8, and 10 WordPress pages respectively. If you need additional pages, it will cost you $75 each, regardless of what plan you purchased. This costly fee may be a consideration for many when choosing the best plans for web hosting in NZ.
Moreover, the Gold and Platinum plans come with a guarantee of a website up and running in two weeks. Only Platinum offers an e-commerce option via Woocommerce though, with 10 online products and a payment gateway already installed.
In short, if you're setting up a new business online, SecondMile is a great choice because they offer a complete basic rundown of services you'll need. While they're not exactly one of the most affordable, the wealth of additional services you get with each plan makes it well worth the expense.
Wide range of website services
Free web design with each hosting plan
Plans include SSL Certificates
Expensive
Only offers WordPress as its CMS
7. Free Parking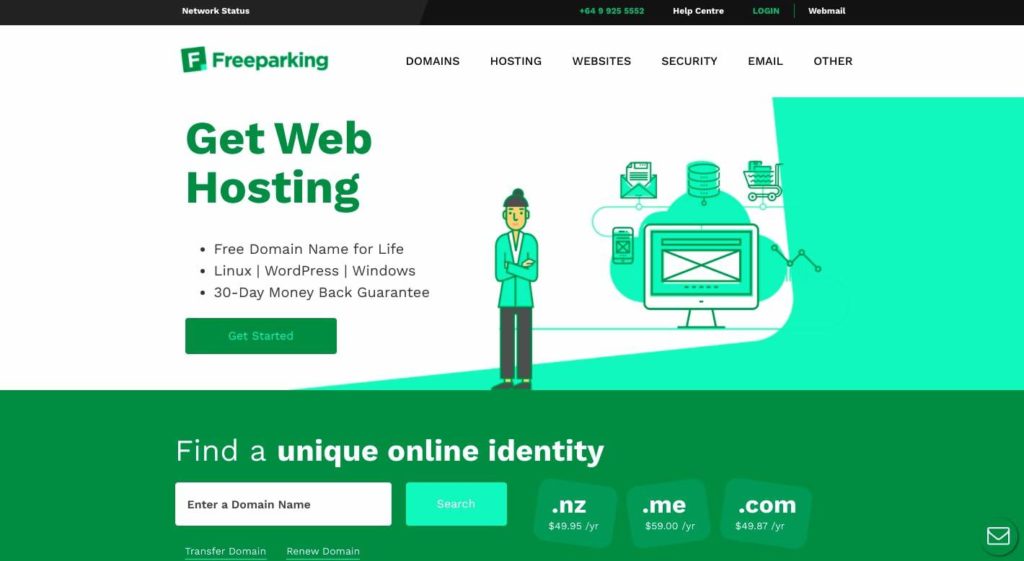 SERVICES
Website Hosting, WordPress Hosting, Private Servers (VPS), Managed Servers, Dedicated Servers (VDS), Domain Name, Website Builder
WEBSITE
https://www.freeparking.co.nz/web-hosting
ADDRESS
Auckland
Lvl 2, Bldg 4/61 Constellation Drive, Rosedale, Auckland 0632, NZ

New Plymouth
Level 2/2, Devon Street East, New Plymouth 4310, NZ
CONTACT DETAILS
Auckland: (09) 801-1028
New Plymouth: (06) 757-2881
Email:

[email protected]

OPERATING HOURS
Monday, Wednesday, Thursday & Friday: 8:30am – 5:30pm
Tuesday: 8:30am – 5:00pm
Saturday: 10:00am – 2:00pm
Freeparking was launched in 2000 in New Zealand and still keeps its data centers in Auckland today. The company was created as a division of WebFarm, a website hosting provider that's been operating since 1997.
Freeparking offers professional cloud-based hosting with a 99.9% uptime guarantee. They also offer VPS, VDS, WordPress, and eCommerce hosting, but they don't have any dedicated servers.
Unlike the other web host providers on our list, Freeparking offers a drag and drop website builder, which is powered by Sitewiz. It's offered in various plans that can accommodate a basic website or an eCommerce platform.
Their web hosting platform runs on Linux and Windows servers, with the latter option costing slightly more. However, both offer the same services with the same plans namely Saver, Standard, or Select plans.
The starter or "Saver" plans offer 5GB online storage, 10GB web traffic, 1 hosted website, and 10 MySQL databases. The Select package, on the other hand, offers five hosted websites along with unlimited web storage, web traffic, and MySQL databases.
However, the Standard plan is their most popular option, which has 2 websites, 20GB Storage, 20GB Email Storage, and up to 100GB of web traffic.
They also offer a Linux-based WordPress plan and eCommerce platform that has the same specifications as the Standard plan, with the addition of WordPress or OpenCart pre-installed, respectively.
Freeparking's hosting plans come with free SSL but offer limited support. They try to make up for it by offering you a 10% discount if you sign up for a 2-5 year term with their hosting service.
So if you need support, you can contact the team via email, phone, live chat, or by submitting a ticket. However, assistance is not 24/7 so this is really important to know when you're trying to decide which company to go with for the best web hosting in NZ.
With that said, Freeparking is still a fantastic option if you're up for supporting a business that operates out of New Zealand. With an affordable starter plan and an intuitive website builder, Freeparking is well worth considering as an option for your business.
Free domain for life
Reasonable rates
30-day money-back guarantee
Reasonably priced introductory hosting prices
No 24/7 support
Website builder not included with plans
FAQs about Web Hosting Services in NZ
---
And that's it for our list of the best services for web hosting in NZ. If you're ready for your website to go live, we hope these options can help you out.
If you have any questions or comments about our selections, please leave us a comment or send us a message and we'll get back to you as soon as we can.
Now, if you haven't designed your website just yet don't worry! We've got a list of the best website builders in New Zealand that can make designing it a breeze!