The 18 Best Website Design Wellington Studios
A creative and engaging website will certainly boost your sales. However, it's not that easy to develop or design one, let alone for it to reach your target audience. That's why we've gathered the best website design Wellington studios here, to help you with that task.
We chose the ones who have the capability and technical knowhow to design your new website. Also, we picked those with outstanding service and rave client reviews.
With their help, you'll be able to get an amazing website for your business. Anyway, here are the best website design Wellington studios.
1) Anyware Web Design & Marketing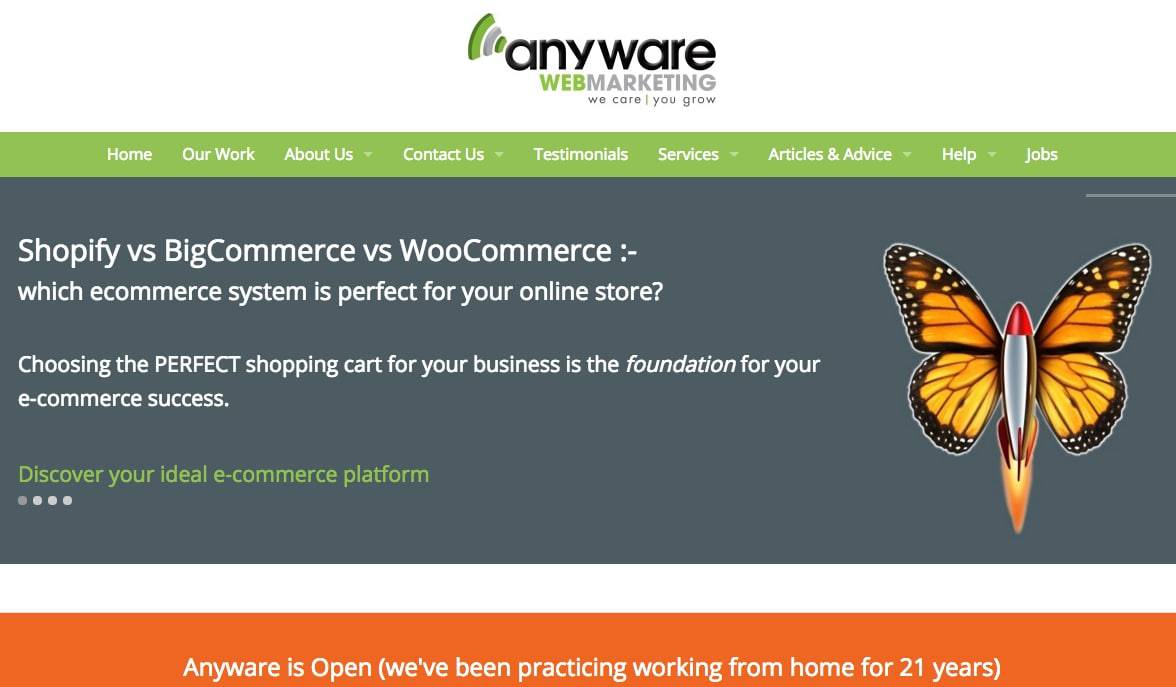 BEST FOR
Ecommerce Website Design
SERVICES

Design

SEO

E-Commerce

Content marketing

WEBSITE
https://anyware.co.nz/
ADDRESS
Central House Level 7/26 Brandon Street, Wellington Central, Wellington 6011, New Zealand
CONTACT DETAILS
+64 04 595 1090
OPERATING HOURS
Monday to Friday: 9.00am – 5.00pm
Starting your eCommerce journey by setting up an online store plus web design and optimisation? If you are, just ring Anyware Web Design & Marketing.
They've been around since 1999. Phil, the owner, has a wealth of experience in this field and can design a website that not only looks good but observes the rules of good SEO (search engine optimisation) marketing.
Your website will have an engaging design and easy-to-use interface (it will be editable too). It will have the potential to convert prospects into customers, and leads into sales.
But not only that: Phil can even work on your social media campaign and optimisation in a way that will increase your user engagement, traffic and sales.
Highlights
Engaging and easy-to-use website
SEO marketing specialist
Established 1999
Can design your online shop
Customer Reviews
With a flawless 5-star rating on Google, Anyware Web Marketing earns a spot in our best website design Wellington studios list. One client, Leigh Johnston, said:
"We initially engaged Anyware to rebuild our Website, which they duly did and did very well, but it didn't stop there. The discussion then started around their SOE offerings as we really wanted to improve our position in Google searches and the result has been outstanding. We understand that to maintain our Google rankings we need to engage Anyware on a regular basis. Phil is passionate about what he does and his advice and support has been invaluable. I can't recommend Anyware more highly. Thank you Phil and the Anyware team."
2) Fahrenheit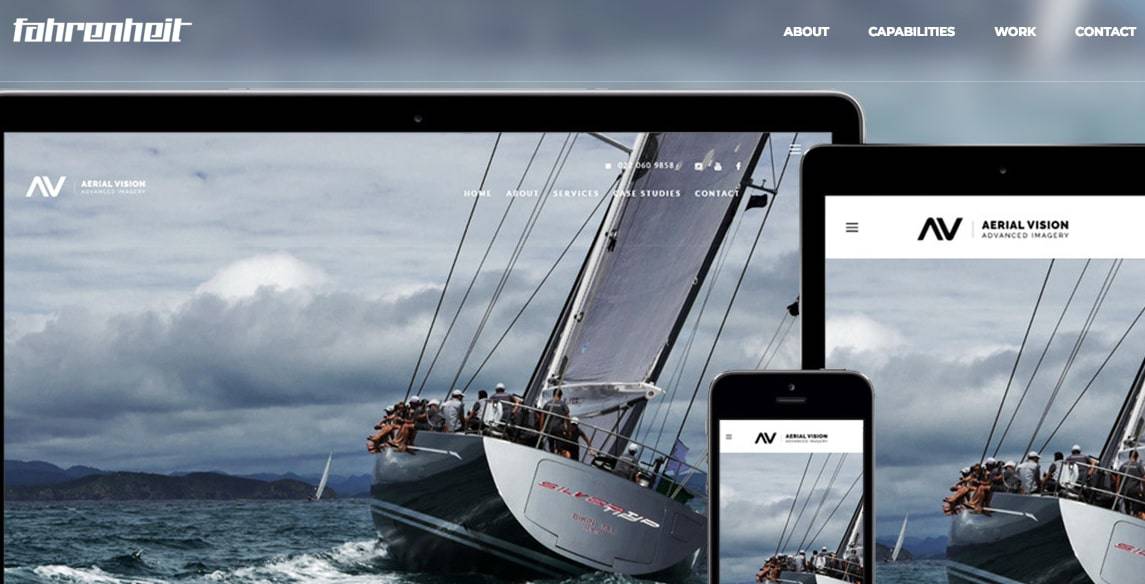 BEST FOR
Intelligent & Functional Web Design
SERVICES

Web design & development

Graphic design

Brand design

Photography

WEBSITE
https://www.fahrenheit.co.nz/
ADDRESS
8 Rongotai Road, Kilbirnie, Wellington 6022, New Zealand
CONTACT DETAILS
+64 21 744 454
OPERATING HOURS
Monday to Friday: 9.00am – 5.00pm
Fahrenheit is focused on creating impressive and digitally-strategised websites that stand out from the rest. One of their prominent clients is NZ's own Weta Workshop.
Their close-knit, adept team will try to know the core values, goals and background of your business first in order to accurately portray them in the design and development of your website.
Because they don't work in a palatial office and don't have account managers, they can keep the overheads low, which means that you'll get great value from their offerings.
Keeping things creative and simple, they'll help you connect with your audience through your products and services — with excellent results.
Highlights
Impressive websites
Offers digital strategy solutions
Adept web designers
Lower prices
Customer Reviews
As their clients would agree, they have some of the best website design Wellington studios. Here is the review of one client, Sir Richard Taylor, from Weta Workshop:
"Fahrenheit have constantly demonstrated a level of creative and technical expertise that has been nothing short of fantastic. They have given our company their wonderful enthusiasm, professional service and creative excellence and have delivered top results every time."
3) Nettl Wellington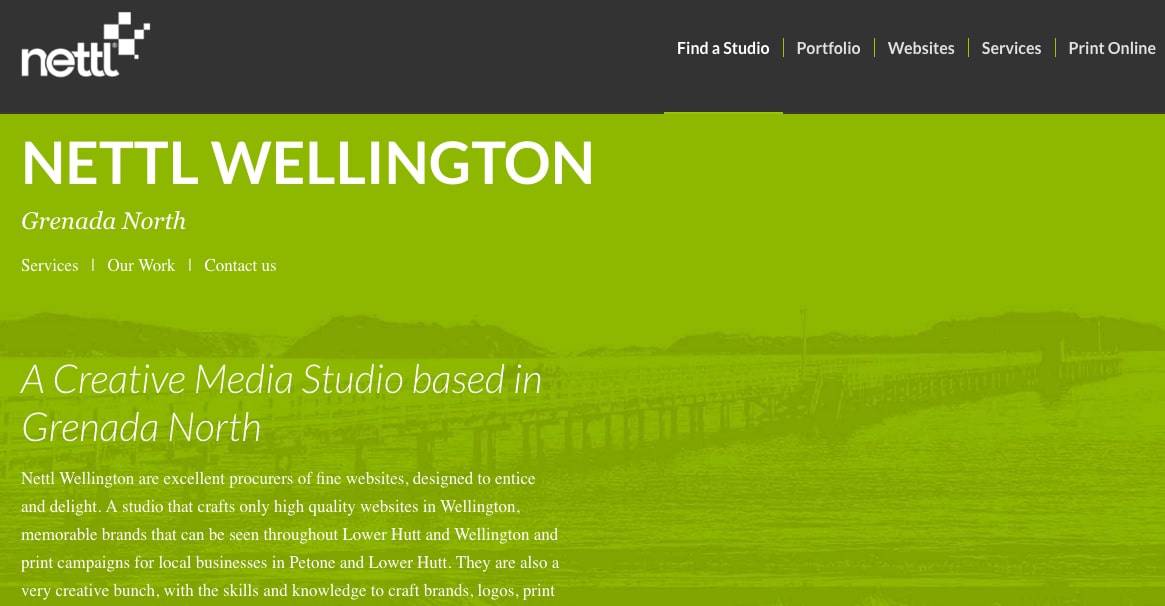 BEST FOR
Complete Website Design
SERVICES

WebsitesSEO & adwords

Graphic design

Print

Photography

Illustration

Videography

Social Media

WEBSITE
https://www.nettl.com/nz/studio-search/wellington/
ADDRESS
GE/245 Wakefield Street, Te Aro, Wellington 6011, New Zealand
CONTACT DETAILS
0800 2 NETTL (263885) or 04 282 1230
OPERATING HOURS
Monday to Friday: 9.00am – 5.00pm
Based in Grenada North, Nettl Wellington is a creative web design studio specialising in online and print media. They can create compelling websites that draw in more clients to expand your business.
To do this, your website has to be optimised in terms of advertising and content. Their eager crew is proficient in Google AdWords and SEO, so you are covered here.
Additionally, they offer photography and videography services that can personalise your website while delivering the brand message intended for your clients.
Plus, your website can be designed to be mobile-friendly. This gives you a market edge over your competitors as people can access your website from just about anywhere.
Highlights
Compelling and mobile-friendly website
SEO experts
Eager and creative crew
Complete range of services
Customer Reviews
Clients praised the company for their superb communication and service. Here's what Jenna Wolvers has to say on Google:
"Ryno and the team at Nettl have been wonderful to work with! They provided a fantastic service from beginning to end and were very efficient in keeping me up to date and following up on queries. I look forward to continue working with them."
4) Springload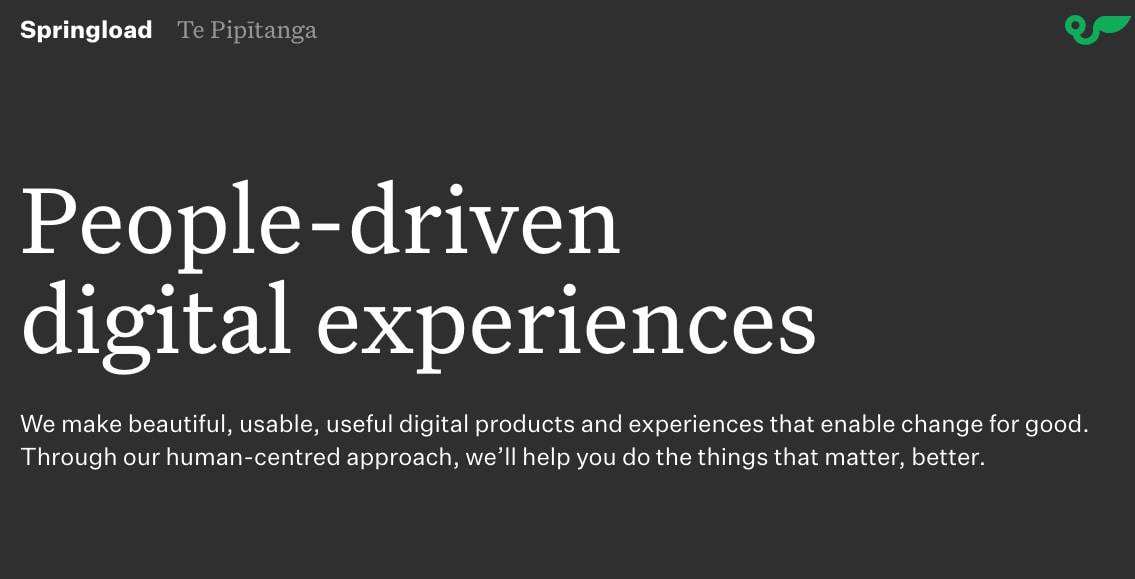 BEST FOR
Human-Centric Web Design
SERVICES

StrategyUX

Design

Content

Development

Analytics

WEBSITE
https://www.springload.co.nz/
ADDRESS
Level 7, Hope Gibbons Building, 7 Dixon Street, Te Aro, Wellington 6011, New Zealand
CONTACT DETAILS

+64 4-801 8205

OPERATING HOURS
Monday to Friday: 9.00am – 5.00pm
Although we depend on digital technology, it's the human aspect of it that draws us. If you believe in this and want human-centric websites, you can talk to the team at Springload.
For them, it's all about creating real experiences for your prospects and customers. They can assist you in reaching for your goals, whether for business, inspiring change or making a difference.
The websites they make are exciting and neat in design as well as simple to use. You can view some of their finished work online to get fresh ideas!
Digital strategy, content marketing, branding and analytics — they have this covered too. That makes them a one-stop shop to solve all your digital needs and problems.
Highlights
Exciting and neat web designs
People-centred approach
Expert and creative staff
Wide range of digital and marketing solutions
5) Grow My Business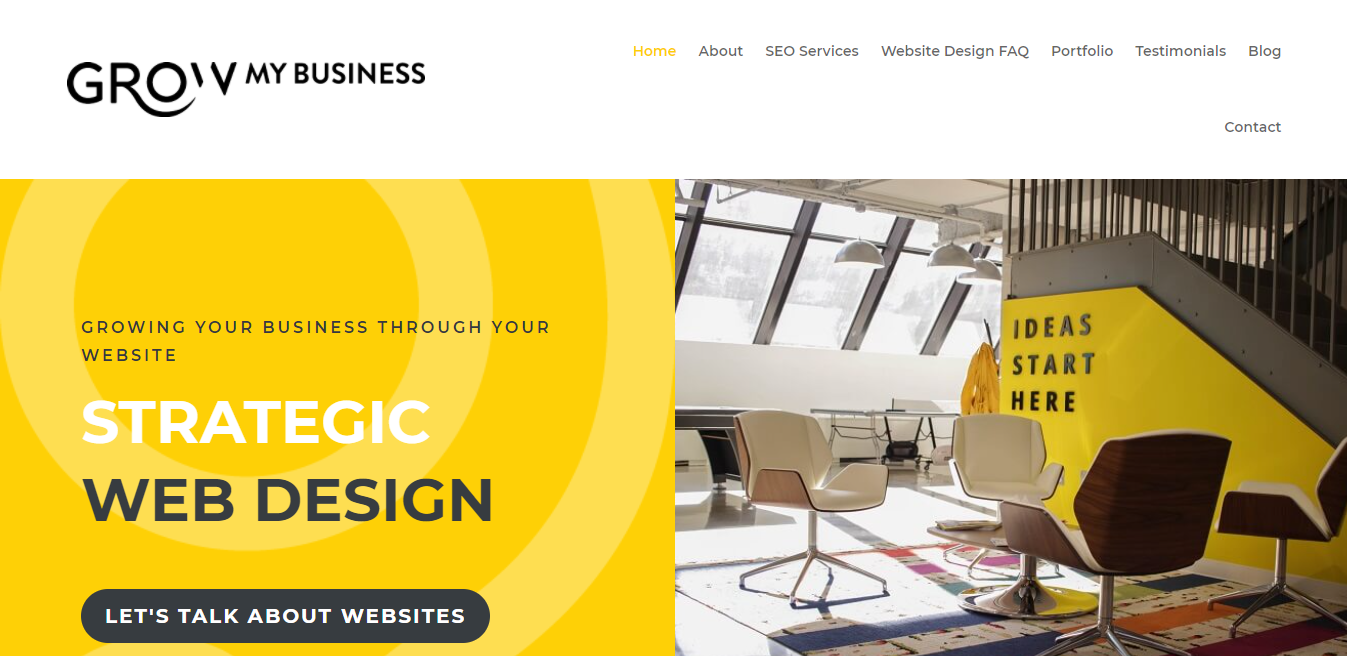 BEST FOR
Easily-manageable sites
SERVICES

Website design

Website optimisation

Website development

SEO services

WEBSITE
https://www.growmybusiness.co.nz/
ADDRESS
35 Pirie Street, Mount Victoria, Wellington 6011, New Zealand
CONTACT DETAILS

+64 21 183 8326

OPERATING HOURS
Monday to Friday: 9.00am – 9.00pm
Grow My Business offers website strategies, which include design, development, and optimisation. In their site, you'll even find resources on how to improve your design and content for marketability.
They create websites not only for aesthetics but also for optimised searchability. Their smallest package starts at $1000.
Another great thing about them is that they use a user-friendly platform. Thus, you can manage and update your site easily, even by yourself.
They are also responsive, so you can be sure that they'll provide you with ongoing support and easy maintenance.
Highlights
Website design and SEO optimisation
Clients with top spot in Google search
Responsive services and ongoing support
Customer Reviews
Kareen Holland, a business owner who manages a skincare and cosmetics shop, wrote this on Grow My Business's website:
"My new site is so much more professional, more engaging and so much easier for customers to buy. Iona is very responsive to any issues and took the time to educate my staff so they can easily make any changes or updates. The BEST part however is that the new site has tripled my online sales, couldn't be happier."
6) Grow Orange –Marketing Digital Agency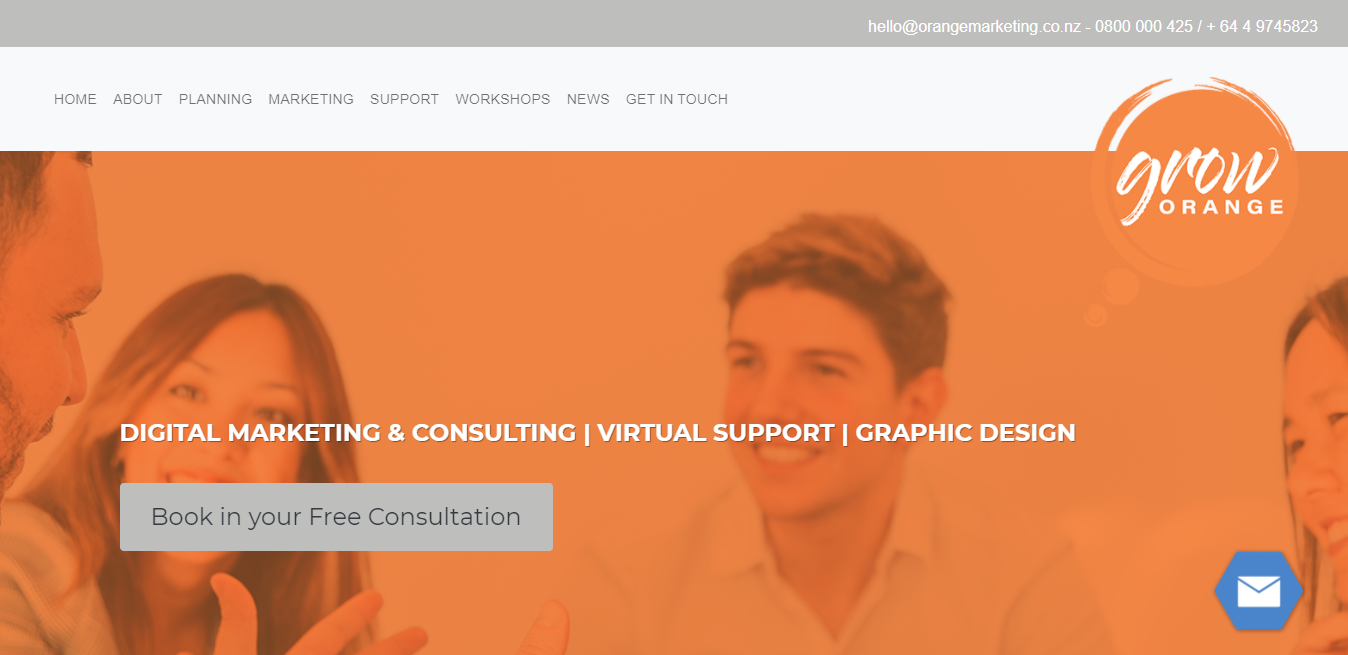 BEST FOR
Website planning to management services
SERVICES

Strategy planningBranding and management

Content writing

Website design

Digital marketing

WEBSITE
http://www.groworange.co.nz/
CONTACT DETAILS
0800 000 425 / 049745823


[email protected]

OPERATING HOURS
Monday to Friday: 9.00am – 4.00pm
Named after a refreshing and lively colour, Grow Orange – Marketing Digital Agency, provides fresh ideas to let your business thrive.
With over 20 years of experience in digital marketing, Lynne Lawson leads Grow Orange. Lynne set this company up in 2012 to help business owners create and manage their websites.
Grow Orange will aid you in crafting your branding and designing your website. They can help you from the planning stage, where they will help you find the perfect strategy to improve profits and rates.
Grown Orange also helps with digital marketing through email and social media, online advertising, and SEO writing to maintain your business site.
Highlights
Content writing and social media updating
Marketing planning, brand management, and web design
Social media training and accommodation Zoom calls
Virtual support
Customer Reviews
Clients appreciate Grow Orange's excellent communication and friendly services. Sally Ching, a business owner, wrote this on Grow Orange's Facebook page:
"Grow Orange has been an awesome company for us at #ASURE306onRiccarton. Lynne has worked tirelessly supporting me in setting up all my marketing and advertising. Starting a new business can be daunting and we all think we can do it ourselves …its the kiwi way. However – if you want a polished, professional look (on the outside for the public to see but also on the inside so its easy to follow yourself) then you need to talk to Lynne. Her knowledge is amazing, she is easy to communicate with, explains things in simple language and on top of that is just a genuinely nice person! Look no further – I'm so glad we found her!!"
7) Graphic Solutions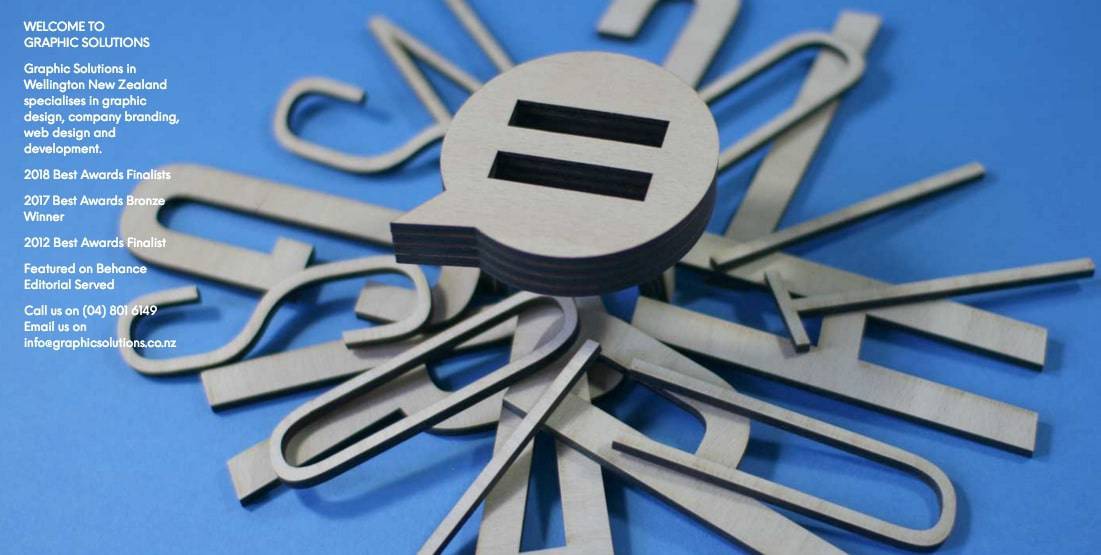 BEST FOR
Cost-Effective Web Design
SERVICES

Graphic designCompany branding

Web design & development

WEBSITE
https://www.graphicsolutions.co.nz/
ADDRESS
65 Abel Smith Street, Te Aro, Wellington 6011, New Zealand
CONTACT DETAILS

+64 4-801 6149

OPERATING HOURS
Monday to Friday: 9.00am – 5.30pm
If you're forming a startup business and need an excellent web designer to boot, then Graphic Solutions could be for you.
You'll be working with Craig who is the proprietor of Graphic Solutions. Leading a small team, Craig has been described by clients as clever, innovative and pleasant to work with.
Services include graphic design, web design and development, and company branding. His website designs are neat, simple and effective, as you can see in his samples.
One of the best website design Wellington studios, Graphic Solutions has also been a Best Awards bronze winner (2017) and finalist (2018 and 2012).
Highlights
Excellent web designer
Can design your brand and logo
Clever, innovative and pleasant to work with
Best Awards 2017 bronze winner
Customer Reviews
Professional and no-fuss service is what you'll get here. One client, Johanna Osborne, shared:
"I can not rate this firm highly enough. Small but resourceful, clever, innovative and totally on point. I wanted a website and communicated my vision, and voila – it was beyond my wildest dreams and better than I could have imagined. And so quickly too! Craig and his team are beyond incredible and everything I have seen of theirs has been outstanding. Go Wellington creativity!! You would be hard pressed to duplicate this level of talent for these prices overseas."
8) Mikis Graphic & Website Design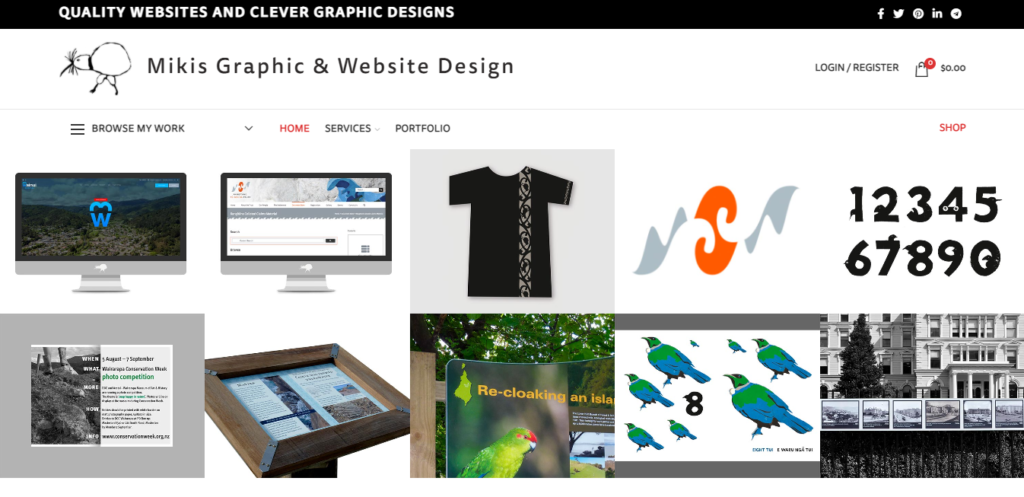 BEST FOR   
Specialty in design
SERVICES
Website design, digital design, branding design, website maintenance and teaching
WEBSITE
https://www.mikis.co.nz/
CONTACT DETAILS
06 372 5678


[email protected]

OPERATING HOURS
Monday to Friday: 9.00am – 6.00pm
Mikis Graphic & Website Design is an expert in everything about design. They create designs for both digital and printed platforms to help you boost your business's public appeal.
They can handle all types of website requests, including simple business profiles to complex online shops. Mikis Graphic & Website Design will not only help you design and build a desktop and mobile-friendly site but will also help you maintain it.
Another service Mikis Graphic & Website Design offers is its branding design services. Thus, their various services can help you make a cohesive design and plan to showcase your business online.
Highlights
Mobile and desktop interface
For stunning business profile and large online shops
Training and maintaining services
Customer Reviews
Dr Robert Watcyn Jones, a clinical director, left this review on their site as a testimonial to Mikis Graphic & Website Design's services.
"Mikis has been my website developer and manager for over 7 years. He has designed for my Oral & Dental Practice in Masterton, my Cosmetic Clinic in Wellington and a Medical appraisal company we own in the UK. He is currently developing a Dental and Aesthetic website for us in the United Kingdom and Austria. Mikis' talents are boundless, his creativity is without parallel and he is an absolute delight to work with, a true professional gentleman. I commend his services in the highest order."
9) CREATIVA Design Studio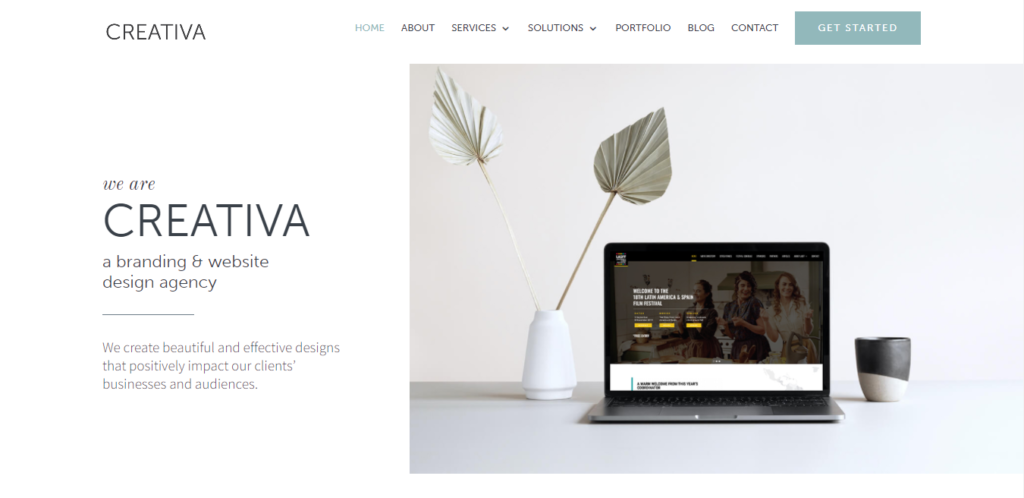 | | |
| --- | --- |
| BEST FOR    | Collaborative approach |
| SERVICES | Web design,  website hosting and maintenance, digital design, branding and logo creation |
| WEBSITE | https://www.creativa.co.nz/ |
| ADDRESS | 67 Holborn Drive, Stokes Valley, Lower Hutt 5019, New Zealand  |
| CONTACT DETAILS | +64 21 256 4083 |
| OPERATING HOURS | Monday to Friday: 9.00am – 5.00pm  |
If you're looking for a website design agency that values collaboration as much as you do, then CREATIVA Design Studio may be the perfect fit.
They understand how web design should be about what the customers need to see and what the owners want to showcase. Because of all these, they are able to offer high-quality services to international and local clients.
Their services include web design, website hosting and maintenance, and branding design. CREATIVA Design Studio also offers digital design to provide you with remarkable logos and business cards.
Highlights
Collaborative website solutions
Web design to hosting and maintenance
Logo and other digital design services
Customer Reviews
Because of their collaborative approach, CREATIVA can surely be the best partner for your business. One business owner, Fabiola Haru Stevenson, shared her positive experience with CREATVA Design Studio:
"Creativa has been a solid force behind my business, great partners in the creative process as well as technical matters.  Maribel and Vera are very professional and offer great services for a very reasonable rate.  It has been a great investment and a pleasure to work with them."
10) Designerbloom Graphic Design

BEST FOR   
Visual identity services
SERVICES
Logo & Branding
Website Design & eBooks
Social Media Design
Graphic Design & Print
Buds to Bloom Pre-Made Brands
WEBSITE
https://www.designerbloom.net/
ADDRESS
Wellington, New Zealand
CONTACT DETAILS
[email protected] | (64) 021 141 6583
OPERATING HOURS
Monday to Friday: 9.00am – 5.00pm 
Sara-Jane Austen of Designerbloom strives to provide quality graphic design and branding services to all of her clients.
One of the best things about working with Sara-Jane is that she takes the time to sit down with each client, hearing out their concerns and learning the intricacies of their business or freelance identities before she heads on to the planning process. In doing so, she can get one step closer to the best design pieces for specific clients.
Highlights
Best for small to medium-sized businesses
Offers social media branding services
Collaborative process
11) Click Create
BEST FOR   
Graphic Design Services
SERVICES
Website Design, Graphic Design, Document Layout, Photography
WEBSITE
https://clickcreate.co.nz/
ADDRESS
10 Trafford Terrace, Churton Park,
Wellington 6037, New Zealand
CONTACT DETAILS
+64 21 878 774
[email protected]
OPERATING HOURS
24/7
Click Create is a graphic design company that offers a wide range of services. From website design to advert printing, they've got all your design needs covered.
The company is mainly run by Brandt, who has been doing freelance work for more than a decade now. With his experience in marketing and advertisement, there's no doubt that he'll be able to handle any design job you may have.
Highlights
Specialises in graphic design
Wide range of services
Many years of experience
Experience in marketing and advertising
12) Tailgunner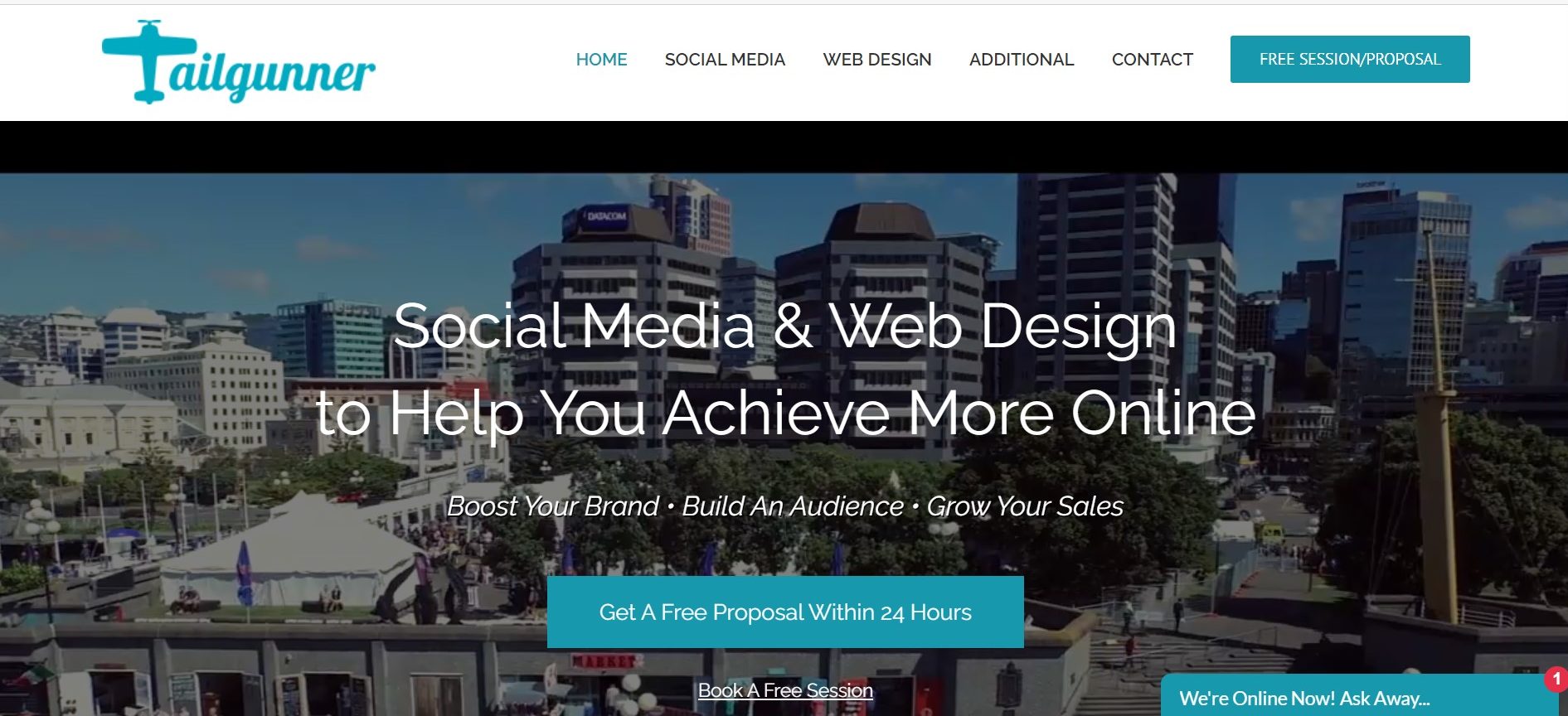 BEST FOR
Free initial session
SERVICES

Social Media, Web Design, Additional Vacancies, SEO, Google Ads

WEBSITE
http://www.tailgunner.co.nz/
ADDRESS
Unit 4, 28 Bridge St, Lower Hutt 5010
CONTACT DETAILS
0800 932 101
021 0223 9924
[email protected]
OPERATING HOURS
Monday – Saturday: 8am–5pm
Boost brand sales and garner attention with Tailgunner's amazing website designs and social media advertisements, They're known to offer high-quality services that guarantees with positive results, making it worth the spending.
You can also book other services to go along with acquiring their assistance with website designing, simply just contact them for specifics and price quotation!
Highlights
Amazing designing expertise
Competitive rates
Unique and effective styles
Customer Reviews
Read some of the feedbacks left for Tailgunner, proving their efficiency as a company that provides website designing and advertisements among many others:
"Seth helped my business EV Autos out big time by organizing a way to make contact with my customer base easily and directly. All it took was 1 email with what I needed done and he took care of the rest. Quick,efficient, and stress free. Highly recommend. Hit him up for all your online business needs!" – David Durant
"Seth and the team have been fantastic to deal with. We have recently launched a new website and all our ideas and feedback were thoroughly considered, with good recommendations made. The process was super easy and straightforward, and the final product is fantastic! This was the second website launch I have worked with Tailgunner on, and wouldn't hesitate to do so again." – Chloe Wilson
13) Flightdec

BEST FOR
Community Building Through Website Design
SERVICES
Website Development and Design, Public Issues Campaigns, Brand Identity & Design, Community Building Strategies
WEBSITE
https://flightdec.com
ADDRESS
27 Lower North Terrace
Kelburn, Wellington 60124
CONTACT DETAILS
[email protected] | 021 669101
OPERATING HOURS
By appointment
When it comes to revolutionary website designs that are made to forge connections in the community, there is no forgetting Flightdec.
Flightdec endeavours to aid clients in strengthening their reach in the digital landscape. Their team consists of digital marketing and website development experts whose years of experience in their respective fields allow Flightdec to competently and confidently work on client requests, delivering them on time.
Aside from website design and development, Flightdec also offers content creation, brand identity and design, and community building strategies.
Highlights
Dynamic website designs
Offers content creation and branding 
Diverse and skilled team
14) Websense Development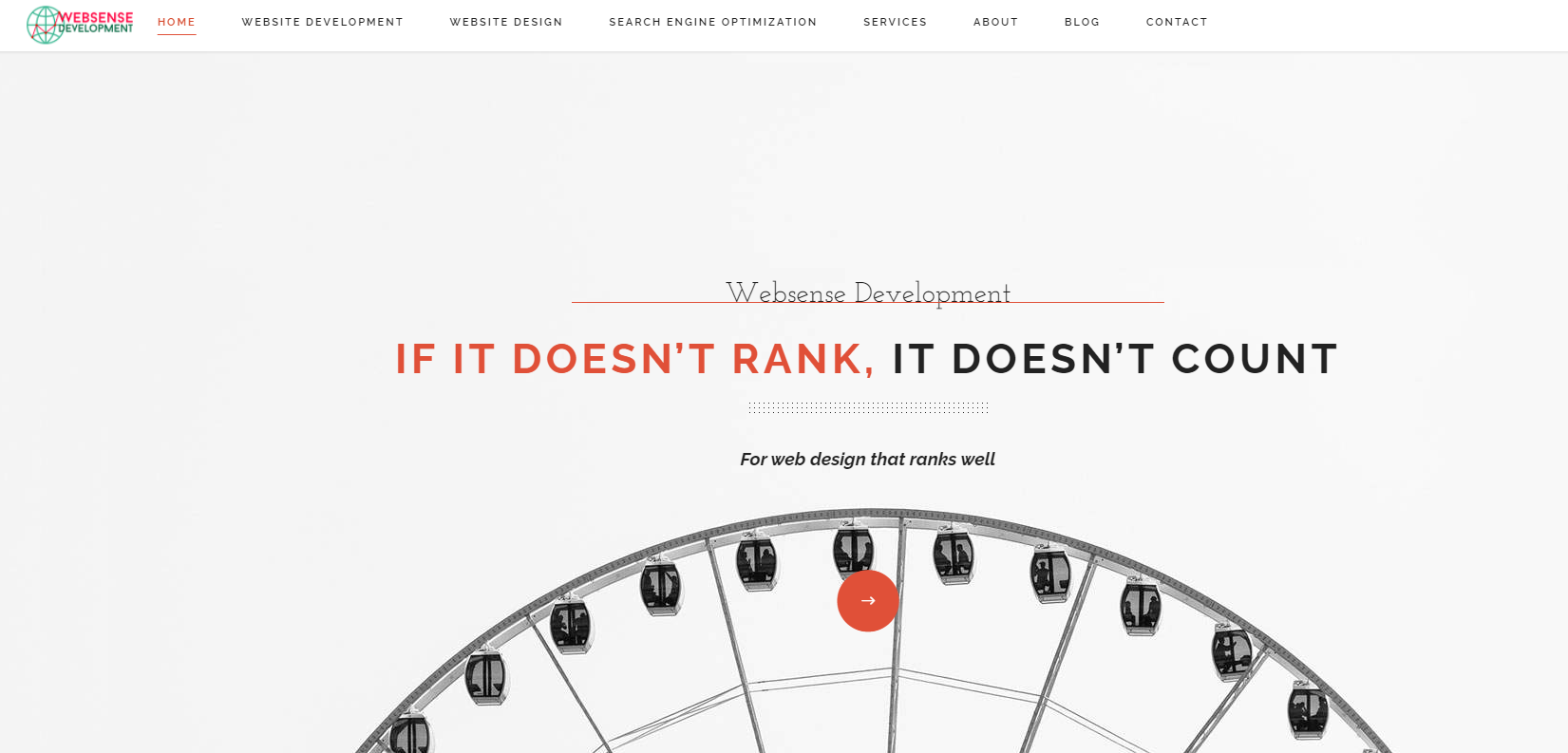 | | |
| --- | --- |
| BEST FOR | Wide range of digital services |
| SERVICES | Website Design and Development, Search Engine Optimisation, Graphic Design, Social Media Marketing, Email Marketing, Online Marketing, Web Analytics, Photography, eCommerce Website, Support and Maintenance |
| WEBSITE | https://websensedevelopment.co.nz |
| ADDRESS | 1/19 Arthur St, Te Aro, Wellington 6011 |
| CONTACT DETAILS | 0274 729 714 |
| OPERATING HOURS | By appointment |
Located at the heart of Wellington is one firm that offers a wide array of digital solutions. Websense Development is its name, and it has been in business for a number of years now, constantly providing bespoke services to clients who are looking to boost their visibility online.
Some of the services that Websense Development offers include website design and development, graphic design, product design, merchandise design, online marketing, and social media marketing. Clients have the option to avail of a complete digital marketing package or just one service.
Another thing worth noting about Websense Development is that they are flexible enough to work with businesses of all sizes and from any industry. Since the beginning, they have been providing solutions for startups, SMEs, and global brands. 
Regardless of the choice of service or the business size, Websense Development endeavours to make sure that the clients' digital reach will have grown by the time they are through with the services.
Highlights
Full suite of digital marketing services
Works with businesses of all sizes
Client-centric business
15) The Digital Marketing Consultants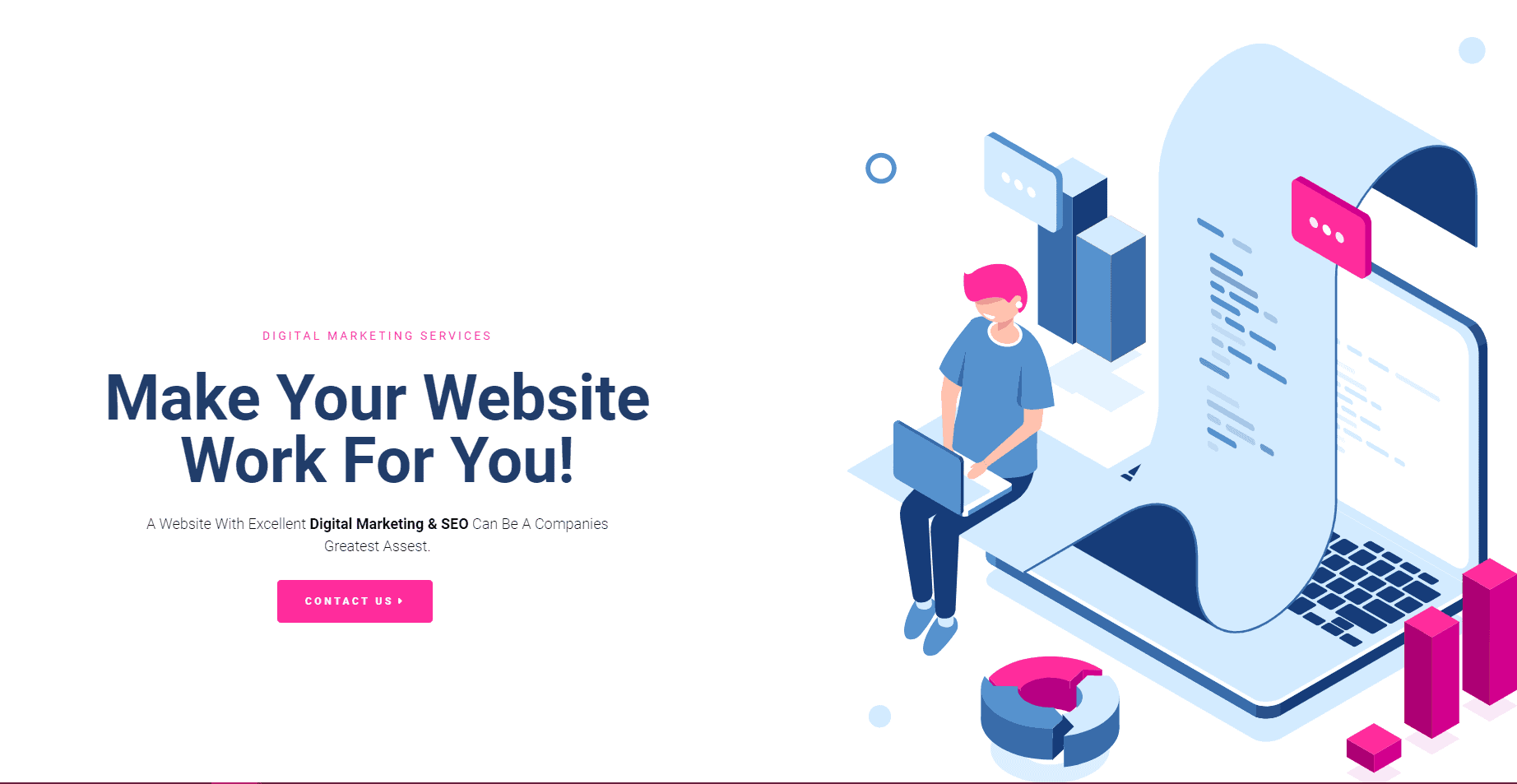 BEST FOR
Interactive Website Design
SERVICES
Social Media Marketing
SEO Services
Google Ads
LinkedIn Marketing
Website Design
WEBSITE
digitalmarketingconsultants.co.nz/
ADDRESS

Newmarket, Auckland

CONTACT DETAILS

Phone: 0211328686
Email: [email protected]

OPERATING HOURS
Contact for more information
When it comes to digital marketing, The Digital Marketing Consultants are one of the best options to consider. They offer a wide range of services, from social media marketing to website design, and everything in between.
Their website designs are praised by many for its wide degree of interactivity. This not only leaves a longer lasting impression on visitors, but also allows its users to access and explore the website more easily.
While their custom made websites are top-notch, companies that want to keep it simple can also have a traditional website made based on their structed template designs. No matter what you choose, their team of creatives, designers, and programmers will do their utmost to deliver a website that can provide you with positive results.
Given their comprehensive services and pursuit of the best, The Digital Marketing Consultants is a digital marketing company you should hire when it comes to website design. With their help, your website can actually become a site that attracts your intended audience and transforms them into loyal customers.
Highlights
Custom made and structured websites available
Wide range of web design services
Interactive designs
Free quote available
16) Sunny Side Up

Sunny Side Up strives to make technology, particularly digital solutions, appear more friendly and easy to use for the common people. Give it a "more human face," as the firm once said.
Now, Sunny Side Up has done numerous things as they work towards this goal. For one, the firm is one of the few that takes the time to explain each step of the process to its clients, in hopes that they will better understand what it takes to boost one's visibility online.
Another thing Sunny Side Up has done is customise its process to better work with diverse clientele. Many know about the Waterfall process, which is the typical meticulous planning that goes into crafting digital solutions.
However, Sunny Side Up is capable of more than that. The firm also specialises in the Big Bang, wherein the team just goes for it; and the Agile, which is the process where they keep it simple and do everything they can in a given time period.
These three working styles make Sunny Side Up one of the more unique firms on this list, which has resulted in Sunny Side Up gaining the favour of numerous SMEs based in New Zealand and other parts of the world. But it doesn't stop there.
We also commend Sunny Side Up for its diverse work portfolio, which includes projects in web development with the use of the Silverstripe Content Management System (CMS), a system that allows Sunny Side Up to work deal with e-commerce, high-traffic optimisation, internationalisation and localisation, and search engine optimisation.
Sunny Side Up is also known to handle WordPress, Laravel, and Craft CMS.
Before moving forth with any digital solution, Sunny Side Up takes the time to meet with each client, learning more about their brands and their offerings.
For further inquiries or consultation bookings, Sunny Side Up can be reached through phone or email.
Highlights
Diverse work portfolio

Offers three different kinds of processes

Offers website audits

Works with clients from all over the globe

Specialises in working with SMEs
17) Scarlett Web Design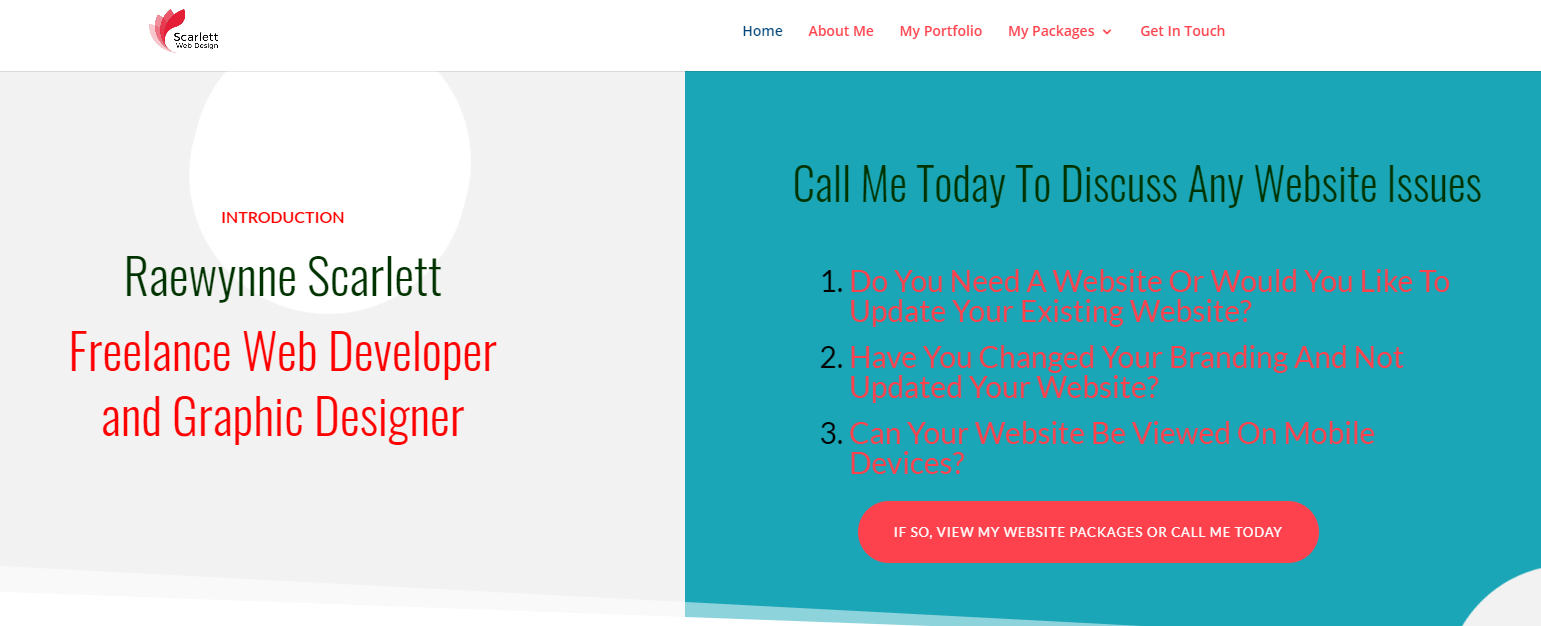 | | |
| --- | --- |
| BEST FOR | Affordable Web and Graphic Design |
| SERVICES | Graphic Design – flyers/brochures/logos/signage/business cards and stationery/company branding guidesWeb design and development |
| WEBSITE | https://scarlettwebdesign.co.nz |
| ADDRESS | Work from home |
| CONTACT DETAILS | +64 21 877407 |
| OPERATING HOURS | Monday to Friday: 9.00am – 5.00pm |
Scarlett Web Design is run by Raewynne Scarlett, a web and graphic designer who has earned a certification in Web Development and Writing for the Web, Diploma in Web Development, and a Diploma in Digital Media and Design.
When it comes to strengthening your brand or perhaps establishing your online presence, Scarlett Web Design can help you get started on the right track thanks to Raewynne Scarlett's wide skillset.
Highlights
Web Development
Logos
Branding
Packaging
Brochures
Wayfinding
18. Wonderlab Ltd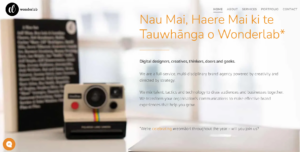 SERVICES 

Guiding: Brand audit, brand strategy & positioning, campaign strategy & planning, user experience, SEO, social marketing strategy & marketing, and digital marketing + strategy. 




Designing: Brand architecture, brand stories, brand guidelines, campaign and advertising creative, user interface, digital content + social media, traditional graphic & print design, visual identity systems, and environment graphics. 




Producing: Brand collateral, digital collateral, web creation, print collateral, and video production. 

WEBSITE

ADDRESS

Level 3, 187 Featherston Street

PO Box 25584

Wellington 6140

CONTACT DETAILS

04 473 0816

0800 632 003

OPERATING HOURS

Monday – Friday, 9:00 AM – 5:30 PM
Wonderlab Ltd is a multi-disciplinary agency that is known for their great teamwork, able to solve and work together to understand what outcome works best for their clients. They are the type of agency that starts at the top and checks everything to make sure that everything works well. 
Their services revolve around brand, marketing and communication and similar services that can "make a dent" in someone's "universe". That is why they take great care in their fundamentals before devising strategies or designs. 
To make sure their fundamentals are met, they made a proven 4 step process which is discover, report & recommend, apply, and monitor. We think that having guidelines is a great way to maintain a certain standard of quality and in their case it is surprisingly high. 
We greatly recommend them for people who want a well-rounded agency that provides almost everything that can make your company known from search engine optimizations, to brand architecture, and even video production. 
Highlights
Tailored services

Experienced staff

Great customer support
Well, that ends our list of the best website design Wellington studios. Jumpstart your business by letting them design your website, which will surely attract more customers.
Did we miss anything in this list? If you think we did, kindly drop us a message and we'll update this article promptly.
Other than that, if you merely need to boost your online presence and reach the top of the search rankings, you can also check out the best SEO companies in Wellington.