9 Best Wellington Property Management Agencies
It requires your full time and attention to manage any property. You can make the work easier, though, by hiring the best Wellington property management agencies to help you.
With them, you won't have to worry about finding good tenants, property maintenance, or updated tenancy acts. Also, they will advise and offer you a hand to help you maximise your return on investment.
We selected the companies with genuine, trustworthy, and highly adept teams… as well as those with very good reviews from property owners, of course. So, if you're ready, we now present to you the best Wellington property management agencies!
1)  Managemyproperty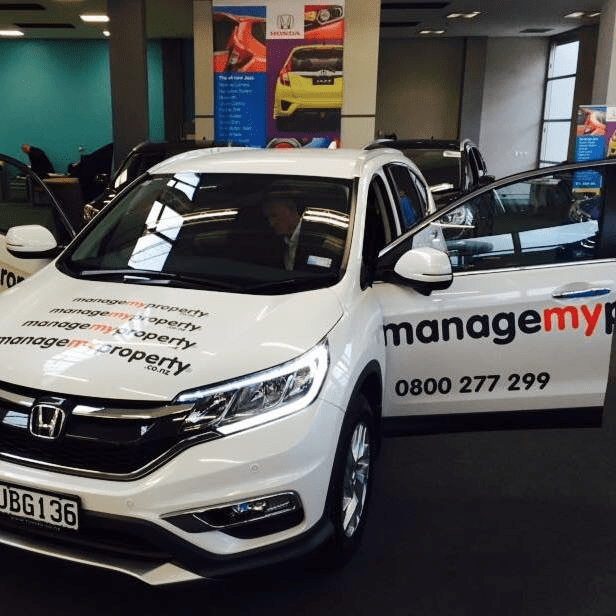 | | |
| --- | --- |
| Best for | Excellent Customer Service |
| Services | Property Management, Legislative Compliance |
| Address | 125-137 Johnsonville Road, Johnsonville, Wellington, New Zealand |
| Contact no | 0800 277 299 |
| Website | https://www.managemyproperty.co.nz/ |
Managemyproperty is a no-frills property management company with people who treat your property like their own, know about rental legislation, and offer a single management fee.
With them, you'll have more time for yourself. The team maintains great communication and service throughout, so you won't miss a single beat.
Best of all, your rental property and tenants will be taken care of — even when you're out of town. Hence, we reckon this to be one of the best property management agencies you can find.
Highlights
Caring, genuine, and amiable team
Fantastic communication
Customer Reviews
Simon Miller notes from Google Business:
"The team at ManageMyProperty are excellent property managers. Any problems or issues with the Rental property and they are on the case arranging repairs when needed and offering helpful advice when queried on tenancy matters. Highly recommended."
2)  Leaders Property Management Wellington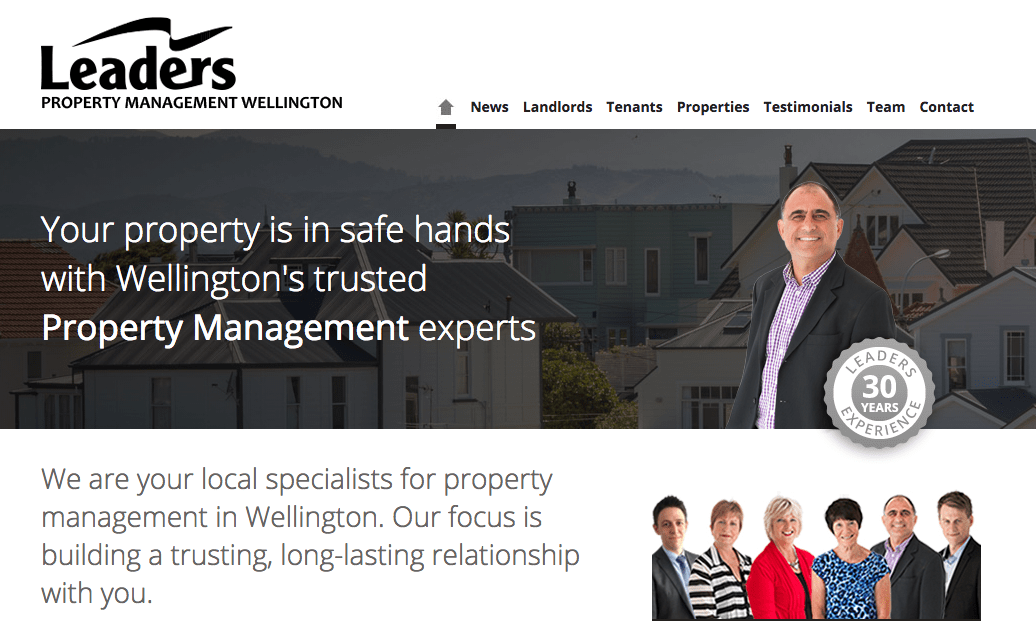 | | |
| --- | --- |
| Best for | Care for the Customer |
| Services | Property Management, Rent Collection, Property Maintenance and Care, Quarterly Asset Reports |
| Address | Level 1 / 77 Thorndon Quay, Wellington 6140, New Zealand |
| Contact no | (04) 494 1174 |
| Website | https://www.leaderspm.co.nz/ |
Another of the best Wellington property management agencies is Leadership Property Management. With a tailored service, they can help you to achieve your goals in relation to your property investment.
With over 30 years' experience, they are fluent in property management. You can definitely rely on them and trust that they will look after your property and collect the rent in a prompt manner.
Moreover, their accountant will handle your trust accounts for your financial security and peace of mind. Plus, they will keep your tenants happy so that they stay longer.
Highlights
Prompt and trustworthy
30 years of industry experience
Handles your top-to-bottom property management
Customer Reviews
Here's a snippet from the Google review from var raz:
"There are few people, and companies you will come across in your lifetime that consistently provide quality services, with a human touch as Leaders has done for us.
Through home listings, viewings, reference checks, advisory services.. we've seen so much, with no complaints. We always get our rent on time, and the tenants are content to stay or extend their leases."
3)  Nest Property Management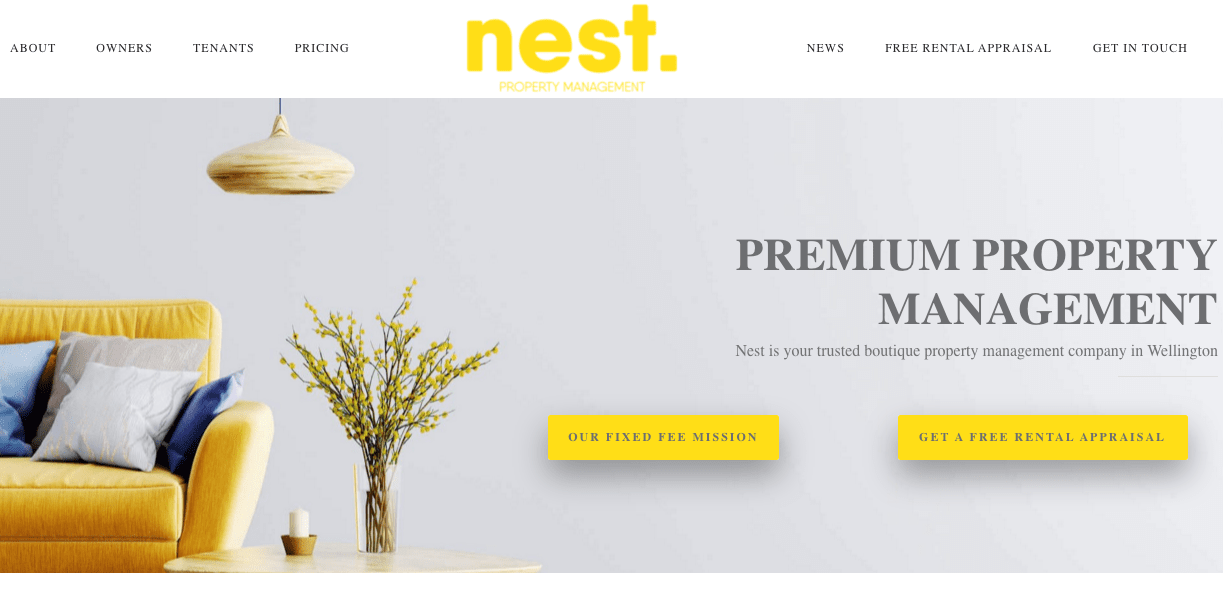 | | |
| --- | --- |
| Best for | All-Inclusive Price |
| Services | Tenant Sourcing, Property Management, Regular Inspections and Maintenance |
| Address | 238 Victoria Street, Te Aro, Wellington 6011, New Zealand |
| Contact no | (04) 390 1290 |
| Website | https://www.rentwithnest.co.nz/ |
At Nest Property Management, they offer an all-inclusive fee of NZ$195 per month for a complete property management service — with none of those surprise fees and percentages.
That's all you have to worry about while they assist you in everything from negotiating with tenants to keeping the area routinely clean and habitable. With an adept team and tech innovation, they ensure everything is effortlessly sorted for you.
From time to time, you will get reports and communication, always adjusting to give you a return. So, this is one of the best Wellington property management agencies as well.
Highlights
Pay only NZ$195/month
Comprehensive property management
Adept team with organised processes
Fantastic communication
Customer Reviews 
Damianos George, a property owner, commented from Google:
"I started using Nest over 2 years ago and have not looked back. Extremely professional and prompt service that is hassle free. Regular inspections, great tenants and and easy to use online portal ,with all required info available, has kept me happy and put my mind at ease.
Would definitely recommend to others."
4)  Trust Property Management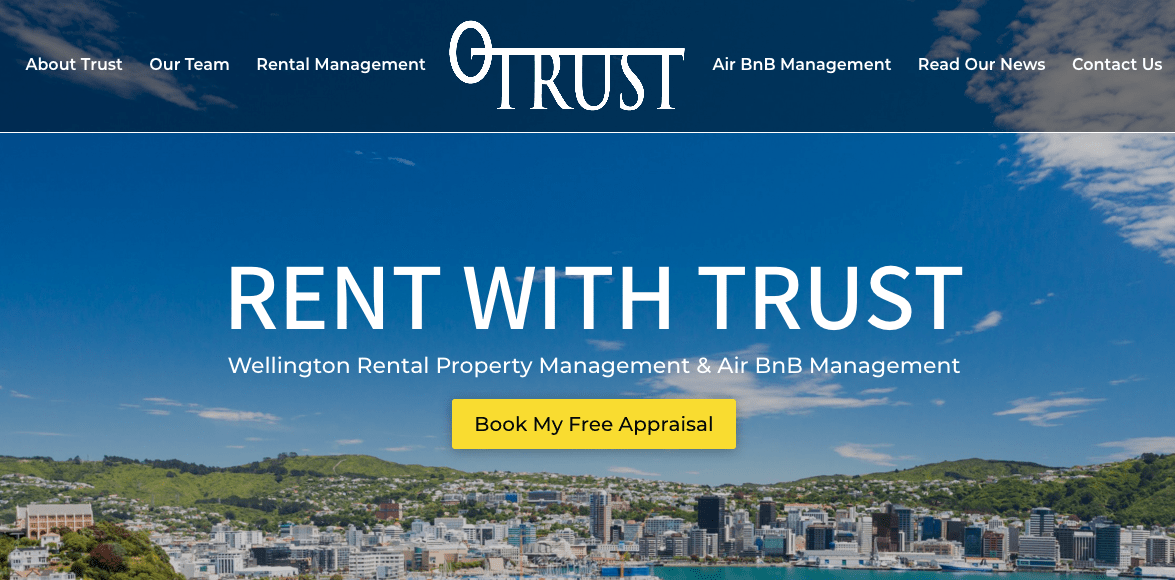 | | |
| --- | --- |
| Best for | Trustworthy Property Managers |
| Services | Rent Collection and Arrears Management, Tenant Vetting, Routine Inspections, Maintenance and Improvements, Statements and Invoices, and Property Advertising |
| Address | 9/72 Webb Street, Te Aro, Wellington 6011, New Zealand |
| Contact no | (04) 801 8773 |
| Website | https://www.trustproperties.co.nz/ |
Trust Property Management will give the other companies on this list a run for their money. That's because trust is their guiding principle when working with you.
They have top-of-the-line systems where information pertaining to your tenants and property are kept. You can expect a quick response and report from their team without any hassle on your part.
Rent collection, tenancy vetting, delayed payments, and maintenance are all covered. And if you need to know the latest goings-on about your rental property, they have an online portal that you can access anytime.
Highlights
Property managers you can trust
Online portal link for convenience
Can assist in regular property maintenance
Top-of-the-line systems and processes
Customer Reviews 
From a tenant's point of view, Arturas Kalesnykas said:
"Great property management company. Property managers were easy to deal with, inspections were straightforward and we loved the place that we rented. We will choose the company again in case we come back to NZ."
5) Zealty
Zealty is a small business run by a husband and wife duo that's well-versed in the Wellington property market. As property investors themselves, they know the importance of management, which is why they strive to provide their clients with the best services they can acquire in all of Wellington.
To achieve such a feat, Zealty makes sure to manage each property themselves. They do the inspections and cares for clients' properties as if they were their own.
Highlights
Offers thorough tenant checks
Direct property management
6)  Oxygen

Best for
Rental Property Management
Services
Rental Property Management, Lettings, Body Corporate, Facilities Management, and New Business
Address
27 Buller Street
Te Aro
Wellington 6011
Contact no
Property Management and Letting
p: 04 472 5746
e: [email protected]

After Hours Emergencies
p: 0800 158 921

Body Corporate
p: 04 619 1000
f: 04 566 0900
e: [email protected]

Website
https://www.oxygen.co.nz/
Oxygen works with clients of all kinds, from investors to homeowners. They have a wide range of services covering property management and business.
Their team of dedicated property managers and corporate secretaries are skilled at what they do. With Oxygen at your side, you can sit back and relax as they do all the work.
Highlights
Free rental appraisal
Offers after-hours emergency services
7) Tommy's Property Management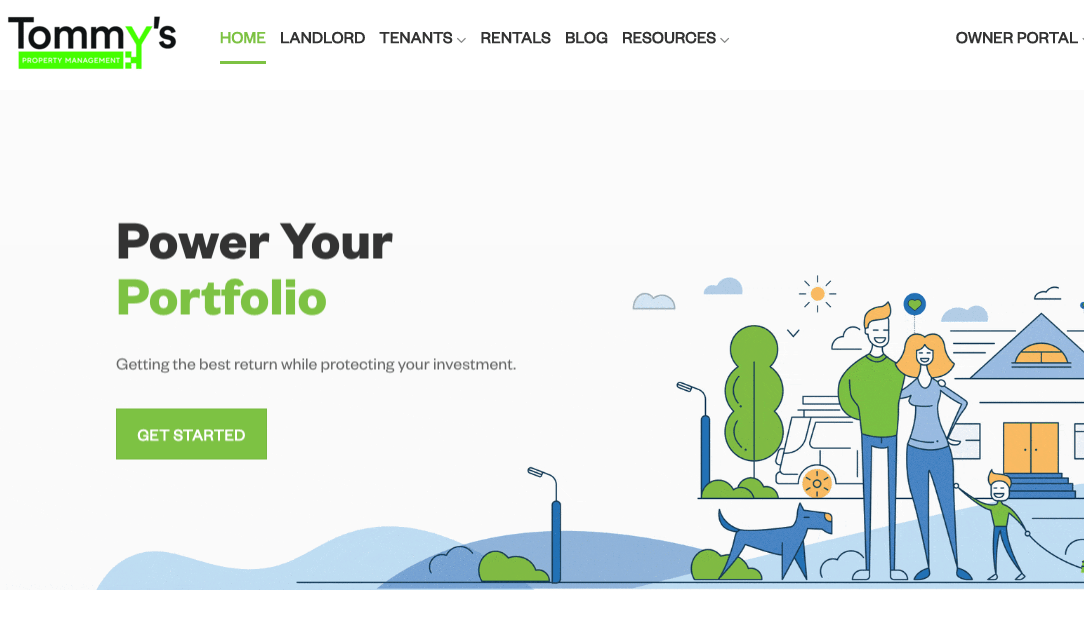 | | |
| --- | --- |
| Best for | Modern Methods and Equipment |
| Services | Property Management, Renovation Planning, Project Management, Portfolio Advice, Forecasts, Short-Term Leasing |
| Address | 209 Victoria Street, Te Aro, Wellington 6011, New Zealand |
| Contact no | (04) 381 8604 |
| Website | https://tommysrentals.co.nz/ |
Here at Tommy's Property Management, you have the backing of highly advanced technology and expert property managers. This is meant to ultimately help you in your aim to maximise your returns on your property.
For example, they can get neat photos of your property using 3D systems and drones. Another plus is their direct debit system where customers can pay their rent, with no excuses for late payments.
In addition, they can provide tide-turning advice to help you get the most out of your property. And as such, they are one of the best Wellington property management agencies.
Highlights
Innovative approach
Highly skilled and experienced property managers
Provides useful advice
Direct debit system
Customer Reviews 
On Google Reviews, Sam Cox wrote:
"Sacha Davey signed me up to Tommy's to manage my property and has done a great job: sound advice; very diligent on finding the right tenants;  responsive to my queries. Would recommend."
8) Stable Property Matters

Property management is a daunting endeavour to take up, especially if one has no experience in it. This is why Stable Property Matters has dedicated itself to providing property management services that even regular people can understand.
Now, you may ask, what exactly does that mean?
Well, if you choose Stable Property Management, you won't have to deal with graphs, figures, and percentages that only appear to explain market trends. Instead, you'll be dealing with highly communicative market experts who'll thoroughly explain what you can expect from the market, either as a property owner or as a tenant.
Stable Property Management knows the rental and investment property management industry inside out, allowing them to competently and confidently provide their clients with tips and services that will allow said clients to find the property they need or thrive in the property market.
Another thing you can expect is the use of top-of-the-line technology and upgraded property management software. Stable Property Management uses these tools to offer clients exceptional service and a very modern investment property management model.
Highlights
Free rental appraisal
Handles maintenance and tenancy files for renters
Diverse team of market professionals
Caters to both property owners and tenants
9) Copo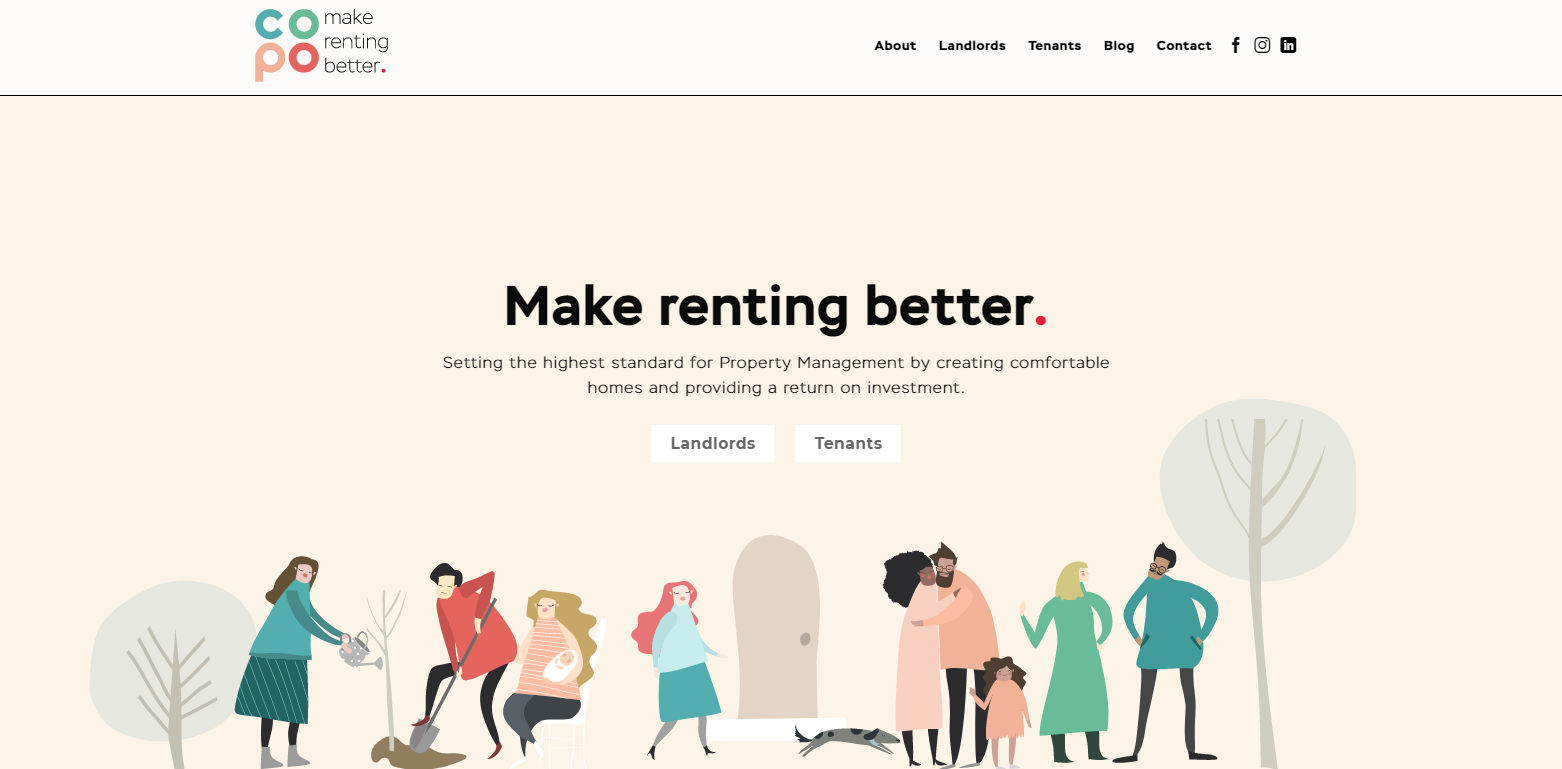 Best for
Property Management for Rental Properties
Services
Property Management Services for Tenants and Landlords
Address
Level 4, 15 Courtenay Place,
Te Aro, Wellington 6011
Contact no
0800 567 563
[email protected]
Website
https://copo.nz
Copo Property Management seeks to make renting a better experience by creating a community and network that links tenants, landlords, property managers, and contractors to each other.
One of the best things about Copo is that the firm is ever-changing. They invest in continual training, professional development, attendance at industry workshops and conferences, and direct involvement with legislation.
In addition to that, the Copo team makes sure that they're always updated with the Residential Tenancies Act and the Healthy Homes Standards, so that they can check that the landlords, tenants, and contractors they work with comply.
Copo endeavours to provide tenants with rental options that they can safely and happily stay in for the foreseeable future. Meanwhile, landlords are given recommendations on ways they can improve their properties, ensuring that tentants stay longer.
The dedication to their craft makes Copo one of the best choices for property management in the area.
Highlights
Works with landlords, tenants, and contractors
Small team of property managers
Excellent customer service
And this concludes our roundup of the best Wellington property management agencies. If you're looking for capable, brilliant property managers, you can bet on the ones we listed!
Has the discussion been clear to you so far? If not, you can send us your questions by messaging us and we'll get back to you in a bit.
For property owners, the interior of the place should never miss details such as blinds. If you need blinds for your own property, you might like to read about the best blinds installers in Wellington — those can make your property more attractive to a renter!