Besides the aesthetic effect, window blinds give you privacy and can help with your insulation at times. Whether you like honeycomb or timber blinds, though, there are certain companies to go to for the best window blinds in Auckland.
Each company we listed here has various selections who will proceed to do the work for you at home. You can find many that will have your blinds up for you for an incredible price and service.
Let's cut to the chase, as now we bring you the best window blinds services in Auckland!
1.  Cedar Blinds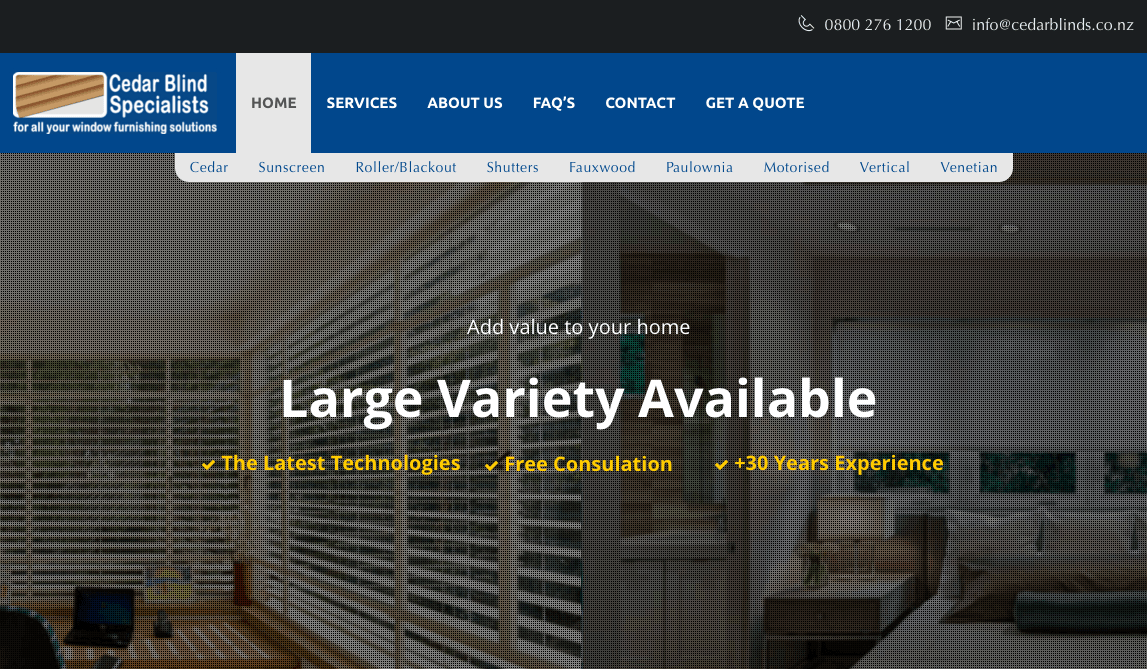 | | |
| --- | --- |
| Products | Cedar/Timber, Roller, Sunscreen, Faux Wood, Motorised, Paulownia, Vertical and Venetian Blinds |
| Address | 18 Weka Street, Otahuhu, Auckland 1062, New Zealand |
| Contact no. | 0800 276 1200 |
| Website: | https://cedarblinds.co.nz/ |
A list of the companies with the best window blinds in Auckland should never fail to include Cedar Blinds. It manufactures high quality, durable window blinds using imported raw materials.
Its owner Sam Reddy has more than 30 years of experience in the blind industry. Most of their clients are private and commercial buyers as well as interior designers.
Depending on what you need, they custom-make blinds like timber, roller and shutters that can fit almost any background, vertical blinds with 180 degree turns, and Venetians for flexibility.
Each set of blinds has a 5-year satisfaction and 100% money back guarantee. If you don't like it, you can simply return it but Cedar Blinds has said that not one customer has taken a blind back yet.
2.  Ven-lu-ree Blind Services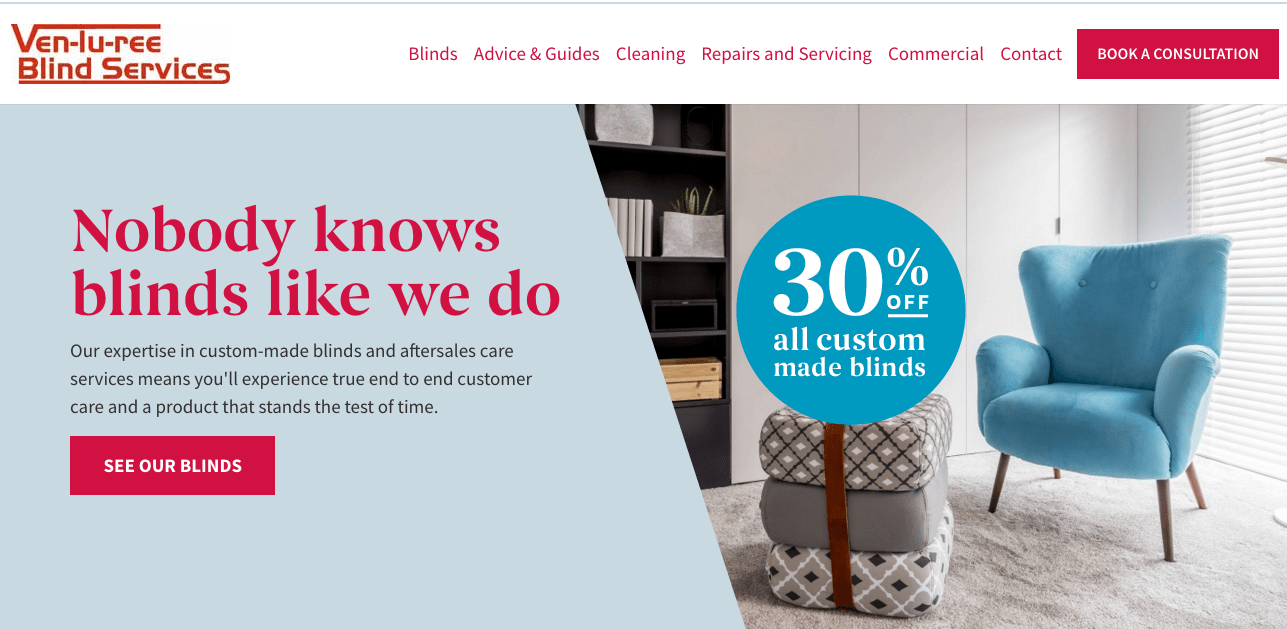 | | |
| --- | --- |
| Products | Wood-Look, Roller, Venetian, Wooden, Sunscreen Roller, Motorised Blinds |
| Address | 18 Olive Road, Penrose, Auckland 1061, New Zealand |
| Contact no. | 0800 999 229 |
| Website: | https://www.venlureeblinds.co.nz/ |
Blinds are blinds but what sets this company apart is customer care. From enquiry and quoting to installation and satisfaction, they make sure you are happy and satisfied with the product and the setup.
Ven-lu-ree Blind Services has a team that is familiar and knowledgeable of anything about window blinds. They will help you decide for the best one to put up in your home or office.
They have many options tailored for you like wooden, roller, venetian, sunscreen, and even motorised blinds. Motorised blinds are great to use at the office with automated open and close.
They also offer a cleaning and repair service so your blinds will be free of dirt, dust, and stains, they have a confidence-boosting 7-year warranty.
3.  Auckland Drape Company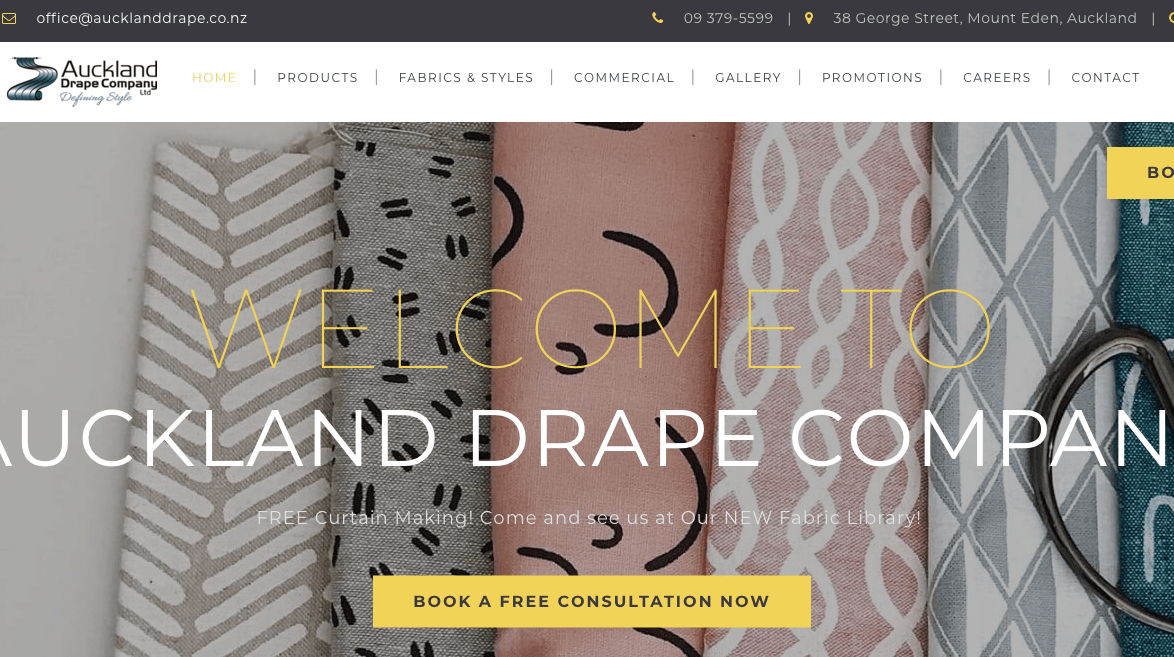 | | |
| --- | --- |
| Products | Shutters, Rods, Tracks, and Holdbacks, Thermacell Blinds, Roman Blinds, Roller Blinds, Venetian Blinds, Vertical Blinds, Cedar Blinds, Creation Blinds, Motorised Roller Blinds, Drapes and Curtains, Fabrics, Pleating Styles |
| Address | 38 George Street, Mount Eden, Auckland, New Zealand |
| Contact no. | 09 379 5599 |
| Website: | https://aucklanddrape.co.nz/ |
If you're deciding on what type of blind to use for your home, the keen eye of the consultants of Auckland Drape Company will impress you.
Draping and furnishing homes since 1987, they offer a selection of shutters, thermacell, roman, vertical, cedar, and motorised window blinds that can fit a variety of decor or styles.
Try their cedar blinds, which will make your room look elegant and striking at the same time. And their quaint thermacell blinds can insulate from the cold and winds from outside.
You can let the consultants measure your window so they can make something that will perfectly fit and be suitable for your house or office. That's why they're among the top companies for the best window blinds in Auckland.
4.  Roller Blinds NZ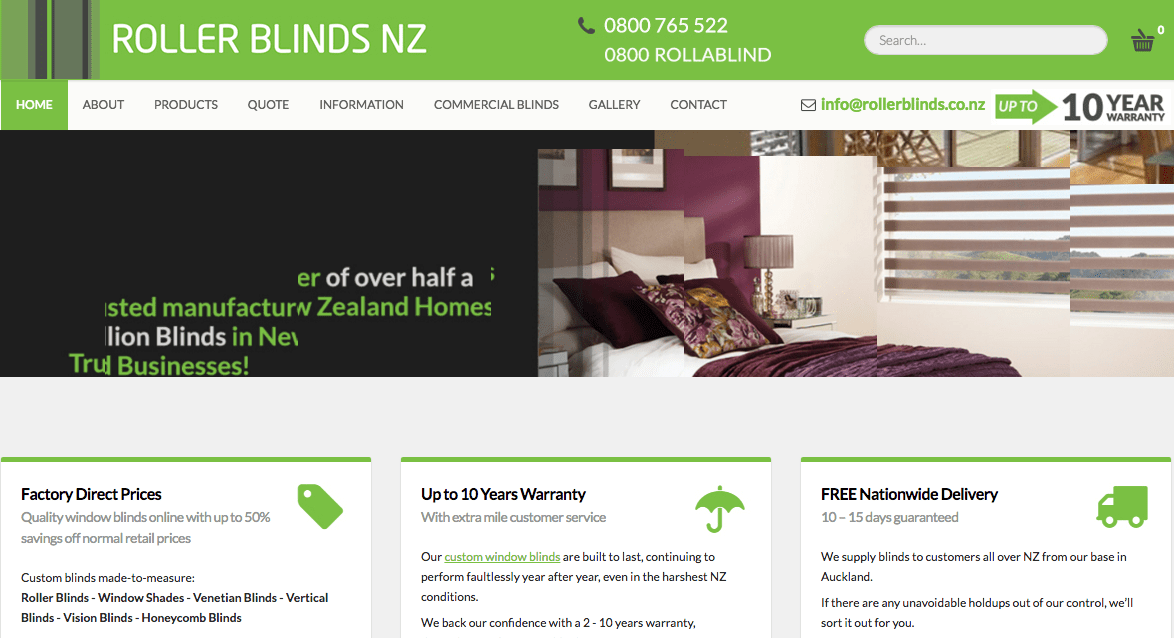 | | |
| --- | --- |
| Products | Sunscreen, Blockout, Vision, PVC Venetian, Aluminium Venetian, Wooden Venetian, Honeycomb, Blockout Honeycomb, and Vertical Blinds |
| Address | 36 Crooks Road, East Tamaki, Auckland 2013, New Zealand |
| Contact no. | 0800 ROLLABLIND or 0800 765 522 |
| Website: | https://rollerblinds.co.nz/ |
Roller Blinds NZ is serious when they mention the word quality. Their blinds are all NZ-made straight from the factory and this cuts the price a great deal.
As opposed to other companies, their service is fast when you buy online. Apart from that, they stand behind their window blinds with a solid 2-10 year warranty!
If you like to have shade from the sun but not completely, their sunscreen blinds are a good choice. However, if you like to control the amount of light coming in, you can pick the venetian type.
For moisture-resistant blinds that hold off against the weather, PVC or faux wood is the ideal choice. Then they have the honeycomb that can make your room warm and elegant.
Last but not the least, we included Roller Blinds NZ as they show genuine care about the customer. You can just reach them through the number provided, and they will be on it, showing why they're among the top companies for the best window blinds in Auckland.
5.  Times Curtains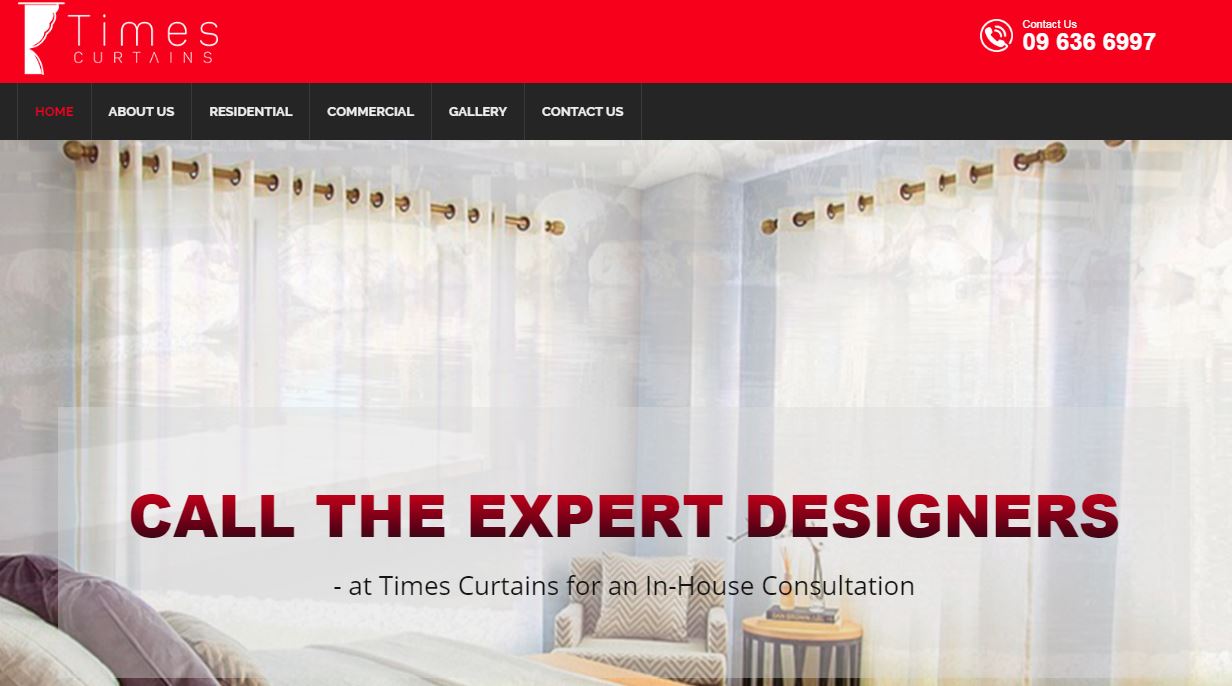 From sophisticated drapes, lavish curtains to simply gorgeous blinds, Times Curtains stock a great range of pre-made curtains and window dressings from all the big brands.
They also have an extensive selection of custom fabrics to match any decor perfectly. Whatever look you are going for in your home, they have the window dressing to match!
Explore their range of window dressings today and call the Auckland experts in curtains and window dressings at Times Curtains!
6.  Window Answers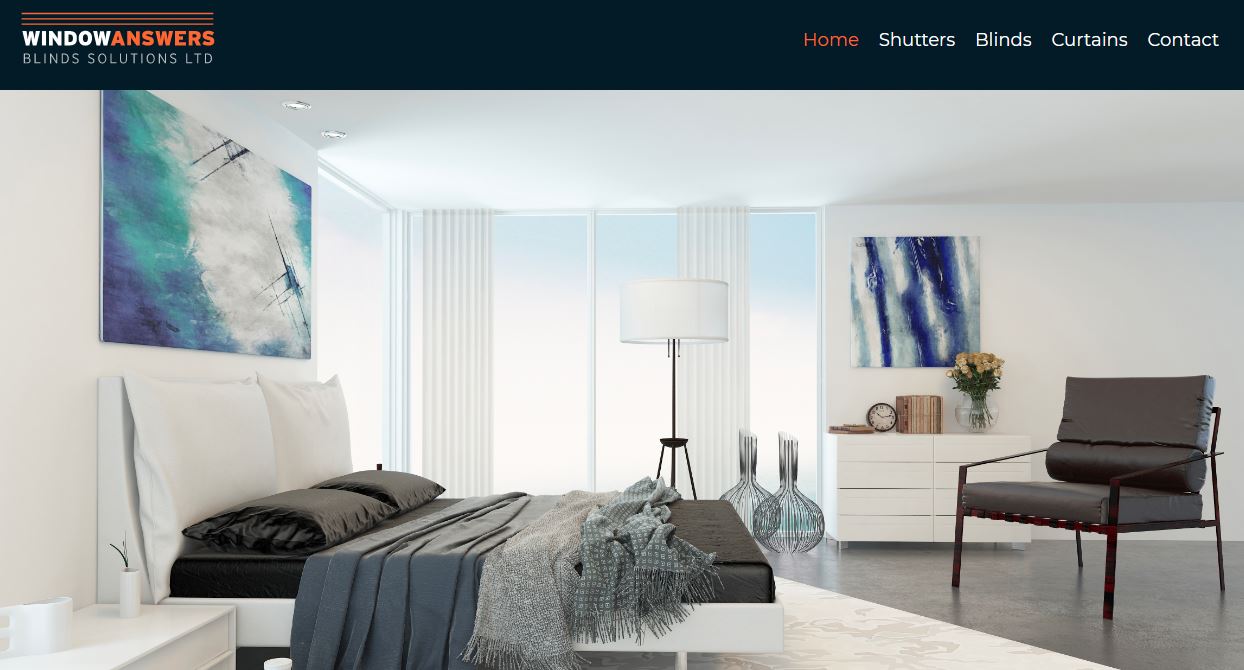 | | |
| --- | --- |
| Products | Shutters, blinds, curtains |
| Address | 20K Te Pai Place, Henderson, Auckland 0610 |
| Contact no. | 09 836 6222 |
| Website: | http://windowanswers.co.nz/ |
If you're looking for quality, effective window coverings then Window Answers can help with their wide range of blinds, shutters and curtains, we have something to meet the needs and preferences of every New Zealand homeowner.
Window Answers has been a premium supplier of window coverings for 20 years. Over 35,000 New Zealand households have their products hanging in their windows. Their blinds are New Zealand made and have at least a five-year guarantee on all fabrics and components.
From heat management to privacy, from space-saving to sleek designs, Window Answers has every window solution (or answer) you could desire.
Window Answers keeps costs down by operating a 'self measurement' model. It's quick and easy and in most cases you'll have your new blinds in two weeks. PVC Shutters in 4 weeks.
7.  Brightshine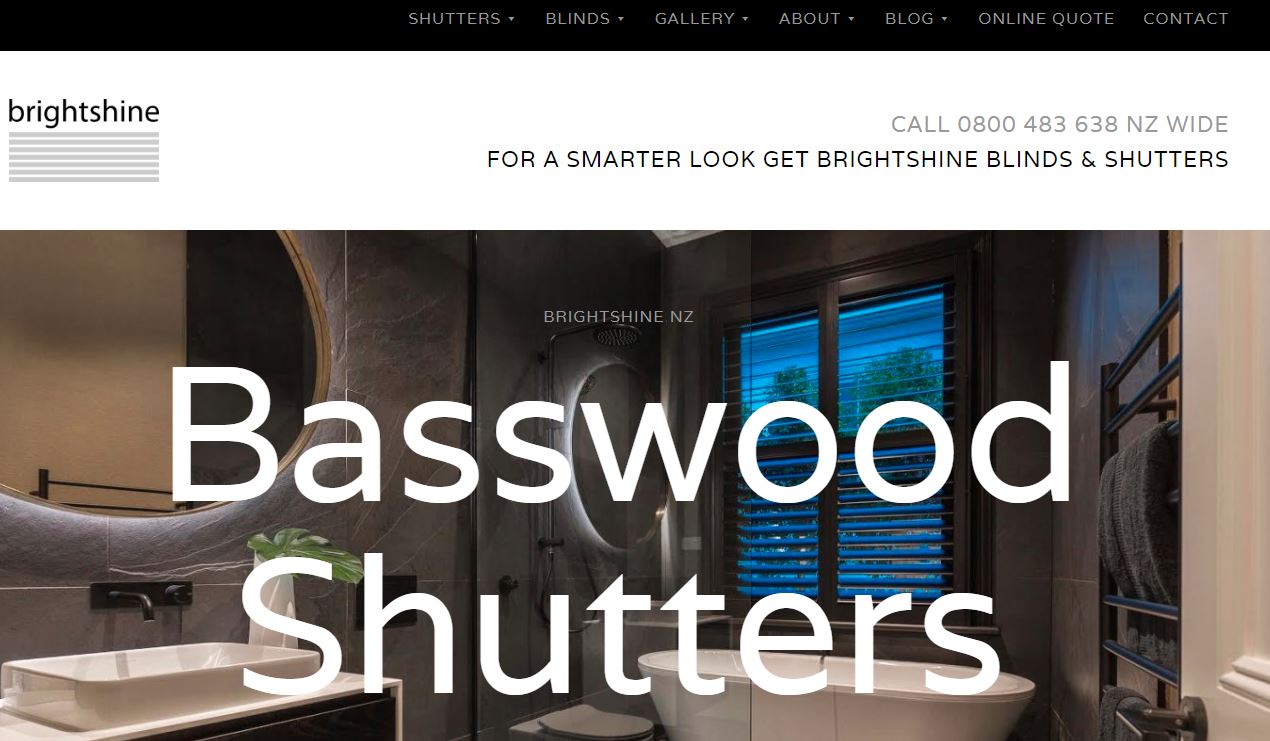 | | |
| --- | --- |
| Products | Handcrafted Premium Shutters & Blinds |
| Address | 9 Malvern Road, Onehunga, Auckland, New Zealand |
| Contact no. | 0800 483 638 |
| Website: | https://www.brightshine.co.nz/ |
Founded over 40 years ago, Brightshine is a full-service blind company. They are constantly updating their procedures and methods to ensure that they are more efficient than ever as a company so that you, the customer, will have an even smoother experience when buying your blinds.
If you'd like a colour swatch sent or want to book a consultation for a free measure or quote or you have any questions, you can call them toll-free from anywhere in New Zealand on 0800 483 638.
8.  Curtains Blinds & Design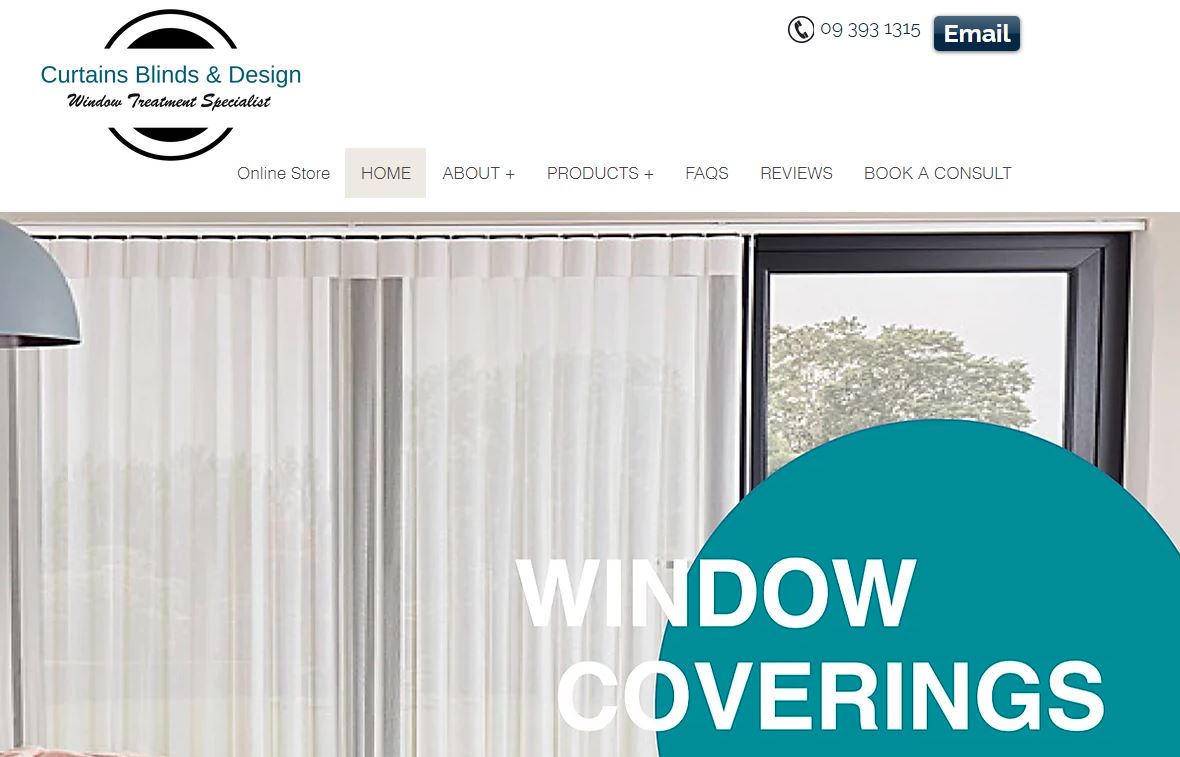 Curtains Blinds & Design offer friendly and professional fully mobile service. THeir Window Treatment Professional Service is based in One Tree Point and they service clients from Whangarei through to Mangawhai.
Send them your measurements and your Window Treatment requirements and they will send you an instant quote online. You can also contact them for a free in-home consultation.
9.  Sante Fe Shutters and Blinds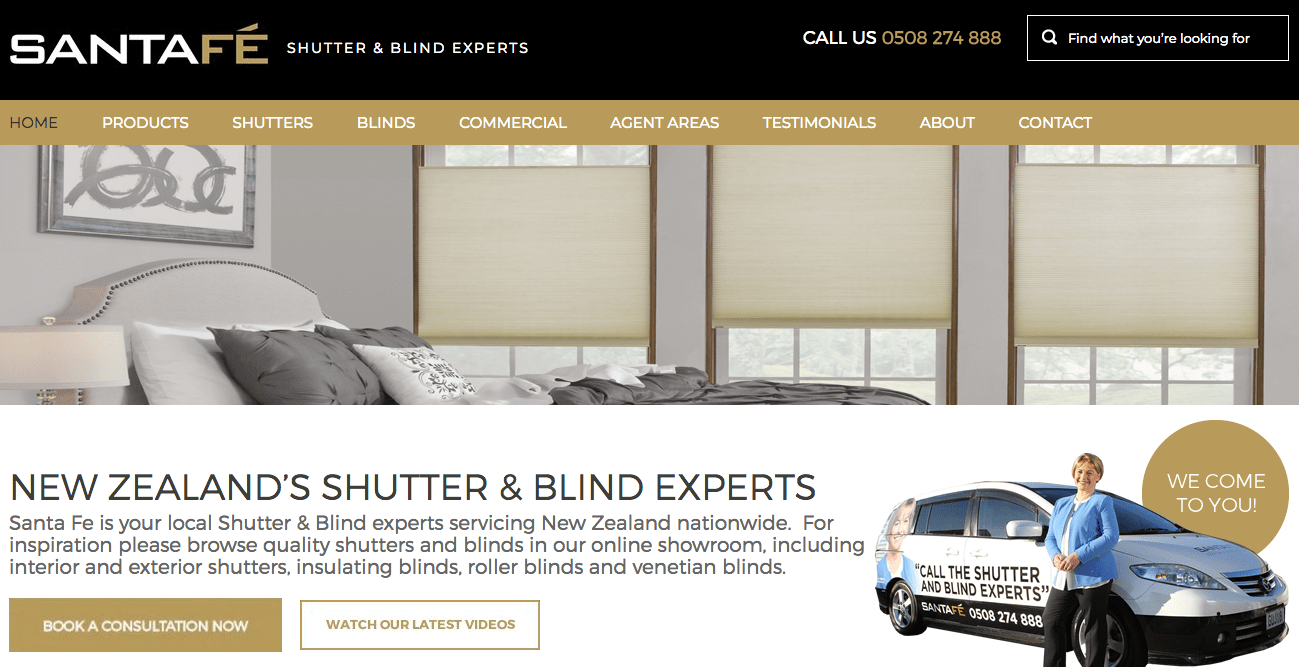 | | |
| --- | --- |
| Products | Wooden Venetian, Roller, Thermacell, and Sante Fe Design Collection Blinds (Roller or Roman Blinds) |
| Address | 4/761 Great South Road, Penrose, Auckland 1061, New Zealand |
| Contact no. | 0508 274 888 |
| Website: | https://www.santafeshutters.co.nz/ |
You own your home and you have the say of what design you want or should go with. Sante Fe Shutters and Blinds is fantastic in listening to your needs for all things window blinds and is another of the companies with the best window blinds in Auckland.
They basically offer a catalogue of attractive shutters and blinds for both interior or exterior use. Try out their modern and classy wooden venetians, which are among the best window blinds in Auckland.
Their consultants will come to your house and take the measurement of your windows for free. And as for the desired style, they are more than capable of achieving any desired result.
Value for price, an expert and amiable team, and incredible blinds is what you will get with one of the best window blinds services in Auckland!
10.  Window Story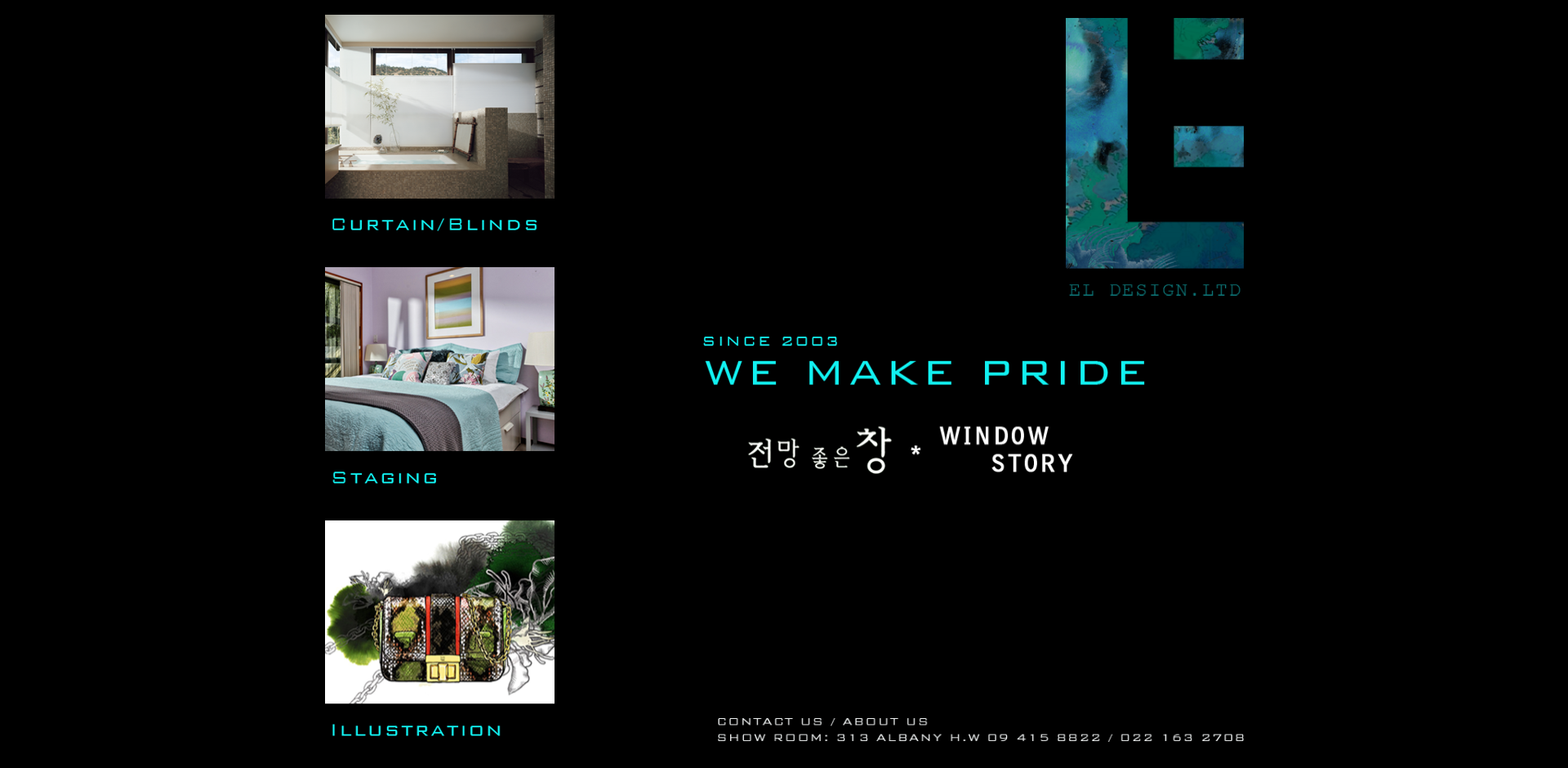 | | |
| --- | --- |
| Products | Curtains, Black Out, Triple Shade |
| Address | 313 Albany H.W |
| Contact no. | 09 415 8822/ 022 163 2708 |
| Website: | http://www.jinillust.com/ |
Window Story is a home furnishing store that specialises in soft furnishings. They provide off-the-rack and personalised solutions for your living space.
Their products include curtains, blinds, reupholsteries, customized sofas and ottomans, customized bed heads, window films, wallpapers and selections from Hunter Douglas and Agua Fabrics. They believe that every home is unique and individual as you are.
Their passion is to find the right soft furnishings and touches that brings creativity into the finer things in everyday life. They use tones and textures to create artistry in their furnishings.
11.  Harvey Furnishings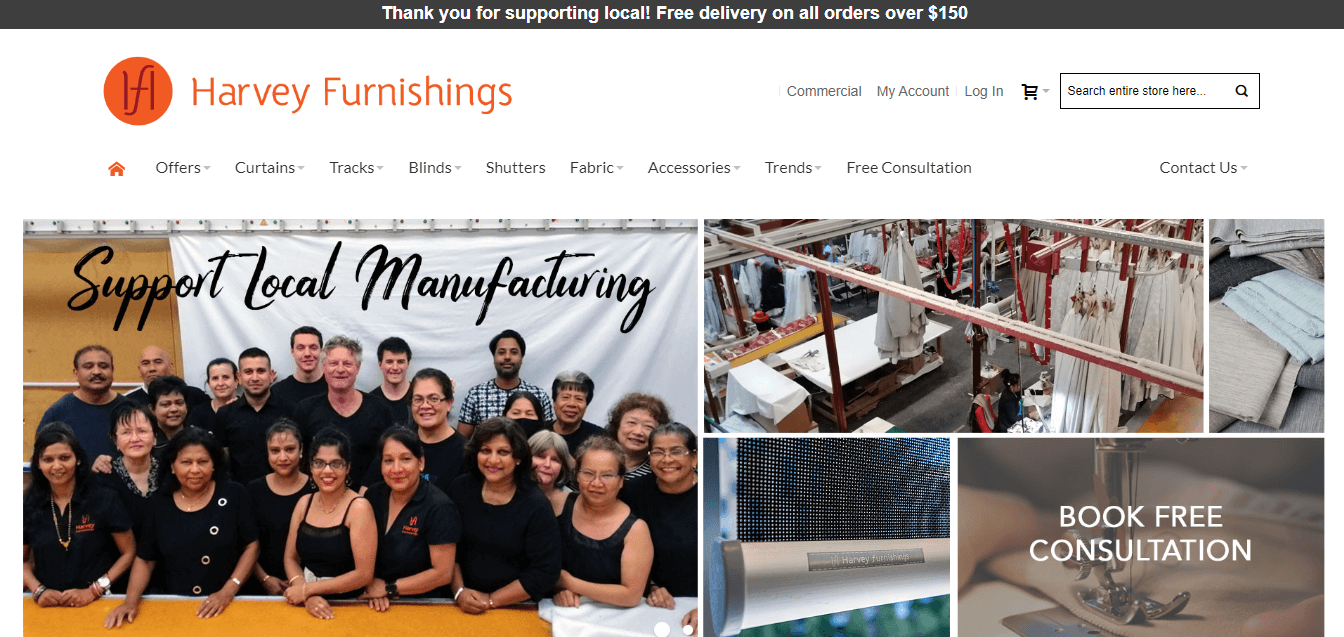 Products
Curtains, Tracks, Blinds, Shutters, Fabric, Bedroom Accessories
Address
981 Mt Eden Road
Three Kings
PO Box 24536
Royal Oak
Auckland 1024
Contact no.
0800 00 88 80
Website:
https://www.harveyfurnishings.co.nz/
Harvey Furnishing has been making window coverings for New Zealand for over 60 years. From specialising in creating window furnishings they have grown and created their own retail business for your home needs.
They own about 9 retail stores in Northern New Zealand, all fully stocked with pre made curtains, blinds, fabrics and more. Besides their physical retail stores, they also have an online shop– giving you easier access to your home needs. If your cart is over $150.00 you will be given free shipping!
Harvey Furnishing's wide selection of products and services even includes in home consultation with their team, making quality custom made items possible for your home.
---
And that's all for the companies with the best window blinds in Auckland. The staff from these suggestions have a knack for producing the blinds you envisioned for your home.
Do you have any questions about these services we listed? If you do, kindly let us know by sending us a message, and we will reply.
Now that your blinds are in place, maybe you can throw a little soiree for your friends to come over and admire your new window treatments! If you're too lazy to cook for that, you can read our list of the best food delivery services in Auckland.