The 5 Best Window Repairs Christchurch Professionals
Window issues can be a pain, particularly if you wait too long to see to them. Hence, it's important to get broken windows fixed soon, which is why we listed the best window repairs Christchurch professionals!
For this list, we picked the ones who are qualified and experienced to do the work, are always on time, and have a friendly demeanour. Since what customers say is important too, we used customer reviews as part of our criteria as well.
And now, let's see the best window repairs Christchurch professionals!
1) Sharp Glass Services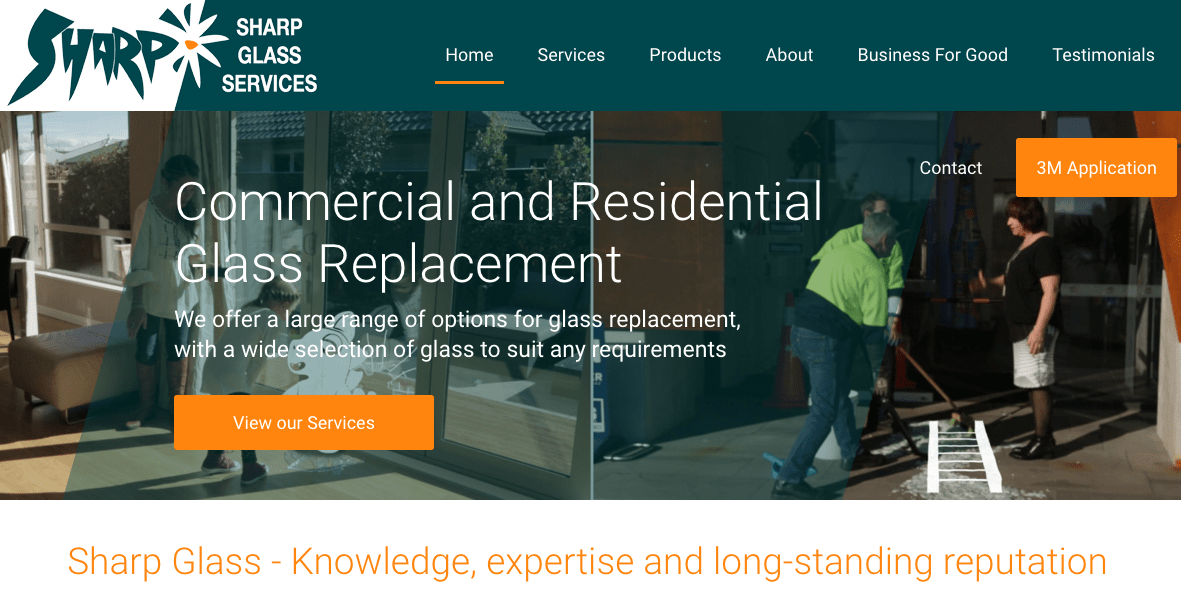 | | |
| --- | --- |
| Best for | Shop Front Window Repairs |
| Services | Windows, Sliding Doors, Showers, Framed Mirrors, Side Lights, Conservatory Glass, Furniture Glass, Shop Fronts, Frameless Glass, Drive-through Glass Signs and etc. |
| Address | 39 Sandyford St, Christchurch, New Zealand |
| Contact no | 03 366 3448 |
| Website | https://www.sharpglass.co.nz/ |
Sharp Glass Services can supply, repair, or replace glass for an array of applications. Their specialty is in shop front windows.
Since 1973, they have been serving Christchurch in residential and commercial glazing. Their vans are fully equipped with parts and accessories that are needed for efficient repair of your windows.
Emergency callouts are also available round-the-clock, in case you need them for urgent window repairs. For all your glass needs then, Sharp Glass Services is just one call away.
Highlights
Provides glass-fitting and repair
Efficient and experienced team
Fully equipped vans for a quick-fix solution
Has 24-hour emergency callouts
Customer Reviews
Felicity wrote a great review that is posted on Sharp Glass Services' website:
"…Ramon arrived on time and did a great job. He left the area clean and free of glass and cleaned not only the window he fixed but the one below it. He was friendly in his interactions with me and my kids and completely professional. We couldn't be happier with the job he did. Thanks very much,"
2) Cranfield Glass Christchurch Ltd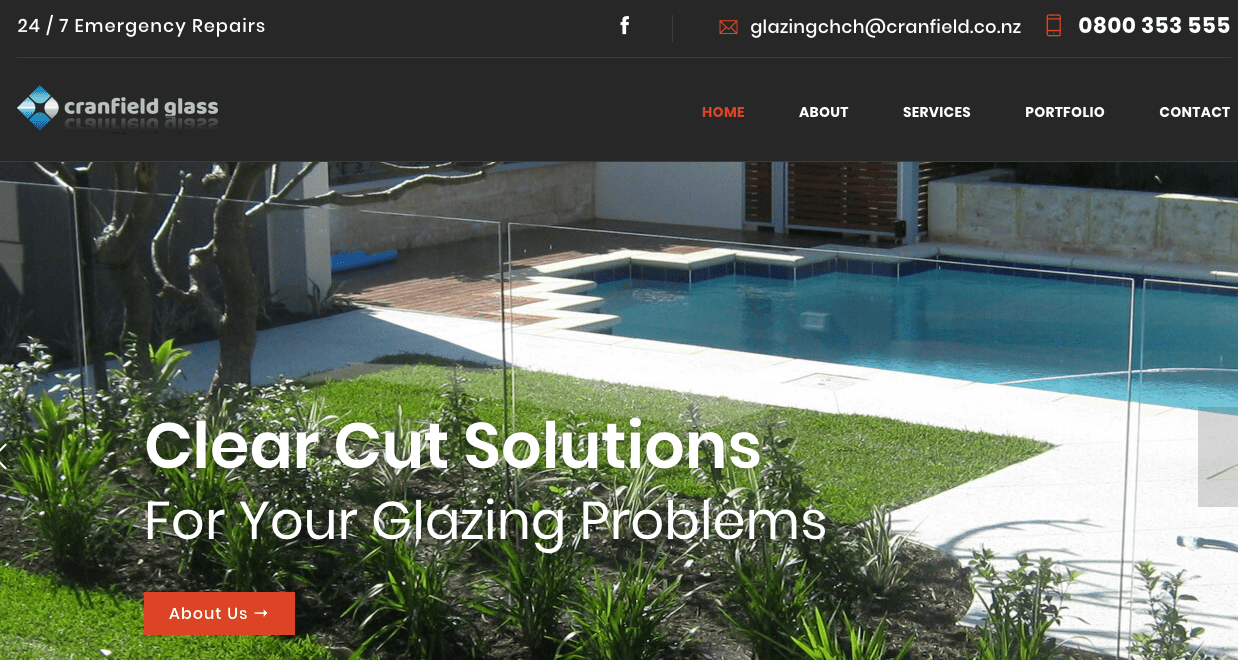 | | |
| --- | --- |
| Best for | Meticulous Attention to Detail |
| Services | Glass Repairs, Splashbacks, Balustrades, Frameless Showers, Glass Fencing and Pet Doors |
| Address | 39 Buchan Street, Sydenham, Christchurch 8023, New Zealand |
| Contact no | 0800 353 555 |
| Website | https://www.cranfield.co.nz/ |
Alongside offering a round-the-clock glass repair service, Cranfield Glass Christchurch Ltd makes sure that the glass fitted on your window looks fantastic without a single flaw.
They are known to have great attention to detail, which they have exhibited in a lot of their glass works. That could be an eye-catching balustrade, artsy splashback, luxe frameless shower glass, or attractive pool fencing.
The staff picks up quickly when you call, and their service is excellent at competitive rates. After all, these are Master Glaziers certified as well as one of the best window repair Christchurch professionals!
Highlights
24/7 emergency repair
Great attention to detail
Excellent communication and response
Registered Master Glaziers
Customer Reviews
On Google Reviews, Matt and Vanessa commended the glazier company:
"Great communication, prompt, friendly, professional service and very competitive price. Really glad I chose this company after the ringing around I did. Happy to have my window fixed."
3) Thom's Price Rite Glass Ltd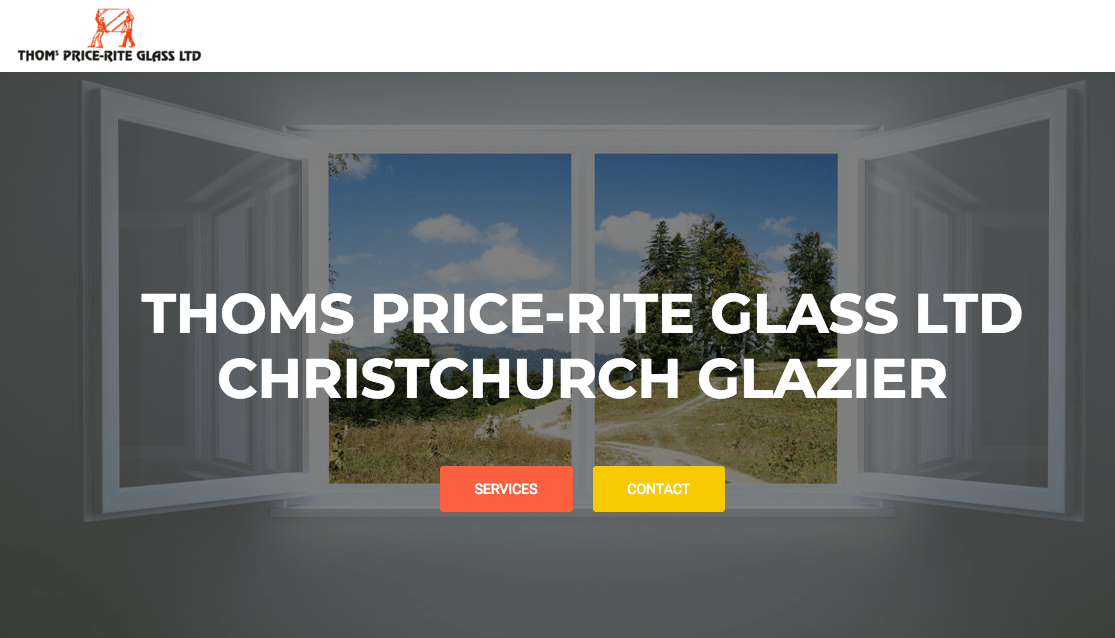 | | |
| --- | --- |
| Best for | Speedy and Affordable Window Repairs |
| Services | Window and Door Repairs, Pet Doors, Mirror Installation and Kitchen Splashbacks |
| Address | 8 Soleares Avenue, Mount Pleasant, Christchurch 8081, New Zealand |
| Contact no | 03-355 2319 |
| Website | http://www.glazierchristchurch.co.nz/ |
Don't blink — your repairs will be done before you even know it! Respected for their speedy response and affordable prices, Thom's Price-Rite Glass Ltd can repair all types of windows from home to conservatory windows.
Their professional glaziers have more than 30 years' experience in the field. This has made them very skilled at installing and fixing residential or commercial windows.
Also, they are keen on doing insurance work if you happen to need them. To add to that, they offer discounts for WINZ members.
Highlights
Fast response and great workmanship
More than 30 years of experience
Affordable rates
Offers discounts for WINZ members
Customer Reviews
Will Kingi was all too impressed with Thom's Price-Rite Glass service. He wrote:
"Great service! A great tradesman (Dick) came to repair a 1100 x 800 conservatory window and a 500 x 200 window, the thing was, he completed both windows within 25 minutes. The price was competitive, I offered more because of the whole experience, but Dick kindly declined. What a guy!!! Cheers guys."
4) Kemp's Glass Ltd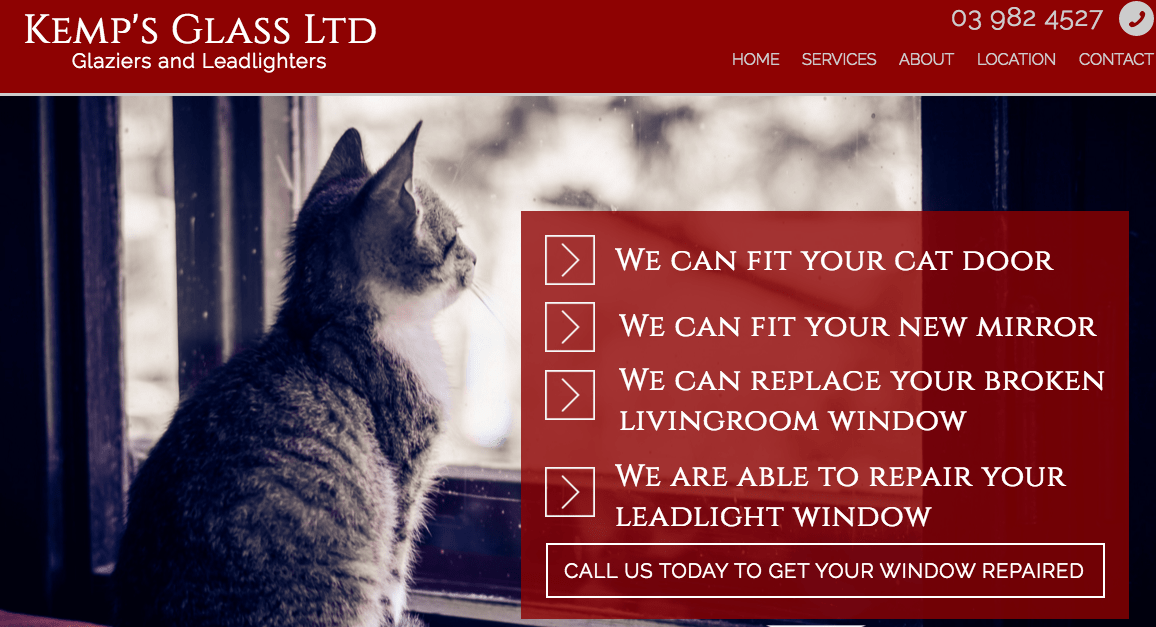 | | |
| --- | --- |
| Best for | Leadlight Window Repairs |
| Services | Emergency Glass Repair, Cat Door Installation, Broken Window Replacement, Mirror Installation, Leadlight Repair and Replacement, Commercial and Residential Glass Installations |
| Address | 317 Armagh Street, Christchurch Central City, Christchurch 8011, New Zealand |
| Contact no | 03 982 4527 |
| Website | http://kempsglass.co.nz/ |
Kemp's Glass Ltd is a glazing company that specialises in leadlight windows and repair. Their edge is in their customer service, dedication, and aesthetic fitouts.
Whether it be fitting a cat door, mirror, slider or window, they can handle it. Emergency repairs are also offered such as replacing glass on your front door to keep you safe and secure.
You can arrange for a meeting with them at your workplace and home, or a cafe to discuss your needs. From there, they will be able to craft a solution that's perfect for you.
As you can see, they are also some of the best window repairs Christchurch professionals!
Highlights
Specialises in leadlight windows and repairs
Masterpiece glass fitouts
Excellent customer service
Emergency repairs are available
5) Birchfield's Glass & Glazing
| | |
| --- | --- |
| Best for | Safe and Eco-friendly Glass Products |
| Services | Window Repairs, New Glazing, Skylights, Shower Enclosures, Mirrors, Caravan Windows, Balustrades, Cat and Dog Doors, Conservatory Roofs, Log Burner Glass, Safety Glass, Double Glazing and Splashbacks |
| Address | 6/954 Ferry Road, Woolston, Christchurch, New Zealand |
| Contact no | 03 384 2488 |
| Website | https://www.birchfieldsglassandglazing.co.nz/ |
Replacing your broken windows with new glass? Try Birchfield's Glass & Glazing. All their glass products have been made in an eco-friendly and safe way at the plant.
They provide glass installation, repairs and replacement for a multitude of residential and commercial uses. This includes double glazing your windows to help regulate the temperature in your home.
Understanding the customer's needs, they strive to provide a reliable and fast service to accomplish your project in the agreed-upon time.
Certified with Master Glaziers NZ, Birchfield's Glass & Glazing certainly belongs in the best window repairs Christchurch professionals list!
Highlights
Safe and eco-friendly glass
Fast and reliable glazing
Great range of services
Master Glaziers certified
Customer Reviews
Mohammad Amer wrote a superb 5-starred Google Review:
"…The job was completed exactly as discussed and to a very high standard, all at a very competitive price. Michael was extremely professional and courteous. If you want your glazing needs completed quickly, professionally and without hassle, look no further."
So that's all for the best window repairs Christchurch professionals. You don't need to wait to get your window fixed — these glaziers will come to you and sort your problem out quickly.
What did you think of our list? Have you used any one of them before? Share with us your thoughts, opinions, or suggestions by dropping us a line, and we'll reply back to you soon.
Moreover, you may also like to try the best insulation companies in Christchurch. You can get a more energy-efficient home with the help of both these insulation companies and your new windows.