It feels good when you're able to move lightly and freely, feeling confident with yourself at every turn and in your centre of being. Yoga can help you do that, and that's why we'll show you the best yoga studios in Christchurch.
There are many classes in yoga offered depending on skill level and temperature in the studio. Some like to switch up between different classes while others like to be consistent by focusing on one discipline.
Of course, a good yoga studio is a place where you can hone your yoga skills with teachers who direct and correct your alignment and have props to support your training.
Sessions should be fun, exciting, and take away your focus from your mind and into your body to bring relaxation and peace.
We went looking for studios that are conducive to achieving that sort of balance. So without further ado, here are your bets for the best yoga studios in Christchurch!
1)  Grassroots Yoga – Woolston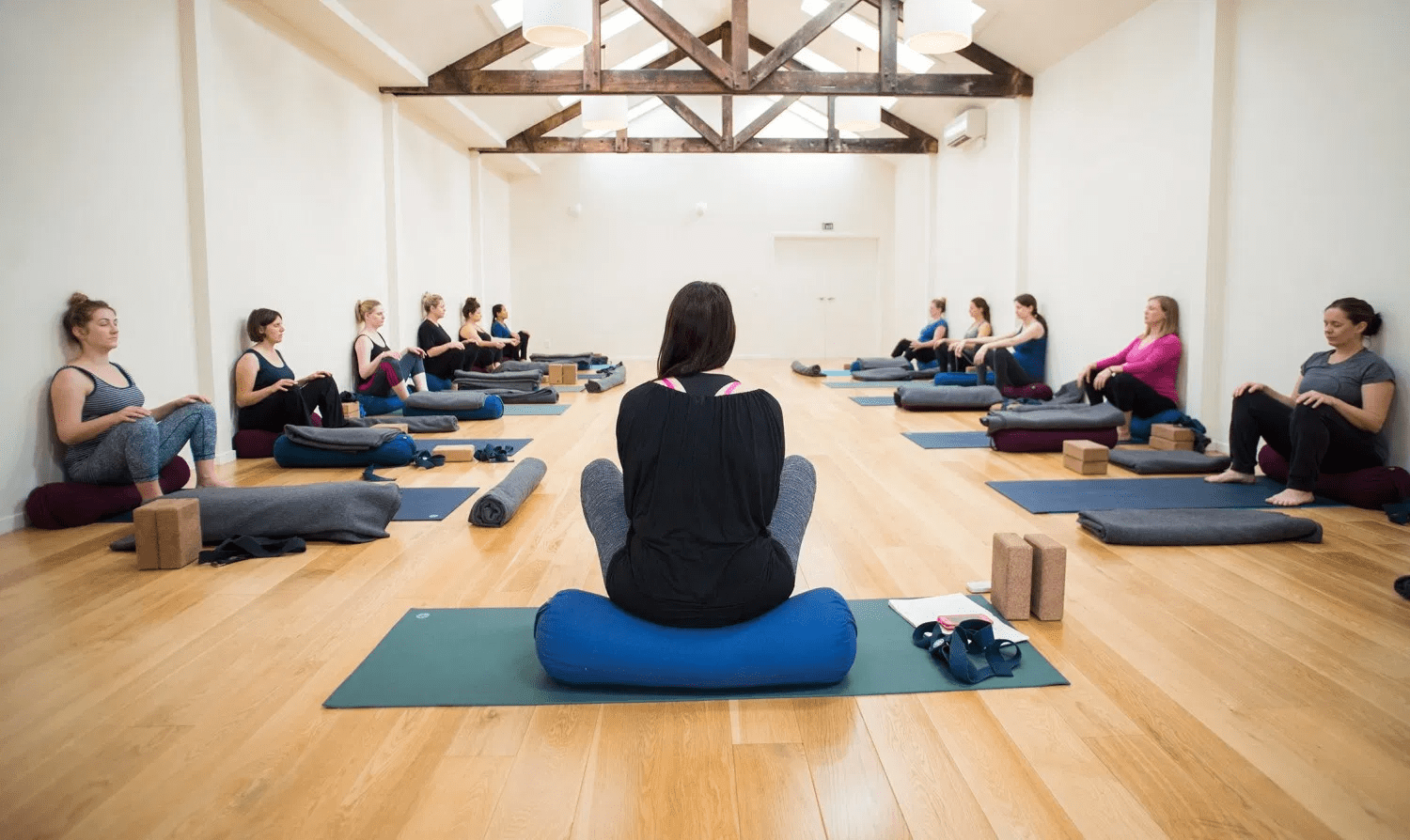 Website: https://grassrootsyoga.co.nz/
Tucked in between a line of quaint brick, cabin-like facades where it gets windy and cool outside, Grassroots is a great yoga place to unwind and get a good sweat for men and women alike.
There are a variety of teachers who conduct classes for Yoga 1, Yoga 2, Yoga 3, Yoga Flow, Yoga Restore, and Seniors. There are even helpful and on-demand prenatal yoga classes to help you adapt to your changing body and bond with your baby.
You will find the class that is right for you based on your skill level. In Yoga 3, having learned the proper alignment and posture, it will be a challenge, yet fun and exciting to pull off those graceful backbends, inversions, arm balances, and complex holds.
Yogis basically love it here because of the place, the teachers, and the classes. It's one of your best yoga studios in Christchurch!
2)  Apollo Power Yoga – Central City and Ferrymead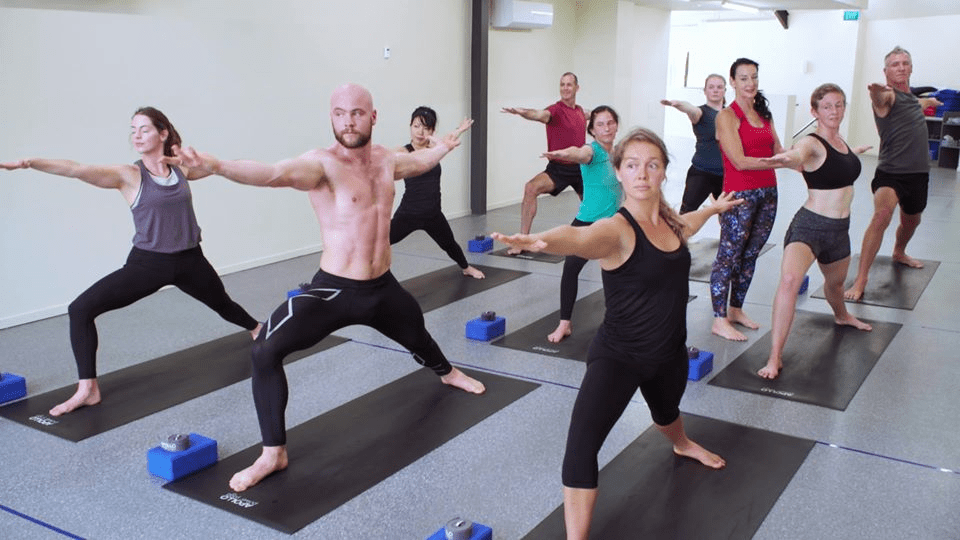 Website: https://apollopoweryoga.com/
If you like to push yourself and burn those calories, then Apollo Power Yoga is for you. They have two branches located in Central City and Ferrymead where you can view the estuary with the cool butterfly colours of paragliders in the sky and motorboats riding on the waters as you train.
Classes teach Yoga Vinyasa and Power Restore. Yoga Vinyasa is a more intensive and active style of yoga and can give you the effects of weight training, running, and balance in one package without their high impact on your body.
Through breathing with every movement, you can release your stress, anger, sadness and whatever that's bothering you. They will teach you the proper way of breathing and flowing in the sequences.
That will set your thoughts in the right direction, make your senses present and clear, and feel the peace of just being.
As for the teachers, you can expect them to be friendly and accommodating — they will look after you in your class. And so will the students, so you'll expand your circle of friends and have fun in one of the best yoga studios in Christchurch!
3)  Flow Hot Yoga – Riccarton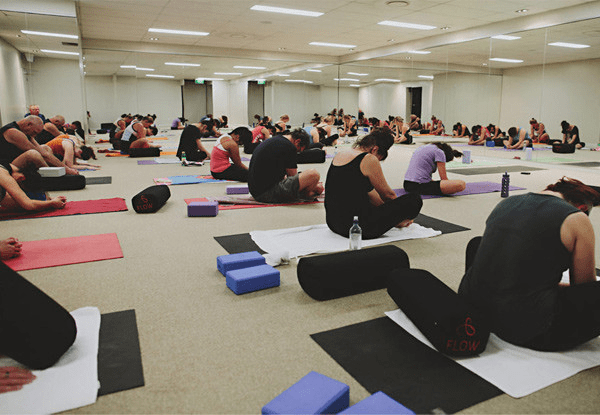 Website: http://www.flowhotyoga.co.nz/
Feeling tired and sapped from your jet-lagged travel? Go for the Hot Vinyasa Flow of Flow Hot Yoga, as it may be just what you need to recover your energy and improve your core and flexibility — your body will thank you.
Located on the Mandeville Street in Riccarton, it feels welcoming with its round amber lights outside, bike racks, and better yet, kind people in the reception.
Here you can find a boutique that sells branded yoga mats, bolsters, towels, essential oils, and the like. If you forgot your mat, don't worry, as you can still rent a mat — what's important is being able to do yoga.
As part of the best yoga studios in Christchurch, they offer classes in Hot Vinyasa Flow, Vinyasa Flow, Yin/Yang, and Meditation with teachers from different backgrounds from healthcare, universities, and hospitality.
The room is heated from 30 to 40 degrees. Their heating system is constantly supervised at all times and they circulate clean and fresh air that will allow you to stretch and do asanas better.
Sessions can be packed, so make sure you are early. Also, take advantage of their various discounts such as the follow-on specials or the one-year packages.
4)  Heart and Mind Yoga – Merivale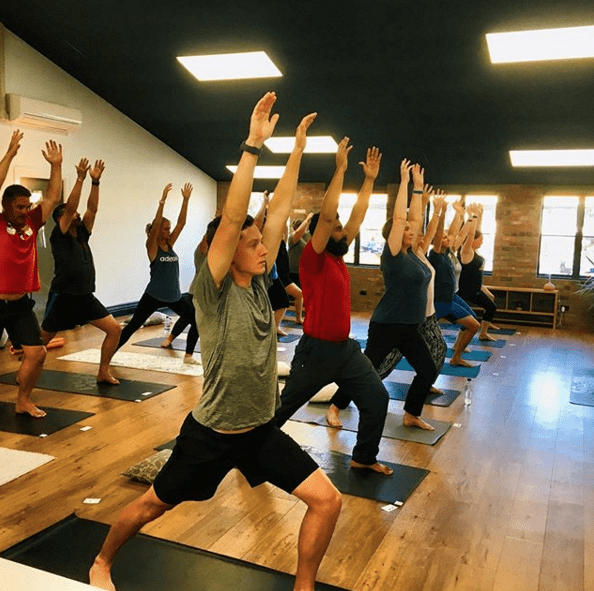 Website: https://heartandmindyoga.co.nz/
Though we shouldn't, sometimes we feel that need to do cardiovascular exercise beside yoga. Perfect timing, as Heart and Mind Yoga offers both the classic styles plus a workout designed to burn and help you get a lean and fit body.
Heart and Mind Yoga offers a soothing Yin Yoga experience with comfortable, relaxing stretches, and Yoga for all skill levels. They even have Gentle Yoga for those without any background or who haven't tried it before.
Don't feel like working with a bunch of people? The personalised option with yoga teacher Jo will guide you so that your alignment and posture are correct, as well as your breathing pattern.
Other than that, Jo offers a Circuit and Body Weight Fitness on Saturdays to give you a full cardio, strength, and balance dynamic workout where you'll perspire and flush those toxins from your bodies.
The gym or studio is located at Merivale, Christchurch where it is away from the hustle and bustle. It is a beautiful and quiet gym with white walls, rustic wooden floors, and windows by a lush tree and overlooking the street across.
5)  Yoga By Karma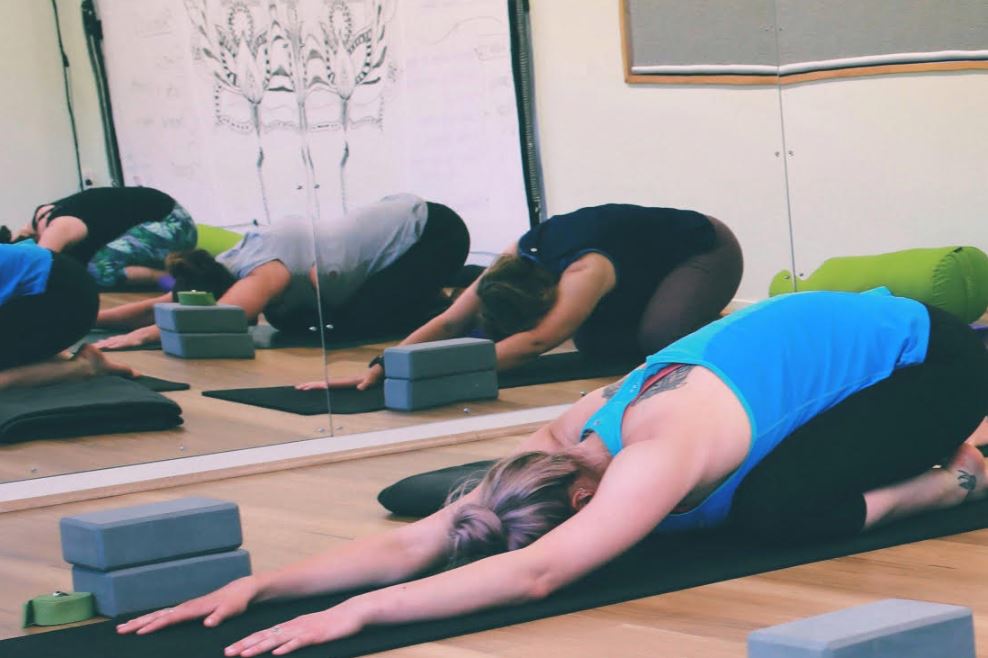 Website: https://yogabykarma.co.nz/
Yoga by Karma is a purpose-built serene yoga studio. Lush countryside surroundings create a truly tranquil environment. It's peaceful and calming aesthetics, inside and out, awakens the senses, giving all a unique yoga experience.
Combining traditional, contemporary and fun yoga, there are multiple class options to ensure there is a yoga class suitable for all. There are courses and casual classes including beginners – advanced, flow yoga, gentle yoga, restorative yoga, mindfulness-meditation, family yoga, private sessions, and other events (e.g. cat yoga). Smaller class sizes ensure individual needs and goals are catered for, without limitations of personal space for your practice – so bookings are essential! Use of props is complimentary and include: mats, straps, bolsters, blocks, blankets, balls, and chairs.
Warm welcoming teachers and regular clients contribute to a friendly sense of community. Special added touches (privy to those who attend) give a one-of-a-kind wellness yoga experience that can re-energize, rejuvenate, rebalance, release, relax and restore.
Karma is the creator, owner, and one of the teachers. She is one of select few to offer The Stress Management Exercise Association Endorsed Programme (SMEAEP) – yoga classes as a business expense, tax-deductible and FBT excempt.
Yoga by Karma is a hidden gem, located between Prebbleton and Rolleston, with close proximity to Templeton, Lincoln, Halswell, Hornby, Tai Tapu, and West Melton. There's plenty of free parking on site and an easy online booking system found on their informative website. Studio hire and therapeutic room rental is also available. Come to clear your mind, embrace your body and fulfill your soul because there's yoga for all!
6)  O-Studio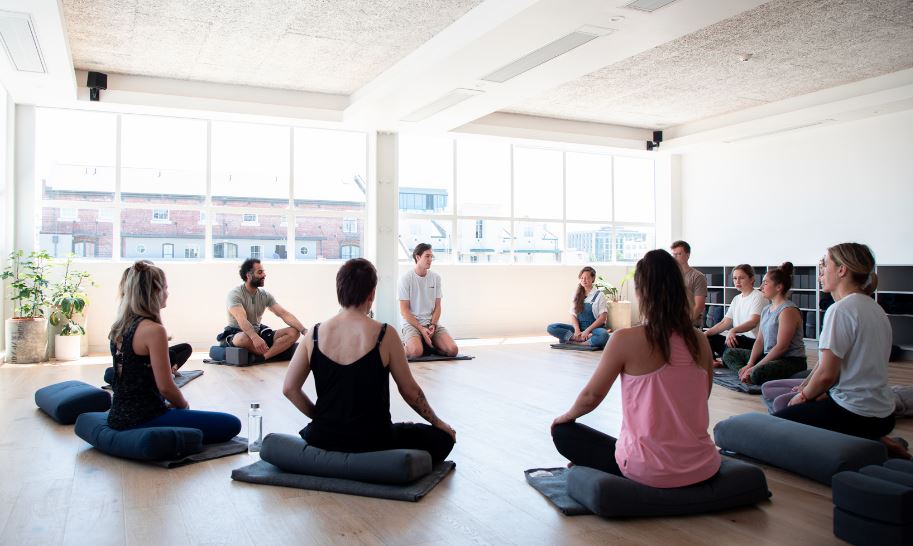 Website: https://www.ostudio.co.nz/
At O-Studio, they believe that building towards your best every day is achievable with the right tools, a fun and positive environment and real expertise. Their mission is to be leaders in making mental performance as accessible and impactful as physical performance is right now.
Ignite your senses in their state of the art studio, designed to give you the ultimate yoga experience. They offer three signature classes, Dynamic, Align and Mellow which are made for everyone: https://www.ostudio.co.nz/services/yoga
7) THE SWEAT LIFE BOUTIQUE STUDIO | Kate Lillian Burford
Bikram Yoga Christchurch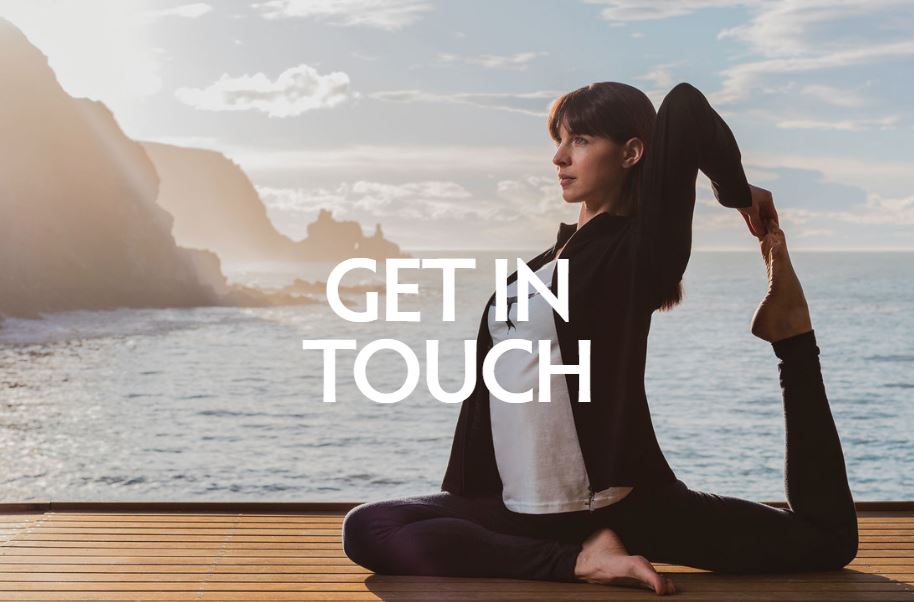 Website: https://www.bikramyogachch.co.nz/
Kate Lillian Burford's teaching style is athletic, strong, empowering, and infused with her desire to affect a deeper change. Having taught for years, her belief in the benefits of Bikram's Method of Yoga has only grown and a lot of what she's  trying to teach is to find peace through strength and opening up a space to allow that to happen.
This practice provides an opportunity to build a powerful connection between body, mind and breath. Kate aims to heal the body, to go in, peel back the layers of our own wellbeing, in a challenging and transformative way. The point is to make you leave feeling like you have done something amazing for yourself. The same voice that says 'give up' can also be trained to say 'keep going'.
Catering for all skill levels, from beginners to seasoned yogis, come to Kate's classes hydrated, wear comfortable clothing, and bring with you a towel and water – yoga mats are provided complimentary so you can arrive light.
8)  The Yoga Place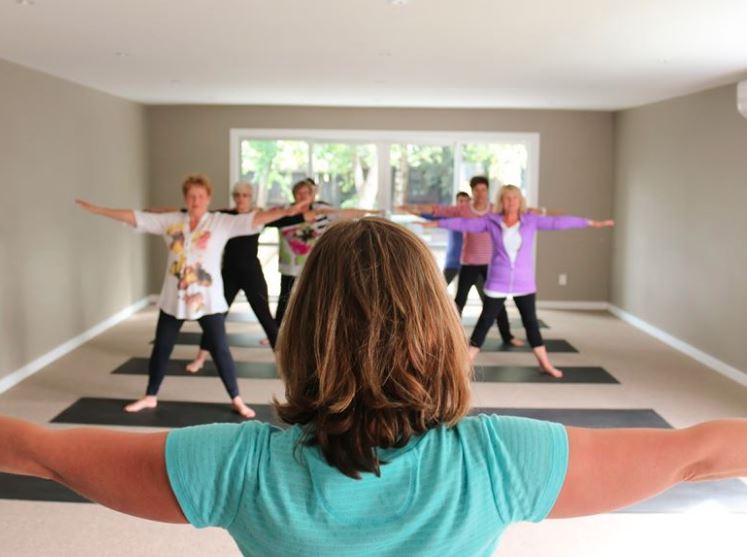 Website: https://www.theyogaplace.co.nz/the-yoga-studio
The yoga taught at The Yoga Place is based on a variety of styles and techniques. Their  teachers continue to study with world-renowned teachers to keep their practice and teaching authentic, relevant and inspired. Their classes are infused with traditional asanas (poses), developmental movement patterns, vinayasa (flow), somatics, restorative yoga, meditation and more.
A typical yoga class includes Breath Awareness and Asanas & Vinyasas. There's also Guided Relaxation & Meditation poses included.
The Yoga Place Studio is a spacious and light-filled studio. They have carpeted floors with quality mats and yoga props for extra comfort, and the studio opens out into a leafy courtyard.
The Yoga Place has class options ranging from beginners to more experienced, as well as a class called 'gentle yoga' which is focused on yoga for healthy aging and is a great option for older grown ups starting yoga later in life (average age in this class 65-75).
9)  Christchurch Yoga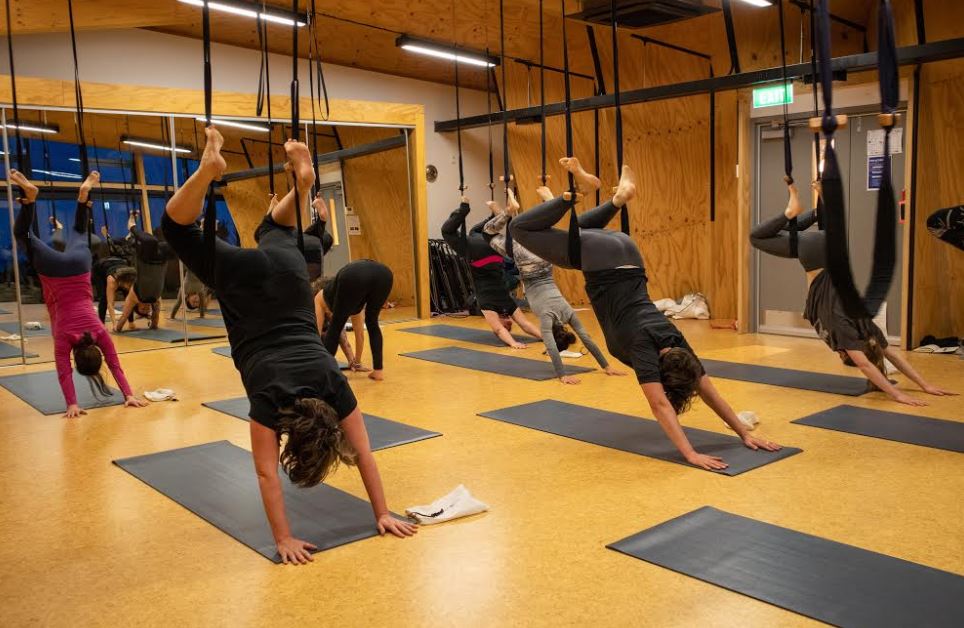 Website: https://www.christchurchyoga.co.nz/
Rebecca is the head of Christchurch Yoga, and her classes are proven to be SAFE and supportive; teaching is orientated towards gradual and steady progress. Rebecca ensures that her students learn correct alignment, timings, sequencing and linking of yoga postures. They are also encouraged to move at their own pace and postures especially if they're recovering from any physical injury or condition. Rebecca offers a diverse range of classes including FlyHigh yoga, yoga nidra, ashtanga yoga, pregnancy yoga and post-natal yoga.
Rebecca has been teaching in New Zealand since 2000 and has been practicing Iyengar yoga since she was based in the UK. Over time, she has studied with senior teachers in India, United Kingdom, Australia and United States, and continues her own practice and training with leading teachers.
10)  Adapted Yoga and Pilates – Sockburn, Halswell, Ilam Rd, Wilson's Rd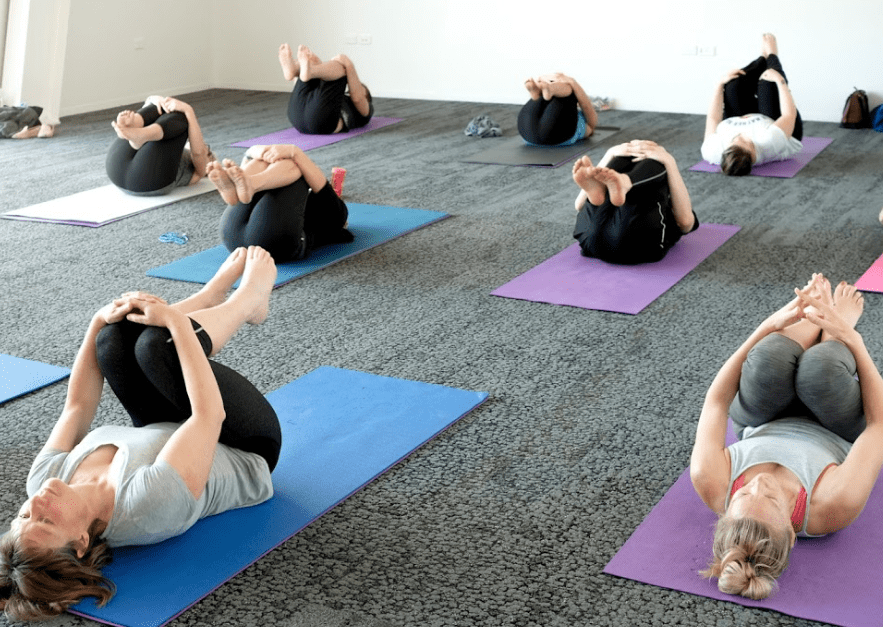 Website: https://www.adaptedyogaandpilates.com/
Your schedule might prevent you from doing yoga or you feel you're more productive with one-on-one sessions. If that's your situation, you can do yoga with Adapted Yoga and Pilates.
Bagging the NZ Exercise Industry Awards for 2019 as well as being recognised as a certified yoga school and teacher, it's one of the best yoga studios in Christchurch.
Invite your friends on a Saturday morning and do some yoga here before driving around the city and watching a movie.
They have 4 venues in Christchurch and 1 in Rolleston. So you can just as easily find the studio that's closest to you.
Workshops are provided to further your yoga and pilates, guidance, right nutrition, and goal setting with the Love My Body programme starting at NZ$289.
It's also particularly attractive for those interested in Pilates. Combining yoga and Pilates will give you a healthier physical, mental, emotional, and spiritual well-being.
11)  Christchurch YMCA
WEBSITE: http://www.ymcachch.org.nz/christchurch-accomodation
YMCA Church is a foundation that aims to invest in the future generations. With several establishments scattered in New Zealand, their core purpose is to relate to the needs of the people in the community, and try to help them get better and reach their full potential.
They house young people and provide them a safe accommodation whenever they need it; offer youth developmental programmes and recreational opportunities for the old age and persons with disability. What is special about them though, is that both young and old, are able to share classes in wellness like yoga. YMCA's yoga teaches people spiritual discipline and how to bring harmony in both mind and body to achieve the perfect peace in life. This is beneficial to everyone, no matter the age, as it moves life into a new chapter that is more beautiful and understanding than what was before.
Well-trained instructors and yoga masters conduct classes in small groups to ensure the peaceful environment and create a safe space for everyone. And no matter if you'd want to have a tiring workout or a moderate type of stretching or meditation like yoga, YMCA is here to provide them for their lovely citizens.
12) Snap Fitness
Website: https://www.snapfitness.com/nz/gyms/new-brighton/
Snap Fitness is a member-exclusive gym that provides 24-hour access. With their team of friendly and accommodating people, as well as world-class equipment, they're sure to bring the best out of you! Their aim is to create a place where people would be comfortable enough in their own skin and reach their best physical and mental attributes.
You are sure to find something that interests you with Snap Fitness as they offer multiple activities and machines to choose from. One of which, is their yoga classes. There are two instructors in the house, both of which are experts in their field. You may choose between a Saturday morning or a Thursday evening schedule.
13) Core Pilates and Mind
Website: https://www.corepilatesandmind.com/
Core Pilates and Mind was created for people to have a place where they can nurture both their minds and bodies without any judgement or negative nuisances. It was founded in 2018, since then becoming a popular place for affordable yoga and pilates classes.
They have classes for anyone who likes to enjoy yoga, offering sessions with different levels of difficulty depending on the person's experience. The services they offer are Open Reformer Pilates, Yoga, Mat Work Pilates, Barre, and more. What makes them one of the best is their small classes, which ensures that you get your instructor's undivided attention.
Core Pilates and Mind makes sure that your experience with them is nothing but fun and enjoyable– all while helping you stay healthy.
---
Anyway, that's it for your best yoga studios in Christchurch. You can take your yoga to the next level and feel calm, light, and healthy at these stellar locations.
How were the studios we recommended? Find anything you like? Tell us all about it by writing notes in the comment section or ask us any questions you have.
After your session, you might need to recover. You can read our list of the best protein products in New Zealand to build muscle and be fresh for your next workout, just in case!