FREE AND FUN: 10 Kid-Friendly Activities in Wellington
This article is for parents and guardians looking for fun activities to entertain their little ones without burning a hole in their pockets. If this is you, keep reading because this list is a treasure trove of things to do in Wellington for kids that won't cost you.
Who says entertaining kids has to be expensive? We listed all the details for the activities so all the information you need will be in one place.
1. Have outdoor fun at Avalon Park.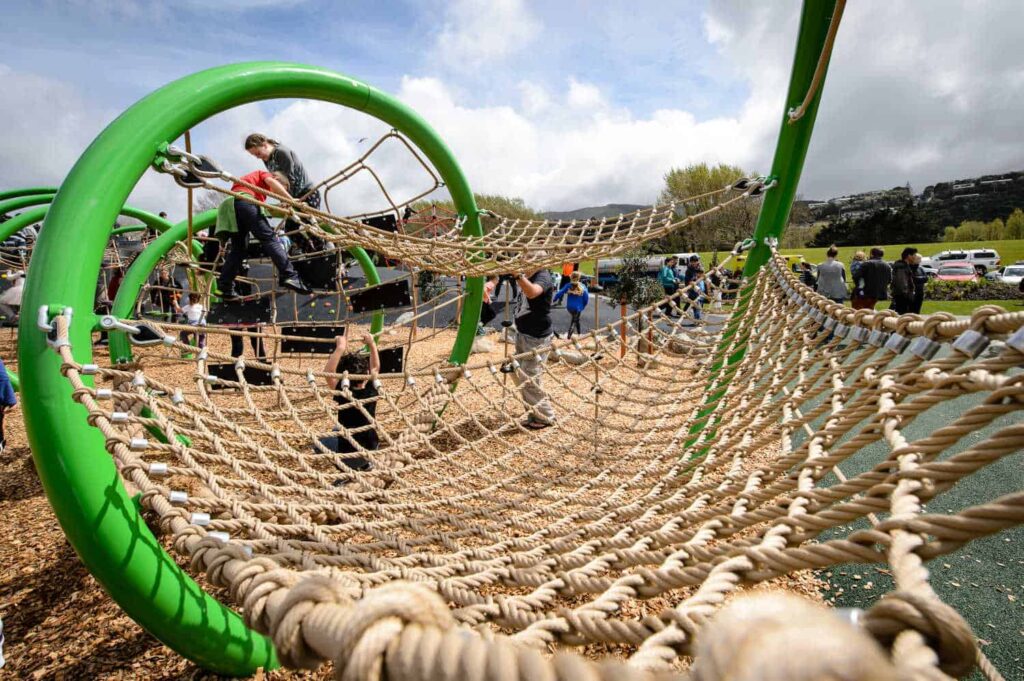 Image from Playground People
| | |
| --- | --- |
| ADDRESS | 61 Taita Drive, Avalon, Lower Hutt 5011, New Zealand |
| CONTACT DETAILS | +64 4 570 6666 |
| OPERATING HOURS | 24/7 |
| COST | FREE |
Avalon Park is a kid's dream come true. This extensive park has all sorts of play equipment like swings, things to climb, slides, a twin flying fox, climbing walls, trampolines, and a sand pit and water play for the little ones.
The wide array of play equipment will definitely excite your kids. They probably will have a hard time deciding which one to play with first.
The park is modern and innovative. There's plenty of space to run around and the play equipment is very versatile for different kinds of adult and children play.
Kids can even bring their bikes,  hoverboards, and scooters and enjoy the mini-road bike park. To add to this, they even have a miniature train and a mini-golf course. 
Aside from the play equipment, they also have electric BBQs where you can grill some burgers and sausages. This park is a popular picnic spot for a reason after all.
Adults can also enjoy food and coffee from the carts that are usually present around the area. 
2. Learn about cable cars at the Wellington Cable Car Museum.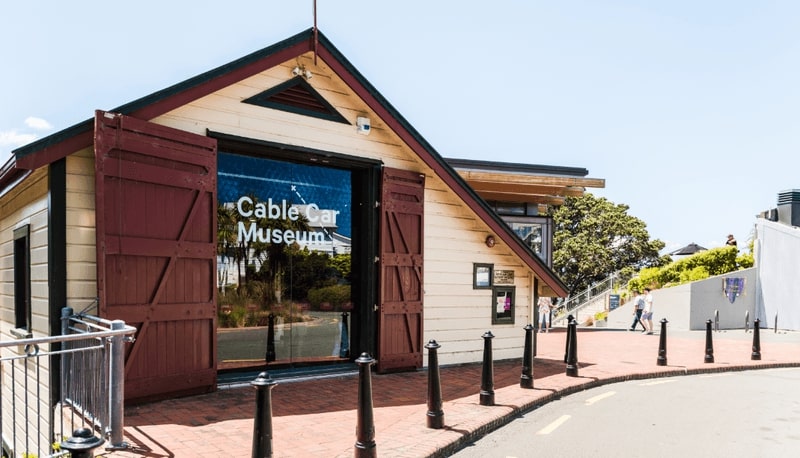 Image from Eventfinda
| | |
| --- | --- |
| ADDRESS | 1A Upland Road, Kelburn, Wellington 6012, New Zealand |
| CONTACT DETAILS | Monday-Sunday (10 AM-5 PM) |
| OPERATING HOURS | +64 4 475 3578 |
| COST | FREE |
If you and your kids would want to learn about the fascinating history and mechanism of cable cars in Wellington, then you're in for a treat. Going to the museum is free of charge.
However, please don't mistake this for the cable car ride. The 5-minute cable car ride will cost $4.50 for children and $9.00 for adults.
Still, if you just want to roam around the museum and see the different kinds of cable cars used from 1902 until 1978 and see pictures of what Wellington looked like in the past, then this is a nice activity for you.
You'll even see the winding machine room which was responsible for keeping the cable cars up and running between the years 1930 to 1978.
You can even get a chance to take a seat on the 'Relentless Red Rattler', a cable car notorious in the past for the rattling noise it made when going up and down the steep incline and whooshing through tunnels.
This is an experience you definitely won't want to miss. 
3. Explore the Wellington Botanic Garden and learn about different kinds of plants.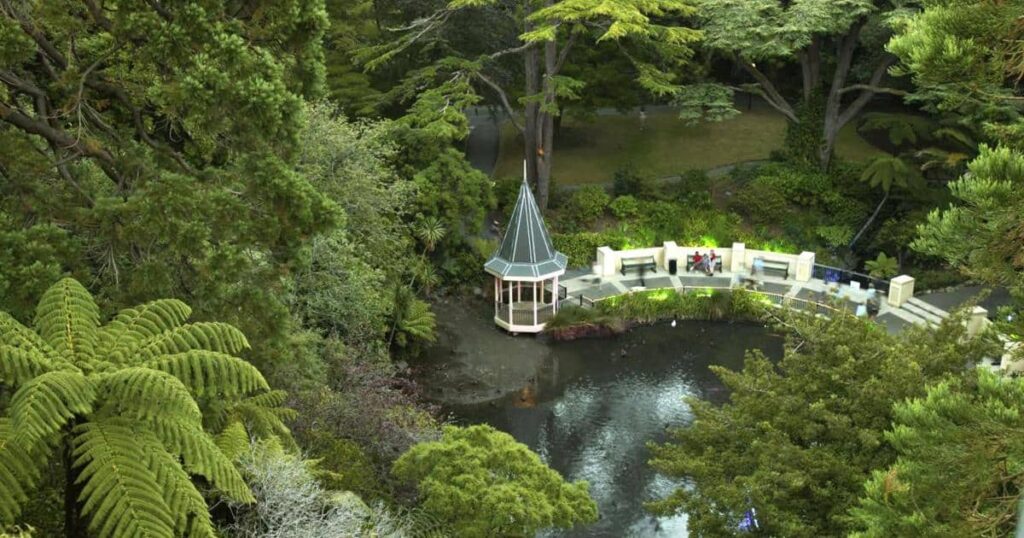 Image from New Zealand
| | |
| --- | --- |
| ADDRESS | 101 Glenmore Street, Kelburn, Wellington 6012, New Zealand |
| CONTACT DETAILS | +64 4 499 1400 |
| OPERATING HOURS | 24/7 |
| COST | FREE |
The Wellington Botanic Garden is extensive, covering over 25 hectares of land. The garden was established in 1844 and you can see the oldest and most exotic trees in the country here.
You can also see a duck pond along with colorful floral displays, an Australian garden, a fresh herb garden, a begonia house, and a rose garden.
We think that it's a great place to get fresh air, take in the beautiful sights, and get some steps in. Aside from that, it's also a great way to help kids learn about the science behind plants.
This will be the perfect opportunity to learn lessons outside of the classroom. You can create worksheets that they can answer during the trip or hand them a sketchbook so they can be creative and draw the plants and flowers they like the most.
Older kids can also still find this trip engaging. There are so many things to learn and do here.
It's definitely an oasis worth the trip. You can even make it fun by setting up walkie talkies so you and your older kids can interact even when you're scattered around the area. 
4. See how chocolate is made at the Wellington Chocolate Factory.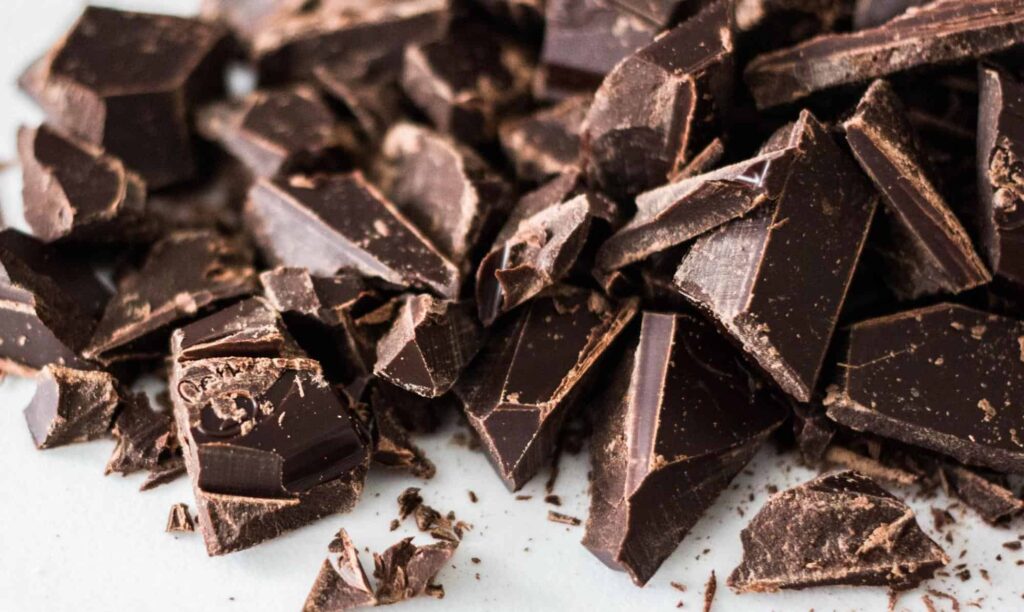 | | |
| --- | --- |
| ADDRESS | 5 Eva Street, Te Aro, Wellington 6011, New Zealand |
| CONTACT DETAILS | +64 4 385 7555 |
| OPERATING HOURS | Thursday-Sunday (10 AM- 4 PM) |
| COST | Entrance to the cafe is FREE but tours aren't. (Chocolatier for the Day Tour – $60.00 for kids 12 and up) |
Who wouldn't want to learn how our favorite chocolate is made? Great thing that Wellington has a chocolate factory just in Eva street for us to discover the intricate art of chocolate production.
Wellington Chocolate Factory is dubbed as "NZ's original craft bean-to-bar chocolate maker". They source ethically traded cocoa, which is impressive.
Their chocolate is multi-award winning as well. In fact, their chocolate was awarded gold at the 2018 World Finals of the International Chocolate Awards.
Although entrance to the cafe is free and you can always buy their chocolate, we highly recommend that you splurge a little for the tour if you can! This activity is better suited for older kids though,12 years old and up.
The Chocolatier for the Day Tour will help you dig deeper and learn about craft bean-to-bar chocolate, how chocolate is made, and even make your own chocolate bars to take home. 
5. Be amazed by the art at New Zealand Portrait Gallery.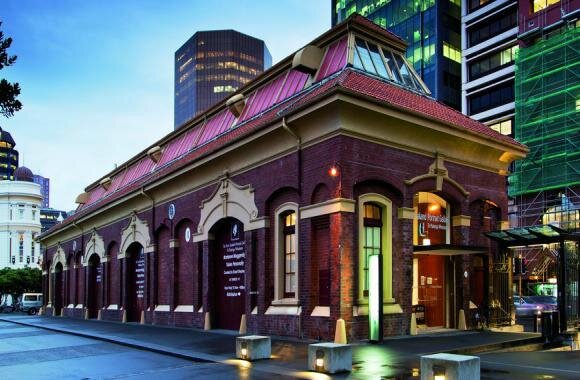 Image from New Zealand Portrait Gallery
| | |
| --- | --- |
| ADDRESS | Shed 11/60 Lady Elizabeth Lane, Pipitea, Wellington 6011, New Zealand |
| CONTACT DETAILS | +64 4 472 2298 |
| OPERATING HOURS | Monday-Sunday (10 AM-4:30 PM) |
| COST | FREE |
The New Zealand Portrait Gallery Te Pūkenga Whakaata was registered in 1990 and is located in the historic Waterfront Shed 11. Going here is a great way to expose your children to the art of portraiture.
Their collections include works of famous New Zealand artists such as Janet Frame, Sir Edmund Hillary, Sir Peter Blake, and Dame Kiri Te Kanawa.
Art is a great way for children to learn about history, culture, and freedom of expression. It's a way to open up the discourse in your home about different topics surrounding the art you see in the gallery.
You can take it a step further by asking your child to note down their observations in a notebook and allow them to ask you questions about the paintings and work of art. 
6. Explore Te Papa (Museum of New Zealand Te Papa Tongarewa)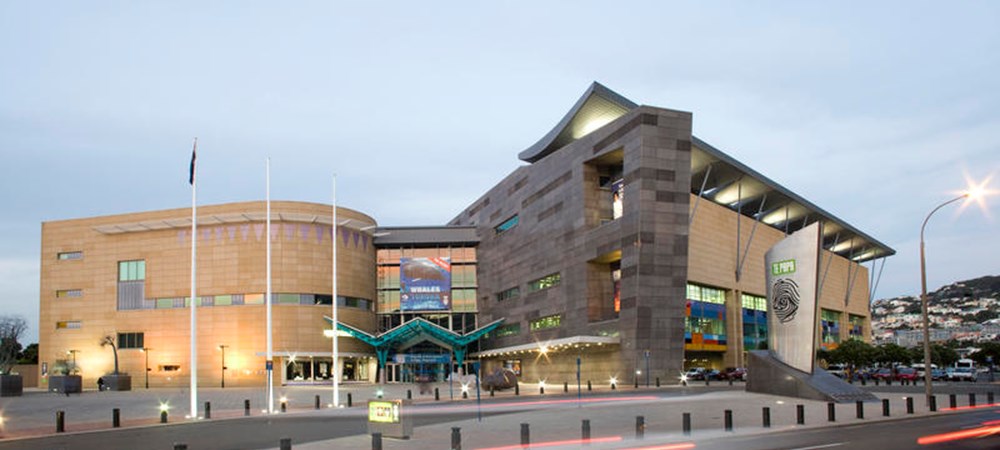 Image from Museums of the World
| | |
| --- | --- |
| ADDRESS | 55 Cable Street, Te Aro, Wellington 6011, New Zealand |
| CONTACT DETAILS | +64 4 381 7000 |
| OPERATING HOURS | Monday-Sunday (10 AM-6 PM) |
| COST | FREE; charges apply to some short-term exhibitions and events |
Museums are always a great way to spend the day. It's a fun activity that the whole family can enjoy and everyone can have the opportunity to learn different things.
Wellington is home to a lot of great museums, Te Papa being one of them. This museum is a national museum and its name, Te Papa Tongarewa, roughly translates to "container of treasures".
This museum opened in 1998 and is the 17th-most-visited art gallery in the world. It is home to a lot of cultural treasures, a lot of which are deeply rooted in the culture of the indigenous Māori people.
They have a fascinating history collection featuring dresses and textiles. There are also lots of fossils and archaeozoology that will surely spark interest in your child.
You can also see the Elgar Collection here, which is a valuable collection of English and French furniture and paintings.
The whole museum is beautiful and engaging, it's definitely fun for the whole family. 
7. Have an adventure at the Maitarangi Nature Trail.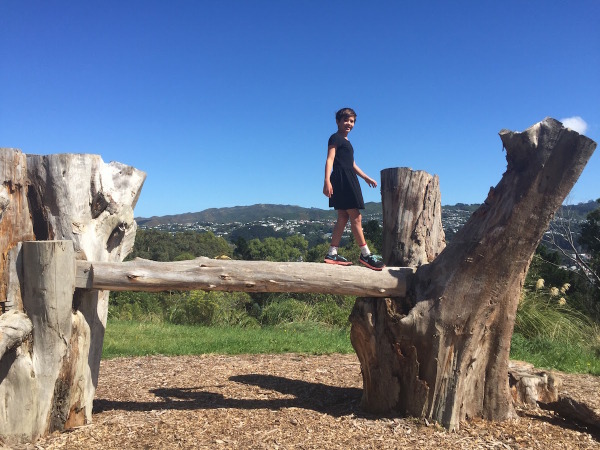 Image from Catching the Magic
If you're longing for a break from the hustle and bustle of the city and want a beautiful place to get some fresh air, then visit the Maitarangi Nature Trail. Your kids will enjoy the natural playground here, there's a lot of things to climb and so much to discover.
There are several play stations here that your kids will enjoy. There are balancing beams, stepping logs, a wobbly bridge, among other fun climbing and jumping challenges.
We think it's a fantastic break from the city and allows your child to be active. Your kids get to blow off some steam and adults can also enjoy a quick work out outside of the gym. 
8. Take a guided tour of the Parliament Buildings (Beehive).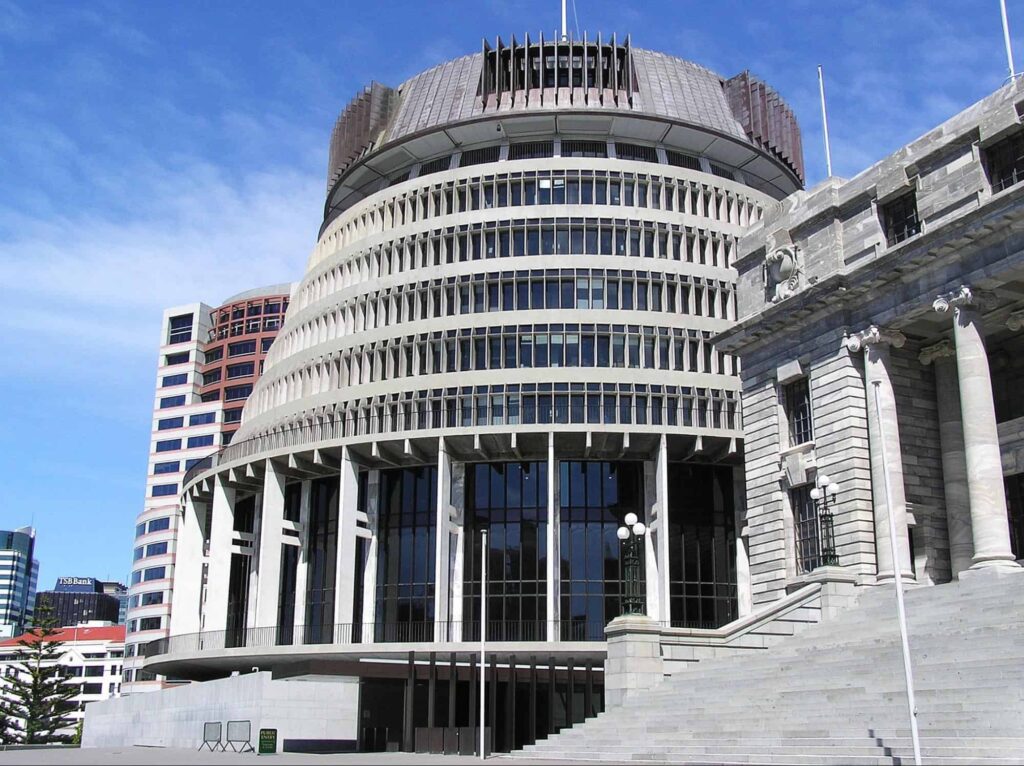 Image from Wikimedia Commons
| | |
| --- | --- |
| ADDRESS | Pipitea, Wellington 6011, New Zealand |
| CONTACT DETAILS | +64 4 817 9999 |
| OPERATING HOURS | Monday-Sunday (9 AM- 5 PM) |
| COST | FREE although guided tours must be booked in advance |
The Executive Wing of New Zealand Parliament Buildings is also known as the Beehive because of the way the building is structured. The best thing is that they hold guided tours that are open for everyone.
Do know that these tours must be booked way ahead in advance as slots fill up fast. This would be the perfect opportunity for your kids to learn about parliamentary processes and visit key parts of the building.
Check out all the necessary information about tours here. 
Before you go there for your tour, please be reminded of the following:
Bring a printed or electronic copy of your booking confirmation because you will have to present this upon entry. 
Children under 13 must be accompanied by an adult over the age of 18. 
9. Build sand castles at Oriental Bay.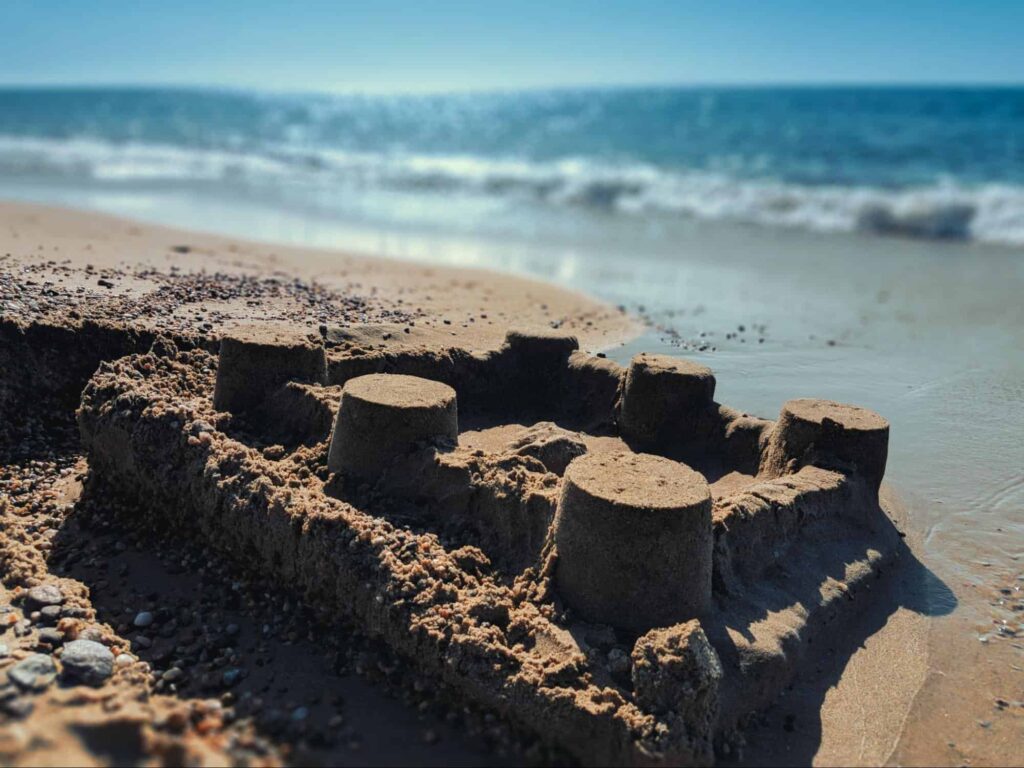 On warm days, you can have a great beach day with your family at Oriental Bay, which is one of the best beaches in Wellington. Your kids can enjoy running around the shore and building sand castles.
You can set up a good picnic on the beach and enjoy dripping ice cream cones. Kids will also enjoy the playground at the Freyberg Beach side and the water fountain.
You can also enjoy a quick dip in the water. Just make sure to remind your children about safety on the beach.
Always make sure little ones have a chaperone in the water and double check that older kids are aware of safety protocols to ensure a safe and fun time for everybody. 
10. Do a photo walk at Otari Wilton's Bush.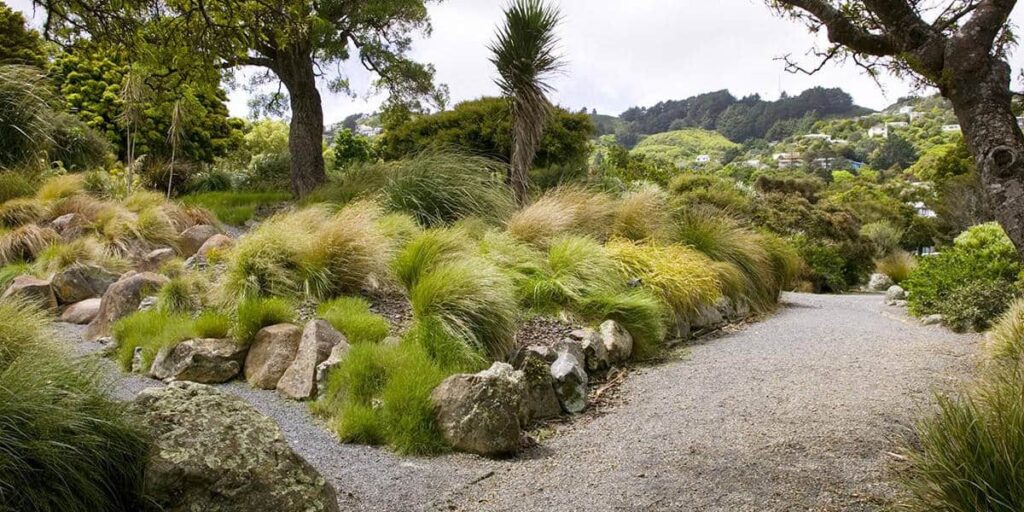 Image from Wellington Regional Trails
| | |
| --- | --- |
| ADDRESS | 150 Wilton Road, Wilton, Wellington 6012, New Zealand |
| CONTACT DETAILS | +64 4 499 1400 |
| OPERATING HOURS | 24/7 |
| COST | FREE |
Here's another oasis in the city. If you want to connect with nature, make sure to plan a trip to Otari Wilton's Bush.
They have over 1200 species of plants. Plus, this is the only public botanic garden that's dedicated to the native plants of New Zealand.
We love that they have 11 km of walking trails in the gorgeous native forest that you can enjoy. You can even take it a step further by bringing your camera along and doing a photo walk with your children.
Just make sure to always have your power banks ready just in case your camera or phones run out of battery. 
Adults can relax and even listen to music on their headphones while taking in the beautiful view. 
It will be a relaxing trip with plenty of opportunities for your children to learn new things. We even heard that there are a lot of native birds who call this place their home.
You might spot some tui, kereru, morepork, and bellbirds here.
---
That sums up the kid-friendly activities we found that you can enjoy in Wellington for free. We love that there's so many things to do in the city even when on a budget.
Did we miss out any local spots you'd want us to try? Don't hesitate to let us know!
By the way, check out some of these related articles for kids: