Our 9 Preferred Loans in New Zealand
Times are hard and prices keep rising wherever we go. In case you need a personal loan, we have your back, as we've put together our own list of loans in New Zealand!
You can find a multitude of loan products out there. However, it can be confusing to know which loan is ideal with regard to your finances and needs.
With our guide below, we'll walk you through the things you should know about loans. That will positively help you in choosing from our product lineup along the way.
What to Know Before Getting a Loan
When you badly need cash, getting a loan can help. It's crucial that you choose a loan you can repay without any problem over the agreed term of your lender.
Picking the wrong loan might trap you in debt which can leave you worse than before. Anyhow, here are the things you need to consider before you get a loan:
1) Kinds of Loans
Basically, loans can be used for personal or business matters. These can be categorised into two types: secured and unsecured.
Let's differentiate them below.
Planning to buy something expensive like a car or home? Loan companies will usually offer you a secured loan rather than an unsecured loan.
A secured loan means that you have to pledge an asset—such as a car, your house, or property—so that you can borrow cash. But this is high-risk since if you fail to repay, they can take your property.
As such, you have to make sure that you can afford the repayments for your secured loan. If you can't make that commitment, we advise against taking a secured loan.
This is the more common type of loan, as well as the safer one. As the name suggests, unsecured loans won't require you to pledge your asset in order to get your loan.
You can get an unsecured loan to pay for your holiday, car, wedding, furniture, elective surgery, etc. or even to settle your existing debts with one simple payment.
2) Interest Rate
Interest rates are the identifying factor of a loan. That's because the interest directly influences the amount you will need to repay.
Low-interest rates for a loan are typically around 6.50% to 7%. On the other hand, mid-interest rates start from 7.95%, whilst costly and high rates can reach up to 12.95%!
Therefore, you have to compare quotes from different lenders in order to find a loan deal.
3) One-Off Fee
When you apply for a loan, you are required to pay a one-off fee or establishment fee. This fee is usually in the hundreds and is already deducted from your borrowed amount.
Let's say you borrow an amount of $1,000 and the one-off fee is $150. Therefore, you would only get $850 loan to use on your expenses.
You have to watch out for this. It goes without saying that, as much as possible, you should avoid loans with high-interest rates and high establishment fees.
4) Flexibility
It helps to be able to adjust your payment frequency and term for your loan. Being able to do this lets you repay your balance without stress and inconvenience.
Payment frequency can either be monthly, fortnightly, or weekly, whilst the term can extend from 6 months up to a year typically.
5) Terms and Conditions
To be safe, you have to read the terms and conditions of the lender. This way, you can 'catch' if there's some unfairness or hidden fees with the loan you're getting.
Reading the T & C's can probably answer the questions you may have about your loan. If not, you can just ask your lender if something regarding your loan isn't clear.
6) Online Process
Of course, your loan application experience counts too. You should be able to get a quick quote from the creditor online.
Apart from this, it's a bonus that you won't have to wait a long time for your loan to be approved and for it to be deposited to your bank account.
So a hassle-free online process is definitely what you should look for when picking from our list of loans in NZ.
Loans in New Zealand
Now that you know the fundamentals, allow us to present to you loans in New Zealand!
1) The Cooperative Bank Personal Loan
For Unsecured Personal Loans

The Cooperative Bank takes your credit history seriously. If you are a good payor, you can get a lower interest rate for your personal loan.
Their interest rates are floating and range between 6.99% and 19.99% p.a. You can borrow $3,000 up to $50,000 for a period of 6 months to 5 years.
It's up to you whether you'd like to repay your loan every month, fortnight, or week.
Also, the fees, terms, and conditions change over time, so it's important to stay updated regarding your loan with them.
Their personal loan makes you closer to your dream than ever—whether it be to finance a cutting-edge SUV, house renovation, or Greek cooking classes.
Pros
Interest rate can be as low as 6.99% (provided you have a good credit rating)
Flexible repayments (weekly, fortnightly, or monthly)
Helps you with big-ticket buys or debt consolidation
No additional fees if you increase your repayments
Simple to apply online
Cons
2) Simplify Car Loans
For Car Loans

If you think that buying a car involves a long, complicated process—especially during the financing part—wait till you try Simplify.
Simplify is a peer-to-peer loan business (P2P) that focuses on making your car-buying experience easy, painless, and fast! They will negotiate with their network of major lenders to find you the best deal.
If you borrow directly from a car dealership or financier, chances are the prices have top-ups. With Simplify, you are guaranteed a competitive rate.
Pros
Awesome competitive rates
Discounted repayments
Instant quoting and approval
Loans up to $150,000 available
Payment terms up to 5 years
Cons
Offers only secured loans
Customer Reviews
On Feefo, Simplify received dominatingly positive reviews from numerous people. Clients praise them for their first-class services from the first call to the moment they get their car.
One client, Ben H., shared this review about using Simplify Loans:
"Awesome experience super easy to deal with and david put me touch with guy from car yard and he had perfect car for what I needed I loved it."
Here's a great review from another client:
"Mr. David Gold is the Consultant that I am dealing with. Highly Recommended! Simplify helped me to get the loan with a reasonable (lowest) rate that I am satisfied with. They've been right there, helping out whenever they could during the loan application. I wrote a thank you letter to them and their director Mr. Glenn Wilson replied me with a great appreciation. I definitely will recommend Simplify team to my friends who need a financing service."
3) Lending Crowd Business Loan
For Loan for Small and Medium Enterprises

Lending Crowd's business loan is targeted to small and medium enterprises, with a maximum lending amount of $200,000.
They boast market-leading interest rates starting from 5.03%. They are able to offer this competitive rate because they are a 100% online business with no middlemen or overhead costs.
Their online process is a no-brainer. You just need to fill in the term and rate that fit your needs.
Once you're approved, the money will be transferred to your bank account.
However, they do require you to have a good credit rating, be able to produce annual revenue of not less than $80,000, and be in business for at least 18 months.
Pros
Low-interest rates starting from 5.03%
You can borrow a maximum amount of $200,000
Simple online process
No penalties for repaying your loan early
Cons
Strict eligibility guidelines
4) NZCU Baywide Loan
For Loan with a Pain-Free Process

Applying for a loan with NZCU Baywide is ultra-simple because everything is done online. You have the choice of a secured or unsecured loan.
They have good interest rates for those with an excellent credit score, but not for those with a bad record. The rate starts from a nice 9.90% to a whopping 28.90% p.a.
The repayment period is flexible, and you can choose from terms of 6 months to 7 years. You can also loan from $2,000 up to $50,000, provided that you pay an approval fee of $250 first.
Whether you're investing for the future, exploring New Zealand's spectacles, relaxing on the beach, or clearing your previous debts, they're all possible with NZCU Baywide loan options!
Pros
Offers both secured and unsecured loan
Interest rates from 9.90% p.a.
Pain-free online process
Longer loan term up to 7 years
Flexible repayment terms
Money investment option through term deposits
Cons
Lower maximum loan amount of $50,000
5) Squirrel Loans
For Home Loans

| | |
| --- | --- |
| Website | https://www.squirrel.co.nz/squirrel-loans |
| Contact Information | 0800 21 22 30 |
| Address | 38 College Hill, Freemans Bay, Auckland, New Zealand, 1011 |
| Rates | from 7.95% p.a. |
| Loan Amount | Up to $70,000 for vehicle loan Up to $70,000 for home loan Up to $20,000 unsecured loan and $50,000 secured loan |
| Approval Fee | $500 for Tiny House Loans No approval fee for Homeowner's Loans |
At Squirrel, they offer several options for your personal loan. These can be a secured or unsecured loan, which have mid-level interest rates from 7.95% p.a. and above.
Their vehicle loan lets you use the car, boat, or motorcycle that you intend to buy as security. Interest rates start from 8.95% and you can loan as much as $70,000.
For home loans, you can get up to $70,000 while using your home as security. A special rate of 7.95% p.a. is given to you in the first year of the loan term.
A debt consolidation loan is also offered which lets you borrow up to $20,000 for unsecured loans and $50,000 for secured loans. An interest rate of 8.95% for this is set.
On top of that, there's no early repayment charge if you happen to pay earlier than you're supposed to.
Pros
Homeowner's loan offers a 7.95% interest for the first year
Wide range of loan options
Secured house and vehicle loans from just 8.95% p.a.
No early repayment fees
Cons
Relatively higher interest rates than other lenders
Lower personal unsecured loan amount (only up to $20,000) compared to others
Customer Reviews
Squirrel received superb reviews on their website and Facebook. Clients said they had great communication, fast processing times, and a helpful and responsive team.
One debtor, Francesca B., wrote this review:
"Very grateful to have Sam's comprehensive help securing my home loan at a great rate. Approachable, patient and quick to reply. Excellent knowledge of local market and banks. Would highly recommend."
Furthermore, another client, Neha, shared her experience with Squirrel:
"It has once again been an absolute pleasure having Sudam advise us in financing our home loan. He has kept our best interests at the fore front and patiently helped us every step of the way. We would recommend Squirrel in particular Sudam (based on our experience) to anyone requiring professional mortgage guidance."
6) Pronto Finance
For Quick Loan Processing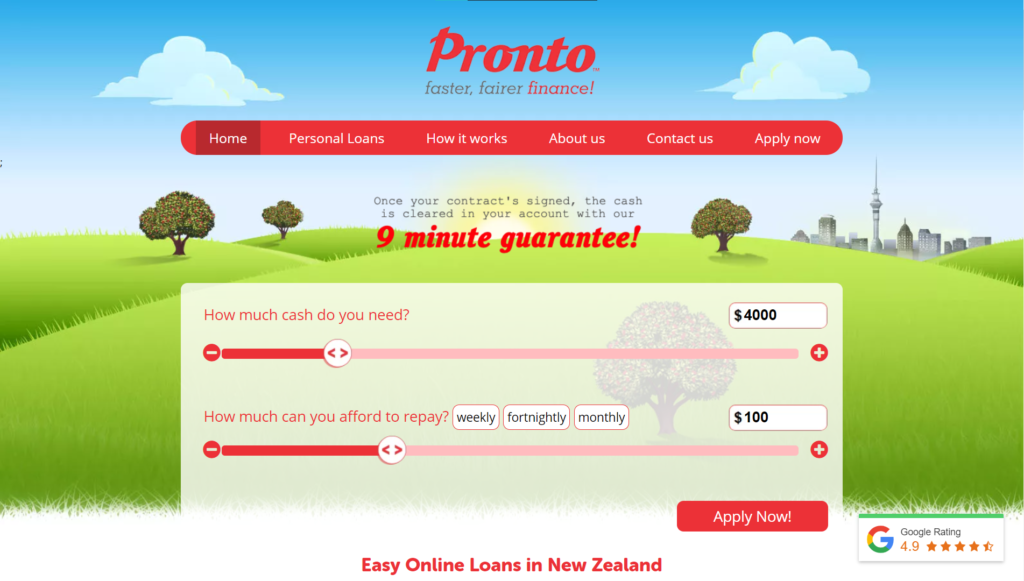 Pronto Finance is perfect for those looking to get quick processing loans. They guarantee that the cash you need will be in your account within 9 minutes.
The secret to their fast processing is their digital signature technology. If their quick cash same day loans aren't provided within 9 minutes, your first repayment is free.
You can easily apply online on their website. As a company of certified responsible lenders, you're guaranteed to get a loan that you'll be capable of repaying.
Pros
Online application available
9 minute loan processing guarantee
Transparent fees
Responsible lenders
Cons
Relatively high interest rate
7) Kiwi Car Loans
For Car Loans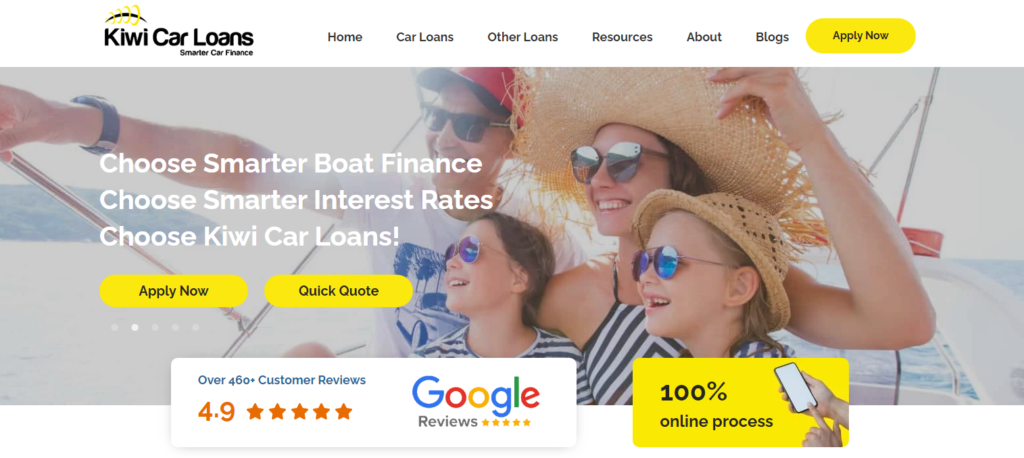 | | |
| --- | --- |
| Website | http://www.kiwicarloans.co.nz/ |
| Contact Information | 0800 008 888 | [email protected] |
| Address | 692 Great South Road, Penrose, Auckland 1061 |
| Rates | 6.85% – 23.95% p.a. |
| Loan Amount | $5000 – $500,000 |
| Approval Fee | $195 – $995 (depending on lender) |
Kiwi Car Loans is the home of great rate finance approval for used or new vehicles. They have access to a variety of finance options, and they look to find the best one for you so you don't have to.
With their network full of reputable lenders, their team can help you get behind the wheel with smarter finance solutions through private sales or car dealerships.
The only thing left for you to do is to choose a secured or unsecured loan that's suitable for you. But it's also worth noting that all the interest rates, loan terms and fees may vary depending on the lender they've found.
In addition to making things more hassle-free for their clients, Kiwi Car Loans pushes for the convenience of their online application.
Everything from the application, document verification to contract signing is done online! You won't even need to leave the comfort of your home, however, if you do prefer doing things personally, you can still visit their branch to consult.
Pros
Reputable lenders
Fast approvals
100% online process
Secured and unsecured car loans available
Loans for various vehicle types
Same-day approval for online applications
Cons
Customer Reviews
Here is a comment from a previous client:
"Danielle was amazing!! so professional and courteous. Kept me in the loop through the whole process and constant contact. i have a colourful past and live out of auckland. she was always pleasant and friendly, gave me valuable advice and honest and upfront with me so there were no surprises and i knew what to expect. She had my back 100% and was very supportive and responsive and invaluable to me.She made the process painless. i definitely made the right choice going through Kiwi Car Loans. Thank you guys, my family and i appreciate everything you did for us."
8) NZ Vehicle Finance
For No Deposit Finance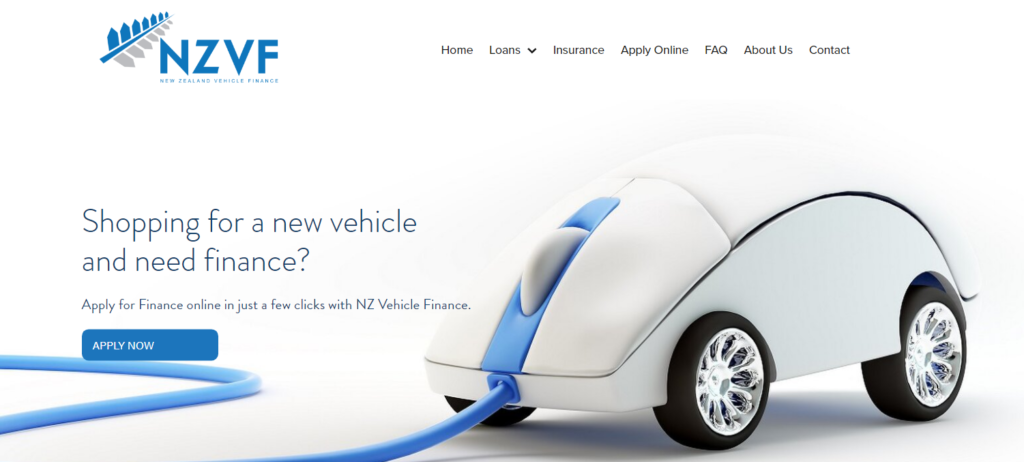 NZ Vehicle Finance is Waikato's leading vehicle finance lender, with a reputation for providing exceptional service and loan options to all its clients. With the lowest establishment fee and no monthly fees they offer comprehensive deals to set up your new loan.
NZ Vehicle Finance aims to make the loan application process as seamless and quick as possible for their clients. One of the tools they use to achieve such a feat is their online application page.
Here, clients can take as little as five minutes to provide the necessary personal details for loans, and have NZ Vehicle Finance's team review their application for approval. If things go well, clients can even receive loan approval within an hour.
Aside from the quick application process, NZ Vehicle Finance also works to tailor loan plans to fit clients' needs. With their expert Business Manager, clients can map out a repayment schedule that they can comfortably follow through based on their budget and lifestyle.
It's also worth noting that all of the processes can be completed online, so clients wouldn't need to come in for their loan, and instead proceed with their purchase upon approval.
Pros
Free no-obligation quote
NO deposit required
One-hour approval process
Tailored repayment schedule
Insurance Options
No monthly fees
100% Online Process
Cons
Mediocre to bad credit may take longer to process
9) Credit One New Zealand

Website
https://www.creditone.co.nz/
Contact Information

[email protected]


0800 300 500
Address
Suit 2, 692 Great South Road, Penrose, Auckland 1061, New Zealand
Rates
Between 6.85% – 23.95% p.a.
Loan Amount
Between $1,000 to $1,000,000
Establishment Fee
Depends on your loan amount
Even if you have multiple jobs, there are really instances that your salary won't make your ends meet.
There are times when you will be able to pay your bills but when it comes to rewarding yourself for all the hard work you've done, your salary isn't just enough.
We have observed that loan companies usually advertise themselves as being the best, being the number one among the rest.
But with Credit One, they have given us a different impression. It is their customers who are number one, their top priority.
This can be supported by the 5-star reviews that they have received from their customers on Feefo and Google Reviews.
With their experienced Credit One finance broker, you will be able to receive a client-centered service.
They make sure that these brokers will provide a personal touch, a friendly voice on the end of the phone whom you can rely on, with no contact centres, nor automated messages. They will see to it that all the questions you have in mind will be answered.
In addition, this company is also composed of specialized brokers for maymarine, leisure, business equipment, and commercial space who cater to a variety of industries and customer cash flow.
Your comfort is also important to them as they give importance to how you will be able to contact them, how you will be able to compute, and how you will be able to apply for a loan.
Credit Once can assist you online, on the phone, and at our head office (by appointment only). They also have some handy tools available for your convenience, you can calculate what your repayments will look like via their calculator tool, get a free quick quote in under 60 seconds or apply via our online application form in four easy steps.
Pros
4-step application form
Quick quote under 60 seconds
Has a calculator tool to know how your repayments will look
Adverse credit history and unemployed applicants are welcome
Flexible repayments
Great customer service
Cons
Less than ideal credit history means higher interest rate
Further charges may apply for defaults and refinancing
FAQS about Loans in New Zealand
---
And there you have it for loans in New Zealand. Now you can buy something that you want while having a repayment plan suited to you.
Has everything been crystal clear so far? If you have any questions or suggestions, kindly leave us a comment, and we'll get back to you as soon as we can.
Also, you can read about low interest credit cards in NZ. Instead of a loan, a credit card is a better option for smaller expenses like for daily spends and shopping.