Our 9 Picks for Personal Loans in Auckland
We all have needs and wants we want to achieve. However, some expenses are costly and can get in the way of getting those needs and wants.
Fortunately, loans are there for people who want some quick cash to supplement any financial shortages. To help you find loan deals, we picked out agencies for personal loans in Auckland for you.
In choosing loan agencies, we made sure that they offered quick turnarounds and an easy application process. Next, we selected those that offer competitive rates and have exceptional client reviews.
Without further ado, here are the agencies for personal loans in Auckland.
1) Loan Spot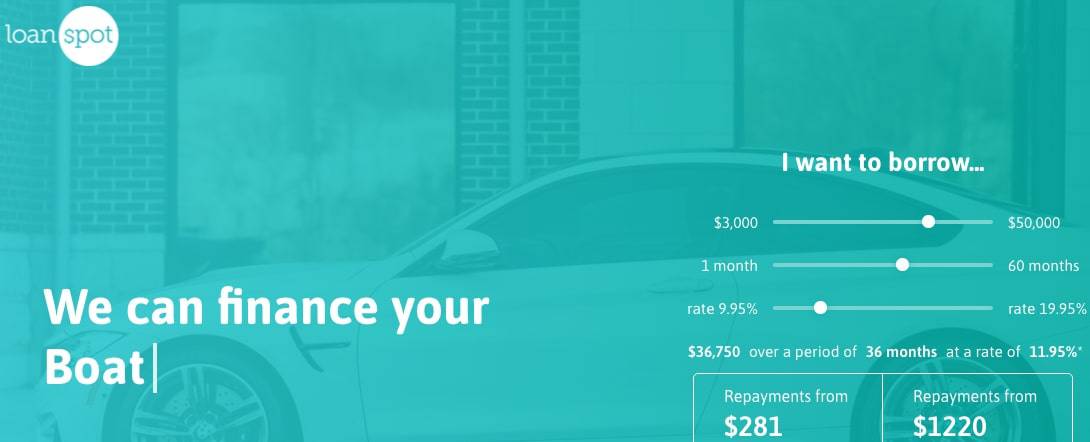 BEST FOR
Hassle-free application process
SERVICES
Vehicle Loans

Home Renovation Loans

Wedding Loans

Holiday & Travel Loans

Marine Loans

Debt Consolidation

WEBSITE
https://loanspot.co.nz/?utm_source=google&utm_medium=organic&utm_campaign=GMB
ADDRESS
Level 2, 16 Edinburgh Street, Newton, Auckland, New Zealand 1010
CONTACT DETAILS
+64 800 666 022
OPERATING HOURS
Monday – Friday: 8.30 AM – 5.00 PM

Saturday & Sunday: 9.00 AM – 5.00 PM
Loan Spot is focused on providing personal loans for any client's needs. Whether it's for a car, wedding or debt consolidation, they have you covered.
Their friendly team is ready to assist you with the entire process so that you get the right loan plan for your circumstances. They'll ensure that you can afford to repay the full loan amount.
You can apply for loans ranging from $3,000 up to $50,000, payable for up to a 5-year period. You can also choose to have a fixed weekly, fortnightly, or monthly repayment plan.
What's more, they'll make sure to give you impressive interest rates. According to many of their clients, applying for loans with Loan Spot is fast and hassle-free.
Highlights
Flexible personal loan options
Friendly and reliable staff
Low interest rate
Customer Reviews
Check out this review from a satisfied Loan Spot customer:
"Awesome customer service from Sam. Prompt, hassle free and tailored a loan for our requirements, in particular the ability to pay the loan back early without penalty."
2) Grab a Loan

BEST FOR
Mid-range expenses
SERVICES
Car Repairs

Dental Care

Appliance Repairs

Short-Falls

Vehicle Warrant & Registration

WEBSITE
https://grabaloan.co.nz/
ADDRESS
1 Albert Street, Auckland CBD, Auckland 1010, New Zealand
CONTACT DETAILS
09 520 0009

0800 85 55 55

OPERATING HOURS
Monday – Sunday: 8.00 AM – 9.00 PM
In case you need emergency money to pay off expenses, Grab a Loan has the perfect solution for you–the QuickDraw® Revolving Credit Account.
The QuickDraw® Revolving Credit Account is not just an ordinary loan, as it lets you withdraw funds as long as you don't exceed the account's lending limit. As you repay the loan, your 'quickdraw' balance is topped up, allowing you to draw more funds from the account.
Every client who applies for a loan will have a dedicated account manager to assist him over the repayment period. They will answer all the queries that you have.
With Grab a Loan's innovative loan plans, you can have peace of mind knowing that you can access emergency funds anytime you want.
Highlights
Great for medium expenses (from $1000 – $3000)
Provides the Quickdraw Revolving Credit Loan
Dedicated account manager
Customer Reviews
Check out this review from a customer named Stacey, that recounts her experience with Grab a Loan:
"I have used Grab A Loan a couple of times and have just had to take out another loan through them. As usual they are incredibly easy to deal with – super responsive, quick and friendly. I wouldn't hesitate to recommend them to anyone."
3) Max Loans

BEST FOR
Empathetic and helpful customer service
SERVICES
Bad Credit Loans

Business Loans

Car Finance

Classic Car Loans

Debt Consolidation Loans

Emergency Loans

Holiday Loans

Home Improvement Loans

Mortgages and Home Loans

Secured Personal Loans

Unsecured Personal Loans

Wedding Loans

WEBSITE
https://www.maxloans.co.nz/personal-loans
ADDRESS
27/27-29 William Pickering Drive, Rosedale, Auckland 0632, New Zealand
CONTACT DETAILS
+64 508 629 5626
OPERATING HOURS
Monday – Friday: 8.30 AM – 5.00 PM
At Max Loans, their friendly and empathetic team of professionals are sure to help you get a personal loan, no matter the purpose.
Service-wise, they're one of the most reliable agencies for personal loans in Auckland. Clients can attest to Max Loans's efficient and simple service.
Their skilled agents can have your loans approved quickly and help you get competitive interest rates. They do this by only working with reputable creditors.
If you find yourself needing more cash along the way, you can opt for a top-up personal loan. This will cover your immediate expenses such as for holiday costs or debt consolidation without going through the application process again.
Highlights
Friendly and understanding team
Competitive interest rates
Efficient and simple service
Work with reputable creditors
Customer Reviews
Kathryn T., one of Max Loans's clients, has this to say about her experience:
"Pleasant to deal with. Regular updates on progress. Quick to get started on the details required. Non judgmental."
4) Yes Finance

BEST FOR
Kind Customer Treatment
SERVICES
Personal Loans

Car Financing

Debt Consolidation

Business Loans

Boat Loans

WEBSITE
https://www.yesfinance.co.nz/
ADDRESS
6 Sharkey Street, Manukau, Auckland 2104, New Zealand
CONTACT DETAILS
+64 508 105 010
OPERATING HOURS
Monday – Friday: 8.30 AM – 5.00 PM

Saturday: 9.00 AM – 1.00 PM
With Yes Finance, you won't have trouble saying yes to that new car, wedding party, office renovation or new washing machine.
Yes Finance gives low interest rates and flexible terms for personal loans. They offer a wide array of personal and business loans.
Furthermore, their team can help you pick out an impressive loan depending on your budget and circumstances. According to their clients, the team at Yes Finance treats their customers kindly and patiently, attending to their financial needs.
Highlights
Offer personal & business loans
Flexible terms
Kind customer treatment
Customer Reviews
Let's take a look at Karyn's review on Yes Finance's services:
"AWESOME (even with the interest)!!!!!!! I can't wait. I will let you know when I have everything. Thank you so much for your efficiency, friendliness and help. I really appreciate it."
5) The Lending Room

BEST FOR
Tailored personal loans
SERVICES
Personal Loans

Car Finance

Debt Consolidation

Cash Advance

Unsecured Loans

Mortgages

Business Loans

WEBSITE
https://thelendingroom.co.nz/
ADDRESS
Tower 2, Level 1/646, Great South Road, Ellerslie, Auckland 1051, New Zealand
CONTACT DETAILS
+64 800 962 222
OPERATING HOURS
Monday – Friday: 8.30 AM – 5.30 PM
The Lending Room provides personal loans tailored to suit clients' needs and lifestyles.
The Lending Room team works quickly and efficiently to provide the financial services that you need. Whether you need a loan for your holiday trip, new furniture, or medicine bills, they'll make sure to give comprehensive loan plans.
At The Lending Room, they like to keep it simple with the application process, so you don't have to worry about tedious application forms. Some of the loans they offer are secured, unsecured, and bad credit loans.
Your repayment plan can be made weekly, fortnightly or monthly and can be extended up to 5 years. Whatever you need, their team will be more than happy to assist you.
Highlights
Tailored personal loans
Efficient and simple application process
Reliable and friendly team
Customer Reviews
Take a look at what M Cooper has to say about his experience with The Lending Room in this review:
"I just have to say that everything handled by Lisa was quick efficient friendly and painless. I would and will be highly recommending The Lending Room to several friends and family."
6) 1Loan

The best loan is one that has low interest rates and fast processing. 1Loan will be able to provide just that as they find the perfect personal loan for you.
They're known to offer some of the lowest interest rates available in New Zealand. Their loan processing is even faster than you think — online applications take at most 10 minutes to process, while accepted loans will be able to receive the money within 24 hours.
If you're in need of a loan as soon as possible, you can count on 1Loan to help you out.
Highlights
Fast, easy, and simple to use
Low interest rates
Accepted loans will have money within 24 hrs
Obligation-free online application
7) Pioneer Finance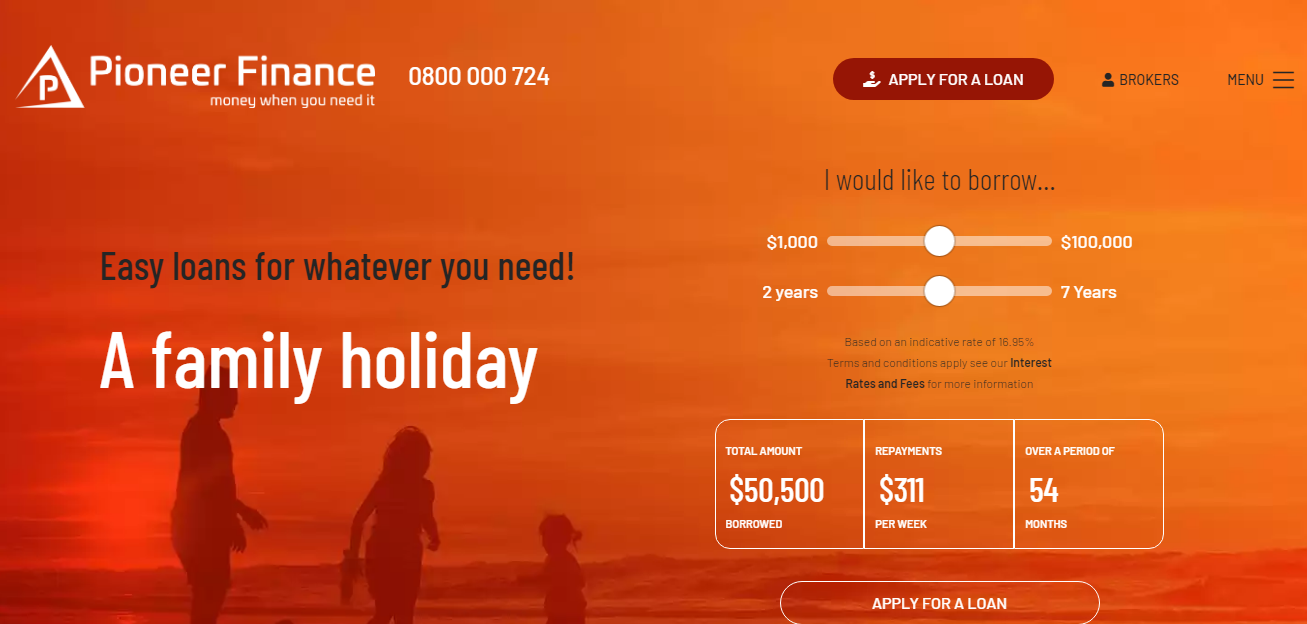 BEST FOR
Personal Loans
SERVICES
Personal Loans, Debt Consolidation, Vehicle Loans, Business Loans
WEBSITE
https://www.pioneerfinance.co.nz
ADDRESS
182 Great South Road
Epsom,
Auckland 1051
CONTACT DETAILS
Phone: 0800 000 724
Fax: 09 522 2611
OPERATING HOURS
24/7
Pioneer Finance is well-known for providing solutions for any of their client's financial needs. They cover debt consolidation, home renovations, personal loans, car loans, business loans, and more.
Paying them back is as easy and hassle-free as it can get. They offer low and fixed rates for their loans, which you can pay back at your own pace. You can count on Pioneer Finance to help you with your loans in the most convenient way possible.
Highlights
Low and fixed rates
Pay at your pace
Fast & friendly service
Statements sent every 6 months
8) Nectar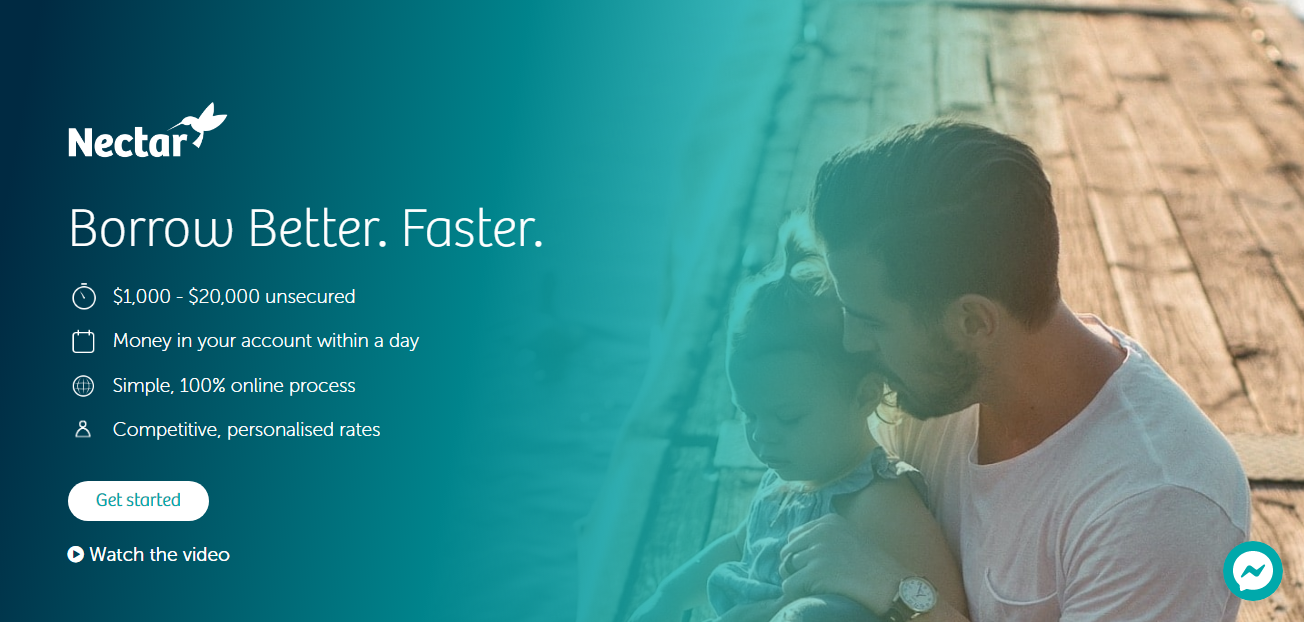 BEST FOR
Fast unsecured personal loans
SERVICES
Personal loans, Car loans, Emergency loans, Debt consolidation loans, Home improvement loans, Holiday loans
WEBSITE
https://nectar.co.nz
ADDRESS
22 Fanshawe Street, Auckland Central, Auckland 1010
CONTACT DETAILS
0800 855 888
[email protected]
OPERATING HOURS
Monday 9.00 AM – Friday 5.00 PM
Nectar is one of the few digital lending agencies in Auckland. It is a direct lender (not a broker) which means no expensive brokerage fees and they are able to assess your unique circumstances and make decision quickly.
Their lending process is simple, taking at most 7 minutes to accomplish. With their personalised rates, you can rest assured that you will be able to pay back your loan without worrying about your budget.
Highlights
Money sent to account within a day
Simple and 100% online process
7 minute application
Personalised rates
9) Kiwi Car Loans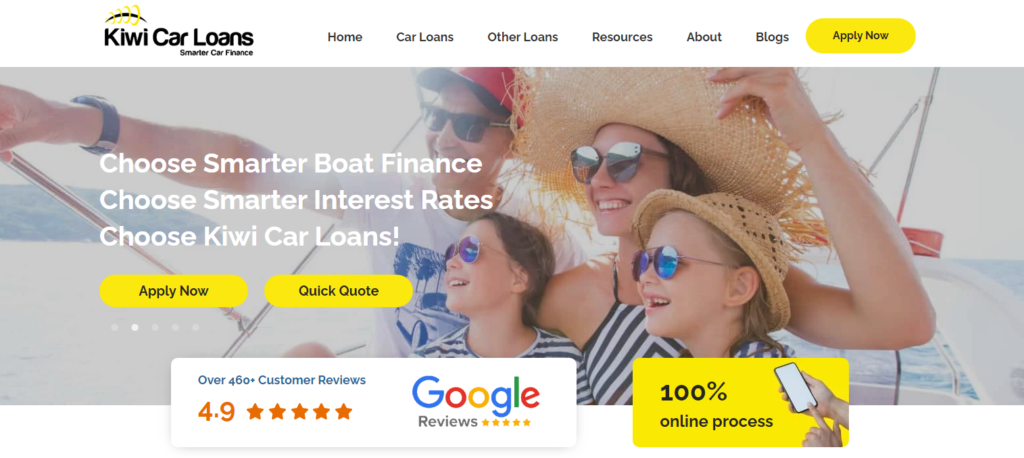 | | |
| --- | --- |
| BEST FOR | Fast approvals |
| SERVICES | Car Loans, Jet Ski Loans, Caravan Loans, Boat Loans, Motorbike Loans |
| WEBSITE | http://www.kiwicarloans.co.nz/ |
| ADDRESS | 692 Great South Road, Penrose, Auckland 1061 |
| CONTACT DETAILS | 0800 008 888 | [email protected] |
| OPERATING HOURS | Monday 9.00 AM – Friday 5.00 PM |
Kiwi Car Loans is the home of great rate finance approval for used or new vehicles. They also have access to a variety of finance options.
With their network full of reputable lenders, their team can help you get behind the wheel with smarter finance solutions through private sales or car dealerships.
The only thing left for you to do is to choose a secured or unsecured loan that's suitable for you. But it's also worth noting that all the interest rates, loan terms and fees may vary depending on the lender they've found.
In addition to making things more hassle-free for their clients, Kiwi Car Loans pushes for the convenience of their online application.
Everything from the application, document verification to contract signing is done online! You won't even need to leave the comfort of your home, however, if you do prefer doing things personally, you can still visit their branch to consult.
Highlights
Reputable lenders
Fast approvals
100% online process
Secured and unsecured car loans available
Loans for various vehicle types
Same-day approval for online applications
And those were the agencies for the best personal loans in Auckland. These loan agencies guarantee to make your loan processing simple and hassle-free.
Do you have any questions or thoughts about this article? If you have one, feel free to let us know in the comments below and we'll get back to you promptly.
If you're getting a loan for a house, you may also be interested in checking out our list of mortgage brokers in Auckland. These mortgage brokers can help you get impressive rates and deals on your mortgage.